Recently we've been writing and doing a lot of research on brand awareness and brand reputation. It sparked our interest enough that we wanted to reach out and get some first-hand advice from marketers on their brand reputation management strategy.
We wanted to know two main things, the secret to maintaining a good reputation, and how to respond to bad reviews.
In this article, we will cover the first question, and you'll be able to see tips and tricks for responding to negative reviews in part two.
Interesting findings from a variety of businesses
We received 40 survey responses from a wide variety of businesses. To include SaaS, beauty, finance, enterprise, P2P, and more.
Here's what we found.
Many marketers choose to handle their online reputation themselves
When we asked how people handle their online reputation, the majority said they handle it themselves.
This doesn't mean they aren't using software or tools to help accomplish this. They just aren't outsourcing their brand reputation to an agency.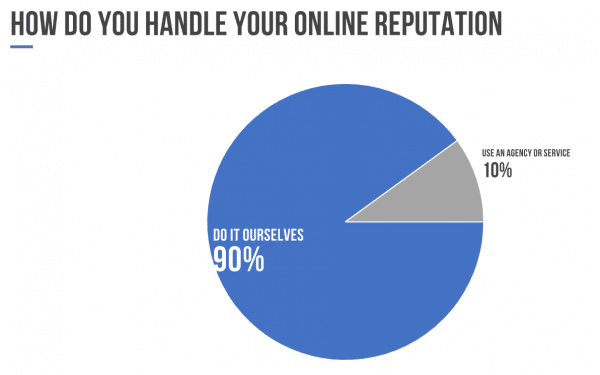 All but 10% of respondents mentioned that they take their brand reputation into their own hands. We found this really interesting because as big as automation, AI, and SaaS businesses are, this means that hiring an agency or service to help with brand reputation management is not as common. Even though there are plenty of those types of software that exist.
There is a slight preference in using software to manage brand reputation
We found it interesting that only slightly more than half of the respondents mentioned they used software. 21 of the 40 respondents, to be exact.
This was surprising, considering the majority of respondents mentioned they handled their brand reputation on their own.  While only around half of them use software or tool to help them manage their reputation.
Of the tools being used Trustpilot was mentioned the most, followed by Google Alerts.
Five people chose multiple tools from the list, and four of those included Trustpilot users. So even though Trustpilot was the most common tool used, multiple users (4 of the 6 Trustpilot users) used other tools on top of it.
Here's what tools marketers rely on for managing their brand reputation.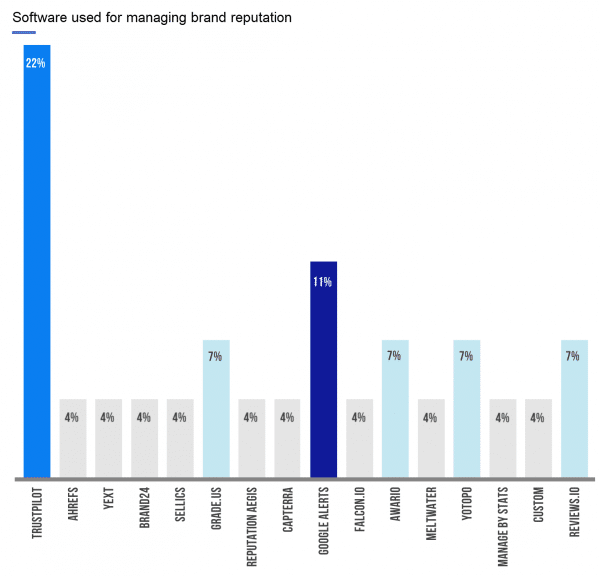 The biggest benefit of using software is that it helps you handle negative content
The majority of people who do use software responded that it's most beneficial in monitoring their business and handling negative content. In fact, 16 of the 21 who said they use software mentioned this.
Gauging employee insights, replying to online reviews, and efficiently managing acquisitions were the least likely responses when choosing the benefits of using software for your brand reputation management.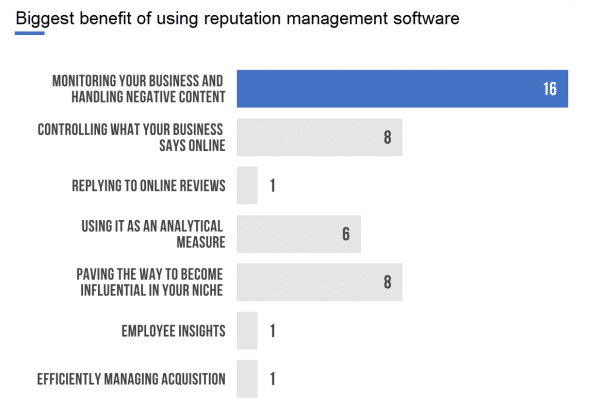 Note: Users were able to select multiple options.
The brand reputation management strategy of 40 marketers
We were fortunate enough to get some great insight back from 40 marketers. In our survey, we asked two long-form questions, and we got a ton of information back. So much, that we're creating a separate article on how to handle bad reviews.
For this article, we will look at the strategy these marketers use for maintaining a good online reputation. Our question was simple:
What is your secret to maintaining a good online reputation?
We found a few common threads, here they are.
1. Engage within your community
One of the easiest ways you can build your reputation is by actually engaging in the community you want to reach.  This human interaction can help set yourself apart, and you can really get to know your audience and their needs.
Tiffiney Cornish from TC Creatives: Branding & Design Studio
We work to develop a level of interaction and engagement beyond just working together with clients and potential clients. We give away a lot of valuable content and knowledge for free which allows us to create a deeper emotional connection with people.
---

Lynne Pratt from Virtual Solutions
Maintaining a good reputation is all about community and communication. By getting involved with your customers and guests, you give them a reason to emotionally connect with you, and remember who you are.
Social Media platforms are one of the most popular methods for customers to get in touch, so you need to have these channels running smoothly, and not only answer questions quickly (most people expect a response within the hour!) but also have relevant information easily accessible. The more you can help your potential guests, the more positively they will think of you!
---

Ellen Sluder – RingBoost
We stay on top of what is being said in as close to real-time as possible. We use a monitoring tool, check our social media notifications, and we read every review written. We also try to recognize unhappy customers as quickly as possible, so we can work to proactively fix issues. Excellent communication, proper expectation setting, and a big dose of empathy can keep frustration levels down, even when if the standard process has hiccups. And, we actively encourage all customers to leave us reviews and share their experience with us and with their friends and colleagues. A lot of positive reviews dilute the few inevitable negative ones.
---

Lauren Petermeyer – SocialChimp
Being consistent and responsive to comments, critique, and questions is key. If real users are commenting publicly and you're not responding, it doesn't make you look good. It takes people less than a second to form an opinion of you, so being present and consistent is extremely important.
2. Use software to help you manage and see what's going on
Using a reputation management software can help you keep track of everything that is going on (even when you're not around). Monitoring what's being said, can give you a leg up on planning a course of action and getting things back on track.

Levi Olmstead – G2 Crowd
With a brand that is based around online reviews, reputation management is a core theme of our business.
We value transparent feedback from our customers and want to see the negative comments. We make sure to monitor all our review sites, drive reviews, and monitor brand, competitor, and brand-related keywords across all social channels, media outlets, and blogs.
---

Elaine Rose – ReviewInc
By having a fully comprehensive online reputation management software that shows me an all-in-one customer review dashboard makes life easier. I can monitor customer reviews with unmatched report customization and instantly get review notifications. I can respond directly to customer reviews, and create campaigns that are specific for my customers. Your customer reviews are valuable and missing reviews can cause negative feedback to go unnoticed. With ReviewInc's online reputation management service, the software automatically finds, monitors, and fixes review site links, guaranteeing you won't miss your customer reviews.
---
Matt Schmidt – Diabetes Life Solutions
Our secret is using a third party service, who monitors all the major review sites. If there are any fictitious reviews, conducted by competitors, we are notified immediately. And can address those with the site owners. My advice is to be proactive and review these things weekly with your team.
3. Stay true to your promises
Something important to remember is to not offer something unless you can deliver. So stay true to your promises and give customers exactly what you say will.

Nate Masterson from Maple Holistics
As a personal care product company, we thrive on repeat business. That being the case, we realized how important it was to reach out to unsatisfied customers and correct any issues or complaints. In addition to increasing revenue, this was a crucial step in accurately forecasting our sales since it enabled us to determine whether or not a buyer was likely to purchase another product in the future.
---

Theo Ellis from Anime Motivation
Staying true to your word. As long as you do that, and you stay consistent while going the extra mile, your online reputation is bound to be in good hands.
---

Steve Wimmer – TriNova
Hunt down unsatisfied customers and do anything you can to appease them within reason. Make it a policy to make them happy and then once they're happy to encourage them to share their experience.
---

James Pollard – The Advisor Coach
The biggest secret is to start with a solid foundation. If you're putting out nothing but quality products and services, you shouldn't have a problem with your reputation. It will take care of itself.
Of course, there will always be a few bad apples that write negative reviews and complain no matter what you do. My philosophy is that you shouldn't cater to them. However, always be transparent with your customers. Customers understand that there are people out there who will always complain and leave negative reviews.
4. Be good at what you do, and your reputation will speak for itself
A good reputation is built on a lot of things, but being good at what you do is the first step. If a lot of people are happy with your service or product, they might tell others, and soon enough your reputation will speak for itself.

Joe Cuffaro from WSA Communications
The most important factor is to be genuinely good at what you do. The next step is ensuring your company is presented in a light that reflects its true-self. Perception will always revolve around what the world at large is saying about you, so make sure you are part of that conversation. If you do not have a business website or social media pages on the leading platforms, it is time to get involved. In the digital age, non-participation is viewed as behind the times or even worse as having something to hide. Communicate with your audience regularly, respond to queries in a timely manner and encourage happy customers to leave you a positive review.
---

Emily McCrary-Ruiz-Esparza – House Method
We never publish anything we can't wholly stand behind, but understand that your readers have a legitimate point of view that matters. Set up your alerts across social and search engines, monitor comments, and social engagements. Take it a day at a time.
---