Recently we've been writing and doing a lot of research on brand awareness and brand reputation. It sparked our interest enough that we wanted to reach out and get some first-hand advice from marketers on their brand reputation management strategy.
We wanted to know two main things, the secret to maintaining a good reputation, and how to respond to bad reviews.
In this article, we will cover the first question, and you'll be able to see tips and tricks for responding to negative reviews in part two.
Interesting findings from a variety of businesses
We received 40 survey responses from a wide variety of businesses. To include SaaS, beauty, finance, enterprise, P2P, and more.
Here's what we found.
Many marketers choose to handle their online reputation themselves
When we asked how people handle their online reputation, the majority said they handle it themselves.
This doesn't mean they aren't using software or tools to help accomplish this. They just aren't outsourcing their brand reputation to an agency.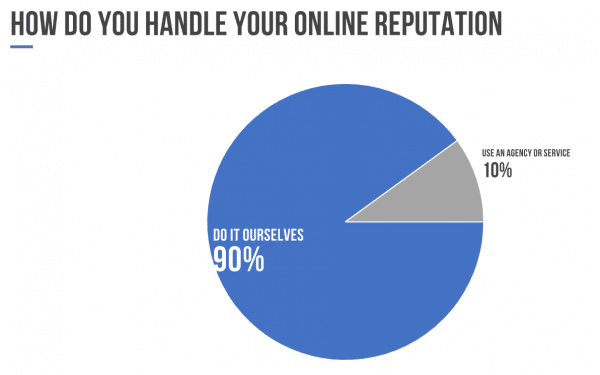 All but 10% of respondents mentioned that they take their brand reputation into their own hands. We found this really interesting because as big as automation, AI, and SaaS businesses are, this means that hiring an agency or service to help with brand reputation management is not as common. Even though there are plenty of those types of software that exist.
There is a slight preference in using software to manage brand reputation
We found it interesting that only slightly more than half of the respondents mentioned they used software. 21 of the 40 respondents, to be exact.
This was surprising, considering the majority of respondents mentioned they handled their brand reputation on their own.  While only around half of them use software or tool to help them manage their reputation.
Of the tools being used Trustpilot was mentioned the most, followed by Google Alerts.
Five people chose multiple tools from the list, and four of those included Trustpilot users. So even though Trustpilot was the most common tool used, multiple users (4 of the 6 Trustpilot users) used other tools on top of it.
Here's what tools marketers rely on for managing their brand reputation.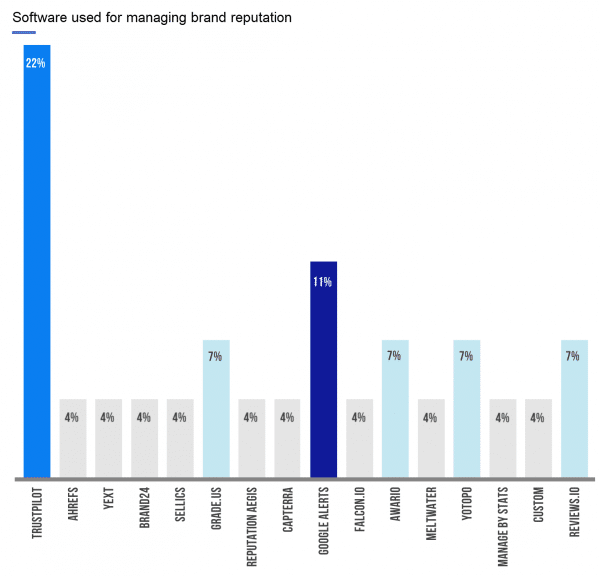 The biggest benefit of using software is that it helps you handle negative content
The majority of people who do use software responded that it's most beneficial in monitoring their business and handling negative content. In fact, 16 of the 21 who said they use software mentioned this.
Gauging employee insights, replying to online reviews, and efficiently managing acquisitions were the least likely responses when choosing the benefits of using software for your brand reputation management.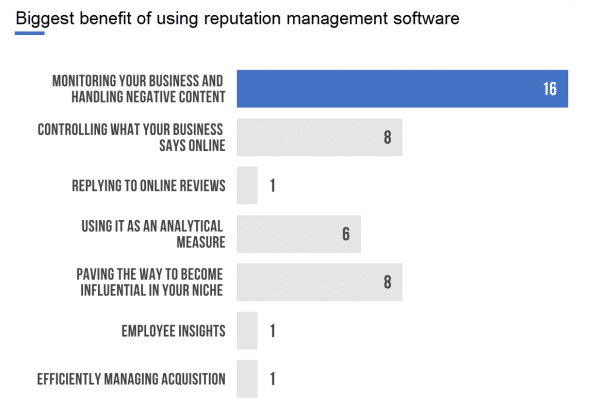 Note: Users were able to select multiple options.
The brand reputation management strategy of 40 marketers
We were fortunate enough to get some great insight back from 40 marketers. In our survey, we asked two long-form questions, and we got a ton of information back. So much, that we're creating a separate article on how to handle bad reviews.
For this article, we will look at the strategy these marketers use for maintaining a good online reputation. Our question was simple:
What is your secret to maintaining a good online reputation?
We found a few common threads, here they are.
1. Engage within your community
One of the easiest ways you can build your reputation is by actually engaging in the community you want to reach.  This human interaction can help set yourself apart, and you can really get to know your audience and their needs.
Tiffiney Cornish from TC Creatives: Branding & Design Studio
We work to develop a level of interaction and engagement beyond just working together with clients and potential clients. We give away a lot of valuable content and knowledge for free which allows us to create a deeper emotional connection with people.
---

Lynne Pratt from Virtual Solutions
Maintaining a good reputation is all about community and communication. By getting involved with your customers and guests, you give them a reason to emotionally connect with you, and remember who you are.
Social Media platforms are one of the most popular methods for customers to get in touch, so you need to have these channels running smoothly, and not only answer questions quickly (most people expect a response within the hour!) but also have relevant information easily accessible. The more you can help your potential guests, the more positively they will think of you!
---

Ellen Sluder – RingBoost
We stay on top of what is being said in as close to real-time as possible. We use a monitoring tool, check our social media notifications, and we read every review written. We also try to recognize unhappy customers as quickly as possible, so we can work to proactively fix issues. Excellent communication, proper expectation setting, and a big dose of empathy can keep frustration levels down, even when if the standard process has hiccups. And, we actively encourage all customers to leave us reviews and share their experience with us and with their friends and colleagues. A lot of positive reviews dilute the few inevitable negative ones.
---

Lauren Petermeyer – SocialChimp
Being consistent and responsive to comments, critique, and questions is key. If real users are commenting publicly and you're not responding, it doesn't make you look good. It takes people less than a second to form an opinion of you, so being present and consistent is extremely important.
2. Use software to help you manage and see what's going on
Using a reputation management software can help you keep track of everything that is going on (even when you're not around). Monitoring what's being said, can give you a leg up on planning a course of action and getting things back on track.

Levi Olmstead – G2 Crowd
With a brand that is based around online reviews, reputation management is a core theme of our business.
We value transparent feedback from our customers and want to see the negative comments. We make sure to monitor all our review sites, drive reviews, and monitor brand, competitor, and brand-related keywords across all social channels, media outlets, and blogs.
---

Elaine Rose – ReviewInc
By having a fully comprehensive online reputation management software that shows me an all-in-one customer review dashboard makes life easier. I can monitor customer reviews with unmatched report customization and instantly get review notifications. I can respond directly to customer reviews, and create campaigns that are specific for my customers. Your customer reviews are valuable and missing reviews can cause negative feedback to go unnoticed. With ReviewInc's online reputation management service, the software automatically finds, monitors, and fixes review site links, guaranteeing you won't miss your customer reviews.
---
Matt Schmidt – Diabetes Life Solutions
Our secret is using a third party service, who monitors all the major review sites. If there are any fictitious reviews, conducted by competitors, we are notified immediately. And can address those with the site owners. My advice is to be proactive and review these things weekly with your team.
3. Stay true to your promises
Something important to remember is to not offer something unless you can deliver. So stay true to your promises and give customers exactly what you say will.

Nate Masterson from Maple Holistics
As a personal care product company, we thrive on repeat business. That being the case, we realized how important it was to reach out to unsatisfied customers and correct any issues or complaints. In addition to increasing revenue, this was a crucial step in accurately forecasting our sales since it enabled us to determine whether or not a buyer was likely to purchase another product in the future.
---

Theo Ellis from Anime Motivation
Staying true to your word. As long as you do that, and you stay consistent while going the extra mile, your online reputation is bound to be in good hands.
---

Steve Wimmer – TriNova
Hunt down unsatisfied customers and do anything you can to appease them within reason. Make it a policy to make them happy and then once they're happy to encourage them to share their experience.
---

James Pollard – The Advisor Coach
The biggest secret is to start with a solid foundation. If you're putting out nothing but quality products and services, you shouldn't have a problem with your reputation. It will take care of itself.
Of course, there will always be a few bad apples that write negative reviews and complain no matter what you do. My philosophy is that you shouldn't cater to them. However, always be transparent with your customers. Customers understand that there are people out there who will always complain and leave negative reviews.
4. Be good at what you do, and your reputation will speak for itself
A good reputation is built on a lot of things, but being good at what you do is the first step. If a lot of people are happy with your service or product, they might tell others, and soon enough your reputation will speak for itself.

Joe Cuffaro from WSA Communications
The most important factor is to be genuinely good at what you do. The next step is ensuring your company is presented in a light that reflects its true-self. Perception will always revolve around what the world at large is saying about you, so make sure you are part of that conversation. If you do not have a business website or social media pages on the leading platforms, it is time to get involved. In the digital age, non-participation is viewed as behind the times or even worse as having something to hide. Communicate with your audience regularly, respond to queries in a timely manner and encourage happy customers to leave you a positive review.
---

Emily McCrary-Ruiz-Esparza – House Method
We never publish anything we can't wholly stand behind, but understand that your readers have a legitimate point of view that matters. Set up your alerts across social and search engines, monitor comments, and social engagements. Take it a day at a time.
---

Roman Daneghyan – Renderforest
Having a good online reputation is only possible by having happy customers. If the company can serve its customers in a good way, so they will be happy all the time, then it can have hundreds of online reviews on different platforms.
---

Jamie Cheng – Digital Alpha Agency
There are 3 things that any company can do to manage their brand's reputation:
1) Pre-framing
2) Asking at the right time
3) Respond correctly to the poor reviews
Pre-framing the reviewer before they actually realize that you're asking a review from them. And it's not just any review, but an excellent one. Use images and words that subconsciously set the tone. Flash positive visuals, words that remind them of a good experience before going for the ask.
The right timing to ask differs from every company and customer. Some are more than happy to give a review, some are a tad bit hesitant.
People who see bad reviews will want to know more. Your response is crucial right now.
---

Allison Schmidt – Get Online NOLA
For our business, as well as our clients, we have a simple philosophy: do great work and you'll get great reviews. Also, make sure you respond to the private messages sent from clients. More often than not if something goes wrong, a client tends to reach out to you first before going off and posting a review. If you can fix whatever happened quickly and talk calmly to an upset client, they're much less likely to give you a negative review.
5. Always deliver on quality
No one wants a half-finished project or to work with someone who cuts corners. People are spending their money on you, and are expecting a quality outcome, along with great customer service. If you can deliver on this, you'll build up your reputation of being a quality product or service.

Mark Davis from Custom Throwback Jerseys
Success is in the details. We strive to maintain high quality with both our jerseys and our customer service. Keeping a high bar for both those areas sets your business up for success when it comes to reputation. It's also beneficial to look for ways to go the extra mile and make a good impression on each client, whether that's a helpful phone call, personalized note of thanks, or creative solution to a problem.
---
Marcus Svensson from Albacross
Online reputation is super important for literally every business. Reviews influence a business' credibility, reputation, and sales. And for you to maintain a steady flow of customers, you need a solid reputation, especially nowadays, when it takes a split of a second for your prospects to find reviews and opinions which can easily influence their decision to either buy or not from your company.
Our secret to building and maintaining a good online presence is by upholding the quality of our service and providing outstanding customer service. We understand that the firsthand experience of our customers is what increases the word-of-mouth referrals and helps us to grow exponentially.
6. Ongoing and consistent efforts are key
Working on your reputation isn't a once in a while type of thing. It takes continuous efforts and staying on top of your game. Making sure all aspects are consistent across the board allows you to deliver a quality and consistent experience to everyone.

Roman Rabinovich from Eventige Media Group
Our litmus test is to know that the customer is satisfied enough to send a referral without us asking. Staying on top of your reputation online also entails watching for inconsistencies in the way that the company is represented by the various data aggregators. False information can crop up online and you need a system to pick up bad data, flag it, and correct the details. If a customer finds an old phone number online, calls and gets the new owner or a message that says the line is disconnected, that can create reputation damage before an interaction ever starts. Clean data is key.
---
Jessica Weihe from Mustang Marketing
Brand reputation management begins the moment you develop your brand — not just in times of crisis or negative press. It's a continuous, ongoing process that involves monitoring your brand for both positive and negative reactions in the press and other related platforms, reviewing the successes (and sometimes the misses) of the products and/or services provided to your clients, and consistently sharing your brand's good news with your audiences.
---
Stephynie Malik from SMALIK Enterprises
Staying absolutely consistent and ALWAYS providing our clients with world-class service. NO exceptions. We take absolute pride in our service and it resonates throughout our brand. We personally address each and every email/message we receive.
7. Give people a reason to talk about you
There are a variety of reasons a customer will talk about you. If you are offering quality service, providing them with good content, being active in your communities, and doing some leg work, people will notice and start talking.

Paige Arnof-Fenn from Mavens & Moguls
Most of my work comes by referral and word of mouth. I think having a good online reputation is incredibly important to building a strong professional service business like mine. There are a few ways I can recommend:
Do great work that people will talk about
Give lots of talks and use examples from your experience, I do a lot of public speaking which leads to people talking about me
Join networking groups to meet people who are the multipliers in your industry, they talk to everybody and know everyone
Be active on social media so you can share your talks and content and your followers can help spread the word


---

Ryne Higgins from Peacock Alley
Content creation is one of the most important parts of online reputation management Whether you are producing blog content, videos, tutorials, or any other form of content, it will help increase interaction with customers and spread the good name of your brand. Content is also an excellent place to request reviews from customers.
---
Nooria Khan – GigWorker

If you spend 12 hours on creating evergreen long-form visual content (maps, infographics, video, pictures, and illustrations) on informational topics (rather than promotional topics), you should spend 60 hours at least on promoting it to see great results. By adopting this strategy, Google ensures that the brand or website is legit. We use HARO, which is great in terms of building relations and getting those high authority mentions and backlinks from large and mainstream publications. Moreover, guest posting has also helped us in strengthening our good online presence and gain more attention, conversions and reach. This has helped us drive targeted quality organic traffic to our website.
8. Be responsive to customers to increase their satisfaction
It's not always about talking to customers. You also have to listen to their concerns and sometimes plan accordingly. When you make efforts to change or work on your feedback, satisfaction levels can increase.

Cristina Maria from Commusoft
Transparency and empathy, definitely. The former relates to the fact that we try to always be honest with our clients – if there is something that went wrong with our software, it's better to own up to it than to start shifting blame. The latter is our constant attempt to put ourselves in the shoes of said clients and understand their point of view, what their needs are, and try to do our best to tailor our software to these needs.
---

Rogera Toussaint-Michel from Urban NYCHE Marketing, Inc.
Our "secret" is customer satisfaction. We try to wow customers, solve issues quickly and actively request reviews from our best clients. This helps keep negativity at a minimum while empowering our biggest fans.
---
Emma Conway from VeryConnect
The secret to maintaining a good online reputation is to be recognizably customer-centric, open and transparent. Whether it be consistently responding to online reviews, engaging with customers on social media both on your posts and theirs or sharing an insight into your company culture – a good online reputation is all about perception.
---
Christoph Seitz from CFR Rinkens
We thoroughly investigate any negative reviews that we receive in order to determine the best way to remedy the situation and prevent it from happening again in the future. We are very conscious of how people perceive our brand and the experiences they have with us.
---

Jessica Dais – TakeLessons Live
We monitor the top review sites on a daily basis, and the less popular ones weekly. Responding to views in a timely manner shows that we care and are actively listening to our customers' needs.
9. Make it easy for customers to learn about you and talk to you
Being transparent can make it easy for customers to understand what you have going on, without having to constantly ask. Having easy to find information along with open channels of communication is key. People want to know they can get help if needed.

Randy Mitchelson from iPartnerMedia
There are three main elements to iPartnerMedia's online reputation management. First, our commitment to 100% transparency with our clients creates an atmosphere of trust with clients. We publish pricing on our website. Our dedicated account managers perform regular account reviews and clients have 24×7 access to campaign reports.
Second, we publish informative articles on our website to help businesses researching marketing best practices. Also, we contribute regularly to articles like this one. Our willingness to share our knowledge has established a voice of authority which enhances our online reputation.
Third, we have built a large library of online reviews using our software tool.
---

Laura Craven – Imperial Dade
First, take care of your customers. Reviews are a reflection of their experiences. Encourage legitimate reviews from customers that are happy. We are looking into placing a feedback link on our online ordering portal and website that directs the user to Google reviews.
---

Chris Wain – Africa Travel
Don't neglect your social media accounts. Facebook and Twitter remain the staples for businesses to talk to their consumers, and this is how you develop a rapport with your audience.
Your social media accounts are how you can be seen to be trustworthy. Be on hand to answer questions, handle complaints and keep your audience updated with deals and company news. This is a tangible method of being seen as a 'good' brand.
Customer interaction is also a key aspect of using social media to keep a great reputation, online. Don't just answer questions, respond to comments and actively encourage people to get in touch with you. This shows you are proud of your brand and are keen to talk about it.
10. Simply deliver good customer service
One of the key things to maintaining a good reputation is by offering good customer service. You'll find that even if your product fails or breaks, your service can keep people loyal until the issue is resolved.

Ryan MacKellar – 9thCO
Focusing on the nuts and bolts of our business by providing great client service and ensuring our staff is happy. That's how we have gotten so many outstanding reviews on Glassdoor and Google My Business. While negative experiences among our clients and staff are inevitable, we also have strong processes in place to ensure that such issues are not escalated into the public realm and that all parties can walk away feeling some level of contentment.
---

Stacy Caprio from Stacy Caprio Inc
The company I helped manage the reputation for was a finance company, and most of the issues with managing the reputation came from poor customer service that stemmed from bad company policies requiring us to chase after and charge people even when it was unreasonable. Good customer service and good/flexible company policies are the secret to a good reputation.
---

Stan Tan from Selby's
Our main focus isn't on building a good reputation by getting reviews. Our main focus is on doing a good job for our clients and being a reliable supplier in our industry.
We have been in business for over 15 years and we have clients who have been with us from the very start. That is because they trust that we will get their project done on time and get it done well.
Jason Devereaux – KK & Jay Supply Co

As an eCommerce company that solely operates and fulfills orders online, it goes without saying that monitoring and maintaining our online reputation is crucial for us to succeed and grow as a business. In terms of any secrets, the only one we can really think of is our main ethos when it comes to customer service which is simply that we strive to make sure that every one of our customers are satisfied. We monitor all platforms where our customers can reach out to us whether it be email, Amazon, social media etc. so that any request or issue is addressed as promptly and effectively as possible. This in effect ensures that the majority of any visible online feedback is positive and reputable.
---
Joseph Wong – The Intelligence Group
The secret is simple: go back to basics. To have a good online reputation, start with providing excellent customer service. Examine the internal processes and workflow. Is the organization providing exceptional value to its customers? If not, how can it do better? When customers are happy, the online reputation will reflect this fact.
11. Make sure all team members are on the same page
All team members are the 'face' of your business. So inform them all of your company-wide best practices (particularly when talking about your business online). By having everyone on the same page, you can create a truly unified front.
Ginger Reichl from Pinstripe Marketing

Having a company policy on employee behavior on social media channels is a good place to start – this should apply to personal profiles as well as business profiles. We always say that best practice for any social media activity should be ethical and professional – after all, information and photos disseminated online can last a lifetime, even if you "delete" them.
Posting fresh, relevant content on our website keeps our search results positive.
---
Sean Nally – BudgetDumpster

Make a company-wide initiative.
It is rare that customers who have a satisfactory or even overly positive experience are going to organically post positive reviews, especially in our industry of dumpster rentals. We have communicated and emphasized the importance of a good online reputation with all of our team members. This not only encourages our customer-facing representatives to request positive online feedback but also provides additional motivation to resolve issues. It starts with leadership – if it is known that the CEO cares about "Amy from Omaha's" 2-star negative review, then everyone will be taking the appropriate steps to retain "Amy" and prevent future, similar situations.
---
Matthew Reischer – Flushing NY Real EstateLLC
A recognition and affirmative commitment to the notion that our organization's core values extend to every relationship and interaction we have with our customers, our employees, and neighborhood stakeholders.
In conclusion
We have found that there are many components to reputation management. A good strategy involves a lot of work. First and foremost is to offer a quality product and service. You also have to engage with your customers and be transparent. Lastly, good software can help make tracking your efforts a lot easier.
Get notified every time we post new roundup surveys