Last Updated on
39

minutes to read
If you're like many SEO-savvy business owners, it's understandable to ask yourself should you reoptimize your blog content?
Fresh content is published at the speed of light, by both in-house and freelance writers (sometimes for the same business), optimized to compete for relevant keywords. And each new piece enters the competition for those coveted top spots on Google's page one, making it harder for your existing posts on that topic to rank.
But the work on your posts is far from finished after you first hit "publish."
It's easy to forget that refining older blog posts is just as important to staying on top of SEO. And reoptimizing this content is often much easier than creating new content from scratch (especially if your content is already ranking highly).
We wanted to find out about marketers' approaches to reoptimizing their old blog posts, so we ran a survey. 55 marketers shared their insights!
98% of the marketers we surveyed have an active blog. But are they reoptimizing their old posts? What approaches are they using? How do they determine whether posts are worth updating? And do they believe that long-tail keywords are the best tactic for websites with low domain authority? Let's dive in, starting with the compelling statistics we gathered.
Old articles: updates, traffic, and leads
We were curious to find out whether marketers are choosing to reoptimize their old blog content (defined as those articles posted over 6 months ago), and how much traffic and leads these old posts are bringing in.
Updating old content is an extremely common practice among marketers—95% are reoptimizing content they originally posted over 6 months ago.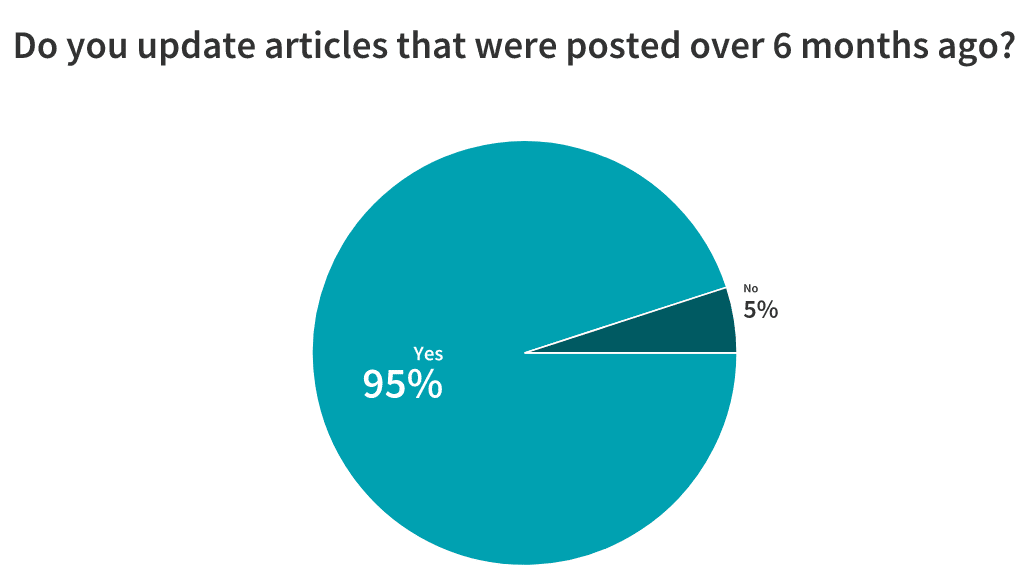 But how much traffic and leads are these old posts responsible for? Nearly half of the marketers we surveyed (48%) told us that old blog posts are responsible for more than 30 percent of their organic traffic.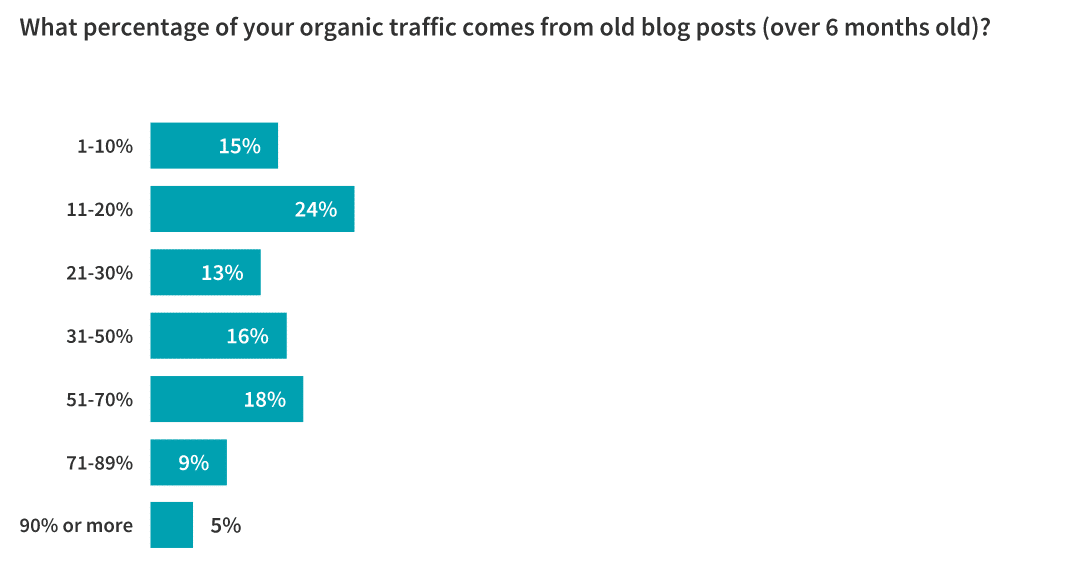 As far as leads generated, 40% of the marketers we surveyed generate more than 30 percent of their leads from old blog posts. One-quarter of the marketers  generate over 50 percent of their leads from old posts.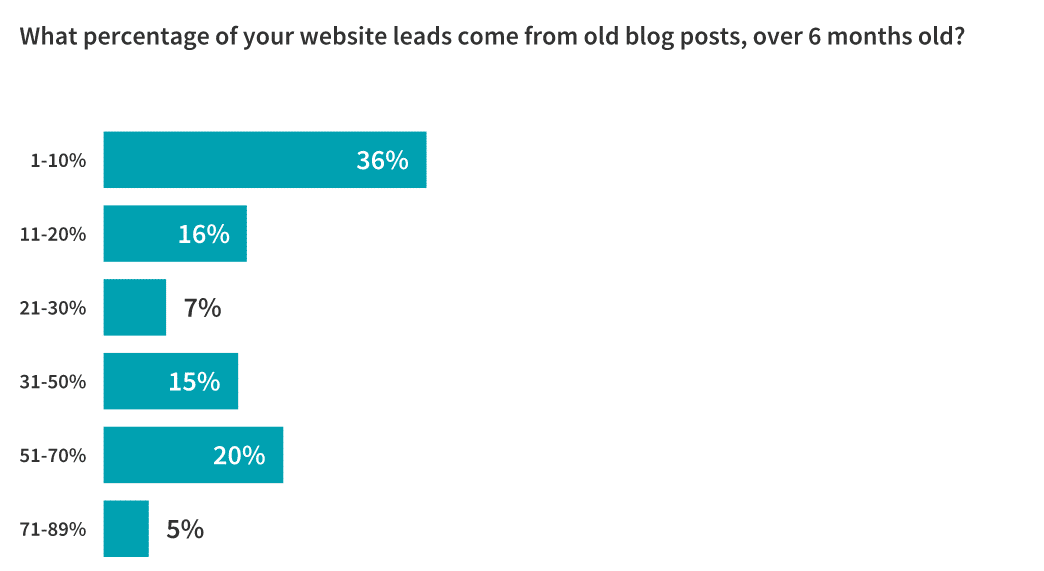 From these statistics, we can't tell whether these updates are helping posts bring in more traffic and leads, whether an increase in traffic and leads motivates updates to posts, or neither. However, it does seem like the updates to old posts are connected with the traffic they bring in. Based on the success of these marketers' old posts in generating traffic and leads, it's well worth reoptimizing your old content.
Wider SEO
We also asked our marketers a few questions about wider SEO efforts, both inside and outside of blog posts. When asked whether their company currently has an in-house SEO expert, 69% told us they do.
Do you currently have an in-house SEO expert?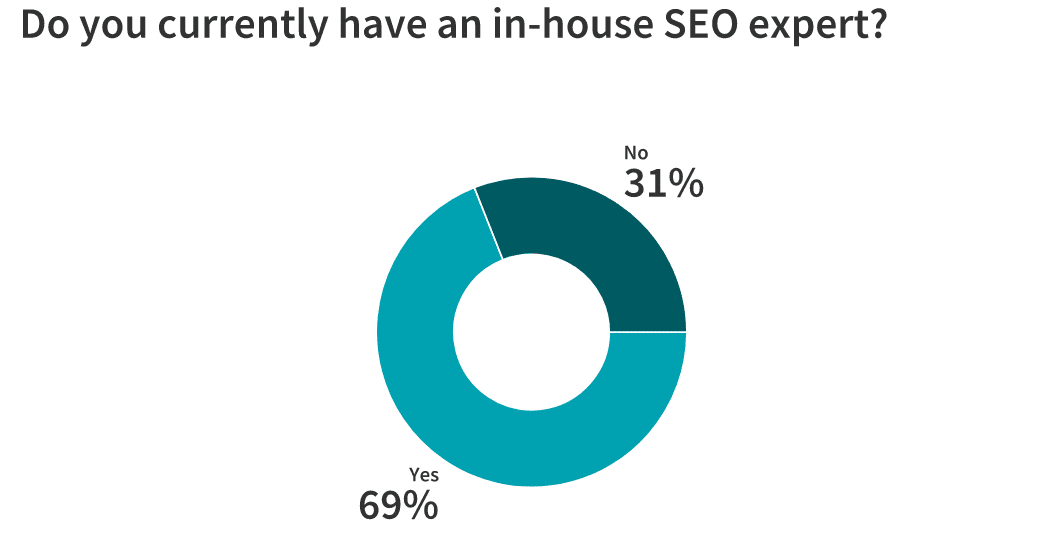 We also asked whether they thought on-page SEO, off-page SEO or technical SEO is the most important aspect of optimization for their site. 62% answered that on-page SEO is most important, 22% said off-page SEO, and 16% said technical SEO.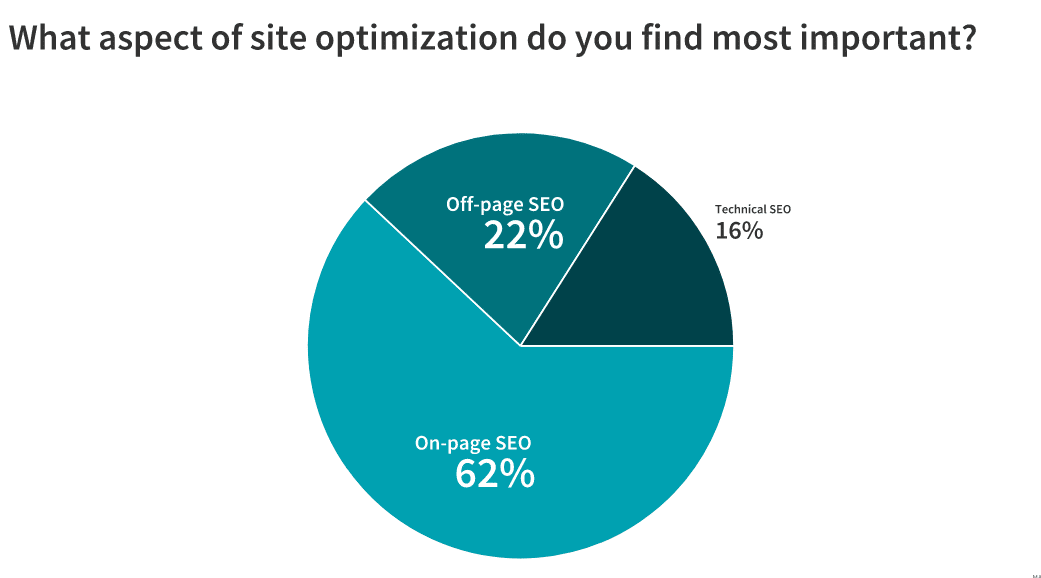 Diving deeper into on-page SEO, we wanted to know the marketers' recommendations for on-page SEO tools (and which were the favorites of the most marketers). So, we asked them to name their favorite on-page SEO tool. Interestingly, only three were mentioned by more than one marketer (seen below in the table). Among these clear favorites, Ahrefs dominated as the favorite at 49%, Moz came in second at 18%, and SEMrush was third at 16%.
Marketers mentioned a variety of SEO tools as favorites, including the following: BuzzSumo, Copyscape, Cora, Google PageSpeed, Google Search Console, KwFinder, Keywords Everywhere, UberSuggest, Page Optimizer Pro, INK, CanIRank, Screaming Frog, SEOCrawler, and Surfer SEO.
Reoptimizing Posts: Approaches
Then, we surveyed marketers about their specific approaches to updating an old blog post to improve its search position. First, we asked them which factors they think are most effective in reoptimizing a post to help it climb search results (marketers were allowed to give multiple answers).
Freshness—updating a post to keep information current, and to reflect new and emerging developments on a topic—won out, with 73% deeming it most effective.
Comprehensiveness came in second at 65%, followed by backlinks (55%)—both mentioned by more than half of the marketers we surveyed. Other top responses were additional keywords (40%), page speed (33%), meta updates (18%), and images (5%).
There were also several factors that were mentioned by only one marketer apiece: User experience, heading, readability, trust factor in niche, mobile optimization, internal links, and structure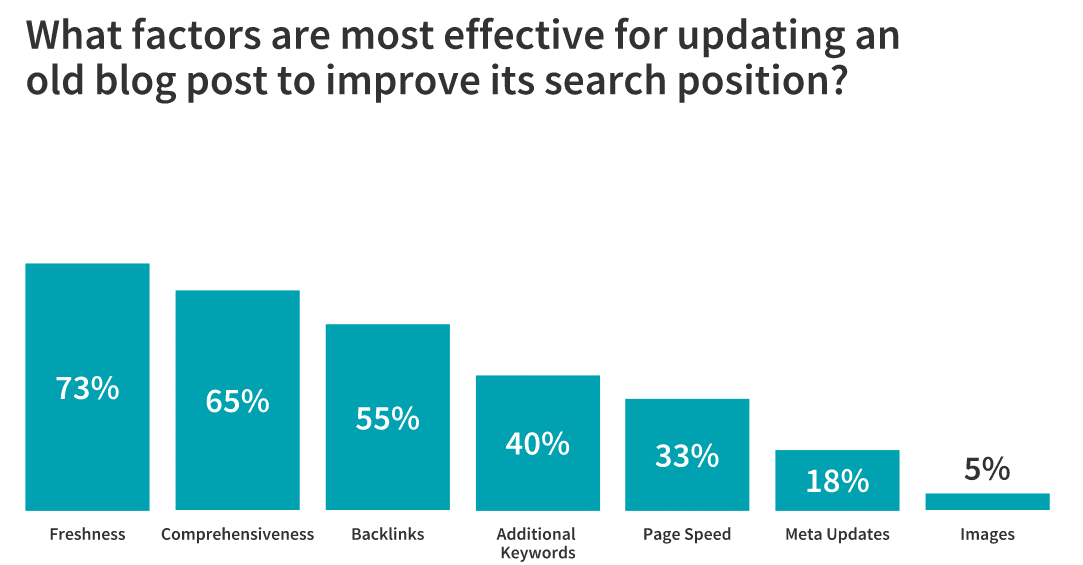 Then we asked marketers about their approach to handling multiple articles on the same topic: edit the content, combine the posts, delete the lower-performing posts, or set up a redirect? Our majority, 56%, said that they have taken more than one of these approaches, and that the exact approach they take depends on the situation. See the full breakdown of results below.
 If you have multiple articles on the same topic, would you…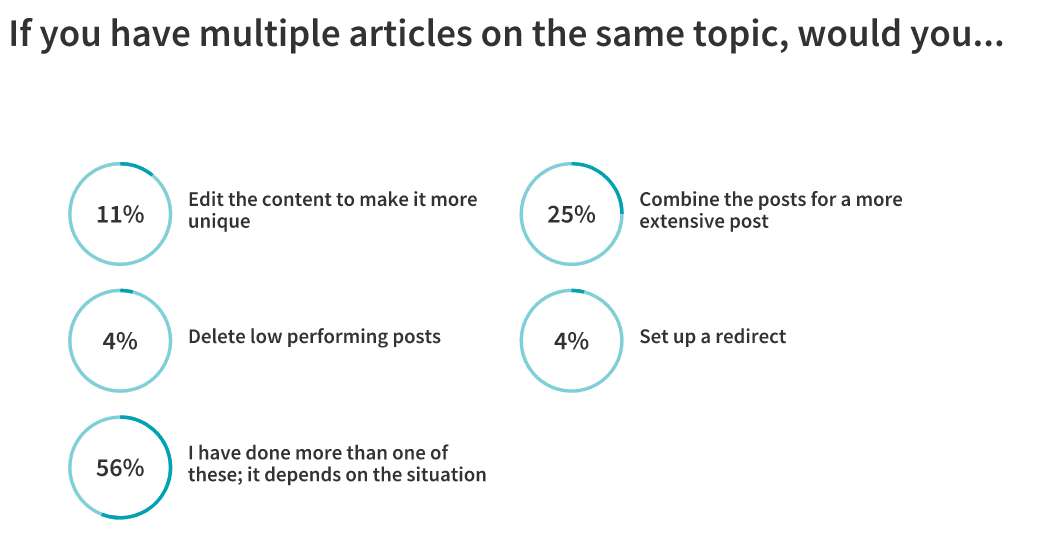 Finally, we asked marketers, "do you feel adding, updating, or replacing visuals is an effective way to improve your SERPs?" 72% believe that this does help, so make sure to look beyond the text when you're reoptimizing blog posts.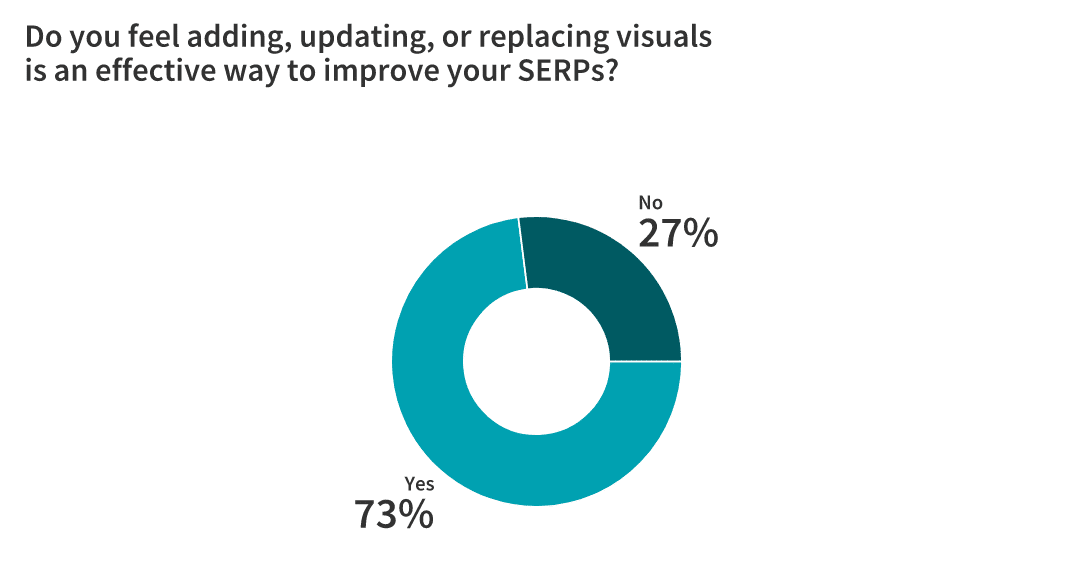 Should you reoptimize blog content for long-tail keywords?
Companies who are just starting to improve their domain authority through their blog may wonder about the best strategy for improving their rankings. We asked our marketers to weigh in on this by answering this question:  "If a company has low domain authority, should they focus on long-tail keywords? Why or why not?" Here's how they responded.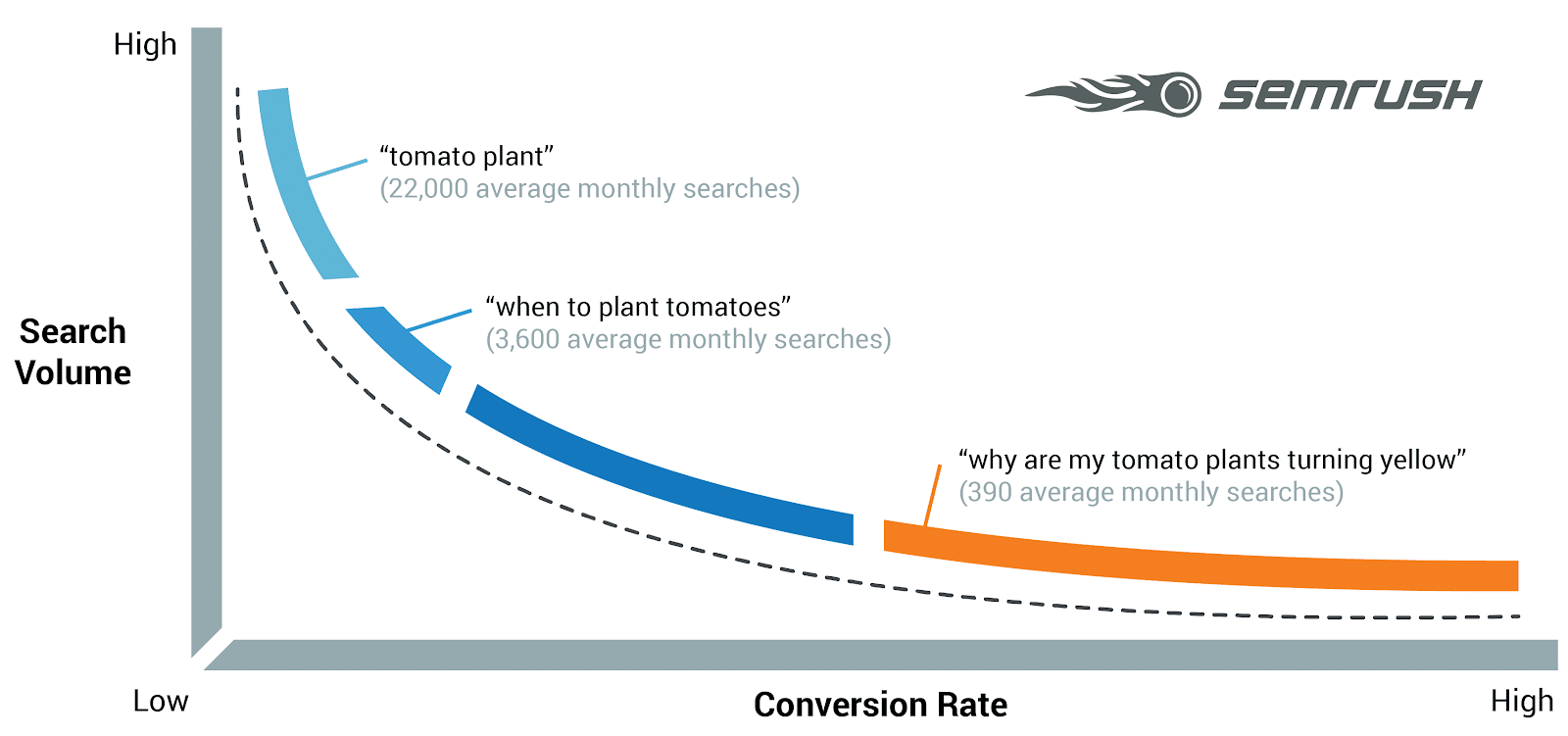 Long-tail keywords have smaller monthly search volumes on average, but are associated with higher conversion rates, as this graphic from SEMrush shows.
Yes, prioritize long-tail keywords
Most marketers agree that long-tail keywords are a beneficial SEO focus for businesses with low domain authority, because they are more focused on searchers' specific needs and tend to be less competitive.
According to Christian Carere of Digital Ducats Inc, "Long-tail keywords are the preferred choice because you can optimize for the short and long term wins. A long-tail keyword can give a low DA website a much better chance at appearing on the first page. By creating a keyword that is highly descriptive, the competition is reduced, and there is a closer match drawn between the visitor and what the website offers."
Alexander De Ridder from Ink Content, Inc told us, "Yes, they should focus on long-tail keywords because more general keywords tend to be more competitive, and therefore, more difficult to rank well for. On the other hand, long-tail keywords tend to be more niche, less specific, and therefore, less competitive. Authority is an important ranking factor. A site with low domain authority (like a brand new site, for instance) would not seem like the most authoritative, relevant source on the subject, and would most likely not have the best chance of ranking for a more general intent. Just like a brand new store in town without a reputation is not likely to have many word-of-mouth reviews, a brand new site is not likely to have many referring domains, backlinks, etc. and not seem like the best resource available."
Arfa Nazeer of SheMeansBlogging says, "I highly suggest focusing on long-tail keywords as this is the right and doable way to build some traction online. It increases the chances of building authority in your niche, builds organic traffic and increases online visibility. Otherwise, due to fierce competition, it's hard to rank for short keywords."
Danielle Simmons of iMatrix agrees that long-tail keywords help you build authority in a tight niche: "Yes, definitely focus on long-tail keywords. Specific, long-tail searches make up the majority of Google searches today. With a lower domain authority, a company has to become more niche-oriented and focused in the content they're providing to their ideal client."
Alistair Dodds of Ever Increasing Circles reports, "Yes, a long-tail keyword strategy is a great starting point for anyone with low domain authority. It will give you the best chance of picking up some initial visitors while you work to build the quality of your backlink profile and move the needle on your domain authority. Only once your domain authority is within range of your competitors are you likely to rank for your long form focused keywords. So long-tail keywords are an ideal way to kick off and begin your content creation process."
Frank Kenny of Frank J Kenny LLC recommends, "Yes, focus on those long-tail keywords. Our site visitors are chamber of commerce executives and employees, so we have a specific niche. We've spent a lot of effort getting to know and understand the problems and solutions they are looking for. We use that knowledge to help us find long-tail keywords that get us traffic and that are relevant to our audience's needs."
Kayleigh Ogley from Gradient Consulting attests, "Focusing on long-tail keywords will propel your SEO strategy in the long run. Whether you choose to work with them or not, the time it takes for website SEO to progress is equally as long, but long-tail keywords will give you a headstart. If you focus on keywords that have low search levels, but you execute high-value content, you can expect your domain authority and organic traffic to increase over time. You might also feel you are gaining on your competition as you can bet they haven't even thought to spend time researching lesser searched terms. Moreover, these terms, as they are more specific, usually return a higher conversion rate."
Gregory Golinski of YourParkingSpace attests, "A low domain authority website is at a disadvantage. To make up for this, focusing on long-tail keywords can be a good idea as it can help your website receive more traffic that you wouldn't necessarily get because of your low domain authority.
Long-tail keywords can sometimes give you the edge over high domain authority competitors that don't use them in their content. To use this strategy efficiently, you need to add lots of low-volume long-tail keywords in your content, because each of these keywords doesn't bring much traffic volume per se. Added together, though, they can bring serious traffic to your updated articles."
Jakub Kliszczak of CrazyCall told us, "Yes, they should focus on long-tail keywords. That's because long-tail doesn't mean low-volume or low-traffic. Also, you can find many untouched opportunities while searching for long-tail keywords. Plus, focusing on long-tail keywords will help you target very specific queries with high user intent. All in all, it will take you less time to rank for it and it will provide you with more valuable traffic."
Nachum Balofsky of 1SEO shares, "Unless your company's website already ranks nationally, your keyword focus should always begin with long-tail keywords. Building authority and trust takes time and patience. When it comes to SEO, you want to aim for the lowest-hanging fruit before you shoot for more difficult keywords."
Rochelle Burnside from Best Company affirms, "Companies with low domain authority have a higher chance or ranking for a long-tail keyword. So, it's worth aiming for these. Because long-tail keywords are specific, answering the searcher's question is more likely to lead to a conversion than ranking for a general keyword."
According to Karthik Subramanian of Paperflite, "Long-tail keywords may have a low traffic, but have better search intent. The possibility that visitors become leads is higher in the case of long-tail keywords. For example, a long-tail keyword such as 'email automation software for small businesses' indicates that web searchers are low on budget and may not have complex requirements (similar to large enterprises). They need an email automation tool that meets their basic requirements."
Alex Knight from Valuechain shares, "I don't think a low domain authority would prevent creating content for short-tail keywords, but yes, I would recommend a focus on long-tail keywords, generally.  I say yes because you expect short-tail keywords to be more popular. With short-tail keywords, you'll be competing against more websites with a potentially higher domain authority, and their articles will rank higher than yours. So, a focus on long-tail keywords that you can create the best content for and really stand out would ensure you rank highly for the really relevant terms for your business.
However, Google ranks articles based on the relevance to the question asked. So if you can create the most relevant answer to a short-tail question (especially if it's one that not that many people ask), optimise it effectively, gain links from other sites to the blog itself, and ideally insert some good SERPs as well, then there's no reason why you couldn't reach page one. It's entirely dependent on the competitive landscape, how differentiated your products are, and if your uniques selling points really stand out. If this is the case, and there isn't much competition, then you can dominate the short-tail keywords."
Anand Iyer affirms, "A company with low domain authority should definitely focus on long-tail keywords. Here are the TOP reasons:
1.) Long-tail keywords can get you more traction(easy to rank) if a post is better optimized, has more in-depth content and covers the topic well.
2.) Long-tail keywords have better conversion rates as compared to short-tail. The average conversion rate for long-tail keywords is 36%.
3.) By ranking for related long-tail keywords, you increase the chances of ranking for single keywords.
4.) Long-tail keywords work well with to answer voice assistant searchers. People are increasingly using voice assistants to learn about a topic, research a brand and buy products. Long-tail keywords help you train voice assistants like Siri and Alexa to provide your company-specific information to mobile users."
Michelle Kubot of JourneyPure believes "businesses should focus on long-tail keywords, as long-tail keywords effectively just mean less common search terms. It's the philosophy of being a big fish in a small pond or being a small fish in a big pond; you have to decide which route you want to commit to when performing different tasks. For our main service offering pages, we like to focus on larger keywords, as those are the most commonly searched and have the highest potential for new patients. That said, on our blog posts, we elect for long-tail keywords because they can specifically appeal to searchers who are looking for very specific content and answers. It seems that this approach provides us with nice diversity in our leads for the centers. Regarding the domain authority, it's my belief that by performing best-practices and thinking of the user experience is what leads to increased DA (plus off-site triggers), so you can build long-tail content and work on domain authority at the same time."
Matt Erickson from National Positions told us, "Google is always concerned with relevance in search, so using long-tail keywords, by nature, will attract more relevant traffic that will enjoy your content. The longer they are on your site reading or watching your content, the more valuable Google will deem your site. The idea here is that someone searching for "How to lower my Google PPC cost" is far more specific than someone searching "What is Google PPC?" And if your relevant content matches the user's specific search – your content is more likely to hold their attention. Be sure to do your research so you use long-tail keywords that people are actually searching for."
Jonathan Aufray of Growth Hackers shares, "Whether you have a low domain authority or a high one, you should focus on long-tail keywords. Why? Because it will be easier for you to rank for these keywords and you'll gain organic traffic faster. The more traffic you get, the better your domain authority will be and, therefore, the easier it will become to rank for short-tail keywords.
Find long-tail keywords with low competition thanks to Keyword Planner and SEMrush. Write an insightful article about this topic. Add your long-tail keywords into your copy in a natural way. You want to write for people, not search engines."
Yes, but make sure they have low competition
Ali Hasan from Film Jackets tells us, "Using long-tail keywords even if the website has low domain authority can help you reach the right audience, as long as the keywords have low competition. Long-tail keywords with high competition levels are harder to rank for, especially for websites in their initial stages. Focus on implementing effective keyword strategies like using the keyword on the blog's h1, first paragraph, and meta tags (title or description).
Ketan Pande of GoodVitae agrees on finding low-competition keywords: "A low domain authority website should focus on long-tail keywords which have a decent volume. But also, it is necessary to look for low competition for those keywords. You can use keyword planners of SEMrush to find competition levels. On average, long-tail keywords usually have low competition, and you can leverage it to rank in the top 10 of search results."
According to Quentin Aisbett of OnQ Marketing, "If a company has a low domain authority in a competitive landscape, it makes sense to target the long-tail keywords that the competitors are not. This low-hanging fruit is a good way to establish some early search traffic. I would encourage companies in this instance to use this early traffic to build an audience that you can rely on for more traffic when you publish new content."
David Azar from Outsmart Labs shares, "Businesses should focus on long-tail keywords, keeping in mind that those typically hold the lowest keyword difficulty, which is more important. Shorter keywords are typically more competitive, so it's easy to get buried by being ranked under the competition. The most crucial aspects to examine when choosing keywords are keyword difficulty and search volume. The higher the search volume, the better, so long as the keyword difficulty remains as low as possible.
Yes, but not exclusively
Fleur Tucker of citrusHR shares, "Yes, but not exclusively. Typically the competition is too high around short-tail keywords for low domain authority sites to rank in the short-term. It's best to create a combination of long-tail and short-tail focused posts – so that you can start to chase down the competition for the short-tail while also bringing in traffic via the longer-tail keywords."
Marc Andre of Vital Dollar told us, "Focusing on long-tail keywords can be an effective way to generate traffic. However, I think improving domain authority is equally important. Getting more links, especially quality links, will make it easier to rank any content.
Greg Secrist of BKA Content thinks, "Yes, as long as they support the main keywords the business is going after. Domain links are the main powerhouse to help with domain authority. But, using long-tail keywords to get people back to your main home page is a good strategy and can definitely help."
Mac Fadra from MAXiM Hair Restoration attests, "By incorporating both long tail and short tail keywords on your site, you're appealing to the highest amount of online searchers. If you were only to focus on your "money keyword" for each page and post on your site, you'd be pigeon-holing yourself into one category. Prospective patients search for businesses and information in dramatically different ways based on their online prowess and their position in the sales cycle (early educational research vs. they've done their research and are now looking to book a treatment). We've found that making blog posts that speak to both ends of the sales cycle is the best approach, as you can offer so much specific information in a blog post that might not be otherwise applicable on one of your main pages."
Fadra continues, "Some of our best ranking pages in certain markets are blog posts that answer hyper-local questions, so I think it's working out nicely. All of these elements help improve domain authority, so I don't think you need to think about as "I need to increase my DA" but more so "What can I do to make this site more applicable to more of my customers?"
Not necessarily; other focuses are also needed
Gwen Thomas of Vocal Academy shares, "If the company has low domain authority, then targeting long-tail keywords is probably the only way to go. Still, targeting keywords with low competitive level is not the magic bullet.  The competitive level should probably be the first filter you use when choosing your keywords. Then, you need to make sure they go through the following filters as well:
First, check relevancy of search intent. If you're planning to write the blog post, make sure that the keyword has the informative intent. If you're planning to use this keyword in the call to action, make sure it has direct bottom-of-the-funnel commercial intent.
Then, check the competition in the search engine results page. A few websites might target this keyword; that's why it's competitive level is low. At the same time, all of those websites might have significant domain strength which would mean that you have very few chances to outrank them."
Cassandra Wilson from CanIRank reports, "Building up domain authority should be part of a thorough SEO plan. Long-tail keywords would likely be part of that equation, but they shouldn't be the only focus. The danger of focusing exclusively on long-tail keywords could lead to a disconnected site where your posts end up being focused on a jumble long-tail keywords that are hardly relevant to the totality of the website."
Sharad Varshney of OvalEdge attests, "Focusing on long-tail keywords is not enough for companies with low domain authority. Even the long-tail keywords can have a significant difficulty due to a large number of strong websites fighting for them. Therefore, companies whose websites have low domain authority should make sure they analyze the target keywords in details and choose the ones with reasonable difficulty. Some of the selected keywords may turn out to be short, while the majority of them will be long-tail. One particular breed of long-tail keywords will always have intense competition behind and a significant difficulty unattainable for low domain authority websites. Keywords with action intent are often long-tail but have the whole set of competition fighting for them."
Mike Falahee of Marygrove Awnings says, " Long-tail keywords can be useful in attracting people who are specifically looking for your content. However, you're going to get a smaller, more focused percentage of traffic. If you're looking to appeal to a larger audience and gain a higher ranking, you'll want to improve traffic first – and long-tail keywords may not be the most effective method."
Kris Hughes from Blog to Scale believes "using long-tail keywords as a low DA site should be a part of the SEO game plan, but not necessarily the focus." Continues Hughes, " Doing so is a solid way to potentially rank for some keywords that are below the radar, and have less competition overall than the shorter-tail versions which are being competed over by high DA sites. That being said, it's still important that the primary keywords you're chasing are contextually relevant to the content you are producing. If using long-tail keywords leads to a lack of contextual relevance, it's not a good idea. If those long-tail keywords are semantic or LSI keywords that are related to a shorter-tail keyword or phrase which may be the focus of a blog post or article, then you'll naturally get rewarded for sprinkling them into content, by Google.
According to Joshua L. Goldstein, Esq. of the Law Offices of Joshua L. Goldstein, PC:
"Regarding a site with a particularly low DA trying to gain search positions by utilizing long-tail keywords; sure, that can work, but I wouldn't bank on it as my only strategy. As an example, in July 2019 we received nearly 20% of our traffic due to our blog posts. You know why? Because they're accurate and educational in content, provide the reader with some sort of value (whether that's self-education for their next step or learning about what I do), and they're not meant for SEO, but for our clients. People searching online for content can identify pretty quickly if the page they landed on is click-bait or actual content; which you can see where you fall on that spectrum by your bounce-rate and conversions.
I think it's more beneficial to focus on the currency of the blog post and how you could improve it to speak more accurately to the current trends in your space and what people are searching for. Meta titles, descriptions, changing H1s and H2s, updating certain visuals, and similar steps can improve a blog post's desirability. Also writing posts about very current news articles can allow to to ride a wave of search traffic by the general public. People want the answers to their questions on the site they're visiting, they don't want it to be a ruse for lead generation."
It depends on the company
Gary Morris from Grafted-In LLC believes, "It entirely depends on what type of company. Some industries will find that organic traffic isn't the right sort of traffic for conversions. So a company really needs to focus first on attracting their ideal customer and putting out content that supports that goal. Longtail is certainly worth pursuing for certain industries and yes, if they've got a low DA, they should focus on lower competitive content that is written really well."
No, another area is more important
Danielle Carson of Lake One recommends prioritizing backlinks: "Typically the long-tail keywords have a lower keyword difficulty and will, therefore, be easier to start ranking with. A wiser strategy to increase domain authority is with backlinks, though. I'd recommend starting there."
Robin Young of Fitness Savvy told us, "We prefer producing high-quality content which targets a wide variety of keywords. When targeting a long-tail keyword, the topic may be too vague to satisfy user intent and may lack context. It is difficult to produce long-form content for a long-tail keyword. We found that producing a large (3 – 6k word) article which targets the primary keyword and multiple long-tail variations is the best option. Our tests and data also suggest adding a table of contents improves rankings significantly – even on shorter content (less than 500 words)."
Matt Benevento from Geek Powered Studios affirms that relevancy should be the most important factor in choosing keywords: "A low domain authority site will be more likely to rank for lower competition keywords (this could include long-tail keywords). However, a site should generally strive to rank for the most relevant keywords, whether that means short or long-tail keywords. Don't just focus on one tactic. Cultivate high-quality, relevant content, while building your backlink profile and domain authority."
How to determine if a post is worth updating?
To save time and energy, it's important to know which posts are really worth updating. So, we asked the marketers to weigh in. The most popular responses were based on the traffic and conversions they bring in, or to make sure a quality post stays relevant. But those aren't the only reasons to update. Let's examine their responses.
Relevance
Gwen Thomas of Vocal Academy shares, "There are two main scenarios when I consider updating my posts: First, the ones which are designed to talk about trending topics. Basically, if you write about popular music genres of 2019, you understand that you would need to update it in 2020.
Second, if the post is used to be very efficient, but I see the steady decline in the inbound traffic. This means that I need to go to the drawing board, see who and why outranked me and make the necessary adjustments to the post."
Frank Kenny of Frank J. Kenny LLC attests, "Our site domain is strong, so if a post ranks for a term and gets at least SOME traffic, it can be worth updating. It's also worth updating if it is a post that supports another relevant post on a similar or related topic. It's also worth updating if it solves a big problem, even if it's just for a small segment of our audience."
For Arfa Nazeer from SheMeansBlogging, "outdated content" is a sure sign that a post needs updating. "It's literally the first thing that I notice— if I see the post is unfresh, and has not updated with recent data, statistics or new content. Along with that, I also consider broken links, or expired links a key indicator to update a post. With that, old graphics or expired screenshots is a big no-no. In brief, if a post has outdated content, visuals, old data, and expired links – it's time to update the post."
Danielle Simmons of iMatrix shares, "With our niche, we need to make sure that the information in each post is current with industry standards. Any posts older than 1 year will be reviewed for accuracy and relevance in today's market. We also track how well our posts are performing at the 1-month, 3-month, 6-month, and 1-year marks. If any posts are doing poorly, we may look at them before that year mark."
Vishal Srivastava of HiveDesk told us,  "There are two main drivers – traffic and keyword relevance. I monitor monthly traffic to my top pages. If I see a drop in traffic /rank or see a new page in the top 10 that has better content, it's a signal to update that page.
If an existing page is getting impressions for relevant keywords but is not on page 1, it's signal to review the content. It does not mean the page must be updated – sometimes, it needs more backlinks. But it's worth reviewing such pages to see if content update / upgrade will be effective."
According to Mike Falahee of Marygrove Awnings, "If the content is still relevant, it's worth updating, especially if the overall traffic has gone down. Revamping useful content is going to be more successful than trying to create brand new content that is 'with the times'. Tried and true information is always more useful than content that is popcorn for the masses."
Says David Azar of Outsmart Labs, "If the article is performing well but is missing information, you should add to it or update it for accuracy. Also if an article is written about a specific year and remains accurate, update it yearly. Also, determine the number of backlinks the article gets. The more backlinks to your website, the more value that article in particular holds. You should also do a broken link analysis of your site, and be sure to remove any broken links associated with your website or blog. Continue to add new links if the article is doing well."
Mac Fadra of MAXiM Hair Restoration reports, "We tend to look at engagement and if there is quality engagement to start, we know we've written something that is desired by our target demographic. If we see those initial indicators of success, we oftentimes will go back into the post and add some additional content to make it even more thorough and maybe ask another team member to run their eyes over it and suggest other methods of improvement. There are always ways to improve, so we like to explore those options and implement the best ones."
Matt Benevento of Geek Powered Studios recommends, "If a struggling post has a relevant topic and provides value to your target audience, you should consider investing in updated content. This is especially true for well-performing blogs that were hit with Google algorithm updates like Medic. Some of these blogs just need a bit of TLC to regain their authority and traffic."
Post is gaining traction in search results
Marc Andre of Vital Dollar reports, "When I'm looking for posts to update, an ideal candidate is a post that already gets some search traffic and ranks at the bottom of the first page or on the second page or the search results. Google obviously sees something good about these pages, and now it's just a matter of improving them a little and you can see a significant jump in traffic. If an old post is getting no search traffic at all, I probably won't update it (unless it's for reasons aside from SEO) because it probably has a long way to go to get to the top of the first page."
Christian Carere from Digital Ducats Inc recommends, "Check the backlinks that are attached to the post. If there are a lot of linking domains, the page has accrued authority and is adding value to your site. Check history of traffic to see whether the post currently or historically generated a decent amount of traffic. Does the post rank for any keywords? Can you add keywords to the post? How dated is the information? When you update, you should try to change at least 25% of the information in the post."
"The emergence of a SERP feature is one of the biggest reasons for re-optimizing posts," continues Carere. "If your page ranks on the first page of Google and there is a featured snippet, then you're eligible to go after that position. Adding clean HTML, title tags and the ordered list format (when applicable) can make the difference in winning position zero."
Sam White of Truck Driver Academy shares, "We run an audit for striking keywords, meaning keywords in the 11-20 positions. This audit is completed with SEMrush. If a blog has keywords in this striking range, we know we have the opportunity to add content to the post. This will benefit the blog in both new keywords and also overall freshness benefiting the keywords already ranking in the top 10."
Ketan Pande of GoodVitae shares, "If the post has a good ranking (between 1-20), then some minor updates can easily boost the ranking. I prefer working on old posts that meet this criteria. Also, sometimes it's necessary to study your heading; you can find a common link between top-ranking posts and can make changes in the heading of your own blog post. This can work wonders, as sometimes your heading is what improves the CTR and in return the ranking."
Ranking is Dropping
Ben Taylor of WriteBlogEarn told us, "I prioritize articles that have previously held good positions in the SERPS but began to drop. Often, refreshing the content of these can give them a noticeable boost. At this point, I do my keyword research again, work on optimization, and also ensure that the articles truly compete with those currently holding the top rankings."
Jakub Kliszczak of CrazyCall recommends, "Consider what's going on with the industry, as well as take into account your competitors' effort. If you notice that your post is getting outranked by newer or more fresh blog posts then it's time to update yours. Also, trends come and go so you should consider updating your blog posts when visuals or layout you used goes out of trend."
Gregory Golinski of YourParkingSpace told us, "If one of your articles has an interesting topic, but is underperforming compared to other, similar articles online, it's a good idea to update it.
Simple things such as adding more relevant keywords, modifying your meta description or adding up to date information can make your article rank much higher in search results. Another good idea is to try to build backlinks pointing towards this article to give it more link juice and improve its rankings.
New SEO strategies pop up all the time. For example, a good idea is to write a small piece of text that answers the main question in your article so that it appears as a featured snippet on Google. Or why not add a FAQ to possibly appear in the 'People also ask' box in Google search results? There are always new ideas and strategies that you can implement in your articles."
Traffic and Conversions
"I'll analyze posts by putting them in one of four buckets around search visibility/traffic and conversion rates," shares Quentin Aisbett of OnQ Marketing. "If they have neither of those then I'm more likely to delete that post. If they have good search visibility/traffic but don't convert then I'll look to update the content and identify how I can convert more of the readers. If it converts well but has little search traffic, then I'll get to work on bolstering the post, improving the on-page items, and building some inbound links."
Lewis Peters of Online Turf shares, "With any aged website, there is a good chance that there is blog content that is old, outdated, or even low quality that provides no real use to the audience. In this case, I always recommend a 'remove or improve' process to each blog on the site. If the post is 'thin' and does not provide quality to the user I would lean toward deleting the post. If the blog still gets a good amount of traffic and is simply outdated, I would prefer to update its freshness and improve it further."
Brady Balhorn of Checkerboard attests, "Google Search Console and Google Analytics will tell you everything you need to know. Look for blog posts with the lowest traffic, low time spent on page, and/or high exit rates. If a post isn't getting you any visitors, changing the keyword or re-optimizing could help immensely. If a page has a low average visit length, you might need to make the post more intriguing at the start. If your page has a high exit rate, you should work to improve the call-to-action or increase internal links.
In terms of page traffic, you can also look at traffic change velocity. Drill down to a specific post, and look for posts that have lost a large amount of traffic in recent weeks or months. Alternatively, you can just choose the posts with the lowest traffic."
Says Alex Knight of Valuechain, "The reason to update it is usually 1 of 2 things: There's been a change in Industry or Product that means the content is out of date, or; the page isn't performing very well (traffic or conversion).
If your subject matter experts are responsible for creating content, or informing content, then they should be the ones to know if there's an update to the product or the market. You'll probably want to create new content about it. But that's when you need to be smart and say 'because of this change, we also need to update x,y,z posts'. You'll likely want to link similar/relevant posts together anyway, so this should be part of that regular process and checks.
If it's that the post isn't performing very well, maybe the content isn't optimized effectively, maybe the site doesn't have significant enough domain authority to rank for the keyword you're targeting and you need to change to a long-tail, or maybe there's not much to lead the reader onto afterward. There could be a number of reasons why it's not performing. But it should be fairly clear in the analytics or what needs updating, and which posts are performing well.
However, the most common reason we'll refresh a post is an update to the marketplace or our products."
Kris Hughes of Blog to Scale believes "there are two types of posts that are usually worth updating: those that drive a bunch of organic traffic but do not lead to conversion or the desired action; and those that don't drive much traffic but lead to more conversion than higher-trafficked posts."
Continues Hughes, "For those that drive traffic, but do not convert, it's worth considering the design and elements of the post. If it's an older post, it's probably worth updating with more current information and make the post more visually appealing so it's more likely to convert.
If the post is converting at a high-rate, but not driving much traffic, it's worth considering if the post could be fleshed out with more information or elements that would yield more organic traffic. Or, potentially, even 301'ing the post to a higher-traffic post that's similar, but maybe not converting as well to redirect the readers with buyer intent to better-performing content."
Michelle Kubot from JourneyPure shares, "We look at a variety of factors, but I'd say the most common are traffic changes and monitoring competitors and other content creators. If a blog post has historically been gangbusters, but suddenly has a drop in traffic, I'd investigate to see why. Is the content no longer accurate, which could explain why readers are leaving? Is the content no longer as expansive as searchers are looking for due to increased competition? If we think a blog post needs to be enhanced or optimized for a second or third time, we have no problem doing that and monitoring for gains or changes. The nice thing about content is that it's fluid and you can test different approaches and methodologies to evaluate which is the best option."
Nachum Balofsky of 1SEO told us, "I take my cue from Susan Moeller over at Buzzsumo, and divide blog posts into the Good, the Bad, and the Ugly. "Bad" blogs generate some traffic, but below what you were aiming for. In such situations, that blog may be well worth updating. An "ugly" blog post, on the other hand, generates nearly no traffic at all, in which case deleting the piece probably makes more sense than trying to salvage it."
Age and Bounce Rate
Alistair Dodds of Ever Increasing Circles told us, "If an article is older than a year old, we always look to update it.  Potentially every six months or less for time-sensitive articles where people need the latest advice on a solution. Users pay attention to publication date so if they've run a search for, let's say 'facebook ads optimization techniques' and your ad is over a year old, they are going to assume some of your advice is already dated and not click through. The drop in your CTR will affect your rankings. So it's vital to ensure your publication dates stay current and relative to time-sensitive inquiries.
Likewise, if the bounce-rate for a particular article remains outside the average for your posts, it's telling you that perhaps the content is not thorough or engaging enough for the audience. As such, it's important to update your post with new engaging content that helps to address this. Benchmark your content against the competition. Perhaps they have made compelling updates since you originally posted your article. If so, the game has changed and you need to match and exceed their content creation quality standard."
Robin Young from Fitness Savvy shares, "If the post is already generating traffic, but has a high bounce rate or low session time, it is worth considering updating. We had several articles on a similar topic, none of which were ranking well. We combined them into a well-structured, long-form article and ranking improved rapidly."
Cassandra Wilson from CanIRank says, "Is it an older, decently performing post that aligns with our current goals and that is of use to our current buyer persona? Then, yes, we update. We also analyze if it's useful supporting content that aligns with our current goals and needs. We may be focused on top of the funnel vs. conversion content, and which posts we choose to update will reflect that."
Conversions and Engagement
"We determine if a post is worth updating based on its conversions," says Danielle Carson of Lake One. "A low traffic post with high conversions would absolutely benefit from an update. We also look at social interactions on the posts, comments, and other forms of engagement. A highly engaging post with low organic traffic is a sign that the SEO value of the blog needs to be tweaked."
Impressions and Clicks
"I look at how a post was performing in the last three months and compare it to three months prior," says Ron Stefanski of Prison Insight. "I then find those that had a large drop in both impressions and clicks in Google Search Console, and I revise from the worst drop off to the ones that didn't have as bad of a drop off.  It's very important that you base this off of impressions and clicks, not just clicks itself.  Because sometimes keywords/pages can have a random spike in impressions and if you are only looking at clicks, you wouldn't notice the spike of impressions.  Make sure you find the correlation between those two variables to determine what needs to be edited."
Multiple Factors
"There are a couple of things I'll consider when deciding whether to update a post," says Fleur Tucker of 1989: "First, search volume around the keyword/topic the post is targeting – would performance for this keyword drive a substantial volume of traffic?
Second, how likely we think the blog post will drive qualified traffic with a chance of converting.
Third, the quality of the competing content for that keyword and how likely we feel we can improve on it.
Finally,  how well the post is currently ranking: for example, could a successful update help move a post already on page one further to the top, or from page 2 to page 1?"
Matt Erickson of National Positions shares, "We are planning on doing more updating soon. For us, it comes down to: What is changing in the market? Did Google or Facebook do an update that may render past information null? Well, time to update. Or perhaps we have found updated data points for one of our "what you should know" posts. Again time to update. Also, if a past post was getting a fair amount of traffic and those numbers are dwindling – we will look into updating that content – as well as it was obviously striking a chord with readers."
Ali Hasan of Film Jackets lists three reasons why a post would need updating:
"1. Keyword position is far – when your main keywords are ranking in-between 3rd to 5th pages of Google, this means you need to recheck if the post is properly optimized. You can either remove low performing keywords or add more, depending on the situation.
2. Broken links – keep checking the internal and external links that you placed in your anchor texts. If they are redirected or removed, consider changing them to make sure your readers don't see a 404.
3. Adding fresh information – when you have something new to share with your readers. Be sure to change the date, because when Google crawls your post, it will notice there is a fresh update in the content."
Anand Iyer lists a further slate of reasons to update your posts:
"Go to Google search console for your blog and find blog posts that get a low click-through rate (less than 1%) or that have a high impression rate but not many clicks. Also, look for posts that performed well in the past but aren't doing well due to competition. Finally, find the top 10 posts that account for more than 70% of organic traffic and update them (with fresh stats and metadata, and for accuracy)."
In conclusion
Reoptimizing old blog posts is a smart strategy, but choose the posts you update carefully. Update posts based on relevance, significant rises or drops in search rankings, and the traffic and conversions they bring in. Update posts to make them fresher and more comprehensive, and generate valuable backlinks.
Don't discount non-text elements, such as images, as a way to reoptimize posts. And whether you're making new posts or updating old ones, optimizing for long-tail, low competition keywords is a good bet if your website has low domain authority.