How to find affiliate marketers? Jump right in with these top 10 ways to find affiliates:
You've decided to start your own affiliate program. But how will you find those all-important affiliates to promote your products?
Whether your online business is a small startup or an international ecommerce store, an affiliate marketing strategy can help you bring in new customers and increase your sales through word of mouth. In fact, according to some sources, affiliate marketing programs generate as much revenue as email marketing!
Of course, that's only if you have the right affiliates in your corner. So, how to find affiliate marketers?
Today, we go over 10 proven ways for finding affiliates (plus, how to recruit affiliates) in our step-by-step guide. We also unearth why one popular way to find affiliates doesn't work as well as you think.
First, let's look at the types of affiliates you could find and recruit. 
Who could be your affiliates?
Affiliates could be:
Bloggers
Social media personalities
Other online entrepreneurs/website owners
Industry influencers
Niche experts
Your existing customers
They don't have to be familiar with your product, but they should be trusted within the same niche you occupy, or by the same audience you target.
Regardless of their type, affiliates will place trackable links to your website – affiliate links – on their own channels in exchange for compensation, which is usually a cash commission for every sale they help you make. So, you'll need to search for affiliates strategically (and then offer benefits that encourage best-fit affiliates to sign on). 
How to find affiliates: Top 10 proven ways
You'll have to put in a little bit of work to find the best affiliates to enroll in your own program, but it's well worth it.
How to find affiliate marketers? Here are our 10 best practices, including the top places to look for affiliates. 
1. Reach out to niche bloggers
Advantages of this approach: Brings in targeted leads, leverages bloggers' authority, could drive lots of traffic to you if they have SEO experience 
Things to keep in mind: Finding bloggers can be time-consuming, and you may need to familiarize bloggers with the product
Bloggers make great affiliates because they already have a built-in audience that trusts what they say. If the right blogger recommends your product and posts an affiliate link to your website, this trust factor will bring warm leads right to your doorstep.
But don't just go after any blogger – look for bloggers who share a target audience and niche with yours, and recruit them as affiliates.
If a blogger's audience overlaps with your brand's own audience, they'll bring in targeted leads who trust their recommendation. And if a blogger is an expert in the niche your product or service fits into, their authority will make their readers even more likely to trust their recommendation.
Finding and recruiting bloggers whose audience and niche match yours will lead to more targeted affiliate traffic, as well as referrals who are more likely to purchase from you. In other words, a higher conversion rate.
And since most successful content creators have turned their blogging into a business, they'll dedicate time to publish high-quality content around your product. They'll creatively showcase your product with compelling stories, create related images and photos, or even shoot videos to highlight your product. Many will also have their sites optimized for SEO, further increasing the chances your product will be found by the right audience.
There's a reason why so many brands recruit bloggers as affiliates!
A list post on the travel points niche website The Points Guy highlights several affiliate links to the travel credit card companies.
How to find affiliates with a blog search?
Finding niche bloggers to become your affiliates is all about using the right keywords.
Start by searching general keywords related to your industry. Then, move to more specific niche keywords to narrow down the pool.
Search for bloggers who are answering questions related to your niche.
Try searching for "best [category your product or service fits into]" to find blogger reviews and lists of top products in your niche.

Has a blogger mentioned your product in a post? Ask if they would be willing to add an affiliate link to your site.
Have they written lists where your product fits in, or reviews of similar products? They might be willing to feature your product as well, especially since you're offering a commission.
Search for a keyword using "blog" or "expert" (e.g., "WordPress hosting expert" or "essential oils blog") to increase the chances a blog will turn up in search results.
As you find possible bloggers, keep track of them in a spreadsheet with notes. Also, check in on how well each blog is driving traffic with SEO tools, like Ahrefs and SEMRush.
Once you've compared potential affiliates and highlighted your preferences, it's time to personally reach out to affiliates. Check out their About page, Contact page, or social media accounts to find the best way to reach them.
Remember, this message is the perfect opportunity to really make a connection and show them the benefits of being your affiliate. So don't be generic. How will the partnership bring value to them? How does (or how will) their content help your brand?
Pro tip:
Affiliates don't need to have experience with your product before you recruit them. But if a blogger hasn't tried your product yet and you decide they would make a good affiliate, send over a product sample.
This way, they'll be able to authentically review and write about your great product, and better convince their audience to check you out via their affiliate link.
2. Partner with similar but non-competing websites
Advantages of this approach: Lets you leverage cross-promotion, works well for all industries, lots of webpage options for website affiliates to promote your products (beyond blog posts) 
Things to keep in mind: Make sure the website partnership feels natural, especially since other businesses won't be reviewing the product like bloggers and social personalities can
In your search for bloggers, you might come across other websites that fit with your niche and share a similar audience, but don't compete with you.
You can also partner with these sites and ask if they'd be willing to promote your product using an affiliate link. Since they'll be compensated for successful referrals (and since you'll cross-promote each other's companies as part of the joint venture), it's a win-win for everyone.
What's more, this strategy for finding affiliates works well for B2Bs and B2Cs.
For example:
If you're a luggage company, you might partner with a travel agency.
If you sell social media scheduling software, a brand mention software service would be a solid potential partner.
If you sell gourmet cheese or chocolate, you could partner with a wine company.
Your business affiliate partners can include affiliate links in their own blog posts, on recommendation pages, on dedicated partnership promo pages, or coupled with partner-exclusive coupon codes.

Luggage shipping company Luggage Free invites travel agents to become Luggage Free affiliate partners. Their related but non-competing services make this partnership a great fit.
3. Look for key social media personalities
Advantages of this approach: Social personalities' followers are extremely engaged, and social personalities can give authentic reviews of your products (high trust factor)
Things to keep in mind: Smaller influencers will be easier to leverage, and will have higher follower engagement, compared to bigger names. Also, most influencer-affiliates will expect coupon codes for their followers. 
Social media personalities also make excellent affiliates, so make sure to comb the social networks your audience frequents most. Just like bloggers, many social media personalities have turned content creation into a business. Not only are they able to create exciting content, visuals, and stories around your brand, they also have built trust with their audience. This means that influencer marketing and affiliate marketing can go hand in hand. 
When selecting social influencers to be your affiliates, don't be misled by their number of followers. Here are more effective things to look out for:
Personalities with an audience that matches yours
Voices who speak authentically and personally to their audience
People who offer value and show expertise
Personalities with consistently high levels of engagement from their audience
In fact, influencers with relatively smaller numbers of followers tend to be more focused on a niche – and more trusted by their community of followers. They're also more likely to be motivated by an affiliate commission structure, where they're compensated for each sale they help you make. (On the other hand, bigger influencers tend to charge high prices upfront for any marketing campaign they execute for a brand.)
So how do you find the best affiliates for your brand? Look for micro-influencers and nano-influencers in your brand's niche. Micro-influencers have between 10,000-100,000 followers, while nano-influencers have between 1,000-10,000 followers.
Use targeted industry hashtags to find affiliates on social media platforms. You can also use a brand mention tool to find personalities who have mentioned your products or who are talking about relevant keywords in your niche.
Track these potential affiliates on a spreadsheet. Then, personally reach out to your top picks and give them a chance to try your product if they haven't already (just as you would with bloggers). Be sure to cover the mutual value an affiliate partnership would create!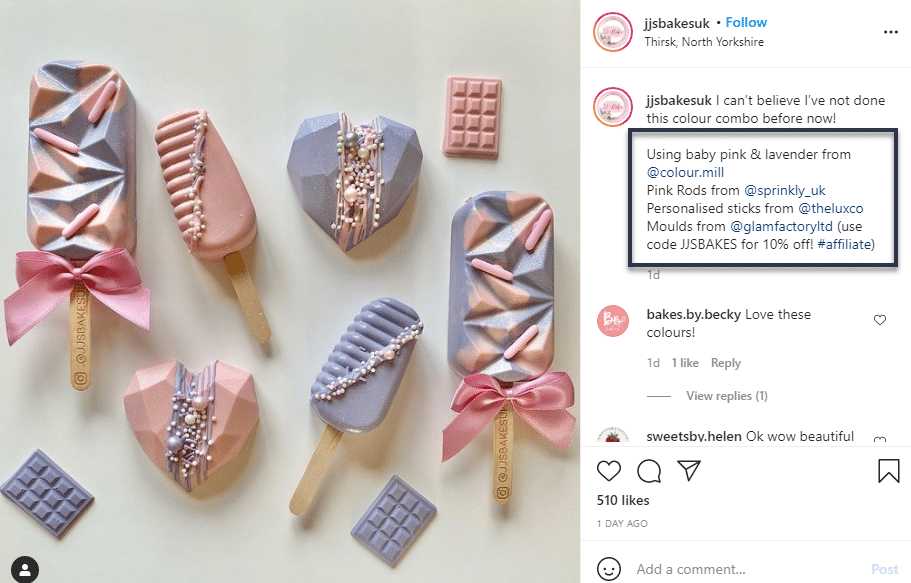 Nano-influencer @jjsbakesuk, a content creator in the cake space, is an affiliate for GlamFactory, a baking mold/baking supply retailer. 
4. Partner with industry influencers and experts
Advantages of this approach: High levels of authority within your industry (extremely trusted names)
Things to keep in mind: Not all experts have websites, blogs, or social accounts where affiliate links will fit naturally
For a B2C, industry influencers are often bloggers or social media personalities – as people trust their opinions about industries like food, clothing, accessories, tech products, and home products.
But for B2Bs, industry influencers don't always have a social media account – or even a blog. If you're in the B2B space, look for speakers, experts, and thought leaders within your industry and niche, whose opinions are most trusted. As long as they have a suitable website where they can place your affiliate link on, they could be your affiliates.
This is true for some B2Cs as well, especially in the health space. For instance, if you're an electric toothbrush company, you might ask dentists to be your affiliates. If you have a skincare line, you could include accredited estheticians in your outreach. Other industries (both B2B and B2C) may find that industry analysts make effective affiliates.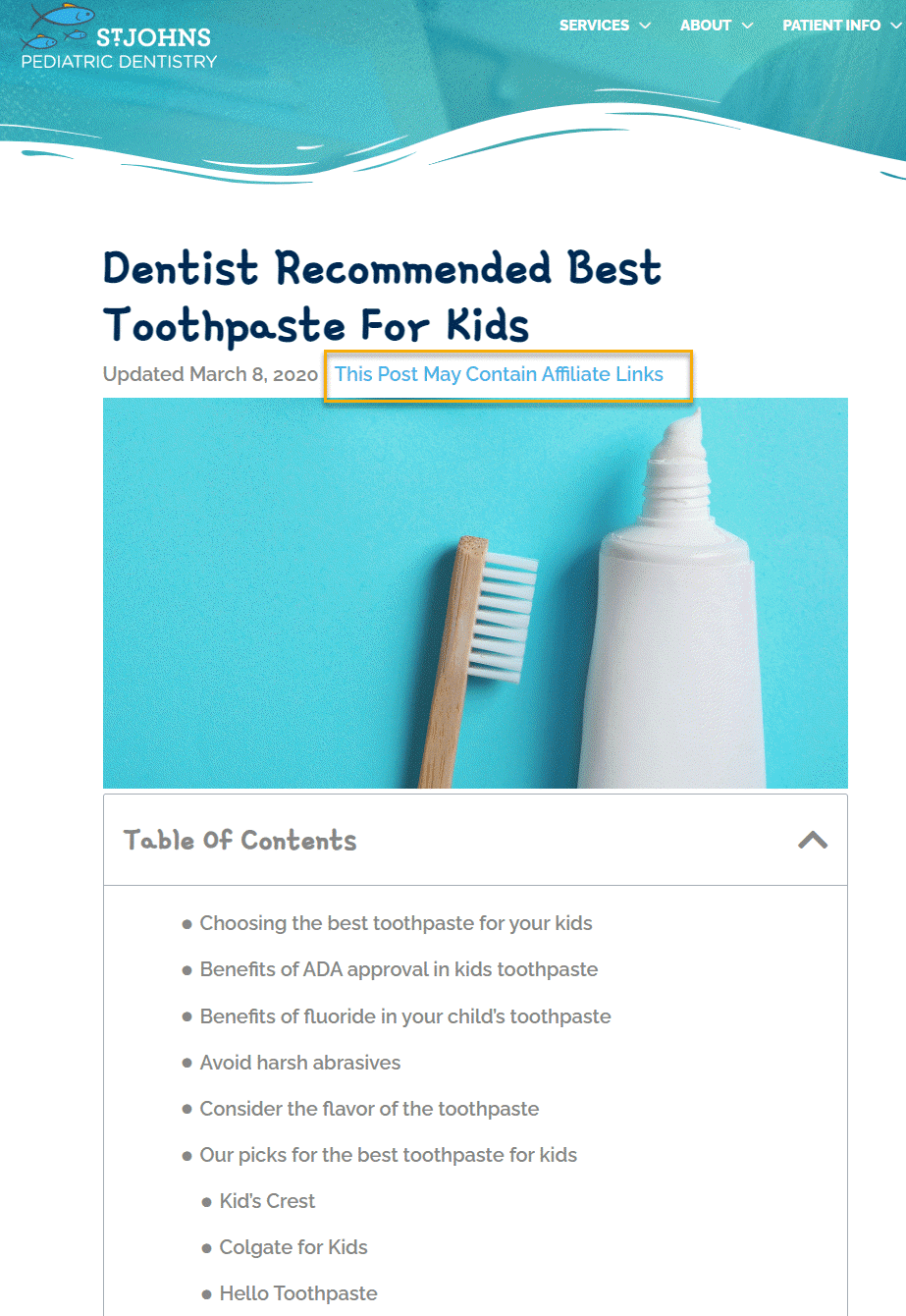 St. John's Pediatric Dentistry sometimes promotes dental products on the dental practice blog, as an expert affiliate.
5. Search on social media groups and forums
Advantages of this approach: You can find many experienced, active affiliates on one forum 
Things to keep in mind: This can take more time than other approaches, since you'll need to build a trusted presence in the group before reaching out
Industry-focused social media groups and forums are already a great way to stay connected with trends in your niche, as well as build relationships and trust.
These include:
Forums on industry sites
Facebook groups
LinkedIn groups
Reddit pages related to your industry
Quora
Why not use these groups to find experts willing to share your products and services? After all, they're already familiar with your niche and active in related discussions.
It's also worth your time to find affiliate-related social media groups and forums. Active affiliate marketers frequent these forums to find new products to promote. This means these groups are particularly great places to find affiliates who are willing and already familiar with the ins and outs of affiliate marketing.
However, before you share your program in a direct message, it's usually best to take the time to build trust and relationships first. Once you've built a presence within the group or forum and a relationship with the relevant experts, it will be easy to reach out with a private message and tell them about your program's benefits.
And like always, make sure the affiliates you plan to recruit are relevant to your niche and have an audience that matches yours.
Pro tip: Whether you're a B2B or B2C, don't sleep on LinkedIn groups for affiliate networking, especially if you find a group targeted to your niche. Join the group and post a message, and affiliates will contact you if they're interested. After all, they're already looking for potential programs!
6. Invite existing customers
Advantages of this approach: Existing customers already know and love your product, and their peers trust what they have to say – they don't need a large following to make an impact
Things to keep in mind: If you want all your customers to promote you (not just the ones creating content regularly), and you want to offer rewards other than cash, then a referral program will be a better fit
It's no surprise your happy existing customers can be some of your best advocates. They already know all the details of your products and services, and may even have already promoted your product to others.
Word of mouth is powerful – your customers don't have to be content creators, influencers, or experts to make an impact because people already trust the recommendations of their peers. 
Plus, the average customer has 150 followers on their personal Instagram account, meaning that every time a customer shares you and places their affiliate link in their Instagram bio, they could reach 150+ friends at once. Couple that with the power of trust, and that's a massive impact.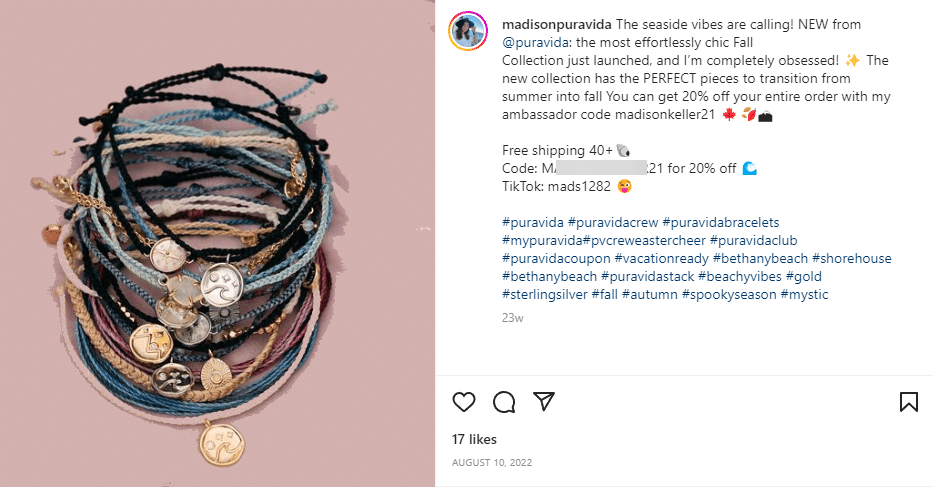 Jewelry company Pura Vida only accepts affiliates who already buy from and love the brand, like Madison Keller. 
Why not personally invite your best customers to join your affiliate program? Whenever they share with friends, family, or followers (which they might already be doing!), they can receive a commission on every successful sale. This not only shows your appreciation, but also deepens customer relationships and loyalty.
Pro tip: If you want to invite a larger base of your customers to refer friends, and you're looking to try out different reward structures (other than cash commissions), using a referral program software may be a better fit.
But whether you choose a referral marketing program or an affiliate program, Referral Rock can help you set up both, track the ROI of word-of-mouth marketing, and accelerate your growth!
7. Attract affiliates with a valuable commission
Once you've found the best potential affiliates for your program, the next step is to convince them to partner with you. Personally reaching out to the candidates you've found (as we've covered above) is key, but offering a valuable commission payout is another key factor in recruiting the best affiliates. After all, affiliates promote products as a way to earn reliable passive income.
Offer a commission rate that's competitive to other affiliate programs in your niche, while still making sure it's sustainable for your business. Consider offering higher commissions or added bonuses to your top-performing affiliates. For more on this topic, see our other article that covers all the details on setting a commission rate that effectively attracts affiliates.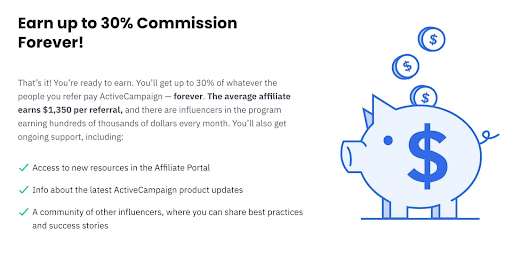 ActiveCampaign offers a recurring commission on both sales and renewals of the product's subscription.  
8. Create an easy-to-find program landing page (which includes or links to an application)
Your affiliate program's landing page also plays a big part in finding affiliates and attracting them. It's the hub of your program and contains all the information a potential affiliate needs to know. Transparency is key when convincing affiliates to apply to your program.
Your affiliate program page should include:
What commissions you offer (Include the flat rate or percentage, how it's paid, and whether higher commissions or bonuses are available for top-performing affiliates. Remember that offering an attractive commission increases the odds that an affiliate will sign on.)
What affiliates must accomplish to earn a commission
Benefits of joining the program
How interested affiliates can apply to join the program, and a link to the application
Clear terms and conditions of the program
Next, make sure your affiliate program landing page is optimized for search. Place easy-to-find links to the page on your website and on any the other digital marketing channels an affiliate might check (more on this in #9 below).
By bringing potential affiliates to you, a landing program page can save you a lot of legwork!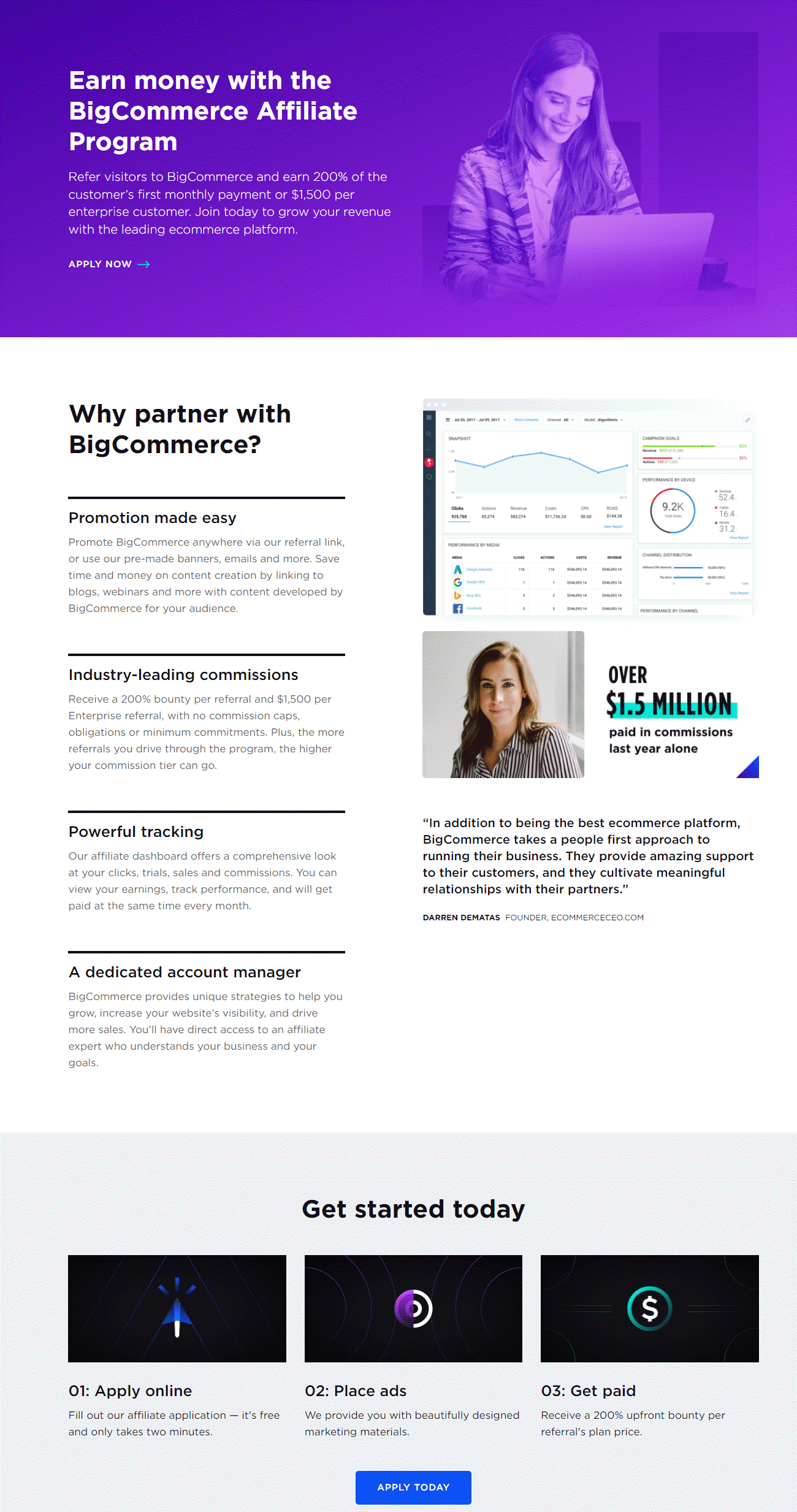 BigCommerce makes their affiliate program easy to apply to, and highlights plenty of benefits, including through a testimonial.
Finally, don't just allow every interested affiliate to join your program. Carefully screen each creator who applies to your program, and see how well their niche and audience match yours. Only once you feel someone is a good match should you reach out and let them know they're accepted to your affiliate program.
9. Utilize paid ads
Although they can get expensive, paid ads are another way to attract marketers to your affiliate program. Google AdWords is the most common method, and will give you a wide reach if you select the right keywords to target.  But Facebook Ads and LinkedIn ads might also work well, as they let you target your ads to very granular audiences Whichever method you choose, focus on niche keywords – think "[specific industry or product] affiliate program" and highlight your affiliate commission in the ad. 
10. Make your program as visible as possible on owned channels
How to get the right people to your affiliate program page, at a lower cost than paid ads? Here are several effective ways to promote your program on a variety of owned channels (the free channels that your business controls):
Include an affiliate program page link in your website's top menu and bottom menu
Optimize your website's affiliate program page for key niche terms plus "affiliate program" (e.g., "treadmill affiliate program" or "web host affiliate program") so it's easily found in search engine results
Promote your affiliate program in dedicated emails or email newsletters
Briefly mention your affiliate program in transactional and thank-you emails
Post your affiliate program on social media (and include a link to your program page in every one of those posts)
Link to your affiliate program in your social media bios
Add a link to your affiliate program in your email signature using a brief blurb ("Check out our affiliate program!")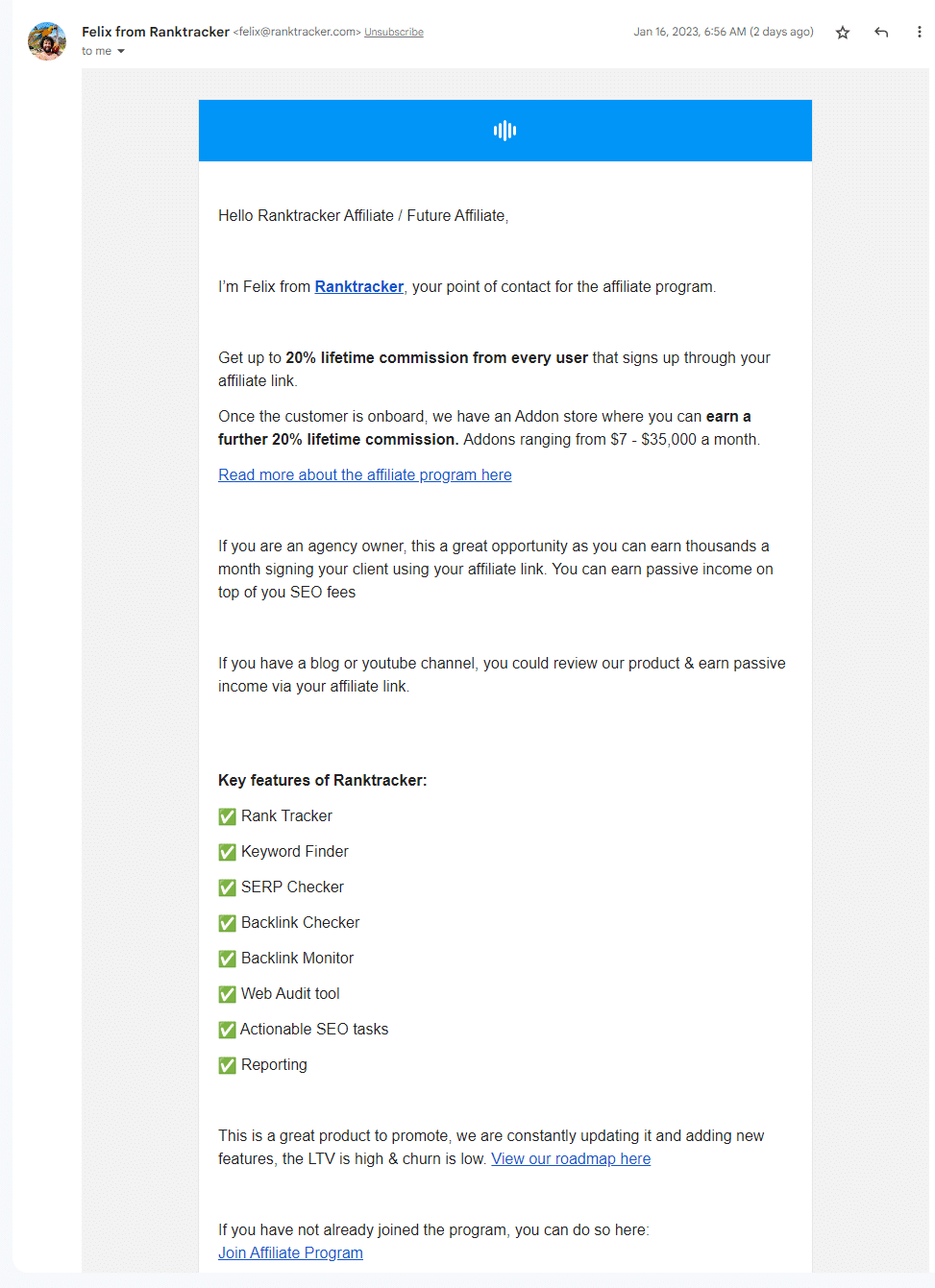 Ranktracker promotes their affiliate program in a dedicated email.
Why you shouldn't use an affiliate network for finding affiliates
Here's why one well-known method for finding affiliates isn't the best use of your resources.
You've probably heard about affiliate networks while doing your affiliate marketing research. These existing networks find and manage affiliates for you. But while they remove some of the legwork, these affiliate networks come at a cost.
You'll need to pay the affiliate network for finding affiliates for you. This "finder's fee" can be as much as 30% of the commission you pay affiliates.
Note: The fee for using the existing affiliate network is on top of the commissions you pay your affiliates.
What to do instead? Opt for an affiliate marketing software program and create your own affiliate network. Using software is more profitable in the long run, as you won't have to pay the extra commission to a network. This also gives you complete control over your affiliate data.
Plus, with affiliate marketing software, you'll be able to personally reach out to affiliates (and build stronger relationships as a result), rather than relying on a middleman to pass messages back and forth. It may take a bit more time to find affiliates with software, but the full control that software gives makes it well worth it. 
How to encourage affiliates to join your program?
Once you've found new affiliates, how to increase the odds that they'll sign on? Follow these best practices for reaching out:
Use the outreach method that's most convenient for the affiliate, based on where you found them and the contact information they provided
Cover the benefits an affiliate stands to reap from the program, including commission details and any other available incentives 
Explain how the creator's content will benefit you as a brand
Point out what you love about their content or work, and mention how you share a niche and/or audience
Share very brief details about how the program works, so the affiliate knows what to expect
Offer free products if the affiliate isn't yet familiar with your brand – or if you have a newer product you'd like them to promote
If they have plugged your brand before, thank them and recognize the relevant content they've created
Above all, focus on showing care and building a warm relationship with the potential affiliate
Key takeaway for finding affiliates: Prioritize quality over quantity
Now, you know how to find – and recruit – top affiliates to enhance your digital marketing efforts.
The key to successful affiliate marketing is to make sure your affiliates share your audience and can send you high-quality leads. It's much better to have a few quality affiliates than to waste your energy on a large number of affiliates who may have a large following, but don't perform as well.