Starting an affiliate program involves finding and recruiting content creators (affiliates or affiliate marketers) to place links to your website on their own blogs or social media accounts.
Whenever someone clicks an affiliate link and purchases your products or services, the affiliate whose link they clicked is rewarded with a cash affiliate commission. The affiliate has a way to earn passive income, while your business generates more leads and sales through the affiliate's product recommendations and quality content.
We put together some of the best program examples out there to help you start a high-quality affiliate program for your business.
15 of the best affiliate marketing examples (affiliate program examples)
To help your online business design its own stellar affiliate marketing program, we've rounded up 15 of the best affiliate marketing examples from both B2C and B2B businesses.
Keep in mind: The affiliate program examples on this list are run by larger businesses, so the commission structures offered might not be sustainable for a startup or smaller business just starting an affiliate program. Still, these successful affiliate program examples offer plenty for businesses of all sizes to learn from.
Amazon
Perhaps one of the largest and most famous affiliate program examples out there,  the Amazon affiliate program has undergone many evolutions. Currently, it's known as the Amazon Associate program.
What makes this affiliate marketing example stand out?
An established, credible name in the affiliate space, which makes it easier for affiliates to bring in conversions
Millions of Amazon products for affiliates to promote, allowing each affiliate to easily select different products that fit their niche. Amazon's affiliate program offers flexibility, while still staying completely on brand.
Different affiliate linking tools are available for larger websites, individual bloggers, and social media personalities
Up to 10% commission (but the commission rate varies by category)
If someone follows an affiliate link and adds the promoted product to their cart, the affiliate earns a commission on the customer's entire cart.
A companion "Amazon Influencer" program is available for higher-profile content creators. It offers similar benefits, plus a custom Amazon page with a unique URL where an affiliate can share all the products they recommend. (Even though it has "influencer" in the name, this program is an extended version of Amazon's affiliate program.)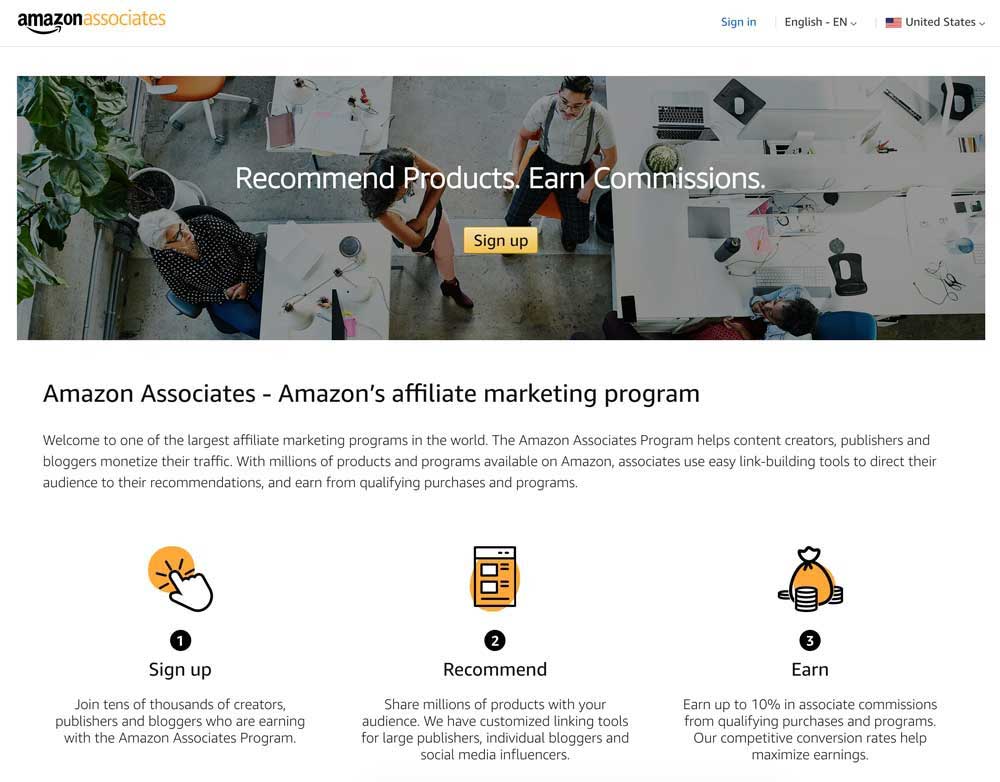 Skillshare
Skillshare offers online courses on a variety of topics, including photography, visual arts, and business management.
Skillshare's affiliate program has gained prominence because many social media personalities use it to promote the brand on their channels.
What makes this affiliate marketing example stand out?
Affiliates earn a commission on both free trial signups and paid subscriptions
A personal, real-time dashboard lets affiliates track all their traffic, referrals, and payouts in real time
Reliable monthly payouts keep affiliates happy
Affiliates can share exclusive monthly rotating offers designed to engage their audiences
Affiliates can access the entire Skillshare catalog and promote the courses they think their audience would be most interested in
Affiliate links have a 30-day cookie life, which allows affiliates to earn a commission on purchases up to 30 days after someone clicks on their link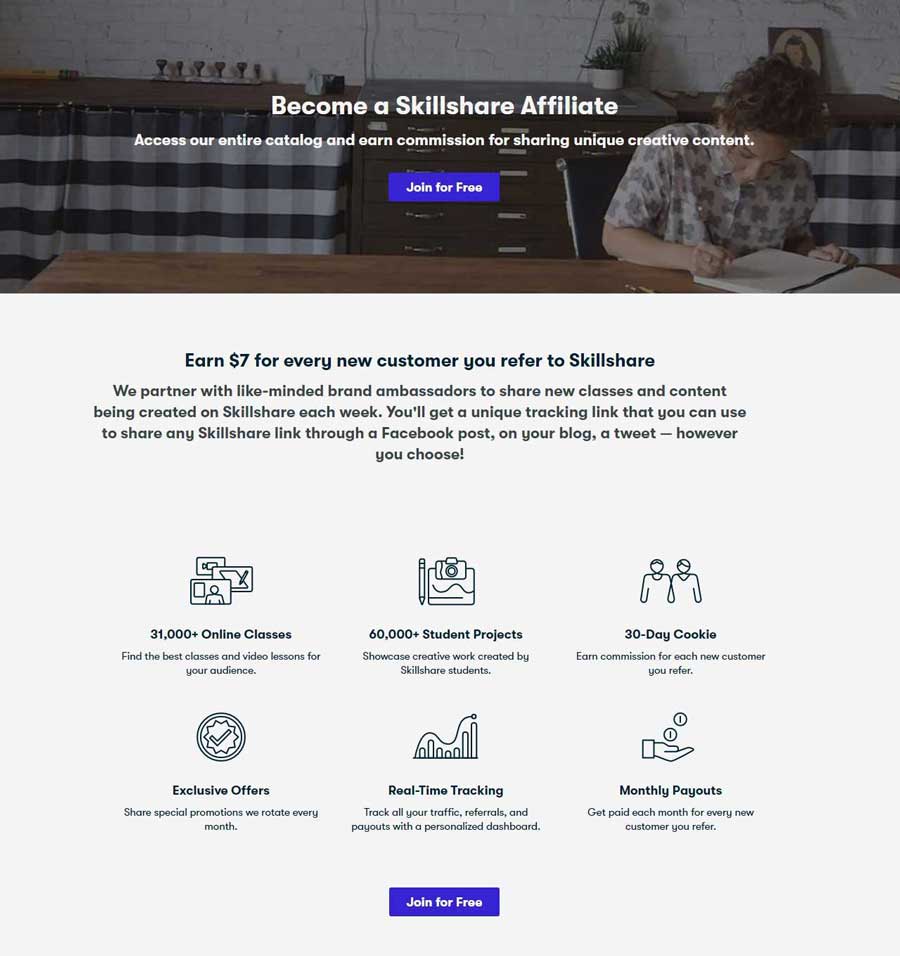 Airbnb
The rental brand that redefined vacation stays created a two-pronged affiliate program to grow its business from both sides – hosting and renting as a guest.
Note: Airbnb offers a renowned affiliate program example to draw inspiration from, but the program was closed as of 2021. Also, most of the program's key features (including commissions) were kept under wraps and known to former affiliates alone.
What makes this affiliate marketing example stand out?
Requirements to be an affiliate are clear (passion, relevance, versatility, creativity, an audience with high intent to book stays, and a minimum monthly visit count of one million), which helps ensure both affiliates and Airbnb will be successful in the relationship
An affiliate questionnaire (shown below) further verifies potential affiliates are good fits
Two segments of the affiliate program, for referring hosts and guests, allow for closely targeted messaging
Access to promote more than 4 million Airbnb properties in 191 countries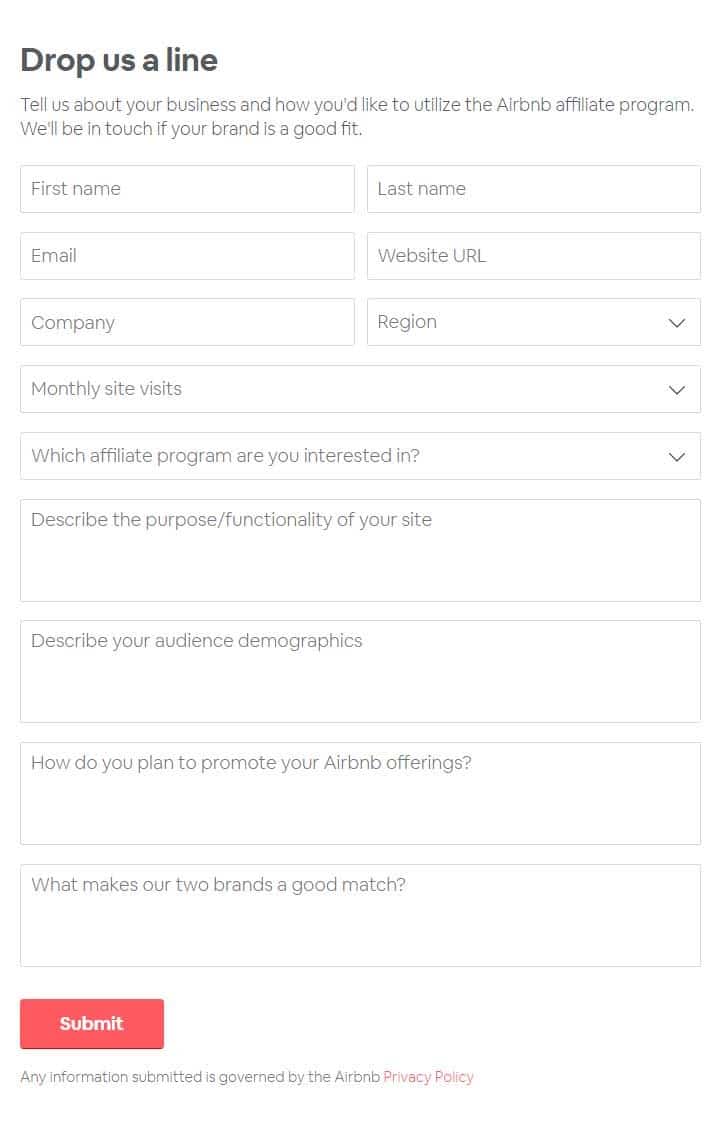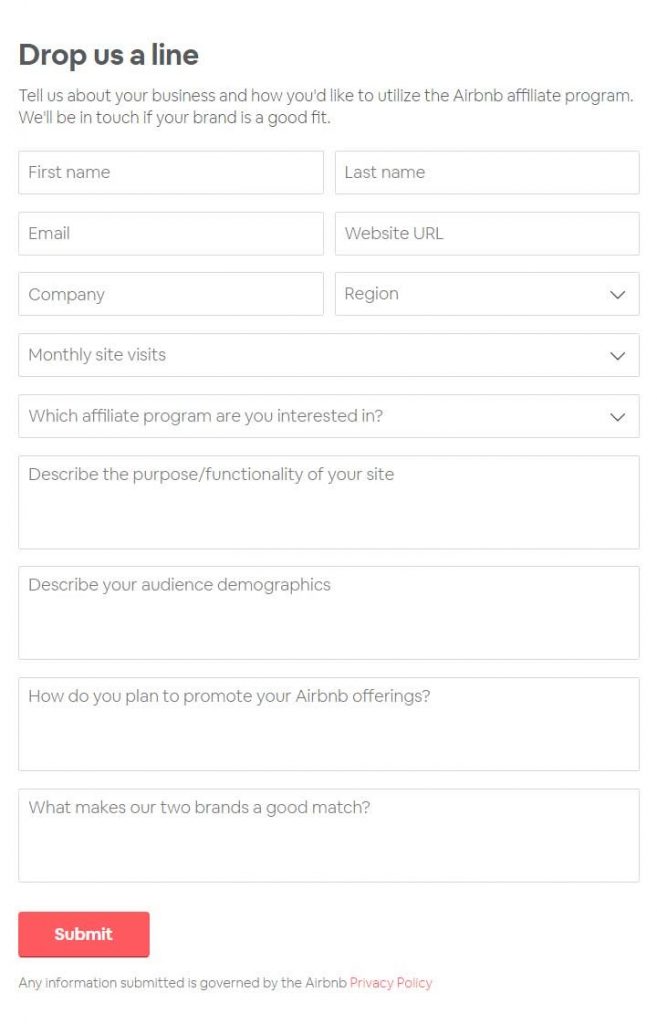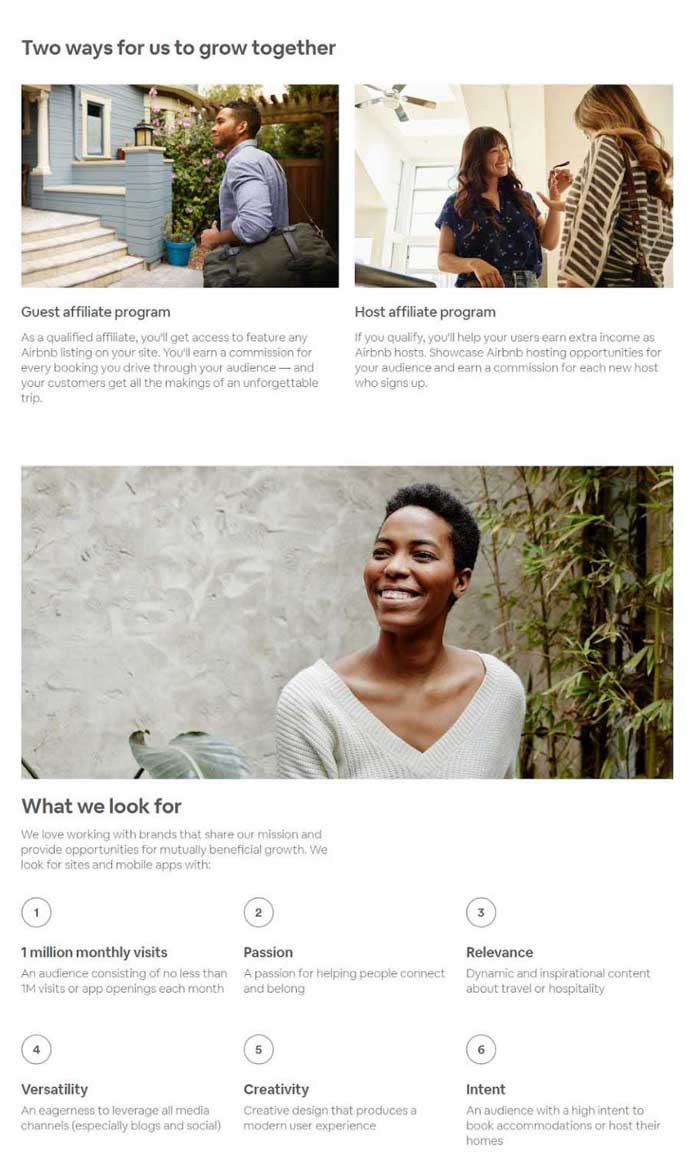 ActiveCampaign
ActiveCampaign's customer experience automation platform offers email marketing tools, CRM tools, and marketing automation all under one roof.
The platform's affiliate program stands out with lifetime recurring commissions, long-lasting tracking cookies, and a robust library of resources.
What makes this affiliate marketing example stand out?
20%-30% tiered commissions based on an affiliate's performance
Affiliates earn lifetime recurring commissions on both new sign-ups and renewals. Since they keep earning commissions as long as someone they referred renews their subscription, they're motivated to bring in repeat customers.
Exclusive affiliate community lets partners connect with and learn from other affiliates
Robust affiliate portal lets affiliates easily track their sales
Affiliates gain access to graphics, videos, whitepapers and even webinars to promote ActiveCampaign
Average affiliate earnings of $1350 per referral
90-day tracking cookie life, meaning affiliates receive credit if someone clicks on their affiliate link and then purchases within 90 days
Open to affiliates around the world
ActiveCampaign practically sells itself through its suite of features and top software ratings, so it's easy for affiliates to promote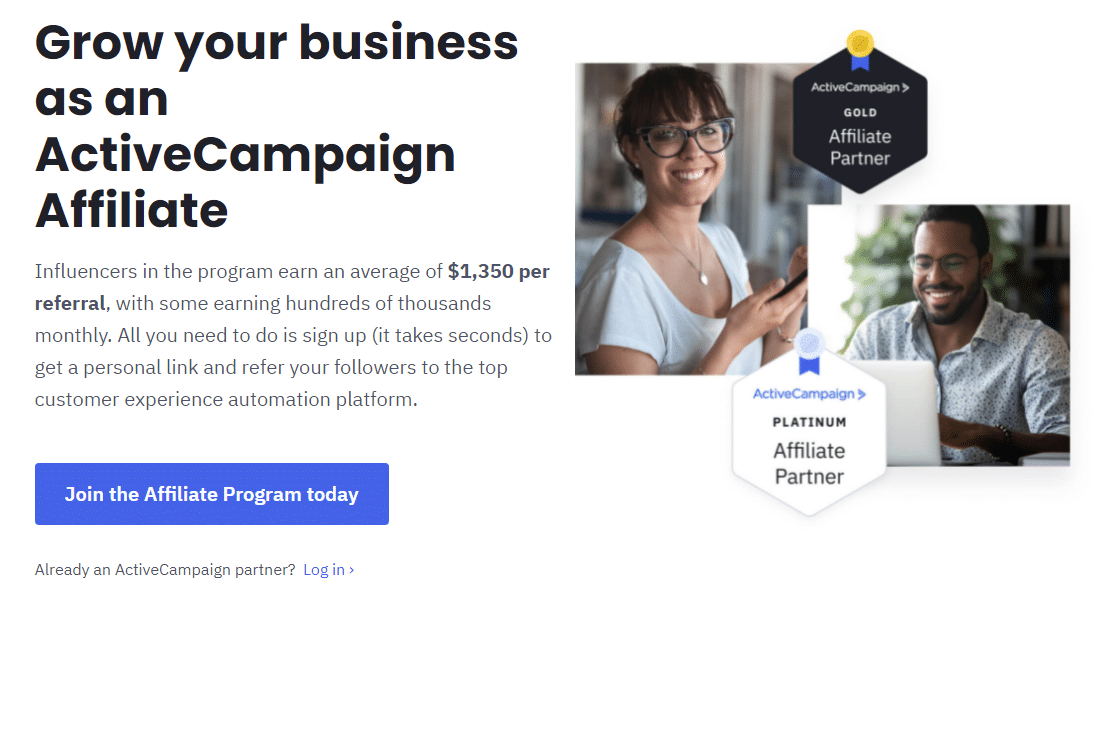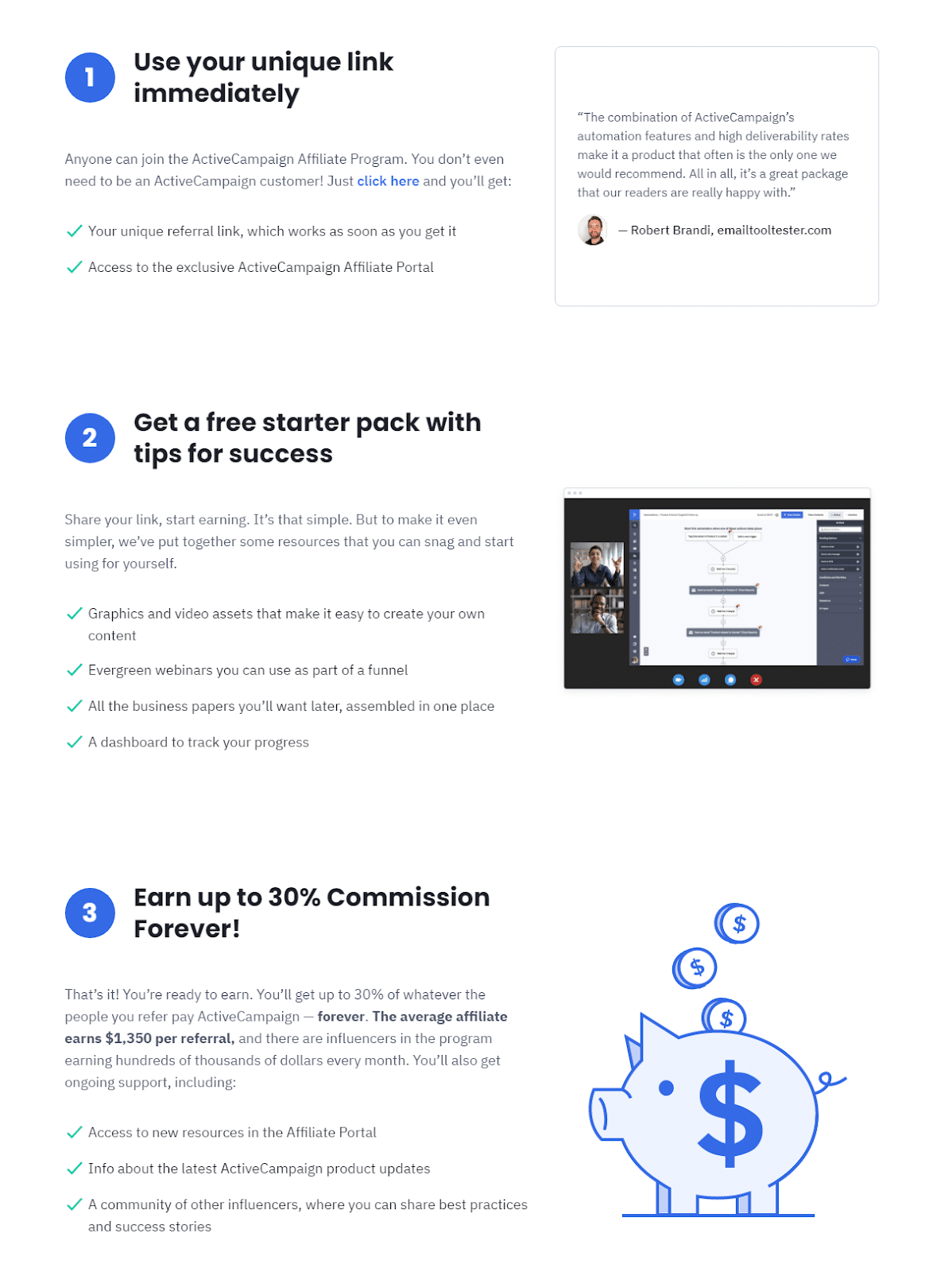 Leadpages
Leadpages products let businesses quickly create, optimize, and track the success of landing pages, pop-ups, lead bars, and other lead forms that direct prospective customers to landing pages.
For affiliates, Leadpages offers one of the most competitive commissions in the business – up to 50% on its proven suite of lead generation tools.
What makes this affiliate marketing example stand out?
A 10-50% recurring commission (applied to renewals and upgrades, as well as initial purchases) helps motivate affiliates
Tiered commissions: The more conversions an affiliate makes in a month, the higher their total monthly commission rate (40% when monthly sales via their link are over $50; 50% when monthly sales are over $3,000).
The program is backed by a time-tested product that's easy to sell
Special offers, such as bonuses for converting a certain number of new customers by a given date, keep affiliates engaged and add variety to the program
Affiliate dashboards supply links to Leadpages content that affiliates can use in their promotions (this includes weekly Leadpages webinars!)
Top affiliates with 20+ customers per month can offer exclusive Leadpages deals and packages through their channels
Affiliates have the opportunity to host an affiliate-exclusive Leadpages webinar
Affiliate links have a 30-day cookie life, which credits affiliates if a purchase is made within 30 days of their link being clicked

AWeber
Email autoresponder AWeber's affiliate program  is an interesting case. They actually refer to it as a "referral program" and "advocate program," despite their recurring commission structure following the standard affiliate model.
Still, the program is well-designed and has some great takeaways, which is why we've chosen to include it here as an affiliate program example.
What makes this affiliate marketing example stand out?
Enticing call to action for interested promoters: "Can we pay you every month?"
A 30% recurring commission: Every time a customer renews their AWeber subscription, the affiliate who generated the lead continues to receive a 30% commission. This incentivizes affiliates to promote to potential customers with rewards the best product fit.
Easy tracking: Affiliates instantly know when they've made a sale, and can easily monitor their clicks and sales for given periods
A playbook with everything advocates need for starting their partnership with AWeber
Continuous affiliate training through newsletters, which help affiliates become more successful
An affiliate portal with promotional resources, including banners, video ads, and badges
Long-lasting cookie life means affiliates can receive credit for a purchase made within a year of an affiliate link click (as HubSpot reports). This model recognizes the long B2B buying process.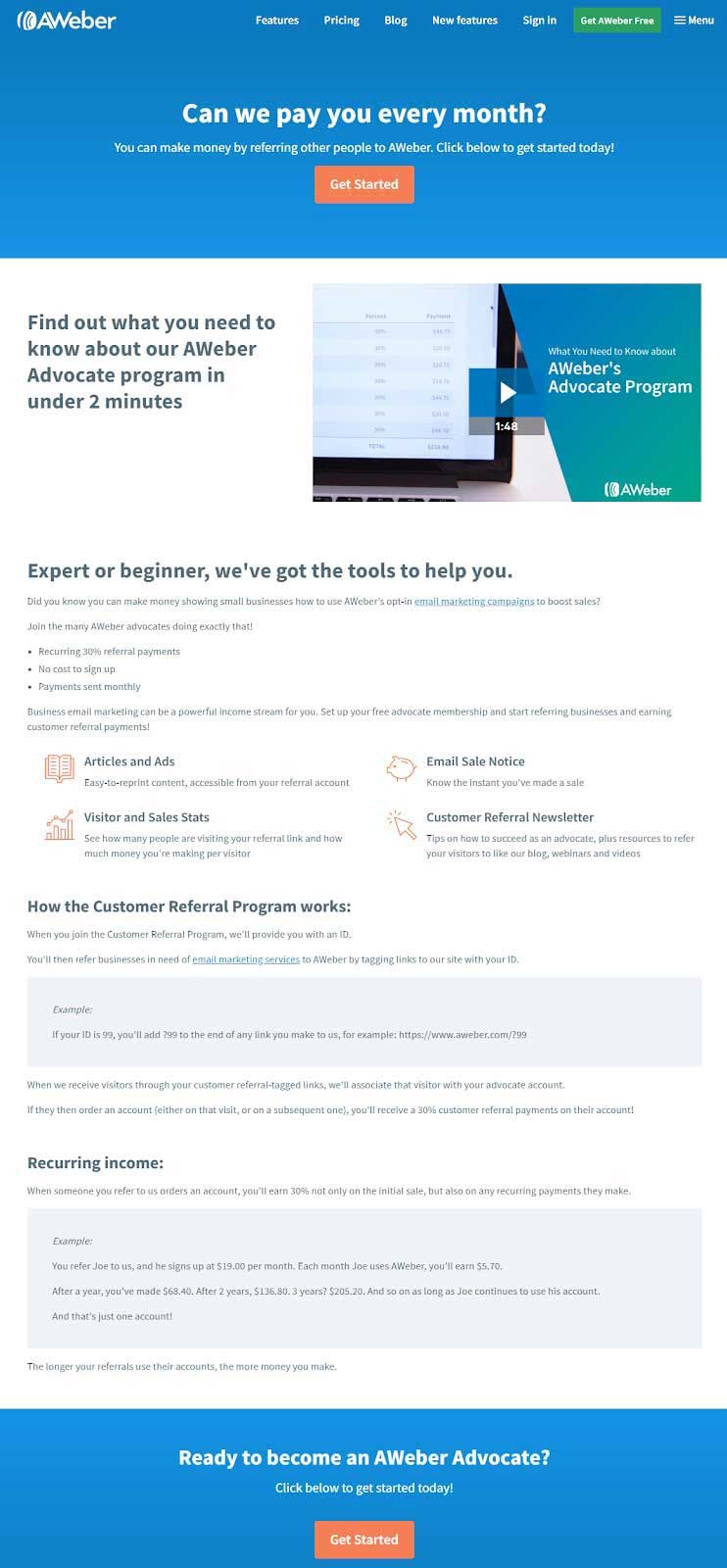 ConvertKit
Just as ConvertKit helps creators grow their business through email marketing, their successful affiliate program has helped both their own business and the revenue of their affiliates grow.
What makes this affiliate marketing example stand out?
An affiliate training course is hosted by a top affiliate, who knows exactly how to achieve the most success with the program
A 30% recurring commission, allowing affiliates to earn more cash every time someone they recommended renews their subscription. This incentivizes affiliates to promote to potential customers with the best product fit.
Detailed qualifications (a trusted audience who might benefit from the product, a natural talent for promoting, and knowledge of how to connect people with their needs) ensure better chances of sales success
The program call to action focuses on helpfulness before monetary benefits. This works well because ConvertKit understands how important it is for the content creators it recruits as affiliates to maintain audience trust, even after they start promoting.
An affiliate dashboard where affiliates can easily track conversions from individual affiliate links
Assets like videos, graphics, and even webinars help affiliates achieve conversions
A commission calculator shows affiliates how much they stand to make in monthly commissions if they follow best practices and convert renewing customers – also a great tool for promoting the ConvertKit program!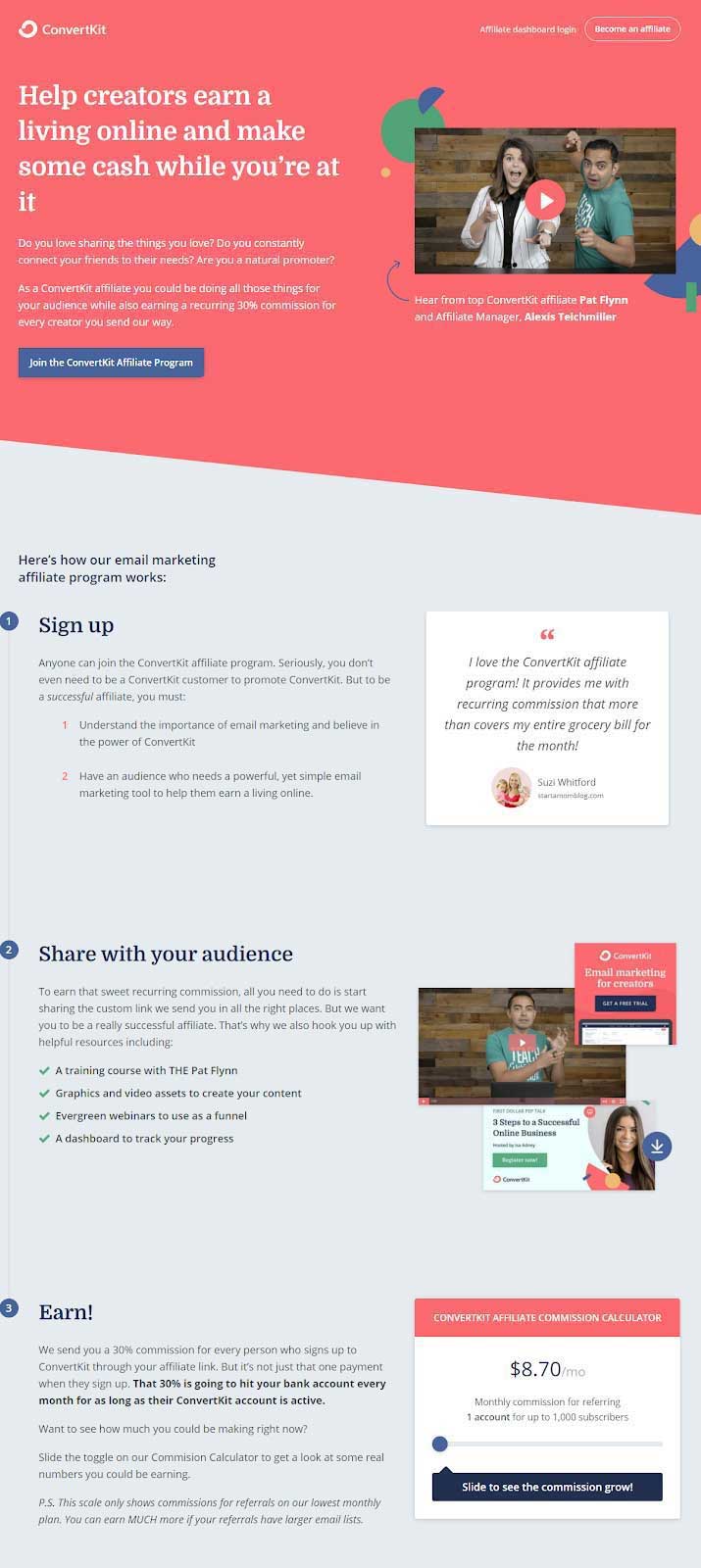 Unbounce
Landing page and pop-up software Unbounce has designed their partner program (affiliate program) to focus on marketers helping other marketers, although anyone can sign up.
What makes this affiliate marketing example stand out?
Unbounce clearly understands who makes their best affiliates – marketers and agencies who can recommend Unbounce to peers and clients at small/medium businesses
A 20% lifetime commission: Affiliates earn more cash every time someone they referred renews their subscription. This incentivizes affiliates to promote to potential customers with the best product fit.
A dedicated partner coach helps nurture successful affiliates, and is just an email away if affiliates have questions
A custom dashboard for affiliates to track clicks, purchases, revenue, and strategies all at once
A wealth of promotional and training materials to help affiliates motivate even more conversions and grow as partners
Flexible payment options in multiple currencies
Customers who buy through an affiliate link also get special assistance, extra benefits, and an exclusive 20% off their first three months of Unbounce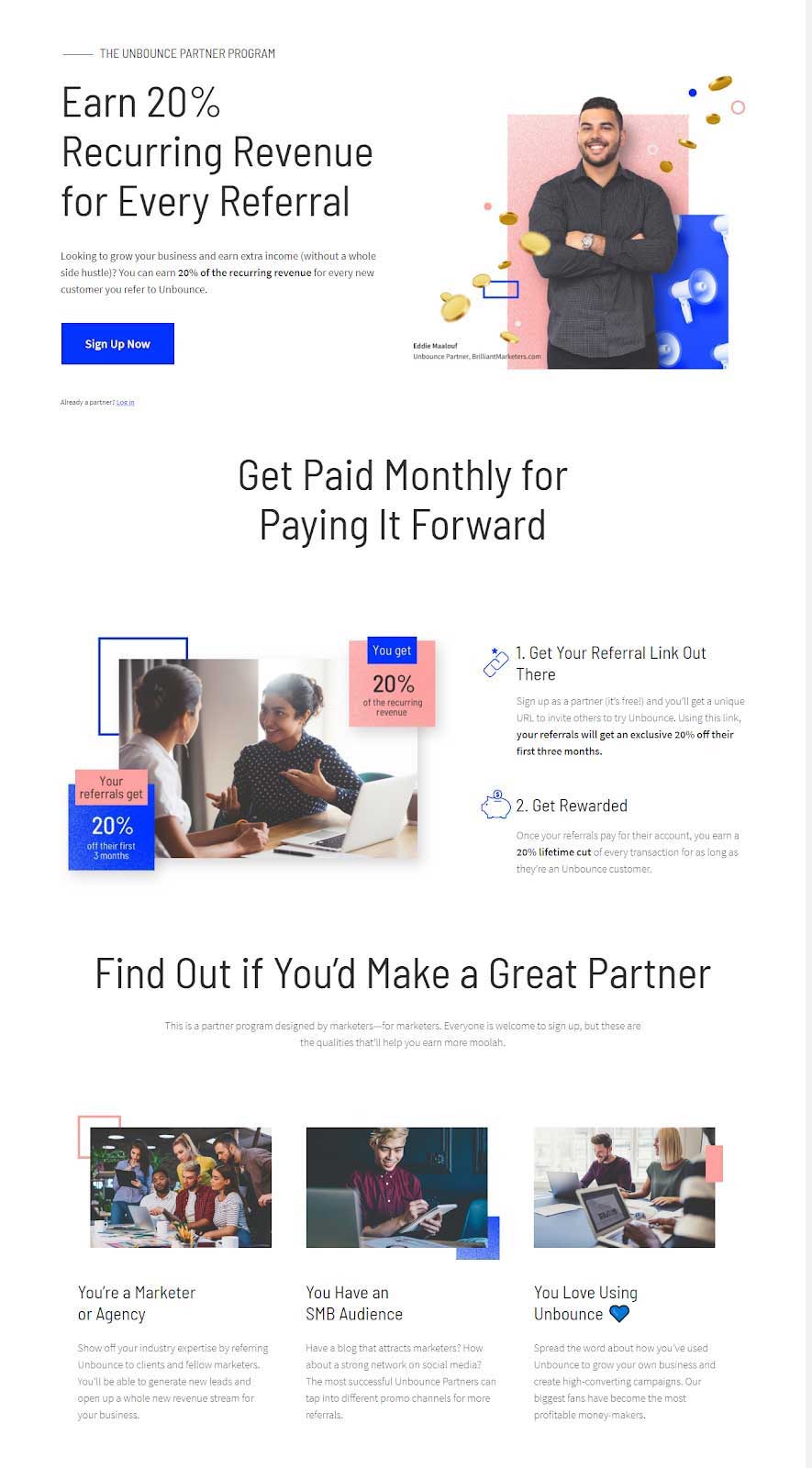 BigCommerce
Ecommerce platform BigCommerce's people-first approach, competitive commission, and widely used product help make their affiliate partner program attractive for affiliates.
What makes this affiliate marketing example stand out?
A 200% commission for affiliates on the first month of standard subscriptions purchased through their link, and a flat $1500 on enterprise purchases. No commission caps or minimum commitments
Higher commission tiers offered to top affiliates
Reliable payment schedules keeps affiliates happy
An affiliate dashboard gives affiliates a comprehensive look at their clicks, free trials, sales, and accumulated commissions
Pre-made, high-quality banners, emails, and other assets make promotion even easier for affiliates
The ability to link to BigCommerce blogs and webinars tailored to an affiliate's audience
A dedicated affiliate expert helps each affiliate reach their goals, with tailored strategies to help an affiliate increase sales and grow their own business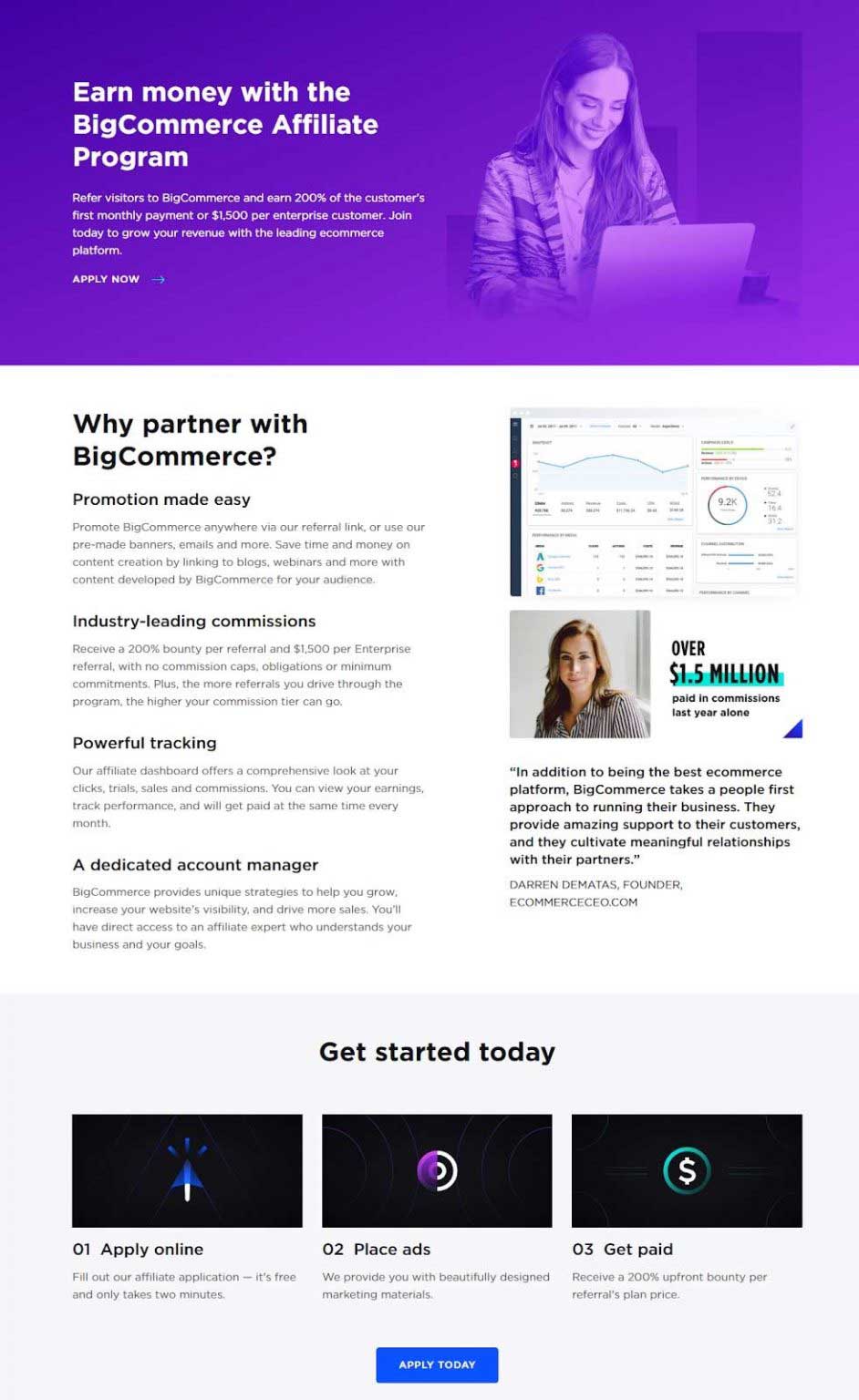 HostGator
HostGator provides WordPress web hosting for businesses and personal brands of all sizes. Its affiliate program is probably one of the best known in the WordPress hosting space. In fact, you've probably already seen several affiliates recommending HostGator.
What makes this affiliate marketing example stand out?
Tiered commission scale: The more sales an affiliate refers in a given month, the higher commission they earn on each sale
An attractive example of earning potential on the promotion page motivates affiliates to join
A three-step explanation on the affiliate program promotion page shows the program is easy to understand and use
Affiliate program terms and conditions are easy to access, even before an affiliate joins the program
A team of experts help set affiliates up for success right away
Affiliates can provide discount coupons to their audience
An affiliate dashboard keeps affiliates updated with reliable referral tracking, and provides promotional resources
A knowledge base contains robust resources for affiliates
Wix
Wix is a website design and publishing platform that makes site-building beautiful and easy. When Wix users sign up to advocate the platform as Wix affiliates, the product often markets itself.
What makes this affiliate marketing example stand out?
A $100+ commission payout, with the potential to earn bonuses for a high numbers of conversions
Affiliate terms and conditions are easy to access and review, long before someone joins the program
Robust affiliate knowledge base with everything affiliates need to succeed
An intuitive dashboard helps affiliates understand how successfully they're driving conversions. Affiliates can "track traffic, view detailed statistics, customize reports, check payments, and more."
Promotional banners and affiliate landing pages are available in many languages, and are regularly updated so affiliates always have fresh promotional materials
A product that promotes itself via an affiliate's Wix site makes it even easier for affiliates to drive conversions

Acorns
The Acorns app helps users gradually save and invest spare money at a low cost. Although it's most geared towards young professionals ages 24-35, it's a great tool for anyone who wants to build their wealth intuitively. For affiliates who already market to the brand's target audience, or who create content in the finance niche, Acorns' affiliate program is a solid choice.
Among all these examples of affiliate marketing programs, Acorns stands out by showcasing some of the graphics provided to affiliates. If you're planning on starting a finance affiliate program yourself, check out some of their outstanding creative materials below for inspiration.
What makes this affiliate marketing example stand out?
Wealth of compelling branded creatives that Acorns regularly updates
Seasonal promotions keep things interesting and keep affiliates motivated
Generous 30-day cookie window
Dedicated account management team is there to support affiliates whenever they need it
Streamlined affiliate program page keeps things brief and beautiful, while giving prospective affiliates all the information they need (including through the well-crafted graphics seen below)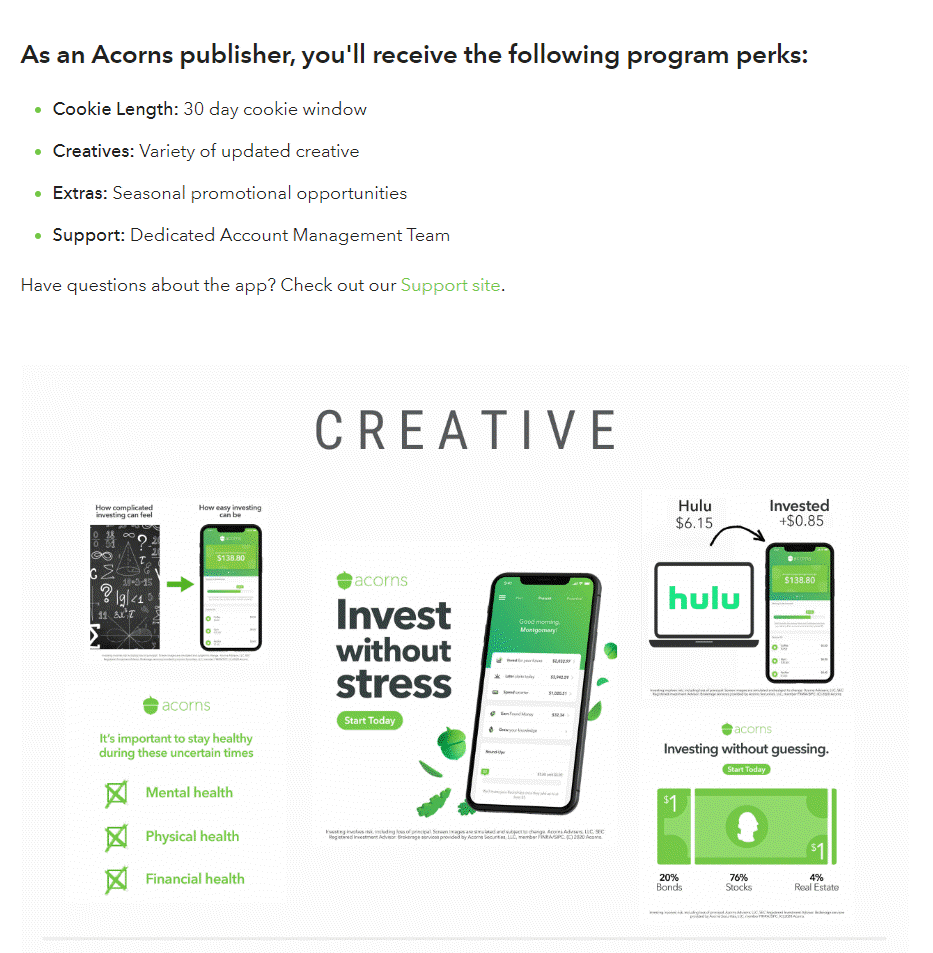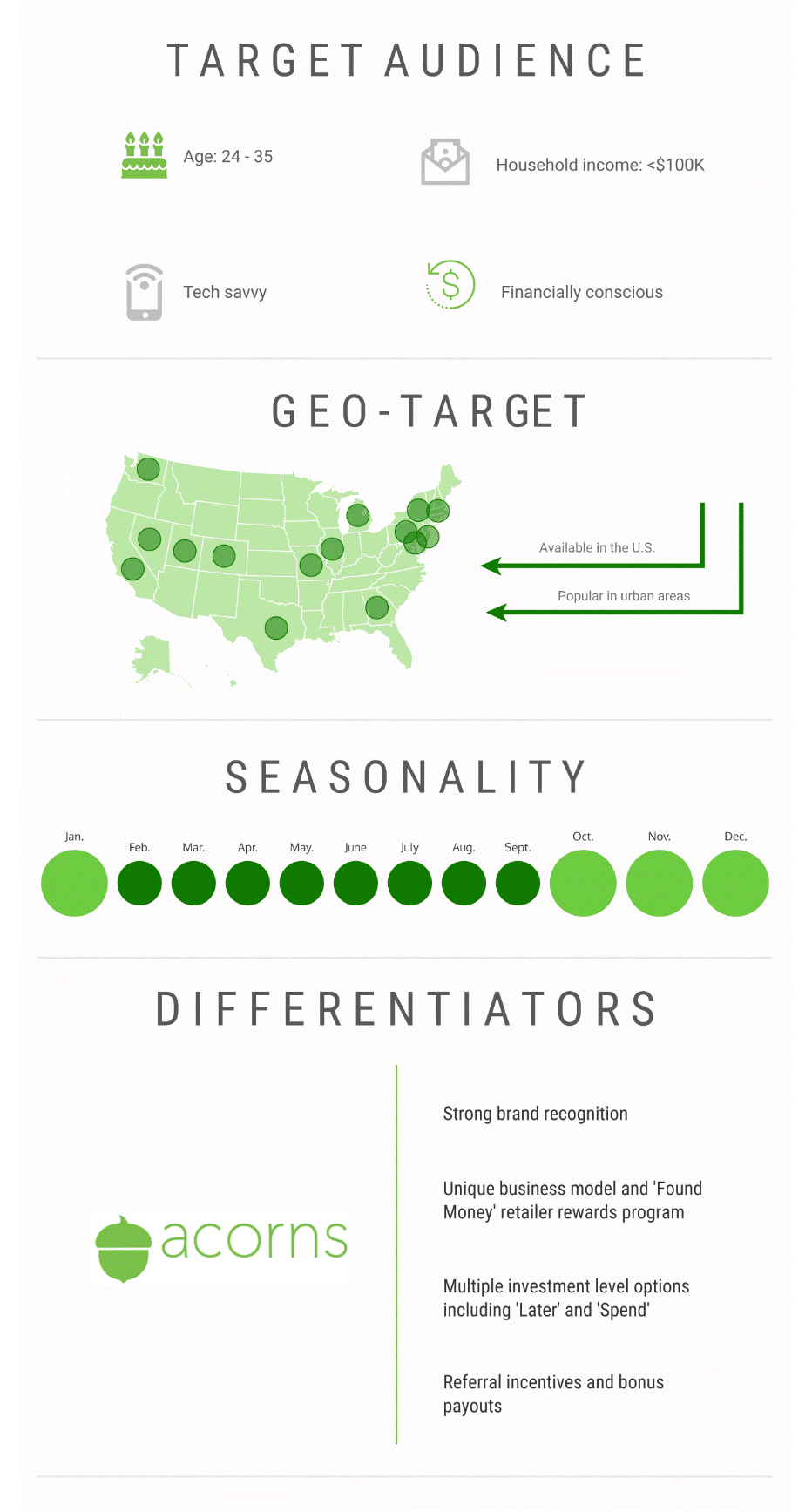 Spocket
Spocket lets entrepreneurs purchase and dropship a variety of products from thousands of wholesalers across the US and Europe. Sellers can easily connect their online store, and even purchase a sample so they can better describe a product's features.
The Spocket affiliate program lets store owners earn even more – in the form of passive income – by promoting Spocket to other entrepreneurs via their websites.
What makes this affiliate marketing example stand out?
Tiered commissions of up to 30%, based on how well an affiliate performs
Lifetime commissions means an affiliate keeps earning money on subscription renewals, as long as their referral keeps using Spocket
Spocket explains how their affiliate program works in three easy steps, so prospective affiliates know what to expect
Monthly "challenges" (extra commission bonus opportunities) gamify the affiliate experience and keep affiliates engaged
Affiliates receive priority customer support
Affiliates are the first to find out about new Spocket updates, so they can promote new features to their audience right away and drum up excitement
Custom dashboards make it easy for affiliates to track their sales
Fast affiliate payouts through PayPal and Stripe
Plenty of marketing assets available to promote Spocket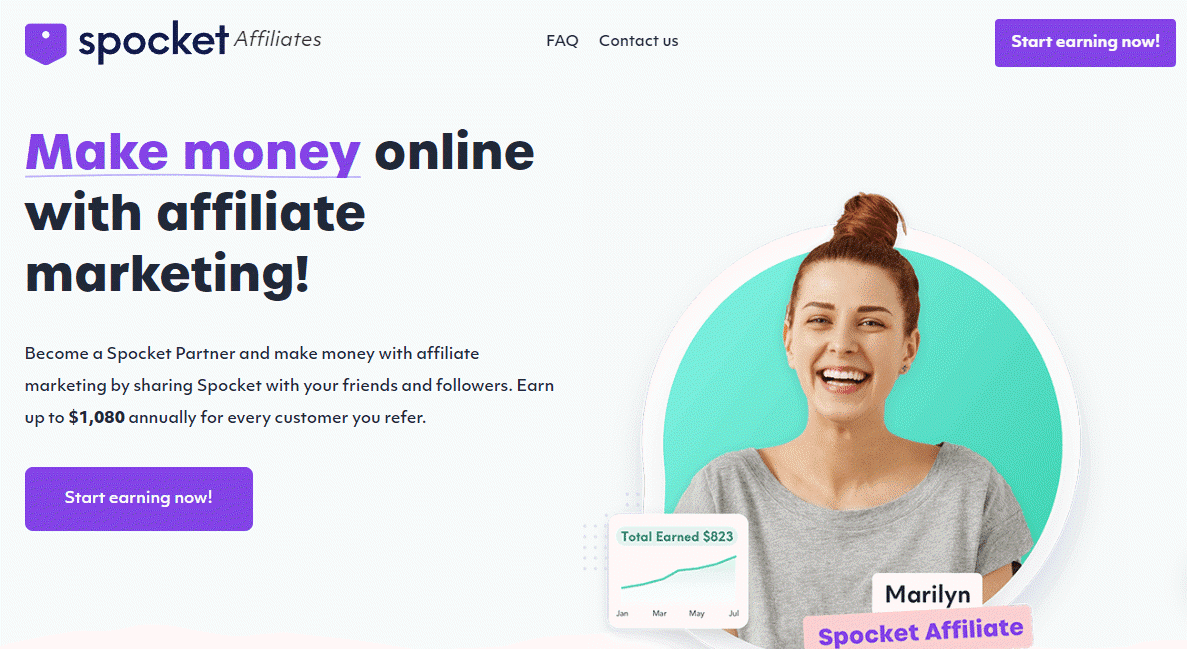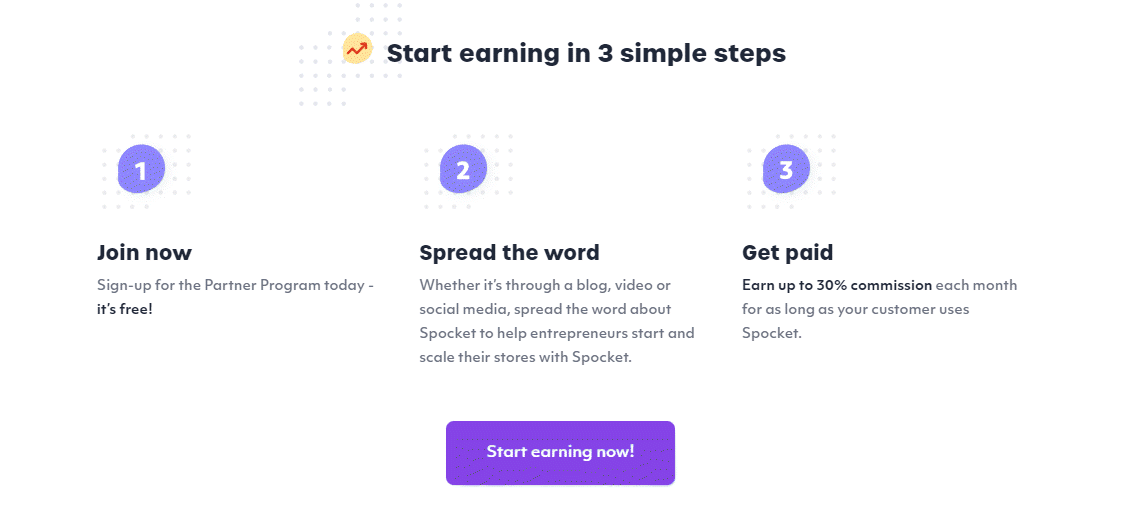 Fiverr
Fiverr is one of the most popular marketplaces for hiring freelancers. Affiliates can promote nearly all of Fiverr's offerings, including individual freelancer service purchases, business accounts, workspace plans, and even online courses.
What makes this affiliate marketing example stand out?
Choice of payout options: Affiliates can receive larger fixed payouts based on the types of services their referred buyer purchases, or a smaller fixed payout plus a percentage of their buyer's spending
Affiliates can earn lifetime commissions on Fiverr subscription renewals
Lots of seasonal bonus offers for affiliates to earn extra money
Beautiful affiliate blog keeps affiliates updated on the program and its promotions
Wealth of creatives available to help affiliates promote Fiverr, including banners, GIFs, and videos
Dynamic widgets let affiliates showcase individual Fiverr services right on their website – they can even embed a search bar and a banner that changes languages based on location
Affiliate manager, tutorials, and other support resources ensure affiliates have the help they need
Intuitive dashboards make it easy for affiliates to track their sales
Diverse range of services means many affiliates can find products to promote that fit their audiences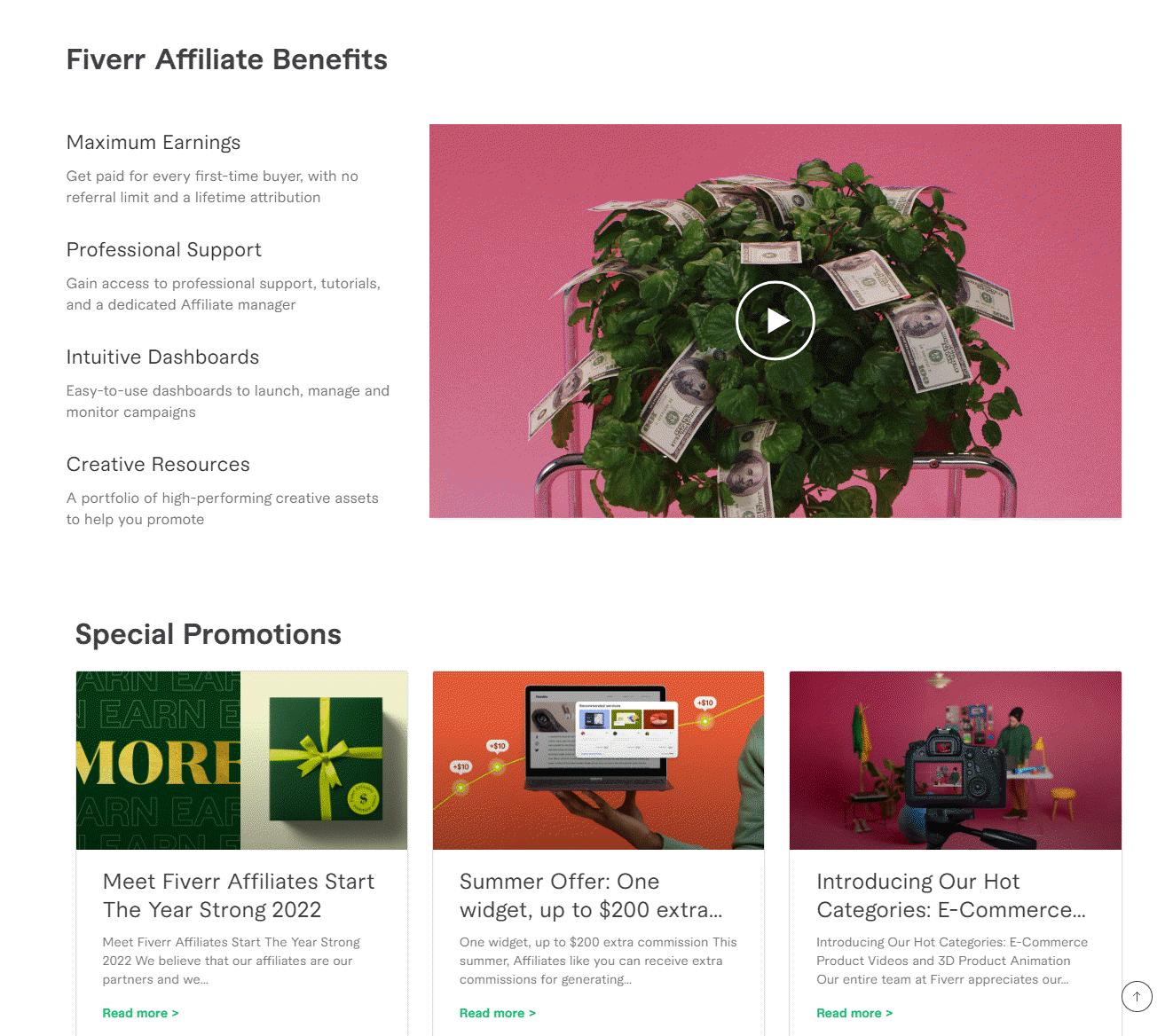 Kajabi
Online course sharing and business building platform Kajabi helps businesses and individuals share their knowledge with the world.
The brand offers an affiliate program with unique high-level perks and a proven track record of success. Kajabi started the affiliate program because its customers were already sharing the platform, and they wanted to recognize these advocates for helping them build their brand.
Even if you can't afford to offer perks as expensive as car payments, Kajabi's affiliate program example illustrates how brands can use tiered, exclusive rewards to keep their partners motivated.
What makes this affiliate marketing example stand out?
A 30% lifetime commission: Affiliates keep earning a recurring commission as long as the people they referred keep renewing their paid Kajabi subscription. This incentivizes affiliates to promote to potential customers with the best product fit.
Increasing commissions and attractive, exclusive bonuses as affiliates advance through different tiers. Elite tier affiliates receive monthly payments towards the car of their choice.
Early tiers feel attainable (just one referral is needed for the first tier bonus), while top tiers feel exclusive
A newly revamped dashboard gives affiliates full access to Kajabi's own best-performing marketing campaigns, including which audience types different campaigns are best for, and the best practices for sharing each campaign
Affiliates can easily track their success via their dashboard
An exclusive partner community invites affiliates to learn from other partners, support other affiliates, make connections, and find the best affiliate strategies
Launch campaigns and contests coming soon, creating even more affiliate engagement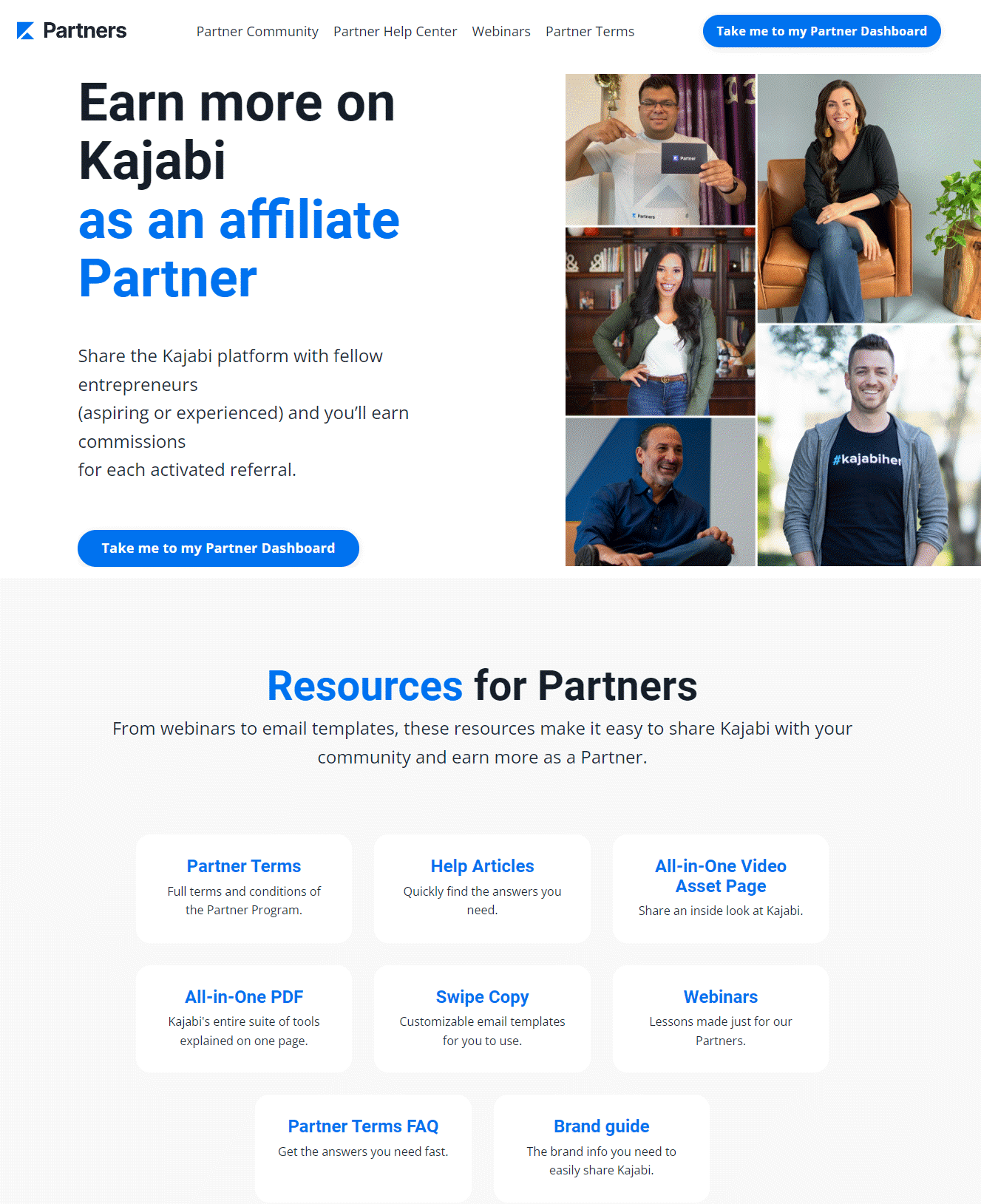 Wrapping things up: Start your own affiliate marketing program
After seeing these 15 stellar affiliate program examples, we hope you've gathered tips and ideas for your own affiliate program! As all of these affiliate marketing examples have shown, you can start a successful affiliate program of your own.
Looking for affiliate program examples tailored to your industry (plus industry-specific affiliate marketing best practices)? Check out these resources: