In business, there are some tasks only you can do. And there are some tasks you can assign or automate.
One task in the latter group is referral marketing. Using referral software is much better than running a referral program yourself. As in most cases, software makes things easier, faster, and more efficient.
At Referral Rock, we've helped build referral programs for a wide range of different businesses. So whether you're a startup or large enterprise, referral software can easily fit your needs.
Now you may be thinking you could run a program on your own without any help. But there are incredible benefits that come with referral software.
In fact, a survey on using automation software reveals:
30% of employees say automation software saves money
44% add that automation saves them time
33% reveal automation software enables them to accomplish more with fewer resources
As for the perks of running a referral program with software, we go over the top benefits below: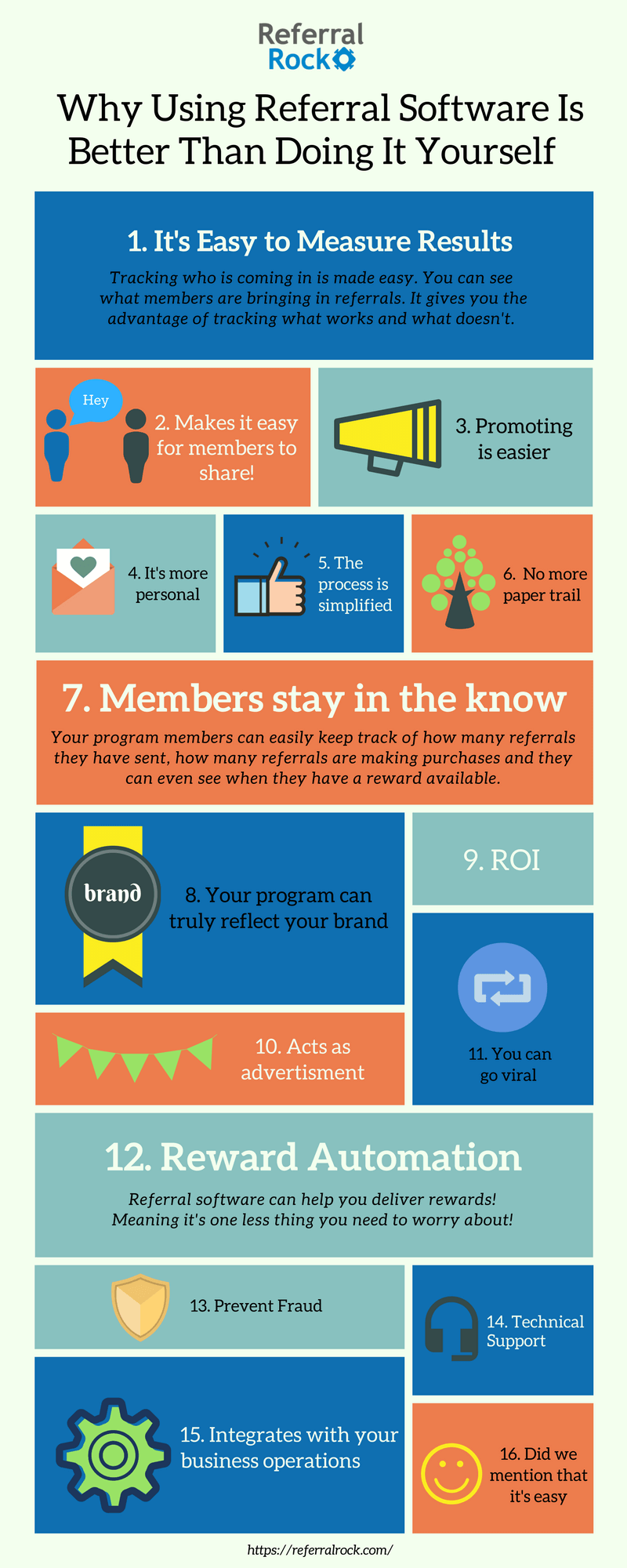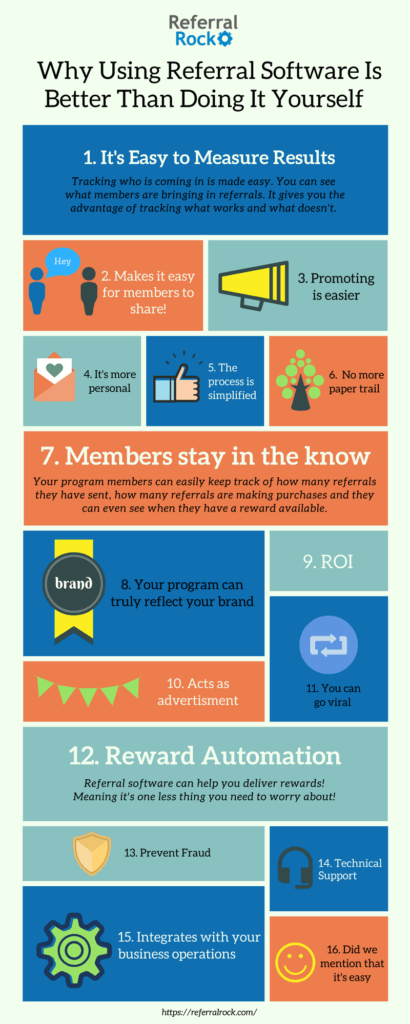 1. See referral results at a glance
Referral software gives you a comprehensive view of all your program's statistics in one place. Admin dashboards allow you to see how many new people viewed your referral program, how many people signed up, and how many referrals have been sent, among other things. Easily view your program analytics without any extra steps or wasted time. All aspects of referral tracking are covered!
2. Help customers instantly refer others
If your program isn't easy to share, it won't gain much traction – at least as much as it potentially could. This is a big part of what makes referral software so appealing.
In just one or two clicks, program members can easily share their referral link with their friends. Referral software also offers the option to share through email, social media, and other popular messaging platforms.
3. Easily promote your program
Consistent program promotion is necessary for referral success. Thankfully, referral software makes promotion a snap.
Once a referral landing page is built, you can share your program everywhere. Add links in your social media bios. Mention the program in your email signatures. Talk about it in your newsletter. Any type of communication with your customers has potential to also promote your referral program.
4. Personalize the experience for your customers
Your most loyal customers have joined your program. Why not send them a personalized thank you?
Sending personalized messages is simple with referral software. You create your message and add some placeholders, and voila – you have a personalized message.
Plus, you can even create referral message templates for customers to send to their referrals. This makes it even easier for customers to spread the word about your brand and bring in more leads.
5. Simplify the entire referral process
When you run a referral program on your own, it's hard to keep track of every single customer and referral. Especially if you have a long sales process, as with B2Bs or custom services.
Referral software can help simplify everything. You don't have to track who joins your program, where referrals come from, or which customers have a pending reward. There's also no manual documentation or spreadsheets needed to keep your info up to date.
Software does all that tedious work for you, so you automatically grow your customer base and still focus on other areas of your business.
6. Reduce your paper trail
A big benefit of using software is streamlining processes and reducing paper and clutter. No more written referral codes or referral forms flying around. Instead, anyone in your company can log in and see all updated data right on the software platform.
If you really want to print your data, software also provides an export option where you can save and print a file if needed.
7. Members are engaged and updated on their referrals and rewards
Aside from your own access, referral software allows your customers to see their referral stats too. And when a referring customer can see what's going on, they're usually more inclined to participate.
Don't keep your best customers in the dark, let software be your light.
8. Custom branding within the referral experience
It's easy to add your logo, brand colors, and any other images to your program – if you use referral software. With a library of pre-built templates, you can change any text and images, or even go as far as overriding styles with your own custom CSS.
Referral software allows you to do so many things so your branding is seen throughout the experience.
9. Increase your ROI
With 83% of people trusting recommendations from people they know, referral marketing has become one of the most credible forms of advertising.
Referral software fosters this trust by keeping customers engaged and making sure their entire referral experience is smooth.
And since word of mouth is mostly shared to others with similar needs and tastes, if a referral becomes a new customer, they're also more likely to stick with your business and continue generating sales.
10. Additional form of advertisement
Whenever and wherever someone mentions your referral program, it acts as an advertisement for your business.
Imagine having 20 loyal customers sharing their links across social media, where all their friends and followers can see it. Those 20 people just put your business in front of the eyes of hundreds of people.
Plus, that type of positive promotion helps increase your brand awareness and social currency in the market.
11. You can go viral
As mentioned in the last benefit, referral programs give you the opportunity to advertise your brand. Between your promotions and your customers's word of mouth, you have a massive potential to grow and go viral!
Referral software boosts that growth even further, offering ready-made templates, referral messaging, and more channels to promote your program in a few clicks.
12. Automatically reward successful referrals
Referral software takes away a lot of the hassle that comes with running a referral program.
One major benefit is reward automation. Rewarding your customers right away is crucial to your program. After all, rewards are a big reason people join in the first place.
Instead of manually tracking every movement and sending rewards when a referral comes in, this can happen automatically using referral software.
Participants will instantly receive their earned rewards, without you having to do a thing. This keeps your customers happy and you free to focus on more important things.
13. Prevent fraudulent program sign-ups and rewards
Another benefit of referral software is it can block repeat sign-ups and alert you in when any strange activity is happening.
For example, you don't want someone referring the same person twice and double dipping in the rewards. Or say one of your referral codes ends up on a coupon site, you notice an influx of people using the code… but not signing up.
You can disable the customer that code belongs to so that they don't get any undeserved rewards. This is especially helpful if your reward is a sum of money or a gift card.
14. Receive technical support
Is something not running right? Are you wondering how to change something in your referral process? With referral software, help is just a few clicks away. Most companies offer in-app messaging, email support, and a knowledge base to address any of your needs.
15. Integrates with your other business systems
Already using a lot of software? Not a problem. Referral software is built to easily integrate with your existing workflow and third-party tools. Check out our Referral Rock knowledge base and see just how easy it is.
16. Makes life easy
If you plan on running a program but don't want to spend too much time launching and managing it, then referral software is right up your alley.
We at Referral Rock have the expertise to get your program up and running so you can start seeing results as soon as possible.
Take software for a spin
You've seen all the major benefits of using referral software to run your program. Save time, effort, and money? It's a no-brainer.
Stop making your life harder, and use referral software. To decide which one will work best for you, we put together a list of referral software to get started.