We understand how busy you are with running a business.  That's why using referral software is better than running a referral program yourself.  Software makes things easier,  and referral software can be cost-effective and proficient.
Referral software can really benefit any type of business,  so whether you're a small business or a large enterprise,  software is the way to go.
It makes something that can be complicated hassle-free. There are incredible benefits that come along with referral software.  you may be thinking that you could run a program on your own without any help,  but the thing is software can help you grow in an incredible way.  This is the reason why marketing software is used by many brands. Besides, creating documents and spreadsheets to keep up with new referrals is not time effective and it's more work than it should be.
That's why we put together this infographic to help you understand all the perks of running a referral program with referral software.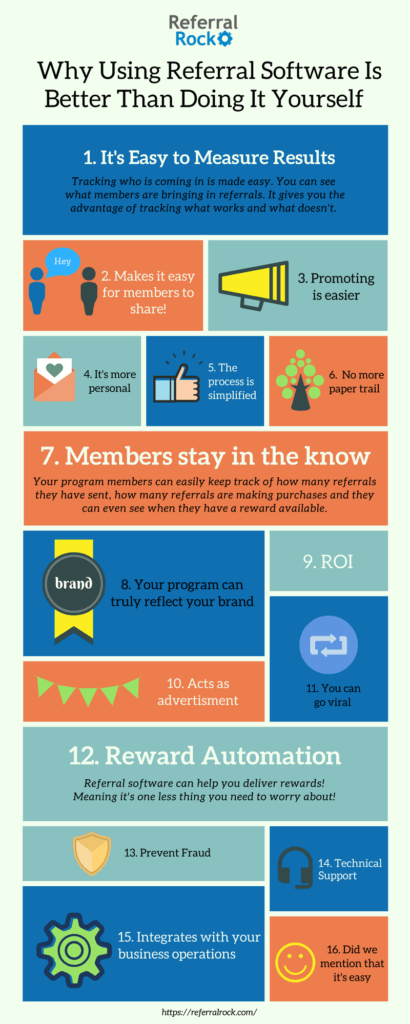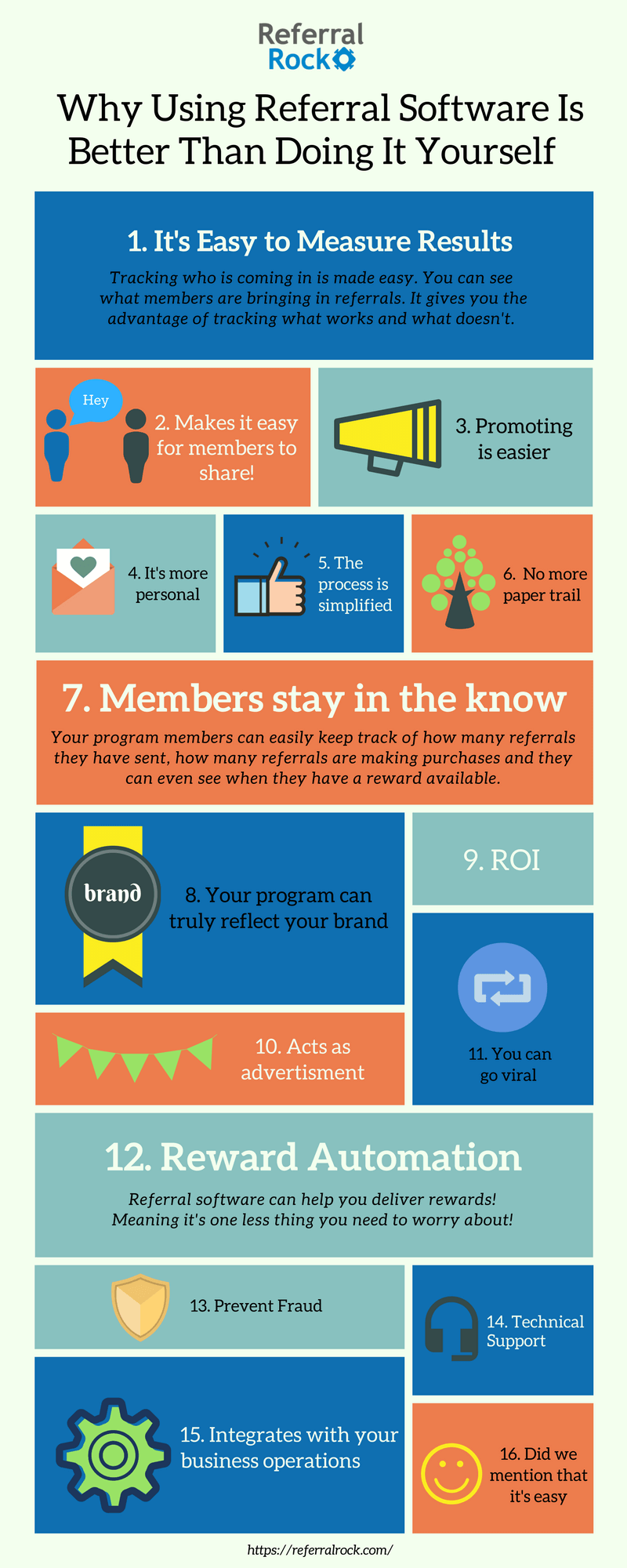 1. Easy to measure results
Referral software allows you to view all your statistics in one place. Admin dashboards allow you to see how many new people viewed your referral program, how many people signed up, and how many referrals have been created, among other things. Easily viewing your program analytics is just one-way referral software rocks.
2. Easy for your members to share
Let's face it, if your program isn't easy to share, then it probably won't get shared…at least as much as you would like. Which makes referral software so appealing. With just the click of a button, program members can easily share their referral link with their friends. How simple is that? Just a click and you're done!
3. Promoting your program is easier
Okay, program promotion is necessary for program success.  Referral software makes promotion a snap. You literally can share your program everywhere. Adding links in your social media bios is a piece of cake. Mention the program in your email signatures. Talk about it in your newsletter. Literally, anything you share with your customers is a potential program promotion zone. Meaning your customers can click the program link and be on the landing page in a jiffy.
4. It's more personal for your members
Great, a customer just joined your program. Don't you think you should send them a personalized thank you? Setting up personalized messages is super simple with referral software. You create your message and add some placeholders, and voila you have a personalized message. You can even personalize the messages your program members send to their referrals. Just another way to make it easier for your members to share!
5. The referral process is simplified
So when you are doing your own referral program, it's hard to keep track of everything especially if you have a long sales process and referral process. With referral software, everything is simplified. You don't have to lose track of where referrals are in the process. You won't have to worry about notifying a member when they have a pending reward. Plus, won't have to worry about manually inputting people into a document and spreadsheet and keeping the information up to date. Software does all the tedious work for you. That way you can just sit back and watch what's happening.
6. You reduce your paper trail
Obviously, software helps you reduce paper and clutter. No more lugging notebooks and referral forms around. Say yes to more shelf space! If you really want to print off your data, then there is an export option which means you can save it as a file – and print it if you really need. On another note- it keeps your data organized in a spreadsheet!
7. Members always know what's going on
Fancy this, software allows your members to see their referral stats too. When a member can see what's going on they are more inclined to participate. You've heard the saying "out of sight, out of mind", right? Well, don't keep your program members in the dark, let software be your light.
8. Your program can better reflect your brand
It's so easy to add your logo, your colors, your brand image to your program with referral software. You can pretty much go as custom as you want. So if you feel like overriding styles with your own CSS style then go ahead. Or perhaps you would keep it simple and just change some images, not a problem. Referral software allows you to do so many things. Your program can definitely reflect your brand.
9. Increase ROI
It's no secret that referral marketing can lend you a ton of leads. There are a ton of studies out there that prove referrals are great customers. They are more likely provide you with higher profit, and they are more likely to stay loyal to you.
10. Easy advertisement
Whenever and where ever you mention your referral program it acts as an advertisement. Not only that but when your program members share with their friends, they are doing the advertising for you. Imagine if you had 20 members share their links on their social media, all of their friends would see it. Meaning those 20 people just put your business in front of the eyes of hundreds of people. Word of mouth travels fast.
11. You can go viral
As mentioned above, referral software provides you with the opportunity to advertise your brand. Between where you share and where your program members share, you have the potential to grow! I'm sure you know, but to reiterate… word of mouth travels quickly. With software, word of mouth can travel faster!
12. Reward automation
Using referral software takes away a lot of the hassle that comes with running a referral program. Software can take care of the process from start to finish. Reward automation is a super important factor since the reward is most likely the reason your members join in the first place. When your rewards are automated, your members can receive their rewards quickly and simply, and the best part is you don't have to lick postage stamps or make sure rewards are delivered. You don't even have to leave your office to send them out.
13. Prevent fraudulent program sign-ups & rewards
The cool thing about software is it can help you block repeat sign-ups, and it can also fill you in when weird activity is happening. You don't want the same person doubling dipping in the benefits or referring themselves. Perhaps one of your codes ends up on a coupon site, you notice an influx of people using the code… but not signing up. You can disable the member that code belongs to so that the member isn't reaping in a ton of rewards. This is especially helpful if your reward is a sum of money or a gift card of some sort.
14. There's always technical support
Is something not running right? You have a question, or you just can't figure something out? Well luckily, you're just a few clicks away from help. Between in-app messaging, emails and the knowledge base, you are covered.
15. Integrates into your other business systems
Referral software can easily integrate with your existing systems. You can check out the Referral Rock Knowledge Base and see how easy it is.
16. It makes life easy
So, this may or may not have been mentioned. But by now, you can see how easy referral software can be. If you plan on running a program but you don't want to spend too much time managing it, and you want it to look nice, and match your brand and integrate with what your business is already doing… and help with rewards and analytics, etc. Then, let's face it, referral software is probably right up your alley. So many benefits wrapped up in 1 software.
Take software for a spin
As explained above, referral software can be super helpful. Stop making your life harder, and use referral software. Need help in deciding what referral software to use? Here's a list to help you out.