You've decided to start a referral program. Why do you need referral rewards or incentives?
It's simple: Rewards are the fuel for any referral program, answering the "what's in it for me?" question for anyone who's thinking of participating.
You may have loyal customers who will refer you to others without any incentive — in fact, that's a great sign that referrals are a good strategy for you! But a lot more customers will be motivated to share if they receive a reward for their efforts.
Referral rewards are incentives that you give to customers as a thank you for sharing your business with their friends. And these rewards have long been proven to increase the likelihood of referrals.
Whether it's a discount, a free product or month of service, a gift card, or any other item of value, referral rewards or incentives give customers a reason to share your brand with others (and can also give the people they refer more incentive to buy). So instead of hoping for passive word of mouth, your company can create a more reliable, more scalable customer referral program.
What are referral rewards and incentives?
A referral reward is any incentive given to customers who actively promote and refer others to a brand. These incentives can range from store credit and discounts to company swag or cash transfers.
Referral rewards and incentives are usually offered through a formal referral program, which serves to engage existing customers and encourage word-of-mouth marketing.
Oftentimes, a company will choose to reward both the existing customer and the referred customer (called a "2-sided" or "double-sided" reward program). These types of rewards are often the most successful, as they show a company's sincere appreciation for choosing their business.
A good referral incentive should attract customers, but also make sense for your business and not take away from its bottom line. To help you decide on the best referral rewards and incentives, we go over all the possibilities and necessary steps to get your referral marketing strategy off the ground.
3 steps to choosing your rewards incentives
There are so many different types of businesses, and even more types of referral rewards and incentives. Would more customers join if you gave them a percentage discount or a flat cash payout? Should you offer a two-sided incentive for the referrer and their friend? The options are endless.
Still not sure how to decide on the best referral incentive to offer your customers? We cover all you need to know in three basic steps:
Decide who gets the referral reward — the member (referrer), the new customer (referral), or both sides
 Choose the best type of referral reward
Create your referral reward structure
Step 1: Decide who gets the referral reward
When planning your referral rewards program, one of the first things to ask is who do you want to motivate? Who will give the biggest benefit to your business and bottom line? The answer to those questions is the party (or parties) who should get the referral reward or incentive.
Deciding who will get the referral reward helps to lay the foundation for all other elements in your referral campaign
When you know who you're targeting, it becomes much easier to plan what incentive to offer, what program structure to use, and how to write your headline and messaging.
Referral rewards are typically offered through one of three incentive campaign types:
One-sided
Two-sided (aka double-sided or dual-sided)
No incentive (not recommended!)
1. One-sided referral incentives (rewards one customer)
One-sided or one-way incentives are offered to either the existing customer (the referrer) or the new customer (the referred friend) – but not both.
One-sided incentives for existing customers (the referrer)
Pros
Cons

Customers will be more inclined to refer others to your business if they're getting something for their efforts.
Since happy customers are the first movers in the process (everything starts with their referral), a referral reward or incentive often results in many new leads.
Rewarding existing customers is proven to foster relationships, improve customer retention, and increase brand loyalty.

No matter how great a product or service really is, referrals may not seem as authentic when only existing customers receive compensation for bringing in new business.
Best for: Companies that are new and need to grow their brand awareness, as well as those selling more affordable products. One-sided rewards encourage customers to bring more people to your company. And with the strong recommendation in mind – plus, a reasonably priced product offer – the referred friend is likely to make a purchase, even without a discount incentive.
Example: HR technology company Justworks offers an attractive one-sided referral rewards program.
With their clients being companies instead of individuals, Justworks rewards referrers $200 for every employee in a referred company that signs up. This means $400 for referring companies with two employees, and $20,000 for referring companies with 100 employees.
Plus, you don't have to be an existing customer to join their referral program – Justworks invites everyone to participate.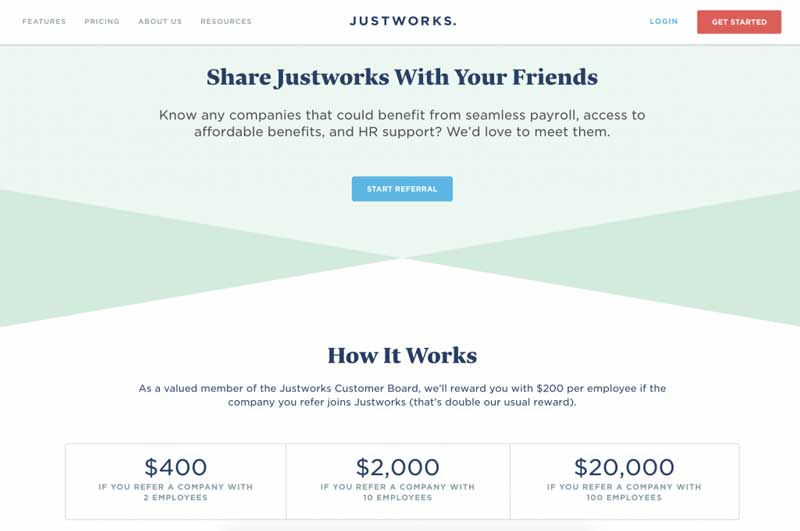 One-sided incentives for the new customer (the referred friend)
Pros
Cons

Giving a discount or freebie is a highly effective way to move someone from a prospect to a customer.

By offering a referral incentive to the referred party, you increase the odds of them moving down your sales funnel.

Without the promise of any reward, your current customers don't have any incentive to actively refer others to your business.

Even if they are loyal and truly love your brand, sharing their sentiment with others isn't at the top of mind.
Best for: Businesses that operate using subscription models, frequent purchases, or are considered a luxury purchase. Offering an incentive will help those who are already interested move toward a purchase, and hopefully end up as long-term customers. While one-sided incentives for new customers may lead to a smaller amount of referrals, they may will lead to a greater customer base.
Example: Meal subscription box Blue Apron gives customers the opportunity to send a free meal box to friends who haven't yet tried the service. Since there isn't a reward on offer for the existing customer, this referral program is all about performing an altruistic act for a friend.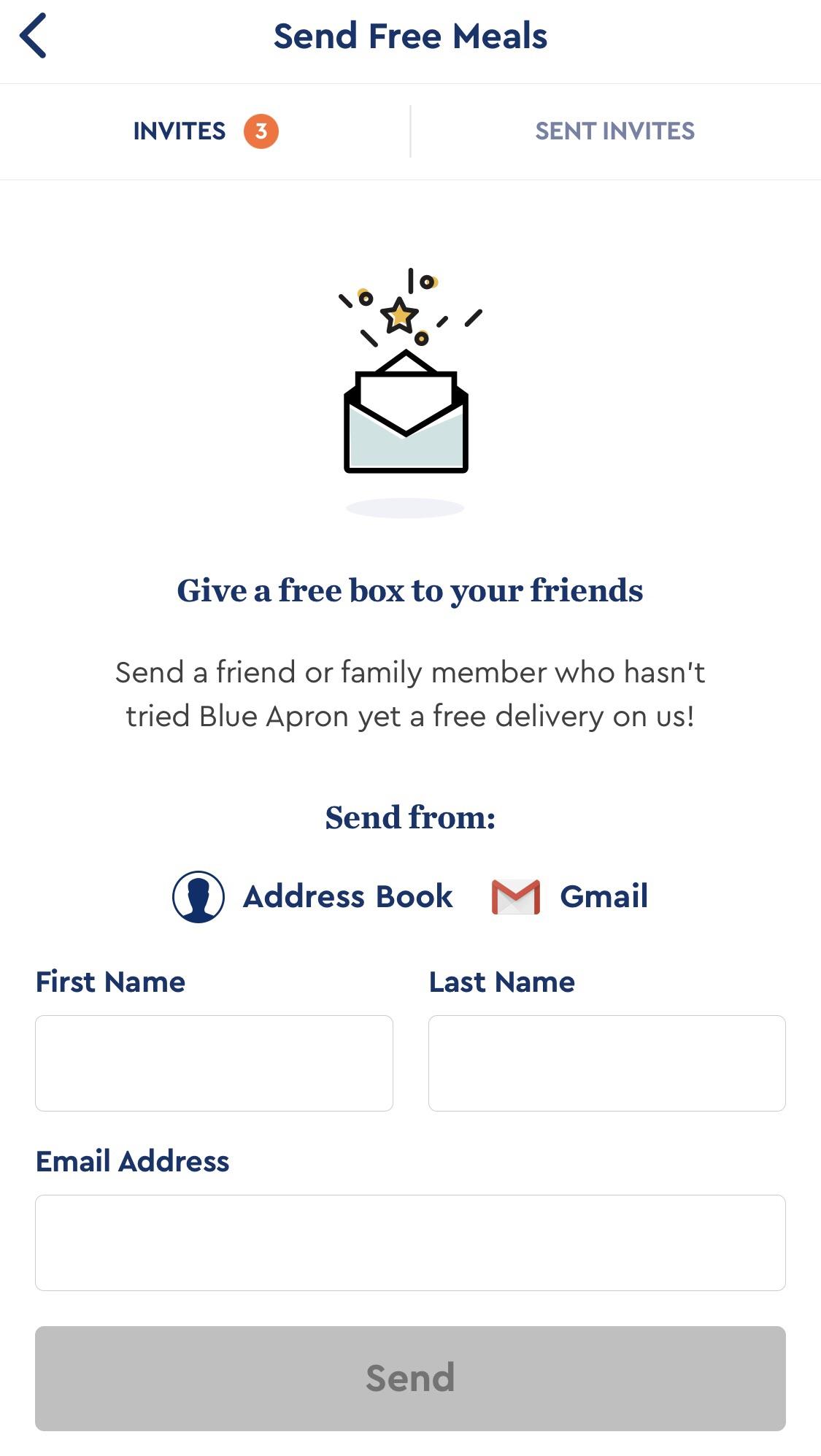 2. Two-sided referral incentives (rewards both customers)
Two-sided or double-sided referral programs reward both the existing customer and the new referred customer. The reward can be the same for both parties (i.e., $20 credit each), or different (i.e., 50 points for the advocate, 15% discount for the new customer).
Pros
Cons

Giving both parties a reason to join in your program can lead to the highest number of successful referrals.
Showing advocates a way to share without making them look self-serving (they are offering rewards to new customers, too) makes the entire process more effective.

Some companies aren't willing or able to give out too many incentives.
A company will have to track more incentives for both sides of the equation, which makes this potentially more work.
Best for: All business types, but mostly for those with enough resources to give referral rewards or incentives to both parties. It's also best for businesses to have a good referral software tool so they can track key metrics and make the most of this referral program.
Example: HelloFresh is another meal kit delivery service, but their refer-a-friend program differs from Blue Apron's as it includes multiple reward schemes. Their HelloRewards referral code offers a double-sided incentive, giving a $20 credit to the referring customer and $40 to their referred friends.
(Like Blue Apron, HelloFresh also offers a one-sided incentive to send new customers: a Freebie box with a free week of meals.)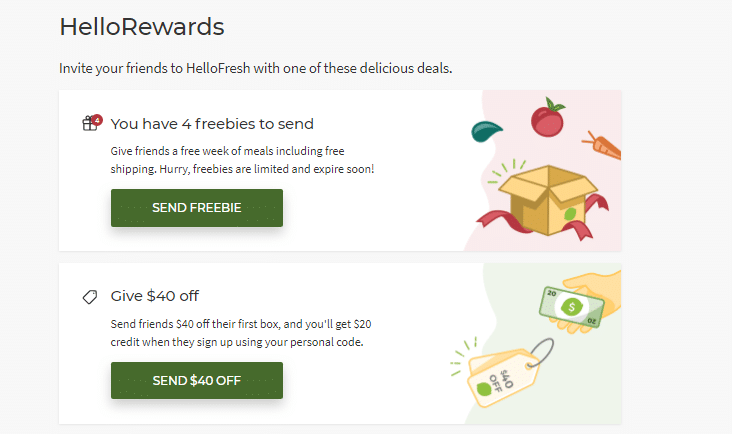 3. No referral incentives
Referral programs without any referral reward or incentives do exist, but this isn't recommended. Aside from any concerns about perceived costs, some businesses may not feel the need to offer any extra incentive to customers. Instead, they choose to focus on making the overall experience so positive that word of mouth will happen naturally.
Pros
Cons

Even without any incentive, some customers like sharing cool things with their friends.
Starting a referral program without incentives is a great way to benchmark your initial sharing rate and conversion rate.
Non-incentivized referrals are the most genuine form of recommendation.

Even if a customer says they will refer others to a brand, it might not happen. The majority of customers lack motivation to refer without an incentive.
If the customer has to go out of their way to refer, the chances of them referring are especially slim.
Not rewarding customers for their referrals makes it harder to track.
Best for: Companies with no budget to offer incentives, or are establishing a natural referral rate without added incentives. Aspirational or luxury brands may also prefer not offering tangible rewards, and find non-incentivized referral programs (or brand ambassador programs) to be a better fit.

Step 2: Choose the type of referral reward to offer (and its value)
Referral rewards are the main drivers of your referral program. But they aren't one-size-fits-all.
The right reward depends on your type of business and customer base. What type of products or services are you offering? What reward would best motivate your customers?
The table below outlines the most commonly used referral rewards across different types of businesses. Find which rewards work best for you, and read more about them in detail:
Infrequent or big-time purchase
Frequent or repeat purchase
Common referral rewards
Cash, swag, gift cards, donations, gift boxes
Discount, store credit, free products, free subscription service period, donations
Companies using these types of rewards
99Designs, Morning Brew, H&R Block, Square Cash, Chili Piper