When current clients refer their friends and colleagues to you, it has a powerful ripple effect. It creates a network of trust, and attracts only ideal clients who already need financial planning advice and services. 
A financial advisor referral program has immense potential for success for your business. Business owners can unlock opportunities for an expanded client base. Many financial advisors do not actively seek referrals from their existing clients, and they are missing out on a reliable source of new leads. Financial advisors must embrace this simple yet impactful marketing strategy in order to leverage the trust and satisfaction of their existing clients. 
Today, we'll cover:
Benefits of a financial advisor referral program
How to know if you're ready for one
Best practices for your referral program's success
What is a financial advisor referral program?
A financial advisor referral program is a formalized way to encourage and reward your current clients for referring your services to their friends, family members, and colleagues. It goes beyond just asking for names. Through software, it tracks your customers' referrals, giving you valuable insights into how much new business comes from referrals. The program automates the tracking and rewards process, eliminating the need for manual record-keeping.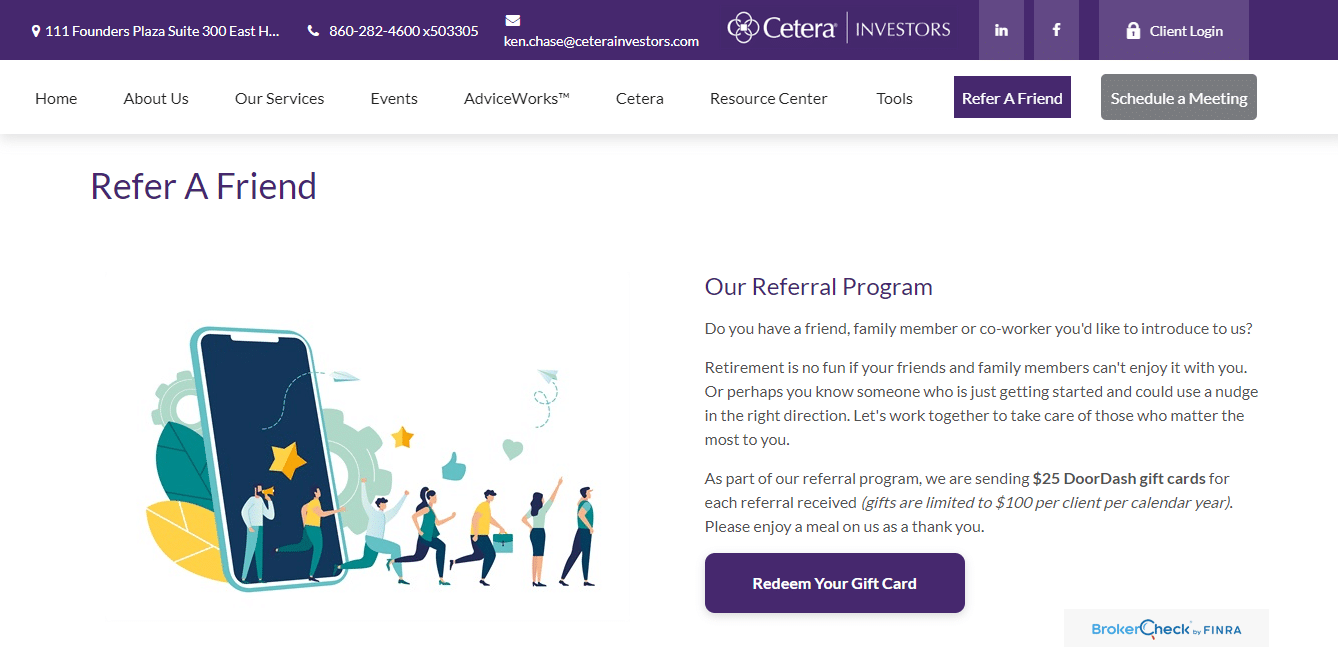 Benefits of financial advisor referral programs
People invest a significant amount of time researching financial advisor options before deciding on the right fit. However, recommendations from friends hold much more weight than other promotion methods. As a result, client referrals are four times more likely to bring you new business.  
Implementing a referral program offers several benefits:
A referral program allows you to track every referral your customers make easily. You can monitor the performance of your program and make data-driven decisions.
You can raise awareness of your financial planning services by implementing a referral program. Referrals act as powerful endorsements, expanding your reach and attracting ideal clients who may not have discovered your services otherwise.
Referral marketing brings the best clients, who tend to be more loyal. They are more likely to continue utilizing your services, resulting in a higher customer lifetime value. Such clients have a 16% higher customer lifetime value compared to non-referred clients.
Financial advisor referral programs have a relatively low client acquisition cost compared to other marketing methods, such as ad campaigns. You only pay for referrals when they result in sales, making them a cost-effective strategy. They should be a crucial part of your marketing strategy.
Referral programs are low risk, because you only reward clients when their referrals lead to results. This ensures that you invest your resources in acquiring converting clients.
Essentials for a successful financial advisor referral program 
Despite the above benefits, not every financial advisor is ready for a referral program. In order for a financial advisor referral program to be successful, you must have the following elements in place before you launch:
A healthy network of satisfied clients, who would willingly recommend your services
A track record of stellar service to clients
An online presence you can direct referred leads to
The capacity to handle an influx of new clients, and deliver the stellar service you're known for, even with the increased clientele
Knowledge of existing clients, including:

Demographics
What made them seek your services
Why they chose you over competitors
Where they get information from you and about you
How they communicate with their friends
What rewards would motivate them to refer friends

A profile of the ideal new client (the ideal referred client)
Financial advisor referral program best practices
Follow these best practices to make your financial advisor referral program a success.
Mobilize your best advocates first
Start by reaching out to your most committed advocates – existing clients who have been with you the longest, who use your services most often, and/or who have already talked about your services positively within their networks.
The most committed advocates are the clients who match the profile of clients you want to recruit, and:
Are your longest-standing clients
Have employed you for services most frequently
Already have shared how awesome your services are (in person, on social media, in positive reviews) – the more frequently, the better
Recently posted a positive comment, left a positive review, or gave positive in-person feedback
Send them a personalized note expressing your gratitude for their support and inviting them to help recruit new clients through the referral program. Once you've mobilized these advocates, you can roll out the program to all clients.
Avoid asking for referrals from nightmare clients, as they could negatively affect your business. All clients who had a negative experience with your business are in a no-go zone. 
Ask for referrals at the right times
One of the best ways to get referrals is to ask, since you're conversing with the client regularly and have built a relationship. Timing is crucial when asking for referrals, though. Take advantage of moments when clients are happiest, and you are top of their minds. For example, you might ask when you receive a positive review or social media comment from them, when they give you positive comments on a survey, or when they provide excellent in-person feedback after you've completed a financial goal for them. 
Pro tip: If you know they were satisfied with your services, ask for a referral when you're sending the invoice for a completed appointment.
Additionally, consider asking for referrals on special occasions, like anniversaries of when you started assisting them or when you know they've already recommended you outside the referral program.
Know how to make the ask
When asking for referrals, show appreciation for your clients' support and their decision to come to you for financial services. Remind them of the qualities that make them an ideal client for your services. And avoid being vague: ask if they know someone who fits the ideal profile and who could benefit from your financial advice. Finally, provide a direct link to your referral program, making it easy for clients to take action.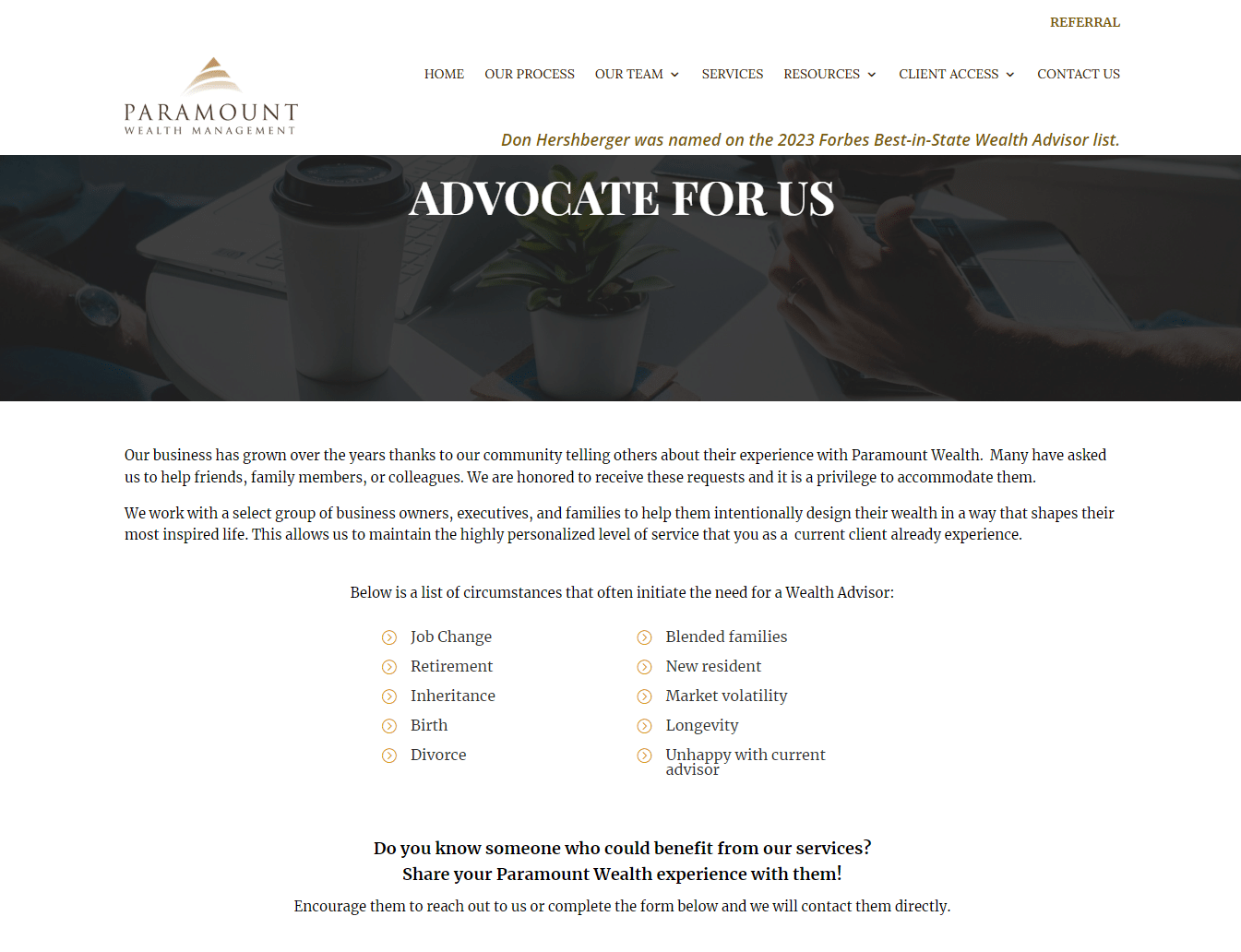 Choose motivating rewards
Motivating rewards can incentivize clients to refer their friends to your services. Consider options such as gift cards to other businesses, awarding gift baskets, or offering a discount on a client's next payment after a successful referral. You can also introduce a contest where the person who makes the most referrals in a year receives a bigger-ticket reward. 
You could also provide a smaller reward when a referred lead schedules a prospective client meeting and a larger reward when the new client starts paying for your services. This reflects the longer discernment process when selecting a financial advisor
Another option is implementing a double-sided reward scheme, where the referring and new clients both receive incentives. For instance, you might offer 25% off both the new client's first consultation and the existing client's next meeting with you
Be sure check state and other regulations to ensure that the referral rewards you offer comply with legal requirements in your state or area. If direct rewards to clients are not permitted, you can still explore alternative options, such as donating to charity on behalf of the client.
Make sharing easy
To encourage active participation in your referral program, make it simple for clients to understand and share. Present the program in a few straightforward steps (three to four is best). Ensure that your program page is uncluttered, allowing members to grasp how to refer others easily. And clearly define when rewards are earned to avoid any confusion.
Additionally, strive to minimize the effort required for clients to share referrals. Provide various sharing options based on common communication methods, such as email, social media, and texting. And offer a referral link that clients can easily copy and paste anywhere. 
Consider utilizing software that generates these links effortlessly. Furthermore, optimize your program for mobile devices, as people often share things they love with their friends via mobile platforms.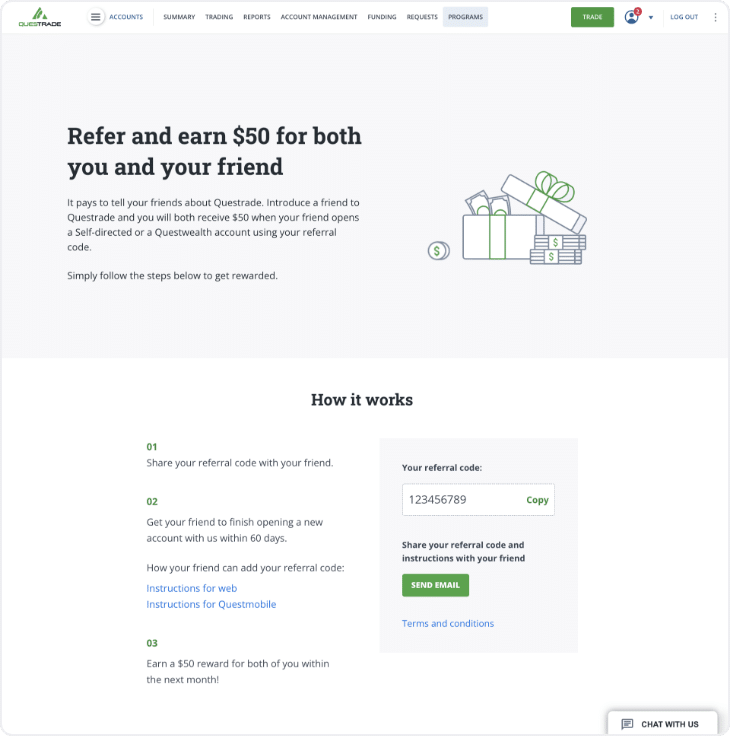 Promote your program in lots of places
Promote your referral program extensively if you want to generate new clients. People need to know about your program for it to be successful! Take advantage of various channels to spread awareness about your program:
On your website: Place a prominent hero image or banner that clearly highlights your referral program. Consider adding buttons to the top and bottom menus for easy access.
Conversations with clients: Whenever you have a satisfied client, personally mention your referral program as an opportunity for them to share their positive experiences.
Personal referral emails: Send individual referral emails to your most satisfied clients, emphasizing how their recommendations can benefit others.
Mass emails: Send targeted emails focusing on your referral program to all clients at regular intervals, such as every three or six months. This will keep the program fresh in their minds.
News/update emails: Include information about your referral program in various types of emails, including confirmation emails, invoices, and other communications unrelated to the program's specific purpose.
Social media posts: Regularly promote your referral program on social media platforms like LinkedIn, Facebook, or Twitter to reach a broader audience. Include a link to your landing page for your program.
Email signatures and social media bios: Add a brief and captivating description of your referral program in your email signatures and social media bios, ensuring it's visible to anyone interacting with you.
Track your referrals with software
To effectively monitor the success of your financial advisor referral program, tracking referrals is essential. Financial advisors must set measurable member acquisition goals and continuously track their progress. This task is nearly impossible to accomplish manually.
That's where Referral Rock referral software plays a vital role. It streamlines the program creation process and simplifies referral tracking and management. With referral software, you can:
Create a customized referral experience: Tailor the referral program to align with your brand and specific objectives.
Track referral sources: Unique referral links for each client enable you to track precisely where each referral originated from.
Instantly issue rewards: Automate the reward issuance process, ensuring that clients receive their incentives promptly.
Collect program data: Referral software gathers valuable data, allowing you to measure the program's success and make informed adjustments and improvements.
Thank customers for referrals
Expressing gratitude for referrals acknowledges your clients' support and encourages them to continue referring others. Whenever a referral results in a new client, go the extra mile to thank the referring client. Consider sending a personal, preferably handwritten, thank-you note to the referrer to show your appreciation. 
Additionally, publicly acknowledge the referral on your social media page, giving the referring client a shout-out and expressing gratitude for their support. Such a public display of appreciation strengthens your relationship with the referring client and encourages others to refer their clients to your services.
Wrap-up
A financial advisor referral program is a system that incentivizes and rewards clients for referring your services to their friends and colleagues. When you implement such a program, you can leverage the trust and influence of personal recommendations to attract new clients. 
The benefits of a referral program include easy tracking of referrals, increased awareness of your services, the acquisition of loyal clients, cost-effectiveness, and low risk. To maximize the success of your referral program, follow best practices. 
By implementing a well-designed financial advisor referral program and following these best practices, you can harness the power of referrals to drive business growth, attract loyal clients, and establish yourself as a trusted and sought-after financial advisor in your industry.