Referral marketing programs are often associated with small businesses or startups. Dropbox and Airbnb launched referral programs in the early stages of their business to much success, and it helped them grow into the powerhouses they are today.
As a result, you might think referral programs are meant for newer entrants to the market, and not as effective for large businesses. 
But that's a misconception. 
Referral programs benefit businesses of all sizes, including large enterprises. 
Enterprise referral programs can be a highly effective tool for enterprises that want to track word-of-mouth sharing, continue to grow their customer base, and scale up revenue. This is one marketing strategy you'll absolutely want to deploy in your marketing toolkit.
What is an enterprise referral program?
An enterprise referral program is a referral marketing program specifically for large businesses with significant consumer numbers. 
In an enterprise referral program, you encourage customers to share your brand with their friends, family members, peers, or colleagues.
Your customer then earns incentives (or referral rewards) whenever the people they refer make their first purchase from you.  
Your enterprise can easily track these referrals and any generated revenue with specialized software. .
Why do you need an enterprise referral program?
There are many benefits to developing your own enterprise referral program.  
Referral programs make it easy for customers to share your business, while also earning rewards in the process. It's a win-win!
People trust their friends more than ads and other messages that come directly from businesses. As a result, referred leads are more likely to make a purchase, compared to leads from other sources. In fact, 92% of consumers trust recommendations from friends and family above all other forms of advertising, according to Nielsen.
Referred customers have a higher customer lifetime value. They are more likely to remain your customers and make repeat purchases. The average value of a referred customer is at least 16% higher than that of a non-referred customer in a similar demographic. 
Referral programs cost less than other marketing campaigns. This results in a higher ROI of up to 60% over a six-year span. After all, you only need to pay once for referral software, and then only to reward customers whenever there's a successful sale.
Referral programs are flexible enough to work well for most types of enterprises, both B2B and B2C, including those with multi-step sales structures.
Word of mouth can be notoriously difficult to track, but referral program software makes it extremely easy. You can track every referral your customers make, and use the data to further refine your referral program and improve your success rates.
Enterprise referral program best practices
To create a high-performing enterprise referral program, follow these essential steps.
1. Know your customers well
Knowing your customers and their preferences well can help you create a referral program that's highly persuasive. Customers will be quick to join a program that speaks their language and meets their expectations. 
Ask these three important questions as part of your customer research:
Why did customers choose to buy from you over a competitor? 
The answer is your unique selling point (USP), or the key factor that helps you stand out from the competition. Remind them of this USP when encouraging them to refer their friends. 
What would motivate customers to share your brand with their friends? 
Incorporate these recommendations in your marketing campaigns. Test different strategies and scale the ones that work the best. Or use different approaches on different channels to increase your potential referrals.
How do customers naturally share things they love with their friends?
Do they prefer email, social media, or SMS? Are there other channels you haven't thought about or aren't aware of?After spending some time to understand the type of content that works well on these platforms, you'll want to concentrate your marketing efforts on these channels.
2. Choose the right referral software
Referral software lets you track exactly where every referral came from and instantly issue rewards for successful sales. With all these benefits, it's critical to choose the right software for your unique business needs. 
Here are some of the most important features your ideal enterprise referral marketing software should offer:
Integrates well with your existing tools and processes 
When all your systems are working together, your communications and productivity are more streamlined. Check the software's list of integrations to see whether it meshes well with the software stack you already have.
Make sure the software also offers API integration, a way to connect two or more different applications so they can transfer and share their data. 
If your enterprise business uses a multi-step sales process and complex reward structure, check if the software can handle these requirements. In the end,  it should be a fairly easy process for you to customize the software for your needs.
Lets you personalize the program to your brand's needs
Personalization has become a necessity for big businesses to develop brand loyalty and increase their customer lifetime value (CLV). 
Your software should also allow customizable branding of your referral program. You want your referral program to carry your brand logo, colors, themes, and messaging, so the customer has strong brand recognition and understands the benefits of staying connected to your brand.
Your enterprise referral program software should also allow you to send personalized messaging to each and every customer. 
Allows you to launch your program as quickly as possible
Speed is of the essence in marketing. If a program is  going to take weeks to set up, if there's going to be a large learning curve, and if there isn't much visible customer support, the software is not right for you. Rather, referral software should let you launch within a few days.
Automates all aspects of running a program
This includes automating the promotion of your referral program. The less manual work required, the better. You don't want to allocate valuable resources to handle tasks that can be readily automated.
Handles unlimited referrals with no extra cost per referral
Your enterprise referral program should be able to handle scaling without charging you additional money every time a newly referred customer comes in. You shouldn't be penalized for your success!
Collects detailed program data
An effective program should give you access to metrics, and trends in the form of thorough analytics and reports. You'll need these dashboard analytics to see how your referral program is performing, and then make smart marketing decisions to increase your bottom line.
Comes with expert, personalized support
Personalized support is key for all stages of setting up and running your program. Ideally, a dedicated onboarding specialist or success manager will share how everything works and help you best deploy the software for maximum success. 
Referral Rock software
lets you set up your program in days – not months – with expert support at every step. Customize your program and take advantage of automated tracking and promotional features.
3. Consider pre-launching the program to your best customers
Pre-launch marketing creates a buzz around your program before it goes live to your entire customer base. That way, when it does launch to everyone, you'll have customers rushing in with excitement. 
Your pre-launch referral program should be limited to a select few customers – the ones who've shown the greatest love for your brand. 
This exercise will give you an idea of consumer sentiment about your program, as well as make your selected customers feel appreciated.
It's recommended to invite the following types of customers to your program first, before launching widely:
Your longest-standing customers
Customers who have recently purchased from you (i.e,. within the past 6 months or within the past year) 
Customers who have recently left positive feedback in the form of reviews or social media comments
Customers with the highest NPS scores (or the highest scores on any other type of customer satisfaction survey). An NPS survey (Net Promoter Score survey) is used to measure customer loyalty, based on how likely customers will recommend you to others.
4. Offer valuable rewards for customer referrals
The best rewards are ones your customers genuinely want. Use customer surveys to find out what customers would value most as a referral reward. 
To encourage repeat purchases, it's also best if the rewards also link back to your brand. 
The following are some examples of popular rewards you can incorporate into your enterprise referral marketing:
Credits toward your products or services (These are great for customers who've shown appreciation for the products and services they're already using.)   
Discounts 
Free products or add-ons
A free month of subscription 
Service upgrades 
Branded swag 
Cash back rewards
Gift cards or coupons for other brands your customers may enjoy (popular ones include Amazon or Starbucks)
Tickets to events, concerts, webinars, or festivals
Tangible, high-value gifts (i.e., wristwatches, apparel, AirPods)
Whatever rewards you choose, they should cost less than your average customer acquisition cost, but should still be attractive and motivating enough for customers to participate in your referral program.
5. Choose a double-sided reward structure
Aside from picking the right type of rewards, it's important to choose the most motivating reward structure.
Reward both the referring customer and the new customer, a practice known as a double-sided reward. 
Double-sided rewards encourage new customers to make their first purchase, while also encouraging existing customers to make repeat purchases and refer more friends. 
The double-sided reward structure also motivates referrals for more intrinsic reasons. Customers see the altruistic benefit of recommending a good product or service, and helping a friend with discounts, credits, or freebies if they choose to purchase. 
(Remember that rewards should always tie back to your business to create these altruistic effects.) 
Previously referred friends will also want to refer their own friends and family, potentially creating a cycle of continuous referrals.  
6. Consider other proven reward structures for existing customers
Besides implementing a double-sided reward structure, here are some other effective enterprise referral reward structures to consider:
A tiered reward structure
In a tiered reward structure, the rewards grow in value after someone makes a certain number of referrals. The more the customer refers, the more they stand to earn.
A gamified reward structure
Along with receiving rewards for each referral, a gamified reward structure invites referrers to enter contests for additional prizes. For example, each referral can automatically enter them into a draw for an extra prize. Or, you can provide high-value rewards for people who refer the most friends during a given month, season, or year. 
Pro tip: Regardless of what referral reward structure you choose, provide a reward for every single referral. This is highly motivating and encourages more referrals.
7. Promote your referral program
You can have the most well-designed referral program with amazingly attractive rewards. But your program won't gain any traction if people don't know it exists! Promote your referral program in the following places:
On your website. Make your referral program easy to find by using a hero image or banner on your homepage. Use highly visible 'refer a friend' buttons on both your top and bottom menus.  
In mass emails focused on your referral program. These emails can be easily automated and personalized with email marketing software.
In individual emails that are triggered after a purchase.
In individual timed emails that trigger after someone has been a customer for a certain amount of time. For example, you could automatically send an email after someone has been a customer for a year to personally remind them of your referral program, then send similar emails at six-month intervals after the first year mark. 
In email announcements, such as sale emails or newsletters. 
As part of your email signatures. You could simply add a link to the bottom of your email signature that encourages recipients  to click and learn more.
Across all your social media accounts or as a link in your bio.
As placements in your customer portal, visible when customers log in. 
Via SMS, if your company already sends out SMS marketing announcements. 
Pro tip: Keep track of how often you use direct referral email reminders, so you don't annoy a customer.
8. Make sharing easy
Nothing is more annoying to a customer who's pumped to promote your program than a difficult user experience. Make the sharing experience easy to encourage customer sharing. 
Create a compelling headline. Make sure the headline tells customers what you want them to do and what's in it for them.
It should take only a few clicks or taps to refer a friend. The fewer clicks or taps, the better.
Offer sharing options for all the channels your customers use most, such as email, Facebook, WhatsApp, Twitter, LinkedIn, or SMS.  
Include a referral link that customers can copy and paste anywhere.
To maximize sharing once you've optimized the customer experience, include a section on your landing page that explains the referral program concisely, step-by-step. Keep it simple, easy-to-read, and free from unnecessary jargon.
Highlight all the extrinsic rewards and intrinsic benefits.
Make the call-to-action button – your 'share' button – visible and easy to find.
Experiment with eye-catching button colors.
Place the call-to-action above the fold, so website visitors don't need to scroll down to find it.
9. Publish a referral FAQ
Create a referral FAQ section that demystifies the most common questions customers will have about the program. 
Apply the following best practices when developing your referral FAQ:
Your referral page should link to a separate FAQ page. 
This explains your program in detail without cluttering up your main referral program page.
 It also reduces the amount of referral program questions your customer support team will have to field.
The referral FAQs should answer common questions/concerns about the referral program and be easy to read.
Avoid complex sentence structures and technical jargon. 
Keep it short, simple, and concise. 
Cover important terms and conditions, so customers know exactly what to expect.
10. Create a referral message that sounds like it's coming from a friend
The more personalized the referral message, the more likely the friend is to purchase from you. (A referral message is the message the new lead receives when their friend recommends your brand.)
The message the customer sends to their friend should sound like it's from the customer, not from your company. 
It should include the names of the existing customer and their friend.
It should also have a friendly, conversational tone and not sound overly salesy. 
Pro tip: If you wish, you can have the customer write their own message to their friend. But if you choose to go this route, include a sample message or template of the relevant points they need to include to make the sharing easier. 
11. Track your referral program's performance
Last but not the least, track your enterprise referral program's performance. You'll want to set detailed goals and keep tabs on your progress to optimize your results. Here are some KPIs (key performance indicators) we recommend to track:
The percentage of customers who are referring friends, family members, or peers
The number of referrals made per month, quarter, or year
The number of new customers generated through the program (per month, quarter, or year)
The referral conversion rate, which is the number of referred leads who ultimately make a purchase relative to the total number of referred leads
The revenue generated through referred customers (per month, quarter, or year)
The average purchase value through the referral program vs. average overall purchase value
Enterprise referral program examples
The following enterprise referral program examples make use of the best practices we've outlined in this guide. We also point out some key takeaways from each program. 
ActiveCampaign
The ActiveCampaign referral program checks all the boxes: easy sharing, multiple referral options, enticing rewards, and streamlined tracking.
Automatic enrollment: Customers are already registered for the referral program when they sign up for ActiveCampaign. They simply log in, click the easy-to-find "refer friends" button, and start sharing via the pop-up.
Multiple options for easy referring: Facebook, Twitter, email, and a referral link to copy and paste anywhere.
Proportional rewards depending on the value of the friend's subscription purchase, and increasing as plans get more valuable (as much as $100 if a referred friend purchases an enterprise-level plan) 
Double-sided reward: Referred friends earn a $10 credit toward their ActiveCampaign subscription once they purchase
Easy for customers to track their referrals when they result in a purchase and how much they've earned from sharing.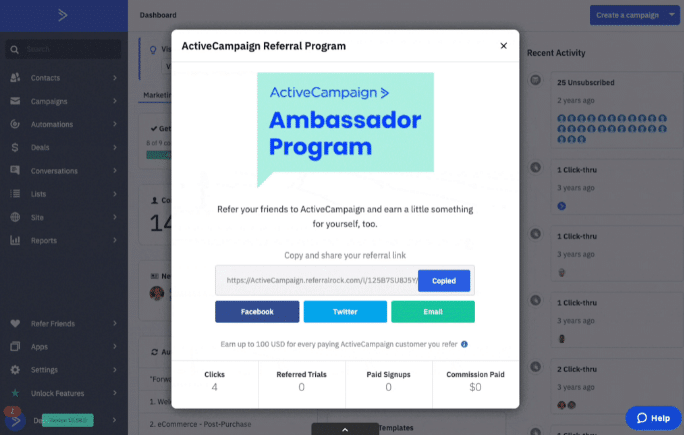 Key takeaway for big businesses: Your referral program will often sell itself if it's optimized for conversions. Integrating a program sign-up option into your purchasing process removes time-consuming steps and  makes referring friends much quicker. On the referral page or pop-up, it's best to offer many ways to share and motivate users with valuable rewards and a lifetime referral tracker. 
Wake-Up Call (Katie Couric Media)
Katie Couric' Media's referral program uses simplicity and gamification to get referrals on repeat. 
In exchange for referring 15 friends to the Wake-Up Call newsletter, Katie Couric Media sends readers a free copy of Couric's memoir Going There (a reward that expertly ties in with the brand).
Readers can share via email, social media, or a unique referral link in just a few clicks or taps. 
If the customer chooses email sharing, the brand has already included a pre-written message the customer can use to make things simpler (the message can also easily be personalized).
We love how the referral tracking bar makes it easy to see how close readers are to earning the memoir.
Here's where the gamified element comes in – readers can enter to win an autographed copy of the memoir. They earn an entry every time they refer a friend, so the more people they refer, the more chances to win.