Growing a business isn't easy, especially when you don't have time for marketing. Most dentists are trained to fulfill the dental services and don't have time to find new ways on how they can tap into dental marketing.
This is why reading about various dental marketing ideas can help you and your practice immensely. In the end, it all comes down to how well you manage your dental marketing strategies using traditional as well as online methods.
In this article, we are going to go through tons of dental marketing ideas and how to measure their effectiveness.
Getting started with your dental marketing strategy
Go through the following fundamental marketing steps so you can measure how effective these marketing strategies may be for you.
1. Customer profile: Who do you want to target?
One thing you need to include in your dental marketing strategy is a description of the type of patients you want to target. Are you looking to be a discount dental office that plans on getting your cash through massive appeal? If so then you are probably going to be targeting middle-class families and older citizens that are on a fixed income.
Do you want most of your income to come from cosmetic surgery? Is your intent on becoming a dentist to primarily upper-middle-class patients?  Then you want to target professionals such as doctors, lawyers, executives.
Once you know what you want your patient profile to look like you need to go after these people with the design of your business, the way you market, and where you market.
Tip: When determining this, don't forget to look at what can't be easily changed. If your practice is close to a residential area, it's probably a bad idea to target businesses people. This can also have an effect on what hours you want to be open.
2. Setting goals: How many new patients?
After you have decided on who you are targeting, you need to come up with your goals so you can measure your marketing efforts. Aside from saying "as many as possible," set a realistic goal for yourself on new patients per month. Remember there may be other dental offices in your market, so be realistic with your number.
Create a goal that will be an accomplishment once you've reached it, but one that you can reasonably achieve. Setting goals that are too easy will not provide you much motivation. Alternatively, setting goals that are unrealistic will drain your energy and kill your spirit.
3. Testing your marketing ideas: What's working?
Now that you know who you are going after and what goals you have, you'll need to figure out few important numbers to measure to see if your marketing strategy is successful.
Concept 1: Lifetime Value (LTV)
How much is each patient worth over time?  Having an understanding of lifetime value will give you an idea of how much you can spend on acquiring a customer. This doesn't need to be done on an individual basis, this should be calculated as an average. If you end up with a wide range, you may want to look at segmenting groups of customers into separate customer profiles.
Concept 2: Customer Acquisition Cost (CAC)
How much does it cost you to acquire a customer? It's important to differentiate between your operational costs (i.e. admin, hygienists…) since we are only measuring the cost of what it takes to get them in the door. We won't be able to calculate this just yet, but you need to keep this concept in mind as you implement every marketing idea.
Tip: Every marketing idea should be tested and tracked on its effectiveness so you know where to push your chips (spend money/time/effort on).  A general rule of thumb for calculating operational costs/services costs per customer and so on: 3 x CAC < LTV
Concept 3: Tracking success
If you are doing marketing online, you can track the effectiveness of using web analytics software like Google analytics to monitor the results of your website. To get very granular with your tracking, you can use landing pages and direct your traffic to those pages based on the marketing idea/campaign. Offline marketing is much harder to track but can be done with promotion codes.
Dental marketing ideas
We've talked a lot about marketing ideas. But we haven't scratched the surface on ideas or practices yet that your office can utilize. Here are the marketing ideas your business can test:
1.  Online presence
I know it's obvious, but please bear with us as we break down the basics of having an online presence.  We'll go into more detail with some of these areas further in the article.
Key Piece 1: Website
Think of your website as a virtual business card. Make sure you have the basics covered: your office address, contact info, the specific services you offer. Ideally, the language is catered to your ideal customer. Customers do their research, so if your site doesn't pass the basics, you may be written off no matter how great of a practice you are.
Key Piece 2: Search engine optimization (SEO)
SEO is often looked at as the holy grail of online marketing. When people are looking for services, they often won't look past the first few pages of a Google search. By making sure your SEO is ranking well, you have a better chance of being ranked on the top pages of a search. Understanding the basics of SEO will help you maximize your other online and offline efforts to make your site rank higher.
It's also a good practice to check Google search results from different regions to analyze other search engine advertising and optimization results. To do this, you can use different VPN services to browse websites using servers in a number of other countries.
Read these SEO blogs if you're interested in really learning about SEO: Moz, Search Engine Journal, Search Engine Watch
Key Piece 3: Social Media Profiles
We can't leave out social media when it comes to creating awareness, can we? Time and time again social media has proved to be a trustworthy and powerful dental marketing tool. Websites, such as Facebook, Twitter, and LinkedIn, are fast becoming influential avenues to create awareness among potential patients.
Dental practitioners and patients are now able to communicate around the clock. Plus, Facebook now offers 'recommendations' so potential patients may be searching for you. Make it easy for your current patients to share your info!
If you spend anytime in social media to market your dental practice, I'd start with Facebook. It's where consumers are and if they like what you are doing there is a high chance their friends in their community will see it. Social media, especially Facebook provides an easy resource for word of mouth to occur – so make sure you're visible!
2.  Community involvement: Get to know people
An effective dental marketing idea that is commonly used by dentists is simply keeping yourself and your company popular within your community. Actively participate in several activities in your community. Always be friendly and helpful to your neighbors so you can earn their trust and respect. This way, you will always be on the top of their list whenever they need a dentist.
You see, the dental care industry is a business of trust. Most of the people will only entrust their dental health to someone they feel they know personally or to those who have a good reputation in their community.
3.  Customer referrals: Use your existing customers to get new ones
I'm sure you already know the power of referrals and word of mouth.  Most small businesses thrive off referrals, but they are usually hard to track and understand where they are coming from.
Creating an incentive based program makes tracking customers and referrers 10x easier. Using a service like Referral Rock you can easily setup a program and track all your results. Check out our interview with Watkin Dental Associates on the benefits of referral marketing for dental practices. It may help you with some dental referral program ideas.
Need more? Here's a list of customer referral program ideas to get ideas to run your own referral program. Even better here are some referral card ideas.
 4.  Use email marketing to remind your customers
Getting your client's emails is gold. Email addresses are a direct line of someone's life that you can use to help grow your business… as long as you do it right.  You can start by getting email addresses to be used for service/appointment reminders.
Tip: Don't SPAM. Only send your patients relevant information as it is important that you maintain their trust. Sending too frequently can also cause your patients to tune you out, meaning they will ignore all your emails.
The goal is to keep them reminded of you. Tell them about relevant things (and link it back to your website… see SEO)
Your involvement in the community
Dental hygiene tips
Feel good stories about your customers (with their permission)
Referral program invites
Big business updates (ones that make sense for your customers to know… like: we're moving locations, we're getting new equipment, we plan on using a new and improved technique.
If you really want to master email marketing check out these blogs: Vero Email Marketing Blog, Verticle Response Email Marketing.
5.  Join your community online
Wherever you live, there are local forums you can join and groups. Do a search for "city + forum" and it will guide you to a forum where you can interact with people from your community and build a relationship with them. This helps build your presence online.
There are also Facebook groups, LinkedIn groups, and Google Plus communities you can join. Be helpful and contribute to the conversation.  It's OK to passively promote yourself or your business by putting your website in your signature… that's another way to build SEO.
6.  Partnership referrals
Based on your customer profile, you can find non-competitive partners that may already be targeting potential customers.
Local realtors: They work with new people to the community, what's a better way to get introduced?
School fundraisers: Matching dollars raised for school fundraisers is a great way to get your name in schools (this is a great option for a community referral program.
Using a service like Referral Rock can help track partnership referrals as well.
7.  Facebook
I know we already mentioned Facebook in the online section, but Facebook can be beneficial in SO many ways. We could write a whole post separately about just Facebook easily. We actually have written a post specifically on using Facebook to generate leads. Facebook has the most innovative advertising platform in the world for anyone, not just dentists. Here are some core things you need to know about Facebook.
Build a fan page filled with local people, when they share something they're sharing it with your target market.
Where most people go wrong is posting content that isn't interesting. Remember people go on Facebook for entertainment, not to see your dental ads. Think about how you can make the content you post on Facebook more fun.
If you are using Facebook ads, provide readers with something informative as well. Use statistics, images, results, ideas, and tips to reel people in. Facebook should be one of your top dental marketing ideas if you're not already doing it.
8.  Do something press-worthy
The hard part of marketing yourself online as a dentist is targeting your efforts to your local market. If you can do something to pick up some local press, it's a great way to bring attention to your business online and offline. The best way to pick up this type of press is with guerilla marketing tactics.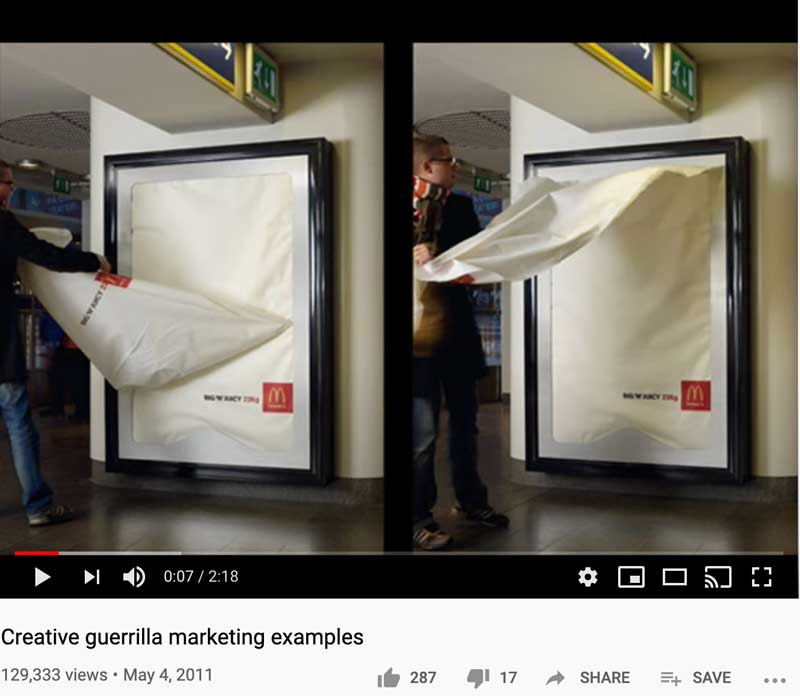 When coming up with some guerilla marketing tactics for your dental business, learn from people who have already gotten attention from their creative marketing tactics. Here is some
guerilla marketing inspiration
.
9.  Make sure you tap into content marketing
By content marketing we mean start yourself a blog and create great content on it. You're here which means you're reading our blog right? You can do the same thing and attract visitors to your own blog. For content marketing to work as a dental marketing idea, you have to stay consistent with it.  See Content Marketing Institute to learn more. This also helps build SEO!
10. Use team marketing
Instead of relying on just one person to get the word out for you, use your whole team. When more people are actively talking, it's a lot easier to make yourself part of the scene. Another reason to ask your whole team to contribute to your dental marketing efforts is that new ideas have a way of funneling into your marketing strategy. When there are more people contributing ideas, there is an increase in content.
Additionally, you can have the whole dental team share your content, or simply promote your website, social media pages, blog, etc. to their friends. This works really well because most of your team is probably utilizing some form of social media. Plus, it's a great way to be seen by hundreds of new people.
When suggesting these ideas to your team, be sure to mention that it's optional… but that it would really help out. Some team members may be uncomfortable sharing work-related items on their personal profiles.
There are a few things you can do to make team marketing easier for everyone.
You can create some canned messages so that your team members can easily pick one and share it.
Be sure to email all new content to your team members, whether it be an infographic or a blog post. When your team knows about your resources they are more likely to share them.
Let your team members know you're open to new content suggestions.
11. Have an offer they can't refuse
There are plenty of ways to get attention. Providing an exclusive offer from the get-go can help get people through the door. In the dental industry, there are only a few things you can offer for free, or at a discounted price, however. But, a few options is all you need. To make it interesting, you can even switch up the offer every quarter.
Think about what you can offer, and put it to the test.
For new customers, you may try a complimentary service. For example, you may offer a free cleaning or teeth whitening to a new patient. Both of which can be done fairly quickly, and inexpensively on your end.
Existing customers, on the other hand, you may try to offer a discount to a service. Like $20 teeth whitening or 15% off an at home cleaning system.
12. Build up email lists
You should grow yourself an email list for a few good reasons. One very good reason is that you can use them to retarget your audiences.
An easy ways to build an email list is to create a lead magnet (like an ebook, PDF, or webinar). Get them with a catchy title like "The 3 steps to bright, white teeth" Once someone downloads the flyer, you can push a followup email their way offering a discounted cleaning or whitening.
13. Make sure your Google Business Page is up to date
You may already have claimed your Google My Business Page – and if so, that's great! This is a great way to increase your presence in your local area. Make sure you keep your listing up to date, with address, phone, and emails. You can even add images. The more complete your page looks, the more reputable you'll seem. Feel free to allow reviews to display on your Google Business Page, too.
14. Send a good old-fashioned post card
Sure, this one has been around forever, but that's because it's easy and works. It's a relatively cheap option, and best of all, you end up directly in front of potential new patents.
You can easily create a postcard to be sent out to the neighborhoods near your office. People move all the time, so you may just end up in the hands (or mailbox) of someone looking for a new dental office.
It's true, people shuffle through their mail quickly, and toss out what they don't need. But, you are at least getting exposure and you may even stick in their mind when they do need a dentist.
A newer version of this is sending a postcard coupon. Here is a great example created by Impact Mailers.

15. Get some reviews
Get your patients to do the hard work for you. Most new patients will likely read a ton of reviews before choosing a dentist, or any service for that matter. If you have reviews online, people will notice. If those reviews are good, it makes you a lot more appealing to potential new patients. So go after reviews when you can. You can email your customers a link, or have it part of your checkout process on a kiosk or tablet.
16. Try retargeting
Try to get those people who have already visited you, your site, or even your Facebook page back. This method is a cheap way to remind people who you are, and they need to get back to you. This works well because this is very targeted, meaning you'll be reaching out to people who already know who you are. Making it much easier to convert them into a paying customer/patient.
17. Start a partner program
You may know another business who can benefit from your business, just as you can benefit from theirs. You may want to link up with a dental surgeon, orthodontist, pediatric dentist, etc. You all can share patients without necessarily taking business from each other. Forming these types of partner relationships is a great way to find patients because they will have a trusty guide leading them right to your door. The trick with this is to make sure it's a business, doctor, or a person you trust, otherwise, your social currency could plummet.
18. Be labeled as an expert
Just as you want to know your in good hands, your patients do too. Make sure you are keeping up with times, and occasionally contributing to published pieces. By doing so, your patients will know you are a trusted source for their dental needs. Thus, this helps build your reputation and can lead to new patients… all while keeping existing ones happy too.
19. Use CTAs where you can
Make it easy for people to contact and connect with you. By placing a call to action on your website, you're making it that much easier for potential patients to connect.
20. Show off your results
Everyone talks about their services. But not everyone talks about their results. If you show off the results of your happy healthy mouths, people will be intrigued to give you a try. Most people know you can clean teeth and fill a cavity, but seeing the end result of these labors can be convincing.
Other dental marketing strategies and tips
Hope you found these 20 dental marketing strategies helpful. If you want to consider even more options, you can consider using a few medical marketing strategies as well, since the two fields are quite similar.
Here are a couple other resources that you may find useful: