For your business to grow beyond the startup phase, you need to make use of the right marketing strategies.
One of the most effective strategies is affiliate marketing. Affiliate marketing is a type of word-of-mouth marketing where you work with content creators, such as bloggers or streamers, who recommend your brand on their own channels.
Affiliate programs have become a go-to solution for many startups these days. Why? The majority of consumers trust word of mouth from someone they trust and follow far more than direct ads from companies. 
In this article, we cover what affiliate marketing entails, its benefits to startup businesses, and essential affiliate marketing best practices for startups.
Let's dive right in.
What is affiliate marketing?
Affiliate marketing is a strategy where a company promotes its products and services through another content creator's platform, including websites, social media pages, blogs, videos, and podcasts.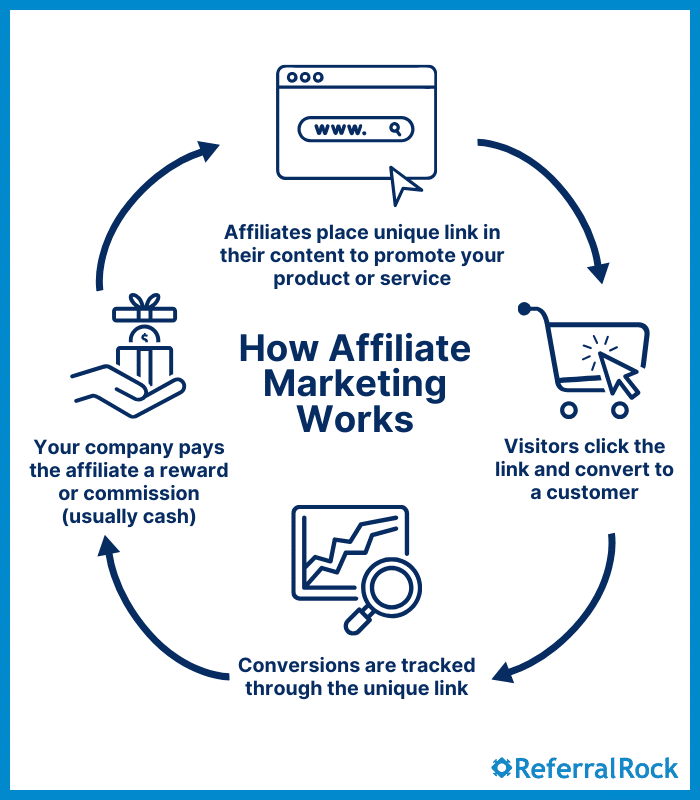 The content creators (or affiliates) place an affiliate link on their own platforms to your select URL.
When a lead sees your brand on an affiliate's channel, clicks through to your site, and then makes a purchase, you compensate the affiliate with a commission – usually an agreed percentage of the sale. 
In turn, you get to reach a larger audience, drive traffic to your website, generate more leads, and grow your revenue.
Benefits of affiliate marketing for startups
Affiliate marketing is a multi-billion dollar industry that countless digital marketing brands use to grow their business. 
Here are the many benefits of affiliate marketing for startups: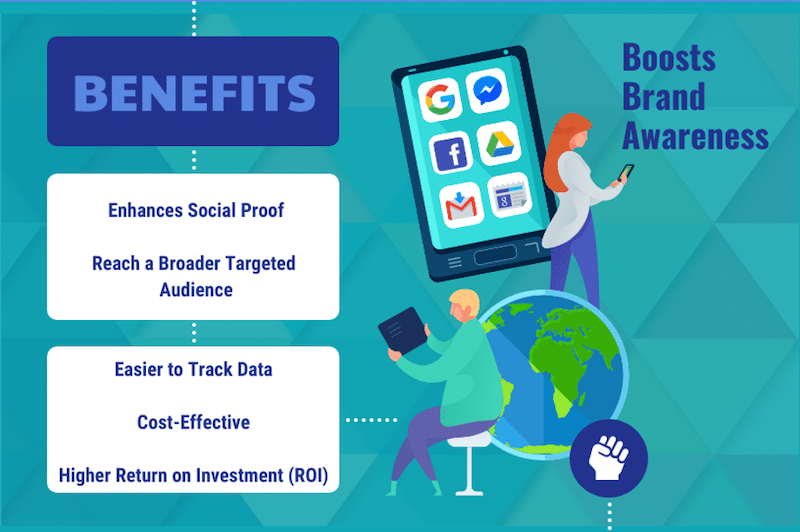 Takes advantage of social proof: Social proof describes how people look to others as a basis of their own decision-making. In other words, they tend to copy what they see other people doing. 
Social proof is another form of word-of-mouth marketing that greatly influences someone's purchasing decision. In fact, up to 97% of consumers will look for a product's reviews and recommendations before they buy.
For this reason, affiliates who've already earned the trust of their audience are more likely to generate sales for your business, simply by recommending your products or services.
Gain access to a larger, targeted audience: Affiliates or content creators have an established audience who listen to them. And their audience ideally aligns with your own.
This means whenever an affiliate recommends your business on their channels, they share your brand to a larger, yet still targeted, audience you wouldn't otherwise have the same access to.
Low-risk investment: What makes affiliate marketing especially ideal for startup businesses? It doesn't require a huge amount of capital to start. You only pay affiliates a commission when they bring in a new sale, meaning you won't spend money unless you see results. Plus, you also set the affiliates' commission rates, meaning your startup can mitigate your risk by setting rates which you're sure you can afford.
Cost-effective for startups, compared to other forms of marketing: Recruiting affiliates costs less than paid ads or hiring marketing agencies. In affiliate marketing, you only pay commissions for a sale that has occurred, unlike with PPC marketing campaigns. There's no money needed upfront to sign on affiliates, which creates a low-cost marketing investment perfect for startups with limited budgets. 
An affiliate's expertise improves your campaigns: As a startup, hiring marketing agencies can be costly. Affiliates can bring the same knowledge and experience to your campaigns, without the need for extensive resources. Since they're running their own business and have also promoted others, you can expect the same value from them.
Your business is in control: Another great benefit of affiliate programs is that you maintain complete control over the program. From which affiliates you work with, to how much you pay in commissions, to the marketing messages affiliates will use – you can manage your affiliate program in a way that works best for your startup.
Is your startup ready for an affiliate program?
Although affiliate marketing is a great strategy for small businesses, not all startups are ready for an affiliate program. To increase your odds of success, your startup needs to have the following: 
A product or service that appeals to a wider audience: To get the most value from your affiliate program, your affiliate product or service needs to have a wide appeal, at least to the audience of your selected affiliates. Since affiliate programs get you in front of a larger audience, it's best if you can attract potential customers with varying tastes and preferences.
Awareness of your profit and expenses: Even in the early days of a startup, it's important to assess your profit margins to determine what you can spend to still maintain a profitable business. 
Ability to pay commissions on every sale: A reasonably new product may not be able to pay commissions on every affiliate-driven sale. And even if you have the budget, the affiliate commission you offer may not be attractive enough to get you high-quality affiliates. (In these cases, you can try a referral program instead.) 
Access to affiliates with a similar audience: Do you know where to reach suitable affiliates with similar audiences to your business? Content creators with large followings may not always be the perfect match for your startup, especially if you're still running a small production. Instead, consider smaller creators who've used or talked positively about your products. 
Pro tip: If your startup isn't ready for an affiliate program, consider starting a referral program first. Referral programs encourage your own customers to recommend others, and then reward them for bringing you new business. 
You'll still pay out rewards when a customer's referred friend makes a purchase, but have the added flexibility to give out rewards other than cash.
Learn more about referral programs for small businesses.
Affiliate program best practices for startups
To make your affiliate program as effective as possible, here are some best practices to implement:
1. Set program goals
Having goals is necessary for achieving success as a business owner. Your goals should be SMART-driven: specific, measurable, attainable, relevant, and time-bound.
For instance, how much revenue do you want affiliates to bring in quarterly or yearly? How many new sales do you want to make through your program? 
The answers to these questions are great examples of clearly defined affiliate program goals.
2. Use affiliate software to run your program
The best way to get started with your affiliate program is to use affiliate marketing software for startups. Affiliate software will automate all the tasks involved in managing your program, from tracking all affiliate links and sales to compensating your affiliates.
Moreover, you get full control over your data and how the program runs, which third-party affiliate networks won't give you. 
3. Choose the right commission
Your affiliate commission rates must be attractive to affiliates. Affiliates are usually paid in cash or in a cash equivalent, like a gift card. This could be a flat rate fee on every purchase, or a set percentage on each sale. 
Look at your competitor's affiliate commissions and set your rate to be competitive in the market. (You're likely targeting the same affiliates as the competitors in your niche, and most programs often have a non-compete clause in their affiliate marketing agreement.)  
Pro tip: You could offer additional incentives or increased commission rates for your top affiliates. But make sure your startup can sustain these rewards. It's best to start with smaller rewards, then increase them as your revenue and profit margins increase. 
4. Develop a plan to find the right affiliates
To find the best affiliates for your startup, we recommend doing an initial online search for content creators (bloggers, social media influencers, publishers, etc.). 
Alternatively, you can perform a manual search for specific industry keywords, comb through relevant hashtags on social media channels, or use brand mention software.
Remember, smaller content creators will be most accessible to startups and often have close-knit communities that are passionate about their niche. 
If you find someone who's familiar with your brand or has even promoted you before on their own, that's even better for your startup.
Your startup can also publish an open application on your website to promote your affiliate program.
5. Choose affiliates who meet your needs
It's important to screen all potential affiliates, whether they reach out in person or apply through your website. They should meet the following criteria: 
Have an audience that matches yours 
Consistently produce content 
Have a high and positive engagement and conversion rate from their audience 
Show a personality, voice, and style that all align well with your brand 
Exhibit ethical behavior (spammy links and other suspicious activities are red flags, so make sure they don't engage in any of that) 
Can present a solid plan of how they intend to promote your business (when asked)
6. Create an affiliate agreement
An affiliate marketing agreement should define the working relationship between your brand and your affiliates, and contain all the details of your program. Ultimately, it's the set of written terms and conditions both parties sign and agree to uphold.
Points to cover in your affiliate marketing agreement include: 
What affiliate partners can and cannot do to promote your business
Branding guidelines
How commissions are earned
The responsibilities of each party
Any other terms of the affiliate relationship
7. Communicate well with affiliates
As with any other business partners, you need to regularly communicate and interact with your affiliates.
Start by training them on key aspects of promoting your business. For example, does your startup use a casual or more formal voice in its messaging? 
After the initial onboarding, keep your affiliates regularly updated with any brand or program updates that relate to how they promote you to their audience. 
Additionally, make sure your affiliates know how to contact you if they have any concerns, whether through email, text messaging, or an online feedback form.
8. Track affiliate sales
As a startup, you may not have enough resources to track all your affiliate metrics. Fortunately, there are affordable affiliate software tools to track them for you. 
Tracking affiliate sales is by far the most important metric to gauge the progress and performance of your affiliates. This helps you see whether you're meeting your goals, or if any area of your affiliate program needs improvement.
Why startups should avoid affiliate networks
Many startups think affiliate networks will make things easier for their emerging business. But these third-party affiliate networks may not always be the best choice for your startup.
Your startup doesn't own the affiliate relationship 
Unfortunately, affiliates on a network belong to the network, rather than signing on as a partner to the business they promote. 
Affiliate networks handle practically all contact with affiliates, which makes it difficult to foster authentic connections with your affiliates. Your startup instantly loses out on the ability to build meaningful relationships with those who promote your products and services.
Even worse, affiliate networks own all the valuable information from your program and control how much data you can access. 
You're competing with other businesses for affiliates
On a network, your startup is directly competing against the offers of all the other brands.
Naturally, bigger businesses with the ability to offer higher commissions wield an unfair advantage on networks. This can leave your startup out in the cold. 
Affiliates can easily compare your commission rates with other programs on the network, and choose the most attractive offers.
Affiliate networks are more costly
Affiliate networks charge extra fees for finding affiliates, as well as other services. Third-party networks are known to charge up to 30% as a sort of finder's fee for their services. And that's on top of the commissions you'll pay your affiliates.
Some affiliate networks will also charge additional fees, like setup fees, monthly maintenance fees, and even minimum monthly fees. 
Affiliates on networks may not be as aligned with your business
Often, affiliates on networks are most focused on partnering with brands that offer high commissions. They may not be as focused on building partnerships with brands they love (particularly smaller brands).
So, networks aren't usually the best choice for finding affiliates who love your brand and who will deliver authentic content  about your startup. 
It's better for your startup to hand-pick content creators on your own to be your affiliates, after you've seen them already love your business and share positive content about your products for free. That way, they're more equipped to show off what makes your startup unique.
Affiliate software gives your startup more control
Running your own program using affiliate software is often a better choice for startups than using affiliate networks. That's because software gives you full control over all aspects of tracking and managing your program.
With software, it's easier to handpick content creators who align with your brand, and build a program that's mutually beneficial. And once they've signed on, you'll own your own affiliate relationships, and will have the power to develop meaningful connections with them.
You can customize and run your program however you want, as there's no need to fit into constraints and rules of a network.
And you'll have complete control over your data, including real-time access to detailed performance reports. So, you'll be empowered to make the right decisions to refine your program and accelerate your brand's growth.
Learn more about why affiliate software is a better choice for startups than using an existing affiliate network. 
The bottom line
Affiliate marketing for startups is an ideal strategy to get the most out of your investment without digging deep into your revenue. 
This marketing approach expands your brand reach, generates traffic to your business, and above all, increases your sales. What's more, successful affiliate programs drive long-term results and make it easy to track sales and your ROI.
If you're ready to launch your startup affiliate marketing program, consider using our affiliate marketing software that fits your specific business needs and gives you full control.