A membership referral program is a marketing technique for recruiting new members in businesses, clubs, and organizations with a natural membership structure. These businesses include:
Online and physical clubs and organizations
Special interest groups
Mentorship programs
Corporate memberships
Student groups
Physical membership businesses, such as gyms, YMCAs, golf clubs, studios, and recreation centers
If your business or organization falls into one of these categories, membership referral programs are an effective strategy to help you grow your membership base. 
Studies show 92% of members develop an instant connection with brands recommended to them by their friends or families.
Membership referral programs motivate current members to invite new members to the organization. And members acquired through referral programs typically share the same values with your existing members and may be willing to invite others, as well.
In this post, we cover how to determine if your business can benefit from a membership referral program, and why referral programs work so well among members. Plus, we'll give you essential tips to apply if you start a membership referral program of your own.
What are membership referral programs?
A membership referral program is a marketing strategy that motivates existing members to recommend your business or organization to their colleagues and friends. 
In return for their referrals, members are offered reward incentives, such as discounts or free membership for a certain period. 
Through a member referral program, you can identify your brand fans and track exactly how many new members they referred. You can also automate your program using referral software to easily track all member referrals.
Membership referral programs help spread brand awareness sharing, and is one of the best ways to grow your member base. 
Who can benefit from membership referral programs?
A referral program suits every membership business that has the following features;
An active website
A membership referral program can't be effective if your existing members have nowhere to direct their referrals. 
A website is an excellent platform to engage existing and prospective audiences, as well as convert them into members. 
Before you launch a referral program, make sure your website is responsive, easy to navigate, and contains content that aligns with your target member's search intent.
Dedicated members who love your services
Your existing members are central to your referral marketing program. Do you have loyal and dedicated members who can't get enough of your services and who participate in lots of member activities?
When you have great membership services your members love, and high member engagement, it will be easy to get referrals and new members for your business. In fact, most people actively seek recommendations from their friends or family members before actually joining a membership group. 
A stellar member experience
For a membership-based business, the experience of your members is a major part of your "product" – it's intertwined with the services you provide. 
Develop a strong relationship with your members and offer them a quality experience in your organization. Do all you can to build up their view of your brand, and they'll be glad to invite their friends to share in their great experience. 
Why do membership referral programs work?
Here are some of the main reasons why referral programs work well for membership businesses:
Memberships are community-based: Memberships bring people with similar interests together. Your existing member very likely knows others who would be very interested in your brand. And because they want to share their experience with like-minded peers, it increases the likelihood of their referrals subscribing to your service.
Members are your best campaigners: If your business resonates with the needs of your members, they will naturally inform friends within their circle. Besides, members understand the benefits of your membership program. So they can inform their peers about everything they need to know, making referrals an effortless marketing technique for your membership business.
People trust your membership when it's recommended to them by their peers: Recommendations influence most purchase decisions because people trust the word of their friends far more than they trust messages from a business. 
Referred members are more likely to remain members: Friends of your member network can easily translate into loyal members. They'll also be more likely to renew their membership because they will be interacting with a group that includes their peers. As a result, you'll grow the lifetime value of your members.
It's a cost-effective strategy of acquiring new members: Compared to traditional ads, you can win quality members at a more reasonable cost through referral marketing. And since your existing members are marketing your brand to their network, you're more likely to see a return on your investment thanks to the power of trust.
Referral program software helps track the source of your new members: Using referral program software, you can monitor your members' progress, including the number of people they've invited and who ends up becoming a new member. This information helps you determine the impact of your referral program.
Membership referral program best practices
Just like other effective marketing techniques, an effective membership referral program must incorporate best practices. Here are some proven referral ideas that can help you design, run, and promote a great member referral program:
Remind members why they signed on for membership
You must develop the habit of motivating your members to ensure they don't forget the purpose of joining your business or organization. This will help them become better advocates for your membership referral program. 
You can remind them through virtual or in-person discussions, social media posts, and member surveys.
Ask them questions like:
Why did you join in the first place?
Why is membership important to you? / Why do they enjoy being a member?
Why do you continue to renew their membership?
Why would having more members benefit you and other existing members?
Why do you think others should join?
Also, point out the benefits they reap from the membership and any membership-based rewards they gain from referring others. 
Mobilize your best advocates first
Your committed members can market your brand better because of the valued time and relationship they've built with you. 
These members have been with you for a long time, have taken part in many member activities, or members who have left positive reviews or social media comments.
Other members to target include those who give a high score in your member satisfaction survey. 
These members have already proven their loyalty, and therefore you can invite them to join first. You can even reach them by sending a personalized note. 
Pro tip: Trying to recruit certain demographics of members? Contact the most committed members within those demographics first, and then grow your members from there.
Clearly outline what you want in an ideal member
Although every member referral program has rules all members must follow, not all membership-based businesses or organizations dictate the type of members they are looking for. 
Even if your membership program is open to all, it's important that existing members are clear on the type of audience you are targeting to join your organization.
Reward both the referring member and the new member
Double-sided rewards, where you reward both referring members and their friends, will motivate your current members to make more referrals and entice their referred friends to join your membership program. 
Once referred friends join your network of members, their new member reward will offer value and encourage them to sustain their membership. 
These new members are also likely to invite their own friends in order to earn even more rewards. This sustained cycle of sharing has potential to grow your member base considerably.
Select attractive and cost-effective rewards
Referral marketing is a cost-effective strategy. You should invest less and get a higher return on investment compared to traditional efforts. 
Choose incentives that are both motivating for your members and cost-friendly for your business or organization.
The rewards you offer should give existing members value for their time and effort, and encourage them to renew their membership as they invite more members. For instance, you can offer a discount on membership dues or offer a free month of membership. 
You could also give them special membership perks  or reward them with branded swag. (This works especially well if it aligns with a your organization, say, a gym bag or water bottle if you're a gym). Besides that, you could offer gift cards or cash back to the active member. 
And of course, you'll also need to reward the new member for joining, to increase the likelihood they'll stay with you. This new member reward should always tie back to the membership. For example, offer the new member free membership for a month, waive the joining fee, or give a sign-up discount. 
Promote your program
Promoting your membership referral program is key, as members need to know it exists if you want to see a steady stream of referrals. You can enhance visibility for your membership referral program in the following ways:
On your website: Your website should include an easy-to-find call to action, such as 'refer a friend to get a discount.' And if your website has a member portal, you should also have a referral section within your portal. 
Dedicated referral emails to members: Send out tailored emails reminding them of membership goals, and encourage them to recruit more people.
"Regular" emails: Promote your program subtly in other emails, too, such as newsletters, renewal emails, and other membership-related emails.
Social media posts: You can create social media posts related to your referral program and the benefits of becoming a member.
Word-of-mouth: Engage members face-to-face and ask them to refer you to their colleagues or friends.
Pro tip: Promote your program on social channels with real testimonials of members who made successful referrals (or joined because of a referral). 
Make sharing easy
Your members should be able to invite their colleagues with just a few clicks or taps. Make sure the referral program is easily visible. For instance, you can use an attention-grabbing headline to ensure they don't miss it.
Also, provide a step-by-step procedure to explain your program and eligibility requirements for redeeming the reward. 
Furthermore, you can create a separate FAQ page to address all relevant questions. 
And don't forget to use several sharing options such as social media, referral links, email, and more.
Emphasize the importance of referrals
On your referral program page, explain why you're asking members to refer others. Remind them how it boosts your club's value and helps secure its future.
With more members, you'll become an authority in your industry, and your members will have an enriched experience – more like-minded people to connect with.
Moreover, through sharing, a colleague, friend, or family member who genuinely needs the services you offer will benefit from the program. There's no better proof of the club's value than a member's recommendation.
Include a personal touch
Considering that it's the referring member who will reach out to their families, colleagues, and friends, allow them to create messages from their own perspective.
Provide a way they can write their own texts without diverting from the main agenda. What matters is to convince the target members to join your membership program.
Pro tip: Encourage members to think about the "whys" of referring as they write their message.
Use referral software
Referral software is highly recommended because it streamlines your program creation process, and makes tracking and managing referrals easier. 
Referral program software:
Lets you create a customized referral experience for your brand
Tracks exactly where every referral came from 
Instantly issues rewards for successful referrals
Collects program data, so you can easily measure success and refine your program
Track and measure your success
You'll need to track how many referrals come in within a given period, and what members are recommending your brand, in order to gauge the success of your membership referral program. Referral software makes these tasks easy.
Some essential program metrics that you should track include:
How many referrals you get over certain periods
How long referred members typically stick around vs. how long all members typically stick around, on average
What percentage of members make referrals
What percentage of referred friends ultimately join
Membership referral program examples
Here are programs that have employed best practices in their membership referral programs.
Healthcare Financial Management Association
The Healthcare Financial Management Organization (HFMA)  presents itself as an expert in solving problems for international and local clients. It boasts of offering educational content that can solve today's serious challenges. 
This organization offers a $25 cash gift to members who recruit new members. Plus, the newly recruited member will get a $25 cut on their dues when they join. The program also highlights the benefits of becoming part of the team.
HFMA offers value for both a new subscription and a successful referral. Their call-to-action button, 'Sign in and refer,' is strategically positioned so it's easy to locate. 
And we love how the organization shouts out the member-advocate responsible for the most new member signups in the past year!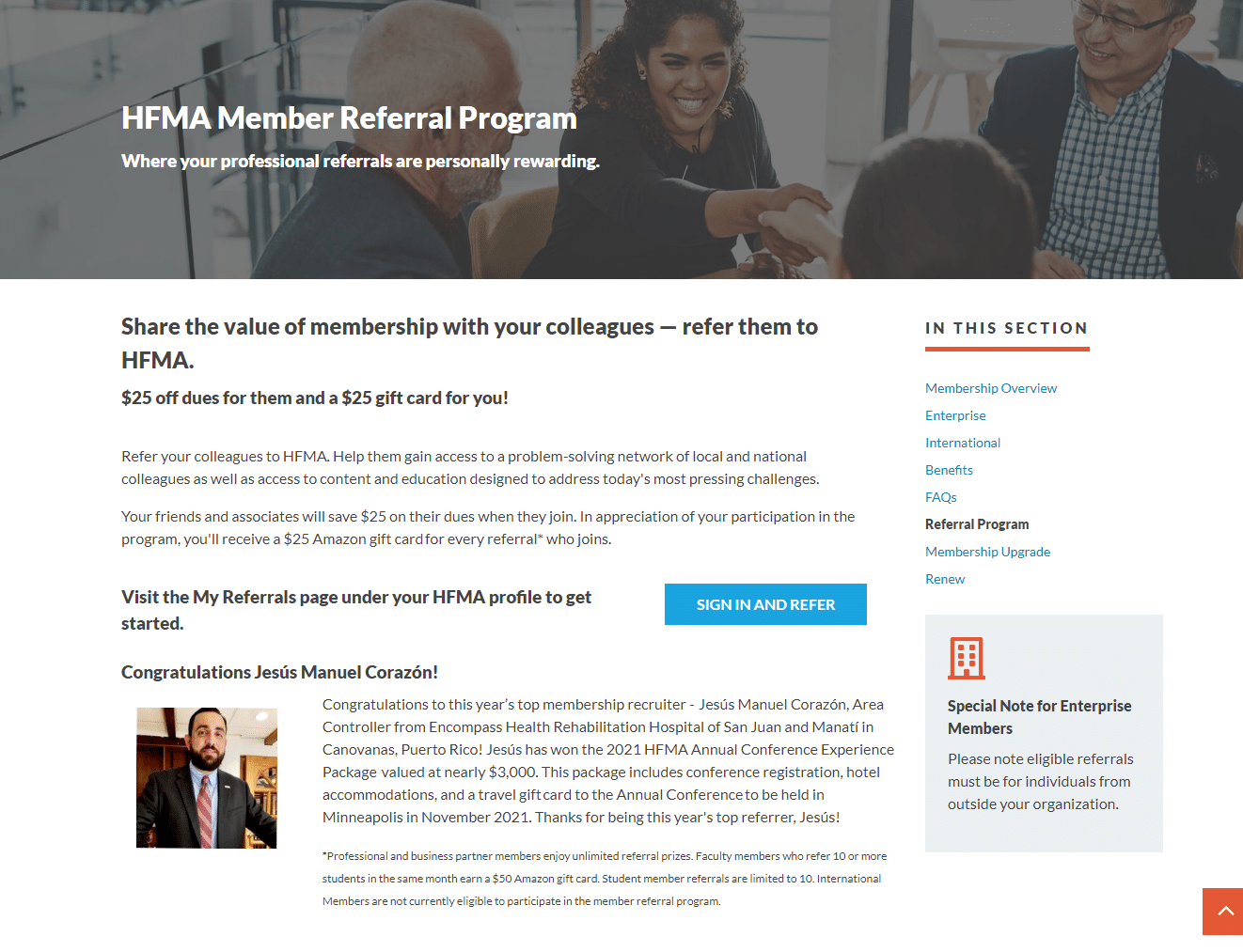 Mountainside Fitness
The Mountainside Fitness referral program reward is attention-grabbing in itself. Members are encouraged to send others a five-day pass, and once new members join, they get $10 off their next month's subscription. 
They also list what the fitness organization offers, so it's easy for members to communicate the benefits. We love how simple and effective this membership referral program page is!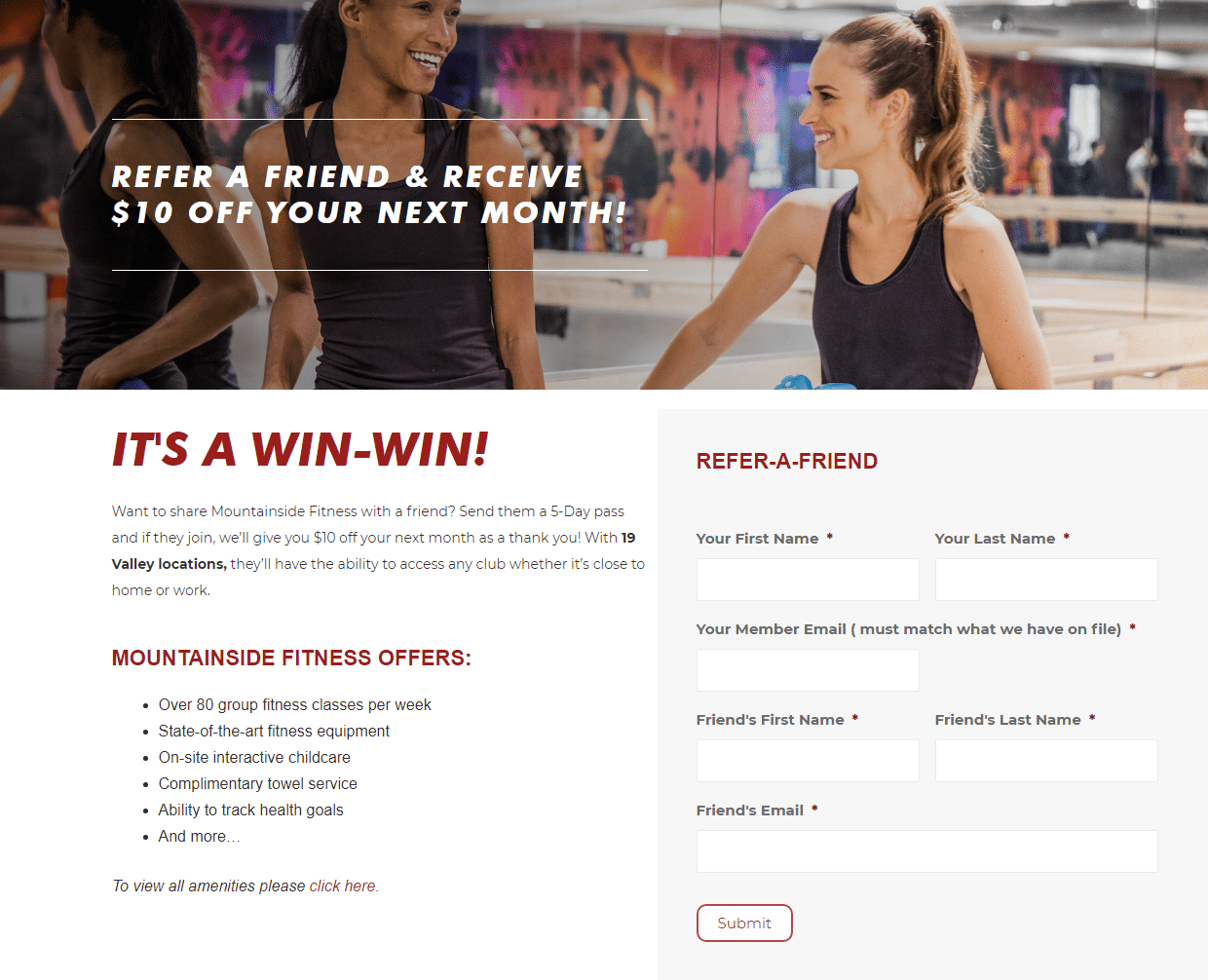 Conclusion
A membership referral program can help attract new members and establish your business as an authority in the industry. You'll also enjoy improved awareness and credibility once your advocates share their experience with their network, inviting new members to join your organization.
With Referral Rock referral software, you can give your members the best sharing experience. You can automatically encourage existing members to refer their friends, monitor the source of your new members, and send out rewards for every new referral and sale.