Employee advocacy software can help your brand attract followers, get more leads, and generate more sales. You can even attract quality talent through employee brand advocacy.
The employee advocacy software market is expected to grow by a CAGR of 8.5% during the next year, as more and more businesses are starting to understand the value of this type of platform. If you're not leveraging employee advocacy tools, you could be missing out. 
If you're considering adding an employee advocacy platform to your business tool stack, you're in good company. But how do you get started with choosing employee advocacy software? This guide can help. 
We cover:
What is employee advocacy software?
Our top 12 picks of the best employee advocacy software programs, reviewed
What to look for in employee advocacy software?
Types of employee advocacy programs
What is employee advocacy software?
Employee advocacy software will help you build and scale an intentional employee advocacy program with minimal effort. Whether you'd like to mobilize employees to attract new customers, new job candidates, or both, employee advocacy software will help you streamline the process.
The software will help you stay on top of all advocacy-related activities, track metrics, and even award bonuses to your star performers. Aside from you providing some initial input, setting up your workflows, and actively monitoring performance, the software does it all.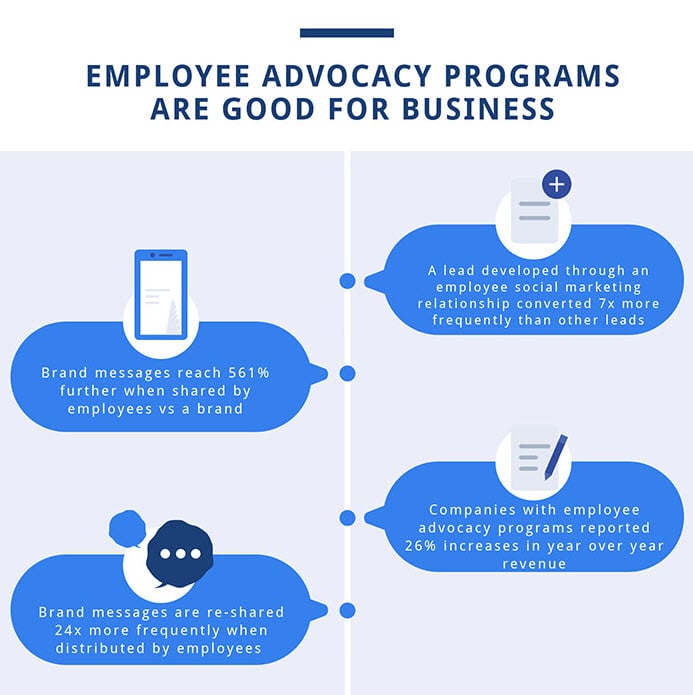 The best employee advocacy software 
With that said, let's get to the meat of this article by breaking down the top 12 employee advocacy software to consider: 
Referral Rock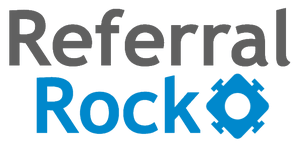 Referral Rock does it all, whether you're looking for employee referral software for employee-to-employee advocacy programs, employee-to-customer referral programs, or programs where employees serve as brand ambassadors – or even all three!  You'll be able to create a gamified advocacy program, a tiered program, or a multi-step one if you wish. And no matter what structure you choose, you'll be able to track every time employees share your brand, and the customers or employees each employee-advocate brings in, through unique links. 
Best for: Businesses of all types and sizes, from small businesses to enterprises; businesses that want maximum flexibility in how they design their employee advocacy program; businesses seeking to run a referral program or ambassador-style program via any channel (not just social media)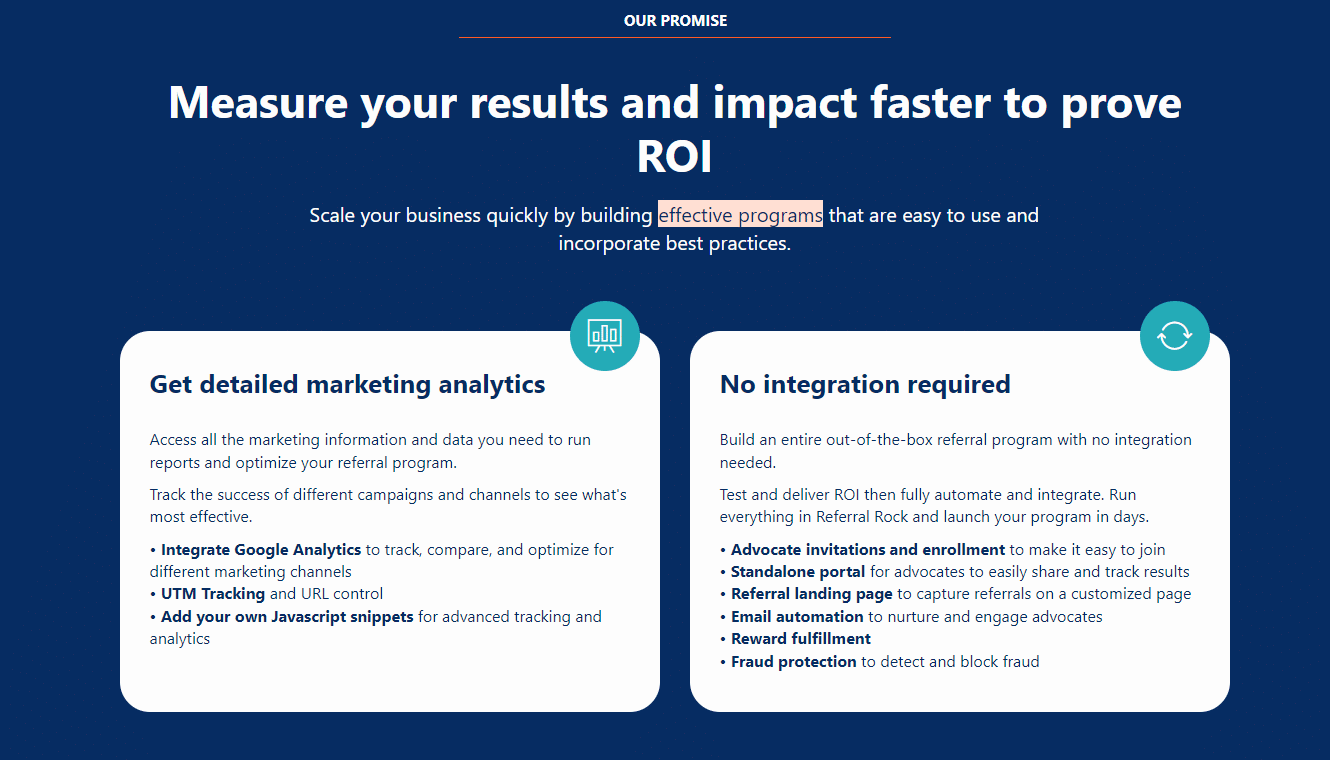 Give employees the freedom to share their links directly, or on social media with the messages of their choice. Instantly reward employees for their advocacy when it results in sales, and send out reminders to keep employees engaged. Then, track your employees' impact with robust data reporting, and give your employees visibility into that impact at any time.
You can expand your scope even further by running other advocacy programs, such as customer-to-customer referral programs, affiliate programs, and channel partner programs inside the same platform. Referral Rock is a great tool for businesses serious about leveraging all types of advocacy programs to extend their reach and build their customer or employee base.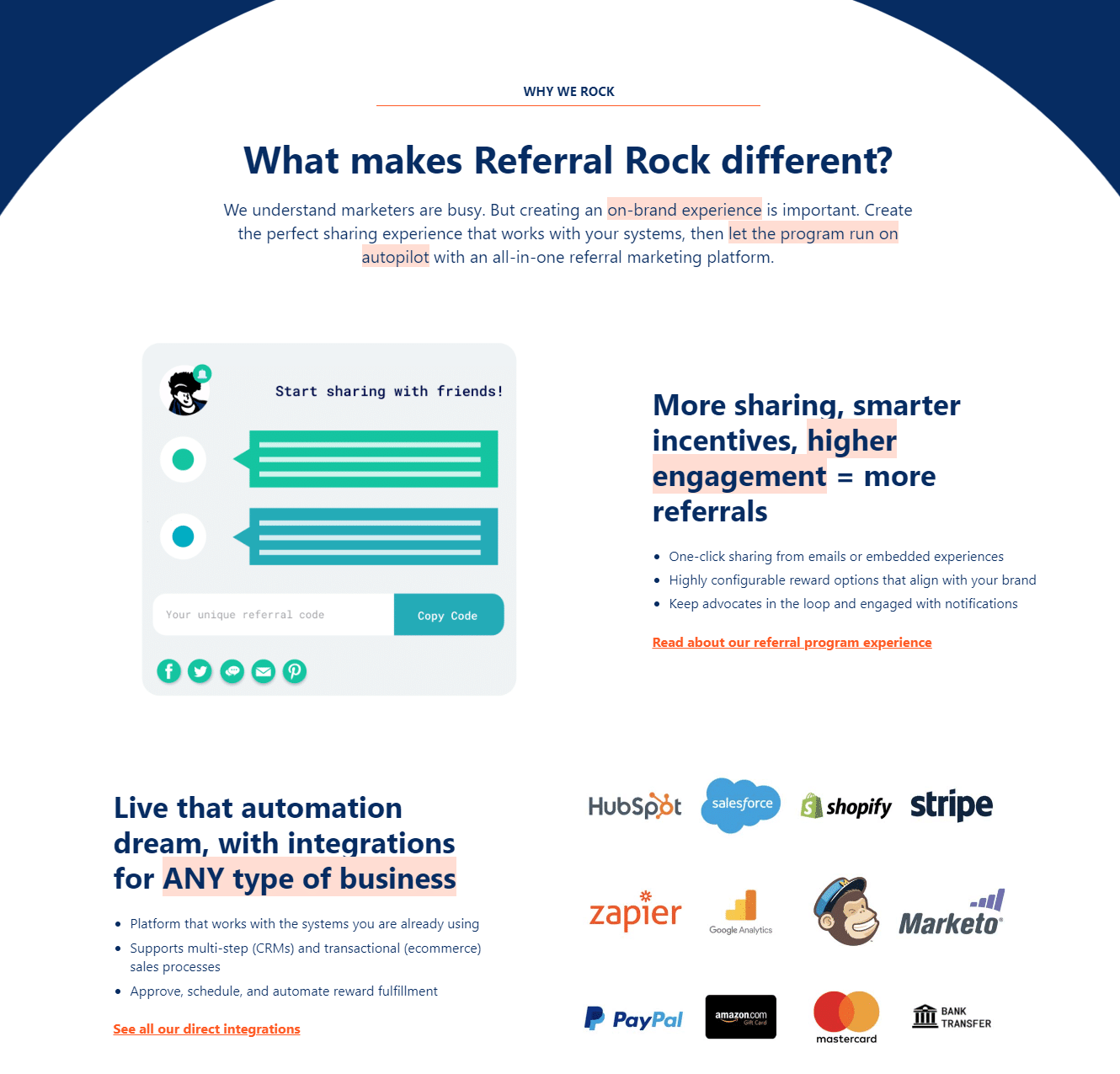 Top 3 key features:
Referral Rock integrates with some of the most commonly used tools in businesses today, such as the HubSpot and Salesforce CRMs, plus Mailchimp, Stripe, WordPress, ActiveCampaign, Klaviyo, Shopify, and so many more.
Referral Rock is consistently rated as the best "value for money" advocacy software, given the sheer scope of features you get within the pricing offered to its customers and the overall maturity of the platform.
Referral Rock reliably delivers on the promise of stellar customer service. You'll get set up in days rather than weeks, and the team is always on hand to provide expert onboarding guidance and support – for your launch and beyond. 
| | | | | |
| --- | --- | --- | --- | --- |
| Type of advocacy | Pricing | Free demo or trial | Customer support | Review score |
| Referral (new customers), referral (new employees), ambassador, social media | $200-$800/month; enterprise plan also available | Demo and free trial | Concierge onboarding on all plans, dedicated account manager on the Established Business plan. | 4.5 out of 5 (55 reviews) |
Our take: Referral Rock is the best value-for-money software – it's the total package at an attractive price. It's the ideal solution for businesses keen on maximizing every opportunity to leverage referral marketing, including employee advocacy, to build your brand. 
Also hugely appealing is how the team will help you set up quickly and guide you every step of the way. Users also love the template customization features and email engagement features, which are constantly being refined and improved.
Overall, Referral Rock is definitely worth looking into, regardless of the size and niche of your business, for the potential ROI you could be earning from a single platform that does it all. 
Employee Advocacy by Sprout Social (formerly Bambu)

Employee Advocacy by Sprout Social is purpose-built for social engagement. Expect this tool to deliver everything you expect in a social media management platform with the additional benefit of being able to drive employee advocacy through it. Think social listening, analytics, engagement, automation, and last but not least, social collaboration as a quick overview. 
Best for: Travel, hardware, retail, and education businesses already using Sprout Social tools, as this is a premium add-on; businesses that want to focus on social media advocacy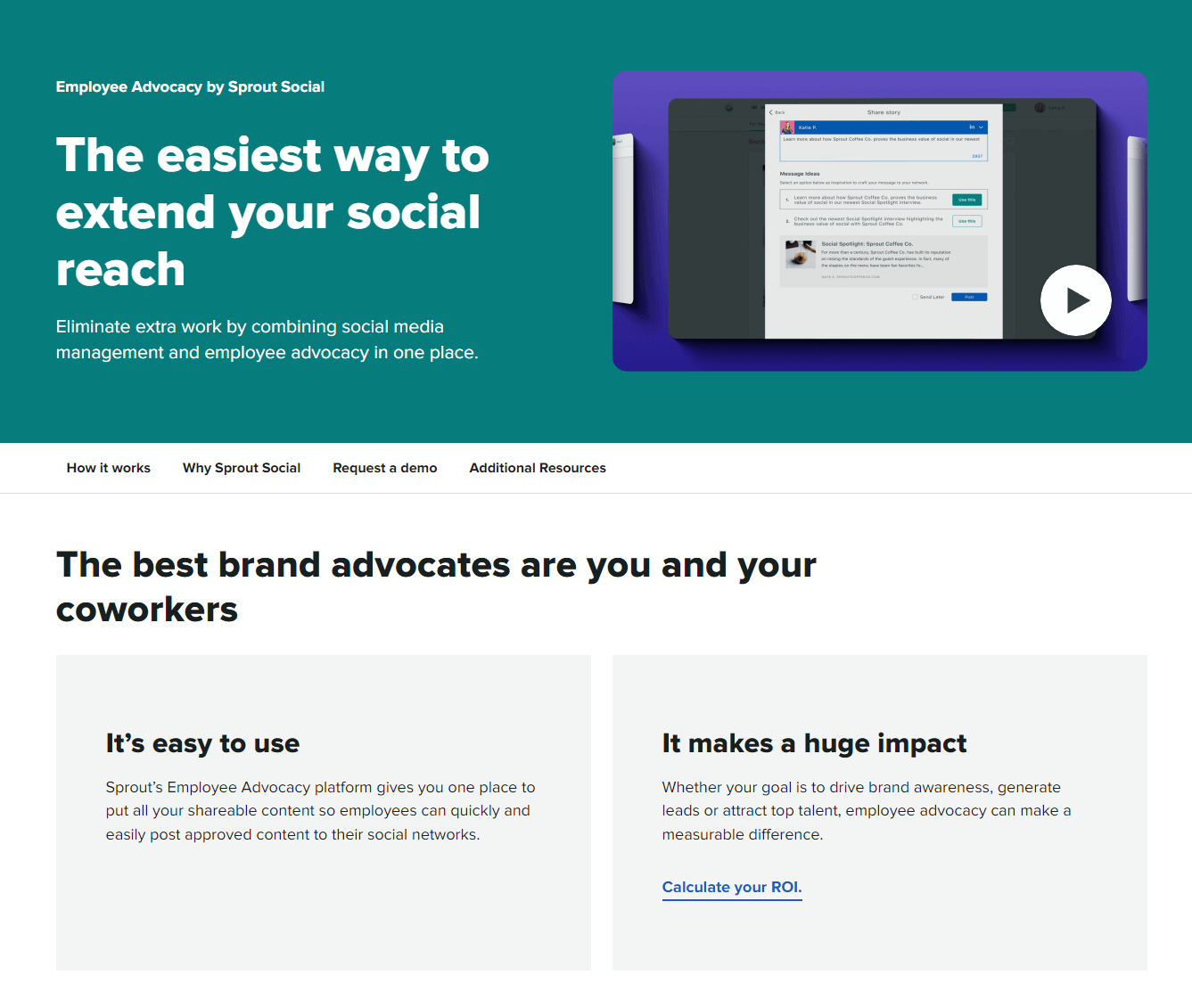 Top 3 key features:
Employee Advocacy by Sprout Social is easy to use, set up and maintain, whether it's for content curation, selection, scheduling, or sharing for back-end users, content creators, and social sharers. Employees can even recommend content for sharing. 
Integrates with all the major social media channels such as Facebook, Twitter, Instagram, LinkedIn, Pinterest, TikTok, YouTube, and even WhatsApp Messenger.
Gamification features such as leaderboards, and the ability to provide incentives for sharing, allows for increased employee engagement and more social shares. 
| | | | | |
| --- | --- | --- | --- | --- |
| Type of advocacy | Pricing | Free demo or trial | Customer support | Review score |
| Social media | $249-$499+/month, custom enterprise pricing available. The employee advocacy addon incurs additional charges. | Demo and 30-day free trial  | Email, phone, community hub, learning portal, educational resources | N/A |
 Our take: Employee Advocacy by Sprout Social is a user-friendly and engaging software that hits all the right notes for employee advocacy as powered by social media. Users will enjoy how easy it is to use the features to share, schedule, and collaborate on content and gain insights into performance. 
Some businesses may find the prices leaning too close to the higher end. Costs start at $249 per month for the Standard plan, the lowest-tiered plan. And unfortunately, the employee advocacy tool isn't included in the main Sprout Social plans and must be purchased as an addon.
Sprout Social recommends the software as an ideal solution for the travel and hospitality, computer and hardware, retail, and education industries. If you're outside those buckets, it might not be for you.
Oktopost
Oktopost is a social media management and employee advocacy solution created by B2B experts for the B2B community. It does everything you might expect from a social media management solution, whether it's social listening, monitoring, engagement, or performance tracking, together with employee advocacy. Oktopost offers powerful social media monitoring and analytics tools that support content amplification and data-driven scaling. The engaging user interface and data insights are routinely rated as some of its most popular facets. 
Best for: B2Bs looking to scale their social media employee advocacy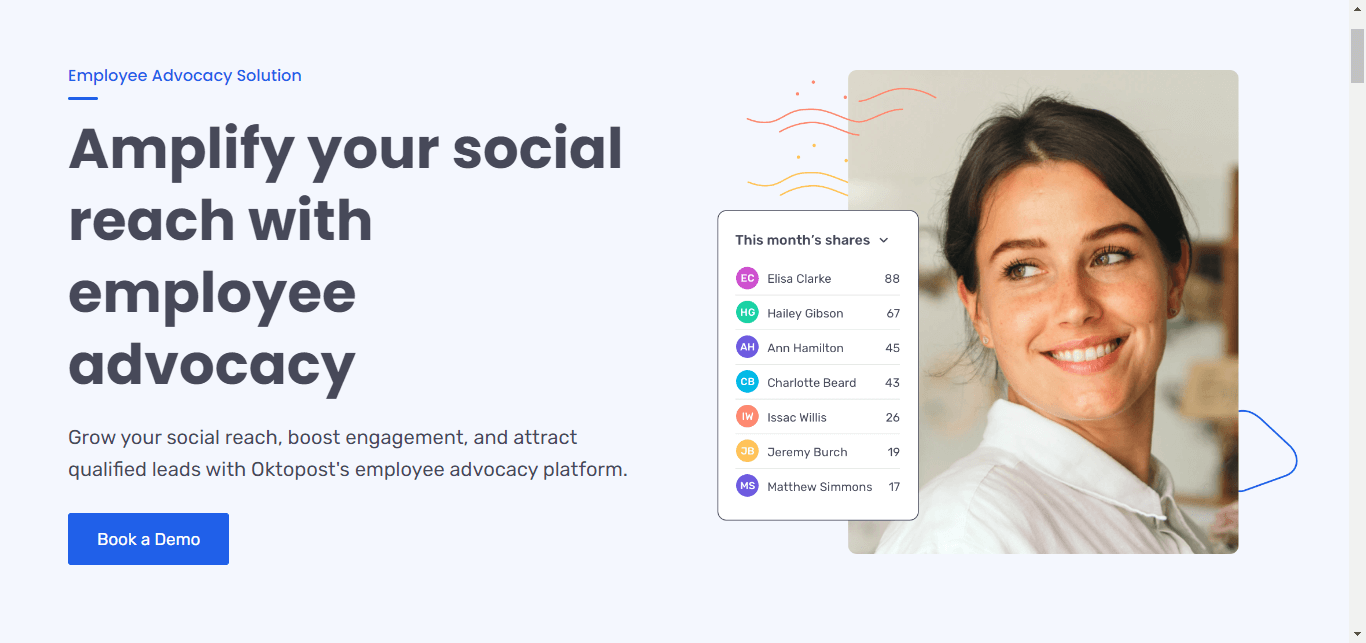 Top 3 key features:
Oktopost integrates with some of the most commonly used marketing tools available currently, such as Salesforce, Marketo, HubSpot, Microsoft Teams and Power BI, Facebook, Linkedin, Google Analytics, Canva, and Zapier, to name a few. 
Gamification through leaderboards, so employee advocates have visibility into performance and are actively engaged in going the extra mile.
Extra social media-based employee advocacy tools, like advanced post-scheduling, support for rich media content, availability of a mobile app, segmented board creation, and the ability to implement banned keywords. 
| | | | | |
| --- | --- | --- | --- | --- |
| Type of advocacy | Pricing | Free demo or trial | Customer support | Review score |
| Social media | Not listed | Demo  | Phone, contact form, help center, dedicated customer success manager, onboarding and training | 4.4 (228 re |