What is brand reputation management, and why is it important? What steps do you take to build a brand reputation? Find all the answers here.
What is brand reputation?
Brand reputation, in a nutshell, is how the public views your brand as a whole. Brand reputation management is impacted by a number of factors, including but not limited to:
How satisfied customers are with your products and services, before, during, and after a purchase
Your customer service and customer experience
The mission, vision, and value of the company
The way your leaders and employees conduct themselves
Your brand's social and environmental responsibility
Your customers and others will share what they think about your brand online, through reviews, social media, and more, and this shapes your brand reputation. When your brand's reputation is favorable, customers trust you, feel confident about what you have to offer, and take pride in their purchases. They'll also remain loyal to your brand and feel good about telling their friends about you.
Why is brand reputation management so important?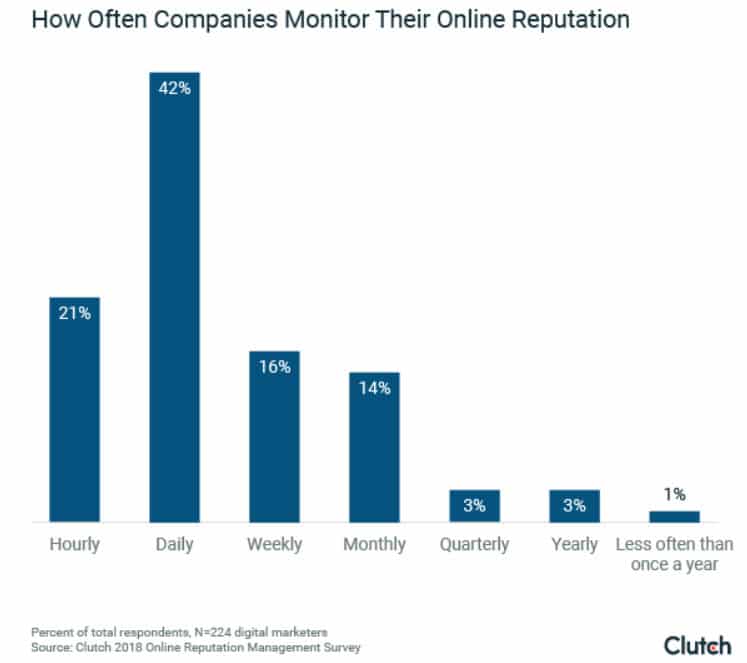 Here are the main reasons why brand reputation management is vital:
When you have a positive reputation, and your customers trust you highly as a result, they're more confident in recommending you to their friends. After all, their social currency – their own reputation – is at stake whenever they recommend a brand to their friends, so they'll only recommend reliable brands. And the vote of confidence that comes with their referral will pay dividends for your business. Referred leads are more likely to become your customers than leads who aren't referred, and they have a higher lifetime value on average.
Of course, the negative is true as well.
When people are unhappy with how a brand handles things, and it builds up a negative reputation, word will spread quickly and people will want to stay far away.
This happened to Uber in early 2017 when they chose not to join the taxi workers' one-hour strike protesting the U.S. president's ban on Muslims entering the country. Instead, Uber turned off their "surge pricing," which looked like they were taking advantage of the protest to increase their bottom line. This led to many former Uber customers requesting to delete their accounts with the business, and #deleteUber became a trending topic on Twitter. Uber lost an estimated 200,000 customers, and thus experienced decreased revenue.
But things got even worse when customers found out that Uber did not actually delete the accounts, leading to even more complaints.  As a result, Uber had to roll out a feature that let customers delete their own accounts at will.
Clearly, this incident eliminated the trust that many people previously put in Uber, enough for them to vote with their feet. And Uber's biggest competitor, Lyft, claims that its revenue per user grew significantly thanks to #deleteUber.  Don't let a reputation fallout like this happen to you, as you'll lose existing customers and have trouble acquiring new ones.
What is involved in determining the reputation of a brand?
The main actions from the public that directly impact brand reputation are:
Reviews are an integral part of any company's reputation management strategy
When people decide whether to purchase a product or service, they consult the opinions of other people who have done business with you before. Thanks to the internet, loads of those opinions are at people's fingertips, on review sites. And reviews are a major factor in purchasing decisions, as these statistics show:
85% of consumers trust online reviews as much as direct recommendations from friends and family.
86% of all consumers read online reviews – and the number rises to 95% among younger consumers (age 18-35).
68% of consumers are motivated to check out a business through positive reviews, while 40% are turned off by negative reviews.
Most customers won't visit a business unless it has a rating of over three stars.
As you can see, positive reviews are vital, but one negative review can break down your reputation quickly – especially if it's on one of the more prominent review sites, like Yelp or Google Reviews.
Mentions
"Mentions" encompasses everything people are saying about your brand online, not just reviews. This includes social media posts, comments, blogs, and even news articles—wherever someone name-drops your brand on the web. Mentions with a wide reach, such as by news outlets or social media users who have a large following, have the greatest impact. Watch out for negative media coverage, as well as "hate" sites that try to frame your brand as a scam… they can cause your reputation to sink. And don't visit the sites with the negativity often, as this will only boost their credibility.
6 important steps for managing your brand's reputation
Even though your brand reputation is impacted by what others say about you, the power is not completely out of your hands. What steps can your brand take to manage your reputation? Here are six:
Step 1: Ask for reviews
Proactively ask customers to leave reviews of you when you know they're happiest (and thus most likely to leave a stellar review.) This will usually be shortly after they purchase a product or service, especially if it's a repeat purchase, or after you know you've delivered a top-notch customer experience. However, you should indirectly ask for reviews from all of your customers, by leaving links to your review pages in your emails and on your website.
Step 2: Respond to reviews
Respond to all of your reviews, both positive and negative. Thank your customers personally for leaving awesome reviews, because they're so vital to the success of your business!
And don't leave the negative reviews unhandled. If a customer posts a negative review, be sure to respond promptly—within 24 hours—and do whatever you can to make the experience better. For example, you could offer free service or a free product (if that doesn't cost your brand an unreasonable amount). This engagement will show how willing and eager you are to make customers happy. And often, it turns things around. A prompt resolution of their problem can lead customers to remove their low star rating, and give you a high rating instead.
Step 3: Monitor and act on your mentions
You'll need to know what people are saying about you as it happens so you can properly respond. After all, you'll want to respond to reviews swiftly, magnify positivity, and stop negative mentions before they can turn into a fallout. And you'll want to step in and answer questions about you, to steer customers in the right direction.
Monitoring and managing reputation in real time is almost impossible – it's a wide, wide internet. Instead, you'll need reputation management software. (Check out our list of software options here.)
Step 4: Engage on social
Make sure that your brand maintains social media accounts on the platforms your audience frequents most.  When you don't have social media accounts, you create a gaping hole for your brand. Someone might search through their preferred social platform to see if they can find more information about your business. If they can't find that info (or find incorrect or negative info from another source first), this can hinder someone's decision and can destroy your brand's reputation.
But maintaining a social media account is not enough. You'll need to make sure that you respond to questions and comments people leave on social media—both positive and negative — just like you respond to reviews. This shows your audience that you care about them and are willing to go the extra mile.
Step 5: Manage SEO
Optimize your website to rank highly for relevant search terms. This will ensure that people who search for your brand name find you first, rather than inaccurate information.
One way to do this is to regularly publish informative, relevant blog content that your audience will appreciate and stay on your site to read. After all, if too many people leave your site too quickly, this will hurt your rankings. But if you establish yourself as a thought leader, people will trust you,  and this will boost your reputation. You'll also want to build up your profile of backlinks to your site, to increase your authority even further.
Step 6: Effective brand reputation management means staying consistent
Keep the same logo, messaging and other branding across all of your brand's online platforms. Deliver top-notch products/services, and stellar customer service. And most crucially, make sure everything you post, say and do, online and offline, stays true to your brand's mission and values. Don't leave any room for people to question you.
Wrapping up
Now that you know what's involved in determining a brand's reputation, and how to manage these factors, it's time to take as much control as you can by asking for reviews, acting on your mentions, and engaging on social. When your brand has a positive reputation, customers will stay loyal to you and might even spread the word about you to their friends.