Updated: 1/25/2018
We can all agree the internet is by far one of the best tools a business can use. It makes it easy to reach out to customers, it also allows you to connect with new people. It's a dream come true. It could also be your worst nightmare as a business. Think about viral videos, tweets, memes. 
The easiest way to always stay in a positive light is to always provide a positive experience. But, that isn't always possible. Whether it be a rogue employee. Or a disgruntled customer. Negative comments and reviews can downplay how great of a business you are. Therefore building up your positive testimonials and reviews is essential.
What are Reputation Management Services?
Let's go over what online reputation management services are and what they are not. 
It's not always about deleting negative reviews (though some do warrant a quick delete). Sometimes it's about showcasing how you (the business) take care of issues that arise. Therefore meaning addressing the problem can be a huge win for you as the company. So when negative alerts come in, you can assess how to take care of the situation and react.
A lot of reputation management services include NPS scoring. Which is a good way for a business to determine how likely their customers will
refer a friend
to the business. Remember, people do business with the business and people they can trust. Most
people trust their friend's recommendations
.
NPS Scoring?
Reputation management software often uses NPS. Or elements of NPS to better categorize your customers. As a result, these services weed out brand detractors and help you find those who are brand promoters.
This also allows you to focus on increasing your customer loyalty. Thus improving in areas so that your business can excel. Calculating your NPS is a great way to determine if you are ready to put in place a referral program. As they rely on happy customers. You can also establish which
referral incentives
will engage customers the most.
Why use online reputation management services?
Maintaining a positive online presence can be hard. Hence there's a good reason to choose a reputation defender. Besides, who has time to sift through every single review on their own?
Remember consumers do research before making purchases. Therefore it's important to make sure you are ranking well. Thus, having a positive online presence is essential to the success of any business.
Using an online reputation management software is it give chance to respond. A low rating can mean a lower percentage of sales – which is not good for a business. An effective way to
boost referrals
is to track reviews and respond to negative reviews on time. This gives the reviewer the opportunity to
be heard
. And will likely increase their chances of deleting or changing the negative review.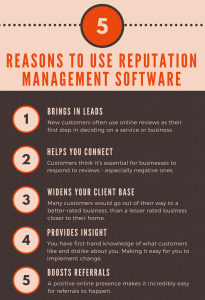 Share this Image On Your Site
Examples of Online Reputation Management
With a little help from our reputation management friends… We've put together a list of the best online reputation management services and software.
Here are the services (in no particular order) at a glance.
| Company | Free Trial | Price | Commitment |
| --- | --- | --- | --- |
| Trustpilot is one platform that lets you embrace the power of customer reviews. | Yes, free plan | $0-$549 | Per month, Paid Annually |
| Reputation Aegis is a customer intelligence platform that helps you build a positive online presence. | Yes, 14-day trial | $199-$399 | Monthly |
| Rocket Referrals grows your business through building loyal customer relationships. | Yes | $80-$150 | Monthly |
| Reputation 911 is a full-service reputation management agency. | No | $195-$995 | Not Listed |
| Customer Lobby helps you stay engaged with your past customers - automatically. | No | $129-$999 | Monthly |
| Promoter.io and NPS provide insights that make it obvious where to take action that results in growth. | Yes, the first 250 reviews | $29-$99 | Per month, Paid Annually |
| Nearby Now will help you take control of your reputation and generate more leads. | No | $39-$149 | Monthly |
| Future Solutions makes Online Reputation Management easy and efficient. | No | Not Listed | Not Listed |
| Grade.us is the best review management software for local SEOs, agencies, and brands. | Yes, 14-day trial | $90-$1500 | Monthly |
| ReviewBuzz is a patent-pending software that helps you get the most online reviews on the sites that matter. | Yes, 30-day trial | $147 | Monthly |
| Reviews.io is designed with one goal, to increase customer trust in your brand. | Yes, the first 400 reviews | $45-$299 | Monthly |
| Power Reviews delivers software and network products to generate buyers. | No | Not Listed | Not Listed |
| BirdEye is the platform that drives your customers to become your marketing engine. | Yes | Not Listed | Not Listed |
| GetFiveStars helps you get customer feedback and online reviews to help boost your reputation. | No | $39.95-$199 | Monthly |
| Ask Nicely allows you to retain customers, increase referrals and grow revenue using real-time NPS. | Yes, 14-day trial | $375 | Monthly |
| Reputation Loop promotes small business growth online through reputation software. | No | Not Listed | Not Listed |
| Review Tracker lets you achieve your highest ratings. | Yes | Not Listed | Not Listed |
| Mention provides you with in-depth brand intelligence tailored to your business. | No | $29-$99 | Monthly |
| Yotpo helps you get reviews, drive traffic, increase sales, and create actionable insights. | No | $399 | Monthly |
| Falcon.io provides you with the most unified social media and customer experience management platform around. | No | Not Listed | Not Listed |
| OnRevenue is a cloud based HIPAA compliant marketing software is simple to use and easy to manage. | No | $99 | Monthly |
| Awario is the most immediate way to learn about new mentions. | Yes, 14-day trial | $19-$299 | Monthly |
| Reputology is the Review Management and Monitoring platform that helps multi-location businesses improve. | Yes | Not Listed | Not Listed |
| Rising Star Reviews the platform that allows you to start getting reviews today from happy customers. | Yes, 14-day trial | $20 | Monthly |
| NiceJob the software makes it easy to build a good reputation. | Yes, 30-day trial | $45-$75 | Monthly |
| Igniyte helps you identify and challenge negative content. | No | $2000-$4000 | Monthly |
| Get More Reviews allows you to easily monitor your reputation. | Yes, 14-day trial | $99 | Monthly |
| The Hoth lets you handle negative reviews privately, helping your reputation. | No | $149-$399 | Monthly |
| Local Clarity helps multi-location brands aggregate and manage reviews. | Yes | $29 | Monthly |
| Synup lets you spend more time running your business without worrying about your local presence. | Yes, a free scan | $30 | Monthly |
The top online reputation management services
1. Trustpilot
About Trustpilot
Trustpilot is a global online review community. It aims to build trust and transparency between consumers and businesses.
Therefore
, consumers can review any company. As long as they've had a buying or service experience with that company. Whether it be a customer service request, a phone call or an email interaction.
For this reason, Trustpilot has become a go-to consumer resource. Trustpilot offers free and paid services. Any company can use Trustpilot for free and invite their customers to review them.
Top Features:
Google Review Partner
Widgets
In-depth Review Statistics
Product Reviews
Search Engine Ratings
Monitor Reviews
Trustpilot has a license with Google, hence making it a Google Review Partner. Reviews collected with Trustpilot can help businesses gain Google Seller Ratings. On average, ads with
Seller Ratings
get a 17% higher CTR than the same ads without ratings.
TrustBoxes (widgets) allow companies to get Rich Snippets and structured data markup. Meaning site operators can add to their existing HTML. Rich Snippets can help improve SEO. The extra markup can help your website stand out in Google Search (SERPs). And increase organic CTR, driving more traffic to your website.
Businesses love that the platform allows them to invite and collect authentic reviews. In an automated manner, right from their Trustpilot dashboard. 
What makes them different?
Trustpilot's biggest advantage is that it's an open platform. For that reason, anyone can write a review. As long as they've had a genuine buying or service experience with the company they are reviewing.
A transparent platform will generate the most authentic and honest content. When you write a review on Trustpilot, it's posted without moderation.
About Reputation Aegis
Reputation Aegis is a customer intelligence platform. It offers 'Advanced Customer Satisfaction Surveys' and 'Integrated Online Reputation Management'. Reputation Aegis acts as a brand image builder. Consequently creating a long-term shield to protect businesses.
Top Features:
API
Bulk Import
Customized Messages
Drip-feed Sending
Mobile Friendly
Email Cleaning
Free Trial
What makes them different?
Reputation Aegis monitors your online reputation across 594 review sites worldwide. 101 in the United States, 88 in the United Kingdom, consequently they are able to reach your goals.

About Rocket Referrals
Rocket Referrals is all about relationship marketing. Therefore, it focuses on the existing client base of a business. The goal is to send personalized touch points. That both maintain personal relationships and leverage the business to increase sales. This happens by first evaluating the loyalty of individual clients. Then using psychology-driven content to influence desired behavior.
Top Features:
Negative Alerts
Personalized Emails
Customer Reviews
Customer Testimonials
Handwritten Cards
Prewritten Content>
What makes them different?
Rocket Referrals is an optimized solution with psychology, research, and best practices preconfigured. There are no campaigns to configure. Thus the software is as simple as data in, results out.
About Reputation 911
Reputation911 specializes in the removal and suppression of inaccurate and unwanted search results
. Giving its clients the freedom and control to portray themselves as they wish online.
Top Features:
Monitor Search results
Promote Your Brand
Investigate False Information
Content Creation
Social Media Integrations
What makes them different?
Reputation911's team will create a custom reputation management approach. And because of proven strategies, restore current online reputation. And if needed, promote and protect their future professional brand.
About Customer Lobby
Customer Lobby helps local businesses get more reviews. On sites like Google, Yelp, Facebook and across the web. They automate the process by syncing with the business invoicing system. Once customers make a transaction, they receive a request to leave a review.
Top Features:
Direct Connect
Customer Reviews
Targeted Campaigns
Tracking & Optimization
What makes them different?
Customer Lobby can call customers directly to get reviews. They also enable businesses to collect reviews by mobile app or paper/fax. Customer Lobby also offers an automated customer retention program.

About Promoter
Promoter is a comprehensive customer intelligence platform. It's built to help companies increase revenue and reduce churn with customer feedback.
All driven by NPS (Net Promoter). We are a simple to use self-service tool that caters to any company. Big or small, brick and mortar or online who are looking to tap into the power of their customers.
Top Features:
Full feature API
Multi-campaign support
In-app response system
Data trend analysis
Custom scheduling
Drip campaigns
Sentiment analysis
Historical customer tracking
What makes them different?
Promoter offers customers enterprise-level features at entry point pricing. Also the most advanced pre-survey feature set in the industry. They offer a comprehensive analytics and data mining toolset that's unmatched anywhere.
About Nearby Now
Nearby Now makes it easy for businesses to create dynamic and rich content that drives leads. All local businesses can benefit. All a business has to do is drop a check-in pin at the location of service. Whether it be a client's property or a brick and mortar store.
Top Features:
Local SEO
Leaderboard
Real-time Reporting
Mobile Friendly
What makes them different?
Nearby Now makes it easy for businesses to build their online reputation. By telling search engines their story via their own website.

About Future Solutions
Future Solutions can help with reputation monitoring for small and medium businesses. It helps you gain control of your online presence.
Top Features:
Review Notifications
Review Generation
Keyword Alerts
Testimonial Display
Social Content Generation
What makes them different?
Reputation management for all budgets and businesses.


About Grade.us
Grade.us is the #1 white-label review management and marketing platform. The platform offers a suite of tools.
(1) To convert happy customers into reviewers.
(2) Recover disgruntled customers and pre-empt negative reviews.
(3) Monitor customer reviews across third-party review sites.
(4) Capture and amplify positive reviews.
Top Features:
Widget
White-labeled
Mobile-Friendly
Customized Messaging
Auto-publishes positive reviews
What makes them different?
Grade.us is also marketer-centric. Giving marketers and agencies flexibility to deliver services white-labeled under your brand.
Comprehensive site integrations and monitoring.
Flexibility to customize.
Reasonable pricing.
About ReviewBuzz
ReviewBuzz helps businesses get 5-star online reviews. Which helps you get more customers. ReviewBuzz is a patent-pending software. That helps you get the most online reviews on the sites that matter. Like Google, Yelp, Facebook and more.
Top Features:
Free Trial
Trust Builder Widget
Automated Follow-Up Emails
Social Media Sharing
Review of the Week
Negative Alerts
What makes them different?
ReviewBuzz gives each business a patented online review and customer satisfaction survey system. Making it easy to get more 5-star online reviews.

About Reviews.io
Reviews.io is an independent third-party review platform. They give businesses the power to see a 360-degree view of their online reputation. Across the whole web from one dashboard. 
The Reviews.io's invites reviews to the platforms where they are lacking a  presence. This works by assigning a percentage of requests to platforms of the business' choice.
Top Features:
Free Trial
Review Photos
Integration Modules
Feature Index
Expert Answers
What makes them different?
Reviews.io collects, monitors and publishes reviews. To Google, Bing, Yahoo, Facebook, and Amazon.

About Power Reviews
PowerReviews delivers software and network products. Empowering brands and retailers to generate and display ratings and reviews. All within a single, flexible, multi-tenant SaaS platform.
Top Features:
Review Accelerator
Review Snapshot
Mobile Friendly
Customization Available
In-Line SEO
What makes them different?
They don't just generate more reviews. They get those reviews in front of more shoppers at the moment of purchase.
About BirdEye
BirdEye is an all-in-one platform. It drives your customers to become your marketing engine. With BirdEye, collecting new reviews from your customers is a breeze.
BirdEye integrates with your existing CRM to access your existing customers. They also negative alerts so you can address the situation before it escalates. Turning customer frustration into customer success.
Top Features:
Review Monitoring
Review Generation
Customer Surveys
Social Ticketing
Competitor Analysis
What makes them different?
BirdEye builds you a custom SEO-optimized review microsite. Displaying all your best reviews, along with your updated business information. They also offer surveys, insights, competitor benchmarking, social listening, and social monitoring!

About GetFiveStars
GetFiveStars lets a business install a customer feedback and online review management process.
The product requests and tracks customer feedback. Therefore preventing bad reviews. While pushing positive testimonials out to the business website. And encourages happy customers to leave online reviews across the Internet.
Top Features:
Mobile Friendly
API
NPS Reporting
Customer Testimonials
Testimonial Widget
Online Reviews
Negative Alerts
What makes them different?
GetFiveStars focuses on providing affordable, effective, and intuitive online review platform.
About Ask Nicely
Keep customers, increase referrals, and grow revenue using real-time NPS®. The AskNicely software measures and improve the customer experience. It collects customer feedback and integrates with your CRM.
Top Features:
NPS
One-Click Feedback
Simple Set-up
25+ Integrations
Free Trial
What makes them different?
Ask Nicely use one-click feedback. Which improves customer response rates by 38%.


About Reputation Loop
Reputation Loop™  promotes small business growth online. Their goal is to empower local business owners to control their reputation.
The platform creates a "hands-off" approach for business owners. Allowing them to focus on their company and customers.
Top Features:
Multiple Integration Options
API
Review Monitoring
SMS Review Alerts
Negative Alerts
Workflow Management
Real-Time Reporting
Simple Capture Forms
Free Trial
What makes them different?
They understand the needs and challenges of running your own business. Thus they developed processes to help prevent any hiccups that could happen.

About Review Trackers
ReviewTrackers is the award-winning customer feedback software. It helps businesses transform the customer experience. The platform collects review data from 85+ review sites. Helping to enable brands to make data-driven decisions.  ReviewTrackers helps busy professionals save time, money and resources. So they can focus on what matters most: their customers.
Top Features:
 API
Mobile app
Single-sign-on
Multi-Level Access
Unlimited Users
Review and Feedback Request tool
Daily Alerts
Custom Reporting
What makes them different?
The put customer service and user experience above all else. And won't stop until customers are satisfied.

About Mention
Mention is a media monitoring and social listening app. Furthermore helping businesses see what's said about them online.
With more than 650,000 users all over the world. The tool helps any business or brand see every important conversation in real time.
Clients include agencies, universities, charitable organizations, and banks.
Top Features:
Customizable and automated reports let you deliver monitoring data to any email address. At the frequency.
The insights center lets you build graphs using metrics that matter to you.
We monitor television and radio broadcasts in the USA, as well as more than 70 top review sites.
What makes them different?
Clients say Mention is the easiest-to-use monitoring tool they've tested.
The interface is attractive to look at and uncluttered.
Our customer success team is available and willing to help. And we don't bill users for support time – unlike many of our competitors.
About Yotpo
Yotpo is an all-encompassing customer content platform. Most noteworthy, it helps users get new customers, drive traffic and increase sales. It's more than a reviews solution. Users collect and leverage all types of customer content. From reviews to photos to customer Q&A.
When it comes to eCommerce, the hardest thing to do is get customers to trust you.
Top Features:
Analytics
Mail After Purchase
Instagram Integrations
Yotpo Ads
Analytics feature allows users to build a comprehensive user-generated content strategy. Which
is based
on insights from performance metrics like engagement, conversions, and sales.
Instagram integrations. Thus creating a shoppable version of an Instagram feed. Sending shoppers from Instagram photos to product pages.
Yotpo Ads turn the best reviews and customer photos into high-performing ads.
What makes them different?
Yotpo is an agile, data-driven platform. Above all, they provide real-time data so that brands can see the value they are getting. Yotpo is also innovating and implementing new features.

About Falcon.io
Falcon.io is how brands take control of their reputation management. It combines tools for social media listening. Including sentiment analysis with a centralized customer profile hub. Thus brands can detect and react to comments.
Top Features:
Multiple tools on one platform
All customer interactions are compiled in enriched individual profiles
Customer profiles used for highly targeted segmentation
Users can build responsive web pages without designers or coders
A unique prioritization algorithm ranks incoming social messages by importance
Governance and workflow features ensure brand consistency
The platform is plug-n-play
What makes them different?
Falcon bridges social media, reputation, and customer experience management. As a result, marketers can plan, execute, and test in one place, while mapping data. Their UX focuses on easing collaboration between individuals and teams. 


About OnRevenue
OnRevenue's solution is for helping small to mid-size healthcare organizations. It helps them move to the cloud with a secure HIPAA compliant platform. OnRevenue's healthcare platform consists of over 20 cloud-based apps. Thus, providing clinics with a comprehensive solution. One that boosts your clinic's success online.
Top Features:
Easy to see reputation ratings
Social media integrations
Online advertising
Patient HIPAA CRM
What makes them different?
OnRevenue believes in continuous development. Their app and features are constantly under review by the OnRevenue team. New innovations are created as a result of listening to customers wants and needs.

About Awario
Awario wants you to be the first to know when important conversations spark up online. In contrast, other monitoring apps that rely on a single third-party data provider. They crawl over 13 billion web pages daily.
In addition
to the APIs, Awario is one of the most immediate ways to learn about new mentions.
Awario listens to conversations on social media and around the Web. With Awario, users can reply to any mentions within the app. They can also connect as many accounts as they want. As well as reply as themselves, the CEO, or anyone else.
Our target audiences are small business owners and social media marketers.
As these are the groups that have an interest in reputation management.
Top Features:
Non-stop Monitoring
Free Trial
Negative Alerts
Email Notifications
Real-time monitoring of both social media platforms and the Web. 
What makes them different?
They offer features and analytics not provided by competitors. All while being cheaper than all other professional social monitoring tools.

About Reputology
Reputology helps multi-location businesses. Even more, it's great for:
Track all sources of customer feedback. Through Yelp, Google, Facebook reviews, surveys, text, etc.
Respond to reviews from the platform. As well as engage unhappy customers.
Analyze customer sentiment.
Get more reviews organically.
Top Features:
Customized Email Alerts
Single Dashboard
Workflow Tool
Analytics
Competitive Benchmarking
Automated Feedback Collection
What makes them different?
Reputology generates surveys with logic for routing happy customers to write reviews. While unhappy customers route to your team. They know that responding to reviews makes a difference.
Higher data reliability. This is because Reputology partners with review sites when possible.

Integration into other platforms, such as HootSuite. 

A modular platform that can fit the exact needs of your organization.
The semantic analysis provides deeper insight.
3 times more effective review generation solution than typical solicitation tools.
About Rising Star Reviews
Rising Star Reviews specializes in helping local businesses get more 5-star reviews. While keeping negative customer feedback private.
Rising Star Reviews makes it easy to ask every customer for a review. And to do so without the fear of getting negative reviews. Businesses enter a customer's name and email address, and the system does the rest.
Top Features:
Free trial
Ease of use
Automated customer review requests
Pre-screening to promote only good reviews publicly
Private negative feedback collection
No-brainer pricing for small businesses
What makes them different?
Rising Star Reviews is the ideal solution for small business owners. For that reason, it's ideal for those who don't have the time or budget for full-service systems. But who want to get more 5-star reviews as easy as possible.
Instead of building a comprehensive set of features, it focuses on one key goal. Thus helping businesses get more 5-star reviews. Their focus on perfecting one key feature allows them to offer the lowest price in the industry. Currently at a flat $20/month.


About NiceJob
NiceJob helps small business grow through it's automated review management software. Thus creating digital word of mouth referrals for your business.
Through the NiceJob platform, users can send review requests. As well as track customer feedback and prevents bad reviews. All while building trust with customers. Thus NiceJob helps to get more good reviews with less effort.
Top Features
Free Trial
Review Monitoring
Review Generation
Email and SMS review invites
Automated review reminders
Website integration
Custom invite templates
SMS messages with photos
Reputation monitoring
3rd party app integrations
What makes them different?
NiceJob helps businesses to get more reviews… Above all, it improves your online presence and visibility. Along with local search results. NiceJob users find success and become an extension of their business.

About Igniyte
Igniyte is one of the leading online reputation experts. They work 
internationally
with companies, brands, and individuals. Even more, working to deliver long-lasting and positive online reputations.
They offer plans for those who are looking to improve their online presence. Igniyte audits your existing online reputation. Then provides you with a plan.
Top Features
Review Monitoring
Reputation Audit
Optimizing Assets
Monitoring Mentions
Works On All Search Engines
What makes them different?
Igniyte commits to making progress by hitting KPIs. As well as ranking the content they create and share online on your behalf.

About Get More Reviews
The software helps you get reviews and much more. Get More Reviews allows businesses to generate real reviews on many sites.  Including Google, Facebook, Trip Advisor, and BBB. 
They do all the setup, therefore you can sit back and get more reviews.
Top Features
Review Generation
Review Reminders
Bad Review Blocker
Website and Email Tools
Auto Social Posting
Reputation Monitoring
Reporting
What makes them different?
Get More Reviews takes care of everything. So review generation to setup is easy.

About Hoth
Hoth Reputation Management Software helps you get more positive customer reviews. On any site of your choice. With a single code snippet, you can collect your reviews from anywhere. 
When customers rate you at 4 stars or above, they
are prompted
to leave you a review. If they rate you lower than that, they can
 send you a private message to sort out the situation. Thus, giving you the chance to build up an awesome reputation.
You can also choose where your reviews go. Like Google, Yelp, and many others.
Top Features
White Label Reporting
Auto-Post To Social Media
Reputation Monitoring
Negative Review Prevention
What makes them different?
Hoth lets you filter through reviews. So that the best ones get published. And the negative ones get handled until a solution is present.

About Local Clarity
Local Clarity knows that improving your online reputation is what you need to go to the next level.
Businesses all over the world use Local Clarity. So building relationships through direct review responses. As well
as to
discover insights across locations, cities, states, and countries. 
Top Features
Performance Insights
Powerful Team Collaboration
Review Management
Direct Response
What makes them different?
The team elements found within the Local Clarity dashboard are above par. Even more, teams can share and distribute workflows, negative reviews, and performance reviews.

About Synup
Synup is an uncomplicated way to manage your reputation and listings. The platform syncs everywhere, meaning you to gain insight from all over the web.
It's the all-in-one local marketing software that helps everyone. From single location businesses, multi-location businesses, to marketing agencies. Businesses can manage their local listings easily. All from within the platform. And with easy reporting, it's very easy to monitor all analytics. Above all, you can run a free scan to see how your business is listed on the web.
Top Features
Location Management
Monitor Interactions
Analytics
Widgets
Direct Response
What makes them different?
Synup is an excellent price, more importantly, it allows you to run a free scan. Furthermore allowing you to give it a spin before you decide to pay.
Who is your online reputation management service?
This list is ever growing. If you know of any other online reputation management services out there, let us know. We'd love to include them.