Why is social media reputation management so vital?
Social media reputation management helps foster trust in your brand.
Out of all the information about your brand that's available, people trust the opinions of their peers most (especially when they've had firsthand experience with your product or service).
And opinions spread extremely quickly on social media.
A positive post about your brand can rapidly do wonders for your reputation. But, a negative post can cause your reputation to take a nosedive—especially if the post goes viral.
So, you'll want to magnify the positive to boost your standing, and curb the negative before it spreads. You'll also want to carefully create and curate the content you post on your own account.
How to do this? We've got you covered with our tips to build, monitor, and maintain your brand's social media reputation.
Building your reputation on social media
Follow these steps to make the right moves and build your reputation on social media.
1. Define the reputation you want
Before you can build your brand reputation on social media, you need to establish what kind of reputation you want. Ask yourself, based on your brand goals, mission, and values – how do you want your brand to be known? Do you want people to see you as authoritative? Humorous? Socially responsible? Or something else?
Think about what content your target audience naturally appreciates on social. Then, combine your audience's preferences with your persona and values to establish a social brand voice, based on the reputation you'd like to cultivate.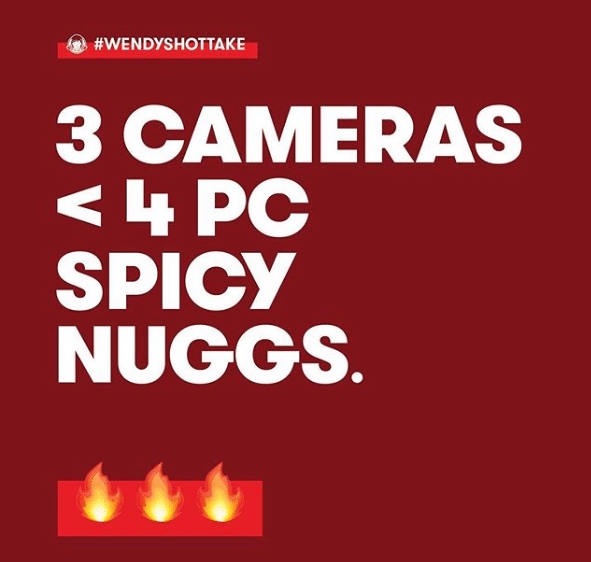 Wendy's has built up a reputation for wit and humor on social media.
2. Check your current social reputation before you proceed
Before you continue with your social media reputation management plan, it's important to check your brand's existing reputation on social media. How do people currently perceive you?
Scouring social networks might seem like a time-consuming task, but you don't have to go at it manually. Social media management software like Hootsuite, Sprout Social and Mention can help you with this task. Mention even has a free Brand Grader that assesses your current reputation, so you can see your strengths and weaknesses at a glance.
3. Choose the right platforms
Which platforms should you focus on to build your reputation? You can't focus on every social network, so build up your presence on the platforms your audience uses. Where are people already generating buzz about you? And what are your desired customers' general platforms of choice?
The content types you plan to focus on will also guide your decision.
Facebook is a great general-purpose platform, so it's a reliable choice for all brands to share varied content. It even has a "recommendations" feature where users can review and recommend your brand. The feature ties the recommendation to your own page, even if someone didn't write the recommendation there. However, the active, regular user audience skews older. Millennial and Gen Z audiences prefer other networks.
Twitter works well for sharing small bites of information, quick humorous content, and compelling visuals. It's also great for linking out to other articles you write, and quickly resharing others' content that's related to your business. So, Twitter is a true multi-purpose platform. And audiences of many demographics use it and love it.
Instagram: If your aim is to show off carefully curated visuals of your products, you'll need to prioritize Instagram. Instagram is also great for finding and promoting user-generated content, and enlisting the help of influencers and ambassadors. Being able to show compelling, authentic examples of your product being used in real life is always a plus! You'll also have the potential for versatile content – use IGTV to create longer videos and Stories for limited-time content. Millennials and Gen Z users love the platform, but Instagram reaches users of all ages. 8 out of 10 Instagram users follow at least one business on the platform.
Other Networks: The above networks are the "big three" for reaching wide audiences, but also consider networks like these for specific purposes and audiences:
Is your goal to create a series of informational or entertaining videos, or to showcase video testimonials? Create an account on YouTube.
Primarily marketing to Gen Z audiences? Build up a presence on Snapchat.
LinkedIn is a solid choice for B2B businesses to build their reputation on.
Pinterest is often underrated, but it's an effective choice to curate visual content related to your brand from other sources, as well as to promote your own long-form content.
4. Set measurable goals
Setting and tracking measurable goals will help you determine if your reputation management efforts are truly paying off.
This step relates to all aspects of a social media reputation management plan (including monitoring reputation and responding to feedback). But you should set goals very early on in the process – that's why we're listing goal-setting here.
What should you measure? Consider tracking these metrics:
Website visits that come from your social media account
Purchases that originate from social media
Traffic to your pages
Engagement (likes, comments and shares on your posts)
Follower numbers
Mentions
Social sentiment (percentage of positive mentions, relative to overall mentions of your brand. Essentially, this is your "reputation score" for social media)
(For more social media metrics to pay attention to, check out this article on social media goal-setting by Hootsuite.)
5. Establish posting rules
Set up posting and responding rules/regulations for the employees behind your brand's account. This will help ensure that what an employee posts about you doesn't set off a chain reaction that harms your reputation. (And it only takes one post to do damage, so tread carefully.)
Rules you set could include the ones below: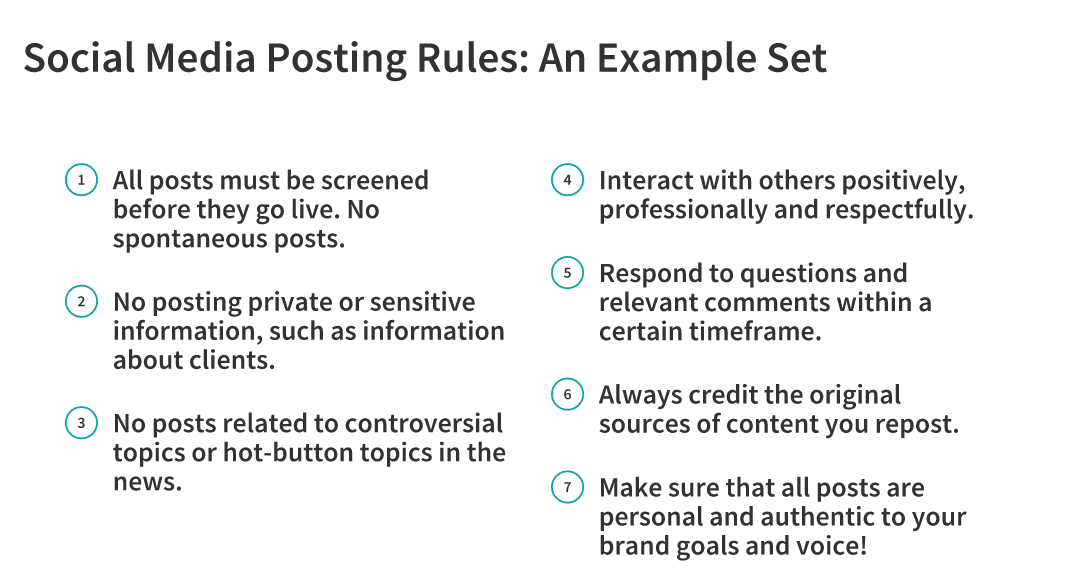 Check out our guidelines for responding to others on social media below. They'll provide foundations for other great social media policies.
6. Maintain an active social presence
Post engaging and relevant content regularly that aligns with your goals!
Social media reputation management can be time-consuming. So, be sure to use a social media scheduling tool, like Buffer or Hootsuite, to plan posts in advance and queue them for scheduled times.
Monitoring reputation on social media
Yes, you need to know what people are saying about you on social, the moment it happens, so you can take appropriate actions. But monitoring your reputation on social involves so much more than this!
Be sure to use reputation management software to monitor these factors that affect your reputation:
Mentions of your brand and its products/services, including possible misspellings. Pay attention to both the positive and negative mentions.
Questions about your brand and its products. People often ask questions on social media outlets, where the public can see. Being ready to jump in and answer them quickly and professionally can boost your reputation.
Mentions of your competitors, as well as of their products/services. After all, reputation management isn't just about seeing what people are saying about you. Where your competitors stand helps define where you stand. And someone's dissatisfaction with a competitor is the perfect time to jump in and build your own reputation.
Industry-related keywords: Where are conversations going in your niche? Are people looking for recommendations within your product category? Some of your most relevant industry-related keywords will include your location, if you have a brick-and-mortar. For example, a jewelry store in Boston will probably want to track the keyword "diamond rings Boston."
Responding to feedback about your brand
One of the most crucial parts of reputation management is knowing how to respond to feedback, You'll want to respond to every comment and mention you can, whether the feedback is positive or negative. Show your audience you're listening! Make sure to use helpful Facebook comment moderation tool for social media to reply to comments more efficiently.
Responding to Positive Posts and Comments
Responding to positive posts and comments is straightforward and satisfying.
Sincerely thank the person who gave positive feedback. Make sure your reply is personal, and tag them when you reply to the post.
Also, remember that user-generated content like this is extremely valuable. When it shows an authentic image of the product/service being used in real life, or gives genuine, clear and glowing reasons why the customer loves the product/service, that's even better.
People trust this user-generated content, because they trust peer opinions more than traditional ads and other messaging that comes directly from your brand.
So, consider reposting the positive feedback to your own social media accounts (Be sure to ask the originator's permission before using the content, and clearly credit them in your repost.)
 If the feedback was left in a comment that can't be reposted directly, turn that  comment into an original post, where you credit and tag the originator.
Check out more tips for gathering and promoting user-generated content.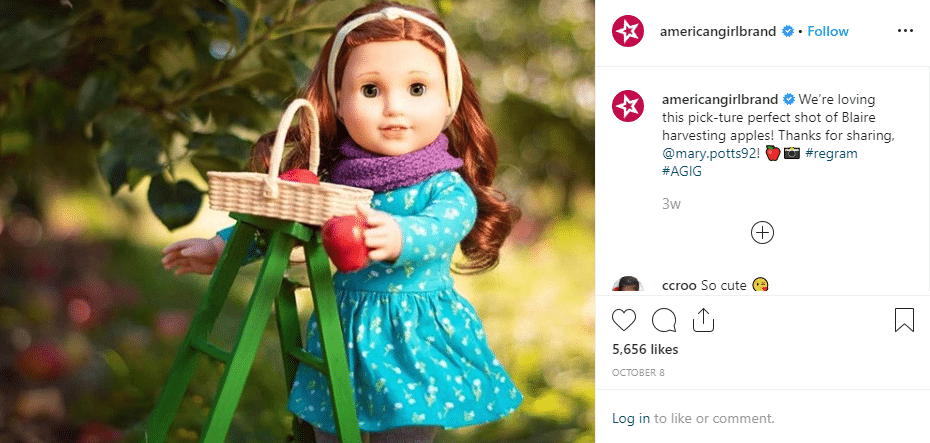 American Girl regularly reposts creative customer stagings of their dolls on Instagram, like this shot by @mary.potts92
Responding to negative posts and comments
More importantly, how do you properly respond to negative feedback? This may seem difficult, but don't worry. Following these guidelines will help you achieve the best results.
It can be tempting to ignore, or even delete, negative comments, but don't do this. Deleting or ignoring comments can raise suspicion among your audience, and makes it look like you don't care about what they have to say.
Instead, read the negative post carefully. You'll need to sincerely and calmly address the exact problem, and offer a solution, as soon as possible. This will help keep the reputation-harming post from spreading and doing further damage. If done right, the customer's sentiment about you will be turned around into a positive. They might make a positive post about you (while amending or deleting the negative one).
Keep your response personal, and go out of your way to make things better for the dissatisfied customer. Show that you're listening, and that you empathize with the customer. Then, give them a possible solution tailored to their unique situation.
People feel better when they know a real person cares about their problem and is trying to solve it. If you sound robotic, they may think that you don't care, and that you give this automated response every time someone has an issue, without taking action.
Check on the customer after a bit, to make sure that the solution you offered worked out. If not, continue to work through the situation until it's resolved.
What if someone (customer or not) highlights something negative about your product that isn't true?
Jump in and kindly clear up the misconception.
Depending on your situation, tactful humor can help defuse the negativity, and help you build up a positive reputation among others.
Knowing when humor will work is key, though. Check out this example from smart, where they masterfully refute the falsehood that smart cars are not safe or durable.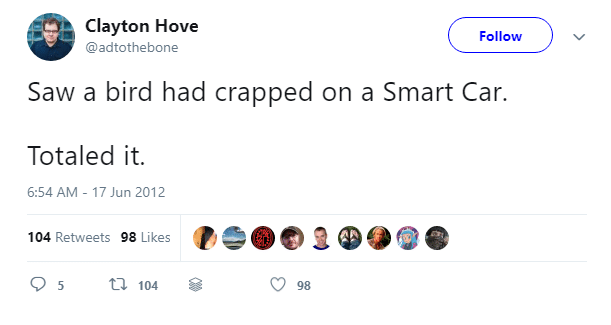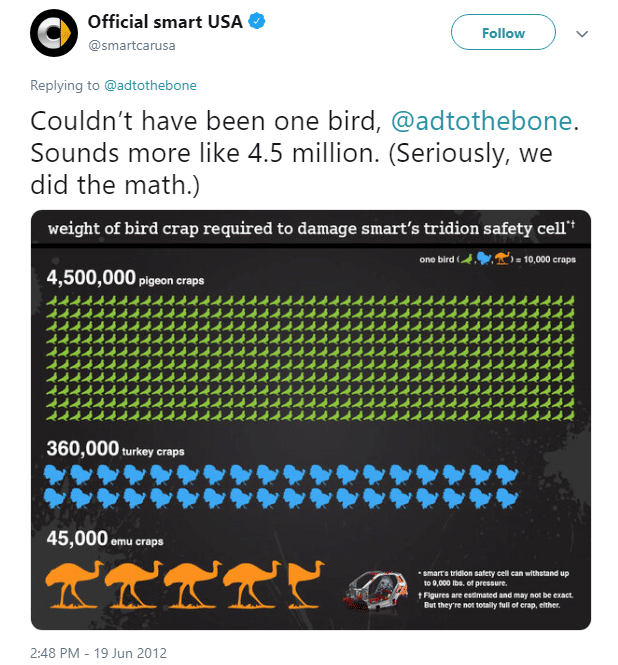 Even if a negative commenter seems angry, never fight fire with fire. Lashing out will only make things worse, so maintain your composure.
Sometimes, it's best to move conversations like these to private messaging or direct messaging, so the negativity doesn't attract more attention. As an added bonus, this private approach really shows that you're listening to the person, with no distractions or interference.
If there's a problem or controversy that affects a wide user base (such as software errors), sincerely and promptly address it publicly.
Ignoring a problem like this has even more potential to damage your reputation, as many people are likely to make posts addressing the problem. Don't let your users highlight the problem before you do. Instead, apologize and take initiative.
Slack offers a solid example of how to take initiative. They have a dedicated Twitter (@SlackStatus) dedicated to addressing widespread issues.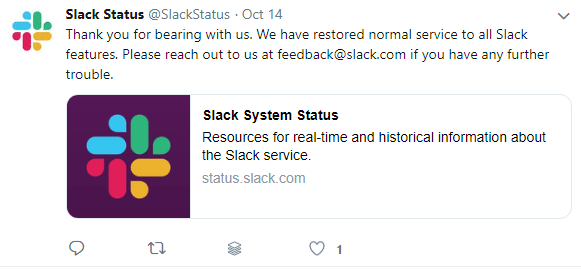 Key takeaways
Three main factors are involved in social media reputation management: building your reputation, monitoring your reputation, and quickly responding to both positive and negative feedback.  These tasks may be difficult on their own. But, social media and reputation management software will make it a lot easier to track and improve your reputation in real time.
Of course, not everything is in the software's hands. You'll need to define how you'd like to be known, and focus on creating an appropriate brand personality to build that reputation. And most importantly, you'll need to respond to feedback graciously, personally and professionally, in a timely manner. By following these steps, you'll be on your way to building a solid, positive reputation on social.