5 Customer Referral Program Incentives That Work
Customer referral programs can help bring new customers into your business. They can encourage happy customers to share their experiences. But how can you set up a program that gets results?
To start, you probably need referral software to back you up. You want to provide a seamless experience that makes it a cinch for customers to participate. But you also need referral incentives that make sense for existing customers, prospective ones, and for your business.
Many companies offer discounts through their referral programs– such as 20% off the next purchase. This strategy makes a ton of sense when your customers are likely to make frequent repeat purchases (if you run an online jewelry shop), but it doesn't make a lot of sense when they're unlikely to make another purchase soon (if you sell mattresses).
If you want to create a successful referral program, you have to carefully consider which incentives make the most sense for your brand. What do your customers want, and how can you provide value to those who already love you, and those who might become customers soon?
1. Discounts
Discounts are one of the most common and successful referral program strategies. They are very good for business, as they encourage loyal customers to buy more. You don't have to hand out cash or prizes– you're encouraging the customer to spend more time with you.
For example, Budsies, a custom stuffed animal company, offers 20% off to customers who make a referral and allows them to give 20% off to the people they refer. This discount makes a lot of sense for Budsies, as customers are highly likely to order another stuffed animal.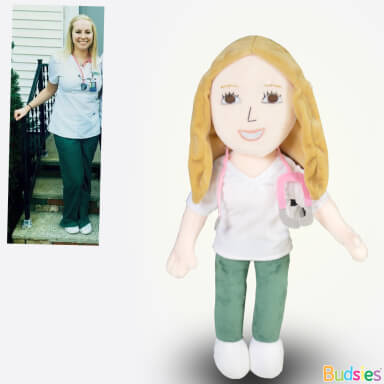 You need to be careful with discounts, however. If you constantly offer sales, voucher codes, and other discounts, existing customers might not be excited about getting an additional 10% off when they refer a friend. You may need to sweeten the pot and offer a very substantial discount to get these customers invested in a referral program.
2. Cash
For some businesses, a cash reward makes a lot more sense than discounts. This is particularly true for businesses that don't get a lot of repeat customers, or if their customers don't make purchases very often.
For example, if you sell mattresses, customers aren't likely to come back every month to buy another one. Yes, they may come back a few times a year, but it's unlikely they'll be making constant purchases. In this case, it may be better to offer a customer $100 in cash each time they refer a friend.
3. Give Credits
Credits are a little like if discounts and cash had a baby. Many businesses swear by giving out credits. Uber gives $10 off your next ride for making a referral, and Airbnb offers $35 off your next stay when you get a friend to sign up and book.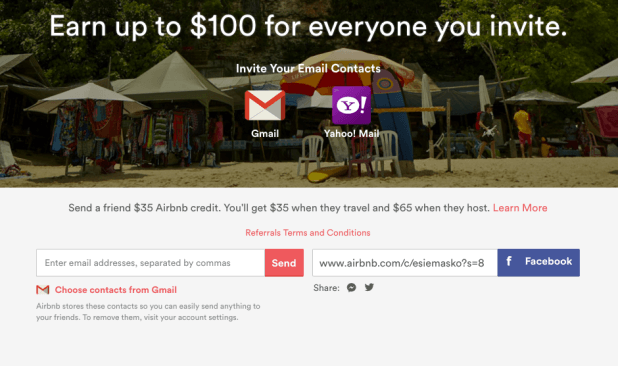 Giving credits keeps the money with you, in your system. If your product is extremely useful and gets used on a daily or weekly basis than credits could make a lot of sense. This strategy tends to make sense for companies that are "pay-per-use."
4. Swag
A fun referral program incentive is to offer swag, such as t-shirts, mugs, bags, and other materials. Swag is great because it works as an advertisement for your business, but also functions as a gift for customers.
The key with swag– and I know this is hard to quantify– is that it has to be desirable, and have some kind of cool factor. It's unlikely that people will get excited about a coffee mug with your company logo on it. They might get excited about that mug if it has a super cool pattern, or comes with extra coffee.  If you're going to offer swag as an incentive, you have to make sure that it's swag that people want.
5. Gift Cards
If you're uncomfortable handing out cash, offering gift cards is a good idea. Gift cards are great for smaller referral programs. For example, if you're a small marketing agency and you receive a referral from a customer, you might reward that customer with a gift card. The referral program may not be formalized, but you still want to show your appreciation.
You might offer customers a wide variety of gift cards to choose from so that they can choose where they want to go. Some might like Amazon, but others might prefer Sephora or Home Depot. You never know until you ask.
Experiment With Referral Program Incentives
It can be a process to refine your referral program incentives so that they make sense for your business. The key is to figure out how you can provide customers with value while keeping it inexpensive for you. Good luck!
You´re just 5 minutes away
from setting up your referral program
or see what we can do