10

minutes to read
Thirty years ago, if someone said something went viral, it would strike fear in millions. Today it's associated with most marketers' dream of creating an internal growth engine for business. But the premise, in either case, is still the same.
Some form of content or offer becomes so popular that people share it with others, almost as if sharing a cold. Even if you weren't in direct contact with the person, you could still catch the bug – with the content or promotion often lingering on social feeds for days.
Contrary to popular belief going viral isn't all just luck. It's something you can plan for, build, and integrate into your current workflow – if you take a look at some of the most well-known brands such as Airbnb, Uber, or Dropbox that benefited from viral growth, you'll notice that it was their onboarding process and referral program that drove their virality.
While the results may seem like viral marketing, the actual growth engine is called a viral loop.
What is a viral loop?
A viral loop is a mechanism that drives continuous referrals for continuous growth.
It's how you drive your existing customers/users to refer others to your brand, and in turn, get those newly referred customers to tell even more people about you – this creates a lasting loop that can lead to potentially exponential growth.
All referral programs have the goal of creating viral loops and often share the same benefits when executed properly.
Advantages of Creating Viral Loops
The two main advantages of creating viral loops are that they are cost-effective and that they operate through trust.
Cost-effective: When your customers share your brand with others, that's free advertising. When done right, the results almost seem like magic. With one user becoming two, then four, eight, and you get the point. All without spending a dime, besides for your initial investment.
Trusted: In a survey conducted by Nielsen, 92% of people trust the recommendations of others more than messaging directly from businesses. Viral loops focus on optimizing this process to make sharing as easy and accessible as possible. Essentially, turning new clients into trusted sales reps.
How do viral loops work?
Here are the steps involved in creating a viral loop:
1. You gain a new customer (the "install" stage on the loop pictured below; this stage could also be called "purchase.")
2. You advertise the referral program to the customer, to invite them to share your product with friends. You offer them a valuable incentive in return for sharing – if the person they share with becomes your customer. (This is the "desire to share" stage, where the customer is enticed by the referral program.)
3. The customer thinks the incentive is valuable, so they refer you to their friends (the "share" stage).
4. The friends see and trust the message from the customer ("see") and become your new customers ("install").
5. These new customers take advantage of the referral program ("desire to share/share"), and the cycle continues.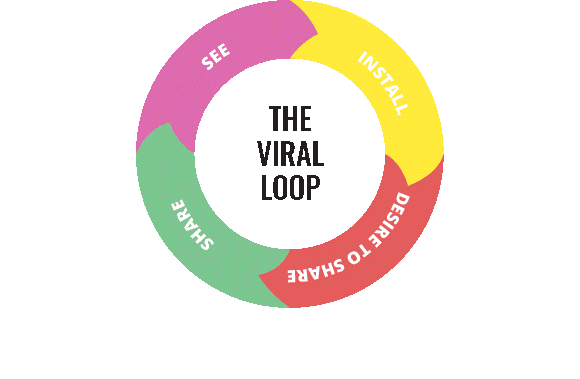 Source: Helponclick
Viral loop vs. Viral marketing
A viral loop is similar to viral marketing.
Both techniques aim to drive continuous sharing, but viral marketing has the goal of brand awareness, and the viral loop is more customer acquisition focused.
The kind of viral loops we are focusing on in this article involve direct referrals to your business (customers personally refer individual friends to your business, with an incentive available for referring.)
But sometimes, people use the term "viral loop" to refer to viral marketing. Viral marketing involves creating highly shareable content to drive brand awareness through social media sharing. Just like with the referral viral loop, the aim is to create a cycle of sharing (viewers share the content with friends, who, in turn, share with their friends).
Viral marketing is less predictable, but anyone can create a viral loop if they follow the right methods.
Types of viral loop
Although all viral loops have the same structure, you need to figure out the type of viral loop you want to create—essentially, how you'll motivate your users to refer. Here are some examples:
Savings: The referrer is motivated by a money-saving offer, like a discount or free product. A good example would be MeUndies, with their offer of a store credit for each successful referral.
Friendship/assistance: The referrer is motivated to share to help their friend. Uber can fall under this category, as well as value (the next category we'll cover). With Uber, when you refer a friend, you both receive a free ride.
Value: The referrer is motivated because both they and their friend receive something from the referral. Snapchat's viral loop runs with no incentives besides the value of using  the social network with friends, proving that some viral loops are entirely free.
Charity: The referrer is motivated to share because the brand promises to donate to a charity for every referral. There are countless examples of this, but the most popular is the ALS Ice Bucket Challenge.
Elements to successfully create a viral loop
When building your viral loop, its best to make sure you have a well thought out funnel and referral framework in place before you start running and optimizing your campaign. A few things to always keep in mind are to:
Make sure the incentive is valuable for customers, but also cost-effective for your company.
Use dual-sided rewards for referrer and friend, to both entice current users to refer and their friends to join.
Create cumulative rewards. With cumulative rewards, a user can keep earning rewards each time they successfully refer a friend, so they have the incentive to create even more looping effects.
Figure out your loop's entry points (where and when users are invited to refer). For example, will users be invited to refer right after they make a purchase? Through a button in your menu? On social media? Creating several entry points works well.
Make sure that it's easy for customers to find and use the referral program — in as few steps as possible.
Also, analyze and test each step of the viral loop to make your referral process is as effective as possible. Keep optimizing your loop for the best results—remember, A/B testing shouldn't be a one-time thing.
If you're not sure where to start or what KPIs to analyze in your testing, I recommend taking a look at your Pirate Metrics, first. Pirate metrics are a way to categorize your KPIs depending on what aspect of your customer lifecycle you want to measure and are broken up into five groups – acquisition, activation, revenue, retention, and referral.
How to analyze your viral loop
There are many things to consider when analyzing your viral loop.
Which channels do users come from? Which channels produce the most lasting users?
Should you enable users to refer through more channels (SMS, social media, in-app, etc. ?)
Would different referral program text, or positioning of the program, lead to more invites?
Might a different incentive be seen as more valuable by more people?
Which types of users are most likely to refer (for example, customers who have made more than one purchase, or customers who have renewed their subscription)?
Track key metrics: What percentage of customers have successfully continued the loop (referred friends who become new customers) And how long do referred customers stick around?
Follow other best practices for referral program design. Get a full break down of the referral marketing do's and don'ts..
Examples of Effective Viral Loops
Let's examine a few viral loops and what made them effective.
DROPBOX:
Dropbox is a cloud-based file sharing service and, by far, the most covered referral program of all time. But there's a good reason for this. Their referral program drove their viral growth – generating close to 3 million new users within the first 30 days of launching their referral program.
What made their program so effective was it's simplicity and ease of sharing. At the time, Dropbox was one of the first companies to provide advocates with a way to share directly with their Gmail contacts – making sharing way more accessible than ever before.
DropBox utilized a 2-sided referral program – when you share your link with a friend, and they register, you both receive 500MB of free storage space — making the whole process a very gratifying experience for all parties involved. To increase their chances of maximizing each advocate reach, they created a points system where users could earn up to 1GB of free space.
Takeaways For Your Business:
If possible, design a 2-sided incentive structure. Basically where every referral that signs up will be asked to return the favor, and both parties benefit.
Make sharing frictionless. Provide users multiple ways to share by utilizing their existing networks.
Give users a way to keep track of their progress and referral status.
UBER:
When Uber launched in 2009, many people thought to hop in a stranger's car, and having them drive you around seemed crazy. Eleven years later, Uber is a household name and is available in over 65 countries. While Uber's real success was caused by disrupting the traditional taxi industry. The way they built trust and overall converted the masses to ridesharing was through their referral programs.
Because Uber is the middle-man connecting crowdsourced drivers and everyday riders, they had to build two separate referral programs to drive demand for each. But for the sake of this example, we will only be focusing on the rider's program.
For riders, the referral program is pretty straightforward. A new user signs up for Uber. They receive a free credit to enjoy their first ride. After their first ride is complete, they receive a notification to share Uber with their network using a personalized link. When a referral signs up using your link, you and your friend will each enjoy free credit towards your next ride.
Takeaways For Your Business:
Make your onboarding process frictionless – especially for referrals.
Ask for referrals when users hit a highpoint and are excited about your product/service. Uber did a great job of this by offering their promotion as soon as a user finished their ride
Streamline your referral process. Keep in mind. You always want to make your referral program is easy to understand and has as few steps as possible.
AIRBNB:
Airbnb is a travel app that connects hosts who want to list their property or extra space to travelers looking for a place to stay. Similar to Uber, Airbnb had to change the mind of millions when it came to hospitality. To do this, Airbnb buckled down on growing a community through trust and goodwill. Instead of streamlining the process like Uber. Driving Airbnb's total guests from 21,000 in 2009 to over 500 million today.
Airbnb's first attempt at the 2-sided referral program wasn't a huge success, but after reviewing the data. They saw that it had a positive impact and could be leveraged more effectively. Airbnb, famously A/B tested different call to actions (CTA) to see if people reacted differently to receiving $25 dollars or giving $25 to a friend. They would gauge the effectiveness of their campaigns through such KPIs as:
Conversion rate to new users
Conversion rate to new hosts
Number of referrals per inviter
Conversion rate to new guests
Monthly active users sending invites
Potential revenue impact
Airbnb's early A/B test led to a data-centric culture at the company. It allowed them to bring on an in-house team of mobile engineers, data analysts, and designers to better optimize their entire customer experience.
Takeaways For Your Business
Identify your key metrics for referral success and where you can improve your funnel. To get an in-depth look at this process, you can check out how pirate metrics are used in viral loops.
Don't be afraid to invest in research and development once you identify an opportunity for growth.
Compare different incentives, structures, and messaging.
Now that you know the fundamentals of viral loops, it's time to create one for your business and drive referrals. For more on driving customer referrals, be sure to check out our 8-step referral framework.