Referral programs are a growing marketing strategy for solar companies – and it's not hard to see why. Solar referral programs are an effective way to get people talking about you and generate targeted word of mouth.
By rewarding customers who share your products and services with others, your business can enjoy a continued source of warm leads.
Solar panel referral programs use word-of-mouth marketing as a way to boost your business. In fact, many of the top solar companies already run successful referral programs.
We go over the top three examples below, as well as all the points to consider when starting your own solar referral program.
Why referral programs work for solar companies
First, what is a solar panel referral program? Solar panel companies use referral programs to boost their growth and market to a targeted audience. Existing customers, usually homeowners, are asked to share the solar panel products with their friends and family members in order to earn rewards. In other words, solar panel referral programs help spread real customer reviews.
Having a formal referral program in place encourages your customers to refer others to your business.
Incentives like discounts or cash rewards are a great motivation, especially if a solar company offers tiered rewards for those who send multiple leads. If a customer knows they will earn more with every referral, they will be more likely to draw more to your solar panel business.
Not only are customer referral programs an effective way to generate leads, these leads are likely to be a good fit for your products. Referrals come more informed and inclined to move forward with a purchase. After all, they know about your solar panel company before even making contact.
Benefits of solar referral programs
Referral programs offer a number of benefits, especially for niche or specialty industries, such as solar. While it may be difficult to reach a highly targeted market through other channels, word of mouth generated through referral programs goes directly to high potential customers.
While the incentives offered in solar referral programs are typically quite high (at least a few hundred dollars), the revenue generated by every new customer is significantly greater.
Solar panels are a considerable investment, and it can take some time for someone to go through the purchase funnel. A solar referral program can help speed up the sale and reduce your overall customer acquisition cost.
Word of mouth is most effective when it comes from someone you already trust. This type of marketing tends to take on a life of its own – an existing customer shares to their friends, and if those friends become existing customers, the cycle continues.
Your solar referral program can continue to bring in leads that have a high potential of becoming customers. In addition, these new leads are hearing about your company from their friends, which already puts your solar company in a positive light.
As you can see, referral marketing benefits all parties. It rewards both existing and referred solar customers. It also reduces your customer acquisition costs, increases customer loyalty, and grows your business with high-value leads. It's a win-win-win situation.
Before you start a solar referral program
When considering a solar referral program, there are a few elements that should be in place. First, your solar energy company needs to have an existing customer base.
A referral program can't be successful if it doesn't have customers to get it up and running. Make sure you have a good number of existing customers (listing all of them down will help) who are willing to refer your solar company to others.
Consider how you will invite them to your referral program and what will motivate them to refer.
Another key factor is to have a strong branding and marketing strategy. If you're asking your customers to help market your solar products, the you should already have a strong message and campaign.
What do you want them to share about your brand? What platforms will your customers most likely use to refer others? Knowing this will help you create a more successful referral program.
A customer support team should also be in place. It's likely that customers will have questions or feedback about your solar panel referral program.
For instance, where can someone sign up to the program? How will they get their reward? Ensure there is someone to field these questions and create a smooth experience as part of your new solar referral program.
Solar referral program best practices
To set up your referral program for success, it's important to offer the right incentives to keep customers coming back for more.
While solar referral programs typically offer cash incentives or rebates, you can also draw program ideas and inspiration from other types of rewards to stand out in the market.
It's a good idea to create a page on your website that contains all your program details, rewards, FAQs, and any other terms and conditions. This allows you to send people a single link where they can learn all they need to know about your solar program.
Once your program's in place, you should focus on promoting it to potential members. This includes adding it to your website, newsletters, and other campaigns. You can also ask your sales reps to reach out to existing loyal customers who you think would be interested in joining the program.
Finally, you can use a dedicated software program to help plan and implement your solar panel referral program. The right tool can manage all your referrals and rewards, while also collecting key customer data and contact information to help refine your program.
Plus, routine tasks, like checking customer account information for validation purposes and sending out rewards, are done automatically through the referral platform. Take a look at our Referral Rock platform to see just how it can help your solar referral program succeed. We also have a list of 35+ top referral marketing software for you to browse through.
3 examples of solar referral programs
The following three companies run established successful solar referral programs that have increased their market share and total sales:
Sungevity
Sungevity offers a one-sided referral reward program that also includes tiers. Depending on how many new customers they refer (a maximum of three), a customer can receive either $500, $1,000, and $2,000.
What's unique about the program is Sungevity allows anyone the opportunity to earn, even if they're not a customer. Whether it's one of their own employees or just someone with a natural knack for sales, anyone can earn a referral reward for their efforts.
Sungevity's solar referral program also works through its app. This makes it easy to refer, easy to track, and claim rewards. The app even provides notifications and so people can see when one of their referrals has made a purchase.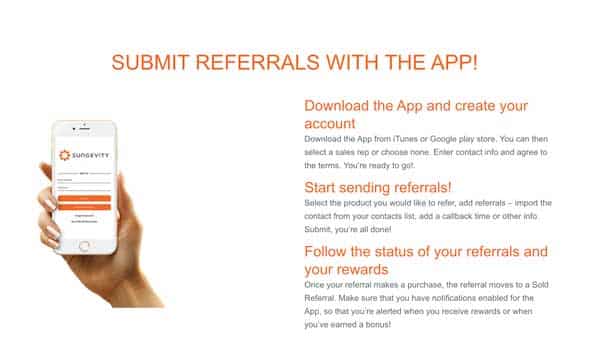 SunPro
SunPro offers a two-sided referral program with opportunities to earn throughout the entire referral process.
Similar to Sungevity, Sunpro's program runs through its solar referral app and allows anyone to join. What makes it unique are all the ways rewards can be earned.
Different cash values are paid every step of the way: $35 for referring a qualified friend (the friend gets $25), $1,000 if the friend gets a solar installation, and $500 when they get a new roof. Sunpro even gives participants a $20 referral bonus when their friends download the app and submit their first qualified referral.
Sunpro's tiered solar referral program has paid out more than $4 million through the app, and customers have no limits to what they can earn.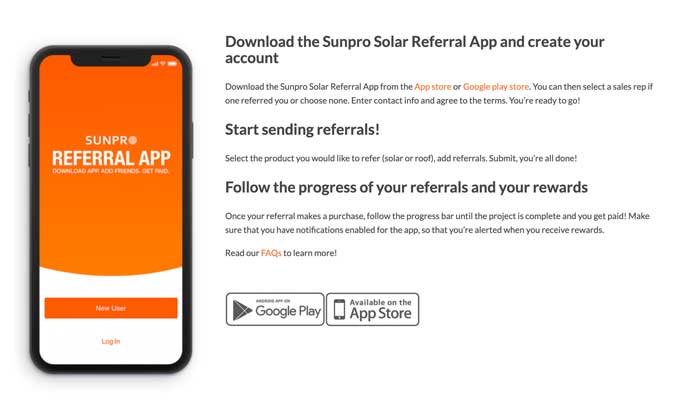 Go Solar Group
Go Solar Group keeps their solar referral program simple and easy – $500 for every new customer. There are no limits on earnings, and anyone can join.
If it's a customer who is referring other customers, they are part of the Sun Share program. If it's a non-customer who is referring others, they are in the Sun Split program.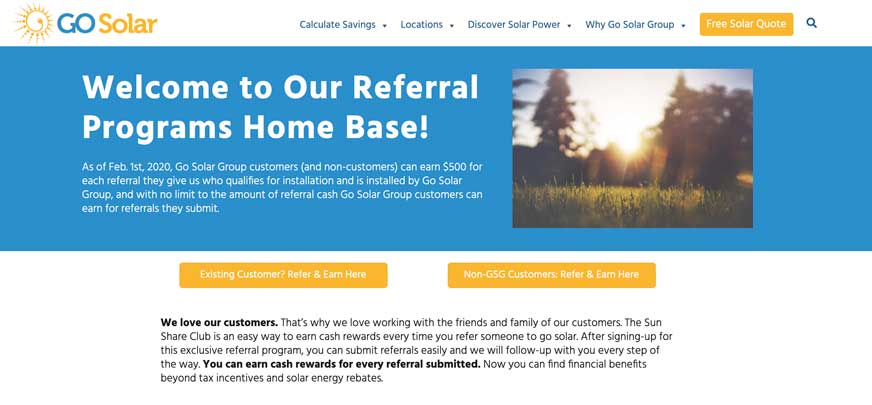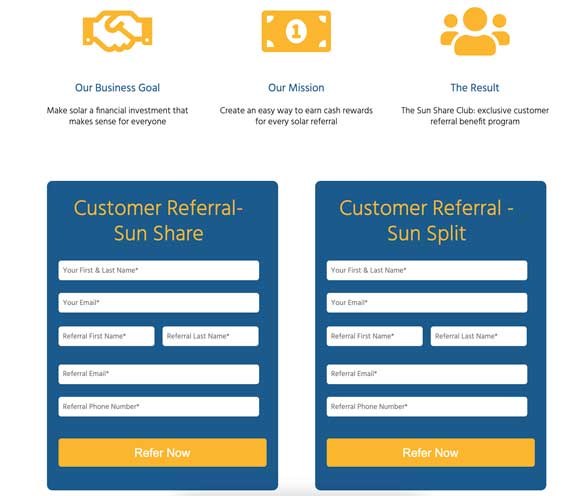 Key takeways
Solar referral programs can be a great way to find new business. By encouraging happy customers to reach out to their own networks, you can gain warm leads – all without the added expense of traditional marketing.
Plus, when customers are rewarded for their efforts, they're more likely to keep promoting your solar company again and again. A solar referral program is a smart and effective strategy to draw in new business and help your solar company grow.
To learn more about solar referral programs and how to get started, head to our referral marketing page.
About the contributor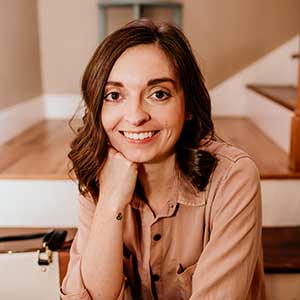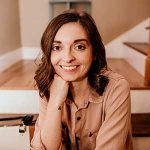 Bethaney Phillips is a freelance writer specializing in digital marketing content and military family lifestyle stories. She enjoys staying caffeinated and utilizing Amazon Prime.