SEO reputation management is all about optimizing your own content for relevant keywords (your brand name and other relevant keywords in your niche). That way, your brand will own page one of results for those keywords, and better be able to control what others know about your business.
Let's dive right into these SEO reputation management strategies.
Why is SEO reputation management so vital?
When someone investigates your brand or niche, Google results control what they see first.
If they find inaccurate or damaging info about you (think negative press or bad reviews), you could be in huge trouble. This will probably hurt your conversion rate, hinder positive sharing, and possibly make your customers lose trust in you.
And what about your competitors? Chances are, they're eyeing at least some of the same keywords you are. They might even be creating biased comparison posts pitting your brand against theirs, designed to compete with your own pages in results for your brand name.
Fortunately, there are plenty of SEO reputation management moves you can make. These moves will increase the odds that potential customers will find your own, accurate content about your brand first.
1. Know the terms you want to rank for – and take action
This is the cornerstone of your SEO reputation management plan. Optimizing your website correctly will help you get found over competitors. It will also help you better control what qualities people think of when they see your brand. In a nutshell, optimization means personal branding through keywords.
These keywords should include your brand name, of course. But they should also include relevant keywords in your niche, that you'd like people to associate with your brand.
For instance, if you're a Boston-area exterminator, you'll probably want to optimize your site for the keyword "best pest control Boston."
Use SEO tools, such as Ahrefs or Moz, to get the details on each keyword. Then, optimize your website for those keywords! Of course, always follow Google's regulations and guidelines.
2. Create authoritative content
Content creation is key to boosting your SEO and reputation where it really counts. Create content that's optimized to rank for terms your audience searches for, that shows your authority in your niche.
Make sure this content is helpful to your audience, not sales-y. That will increase the odds that people will stick around and read it. (We cover this in tip #4.)
Once you rank highly for a term, or otherwise produce a trusted article on a topic, others will link to it. This will generate valuable backlinks to your site. And these links will boost your overall ranking for your name and other branded terms.
If you decide to let people comment on your posts, responding to these comments will let you manage your reputation in another way, and keep building your authority. And be sure to share your content on your social media channels, to increase its exposure. This brings us to our next SEO reputation management tip.
3. Boost your social media presence
You'll want your social media profiles to rank highly in search results for your brand, just like your website. Social accounts are other domains in your control, so they'll help you'll control even more of the Google results about you. Plus, social media is an easy way to direct traffic to your site. Learn more tips for managing your reputation on and through social media.
4. Fight against bounce rate
Make sure your website satisfies your audience's needs, to keep them on the site longer. If people usually leave your website quickly, this makes your bounce rate higher, and drops your ranking in search results.
What content on your website satisfies your potential customers and keeps them sticking around? What content could do better, based on the amount of time people browse your pages?
Check your analytics, and make any needed changes, to better align with search intent and what your audience wants. This will help you decrease your bounce rate.
5. Write guest posts
Writing guest posts for relevant sites that don't compete with you is a great way to build authority. You'll gain valuable backlinks, and get your name positively associated with relevant topics.
Usually, sites you guest-write for will let you include a few links to your own relevant content, plus a link to your homepage. And you'll give your SEO an even greater boost if you guest-write for sites with high domain authority.
You don't always have to do this form of link building by yourself as you can also take advantage of link building service providers that offer guest posting.
6. Choose your backlinks carefully
Pick the links you place in your posts (especially guest posts) carefully. Choose them based on what you want people to find out about your business, or what you want to be known for. Here are some examples:
Aiming to increase awareness about your business's volunteer efforts? Create several links to a dedicated community outreach page on your site, especially in relevant content you guest-write for other sites.
Are you a marketing firm with a target audience of small businesses? Create links to articles where you offer tips on small business marketing, especially in the guest posts you write.
Remember: the links you drop in your content don't always have to direct people to your homepage!
7. Be on the alert for SEO attacks
SEO attacks happen when competitors, and others, try to damage your reputation using low-quality links. They do this by posting links to your site on spammy and questionable websites, often on many of these sites at once. This unethical practice is known as "negative SEO."
So, it's vital to review your backlink profile regularly, and make sure no suspicious sites are linking to your site.
Use Google Search Console's free tools, or premium tools from sites like Ahrefs or Moz, to check your backlink profile. If you find any suspicious links, use Google's Webmaster Tools to disavow those bad links before they bring you down.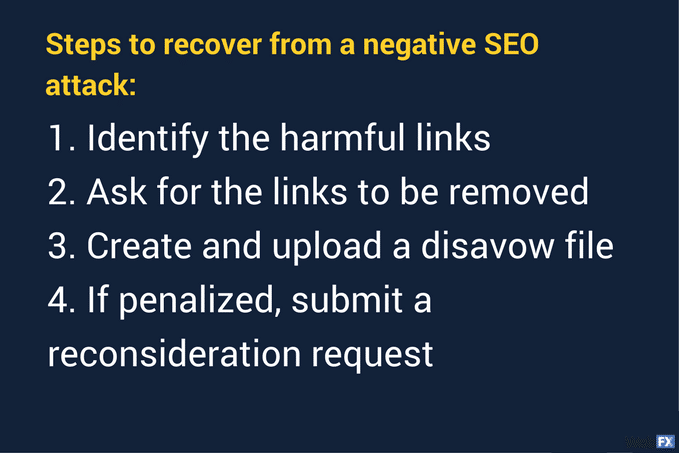 Source: WebFX
8. Encourage happy customers to leave reviews
Review sites, especially Google reviews, usually rank highly for searches containing your brand name.
Here's the thing: you can't fight reviews, and you can't get reviews removed from a site.
But, you can take three steps to improve and counterbalance reviews.
Work to boost your website's ranking, if it doesn't already rank #1 for your brand name. This will naturally push the review sites' rankings down.
Strive to counteract any older negative reviews with new positive reviews. After all, people trust more recent reviews about you the most. Ask for reviews from your happiest customers—they're much more likely to give you a positive review.
Respond to reviews, both positive and negative. This helps you boost your standing, build trust in your brand, and debunk misconceptions. Check out our tips for monitoring and responding to reviews, including how to respond to negative reviews.
Wrapping things up
As you can see, there are plenty of ways to use SEO  to improve your brand's reputation. Tapping into these SEO reputation management strategies will help potential customers find you before they find your competitors. They'll also help people see your brand as an authority in your niche, and make sure what they learn about your brand is accurate and true.