If you have a referral program, that's great. But if you put time and effort into promoting it, that's even better. The more people that know about your referral program, the more new customers you can acquire. Thus, promoting your referral program is a must.
With 3.08 billion active users, social media importance is undeniable. It's no wonder that more and more brands use social media for ecommerce. We're talking big brands too – like Uber, Dropbox, and Evernote use social media platforms to spread the word about their products and services.
Let's talk about one platform: Instagram.
Why promote your referral program on Instagram?
Over the last few years, Instagram has gained in popularity. Today, it's one of the fastest-growing social media platforms that attracts users from all over the world. Here are the top three reasons why using Instagram for promoting your referral program is a great idea (especially for ecommerce businesses):
Your target audience is active on the platform: In June 2018, the Instagram community reached 1 billion monthly active users. According to Statista, 65% of Instagram users are aged between 18 and 35 years old which means your target audience can definitely be on the platform.
Users are highly engaged: Instagram is a very engaged social platform for brands. As specified in one report by Business Instagram, 90% of users follow at least one business on the platform which means your fans are ready to start a conversation with you in-app.
Paves a creative avenue to spark interest in your referral program: Instagram is constantly rolling out business-friendly features that help brands interact with their audiences in an interesting and engaging way. From interactive Story quizzes and IGTV to different ad objectives, there are many ways to promote different referral types.
There are eight ways to promote your referral program with Instagram marketing.
1. Make the most out of your bio link
As a marketer, you must know that you have just a few seconds to grab your customer's attention. When it comes to Instagram, your bio is your business card that tells your visitors and followers who you are in 150 characters.
You can add one clickable link in the bio, no matter how many followers you have. This means you have an opportunity to redirect interested visitors to your website page.
Here's how Tesla uses its Instagram bio link to promote its referral program:

Obviously, having one clickable link in the bio section isn't enough to achieve your business goals as you may want to redirect your customers to your website homepage, online store, or newsletter subscription form.
Luckily, there's a variety of tools like Linktr or TailwindApp that allow you to create a one-page list with multiple links on it which means you promote all important links in one place.
2. Talk about your referral program
Here comes the ugly truth: having a referral program means nothing unless you have loyal customers who are interested in making the most out of your referral rewards. Thus, you need to announce your referral program, and Instagram is a great place to do it.
It's no secret that the majority of people follow their favorite brands on social media to stay up to date on company news. Plus, it's more likely your followers support your brand which means they are loyal customers who can spread the word about your products among their friends and family. Thus, it's important to tell them about your referral program from time to time, just like Willow pump does it in an example below: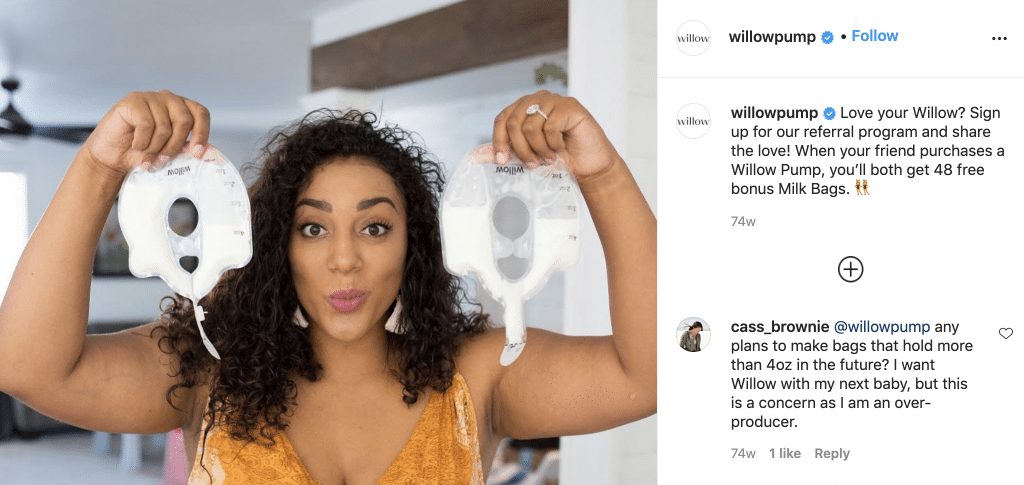 Writing about your referral program in a post is a great idea for two main reasons: you can inform your community and you can collect customer feedback. Since modern people are not shy to share their thoughts on social media, you can understand their pain points or handle negative comments to increase brand loyalty and trust. As a result, you can attract more customers to join your referral program.
3. Use Instagram Story swipe up feature
With a lifespan of 24 hours, Instagram Stories create a sense of urgency that encourages users to watch short-lived content in order not to miss out on something important. In fact, 500 million people use Instagram Stories daily and one-third of the most-viewed Stories are from businesses, according to one report.
Since people spend much time watching Instagram Stories, businesses get an opportunity to promote their referral programs. Moreover, interested viewers can learn more about your referral program without leaving the app. How? Use Instagram Story swipe up feature that allows you to add a link to any website page if you've reached 10k followers on the platform.
The number of Instagram Stories is constantly growing, so it's important to create eye-catching content that encourages users to learn more about your business and referral program. If you want to create Instagram Stories that grab attention, you can use a graphic design tool like Crello to choose from a variety of templates that match your brand identity and style. Once your ephemeral content stands out from the crowd, you have more chances to promote your referral program even being limited to 15 seconds.
4. Offer a limited-time-only referral program
It's no secret that limited-time-only promos do wonders. When it comes to promoting your referral program, offering a time-sensitive program is a great way to attract more interested customers. Why? It creates a sense of urgency which gives your loyal customers a solid reason to stop hesitating and take the desired action faster. Moreover, customers have to join your program during a certain time period to get rewards, so it encourages them to spread the word about your program fast.
With the power of limited-time-only referral programs, it's no wonder that more and more companies use this method, and Stitch Fix is a great example of this strategy in action: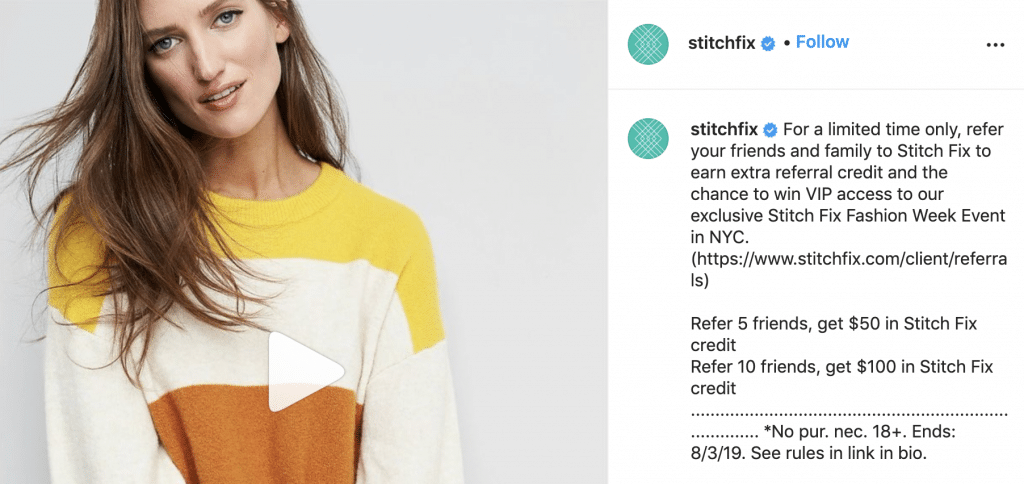 People upload over 95 million photos to Instagram daily, so it's important to stand out from the crowd and get your content and brand message noticed. Thus, sharing time-limited referral programs allows you to grab the audience's attention and motivate them to join your program.
5. Organize a giveaway
If you want to turn your Instagram followers into brand advocates, think about your customers first. In other words, making a good impression on potential customers matters. As specified in one research by GetVoIP, customers are 5x more likely to recommend a company to a friend when they have a good customer experience.
Although there are many proven ways to improve customer experience, organizing a giveaway is one of the most effective ways. When done right, not only can your Instagram giveaway make your customers happier, but it can also become an Instagram lead generation tactic.
Let's take a look at the example below: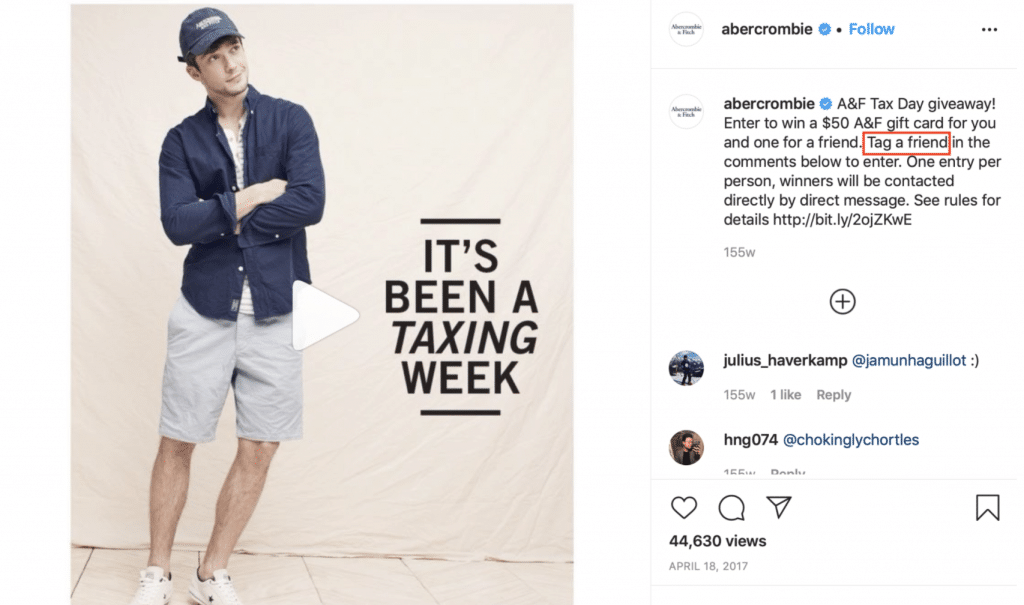 Abercrombie & Fitch often organizes giveaways to drive user engagement and attract new potential customers, so the company asks participants to tag their friends in the comment section. This idea is great if you want to reach new audiences and promote your referral program. To go the extra mile, always pay close attention to comments as you can understand your customers better or even find new creative startup ideas.
But if you want to drive better results, you can also add "join our referral program" as one of the participation requirements.
6. Turn your employees into brand advocates
Before making the purchase decision, modern customers seek out social proof, so they read online reviews and ask their friends and family for recommendations. Thus, influencer marketing is gaining in popularity among businesses of all sizes and shapes. But if you want to team up with loyal customers who know your product from A to Z, turn your employees into brand advocates.
The Employee Advocacy Guide states that employees have an average of 1,090 social connections and they have 5x more reach than corporate accounts. Here's how your employees can tell their Instagram followers about the referral program:

If you want to turn your employees into brand advocates, you need to keep them informed about the benefits of your referral program and the power of eLearning is here to help you as you can organize webinars to educate even remote workers. But the easiest way to encourage your employees to share the referral program with their followers is to set up a program that allows them to get rewards.
7. Team up with niche influencers
It's no secret that influencer marketing gives wonderful results even if you want to turn your loyal customers into brand ambassadors.  According to new data, people trust social media influencers almost as much as their own friends. Thus, you can promote your referral program if you collaborate with the right influencers who have your target audience as followers.
Instagram influencers come in all sizes, niches, and shapes, so it doesn't take much time or effort to identify influencers for your campaign. Once you've found a reliable influencer, ask him or her to tell about your referral program, just like in the example below: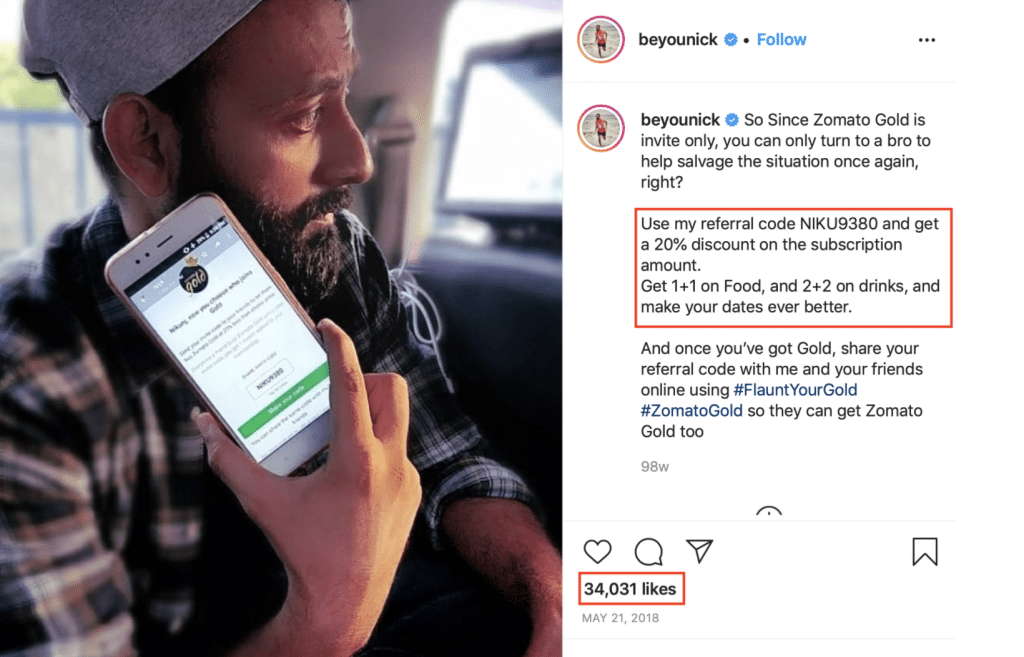 Zomato Gold worked with mega-influencer and the post got over 34k likes. This means followers were interested in reading about the referral program.
But if you don't have a budget to work with mega influencers, you can still get wonderful results collaborating with nano-influencers. Although they have less than 1000 followers on Instagram, in-person connections with the majority of their followers drive more engagement.

8. Run Instagram ad campaigns
In the last few years, Instagram has become a powerful marketing tool, so the competition is high. Different brands create business accounts to promote their products and services and brand content bombard people from all sides. This means it's difficult to cut through the noise, so running Instagram ad campaigns is a great way to achieve your business goals and 2 million advertisers use Instagram ads. Here's how Web.com uses Instagram ads to promote its products:
To promote your referral program, you can create an Instagram ad campaign that keeps a focus on your offer. With the variety of ad objectives, you can increase user reach or drive website traffic to your target page.
Summary
The popularity of Instagram is growing and there is a great number of tools and features for businesses, so it's the right place to spread the word about your referral program and turn your customers into brand advocates.
From informing your Instagram visitors about your referral program to targeting customers with paid ads, there are eight ways to spread the word about your referral program. This means every company can find what works best for you, so don't miss a chance to bring your business to the next level.