The key to driving ROI with influencer marketing is finding and recruiting the right influencers. Oftentimes, the right influencer isn't always the one with the larger audience. High engagement and trust from niche personalities can be even more valuable. 
The problem? Finding nano- and micro-influencers who target the same audience as you do, and align with your brand, is easier said than done. 
On top of that, understanding which influencers have authentic audience engagement is another tough nut to crack.
That's why we created this guide – to give you the best expert opinions on the easiest ways to find nano- and micro-influencers.
Let's get started.
79% of marketers search for niche influencers on a regular cadence
Finding influencers is not a one-off task. You'll need to look for nano- and micro-influencers regularly, as most experts do.  
In our survey, we defined nano-influencers as having 1,000-9,999 followers, and micro-influencers as having 10,000-99,999 followers.
79% of the 87 experts we surveyed search for smaller influencers on a regular cadence:
17% of marketers search for nano- and micro-influencers weekly
17% search for them quarterly
12% of the marketers search multiple times a week
8% research every two weeks
22% of marketers search for small influencers monthly
3% search for them less than quarterly, but still at a cadence
(The remaining 21% of the marketers search for potential niche influencers without a regular cadence.)
10 tips for finding the right nano- and micro-influencers 
How can you use your time and resources wisely, and make sure a small influencer is the right choice?
Here are 10 cost-effective ways to look for small influencers, with some other useful tips to use as you search:
1. Be clear about where you want your product to go
This is fundamental. After all, if you aren't clear on what your business does, you can't find the right advocates for it.
Scot J Chrisman says, "Assess your product before finding the right influencer to represent it. 
"You can't fit a box in a circle. Screen potential influencers based on who you think will best represent your product. Don't just look into their reach – also look at their qualifications."
2. Find influencers who understand your product
Once you've clarified your product's purpose, look for influencers who also understand it.
Keenan Beavis of Longhouse Media recommends, "Search for someone who understands your product and service well. The only truly effective influencers genuinely know what they are talking about.
"As long as they know the purpose of your product and how it helps their audience, they will be able to convey the message efficiently."
3. Start with your own followers
Where to find influencers who understand your products or services? 
"Start by looking at your own followers," recommends Johannes Larsson of Financer.com. 
"Check to see who's engaging with your posts or sharing your content. Chances are, you'll find nano- and micro-influencers there.
"Since these people are already following you, there's a good chance they're familiar with your brand and would be happy to promote it."
This is particularly helpful if you're marketing a SaaS tool, as the person may already know how to use your tool and can easily talk about its value.
Knowledge of your product/service makes your existing followers great spokespeople for your brand.
4. Look at other people in your circle
Aside from looking at your follower list, asking customers who have a social media following to talk about your product/service is a useful influencer marketing tactic. 
On a scale of 1 to 5 (with 5 being most effective), our survey respondents rated having customers double as influencers at a 3.36.   
CocoFinder's Harriet Chan commends this customer advocacy: "Go through existing customers, identify any social media handles attached to nano- or micro-influencers, reach out to them, and ask if they can share your product or services.
"Some customer-influencers will charge nothing [because they're happy to help out a brand they love], but others will only partner with you if you give them a discount code for themselves or their followers.
"If you strategize properly to accommodate giving discounts, you'll end up spending less money while enjoying a wider reach compared to your current marketing efforts."
Carl Panepinto of CloudTech2 adds employees to the list: "Look for influencers in your own backyard." 
"Employees may work for you because they adore your company and products, or may have a great feeling of commitment since they share similar ideals."
To sum things up, your checklist when looking for influencers should include the following:
Customers
Employees
Followers
Anyone with an engaged audience and product knowledge can be a potential brand advocate.
As Cocodoc's Alina Clark puts it: "A person who consistently shares content in a specific niche, and gets good engagement for that, is an amazing choice for a micro-influencer – especially if their cause matches with that of your brand."
Pro tip:
Looking for another way to engage your customers and generate word of mouth? Try
starting a referral program
. A referral program encourages your customers to share your business with their friends, and rewards them whenever their recommendation results in a new sale. Any customer can join a referral program regardless of their following!
5. Dedicate time to research before you recruit influencers
Finding smaller influencers takes work. You'll need to look through each candidate's follower count and engagement rate, as well as track how they connect with their audience.
And as we covered at the beginning of our article, such research is never a one-time deal. Whether you're just starting out or have used influencer marketing for some time, there's value in keeping an eye out for potential nano- and micro-influencers all the time.
Even if you aren't actively looking to work with influencers, you should always keep an eye out for potential influencers you can work with later on. 
TrustedMalaysia's Adam Ng emphasizes the importance of this. "Regularly connect with influencers who align with your audience – it's a way to gain inspiration and show your brand's vibe, even if you aren't ready to leverage them.
"Following the influencers who inspire you as you grow will take out a lot of the legwork when you decide to work with an influencer. You've essentially already built a shortlist."
6. Combine free and paid influencer research tools (like 59% of experts)
You can also use a software tool to help audit potential influencers.  
But don't focus on only paid tools, or only free ones – use a mix of both.
Only 9% of the experts use paid tools alone to find small influencers. Meanwhile, 32% use only free tactics to identify potential influencers to partner with.
The majority of marketers, at 59%, however, combine both free and paid tools to find influencers.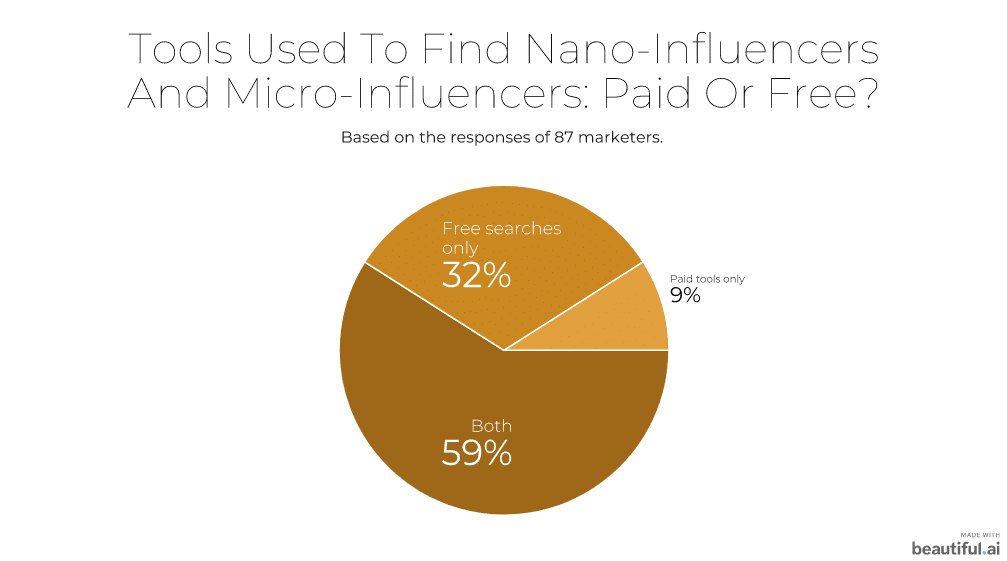 (We look at specific tools you can use to find influencers in following sections.) 
7. Explore popular hashtags
Roy Morejon of Enventys Partners points out, "The usual way we find influencers is by checking out the most engaged posts from popular hashtags for the target market on TikTok, Instagram, and other social media channels."
In fact, experts rate using hashtags to manually search for small influencers a 3.61 out of 5.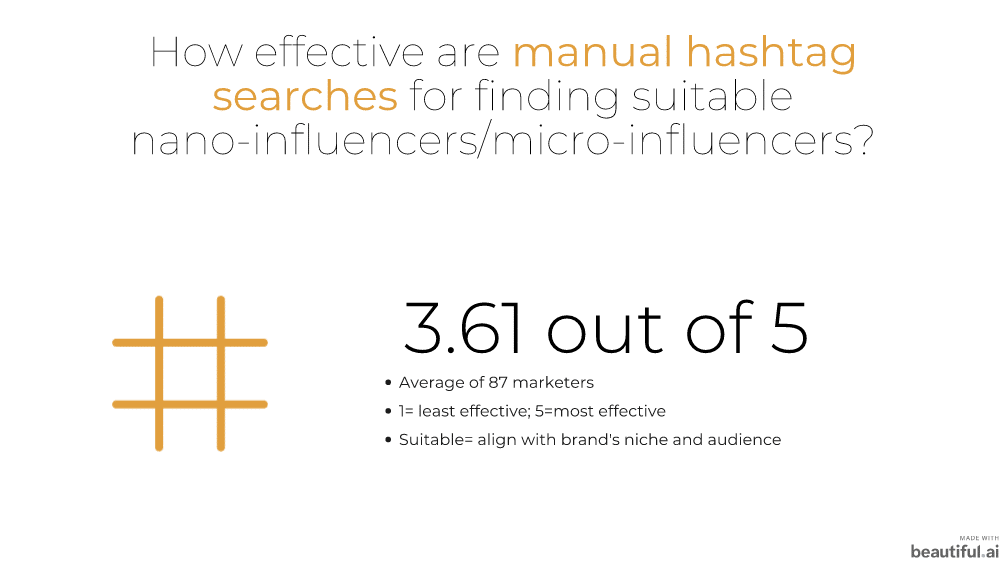 Minesh J. Patel from The Patel Firm also recommends this tactic. "Look on social media for folks who already use and talk about your product or service, especially those who tag your business in posts and comments. They will present the best message because it will be 100% authentic."
John Li of Fig Loans walks you through how to do this. "First, determine your industry's strongest hashtags and search through posts that use the tags.
"You might start with one or two simple hashtags, but by looking at other related tags influencers are using on their posts, you expand your keywords further into your niche.
"You can also surf similar profiles based on the carousel of Instagram profiles shown when you follow someone."
Bishal Biswas of Word Finder adds, "Use keywords that are not just relevant to your business, but specific enough to reveal actionable results.
"For instance, if you are in the plus-size clothing business, a hashtag search around #plussizefashion would yield better results than just #fashion. Using hashtags optimally will give you a great chance to find micro-influencers."
In our survey:
25% of marketers say they use manual hashtag searches to find nano- and micro-influencers. 
Another 25% use manual keyword searches for hunting smaller influencers.
18% use influencer marketing software.
15% directly ask loyal customers with a following. 
Another 15% use brand mention tools.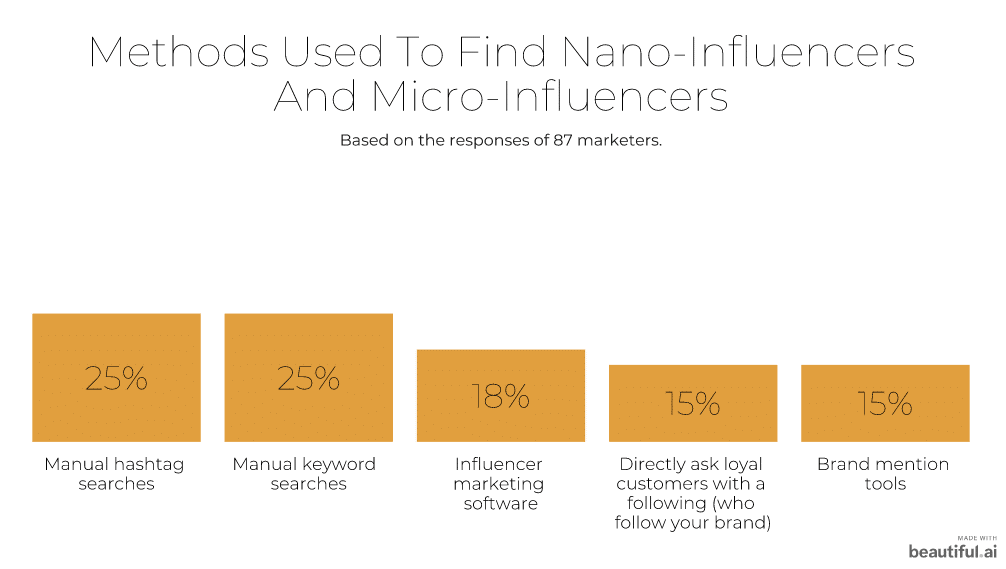 8. Look for influencers during industry events 
Keep an eye out for potential influencers during in-person and virtual events, such as webinars and conferences. Many of the event speakers are industry influencers you might be able to work with.
Aquarium Store Depot's Mark Valderrama shares, "Using speaker lists from industry conferences to find possible collaborators is a great method to make sure you're interacting with people – even micro-influencers – in your industry who are already creating the type of content you're trying to create.
"While browsing speaker lists does not guarantee someone will collaborate with you, it can be useful because it provides you with a larger framework to work with and a quick list of many different possibilities."
9. Search for popular keywords
Manual keyword research is another effective tactic to find nano- and micro-influencers, with experts rating this method at a 3.56 out of 5.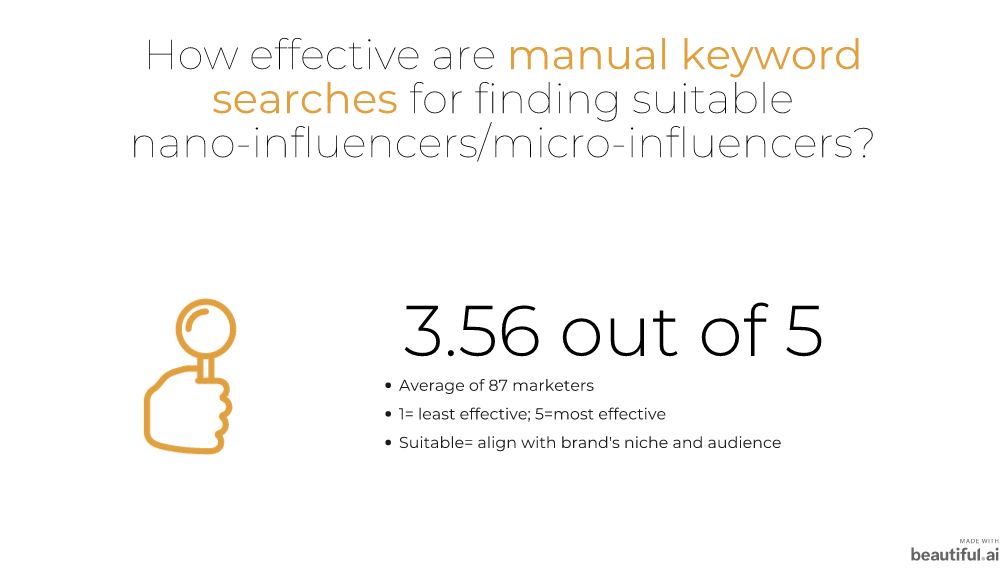 But where and how do you conduct these searches? While Google's always a good bet, social sites are a better starting point. 
"To find nano- and micro-influencers, search on YouTube using the same keywords you use for your website SEO," Don Adams of RegionalFoundationRepair.com shares.
"Since you and the influencer are using the same keywords, it will be easier for the collaboration to align."
New England Home Buyers' Shad Elia also swears by keyword and hashtag research for finding influencers: "Look for accounts using hashtags and keywords related to your business. Instagram is a terrific place to start, but don't forget to look through other social media platforms.
"Find Facebook groups and communities related to your business niche by using keyword searches. Could regular commentators and admins be potential micro-influencers? 
"If you're going to do a conventional Google keyword search, browse past the first page of results to identify bloggers with a target following of between 1k and 100k."
10. Use software to find and vet influencers
On a scale of 1-5, experts rate the effectiveness of influencer marketing software at a 3.28 – a bit less effective than other methods, but still valuable.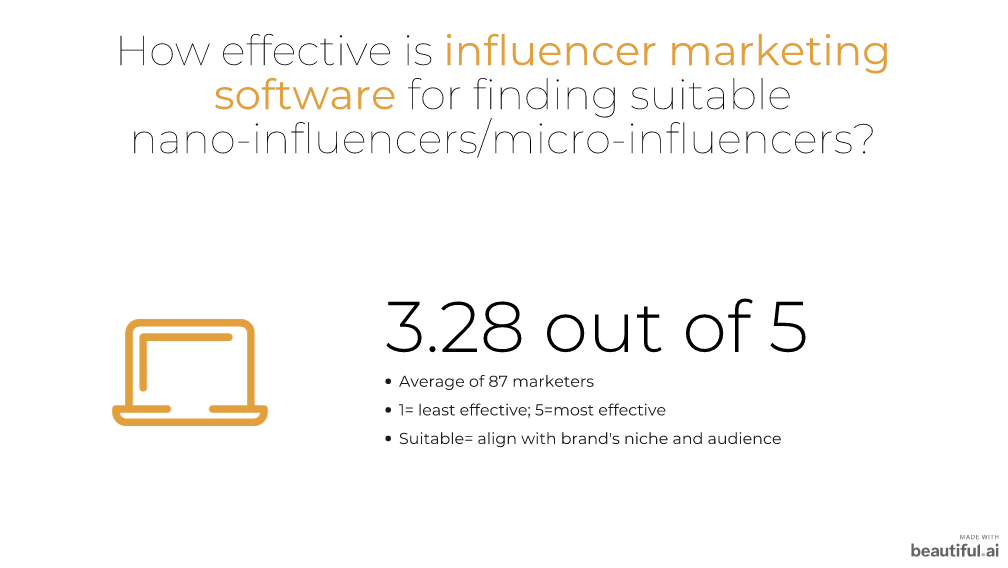 This type of software has several experts singing its praises, including those from smaller businesses. "Using an influencer marketing tool has helped connect us with micro- and nano-influencers who are a perfect fit for our brand," writes James Diel at Textel.
"Since we're a smaller business, using a service to do the market research, find influencers, and connect is a much better use of our resources than doing the work in-house.
"The filters with these tools are pretty smart – you can find influencers based on their audience data, brand affinities, interests, and more."
Daniel Carter from Skuuudle agrees that software platforms are an effective tool: "Search databases to find influencers. They are usually vetted, and many publish their rates publicly. Most will also help you approve work and pay the influencer.
"Influencer platforms are useful if you are concerned about security. Of course, this level of service comes at a cost. You'll usually pay a monthly fee."
Here are some popular influencer platforms Carter suggests: "ACTIVATE, AspireIQ, ExpertVoice, Izea, Klear, LINQIA, Mavrck, Socialbakers, and Upfluence." 
10. Leverage brand mention tools
David Aylor from David Aylor Law Offices recommends another type of tool – brand mention software (or social listening software). "Take advantage of social listening tools, which monitor how users talk about your brand or other relevant topics on social media, blogs, review sites, and more."
On average, experts rate the effectiveness of using brand mention tools to find smaller influencers at 3.4 out of 5.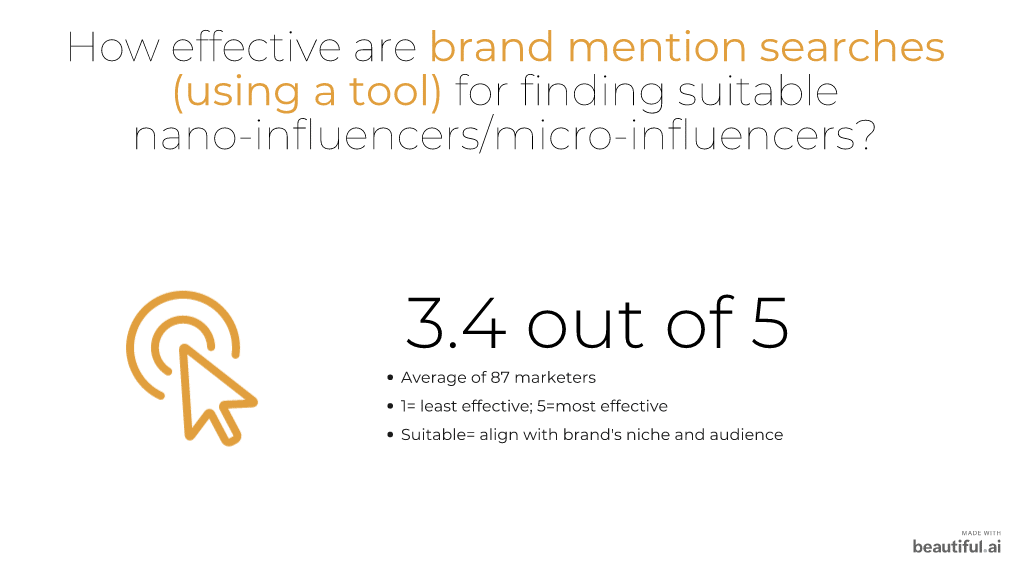 But why do brand mention tools work well?
Says Aylor, "You can specify the brand keywords to screen for so your marketing team can accurately analyze your mentions. That way, you can look for micro-influencers who already use and talk about your product."
Wrapping up
Keeping an eye out for potential micro- or nano-influencers is a helpful approach to creating a shortlist of names you want to work with – whenever you're ready.
Fortunately, there are a ton of ways to find them. From using paid influencer marketing platforms and tools to conducting manual keyword and hashtag searches, you have a handful of proven tactics to leverage.
Once you've found the smaller influencers you'd like to work with, the next step is to recruit them. We cover this step in the second part of this nano- and micro-influencer expert roundup.
[/su_note]