Influencers are marketing powerhouses for your brand. This is because their audiences trust their sponsored posts far more than they trust traditional ads.
As Brian Horn of Authority Media Group, LLC shared with Referral Rock, "The right influencer can make a world of difference for your business by enhancing your reputation and spreading your brand to their audience… a good tactic is to give influencers a reason to share you and your brand."
Compensation gives influencers a compelling reason to share. Plus, when you ask influencers to create sponsored posts and videos for your brand, you've entered into a business relationship with them. These influencers deserve, and expect, fair compensation for their services, and they should.
But this compensation won't always be in the form of cash. You have many influencer marketing gifting options, including more personal gifts, to choose from. And you can always offer a combination of different gifts as one compensation package.
But how do you go about choosing the right gifts for the right influencers? What gift choices do you have? And what are some ways to manage gifting? Let's find out.
Choosing influencers and gifts
The influencers you select, and the goals you set for your influencer campaign, are major factors in determining the best gifts to give your influencer. Sometimes, gifting and collaboration will help you and your influencer accomplish mutual goals. And sometimes, sending smaller gifts before you even enter an agreement is a great way to find influencers who love your brand before you choose to work with them formally.
Start by setting goals, and choose product gifts based on these goals.
Are you aiming to increase brand awareness? Show off a new or popular product? Increase conversions? Add names to your email list? Choose influencers who can help you achieve these goals, and who align with your audience. Then, choose product gifts that you think each influencer would love and use in real life, that fit in with the influencer's niche and brand, and that are carefully tailored to help you achieve your goals.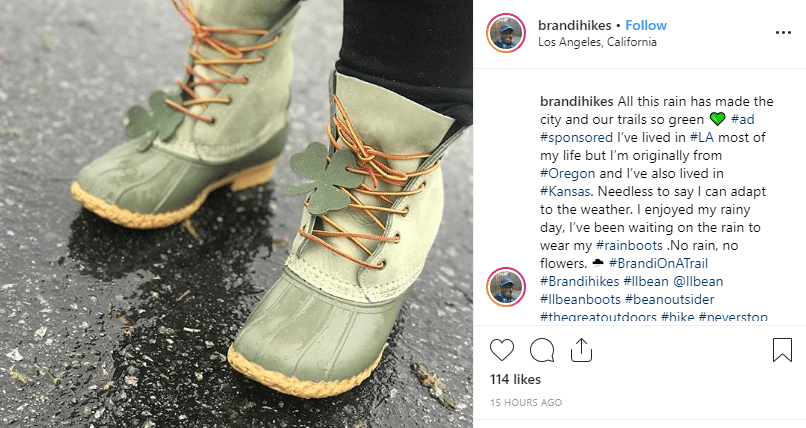 Outdoor adventurer Brandi (@brandihikes) is a great fit to promote these LL Bean rain boots, because they fit within her niche, and because she is excited to use them in real life.
Consider personalizing the gifts you send to each influencer
Based on what you've learned about each influencer, personalizing gifts helps you build a close relationship with each influencer. And this will make their posts about your products feel much more authentic.
Plus, many influencers communicate with each other, so it's easy for them to detect when you've sent out a mass mailing of the same gift. Thus, pay attention to the influencer's own brand, niche, interests, and philosophy, and create and sell custom products just right for them!
Personalized gifts give influencers even more of a reason to share your brand, especially when these gifts are centered around your brand's own products. For example, a food brand might send a vegan recipe blogger a basket of vegan ingredients to craft a meal with, and a toy brand might send a doll outfit crafting kit to a mother-daughter YouTube duo who love making DIY projects for their dolls.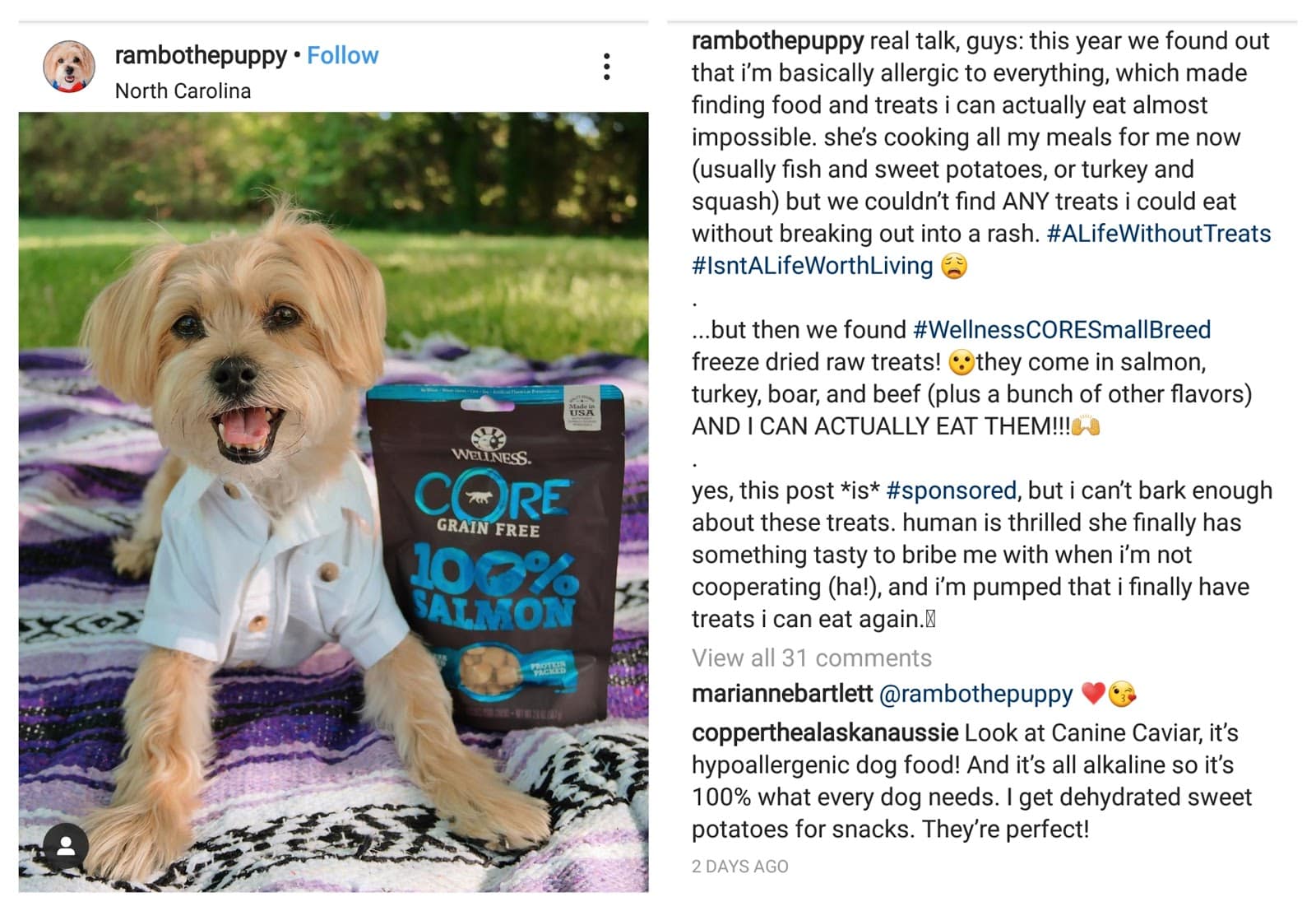 Rambo the Puppy has multiple allergies. So, Wellness CORE sent Rambo's owner some of their treats that Rambo can eat safely. They're the perfect personalized gift!
Use gifts to "test" influencers who haven't tried your product yet.
Giving influencers a free, positive experience with a product they haven't tried yet—and seeing how they respond on social media—is a great option to "vet" influencers and determine who really loves your product. This can be done before entering into a formal partnership with that influencer.
KPOP Foods' Theo Lee uses this gifting strategy, as he told Referral Rock: "We typically send our sauces to the influencer ahead of time to see what he or she thinks before discussing a potential partnership." He says this vetting helps because then his company can tell who is and isn't a real fan of the product.
Check in with influencers about their own goals. Then, gift accordingly, to help accomplish a mutual goal.
You might work directly with an influencer to develop an entire campaign around mutual goals. If an influencer wants to build up their email list, for example, why not gift products as the prize for sweepstakes that the influencer runs, where the influencer's audience members must provide their email to enter?
You can also use referral marketing as part of your influencer gift. Get to know your influencer's audience, and then collaborate to come up with a referral incentive that can benefit both you and your influencer. Check out our list of referral marketing tools to aid in this process, and see what referral marketing can do for you.
Types of gifts and incentives
Potential gifts and incentives that influencers could earn from your company will usually fall into one of these categories:
Luxury gifts
Luxury gifts have substantial value. Types of luxury gifts can include:
Laptops
Tablets
High-end smartphones
All-expenses-paid vacation experiences
Designer clothing, shoes, jewelry, accessories, and/or bags
Many designers, tech, and travel brands use influencer marketing and compensate influencers with their own products as luxury gifts. But not all luxury gifts come directly from a company's own product line.
Some companies will give related luxury gifts that are made by another company (for instance, an app company might give an influencer an iPhone X). And some companies will gift unrelated luxury gifts that just happen to hold substantial value (for example, a cosmetics company might give an influencer a laptop).
Usually, luxury gifts not from a company's own line are reserved for macro-influencers and celebrities, because of the substantial reach these influencers command on their own.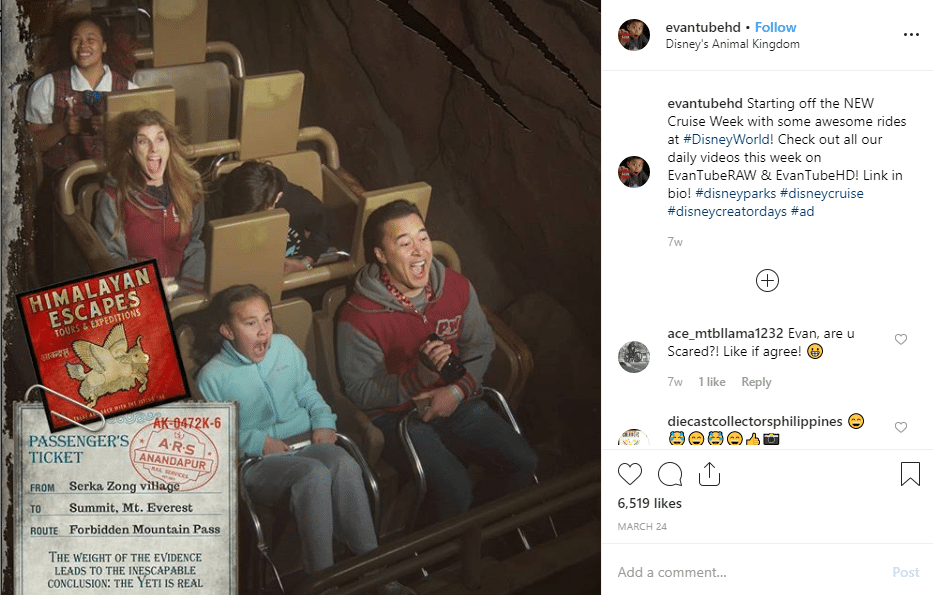 Celebrity kid influencer EvanTubeHD and his family received the luxury gift of a trip to Disney World and a short Disney Cruise for Disney's Creator Days.
Practical gifts
Practical gifts include anything that helps an influencer with creating sponsored posts and videos (regardless of value).
These can include:
Cameras or video cameras
GoPros
Tripods
Lighting sets
Microphones
Portable sunshades
Wind mufflers for microphones, to block out the wind noise
Flat lay trays for photographing products
Editing tool or software
Planners
Practical gifts can also include photography and videography assistance. Bloglovin recommends providing this assistance so an influencer doesn't have to spend their own valuable time and money on hiring a professional to shoot product photos and videos for your brand. These gifts are great options for smaller influencers!
Free products
If you provide any of your brand's products for free so an influencer can post about them, these products also count as influencer gifts. These are the most important gifts, for any influencer level, because they help acclimate your influencer to your brand, and are directly aimed at giving your influencer a positive impression of your brand.
An influencer who loves your products will be better equipped to share their authentic experience of trying these products. And authenticity is key to a successful influencer campaign!
As mentioned above, consider personalizing your product gifts to build a stronger relationship with an influencer, and to help add more authenticity to their posts. Also, consider sending a gift box with multiple free products. This will lend itself well to photo layouts, blog posts,  and unboxing videos!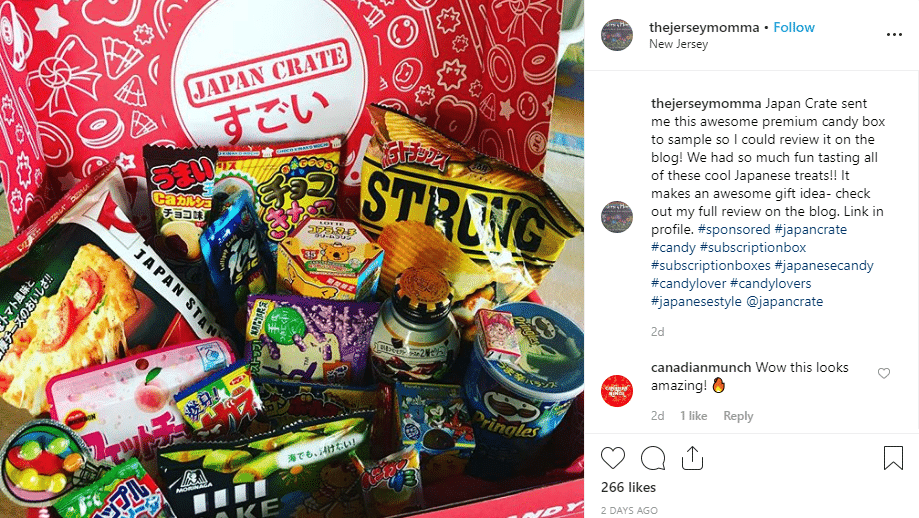 Japan Crate sent a box of Japanese snacks to influencer TheJerseyMomma. Japan Crate sells these subscription boxes, but any brand can create a free gift box specifically for an influencer.
Personalized/accompaniment gifts
These gifts do not originate with your brand but help to personalize an influencer gift package. Often, they'll accompany free products. For example, let's say a kids clothing company is planning to send a gift box to a cat-loving 5-year-old fashion influencer and her Instagramming mom. This company might add a cat-ear headband and stuffed cat (from other companies) to the package, in addition to its own brand's cat shirts and colorful skirts.
Cash/Gift Cards
These are the most popular influencer incentives, especially since most influencers set their rates in cash. Gift cards are another popular option, and you can even let your influencers select their own gift cards from a list of approved companies. You can also give gift cards for your own brand, so that money stays with your company.
However, remember to look beyond cash, or consider balancing a monetary gift with a more personal one, to ensure your gifting stands out! Plus, pairing a monetary gift with another type of gift will usually be more cost-effective for your brand, but will still compensate the influencer with the value they deserve.
How influencers earn gifts
There's no single best method for gifting influencers—it will depend on your company, each influencer, and the influencer management software you use. Let's examine some of the ways that influencers can earn gifts:
Upfront gifting
This simply means that the influencer will receive all of their gifts right after they've entered an agreement with your brand—before they've created and posted sponsored posts for you.
Some influencers require upfront gifting before they'll make a post, and some even insist on upfront cash gifts. But make sure that you set guidelines to protect yourself. You may require the influencer to pay back the cost of the gift if they fail to deliver the sponsored posts they agreed to.
Incentive-based gifting
In its most basic form, incentive-based gifting means that an influencer will receive gifts after posting all of the deliverables you agreed upon, and/or after meeting all of the guidelines set through an influencer marketing program.
In some instances of incentive-based gifting, influencers may receive products upfront, but must complete several "challenges" to keep the products for free (and/or earn other gifts). Influencers who don't complete the objectives by a deadline may have to pay the brand the value of the products, and may lose their chance to continue working with the brand.
Influenster is one popular influencer marketing management program that uses a "challenge" model for incentives.
50/50 gifting
With 50/50 gifting, part of the influencer's gift is sent out upfront. Then, the other part is withheld until the influencer completes their assigned tasks, as an incentive for posting deliverables.
For example, the upfront part could be the personalized gift box of products that an influencer must unbox on YouTube and the incentive for after the influencer posts this video could be cash.  This gifting method keeps both the influencer and your brand happy! Thus, some influencers present thank you gifts for employee appreciation, as nowadays successful companies tend to appreciate their employees and are interested in such treatments for the staff members. Accordingly, whatever the influencers present depends on the market needs and the overall picture of the region they target.
Tiered gifting
Sometimes, tiered gifting means that an influencer will earn cumulative gifts after completing a certain amount of sponsored posts or tasks for your brand. With each "tier" of tasks they complete for you, they will earn more rewards.
Other tier-based influencer programs are set up based on the number of followers an influencer has. For example, you might focus on sending free products to a group of smaller Instagram micro-influencers, compensate macro-influencers with personalized free products and cash, and save a luxury gift for one heavy-hitting influencer with over a million followers, who has enough reach to justify their own individual campaign.
Still, other tiered programs are based on the type of content an influencer creates. For instance, a toy company might send Instagram influencers one specific, larger toy that photographs well but send YouTube influencers an unboxing package with several toys, to cover all at once in a  single video. (You might find that a specific type of influencer works best for your brand, and divide your influencers into tighter tiers based on follower count and content specialization.)
How to distribute gifts
Once you've selected which gifts you'll give, and you've determined how influencers will earn them, you'll need to distribute these gifts to reward influencers for their hard work! But you won't have to take on this task alone if you don't want to, thanks to reward distribution tools and influencer marketing software.
Reward distribution tools
Reward distribution tools make it easy to send incentives directly to an influencer. One popular tool is Tango Card, which lets you distribute e-gift cards quickly and easily. With Tango Card, you can send a specific gift card directly to an influencer, or let influencers choose their own gift card reward in the amount you specified.
Influencer marketing software
Some types of influencer marketing software will handle both the tracking and distribution of rewards, so you won't have to worry about missing payments, and you'll know exactly when influencers have earned them. Programs like Mavrck will send out rewards automatically once an influencer meets certain requirements.
Manually sending gifts
You can also send out influencer gifts on your own. This option is ideal if you're personalizing an influencer gift, but it is also more time-consuming than automated options.
Key takeaways
Influencer gifts come in a variety of forms, including luxury items, free products, practical gifts, personalized gifts, cash, and gift cards. Based on what works best for your brand and your influencers, you can gift upfront, use gifts as incentives, or a bit of both. You might also consider setting up tiered programs based on influencers' follower counts, preferred platforms, or the number of posts they make for you.
It's wise to let the influencers you select directly impact the gifts you give, as personalized gifts will make them more excited about working with your brand. It may also be helpful to collaborate with influencers to set mutual goals, and then gift accordingly – consider working with them to set up a referral program that will benefit both of you!
We have many more resources if you're looking to start an influencer marketing program.