You've drafted your NPS questions, decided on which customers to ask, and set a date for sending the survey out. Great!
Still, you might be wondering, "Is this enough?" 
Sure, NPS surveys are simple to use for both companies and customers, which is one of their biggest upsides. But what about their shortcomings? Does the survey accurately assess your customer satisfaction? 
In this post, we look at the advantages and disadvantages of NPS surveys, as shared by 49 marketing experts. 
(We've also addressed how companies best use net promoter scores, as compared to other types of surveys. Read our other roundup that shares a simple tactic to maximize your company's use of NPS surveys.) 
Most marketers send NPS surveys every quarter
To establish a baseline for our survey, we first asked companies how often they send out NPS surveys.
33% (the biggest percentage) send quarterly surveys
27%, send surveys monthly
14% send surveys every six months
6% send surveys weekly
2% send surveys yearly
Interestingly, some marketers choose to send NPS surveys based on events. Our survey shows 12% of marketers send surveys to newer customers at set points in their customer lifecycle. Another 6% send surveys to all customers, but only after major brand or product updates.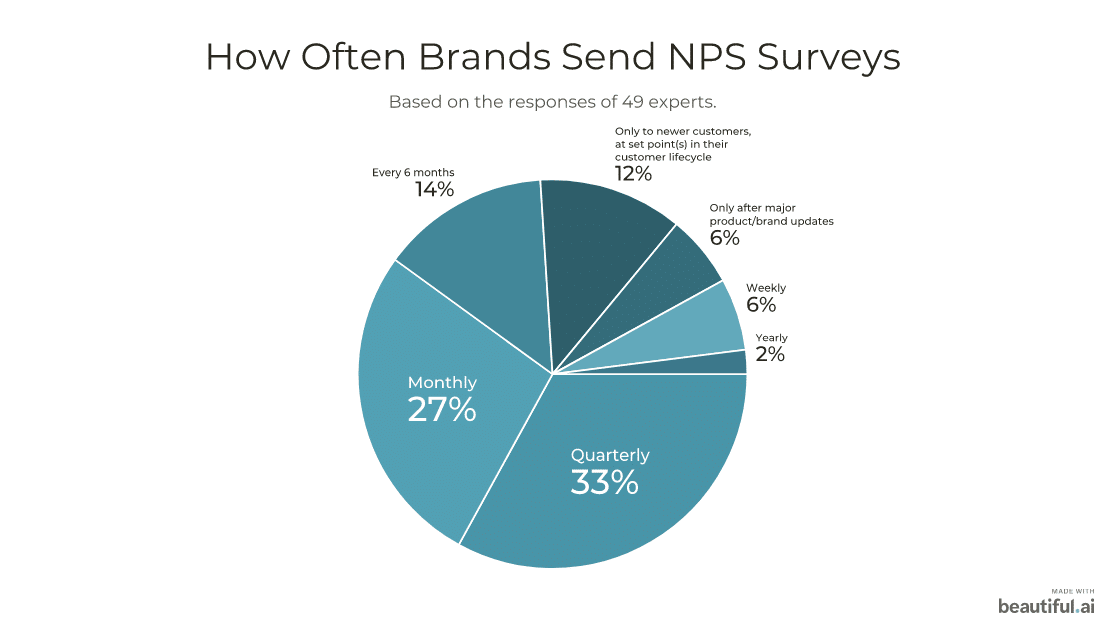 53% of marketers send NPS surveys to all their customers
Next, we asked the companies about who they survey.  
More than half of marketers, at 53%, survey all of their customers at regularly scheduled times.  
Others were a bit more selective:
37% send surveys to new customers within a set number of days after purchase 
31% send surveys to all their customers, but staggered on a rolling basis 
20% send surveys to customers after contact with customer support
12% send surveys to customers who have reached the "aha moment" in product use
10% send surveys only to primary customers of their product/service (but all at once)
4% send surveys to primary buyers on a rolling basis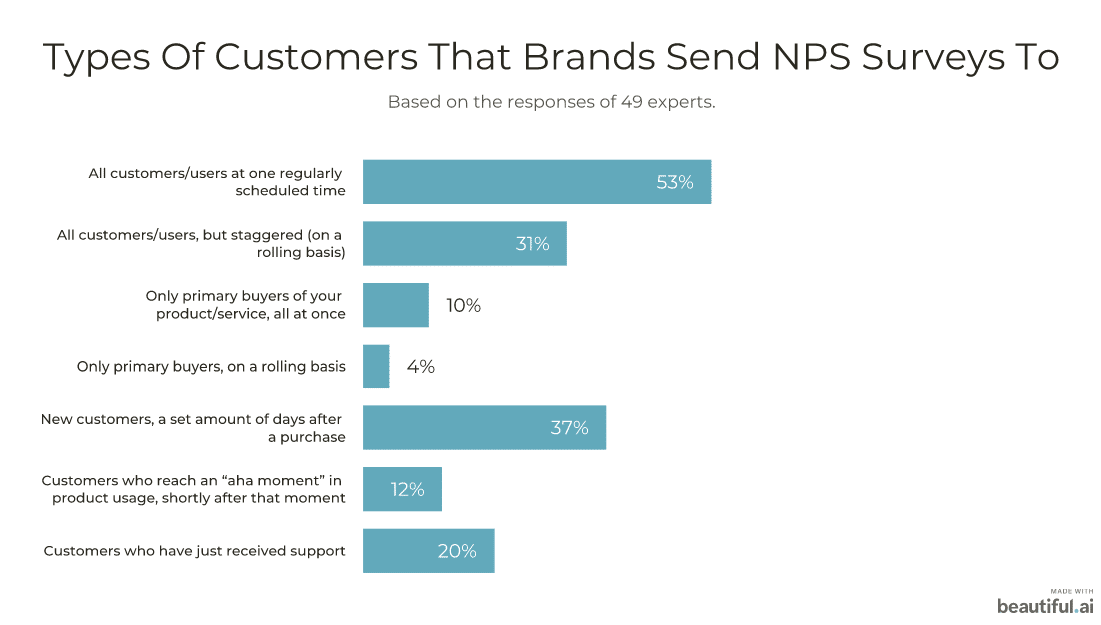 66% of companies get a response rate between 11% and 50%
Finally, we inquired about the response rates of these NPS surveys. As it turns out, response rates vary widely. 
The largest percentage, at 20% of companies, receive an average NPS response rate of 41-50%.
18% get a response rate of 21-40%
16% get a response rate of 11-20%
12% get a response rate of 21-30%
All in all, the majority of companies see NPS response rates between 11% and 50%.
As a comparison,
most customer surveys see an average response rate is between 5% and 30%
. A response rate of over 50% is considered excellent.
The average NPS survey response rates seem on par or even slightly better than those of other customer surveys.
Advantages of NPS surveys 
Let's look at the pros of using NPS surveys, as shared by professional marketers: 
NPS gives a clear idea of how well recommended you are among your customers
Word of mouth and referrals are key to business growth. Fortunately, NPS surveys help identify the potential for word-of-mouth marketing, so you can determine how well you're doing on your customers' 'I'll recommend them' scale.
"One of the best and most natural ways to grow your business is by word-of-mouth, and getting product recommendations from other happy customers earns trust and converts prospects more effectively than most other marketing strategies," agrees Nathan Murphy from QuizBreaker.
"NPS surveys give you a clear idea of the level of social proof your product has in the eyes of consumers, which is essential when trying to increase sales."
As Jitesh Keswani from e-intelligence puts it: "One of the biggest advantages of the Net Promoter Score is that it measures the likelihood of both new and repeat business, which helps us to measure overall business forecasts as well."
Better Estimates' Jasper Juhl is on the same page and compares NPS surveys with other survey types as well. "The biggest advantage of using NPS is that NPS provides more accurate results, as it takes into account whether customers would recommend your business to others. Meanwhile, other satisfaction surveys only measure how satisfied customers are with their experience at your company. 
"Satisfaction surveys also do not segment people who have had good experiences versus those that have had bad experiences, which means they don't provide an accurate picture. 
" In contrast, NPS provides a business with an understanding of who their promoters (those who will recommend the company) and detractors (those who won't ever recommend) are. It also tells the business what it can do in order to improve future customer relations, through making changes that make both the promoters and detractors happier."
NPS is great for beginners
Another advantage of NPS surveys is that they're easy to use and understand for businesses that are only starting out with measuring customer satisfaction.
Suneha Dutta from Fundsquire Pty Ltd makes this point: "NPS is great for companies that are just starting with CX, and unlike other types of surveys, it helps paint a longer-term picture for the brand. The biggest advantage of using an NPS score is that it acts as a compass, especially for brands who don't know where to start looking.
"It'll give you a snapshot of where you may be winning or losing, who your fans and naysayers are, what segments you should focus your future marketing endeavors on.
"The key thing to remember though is that at the end of the day, NPS is just that – a tool. It shows you the problem, but it's on you to find the solution."
In short, "The fact that [the survey] directly asks the question of whether or not they will recommend it to others is very powerful," in the words of Eye7.in's Rahil Chaudhary. "You immediately know whether you have served the person to their expectations, and whether or not you can expect repeat business from them."
Easy to use, easy to understand, and convenient for all involved
Lastly, there's the fact that these surveys are easy and convenient to send, fill, and understand. This makes them suitable for not just your team, but also stakeholders with little to no understanding of customer satisfaction metrics and customers themselves.
Miranda Yan from VinPit, for example, points out, "NPS is easy to use and understand. This means it's not only convenient for the customers but also for the companies, who are mostly burdened with bulk data.
"It gives an overall perspective about the performance of your company and how customers feel about your business. Other customer satisfaction surveys are mostly product or service-specific, which doesn't offer an overall viewpoint. But NPS has an upper hand over this aspect as well."
Kennected's Devin Johnson elaborates on the ease of use. "The NPS scoring system is easy to understand, with a simple numerical total between -100 and 100. The scoring system makes it easy to see the big picture results – even for crucial company stakeholders that may not understand the entire depth of the marketing efforts."
In a nutshell, "the simplicity of the NPS is great," Jennifer Dinnen of MacKenzie Corporation writes. "It can be tracked over time and it is easy to explain throughout a company. In theory, you are also able to benchmark against others to see how you are doing."
Disadvantages of NPS surveys
For the shortcomings of NPS surveys, our respondents point out three issues: 
Time-consuming and potentially expensive
Even though these surveys are convenient to use, Better Estimate's Jasper Juhl says, "NPS can be expensive and time-consuming to implement."
Juhl explains, "In order to find out what your company's score is on this type of survey, you will have to collect data from at least 10% of your customers who are willing to participate in the survey."
"For best results, it's also beneficial to have an expert consultant that specializes in measuring net promoter scores who can help design and execute the surveys for you. This can cost $4,000-$20,000 per year depending on how many employees are involved and whether they specialize more on measurement or consulting work."
Lack of accuracy
Another downside is the lack of context behind the survey scores. Put simply, the survey tells you if customers will recommend your business, but it fails at showing the reason behind their choice. 
VinPit's Miranda Yan explains this: "The biggest disadvantage of using NPS is the dearth of accuracy. It will tell you the percentage and in a way estimate your company's performance, but when it comes down to providing reasons for such results, it proves to be less effective than its competitors.
Other customer satisfaction surveys, though, are product-centric. These will let you dig deep into the results and furnish detailed information of the reasons behind them."
Devin Johnson from Kennected feels the same way: "[The survey] isn't great at determining the customer's satisfaction with individual product and service offerings."
The solution then? Johnson suggests one: "In these cases, using custom-designed surveys and open-ended questions has been incredibly helpful for us to see where products are hitting and missing the mark."
Adding follow-up questions to your NPS survey is another solution that is often invaluable. In our other NPS roundup, we cover some of the follow-up questions experts use. 
Believing in NPS alone is risky
Finally, our respondents advise that relying on NPS surveys alone isn't enough. This lack of reliability, therefore, counts as another disadvantage.
"NPS has done a great deal in bringing customer experience and satisfaction to the discussion tables," admits Suneha Dutta from Fundsquire.
"However, marketers and leaders often end up fully equating a 'better' NPS score to a customer's intention. That poses 2 problems:
One, businesses start focusing more on improving that score rather than the product itself.
And two, they lose sight of the customer's true intention vs their potential ultimate action – 'I will recommend' is not the same as 'I have recommended'.
This blind faith in an NPS score is risky."
MacKenzie Corporation's Jennifer Dinnen is of the same view. "If it is used alone, then I think that it misses the bigger picture about finding out what is actually going on with a customer."
"I think that companies get lost in, or obsessed with, chasing a number, and forget that there are people on the other side of the surveys," Dinnen tells us. "The bigger question in my mind is what are you looking to accomplish with your NPS surveys.
"If you want to understand the customer experience, then you need to dig deeper than just an NPS score. We also prefer to not just look at the overall score, but track the Promoters and Detractors separately.
When we lump them all together, we look at the bigger story about what is going on. Need to dig into what's making the promoters stay and then what are your Detractors upset about. This is where the true value comes into play – not just looking at the overall aggregate score."
In short
When it comes to using NPS surveys, they are helpful in many ways. WeInvoice's Eden Cheng summarizes it best.      
"The key advantage of using NPS is that it is the best choice if you are looking to measure the likelihood of new and repeat business, forecast in what direction your business should head to next, predict cash flow, and even assess what your brand's health and overall customer satisfaction levels are."
Put simply, it's a great way to "bridge the gap between your brand and your customers much faster than other types of surveys."
However, it's best to keep the downsides of NPS surveys in mind too. On their own, the numerical ratings don't provide an answer to why customers are satisfied or what satisfies them the best. So it's best to tie this survey type with other customer satisfaction surveys to get a complete picture of what's satisfying your audience.
Get notified every time we post new roundup surveys