Most business owners assume that having loyal customers is as good as it gets. If consumers and business partners are purchasing your company's products or services, what's better than that?
These relationships become even stronger when your company focuses on building brand affinity. To stand out from the competition, it's time to learn more about brand affinity and how to build it with your customers.
What is brand affinity marketing and why is it so important?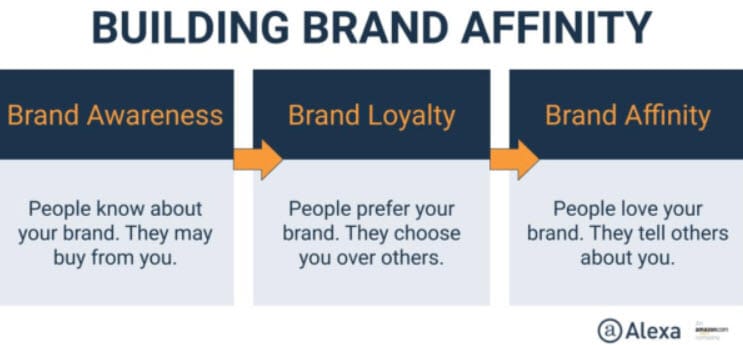 Before building brand affinity, it's helpful to have a deeper understanding of this term. Oxford defines affinity as either a "natural liking" or a "similarity of characteristics suggesting a relationship."
Whichever definition you prefer, it's impossible to deny how important brand affinity marketing is for your business.
Here are three specific reasons why building brand affinity is so important for your business.
1. Customers rationalize purchasing decisions later
By building brand affinity, customers develop a sort of personal relationship with your company. As almost anyone will tell you, relationships can sometimes cloud one's judgment. Let's say that you're about to purchase a new car.
If you don't have a brand affinity for any automobile company, you'll likely spend lots of time rationalizing your purchase beforehand. Someone with a brand affinity for Ford's Mustang will go out of their way to purchase this exact make and model, rationalizing this purchase later, if at all.
2. It's harder for other companies to sway your customers
Almost every company has to deal with the threat of competition. While it's almost impossible to avoid competitors, your business can minimize this threat by building brand affinity.
Imagine that your favorite soft drink is Coca-Cola. Despite there being plenty of less-expensive alternatives, you'll pay more for this beverage every time. This might happen because you associate treasured memories with this beverage or you've always had great customer experiences with this company.
Regardless of your reasoning, you feel a brand affinity towards Coca-Cola's signature soft drink that's unshakeable.
3. You create lots of brand advocates
Another advantage of being a brand that people have an affinity for is that it creates lots of brand advocates. Brand advocates are some of the best forms of advertisements for a business. These people will go above and beyond to let others know about your company, especially by word-of-mouth marketing and on social media platforms.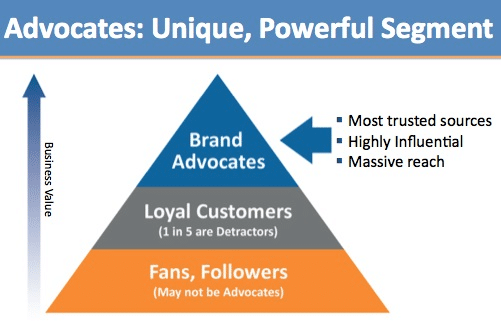 Affinity vs. brand loyalty and brand equity
It's easy to confuse brand affinity with having loyal customers. If a customer is loyal to a brand, they'll regularly purchase its products and services. With that said, not every customer practices the same type of loyalty. You might be surprised to learn that there are actually seven types of loyal customers.
As you know, even the strongest of habits can be broken. Your company's customers might find that their loyalty is tested after a competitor releases a new product, drop their prices, or makes a similar type of change.
You'll also want to understand the differences between brand affinity and brand equity. Brand equity is the value that your company's products or services generate. If a company has lots of brand equity, it often sets higher prices for their products that most consumers are willing to pay.
To sum it up: Most companies need to have brand equity before they're able to achieve brand loyalty or affinity. With brand loyalty, consumers make purchases out of habit. Brand affinity causes consumers to make purchases based on deeper, emotional connections.
6 tips for creating affinity for your brand
(Hint: It's about emotional connections)
After learning how affinity differs from loyalty and equity, you're probably ready to start increasing your brand's affinity. Unfortunately, there's no push-button solution towards creating brand affinity.
However, you can begin to build this feeling within your audience by creating emotional connections. Here are a few great ways to begin achieving this goal.
1. Use affinity tools to your advantage
If you don't know who makes up your company's target audience, it's almost impossible to create an emotional connection because you don't know whose emotions to appeal to.
You might think your company can solve this problem by appealing to everyone. Unfortunately, this is a lot more difficult than it sounds. When companies try to appeal to everyone, they often lose that unique, emotional connection brand affinity is built upon.
With that said, many tools can help your business hone down its target audience.
Many website owners use Google Analytics to learn about a wide range of audience demographics including:
Age
Gender
Location
Browsing behaviors
Another great section your company can use to its advantage is Google Analytics' Affinity category. This section helps inform you about what type of lifestyle choices your website's visitors make.
In the image below, you'll see that these affinity categories are on the left. This example image features categories including news junkies, TV lovers, sports fans, technophiles, and many others.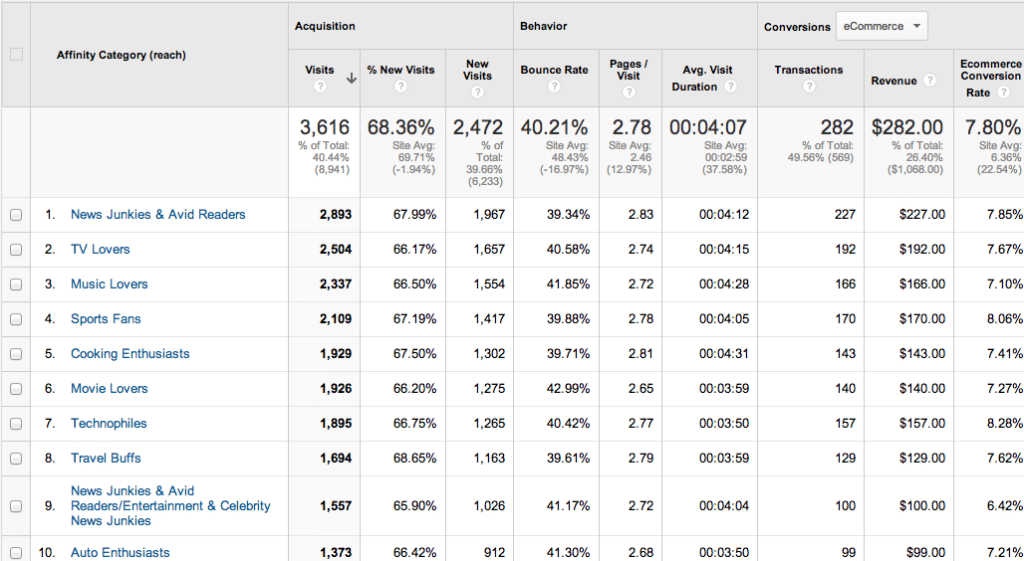 For each affinity category, you'll also be able to see data relating to:
Website visits
New visits
Bounce rates
Pages per visit
Visit duration
If your company's website is set up for ecommerce transactions, Google Analytics will present data that shows you transaction, revenue, and conversation rate information for each affinity category.
You can also use popular SEO services including Ahrefs, Majestic, or Moz to find out what search terms are bringing visitors to your company's website. These services are also great for finding out the terms your competitors are banking with.
You might also consider trying out Neustar, a data management platform, that utilizes cookies to gain a deeper insight into the demographics and interests of individuals that make up your company's target audience.
2. Stay connected with your company's target audience
After learning what companies or consumers make up your target audience, it's imperative to focus on the importance of constant contact. With that in mind, there are several ways to accomplish this task.
Most companies find that email marketing is an excellent way to stay in contact with their target audiences. Whether you're sending promotional emails about upcoming sales or informational messages, your company is keeping an open line of communication open with your customers.
This line of communication helps to keep your business at the forefront of customers' minds while reminding them why they began developing an affinity for your business in the first place.
Implementing an email marketing newsletter also makes it much more difficult for a rival company to begin opening this same line of communication in an attempt to steal your customers away.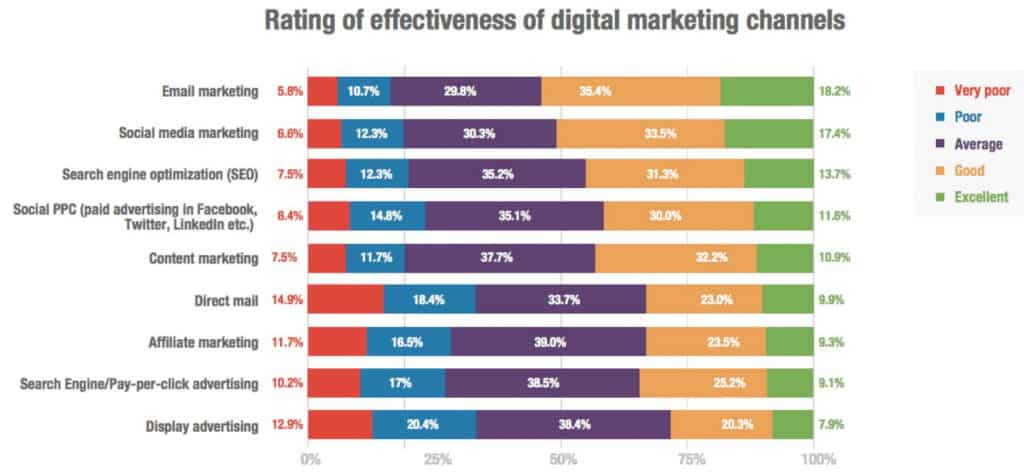 3. Focus on customer satisfaction
Another key aspect of building brand affinity is offering exceptional customer experiences. You never want to be the business owner who assumes that there's no more room for improvement within your company.
There are several ways to learn how customers feel about your business. Many companies regularly send out surveys for their customers. This is one of the most direct and best ways to obtain honest feedback about how your business is doing, especially in regards to customer service.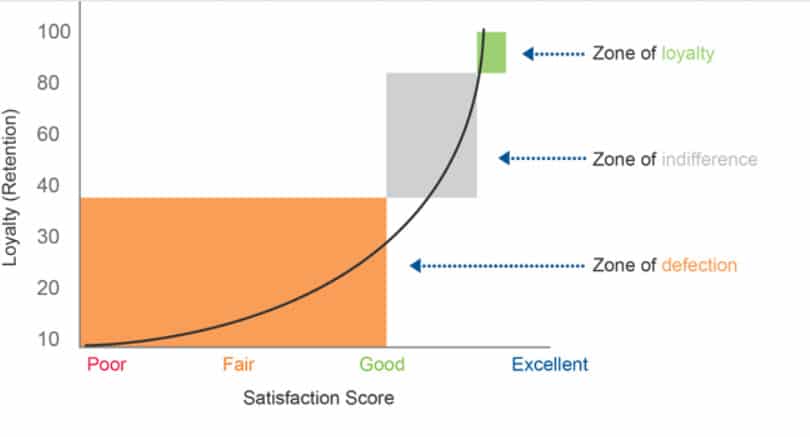 Before doing this, you'll need to make sure you're asking the right questions. With that in mind, we've created a helpful list of NPS brand affinity survey questions that are great for gaining more insight from your customers.
It's understandable if you don't know where to start when it comes to creating personalized surveys. Fortunately, several online survey tools make this process fairly simple including LimeSurvey and SurveyMonkey.
4. Brand affinity and social media go hand in hand
If you're looking for another method to learn about the public's opinion of your company's products or services, it's time to harness all of the data available on social media. To do this, you'll want to consider trying a few popular social media monitoring tools.
These tools comb through the massive amount of information on popular social media websites, obtaining both positive and negative feedback about your company.
You might be unsure of where to start when it comes to finding these tools. Fortunately, we've done the hard work for you by creating a great list of the best brand mention tools for your business.
5. Offer a personalized experience for each of your customers
Besides offering a great customer experience, there are other ways to build brand affinity. Many companies build affinity by focusing on the importance of a personalized customer experience. Doing this makes each of your customers feel that they're valued. Data from QuickSprout shows that 88% of marketers report sizable business improvements after setting up customer personalization strategies.
There are many ways to offer customer personalization. One way to do this is by allowing customers to create profiles on your company's website. With that said, the average user is likely to back out of a personalization system that asks them to fill out endless amounts of fields and forms. Considering that, try to focus on what aspects of a user's profile will help create the most personalized shopping experience and use those as form fields.
Another popular personalization tactic is to offer some type of reward to your customers around their birthdays. While it might sound simple, it's a great way to build brand affinity by combining the power of rewards and personalization techniques. To make this reward experience easy for your customers to redeem, consider offering a one-time discount that customers can use on their birthday month instead of just on their birthday.
6. Loyalty programs are great ways to build affinity for your brand
Unfortunately, one study found that only 14% of customers feel valued by brands they show loyalty to. If you want to show customers how much your company cares, it might be time to implement a loyalty program.
These types of programs use various incentives to reward customers that make repeat purchases with a specific company. Also, these programs are great ways to increase brand affinity.
A great example of this is implementing a points-based reward program. This program allows customers to earn points after making purchases with your company. After earning a set amount of points or spending a certain amount of money, you allow members to receive a reward. In most cases, these types of rewards are in the form of discounts toward future purchases.
To further incentivize customers, you can include tier-based rewards. These tiers are usually based on how much a customer spends with your company within a set amount of time, typically within a year. In most cases, higher tiers unlock better rewards that might come in the form of deeper discounts or access to exclusive sales.
Do you need help implementing a loyalty program for your company? If so, make sure to check our extensive how-to guide for starting a customer loyalty program.
How other companies build affinity for their brands
You might still be asking yourself "what is brand affinity?" As with any marketing concept, it's helpful to have examples of how other companies put these concepts into action. Here are a few real-world brand affinity examples to consider implementing.
Example 1: Apple
If you're looking for a way to create an affinity for your brand, you might think about taking a few pages out of Apple's playbook. This company, with a brand value of over $200 billion, utilizes a multi-step approach to building affinity.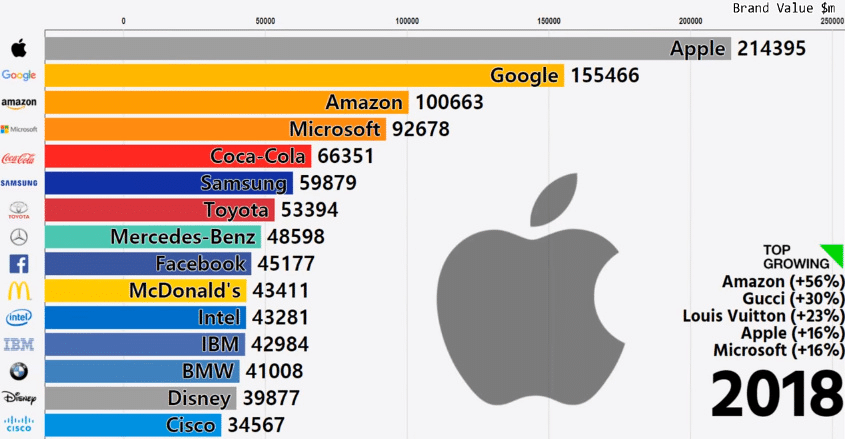 The main way Apple builds brand affinity is by letting its products speak for themselves. You most likely remember when the first iPhone came out and changed the way people thought of mobile phones. This company was also quick to do the same thing for both tablets and smartwatches, creating an air of exclusivity with each new product this company released.
Another way Apple does this is by providing stickers with its products, featuring the iconic Apple logo. These stickers cost next to nothing and, because of Apple's brand affinity, certain fans of this company place these stickers everywhere. This creates even more brand awareness for Apple and strengthens the relationship this brand already has with its customers.
Apple also understands that having happy and engaged employees is a key aspect of having satisfied customers. These customers that visit one of Apple's many brick-and-mortar stores are greeted and helped by happy employees, which helps boost customer satisfaction. This company works to create happy employees through both its sales approach and the lengthy list of employee perks Apple offers its employees.
Example 2: Starbucks
It's almost impossible to travel far without seeing a Starbucks. Like Apple, Starbucks utilizes many strategies to build affinity with its customers. For one, Starbucks was one of the first brands in its industry to offer an app-based rewards program to its customers. Research from The Manifest found that 48% of respondents regularly use Starbucks' app, which made it the most popular overall app in said survey. Starbucks was also one of the first coffee chains to offer online ordering for customers, focusing on making the buying experience as easy as possible.