Trying to decide if you should create a customer incentive program? The real question you should ponder is "what can an incentive program do for you?"
Today, we'll establish what customer incentives are, the benefits of customer incentives, explore popular customer incentives and reward program structures, and analyze some examples of different customer incentive programs.
What are customer incentives?
Customer incentives are rewards that a brand gives customers for completing certain brand-building behaviors. They can take many forms, including reward points, discounts, freebies, advance access to newly released products, or exclusive sales.
But regardless of the form these customer incentives take, they're aimed at encouraging customers to perform and repeat behaviors that help your brand. They aren't just rewards for making purchases (although purchases are the most popular behavior to reward.)
Some behaviors you could reward customers for with incentives include:
Making repeat purchases
Writing reviews of your business
Referring friends to your business
Upgrading their plan
Creating user-generated content
Benefits of customer incentives
Going back to that question, what exactly can a customer incentive program do for your business? We've rounded up several benefits of customer incentive programs below.
Customer incentives help promote customer loyalty.
A customer incentive program will help your customers to feel more appreciated, and connect emotionally with your brand. They will also help make your brand more memorable, helping with brand recall.
In addition, incentives will encourage customers to adopt the same values that are so integral to your brand. This promotes customer retention, as more customers will make repeat purchases.
Incentive programs also have a ripple effect of increasing customer patience in the event of an unfortunate experience with your brand. Even if a customer has a rough experience with you, they'll remember the awesome rewards that they've earned from your brand previously, and will be more likely to forgive you and come back to you.
Incentives help you collect customer data.
Customer incentive programs are a way to collect customer data in exchange for a benefit for the customer. Normally, if customers are asked to share their personal data, they may be unwilling to do so. But, if a customer benefits from sharing their data, like with an incentive program, they might be more willing to give you their personal data to sign up.
The data can then be used for insights into customer purchase behavior and to personalize customer experience, as well as creating highly targeted marketing campaigns. A prime example of a data-sharing incentive is the birthday reward—customers will only receive an extra reward on their birthday if they give you this valuable piece of info.
Incentives for existing customers lead to increased revenues.
Existing customers spend more than new customers. In the US, 40% of revenue comes from returning or repeat purchasers, who represent only 8% of all website visitors. Since you already have the data on your existing customers, you can target them appropriately based on their purchase behavior.
For example, you can target new product releases for week 3 in the month to customers who purchase more towards the end of the month. This will increase the chances of the customers including your new product when planning for their monthly expenditure.
Customer incentives can help you gather user-generated content.
Your potential customers trust what their friends and peers have to say about your product more than they trust messages that come directly from your brand. Most of them seek out customer reviews for an aggregated opinion from people who have tried your product, and will only make a purchase if your star rating is high enough.
And when someone in their network posts about a positive experience with your product on social media (creating user-generated content), someone will be even more inclined to buy from you.
Reviews and recommendations can be unpredictable, and so can user-generated content. But you can stack the deck in your favor by offering incentives to create user-generated content and share positive reviews.
You could run a contest and award an enticing prize for the best UGC. Or, you could simply incentivize content creators by showcasing the post or review on your own social account (with permission, of course).
If an incentive is worthwhile, it can attract new customers.
If a new customer is still on the fence about whether to buy from you or a competitor, enticing customer incentives on your end often make all the difference, because they add value to your own product. (Think of the gift with purchase, or the free first month of a subscription.)
When combined with customer loyalty incentives, rewards can motivate people to both become your customers and stick around.
But by far, the best of this type of incentive is the dual-sided referral incentive. This one rewards an existing customer for referring their friend, then rewards the friend for making their first purchase. And since they trust their friend's word, the referred customer is more likely to stick around.
What rewards should be in my customer incentive program?
There are several factors that must come into play for a customer incentive program to be successful.
For example:
customers seeing that they can save money
customers feeling that a brand truly understands and cares about them
a program that is easy to access and use
While these factors should be considered, it should be noted that the reward itself is still important. After all, the reward is what will help the customers decide to enroll for the incentive or loyalty program in the first place.
Your reward program needs to give real rewards that customers can actually benefit from.
To be motivated to participate, customers need to see the value that being part of your rewards program brings them, and how it saves them money. So pick rewards that they will want to earn!
Also, tying the reward back to your company (such as by offering discounts, credits, and free products)  will give your customers even more incentive to purchase from you.
Different customers will be drawn by different incentives, financial rewards, or a focus on their own personal needs.
Just be sure to know your audience and offer rewards that they see as valuable.
For example, millennials value personalization and supporting causes, so they might be motivated by an opportunity to give back to a charity.
What are the most popular rewards?
Here are some of the most popular rewards in customer incentive programs. You may need to combine them in order to engage with different customer segments.
Cash back
Discounts
Store credits
Free products
Free or discounted upgrades
Gifts-with-purchase, or gifts-with-upgrade
Branded swag
Early or exclusive access to sales
VIP access to unique branded experiences
Gift cards to external businesses that your customer base appreciates
Charitable donations
Bonuses with purchase
Free upgrades
For a detailed breakdown of these iconic rewards, and others, check out our article on loyalty program incentives.
Creating an effective customer incentive program
What other elements make rewards programs successful?
It's not just about the rewards themselves. Let's look at what it takes to make customer incentive programs successful, and tips to make the most of your program.
Emotional connection
Users need to emotionally connect with your reward program. They should feel that the program is not just there to try and get them to spend more. They need to feel that the program benefits them and not just you.
Personalization
To some extent, personalization is a reward in itself. Let's delve more into it. Customers want rewards that resonate with their individual preferences and habits. Think about personalizing the rewards you offer to each customer based on their needs and purchasing preferences.
For example, if you track their purchasing habits, you could send customers personalized coupons for product categories that they purchase from most, like Target does in their Target Circle program.
But Sephora, one of the biggest beauty brands with about 300 brands has taken personalization to a new level. The brand is able to create customized newsletters and delivers web pages based on their rewards program, Beauty Insider.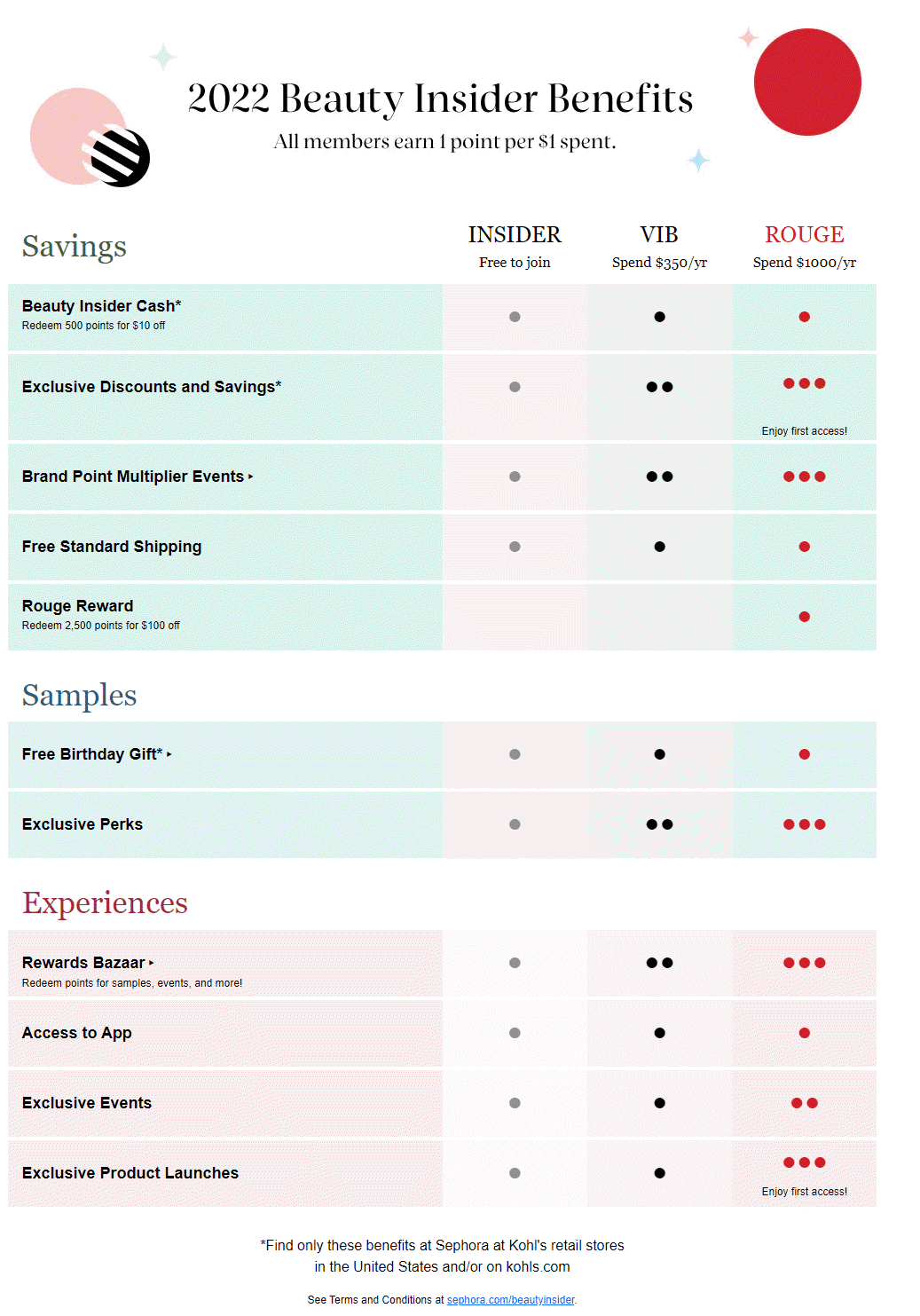 The brand uses insights from individual purchase history on the reward program to deliver external web pages. Moreover, customers create customized profiles based on their skin type and age, preferences and other criteria used in the beauty industry.
Users can customize their beauty profiles the way they like. The profiles make it easier for the brand to give appropriate freebies, beauty products, makeovers, and services.
Mystery, wonder, and a sense of surprise
There are many customer reward programs. Why would customers sign up for your brand's and not another brand's?
The most successful programs have an element of surprise, wonder, and mystery. You want your customers to keep coming back for more. If the program gets monotonous, then customers will drop out.
For example, if all the reward program is about is points accumulation, it may get boring for your customers. You may see customers dropping off and disengaging from the loyalty program.
Mystery, wonder, and a sense of surprise need to be classified as rewards too, just like personalization. An example here is Swarm, an app that keeps a record of visited places. Users earn discounts for check-ins at particular locations. There are weekly contests where users can participate to win shopping trips or vacations.
The best part is that the users may just walk into a participating location, unknowingly and win a dream vacation or a reward that was totally unexpected. When a user shares their location, they get to see nearby friends. This may be a great opportunity to connect with a long lost friend (bonus incentive).
Simplicity
Your program needs to be simple to understand, sign up, and use. Otherwise, the customers will get bored. Simplicity should also boil down to how rewards accumulate. There is no need for customers to keep entering a coupon code in or PIN in order to see what rewards they are qualified for.
Moreover, your program needs to be easy to use mobile devices, user-friendly, and seamless.
Continuous participation
You need to continuously engage your customers in order for them to continuously participate. Reward them even for non-purchase actions like sharing your content on social media. You may also need to add a bit of urgency to your reward program.
You could have a points expiration date, for example. This will push your users a little in order to use the points before they expire. In using the points, they could earn more rewards for being active. Regular reminders to remain active and use their points are also a way to encourage your users to remain active.
Better rewards for more loyal customers
Your rewards should ideally get better as your customers become more loyal or active. This could be defined by the amount of money spent on your brand or number of purchases. Pull out all the stops for the VIPs who make a large number of purchases from you, with high-value incentives (think exclusive products or access to special events and experiences).
As the customer buys more, they should get better rewards as it incentivizes them to return again. However, not every reward should be hard to earn. Consider having some basic elements activate instantly upon joining, to kick-start customers' motivation.
Good customer support
Users will not always fully understand your program, no matter how much you simplify it. Customer support is vital to your business growth and you need to have an efficient system to handle their queries. Another reason why you would need to put heavy focus on customer support is to initiate relationship marketing with your customer.
According to Gallup's customer database, half of all customers (50%) say they are satisfied with a given brand, but only 38% of customers say they are engaged with one. If you want serious ROI, just imagine incentivizing highly engaged customers and see what happens.
Mobile-friendliness
It's a mobile world, so making your rewards program phone-friendly will pay dividends. Mobile rewards apps are more popular in the hospitality industry and are used as a hub for customer reward programs. They offer plenty of conveniences, especially since they let customers track their rewards without having to carry a physical card. And since people are always on their phones, mobile perks help ensure your brand stays top-of-mind, when executed correctly.
An example is the Starbucks app. The app can be used for order placement and payment, and access to streaming music. You don't have to leave the app to pay for your drinks, since the payment system is integrated into the app. You earn stars for money spent via the app (2 stars for every $1). The stars add up to rewards that can be redeemed for food or drinks.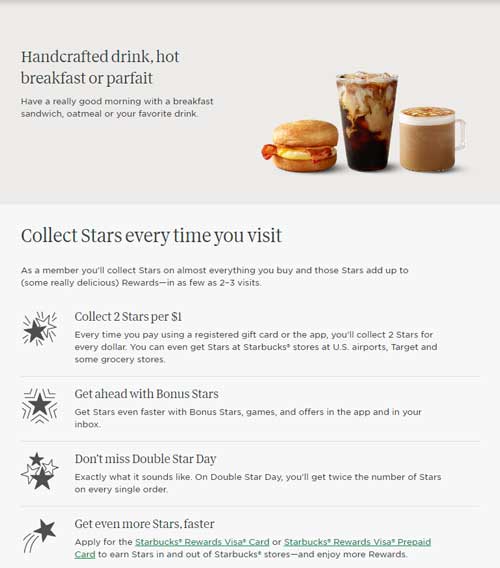 What customer incentive program structures are there?
There are different types of customer incentive programs. We will look at several of the most popular structures so that you can determine which one would work well for your business and customers. You may find that you need to combine several types in order to reach a particular customer segment or to keep your customers engaged.
Points-based reward programs
This is the most popular rewards program type. The customer accumulates points for a particular behavior, like making a purchase, or in store-visits. Sometimes, the points are earned when a particular platform, a website or app is used, or even for non-transactional behavior, signing up an email, spending a night in a hotel (hospitality), following the brand on their social media profiles (liking the pages), and downloading an app.
The points are then translated into rewards. The rewards depend on the business. It could be the brand's products or services, or discounts.
An example here would be Topps Now. Where you earn points that can be traded in for dollars off a purchase. You can earn points for signing up for the reward program, having a birthday, making a referral, following on social sites, and of course making purchases.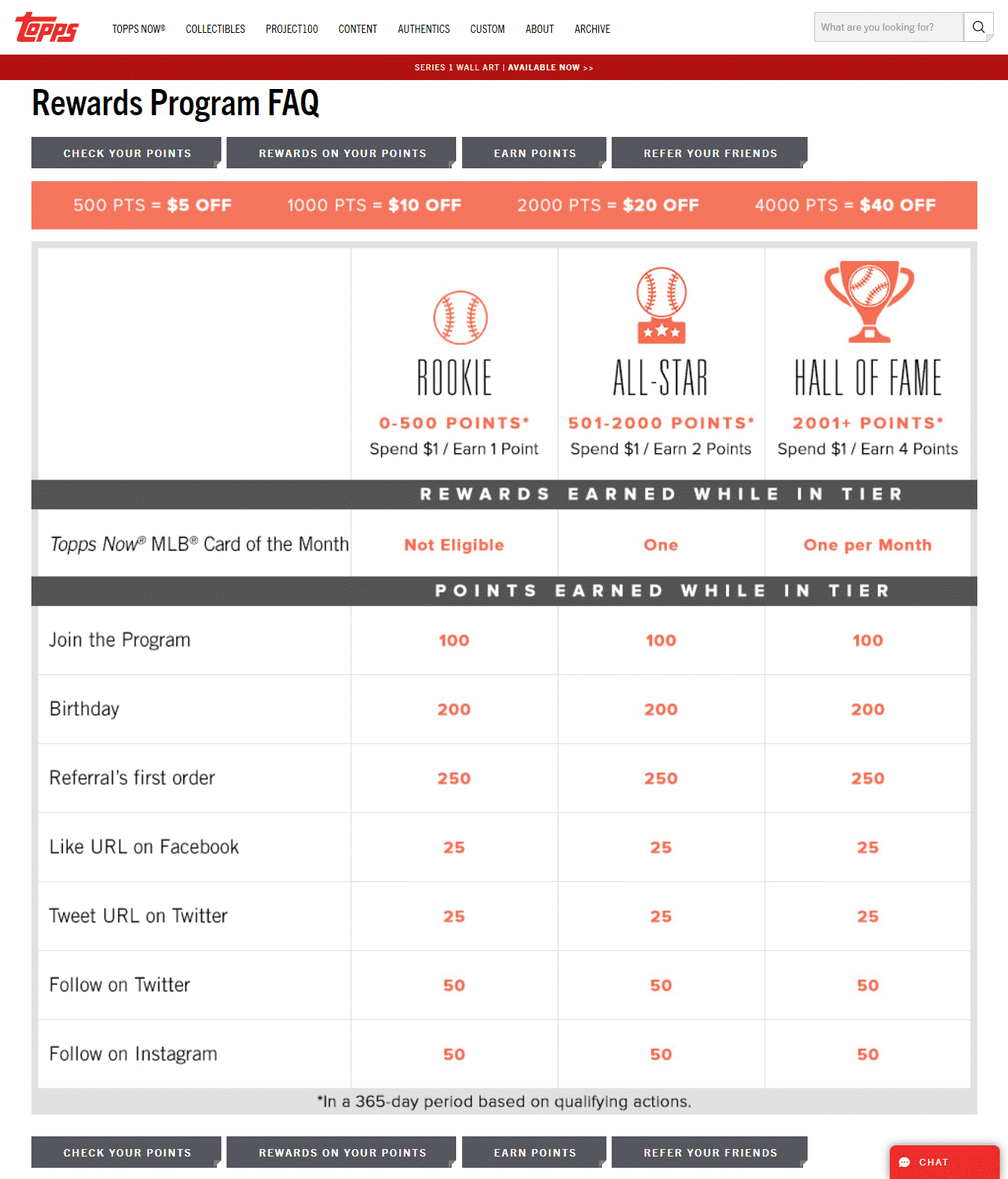 Cash back
Exactly as it sounds, this program rewards customers with a set amount of cash back (i.e. store credits) whenever they spend a certain amount of money in a single transaction. Kohl's Cash is a well-known example: "Earn $10 cash for every $50 you spend."
Tiered programs
This can be seen as an advanced type of the points reward program. This model allows for the customers in higher tiers to receive better rewards and decreases the amount of time customers have to wait in order to start receiving awards. Customers tend to spend more in order to reach the higher tiers and gain better rewards, but once they've advanced to a new tier, they're entitled to the perks that come with it forever.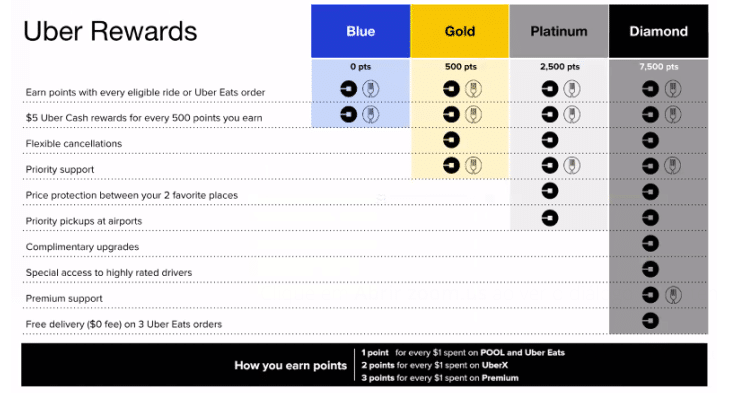 Uber's, Uber Rewards, is another example of the tiered structure. Uber launched the rewards program in November 2018 beginning with 9 cities in the US. Uber users earn points on the various Uber products (Uber Pool, Uber Eats, UberX, and luxury Uber rides). As the points accumulate, they take users from one tier to the other. The most basic tier is Blue. When you get to 500 points, you move to the next tier, Gold. 2500 points get you to Platinum, and 7500 to Diamond.
Each tier has different benefits, from Uber cash, where $5 is added to your cash balance, which means you pay less; priority support, and flexible cancellations, among others.
A similar type of customer incentive program is the threshold program. Threshold rewards let customers advance through levels as well, but these perk levels aren't permanent. They last from a few months to a calendar year, and require a certain number of points within a given timeframe to obtain (or re-earn). Sephora's loyalty program offers an example of this.
Rewards menu (choice-centered program)
In programs with a rewards menu, customers get to choose their reward rather than automatically receive a set customer incentive. Often, this structure is combined with a points system—once customers accumulate a certain number of points, they can select the reward of their choice from the menu.  Gift-with-purchase or gift-with-upgrade models also sometimes offer a choice of gifts from a rewards menu.
Partnership centered reward programs
Brands partner with other brands to offer their customers more value than they would on their own. An example of partnership is the Wyndham Rewards Program, which was crowned the best hotel loyalty program in the USA Today 10 Best Readers' Choice Awards, 2018. The program has over $50 million users.
Members earn points and redeem them for a free night stay across 25,000 Wyndham hotels worldwide, based on their membership levels. The brand also works with other hotel brands.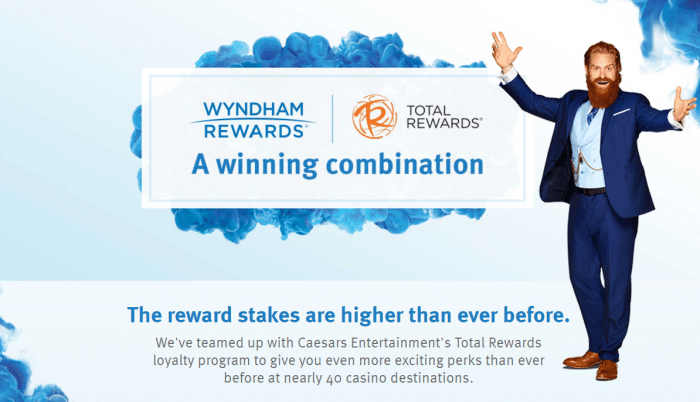 In 2017, Wyndham partnered with Caesar Entertainment's reward program, "Total rewards" where users of any of the reward programs (Wyndham or Caesar) could log in and have their "status" matched. The users could then transfer their credits and enjoy benefits from either brand.
We've collected more partner incentive program ideas here.
Challenge-based (gamified) rewards
Within this rewards structure, participants must complete a set of linked brand-building "challenges" to earn points towards rewards. Often, this program will use other video game-style elements such as leaderboards, progress bars, achievements, and ranks that participants can advance through.
It's effective for building loyalty and increasing engagement – especially when you get creative with how you write your challenges!
Omnichannel-based reward programs
This is an approach that uses several touch points in order to reward customers across multiple channels, spending in-store, on an app, sharing social media content, referrals, and reading emails. The approach uses customer data to help personalize messaging and customer experiences.
Customers stay engaged and informed about the brand's activities, increasing customer retention and expenditure. An example is Tarte's reward program where the users are known as tartelettes.
Fee-based programs (Subscription programs)
Here is where customers pay a fee and they receive several benefits. Customers join a sort of VIP membership club, where they receive benefits that other customers who have not subscribed to the club do not receive.
Amazon Prime is, well, the "prime" example. This program allows for benefits like fast shipping (to street addresses bordering the US). It could be as fast as next day shipping. Members can also order merchandise for delivery to other addresses other than their own for free. Other benefits include unlimited movie and TV show streaming (commercial free), thousands of books that can be borrowed or read for free for those members who own Kindle devices, and even digital photo storage.
Remember, all these benefits are at an annual fee of $79. The benefits are clearly more than the users pay for in their annual subscription offering something of great value to the user.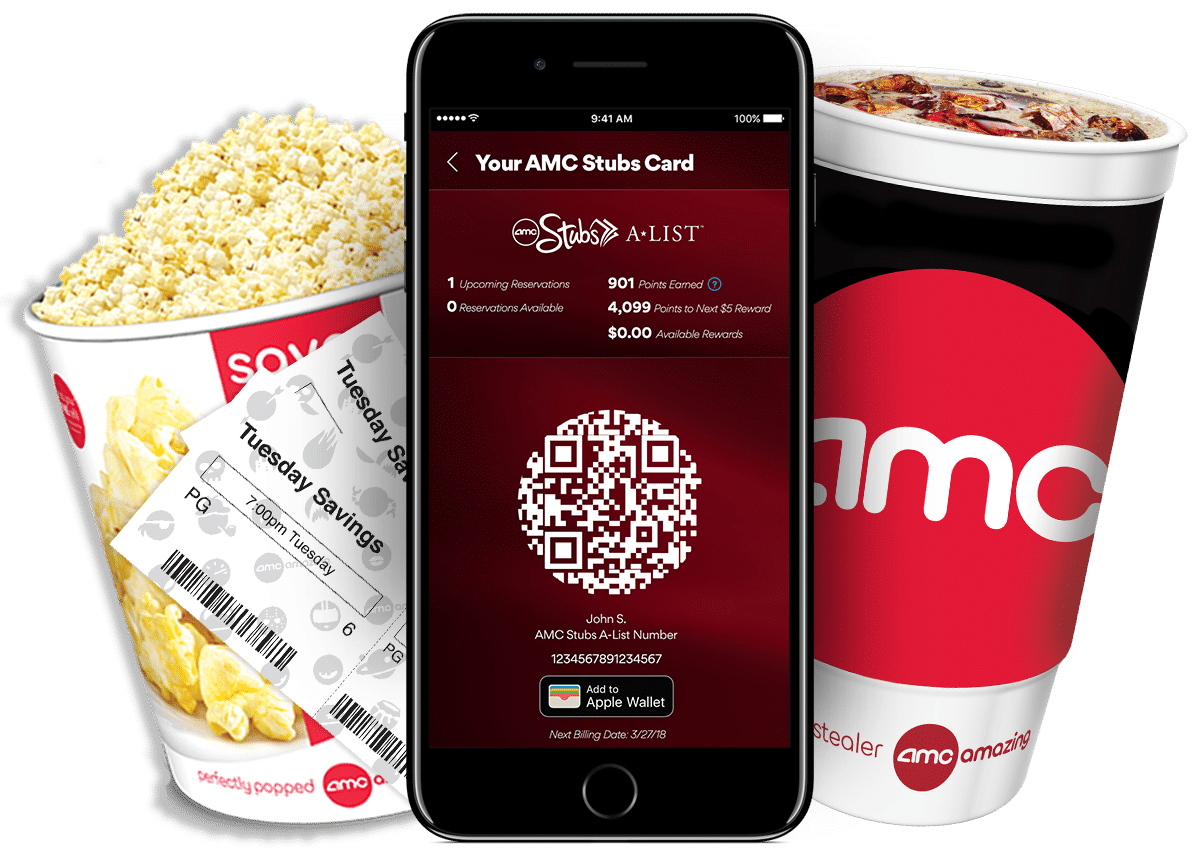 Another example is AMC Stubs "A-List", the AMC Theatres subscription movie plan. This reward program had over 500,000 subscribers less than 5 months after its launch in July 2018.
Some of the benefits for AMC Stubs members include earning points on tickets, making free reservations online that allow you to watch movies in a variety of formats (Dolby Cinema, RealD® and IMAX®). Members who upgrade to AMC Stubs Premiere get additional benefits like $5 back for $50 spent, free popcorn and fountain drink, and even priority lanes at the box office.
Sweepstakes rewards
This type of rewards program grants sweepstakes entries as incentives every time a brand-building action is performed, and promises a significant prize for the winner. Although not every person receives a tangible reward, the bigger incentive on offer for the winner effectively motivates your current and potential customers to participate.
Charitable rewards
Instead of offering direct incentives to participants, this type of program makes charitable donations as rewards. For instance, your brand might donate a set amount to a cause for every $20 purchase someone makes, for every share of a certain post, or for every piece of user-generated content created with your brand's hashtag.
A second type of charitable rewards program lets customers choose to donate to one of a number of charities, so it's essentially a charity rewards menu. This works well for customers who love both choices and giving back.
Loyalty rewards program
We can't write an article on customer incentive programs without covering the ever-popular customer loyalty program. Customer loyalty programs reward existing customers for performing brand-building activities, to encourage them to stick with your business. Structures of loyalty programs vary greatly – brands have used basically every customer incentive program structure covered above.
Referral rewards/advocacy rewards
Referral rewards programs incentivize customers for sharing your brand with others on an individual basis. They usually grant the reward to the advocate when the referred friend makes their first purchase. The best customer referral programs also reward the referred friend as well, upon that first purchase.
Advocacy rewards programs are effective because they help you both motivate existing customers and gain new customers through rewards.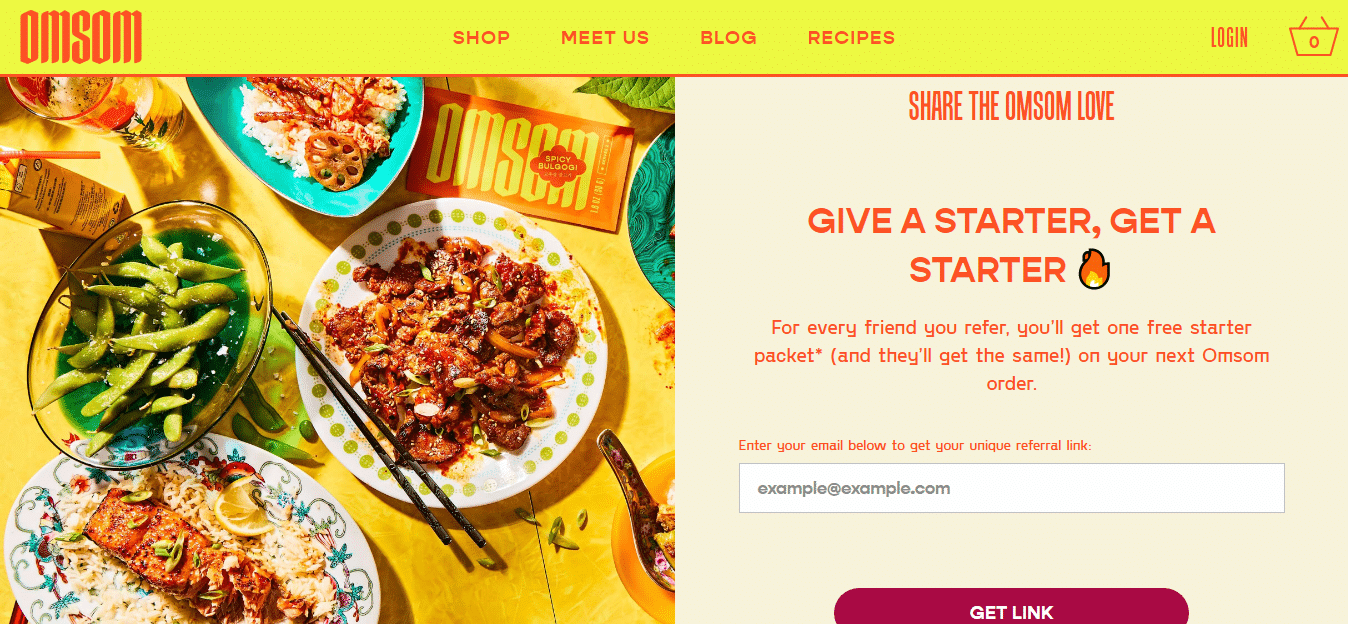 Since a referred customer trusts their peer's recommendation, they're even more likely to make their first purchase from you, and then remain a loyal customer for a longer period of time. (But even though referral programs promote loyalty, referral programs and loyalty programs are vastly different.)
As you may have noticed, even where specific reward program types have been used, there is integration with other types of reward programs. It can difficult to exclusively use only one type. A combination of the different types will achieve more desirable results as we have already seen.
What customer incentive programs provide the greatest ROI?
In this section, we will look at some of the highest performing customer reward programs. You could learn a thing or two that you can implement in your own program.
CVS Extracare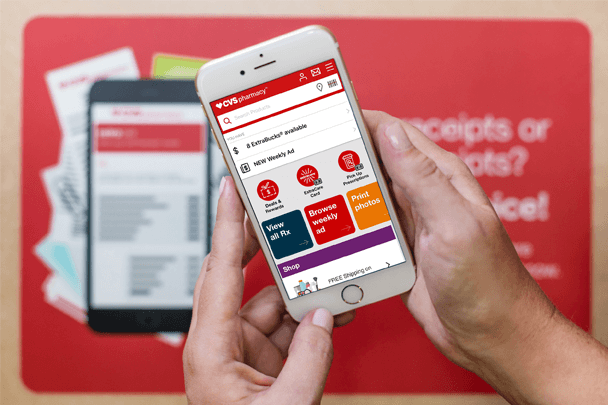 This program boasts of over 80 million active users. The CVS app has been downloaded over 19 million times. One in every 4 US households uses ExtraCare. These statistics are a simple illustration of the kind of ROI a loyalty program can bring.
National Car Rental Emerald Club

The National Car Rental company rewards its users through the Emerald Exchange Club, which is a private, online community. The approach that the Emerald club is feedback from their customers about their Car Rental experiences, usually through photos and videos.
The members in exchange earn rental credits for qualified car rentals, a free rental day when they reach seven credits, and can get to choose any car (midsize and above) and pay the midsize rate, among other benefits. The active Emerald membership has increased by 27% since the launch of the program and the company's revenue increased by 32%.
Patagonia's Common Threads Initiative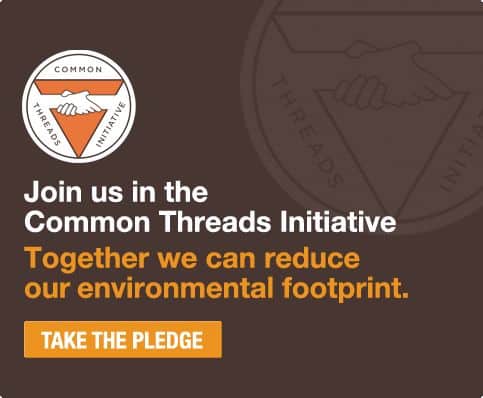 This is one of the most unique loyalty programs. Patagonia's customers get to resell their Patagonia clothing via the brand's site. The customers, through the Common Threads Pledge buy pre-owned gear and re-sell it when they no longer need or want them. This emphasizes the brand's message of durability while benefiting the customers. One could re-sell the brand's clothing and use the money made towards purchasing brand new clothing.
The initiative has over 70,000 subscribers, and over 57,000 items have been sold thus far. The initiative is also environmentally conscious which makes it even more appealing.
In conclusion
We have looked at various aspects of customer incentive programs: what they can do for you, the most popular rewards, the types of incentive programs, what your reward program should offer, and examples of reward programs with high ROI.
It is now time to start thinking about your reward program, and how it can best serve you and your customers. Be sure to weigh the pros and cons of customer incentives with the help of the linked article.