Practically every app, website, and business has some sort of referral program for shoppers at this point. It's almost expected that businesses ask for you to sign up with an email or account during your first visit.
Although the incentives to sign up may vary, from shipping discounts to free products, the concept is the same: Businesses give a special bonus to current shoppers to help retain them, as well as bring in new ones.
Referral programs (not loyalty programs) are a specific type of reward system that incentivizes customers to spread the word about the brand to their friends and family. This can bring you an increase in awareness and revenue while also encouraging further engagement with your shoppers.
However, there are great ways to start your referral program and plenty of not-so-great ways. Let's talk about some of the aspects you should consider when encouraging your customers to start referring.
1. Do other people have a reason to refer your company?
No matter how substantial the incentive is, if people don't like your products or services, they're not going to feel comfortable referring it to people they trust and care about.
Some companies make the mistake of thinking that a large incentive will be enough for people to begin telling everyone they know about the app, brand, or products. Unfortunately, that's not where powerful referrals come from. They come from customers that genuinely want to recommend your business.
Take a look at your online reviews to understand what kind of relationships you have with your current customers before you begin any type of referral program.
On social media, roughly 71% of consumers who have had a positive experience with a brand are likely to recommend it to their friends and family. Make sure they have enough of these positive experiences to share before you launch into an incentivized referral program.
Let's examine some reasons (beyond incentives) why people might want to refer your company:
2. Exactly how easy is your referral program?
Now that you've thought a little bit about why your consumers would even want to refer your business in the first place, it's time to take a deeper look at the referral program you either have or want to implement.
Although a large majority of pleased customers (83%) of consumers are willing to refer a brand after a positive experience (beyond social media), only about 29% will actually do so on their own.
Why? It takes effort, and most people are unlikely to take the time and energy to refer a company unless it has really surpassed their expectations. Therefore, if you really want your referral program to have a positive impact, you need to make it as simple to use as possible. Every consumer should be able to figure out how to join and participate without tons of money or a super complex process.
For instance, take a look at Discover's credit card referral program.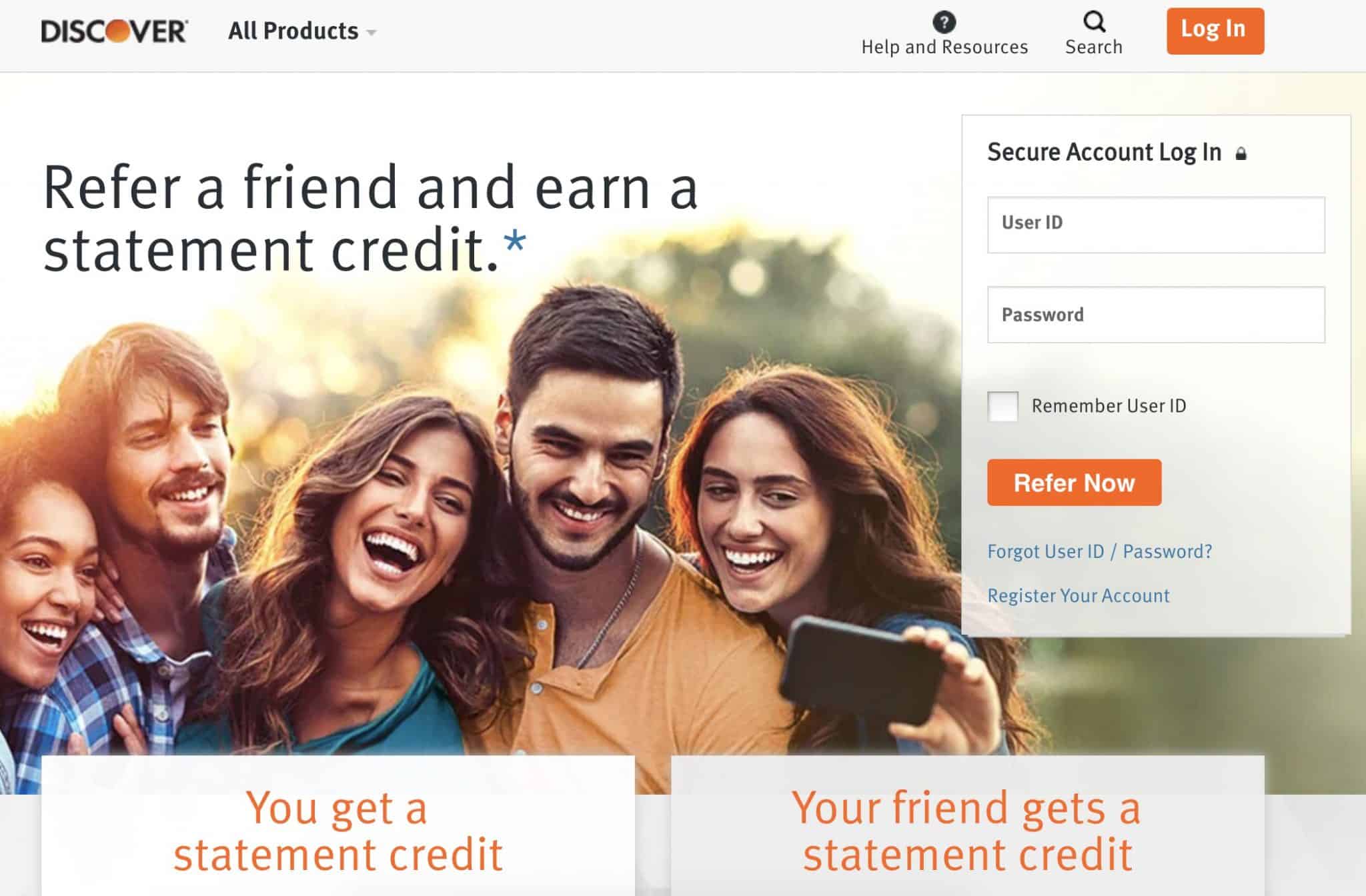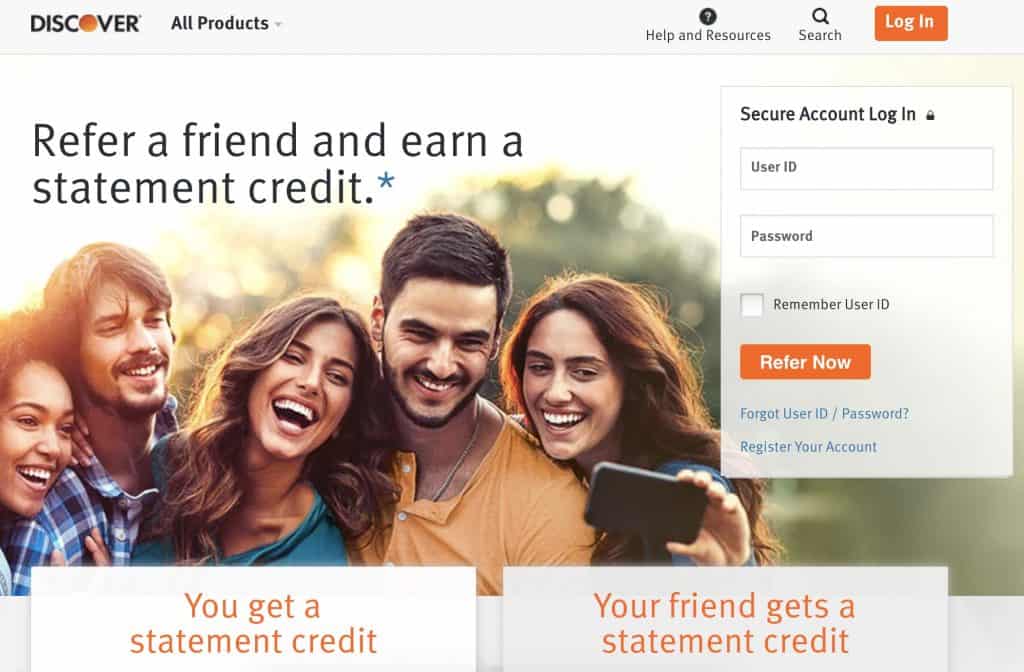 If you send one of your friends or family members a referral with a link to apply for a card, and they get approved, both of you get a statement credit of $50 or more. It takes very little time, and if the person who the customer referred doesn't take advantage of the opportunity, it's no sweat off the current customer's back.
Let's say you do have a more complicated referral program. Then, the reward needs to grow in size in correspondence with the amount of effort your users are putting in. Let's take a look at Tesla's referral system.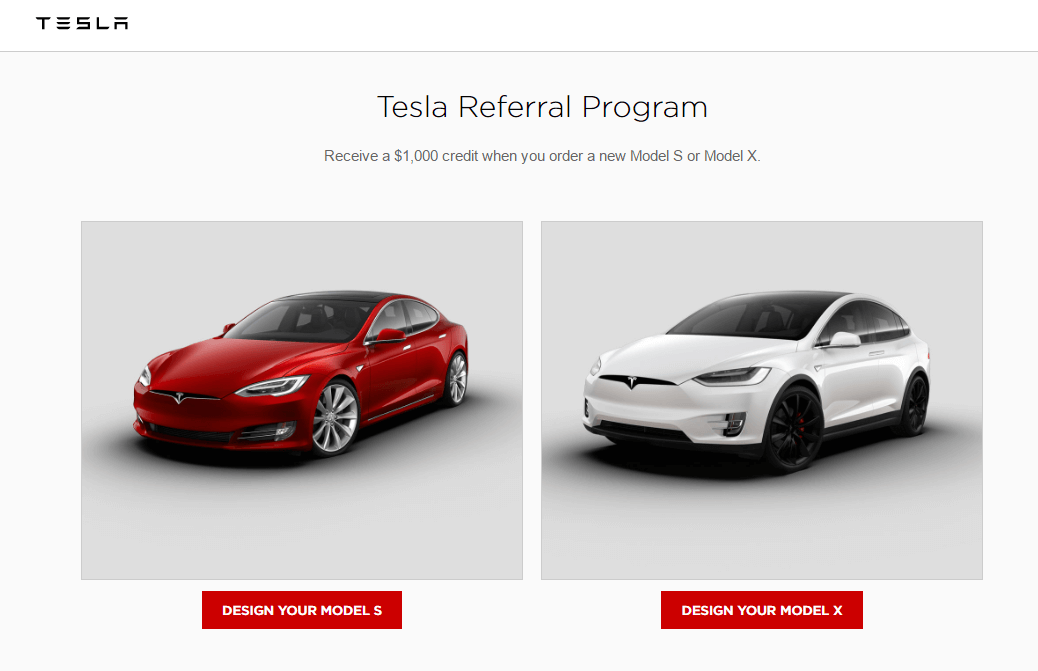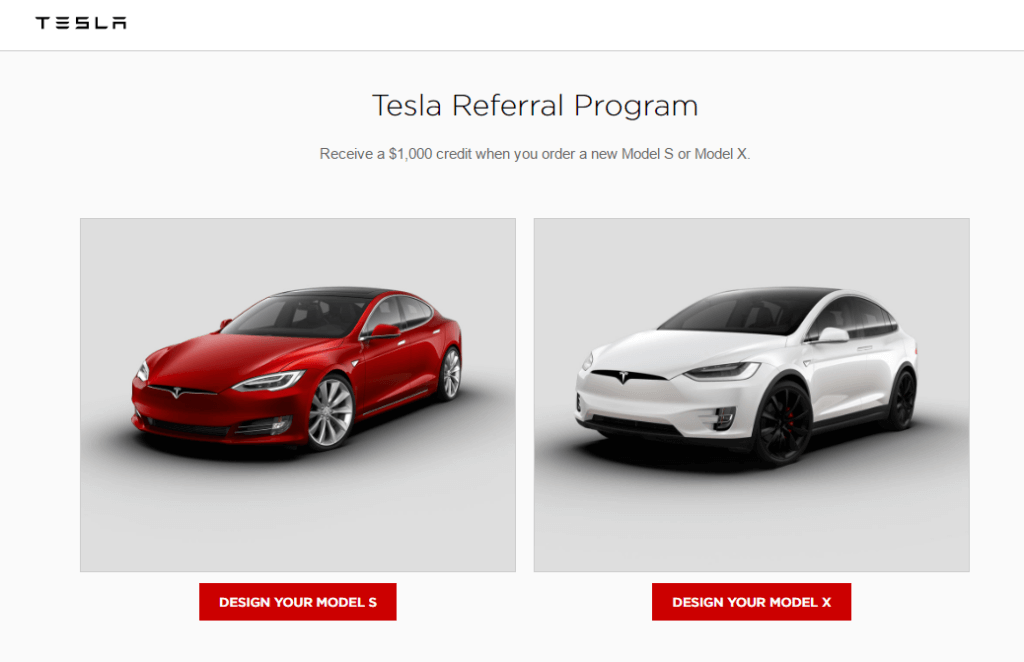 Obviously, a Tesla vehicle is no small purchase or easy recommendation, and certainly not a commitment that any consumer would take lightly. Therefore, their high-stakes referral program has some bigger rewards than other companies.
If anyone uses your referral link to purchase a new Tesla car, the person who referred them gets 1,000 miles of free Supercharging, as does the person who was referred. Additionally, the person who referred gets the chance to win a Founders Series Model Y or a Roadster supercar.
Although Tesla and Discover certainly have very different referral programs in terms of incentives and products, they both have one thing in common: they're easy to understand. Your referral program needs to be equally as simple (if not more so) to entice customers.
3. How does your referral program incorporate social media?
Both of the examples we just discussed don't really revolve around social media. What about the many referral programs you see where people Tweet a link from a brand they like, or encourage you to like a Facebook page so they can benefit?
Social-media-based referral programs play on the fact that 81% of American consumers' purchase decisions are now influenced by their friends' social media posts. To some extent, referral programs and social media marketing go hand in hand.
Not only do these kinds of referral programs get your brand's name more attention, but they can also be a key part of how to build a massive following on Instagram or any other social network. It will draw more people to your brand's profiles, therefore building your follower numbers.
However, if you're going to reward customers for simply Tweeting a link or posting something on their Instagram story, you need to have a method for tracking these referrals. Additionally, you'll need to have a team monitoring increased traffic and determining if social media shares have something to do with it.
Encouraging people to get your name out on social media is great, but if you don't have ways to tailor your marketing process around these referrals and measure their success, your referral program probably won't be as effective as it could be.
In conclusion
Referral programs can have very powerful, beneficial impacts on businesses when conducted properly.
Don't launch them before you've truly given consumers reasons to recommend your brand, and make sure that you're closely analyzing the success of each campaign. Keep them simple, and above all else, make sure that users can understand and appreciate the program.
About the contributor
Jaykishan Panchal is an SEO and Content Marketing Manager at
E2M Solutions Inc.
a San Diego-based digital agency specializing in white label services for website design and development and ecommerce SEO. Apart from helping small and big businesses, he loves to jot down valuable resources for entrepreneurs, startups and technology geeks with his knowledge and expertise of nine years in the industry.