Content truly is king. It's an invaluable tool for increasing brand awareness, establishing your brand's authority in your field, encouraging your audience to trust your brand, and generating leads. When people who stand to benefit from your brand read your content and find it helpful, it's hard for them to forget you.
As B2B content writers ourselves, we're always curious about the strategies B2B marketers are using to create and promote content. What content marketing best practices can B2B marketers not live without? What primary goals do B2B content marketers seek to accomplish? How do they measure and track success?
We ran a survey on B2B content marketing strategies, and we found marketers were very eager to share their insights. Ninety-one marketers contributed within less than two weeks!
Since we received so many insights, we divided the round-up into two parts. Part one (this post) focuses on strategies for content creation, while part two focuses on strategies for content promotion. Be sure to read part two here!
We'll cover the B2B content marketing best practices that marketers contributed later in the article. But first, let's dive into the statistical insights we gathered.
B2B content marketing goals
B2B content marketing can be useful for accomplishing many goals throughout the buyer's journey. But which goals, and which parts of the journey, do marketers prioritize? To find out, we asked marketers to list their top three content marketing goals.
Generating leads was a top priority for the most marketers, with 56% including it in their top three goals. At a close second, 54% named building authority and expertise as a main goal. Building brand awareness and educating one's audience tied for third, at 46%. Boosting search rankings, a major part of increasing brand awareness and generating leads, came fourth at 28%. (The full breakdown of results is below).
Based on these results, more marketers tend to use content marketing strategies towards the top of their funnel. Of course, educating one's audience can happen at any point in the funnel.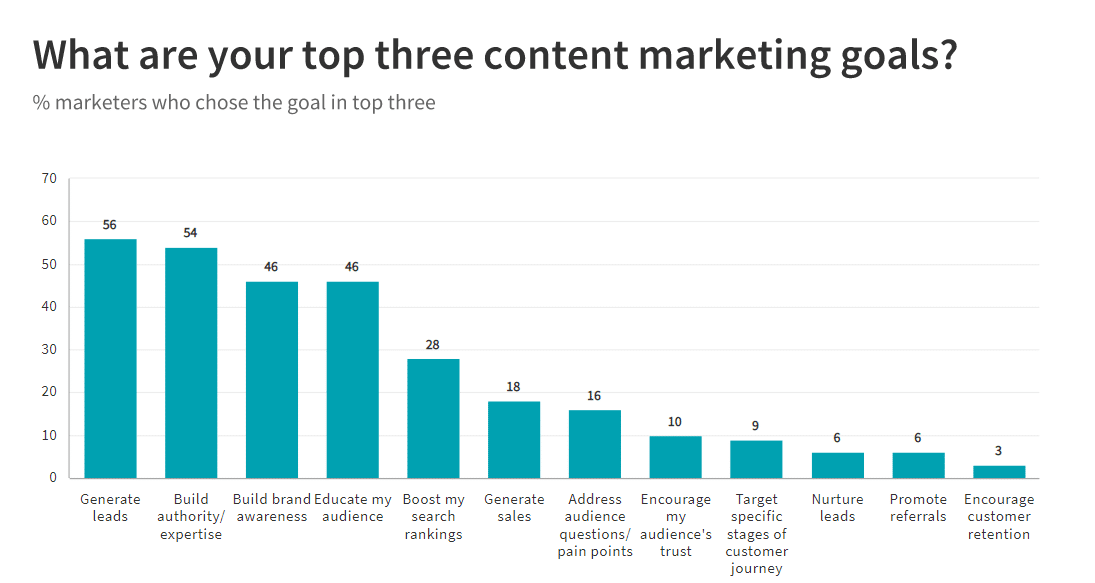 But what content types do B2B businesses find most effective for accomplishing their goals? Unsurprisingly, blog posts on one's own website topped the list – they draw traffic directly to your website, serve as hosts for lead magnets, work to boost SEO, and have the most room  for you to build authority and show expertise (including by interlinking posts).
However, even with 54% of marketers naming them as most effective, blog posts still didn't hold an overwhelming victory. A noted 18% of marketers find social media posts most effective, while 11% favored guest posts on other sites.
Plus, while blog posts may reign supreme, that doesn't mean text-based content can stand alone. As marketers shared in their responses, compelling images and videos are key to enhancing blog posts and making them more engaging. And so is spinning originally text-based content into visual formats.
For instance, Rameez Ghayas Usmani of PureVPN recommends, "Convert your blog posts into interactive visuals – infographics, quizzes, and videos. Written content is useful, but today, visual materials are outperforming written content for B2B marketing, and they will continue to be one of the most frequently used B2B content marketing strategies. Because the human brain processes visuals 60,000 times faster than text, it is far simpler for people to remember visual information than the same information in written form. So, marketing videos and especially infographics are all the rage for increasing traffic to your website and encouraging conversions."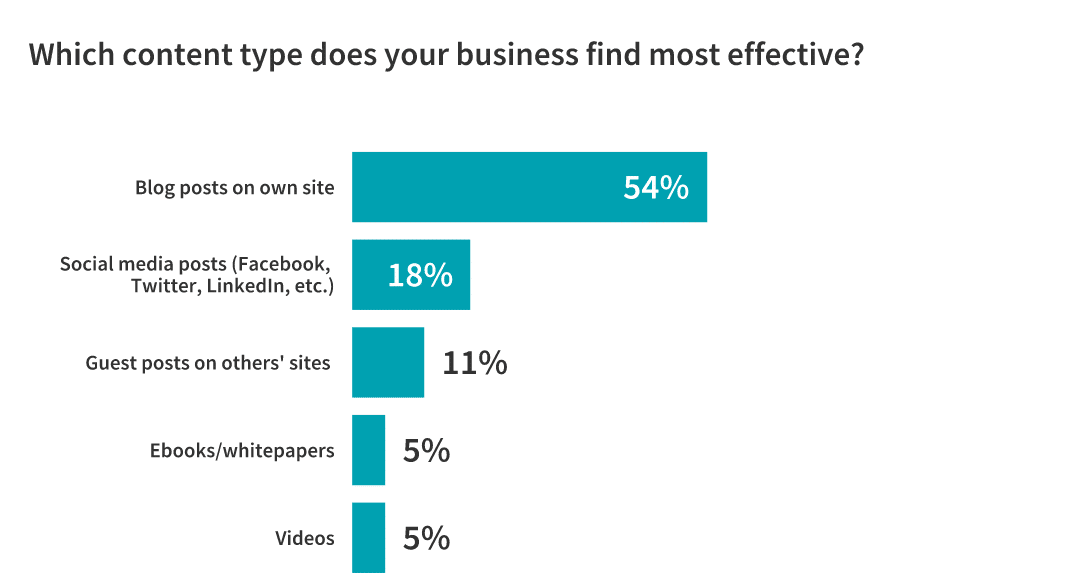 Tracking the success of content
How do marketers know if they've successfully met their content goals? Tracking is key.
A majority (77%) of marketers we surveyed have a system to track and measure the success of their content marketing efforts.
We also invited marketers to share any tracking systems they use. Many of them named a detailed tracking system that involves more than one tool or method. And although Google Analytics was the most common tool used (mentioned by just over half of the marketers who told us they use a tracking system), the methods they use are quite diverse. Over 30 different tools and systems were named!
Tracking systems named by more than one marketer included:
Google Analytics (named by 32 marketers)
Google Search Console (named by 12)
Ahrefs (8)
Conversion tracking (8)
Social media data/Content hosting platform data (7)
SEMRush (5)
UTM tags (5)
Google Data Studio (5)
HubSpot (4)
Moz (3)
Spreadsheets (3)
Some of the more specific tracking efforts marketers mentioned include the following:
"We use custom UTMs for every link back to our website (and our clients' websites) to track performance and user behavior." –Eric Elkins, Widefoc.us Social Media
"I use a combination of rank trackers, Google Analytics, and Google Search Console to measure which content is most popular and to see what keywords bring in traffic. For the rank trackers, I use serpbook.com and ahrefs.com." –Dusan Stanar, VSS Monitoring
"We use a system called the Strategic Storytelling Index to effectively quantify how resonant any piece of content is." –Steve Hirsch, SJR.
"We check our content on a defined timeline and adjust our approach as needed. For example, blog posts we monitor one, three, and six months after publishing to evaluate performance, add in links or promotions, and update the content or title if engagement is lower than expected." –Demi Utley, Utley Strategies
"We use KPIs, which are the specific short term business metrics that I set for myself and my team. These are things that I want to accomplish typically in the next 30, 60, or 90 days. I track KPIs in a Google Sheet shared with my entire executive team and employees and I track my metrics in Google Analytics and Google Data Studio. We set six KPIs per quarter and each business unit focuses on those six. KPIs should be reviewed every Friday at the end of the business week, focusing on what we were able to accomplish, are we on track, and how can we improve for the coming week." –Kevin Miller, The Word Counter
"We use Google Analytics and events/conversion tracking. We also use heat mapping tools when possible, along with analytics tools from the various social sites." –Tory Gray, The Gray Dot Company
"We use SEMrush to track our content marketing efforts. With this software suite, we are able to determine the articles that generate the most organic traffic, ascertain the topics that generate the most mentions and backlinks and know our social media engagement metrics." –Pedro Okoro, Astute Copy Blogging
I calculate how much I spent to produce the content, and then figure out what it cost to distribute the content. Then I work out the dollar amount for what I got in return, and calculate my content marketing ROI." –Alayna Okerlund, Best Company
"We use Moz and Ahrefs to track the results of our blog posts, and internal social media tools to measure social posts' success. We also use Google Analytics. We use those results to measure against the goals of each post, which is compiled in a spreadsheet." –Kimberly Dioszeghy, Reliance Foundry
B2B content marketing best practices: Ranking priorities
With all the different content marketing best practices out there, which ones do marketers prioritize and value most? To find out, we asked marketers to rank their top three best practices.
Based on our results, most marketers prioritize foundational SEO prior to writing. We found that 65% of marketers named keyword research as one of their top three best practices, making it the number one choice. Getting content to rank in search results and matching keywords to what your audience searches for is key to brand awareness and lead generation.
Delivering a great user experience, through images and style, came in second at 49%. So, even though blog posts are the most effective content type, don't forget about visual components!
Promoting on social media came in third, at 42%. Quality content won't get you very far if no one knows about it, and social media goes hand in hand with SEO to get your content in front of new eyes. (For content marketing strategies dedicated to promotion, be sure to read part two of this roundup.)
Closely researching competing content was the strategy that came in fourth, at 41%. This shows that even more marketers prioritize SEO.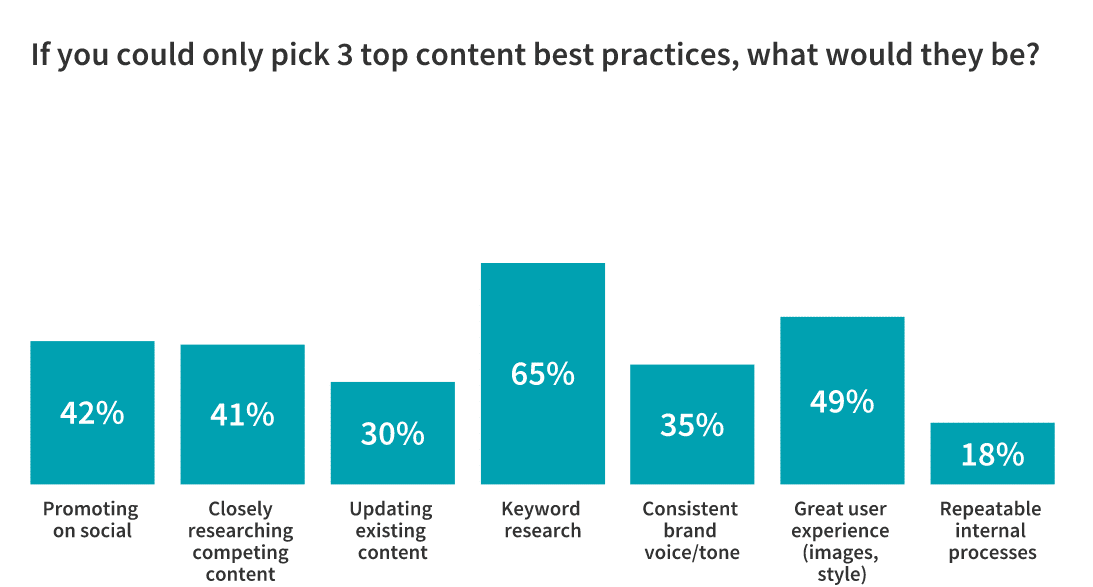 Still, marketers' priorities are quite diverse. Other best practices that marketers listed in their top three (each unique) were:
Generating original content using your product
Targeting content to each persona, at each stage of the buyer's journey
Picking a strategic headline, because the headline matters just as much as the body content.
Using data and SaaS content marketing statistics
Ensuring all content pieces you produce have calls-to-action
Making sure posts contribute something unique
Developing a hub and spoke relationship with content
Creating content that resonates with your target audience
Using video
Making sure content is evergreen
Using influencers and other connections
Promoting via email
Using content to educate
Using unique data to create content
B2B content marketing best practices: Valuable insights
What best practices do B2B content marketers recommend for content creation? Although marketers gave us diverse advice, most of their insights can be divided into the following categories:
Meeting audience needs
Performing keyword research
Creating unique content
Creating evergreen content that can be repurposed
Staying consistent in publishing
Tracking content success
Let's dive into their content marketing insights in these and other categories.
Meet audience needs
To keep your audience engaged, you'll need to make sure all content is relevant – created with their specific needs in mind. Answer their questions, and show how you can solve their problems. This way, you'll build authority and trust, and make sure they stick around to read.
Be sure your content is relevant and interesting to your audience
Chris Fletcher of Crest Capital attests, "The best content is relevant, informative, and answers questions while also educating. Since your company is the author, it's assumed you're speaking from a position of strength. To give an example, we like to discuss the restrictions competing lenders put on equipment loans, and how they can really limit a company's financial flexibility. Like a blanket lien – many banks will put a blanket lien on your business when you borrow to buy equipment. This means if you borrow this year to buy, say, a backhoe, the bank will put a blanket lien on your company. So all of your assets now have a lien on them – you can't sell a truck you've owned outright for ten years without the bank's permission.
"Most companies are not aware of this, so educating people of this is very helpful to them, and great marketing for us (because we don't use blanket liens.) The neat part is, we don't even have to say we don't use them in the piece, because that's too obvious – simply because we're writing it, it's implied."
Hamna Amjad of DSRPT states, "The first step in creating the most effective B2B content is knowing and understanding your audience. Do thorough market research and create buyer personas in order to relate to the people you want to market products and services to. Understand the problems they are facing so that you can provide their solutions via your content.
"Crafting informative and helpful content is only possible when you fully know your customers. In order to fully engage them, make your content multi-layered – including text, images, and videos. Next comes the user's search intent. Figure out the keywords or phrases they are using to search for similar content. Use Ahrefs to find trending topics in your niche and to find out the relevant keywords. Then, include these keywords and key phrases intelligently in your content.
"Because of this, the most effective type of B2B content is a case study. You attract the right people as you would be proving your opinions/claims with facts and figures. You can show the real examples and success stories to your prospects. They would perceive you as authentic and more authoritative."
Paige Arnof-Fenn of Mavens and Moguls shares, "To generate ideas, I look at the calendar to see if there are any natural opportunities based on the season or activities, keep a running list of topics I get asked about by my clients and other business owners and note when I read or hear about something new I want to explore further, a trend, theme or idea that catches my attention.  If it is an issue that affects me or my business, then it is likely to be a topic that impacts others too.
"Once I decide on an idea to write about I may do research on the topic, talk to people for input and just start typing. If I have a unique perspective to share, or any advice I think may help others, I get it out there via social media or whatever distribution vehicle makes the most sense. To make content more attractive and drive conversion it is  important to understand not just what or how to purchase a product, experience or service but you must also be able to inspire audiences by identifying the underlying motivation. The key to becoming influential is when you can answer why they do what they do and connect with people on an emotional level."
Don't focus too heavily on keywords – write to convert your audience first
Dennis Vu of RingBlaze advises, "The best piece of B2B content marketing advice is to neglect the keywords. Too many B2B marketers dive deep into keyword research to find the best keywords to rank for. They go out of their way to optimize their content for these keywords and in the end, they get a piece that ranks for the keyword but doesn't drive any conversions.
"I've found that all it takes is mentioning the keyword in a few relevant places, such as the title and subheadings. The majority of your content should be focused on giving the best possible answer to the search query. In other words, write for visitors first and Google second. You may get to the first page of search results more slowly, but the readers that you get will stick around longer. By using this approach, you're not putting visits and organic traffic first. You're writing content to drive conversions and establish a meaningful relationship with the people who read it. Keyword research and optimization are both important but should not be the primary concern of B2B content marketers."
Keep the content business users consume in mind, use video, and solve their problems
Taylor Wellman of Financial Potion explains, "You want to be active where your target audience and companies are. Businesses are going to be in different places than typical consumers. B2B marketing should focus on Linkedin, YouTube, email newsletters, and Google Ads. Businesses are working. Sure, there may be the occasional Facebook or Instagram check, however that is not where they are going to be spending a majority of their time. They will be searching on Google and YouTube for answers to problems or to learn something new. In the morning, or at lunch, Linkedin articles may be read, and of course, many check emails throughout the day.
"Once again, businesses are working, so content needs to be bite size, get to the point, and keep going. B2B businesses  have about one minute to share who they are, what problems they solve, why they're great, and how people can take action to get the product or service. Since the form of the content needs to be bite sized, the delivery of your message should be easily absorbed. This is why video marketing is crucial for B2B marketing success. According to Forbes, the average user spends 88% more time on a website with a video on it. To maximize this you need to have a video on the top fold of the home page. You want to captivate a busy person long enough to make them a confident buyer. Video can be added to your Linkedin posts and articles, your email newsletters, and your ads.
"In addition to sharing what problems you solve, your content should solve problems. Instead of selling you'll be serving and proving basic tips that your target companies can use. When people think of your company, make sure they feel pleasant because you have already been helping them digitally with your marketing. This type of content will keep you top of mind when someone needs your product or service, and will assist in you maintaining loyal customers and clients."
Solve your audience's pain points and answer their questions
Eric Elkins of WideFoc.us Social Media says, "Who are you trying to reach and what do you want them to do? Answer this question first, then list what their needs are right now, and how you can help them. Write content that's focused on solving problems, building trust, and increasing goodwill."
Kimberly Dioszeghy of Reliance Foundry tells us, "The best content creation practice we have is working closely with our sales department to discover our customers' pain points. We take those pain points, then research keywords and competitor content, before creating our own content to address the issues our users might have. We try to write the best, most complete article on the internet: we'd rather release fewer posts, but have them be the most helpful, comprehensive resources out there."
Quincy Smith of ESL Authority shares, "Go niche before you go broad. There are likely 100s of topics you can cover with your content efforts. But, my advice is to focus on 1 pain point and create content that hits every step of the funnel in order to fully educate and nurture your readers.  If you do this well and your product actually solves this pain point then you will not only generate sales but create a repeatable process you can apply to other pain points."
Chelsea Sassara of VMG Studios recommends, "The easiest way to get started is by writing down the most frequently asked questions clients or potential clients ask. Then, answer those questions in an article/blog and/or video. Also, think about how you research things when you're looking to buy a product or service. What would you search on Google? What kind of content would you consume? Get into the mind of a potential buyer and then write your articles or video scripts accordingly."
Natalia Kamecka of Applover advises, "Answer the questions of your existing and potential clients. The more they know, the more eagerly they are to use your services. Create the blog posts, ebook, or report if you have resources and send it to them. Remember to optimize your content in regards to SEO. Use questions so it can rank for voice search queries. If you are helping your audience, they will appreciate it, can recommend your business to others. That is why it's so crucial to cautiously choose the topics and research them thoroughly."
Target different content to each funnel stage
Although most content's focused towards the top of the buyer's funnel (promoting brand awareness and lead generation), don't limit your writing to top-of-funnel content. As seen above, content can be useful for every funnel stage.
Target each stage of the funnel
David Waiter of Direction shares, "Create content that aligns with each stage of the buying funnel (TOFU, MOFU, BOFU), and have a clear plan for guiding users through each stage. Finally, measure, measure, measure. Don't be afraid to adjust course or make changes to how you position your product or service. Even small revisions can lead to huge improvements."
Jakub Kliszczak of Channels advises, "Diversify your content and have something relevant for every stage of the funnel. Recently, we've decided to create more BOFU content that would directly convert to trials and, in the result, paid users. Yet, it's an easy way to forget about the rest of the funnel and to forget about creating content that educates and informs a broader audience. The thing is only a certain group of people is ready to buy your offer. The rest needs to be nurtured, to get to know your brand first. That's why one of the best practices in content marketing for B2B is to create content for every stage of the funnel and diversify in the 70/30 ratio (70% TOFU, 30% MOFU/BOFU)."
Djordje Milicevic of StableWP recommends, "When it comes to creating content for B2B audiences, it's essential to match your content with the customer's journey. A typical journey consists of 3 core stages: problem aware, solution aware and product aware, and you'll need to create dedicated pieces of content that address specific needs, pain points, questions and concerns at each step. Guide your prospects with useful content that initially addresses the problem, then introduces a solution demonstrating your expertise, and finally connect that solution with your products or services."
Carefully segment content for different parts of your audience
Polly Kay of English Blinds advises, "Create content designed with your audience in mind. Drill right down into your demographic information and find out as much as possible about who buys from you (or might be persuaded to) and why. Where possible, then section prospects into narrow and highly personalised niches, and create detailed content for those niches, rather than taking a broader approach."
Use keyword research to lay the foundations
Keyword research is the first step in figuring out what content your audience will read and what you will be able to rank for. Check out these keyword research tips for B2Bs:
Optimize blog posts to rank, starting with keyword research
Janice Wald of Mostly Blogging says, "Do your research! This involves several components. First, do your keyword research to make sure there is interest in your topic. Using a reliable keyword tool will also ensure the online level of difficulty is not insurmountable. In other words, you still want to be able to rank in the Search Engine Results Pages for your keyword. You need to analyze the competition against you. Ask these questions: What is the Domain Authority Ranking of the posts in Page 1, positions 1–5 in Google's SERPs? Next, how many tips do the people on Page 1 of Google's SERPs have in their post? Ideally, you should beat the number of tips by 10.
"Many people use Moz's tool. I recommend the MozBar, a free Chrome extension. Using the MozBar enables you to see the meta description of your competitors for your keyword. Doing so will enable you to see their keywords which they put in their meta description and SEO title tag."
David Zimmerman of Reliable Acorn shares, "I start with keyword research. You need to know what your customers are looking for- or, more importantly, what questions they're asking. This gives me many topics about which we can write. At that point it's all about getting the content produced. That might be using an internal expert, outside expert, of a combination of both. Sometimes it takes a good writer (and a helpful interview) to get the content out of the mind of a subject matter expert and onto the page."
Jayson DeMers of Email Analytics says, "Create amazing blog content. To do that, you need to start with keyword research to identify which keyword your post will target. Then, craft a headline that will encourage shares and clicks. Listicles and how-to's are popular headline types that attract views, clicks, links, and shares. Blogging is the foundation of any content marketing campaign for B2Bs because it builds equity in your brand's visibility within organic search results. And those blog posts can be repurposed into videos, podcasts, infographics, and other media down the road."
Mackenzie Deater of Evenbound writes, "For B2Bs, consistent, well-researched blogging that's optimized for search is always the first best practice we recommend. First and foremost, you own any content you write and publish to your blog. That's not true of nearly any other content creation method – social media, email marketing, and more can easily disappear if the platform does. You own your blog, which means you decide what happens to it, how often you share it, and more. Beyond that, consistent blogging is one of the easiest ways to boost your company's digital authority. The more well-researched blogs you write that are targeted to specific, relevant keywords, the better you are likely to rank on search engines, which in turn means more traffic and more leads headed to your website."
Lovedeep Puri of Reliance Home Comfort shares, "Keyword research and competitor analyses can be the difference between creating a great piece of content that gets a lot of attention and traction versus one that falls flat. Before we create a new piece of content, we'll often sift through existing pieces developed by others in our industry and identify what has secured a lot of inbound links and social shares as a starting point. That confirms that consumers in our sector are searching for insight and education on that topic. From there, we'll audit the piece for currency, areas of improvement, and manners in which we can incorporate FAQs we receive from customers to enhance it for our localities and markets. Once we have all this on paper in a sort of working diagram for flow, we'll start creating the new and original piece for our use. You can easily shortlist a few great content ideas based on this research and fill up your content calendar with content that has a real chance of getting attention."
Familiarize yourself with SEO best practices and strategies for your industry
Brent Thurman of Keystone Insurance Services attests, "I recommend that you familiarize yourself with SEO and at least understand the core tenets of that industry's best practices, as much of the business world has an online component of the sales cycle these days. As an example, our vertical is incredibly competitive, whether you're trying to secure B2C or B2B customers, so to be successful in insurance you have to be monitoring your peers and competitors regularly and gleaning insight from their SEO efforts.
"There are some things we just can't match as a local insurance provider who also competes against national brands with national budgets. As an example, they'll always have more PPC budgets to spend, have full-time marketing departments performing outreach and managing their online presence, etc.
"However, one area we can maintain a competitive advantage is how we speak to and inform our clients and prospective clients via our site's content. We spend a fair amount of time performing keyword research and analyzing the search volumes in our market so that when we add content to our site it's providing the most impact possible. By understanding how search engines like Google rank pages and deliver content to searchers, a local business can actually have a fighting chance, and in some cases, surpass the efforts of larger brands in your local region."
Don't compete against yourself
Corey Trojanowski of Valve+Meter recommends, "One of the biggest gains any B2B company can make from a content marketing perspective is removing redundant content from their website and blog. Whenever we onboard any new clients, we first perform a blog audit. We take a look at organic traffic performance, but we also map how often keywords are used in multiple posts or pages.
"When you are trying to use the same keyword phrases across multiple pages it is difficult for any of them to rank. You're cannibalizing your own content! Worst of all, Google can sniff that out and keep you from showing up at the top of search results. Map out all of your content and determine what keyword phrase you're trying to win for each post and page. If you find yourself trying to rank for the same keyword phrases in multiple pages you need to consolidate those pages."
Watch for industry trends on social media
Khris Steven of Khrisdigital attests, "One of the greatest challenges facing content marketing in any vertical, including B2B, is coming up with new content ideas consistently. Drought of content ideas is inevitable, especially if you've been in the game for a while.
"However, one of the best processes and practices to identify new content ideas and come up with targeted content in your niche, is to discover content types and formats people are sharing and talking about on social media. There are lots of content marketing tools for B2B you can use in finding these. Buzzsumo is one nice solution for this.
"Not only will you be able to discover unlimited content, but it will help you with finding core influencers and digging into your competitors' content marketing strategy to do better.
Mixing this practice with a thorough keyword research process to also discover long-tail keywords that focuses on search intent to map out an effective content strategy would catapult your entire marketing campaign."
Find niche, connected topics others have overlooked
Mayank Batavia of QuickEmailVerification explains, "As a practice, most businesses choose to be driven by search traffic when identifying the topic they wish to create content for. While that's a proven, sound technique, it's important to remember to always be observant enough to spot topics that have low search traffic but can be meaningfully tied up to popular search terms.
"Our content creation, therefore, tries to also spot smaller, niche areas where we believe we can add significant value. When we identify such topics, we identify what content assets (video, images, infographics etc) can be built around the topic so that the final outcome can add huge value to readers."
Fill in content gaps with your expertise
Emily Gertenbach of EG Creative Content says, "I 100% recommend looking for content gaps. By this, I mean keep a close eye on competitors' content – not just to see what kinds of topics they are covering, but more importantly, which ones they aren't. If you keep up on your longtail keyword research, you'll begin to see that potential customers are searching for answers that competitors aren't answering well (or at all)."
Write content that stands the test of time
Content on trending topics may be great for a short while. But evergreen content, which always stays in season, is a better use of your time and resources. Even better? Evergreen content that can be mixed and repurposed across different mediums, like images and videos.
Create evergreen and refreshed content
"SEO is such an evergreen strategy that it pays to get it right. If this level of keyword research is beyond your skillset you can always look to hire an SEO professional to compliment your strategy", says SEO consultant James Ewen.
Manny Hernandez of Wealth Growth Wisdom advises, "Evergreen content never goes out of date, which is why it's so valuable. Once you invest in its creation, you can conceivably use it almost until the end of time. No doubt, there are certain longstanding truths about your industry, products, or audience pain points. So, as you plan your upcoming content initiatives, be sure to give some thought to trese truths and brainstorm evergreen topics around them. For example, a company that sells business mentoring software might want to consider creating a pillar piece about the 10 biggest benefits that mentoring provides. Unlike content that hinges on timely trends or events, an evergreen topic will be a win for marketing ROI and provide lasting value to your readers over time."
Maksym Babych of SpdLoad recommends, "Launch evergreen content. Unlike content that hinges on timely trends or events, an evergreen topic will be a win for marketing ROI and provide lasting value to your readers over time. Base the topic of each article on user requests and your researched Ideal Customer Portrait. This sounds obvious, but believe me, when you begin to analyze the current content of competitors, you will find a lot of points that you can explain better. This is the secret to creating content that generates visitors and leads.
"Also, update your older content. Your old content is still new to unheated leads. Plus Google loves old but updated content. Thus, you will create relevant content at a significantly lower cost."
Saul Gowens of Websand shares, "Promote your content as part of a lead nurture strategy. It helps promote your story and build trust.  It sounds like a simple approach, but content tends to be used for lead generation first and then forgotten about.  It's good to recycle content as part of a lead nurture programme and even a customer retention process. Just because content isn't new, it doesn't mean it's not what your prospects need to understand to help them make a decision."
Don't forget about foundational content
Shawn Smajstrla of MultiView explains, "This year we took a step back and analyzed the topics and subjects of our content. We realized we were most often pushing on trends and the leading edge. We thought there might be an opportunity to reconnect with prospects at a foundational level. So we started writing content for the beginners, the uninitiated, the inexperienced. We brought it back to a 101 level to educate those who had basic questions. And it worked. The content killed it. It was some of the best performing content we'd ever had. So, my recommendation is to make sure you're creating for all prospects, and to bear in mind that many people may not know all you assume or expect them to. Educate from the basics."
Repurpose content across mediums
Alycia Yerves of Alycia Yerves Creative recommends, "Repurpose existing content creatively across multiple platforms. Which social media posts can become infographics? What blog posts can be expanded upon to become a podcast episode or video? Which tweets can be combined into an e-book or tipsheet you can use as a lead magnet? Take some time to dig through your past content on your website, publications, and social media channels to organize your content by topic. This will help you determine what to repurpose and how."
Kasia Majewska of NapoleonCat shares, "It's good to find two or three core content forms that work best for you and repurpose them on a large scale: target different platforms and different audiences. It's an efficient way that will save you both workload and resources. For example, you can focus on writing blog posts and creating video tutorials and then adjust it to different media. Videos will work well not only on landing pages but also in ads or as a post on LinkedIn, YouTube, etc. Blog posts will be appropriate for all social media provided that you add copy that suits the platform (it should vary for Facebook, Twitter, and LinkedIn). You can also create infographics based on the articles and post them on platforms focused on the visual aspects (for example Pinterest and Instagram)."
Ruthie Bowles of Defy the Status Quo says, "I usually recommend content repurposing to prove your content concept. For example, if I create a LinkedIn post that gets a great response, then I'll usually turn that into a blog post. It costs less resources to create a social media post, but a great response can indicate that it's worth the investment. That blog post could also be expanded into a lead magnet, video, or infographic. This approach ensures that you don't sink resources into a big content piece with a so-so strategy and topic behind it."
Connect your content pieces together
Creating clusters of closely related content can help you build a linking structure that boosts SEO and keeps readers on your site longer.
Construct a hub-spoke format
Kris Hughes of Gembah recommends, "Consider a hub-spoke strategy for your content. Do some research and have internal conversations around the 4-5 topics that are core to the company. Write in-depth guides around these subjects that will act as hubs for all other content. Once the hubs are published, you can then write spoke topics within each hub that point back to the hub, and vice versa. This strategy is a powerful way to build upon a strong SEO foundation or develop one from scratch."
Create multimedia content clusters
Nilanjana Dey of Niswey advises, "Create a highly interconnected web of content pieces in different formats – blogs, case studies, videos, ebook and infographics. Create specific content clusters that focus on specific offerings or business goals. Each cluster of content should:
cover a complete buyer's journey for a specific topic
have a good mix of different content formats
be hyperlinked within – every piece of content has links to other pieces in the cluster, to improve SEO value
Ensure that all content topics in a particular cluster are backed by solid keyword research."
Focus on storytelling
Don't let your content become too salesy. Instead, when you use content to directly talk about your brand's merits, keep your human story front and center.
Develop and don't lose sight of your story
Jeneva Aaron of The House Wire says, "For some reason, when it's in the B2B space, marketers focus too much on the sale and lose the key driver of storytelling. So, I recommend developing your brand's story and using it in the early stages to establish who you are and why you are in business. Story resonates in all areas of marketing and should serve as a key component of your campaigns."
Karen Morad of Demand Spring recommends, "Use your story as the foundation. This is a must in order to reduce random acts of marketing and create the most efficient process as marketers. For smaller companies, with fewer resources and smaller budgets, this is essential. You do not have time to get marketing wrong.
"If you are using your story as the foundation to validate your marketing choices, you have a baseline to measure what's working and what's not working with your audience. In working through this foundation with a client, we are able to provide them a map that outlines their priority audiences, the key messages for that audience by funnel stage, and the calls to actions that align with those messages. From this, they are able to map their current assets to the key messages, identify gaps and prioritize their budget and efforts based on the priorities we identified. This is the opposite of random acts of marketing."
Use content to sell your story, not your product
Avinash Chandra of BrandLoom tells us, "There is a reason content is considered 'king' when it comes to marketing. You can't achieve what words can make you do. B2C and B2B content marketing have one thing in common – the basics of creating engaging content remains the same. However, failing to understand their differences is the cause of many B2B content marketing fails.
"For me, selling a story prior to selling the product is the best way to leverage B2B content marketing. Writing thinly-veiled promotional content pieces don't work anymore. If you want your audience to extract value from your content, it has to be engaging. I believe every brand has a story. You just need to have enough structural integrity and be consistent in creating content. Make your content engaging by creating multi-layer content. Tell your story by incorporating both text-based and visual content, like infographics, images and videos."
Keep the human touch
Aleya Harris of Flourish Marketing shares, "Make sure that you write content from a human perspective.  Writing as a brand with a removed voice is not engaging and will make it more difficult for you to see traction across your platforms.  Consuming content is a personal experience.  While audiences turn to social media, blogs, podcasts, etc. for solutions to their problems, if the style is not engaging and the advice is not specific, they will keep scrolling."
Produce unique and research-driven content
What insights does your brand have (or can have) that your audience won't find anywhere else? Creating unique and research-driven content is the perfect way to prove your authority.
Prioritize quality and uniqueness over quantity
Matt Bentley of CanIRank explains, "In competitive B2B industries like SaaS or finance, 'good' or 'interesting' content is no longer enough to drive new traffic and leads. Instead, we ensure that every piece of content is FBD: First, Better, or Different.
"First: You're the first person to write on a topic, with information that can be found nowhere else on the web
Better: Your content is significantly better. For example, there are tons of articles out there about the benefits of longer content for SEO, but no one had done an in-depth study showing how content length influences optimization, links, and rankings until we published ours.
Different: Tackle an existing topic from a new angle. For example, there are gazillions of guides to remote work out there, but not many discuss working remotely from a boat."
Alayna Okerlund of Best Company advises, "Focus on quality over quantity when it comes to content. In terms of B2B content, you want to make sure you conduct thorough research and try to create unique content rather than just regurgitating information. It's usually a good idea to write about trending and relevant topics, but make sure that the information is presented in a unique way and that you can really reach your target audience. Consider using video, infographics, charts, graphs, reviews, case studies, and more to make your content stand out and be a reliable resource to others. It's important that other businesses can see the value your content presents. Businesses will only absorb your content if it provides some sort of unique value to them."
Let research drive your content
Emily Carroll of Drive Research attests, "Research-driven content is the best way for B2B marketers to stay competitive and top-of-mind with their target audiences. Research-driven content or content marketing research involves a simple online survey regarding any topic that is of interest or a pain-point among their readers. For example, a marketing agency conducts a survey with consumers regarding their usage of banks and credit unions. The survey asks questions such as:
What is the deciding factor for choosing a financial institution? (i.e., location, services, rates)
What are you most satisfied with, with your current provider? What are you least satisfied with?
What would cause you to switch to a different financial provider?
What are your preferred media channels? (i.e., social media, radio, television)
"With this information, a marketing agency can publish a variety of content deliverables such as e-books, whitepapers, infographics, and more. This abundance of new content features unique and relevant data for banks and credit unions that no other competitor has access to. The marketing agency is able to grow brand awareness as a thought leader in the financial sector, increase traffic to their site, and promote lead-generating content."
McCall Robison of Best Company recommends, "If possible, I recommend using your own data to create unique content for your audience. There is a never-ending influx of content out there, so you need to find a way to give your content a competitive edge. A great way to do that is to use your unique data to offer up content your audience can't get anywhere else.
"For example, we are a review site that has hundreds of thousands of reviews. Those reviews give us data on specific companies as well as overall industries that we can use to our advantage. To be more specific, one of the industries we have reviews on is home warranty. So instead of writing a broad article about home warranty satisfaction and overall tips that you could get anywhere on the Internet, we could instead compile all of our reviews for our home warranty industry and gather data and present it in a digestible way for our audience.
"One example of content like this is we could write an article about all of the 1-star home warranty reviews and find the common complaints between them and use that to tell home warranty companies what they can do to improve and better meet customers' needs. We could also use that same data to warn customers of what to look out for in home warranty companies.
"Combine unique data with keyword research and visuals and you have content that isn't just a regurgitation of what others have posted on their website. It will not only improve your website's E-A-T (expertise, authority, and trustworthiness) principles, which Google is considering much more important in its ranking algorithm, but it also gives businesses and consumers information and data they can't get anywhere else."
Consider case studies
Liam Quinn of Reach Interactive shares, "One of the best ways that B2Bs can provide engaging content is by writing up unique case studies. Start by looking at your existing clients and then pick out all of the companies that offer a unique product or service. The more unique the company, the more engaging your content will be. Then, write up a case study about how your product or service is having a positive impact on that company. Your clients may help by sharing the content on their social channels too. The first benefit is that you'll then be able to target other businesses in the same industry. Secondly, if you are helping charities or other noteworthy businesses then you'll receive positive PR from your content too."
Showcase expertise and data, and use videos
Alex Williams of Hosting Data UK shares, "There are three things you need to remember when creating your B2B marketing strategy. First and foremost, create engaging content that is not only attention grabbing and easy to understand but also jam packed full of valuable and authentic information. Remember that you are the expert, you need to consider exactly what it is that your product or service can do to help your potential customers and really hone in on that.
"Secondly, use video as a tool within your campaign and publish your videos to your social media channels, newsletters and on your website/blog. Video is the best medium for your content marketing campaign and is extremely effective when trying to reach a wide audience across all marketing channels."
"Finally, include data wherever possible. You hold all the facts and figures for your business, so build a great picture of how your products or services can support another business in reaching their goals. Statistics speak for themselves and are a great tool for any content marketing campaign where the aim is to communicate hard hitting messages without explicitly having to promote a specific product or service. The aim is to trigger conversational style engagement with your posts and encourage social sharing in order to promote your business to the widest possible target audience."
Showcase the features of your product, and use the built-in audience of Medium
Kirill Rebrov of Demografy says, "Use your own product to both generate unique content worth of reading and showcase your product to potential customers. If your product is great and you showcase it to potential clients, you will have leads.
"Though our Medium blog is humble, it is our number one driver for leads, especially in terms of ROI and conversion. As a tech data startup, we've learnt to produce content using our own product. We use machine learning to predict customer demographics using names, so we conducted several case studies from analyzing social media demographics to measuring gender and race bias in movies backed by comparing our results with reputable sources like Google and Pew Research.
"So we used these case studies as our blog content during the pre-launch phase. It produced both content worth of reading (insights and analytics) and a showcase of our technology to potential clients.
"Our approach resulted in 11.6% on-site and 2.7% overall conversion rate (from blog post read to visiting website and converting to a lead on the waiting list). Our results are not very impressive by absolute numbers, but we're satisfied by conversion rates, and we plan to resume active blogging as our launch date is approaching."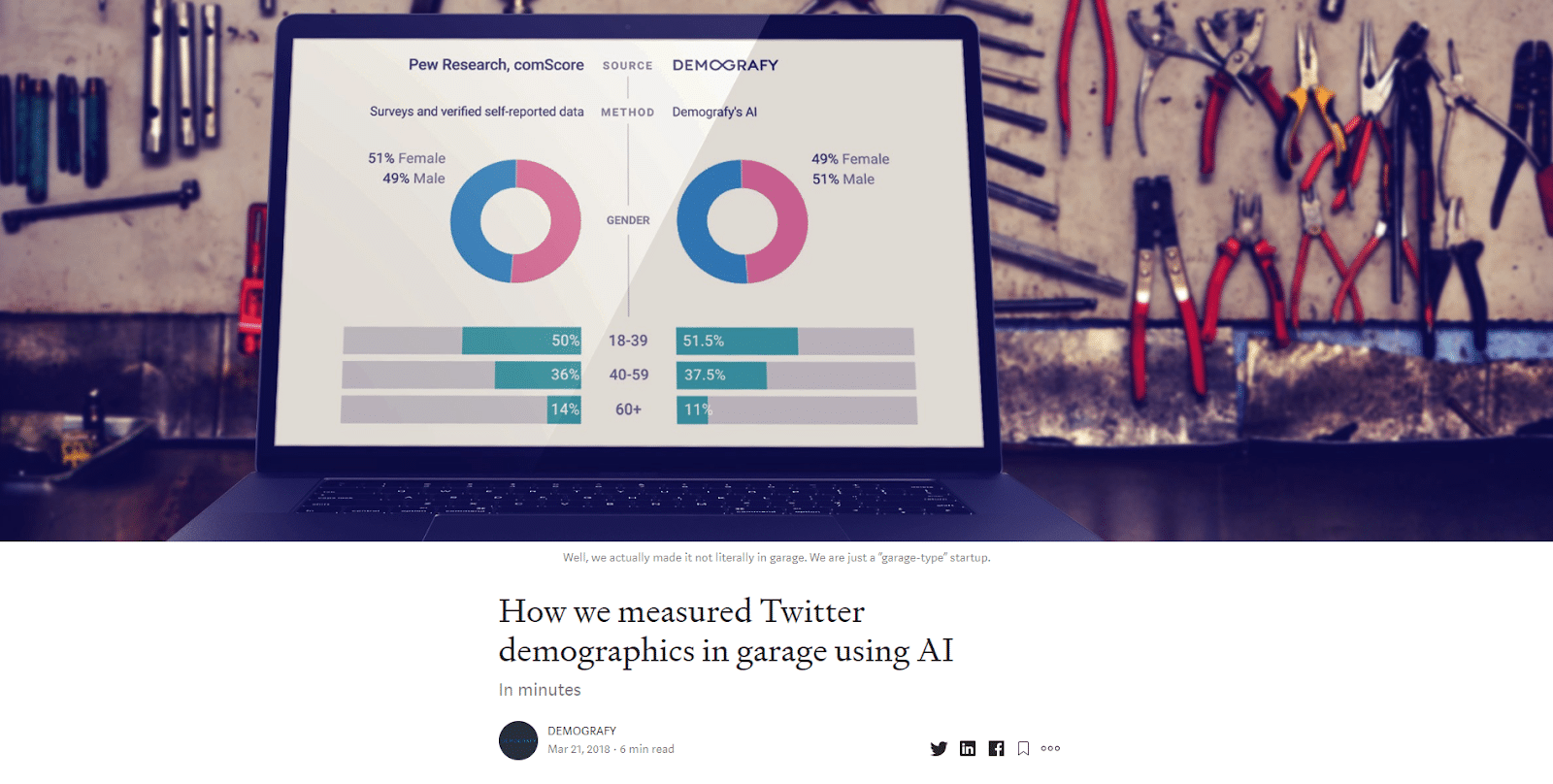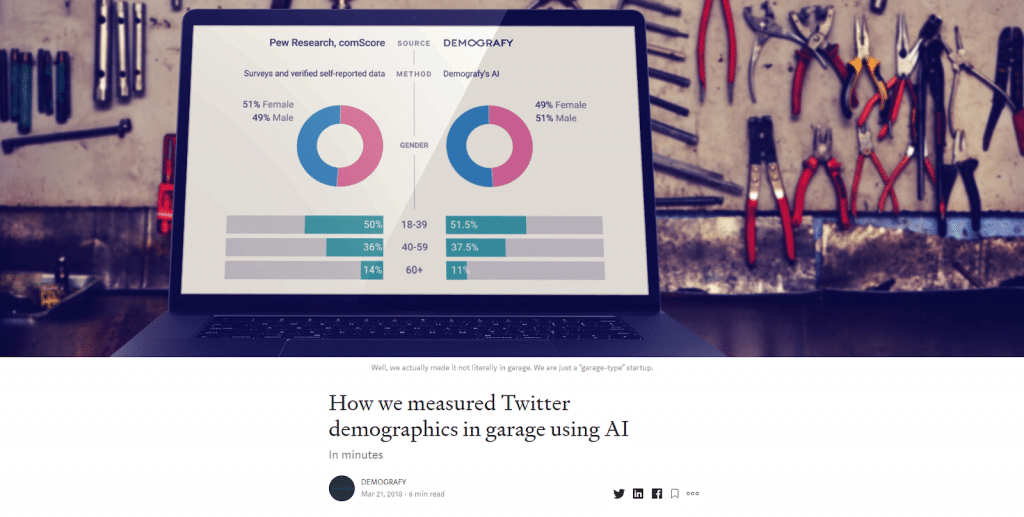 Enlist in-house experts to further your authority
Look beyond your marketing team to create authoritative content. Sometimes your sales team (or another source within your company) will provide the expertise you need to best relate to your customers.
Tap into the expertise of people other than your marketing team
Laura Howarth of Left Field attests, "I think one of the best ways to leverage content marketing in a B2B industry is to involve your whole team. While your content team might be looking outward for search trends, your sales team are speaking to customers every single day. This is a great opportunity to turn some of the most common questions about your products or services into some really valuable content. This is always my first stop when I'm creating a content strategy for a new client."
William Schroeder, LPC, NCC of Just Mind shares, "We are uniquely focused on creating high-quality content instead of something that is just clickbait. We value the expertise from our 30+ therapists and their authority on specialized content is apparent. In lieu of hiring a marketing copywriter, we simply have the therapists write about their specialty, and then we have a professional editor review it for flow and grammar to try and create something that we all can be proud of. We continue to grow in this process but we believe it helps our readers to create trust in our brand and to walk away better informed.
"We also have a publicist who works with a ton of media outlets and writers, who is able to get us included in higher-trafficked and popular sites. While we've done a solid job of working this on our own, it is helpful to have someone else who's solely focused on your branding and getting your message out to the masses.
"Pairing these two tactics, we've secured some lofty B2B agreements with larger employers in the Austin region because of our focus on education and depth. That has been instrumental in getting us in front of significantly more patients than we could have had we only focused on B2C."
Oksana Chyketa of Breathe The Web tells us, "A great content marketing practice is aligning Sales and Content Teams. When planning your content, it's always a great idea to collaborate with different teams in your company. For example, developer reps are well conversant with the peculiarities of the product or service, while the support team is more aware of the customers' needs and problems. Thus, when creating a 'how-to' piece, such cooperation with other teams will result in more valuable content. Besides, the customer support reps are an indispensable source for the FAQ section of your website.
"Also, I firmly believe that content that helps readers get faster results will rise and continue to trend. We've found out that filterable list posts enable our audience to skip not relevant list items and focus only on the desired results based on their preferences. Such posts have proven to be successful ones so far. That's why I think this tactic is definitely worth a shot."
Keep a regular content schedule
Don't just publish content infrequently and expect to be seen as an expert. Consistent, regular publishing is key to keeping your company on your audience's radar, especially in search results. And quality is just as important as quantity for consistency.
Stay consistent
Anu Ramani of Isoline Communications says, "Be consistent. Content marketing must be steady and ongoing to have the best effect. You can't have a 'content marketing day' every month where you write a bunch of blogs and social media posts and expect to generate results. You need to be on your audiences' radar screens every day."
Demi Utley of Utley Strategies tells us, "If you don't have a dedicated content creation team, establish a process that's easy to create content on all applicable channels on a consistent basis. Many companies are good at following a consistent schedule for 2–3 types of content, but then they update other channels infrequently. If you have a team that's spread too thin to post regularly, see if there's a way you can reuse the content that saves time to remain consistent. Otherwise, you're not going to see the results you want on that channel, and it's better to focus on the areas where you are consistent."
Kevin Miller of The Word Counter shares, "There are several steps to follow to write better blog posts. First, publish often, meaning every 2–3 days. Second, publish posts that are at least 1,500+ words in length. Google likes to see long-form content and consistently ranks it higher. Third, use images to break up the content and help the reader. Next, share your content on all social media channels to increase exposure. Lastly, use Clearscope.io to grade your articles and don't publish anything that is not A+. The key is to produce better content than your competitors, and if you're able to do that, Google will reward you by ranking your site higher in search results."
John Gluch of Gluch Group advises, "The most important aspect of content creation is consistency, therefore it's critical to set up a system that makes it easy to get content published. I recommend training your team to handle this or outsourcing to professionals who specialize in it. You want to get to a point where all the content creator has to do is create and not worry about the rest, which allows them to flourish and create quality pieces. The production process has to be frictionless, otherwise, it's just too easy to skip creating content entirely.
"Setting up a system like this takes time on the front end, but there is no better use of your time today than doing something that saves you time tomorrow. Similarly, I recommend creating content in a format that best fits you. I hate writing but have no problem speaking so I do lots of videos. I then hand those videos off to ghostwriters who write for me and repurpose the videos into blog posts. Someone who hates the camera might lean into podcasting or writing. Lastly, I recommend picking a realistic publishing schedule and sticking to it, for example, create one five-minute video every Tuesday and hand it off to a ghostwriter."
Amy Sorter of TheWordSorters says,"Post consistent, quality content on your website and social media. Mix and use content types – blogs, videos, ebooks, case studies, short posts. Implement SEO optimization and long-tail keywords into your content, and be sure that your visual content contains your brand standards, such as color and font.
"Ensure you have the resources to produce the best-quality content. For example, while video is the 'hot' content trend, unless you can produce a polished video, you might want to consider other methods (Facebook announcements are, of course, different). Be sure that, when you use social media, you're aware of the audience. Twitter will be short and sweet. Facebook will be casual. LinkedIn is professional and authoritative."
Track and monitor the success of your content
Without tracking your content's performance, you have no way to know if your content strategies are truly successful. Set key performance indicators (KPI) or benchmarks you can measure to figure out your content's ROI. Then, reapply the content strategies and tactics you've identified as the most successful based on the data.
Set and track valuable KPIs
Travis McKnight of Portent reports, "A crucial portion of content marketing effectiveness is evaluating the ROI of your content campaigns. Unfortunately, this is often an afterthought for many companies. Before beginning any content project, you should establish simple, relevant, and useful Key Performance Indicators (KPIs).
"The ideal KPIs are quantitative, relevant, and easy to calculate content metrics that can measure performance over time and across all levels of the conversion funnel. If you're trying to set KPIs for your content, find the numbers where you really want to move the needle and use those values as metrics that matter most."
Shealyn Rager of RankPay advises, "The number one tip when it comes to content marketing is creating content with purpose and strategy. While coming up with creative content ideas can be challenging, identifying your ideal audience, KPIs and relevant topic clusters to your niche doesn't have to be.
"Great content isn't just writing. It's the execution of planning and implementing practical goals with creative ideas. Wasting time on content that doesn't have purpose or strategy will just end up being another piece of digital dust. Identify realistic and stretch goals for content KPIs. That way, you can continue to evolve while you perfect your content marketing strategy."
Analyze data to find your most successful content
Dan Bailey of WikiLawn Lawn Care tells us, "When I first started out in B2B, text-based content was most popular. People now have less and less time, and they want to make sure they're getting quality content as quickly as possible, so the popular formats have changed. We're seeing a big increase in the success of small form videos (2–4 minutes max) and infographics. This isn't to say this will work for everyone, though. You need to keep analytics and data and look at them constantly. Every time you put out content, you should be reviewing the metrics and split testing different things like the headline, format, and overall presentation. Data really is the key to developing a good B2B content marketing strategy, no matter what your approach is."
In conclusion
Based on the insights of 91 B2B marketers, here are key takeaways for your own content efforts:
Focus on meeting your audience's needs to establish yourself as a trusted authority
Conduct plenty of foundational keyword research
Target audience members at all stages of the marketing funnel
Create unique and research-driven content readers can't find anywhere else
Prioritize the evergreen insights over the time-bound trends
Repurpose content in different mediums
Supplement your blog posts with compelling visual content
Keep a consistent publication schedule
Track the success of your content efforts with KPIs
Remember, though, that successful content marketing also requires careful content promotion. Content won't help you if people can't find it! That's where part two of our B2B content marketing roundup comes in. Check out part two here.