Even if you spend valuable hours creating a high-quality piece of B2B content, that content won't do you much good if your audience can't find it. Having a solid content promotion strategy is crucial. As content marketers ourselves, we're always curious to hear what works well for other B2B marketers when it comes to content promotion – especially if a strategy is unique or usually overlooked.
We ran a survey on B2B content creation and promotion strategies. We found that marketers were very eager to share their insights – 91 marketers contributed within less than two weeks!
Since we received so many insights, we divided the roundup into two parts. This article is part two of our B2B content marketing round-up. Part one focuses on B2B content creation strategies, so be sure to read it if you haven't already.
This part of the round-up will mainly cover effective, unique, and overlooked content promotion strategies. But first, which are the most common channels for content promotion?
Most common channels used to promote content
B2B marketers use a wide range of channels to market content. Unsurprisingly, almost all of the marketers we surveyed (95%) promote content using their own website, which is usually the primary hub for content. But almost as many (90%) also use social media channels for content promotion, proving social media certainly isn't just for B2Cs.
Karen Morad of Demand Spring says, "It may be fundamental to many now, but it really can't be stressed too often – the role of social is essential. People need to be able to find you on social. Whether it be Twitter, LinkedIn, Facebook, Instagram… the list goes on. These channels are an effective way of getting your content and messages out to your audiences."
In addition, be sure to diversify the ways you share content on social, including with images and in infographics, for increased engagement.
As for other content promotion channels, email marketing came in third at 86%, and guest posts came in fourth at 73%, showing these promotion methods are almost just as essential as social. See the full breakdown of top results, by percentage, below. We also gathered several responses on maximizing email and guest post opportunities in the detailed insight section of this round-up.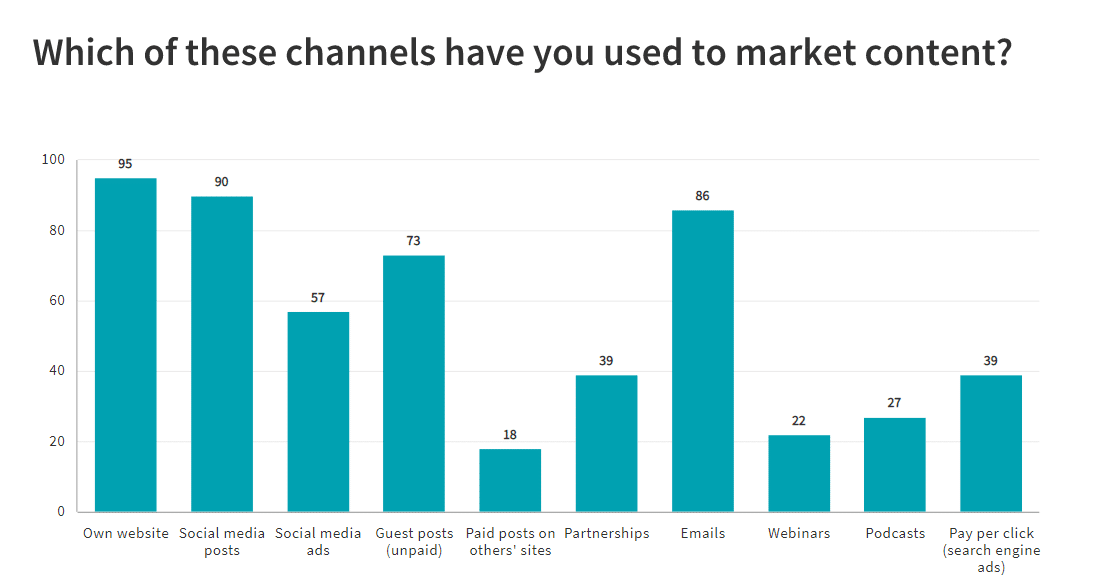 Tips for promoting and distributing content
We asked marketers to share effective and unique B2B content promotion strategies that they've used or seen. We've divided them by strategy and channel below. But before you decide on the tactics you think will work best, you'll need to make a broader decision on how you'll promote content.
Deciding between paid vs. organic content promotion
Will you pay to promote your content through ads, or will you focus on getting your content discovered through organic means? A combination of approaches is best, but you'll need to figure out which strategy to prioritize for each medium.
Decide whether you'll use paid or organic promotion for each medium
Reuben Yonatan of GetVOIP tells us, "One great B2B marketing practice is determining beforehand whether you will pursue a paid or organic strategy for the various traffic sources. A paid strategy, essentially means you take out ads while an organic strategy
means creating content that will appeal to your audience. If you have a clear picture of which strategy to use for each traffic source, then coordinating your efforts and maximizing lead generation from each traffic source becomes effortless.
"A good example to demonstrate this is to use a blog and a Facebook page.
Assume you opt for a paid strategy for Facebook. That will allow you to reach a broad and unique audience quickly while growing your page. On the other hand, an organic strategy for your blog will ensure you rank higher in search engines, increase your blog's domain ratio and grow your email list. As a result, you maximize lead generation from both your blog and Facebook page."
Use paid, owned, and earned channels for distribution and promotion
In addition to deciding whether to prioritize paid or organic content promotion, you'll want to decide how best to use paid, owned, and earned media to distribute content.
Here's a brief definition of each:
Paid media: Marketing you pay for, such as ads. Typically involves third-party platforms, but it effectively targets specific consumer segments.
Owned media: Marketing through your own channels. This includes your company website and blog, as well as any social media accounts. Although you don't own the actual platform, you do control your account and content you post.
Earned media: Any mention of your brand that comes voluntarily from others and which you haven't paid for.
How does this apply to content promotion? Steve Hirsch of SJR recommends, "By developing an earned, owned and paid approach around every piece of content you create, you can continue to distribute your narrative over and over again. This will enable you to insert your brand into the conversation from multiple touchpoints. Every blog post should be turned into a Facebook post, a tweet, a podcast, a speaking appearance and vice versa."
Unique content promotion strategies (by channel and medium)
Now, let's dive into unique, overlooked, and effective content promotion strategies for social media, email, SEO, guest posting, collaborations, and more.
Social media: Think outside the box
Alycia Yerves of Alicia Yerves Creative tells us, "I've been using Instagram Stories much more often than I was a few months ago. Many Instagram users are only hanging out in Stories (and not the feed) and therefore may be missing out on all your content if you're not also regularly posting there. In addition, spend a few minutes sending selfie video DM's to respond to some messages (or send some out). Putting a face to a name has been great for brand building.
"Also, spend time participating in Facebook and/or LinkedIn groups to give value and build your expertise as a content creator. Groups are hyper-interested in their topic. If you are able to become a regular problem solver within them, it will help build brand awareness and lead gen."
Mackenzie Deater of Evenbound agrees about using LinkedIn groups for promotion: "A great content promotion strategy that many B2Bs overlook is the promotion of content on Linkedin, and specifically in Linkedin groups. There are a number of groups on Linkedin that address key concerns of niche industries and markets, which makes them ripe with opportunity for your B2B content.
"When it comes to the promotion of B2B content, you're unlikely to find a group of people more interested or more qualified for your product than in a niche Linkedin group. The key to successful promotion here, though, is that you should be an active participant in a Linkedin group before you start promoting content. If you just start dropping links to your blogs in random groups, you're not going to see the engagement you want. If, instead, you're actively answering questions and providing helpful, relevant content, then people are more likely to take your content promotion seriously."
David Zimmerman of Reliable Acorn recommends, "Once you've got good, relevant content on your site, be sure to share it on social media- keyword research isn't just for SEO. If people are searching for the question you've just answered, I bet your social media followers want to know the answer, too. It's a best-practice to re-share your content 3–5 times, each with a unique title that's still relevant to the content. This is due to the simple fact that not everyone will always see your first post."
On LinkedIn: Create compelling visual content
Chelsea Sassara of VMG Studios says, "It's extremely important to promote your content on social media, especially LinkedIn. We utilize LinkedIn groups, especially, and post relevant content to those groups. B2B is a tricky space to navigate, but we've found a lot of good feedback and responses when we promote our articles and videos on LinkedIn. We also try to create unique images and/or videos that are eye-catching and will stop someone when they're scrolling on various social media platforms. We notice that people are more likely to click on an article if the featured preview image has text on it explicitly outlining the topic the article will be covering."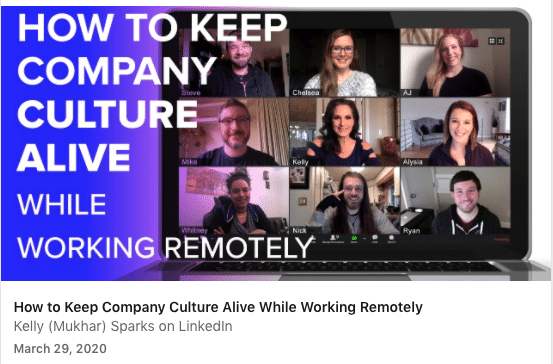 LinkedIn is powerful because it already has such a large audience of professional eyes built up for you.
Katie Thomas of Leaders Online explains, "When working with our B2B clients, our basic content creation package includes LinkedIn posts three times per week. On LinkedIn, one can build a very targeted network of key decision makers and then create content that addresses those key leaders wants, needs, and objections. We use video, text, and images to create captivating content that both educates and engages viewers. While the website traffic sometimes takes time to build up, LinkedIn can have almost immediate results. Combining the two has proved to be extremely powerful to both my company and the companies we work with.
"The best types of content promotions have been ones that combine a human story with a call to action. For example, the LinkedIn post shown generates over 20,000 in ARR by having a simple call to action that relates to the human story. We use these within our clients' content strategies to promote their services and offerings."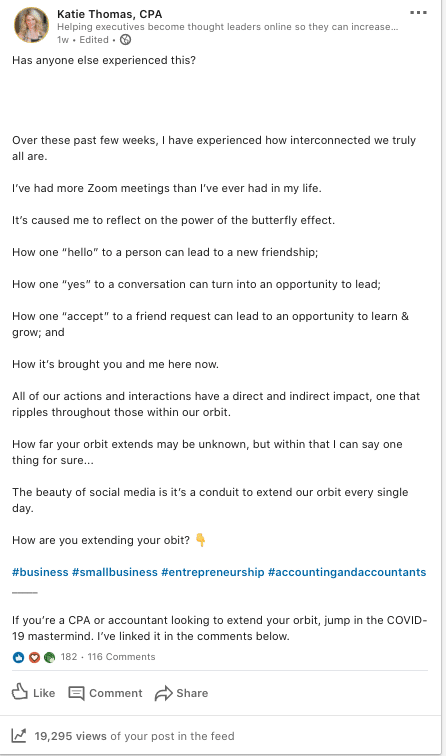 Ruthie Bowles of Defy the Status Quo shares, "I've been doing genuine videos on LinkedIn for the last couple of weeks, as I work from home. I wear a comfy shirt, and hold my cup of tea. I've never had a better response on my LinkedIn posts. I've had more engagement in my direct messages as a result, and my brand growth has been very encouraging."
Facebook ads: Apply careful strategies for the greatest ROI
Maksym Babych of SpdLoad shares, "Paid content promotion through Facebook worked well for me. My business is selling sophisticated software development services. And in this niche, there are no successful examples of promoting content through social networks. My team managed to crack the system. And the whole secret lies in extremely detailed targeting, relevant offers, involving content, and covering all aspects of the marketing funnel. This is a whole complex process that has become a very effective channel for attracting users and leads. And most importantly, in the long run, cost per impression and click is constantly reduced."
Medium: Use the built-in audience to distribute content widely
Kirill Rebrov of Demografy tells us, "First of all, starting a Medium account gives a good potential for promotion. It's better for brands with blogs that have poor or undeveloped SEO to post their blog articles on larger websites like Medium.
"Additionally, we post guest posts in relevant Medium publications with high numbers of followers. Medium publications with high number of relevant followers provide an excellent promotion channel for small blogs with low number of own followers. The only thing is you have to be approved for guest posting, and you must carefully choose publications with the same target audience as yours. The bigger the publication, the more competition you have to be approved."
Kevin Miller of The Word Counter attests, "Facebook is incredibly saturated. Period. Medium offers a green field with millions of eyeballs a month that marketers have undervalued and historically underinvested in. Other platforms that marketers should absolutely be investing in for distribution are Reddit and Quora. These platforms are massive and can be dominated by smaller players who are willing to write good content and invest in connecting with their audience."
Reddit and Quora: Take advantage, but put thought into it
Darah Aldridge of Analytics, Marketing, & Growth explains, "I've seen other businesses utilize online forums like Reddit or Quora to promote their content. It can be tricky to be successful with these two outlets. For example, shameless promotion on both will get you nowhere. You have to provide quality answers to questions that were posed or contribute to the current discussion. For example, if someone has a question on Quora and you have the perfect answer in the form of a blog post, then posting a link to that blog post with no explanation will be ineffective. You must write out a detailed and thoughtful answer and then direct the asker to the blog post for more information if they want or need it.
"In my screenshot, you can see an answer I wrote for the travel blog I run with my husband. It had 3.7K views and four upvotes. We saw a significant amount of traffic come from Quora thanks to this answer and others like it that we wrote."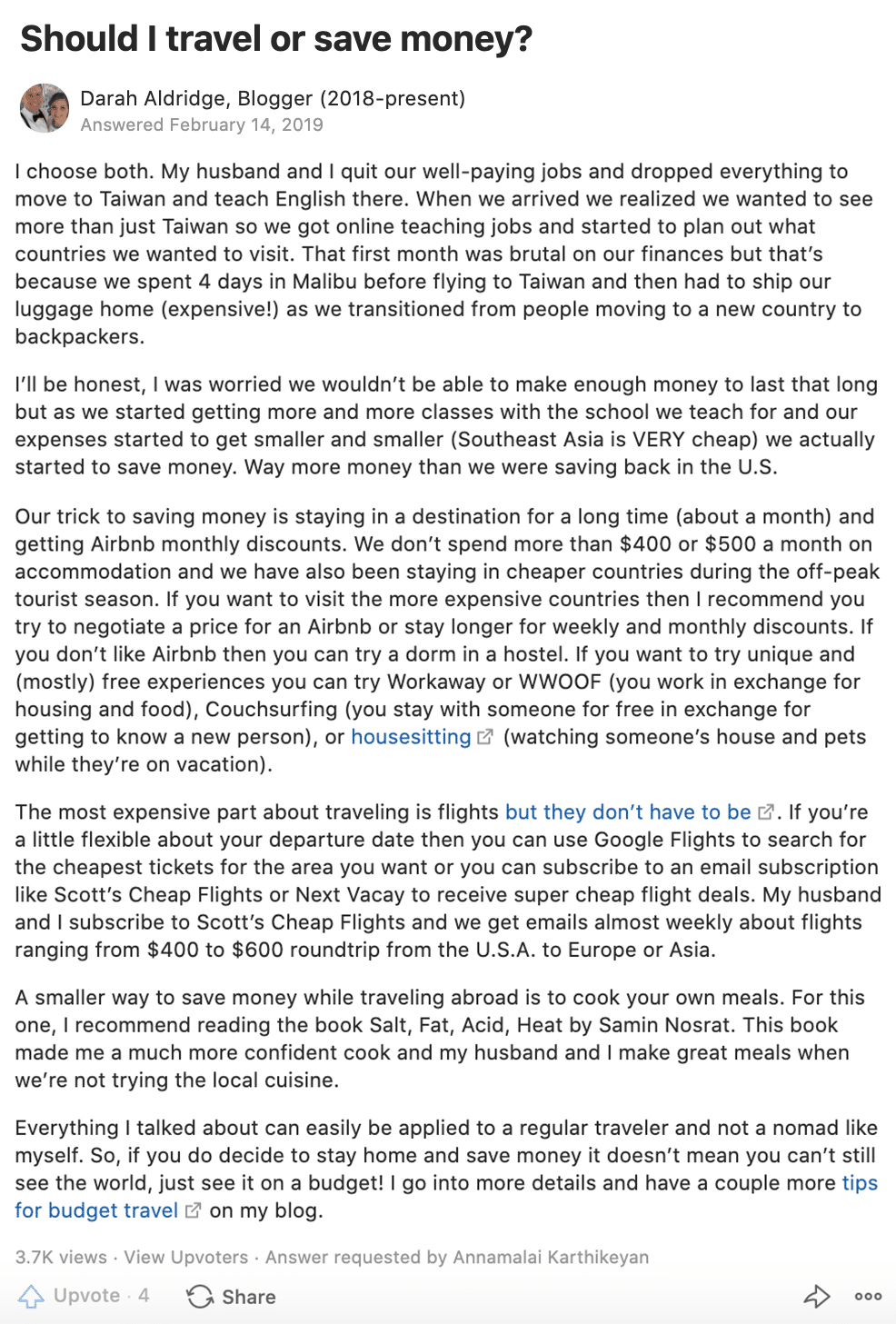 Infographics and other visuals
Dusan Stanar of VSS Monitoring says, "My favorite is to create an attractive infographic with a case study or data. It doesn't even have to be in-house data and can be public data. If you put it in an infographic and send it out to other companies or blogs in the same space, there is a good chance that they will link to your infographics and content. However, it has to be a well-done infographic. Creating one simply for the sake of creating one isn't very effective, but it happens all the time."
Amy Sorter of TheWordSorters shares, "I am a professional content creator, who makes a living producing content for clients. I also use content to promote my own business. One of the more successful tools I use to promote my own business is called the Content Capsule, a visual piece that offers brief commentary about content trends. These capsules are posted to LinkedIn, Facebook and Twitter, and receive a large number of views. I also find that infographics can be successful when it comes to a different type of content."

Put your email marketing to work
Hamna Amjad of Heart Water shares, "Did you know that business users send and receive on average 121 emails per day? Make sure you fully utilize your email signature as a marketing tool. The most unique and effective way of promoting your content is using your email signature, yet it remains highly underused. All you have to do is insert the link to your latest content piece in your signature. Every time you email a prospect, you would be promoting your latest content for free and have a chance of making a lasting impression on them."
Quincy Smith of ESL Authority tells us, "We're huge fans of email marketing driven by website interactions. For example, we send emails based on how users are interacting with our website. Things like:
They browsed content within a certain category more than 2x
They applied to their first job
They posted their first job
We have content that supports where they are in their conversion process and we rely on website event tracking to trigger emails based on their actions – this works really well if you want to put a specific piece of content in front of a person at a specific time."
Mayank Batavia of QuickEmailVerification says, "We like the techniques of many marketers. One of these techniques is using emails to build an audience for your content. We observed some marketers add something like this in their content promotion emails: 'Friend forwarded this to you? Time you got your own email!' Encouraging recipients of forwarded emails is a very persuasive manner by which you can widen your reach without really spending money or resources."
Shawn Smajstrla of MultiView tells us, "I'm not sure how unique it is, but we developed a weekly email newsletter largely built around the concept of distributing our hub content. We also use the newsletter to promote some spoke content, such as blog posts. It's great for not only extending the reach of our content, but tracking engagement and analyzing what content performs well."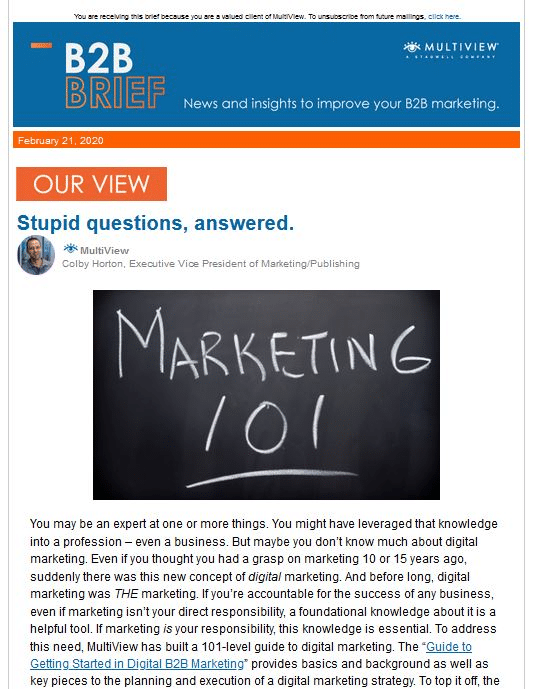 Promote content with local SEO
Irene Lopez of Online Optimism shares, "I've seen other businesses and ourselves utilize local SEO. By creating pages of content targeting a service in a particular city, Google's algorithm deems your website credible and thus ranks it higher. Local SEO requires you to create a page on your website targeting specific keywords and following best SEO practices so really it is a SEO strategy and a content strategy as well. This typically requires thousands of words of copy, hence why it is also a content strategy but it can be extremely effective if you want to target a new city and grow your business."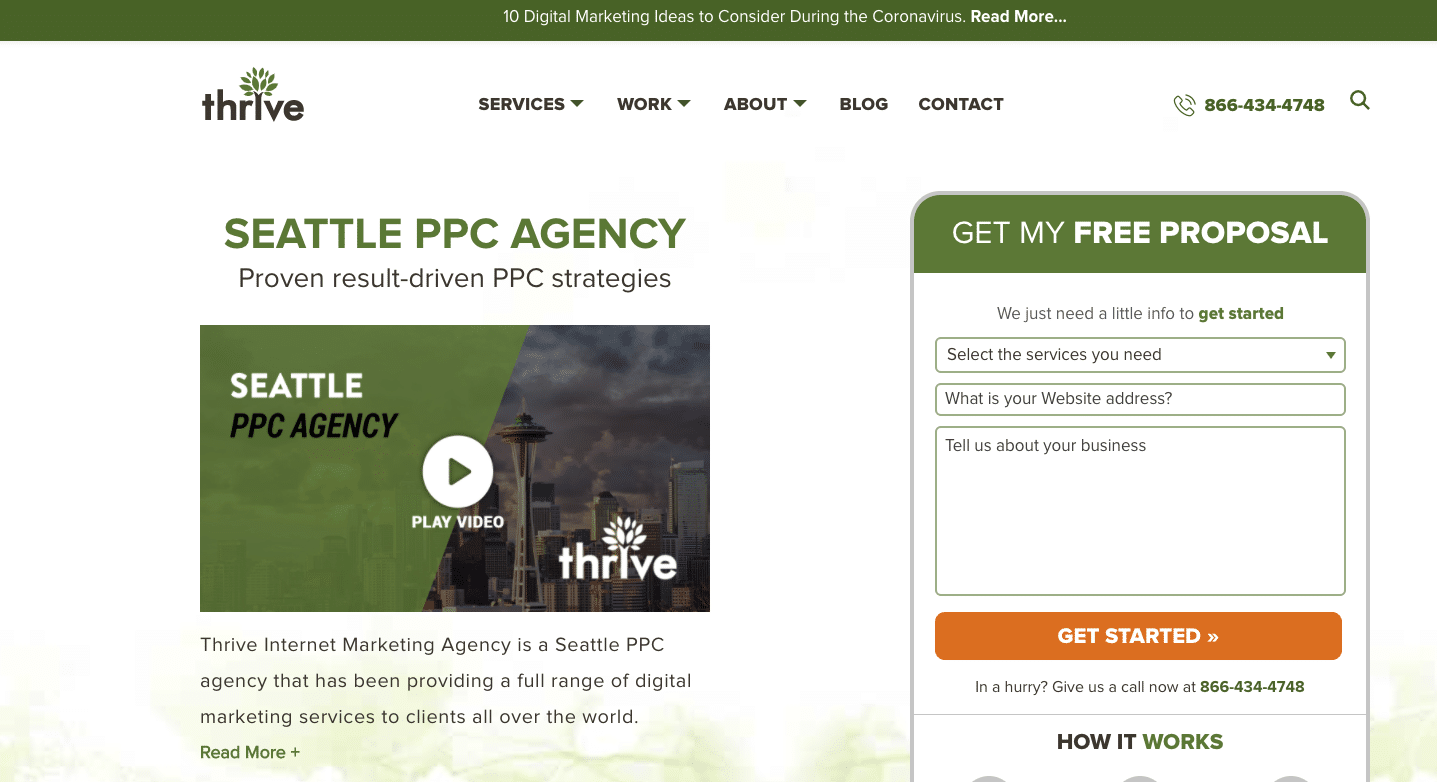 David Waiter of Direction says, "I would definitely have to give credit to Jeffrey Kranz of Overthink Group. The brand's knowledge of B2B SEO is one of the best in the world, in my opinion. One strategy they often reference is the use of pillar pages. (Pillar pages are comprehensive educational articles that provide the foundations for a linking strategy. They cover all aspects of a broad topic, each briefly, and show your brand's expertise. Pillar pages then link out to other articles that each cover an aspect of that topic in great detail.)  While pillar pages and cornerstone content have been around for sometime now, I really feel like Overthink Group perfected the strategy."
Reach out to sites for valuable partnerships
Lovedeep Puri of Reliance Home Comfort tells us, "We tend to perform a hybrid approach where we either create a great piece of content where we'll reach out to a list of websites that have linked to similar content in the past (while letting them know about our content and why it provides value to their readers) or we'll hire an outreach professional that has established relationships with outlets to assist. It just depends on the circumstance, but both can be successful and will diversify the exposure and opportunities a brand can secure.
"What's nice about either route is that no matter who secures the outlet for the content, the incoming features and links we secure through these methods can help propel your website higher up in search engines and generate more visibility! More visibility tends to mean more leads and as we all know, leads translate into revenue, so content should be an important part of your business' marketing plan and budget."
Re-optimize content for opportunity keywords
Jayson DeMers of EmailAnalytics tells us, "Here's a great way to boost rankings for any piece of content that you've already published:
Open Google Search console and open the 'Performance' report. Click 'Pages,' then select one of your top-performing pages. This will create a filter to show you only data for this page.
Next, click 'Queries' and you'll see a list of all the keywords that are driving traffic to that page.
Then, go to your blog editor and edit that article so that it includes all or most of the keywords from the list in Google Search Console. Add them naturally, not in a spammy or weird-sounding way. You want them to read totally naturally.
"Doing this will make your content seem more comprehensive and thorough to Google, which will help that page rank better and for more keywords."
Don't neglect guest posting
Avinash Chandra of BrandLoom tells us, "Creating engaging content alone won't give you results. One of the most important factors of content marketing is how you promote it. Though there are plenty of tools at your disposal, guest posts work really well in the case of B2B marketing. It is always cool to collaborate with other businesses and share platforms for mutual benefits."
Jane Kovalkova of Chanty advises, "The best B2B content marketing practice is to form partnerships. We do a lot of guest blogging and we have 5–10 partners at all times. When we write guest blogs, we mention our partners and give links to them and they return the favor when they publish too. That means, for every one guest blog we write, we can publish 4–5 links for our partners and get the same number of links in return from them. It's an excellent way to maximize the efforts of your PR, marketing and SEO teams, and you can save lots of time and money by just teaming up with other companies in niches similar to yours."
Enlist B2B influencers
Pedro Okoro of Astute Copy Blogging shares,  "What we've found effective is B2B influencer marketing. We focus on enlisting key leaders in a particular niche we are interested in to drive our brand's message. We do this in two main ways: inspire and hire. Most times, we are able to inspire influencers to promote a blog post for us. This works well where they are featured in a roundup post or top list post. Our influencers love seeing their names in a list of the best and the brightest in their field. So they are motivated to share, as a way of showing off. Other times, we've had to hire influencers to promote our brand, usually to their email list. In our experience, influencer marketing works."
Khris Steven of Khrisdigital explains, "Great content isn't great until it has reached the consumers and is being interacted with. Your content is as good as dead if there's no promotion strategy behind it. One effective content promotion tactic I've seen plenty of B2B use is Influencer marketing. Partnering with influencers which is the number one marketing strategy for many B2B brands. And from statistics, 89% of people surveyed say ROI from influencer marketing is comparable to or better than other marketing channels. It all starts from discovering influencers in your niche, building rapport with them and adding value before reaching out with a great offer."
Paige Arnof-Fenn of Mavens & Moguls shares, "Leveraging influencer marketing is a great way to show thought leadership. My best tip for a successful influencer marketing campaign is to utilize a mix of influencer types. Instead of just focusing on the most popular/branded individual influencers, include internal experts, micro-influencers, niche experts prospects and customers in your influencer marketing mix. Getting multiple perspectives and insights always enriches the discussion and generates more activity online."
Austin Iuliano tells us, "One of the biggest things in content marketing in getting traction is building up a list of people who want to share your content out and link back to your great content. This is where social media comes in and dominates. As you are writing your content, find influencers in your space who could possibly share out your content. Then, use the P.U.T strategy (personalized unique touchpoints) to build relationships with them quickly. Reach out to them with an audio or video message, and start talking to them about something important to them. Don't pitch or ask for the sale.  After some time, then ask them to contribute to the article or review a section. They are much more likely to engage with the content, share it out, and may reference it in some other way to get you backlinks."
Connect for other partnerships and collaborations
Natalya Bucuy of Help Squad says, "In our marketing efforts we found that the most effective strategies focus on valuable content and creating connections with other people. Solid, informational content provides value to communities and attracts audiences. Connecting with other people, influencers in a niche as well as other professionals, helps create networking ties that increase brand awareness and attract new potential customers. Social interactions with other professionals in any shape or form pay dividends. Sometimes creating these connections takes time and imaginational thinking. Interacting with people on a personal level is always the best practice for content marketing promotion."
Partner with another company and promote each other's content via email
Tory Gray of The Gray Dot Company attests, "I find that purchasing dedicated email sends and/or promotional spots in the email sends of other brands is a really underutilized tactic. People send to their own lists, and they may buy new email lists to send to new people. But, they don't attempt to buy their way into attention via the email sends of other people (at least, not nearly as frequently). Think of it like Paid email (e.g. organic vs. paid search).
"Here are the steps of this process:
Look for the brands your users care about – non-direct competitors, obviously. (Brands with a physical magazine your users read are a great place to start.)
Determine which brands on this list have an email list, and further – a large enough one that you care / find it worth paying for to get in front of them.
Reach out to their sales team to see if they'll be open to this for a price.
Negotiate a deal at a price point you are happy with.
Determine what the email send (or ad within the send) will look like, what content it will promote, etc.
Make sure you add tracking links so you can measure the results.
"Like in all other channels, try and try again. Iterate. Improve. Capture those users' email addresses to convert them over to your list (or social channels, or direct purchases… whatever makes sense for your business)."
Demi Utley of Utley Strategies shares, "We often see collaborations between businesses on blog posts, podcasts, events, or webinars, but I recently encountered a collaboration over email. I subscribe to two seemingly unrelated companies, and one week I started receiving promotions from one company about the other's new training that recently launched. At first I was confused and thought there was some sort of sponsorship happening. That wasn't the case, and it made me trust and like both companies more to see collaboration over email, which is often closely held by companies. It definitely inspired me to think of creative ways I can collaborate with other businesses."
Write collaborative content pieces
Collaborative articles help you reach a wider audience, because all collaborators will promote the articles among their own audience. Kimberly Dioszeghy of Reliance Foundry says, "An effective, unique content promotion strategy we've used is to make our articles collaborative. We don't just spout our own knowledge; we interview and quote other industry and thought leaders, and then tag them on Twitter and LinkedIn. In addition to paid promotion of our articles on social media, we then also often get their organic promotion, because they're excited to share what they've contributed."
And think beyond the blog post, as Christine Perkett of Mindfull Marketing + PR recommends: "We created an eCommerce best practices e-book for a client, with 7 partners. We helped each brand to write a chapter about a best practice and shared leads that came in as a result. We used PR, social channels and newsletters to promote the book. It has continued to deliver leads years later."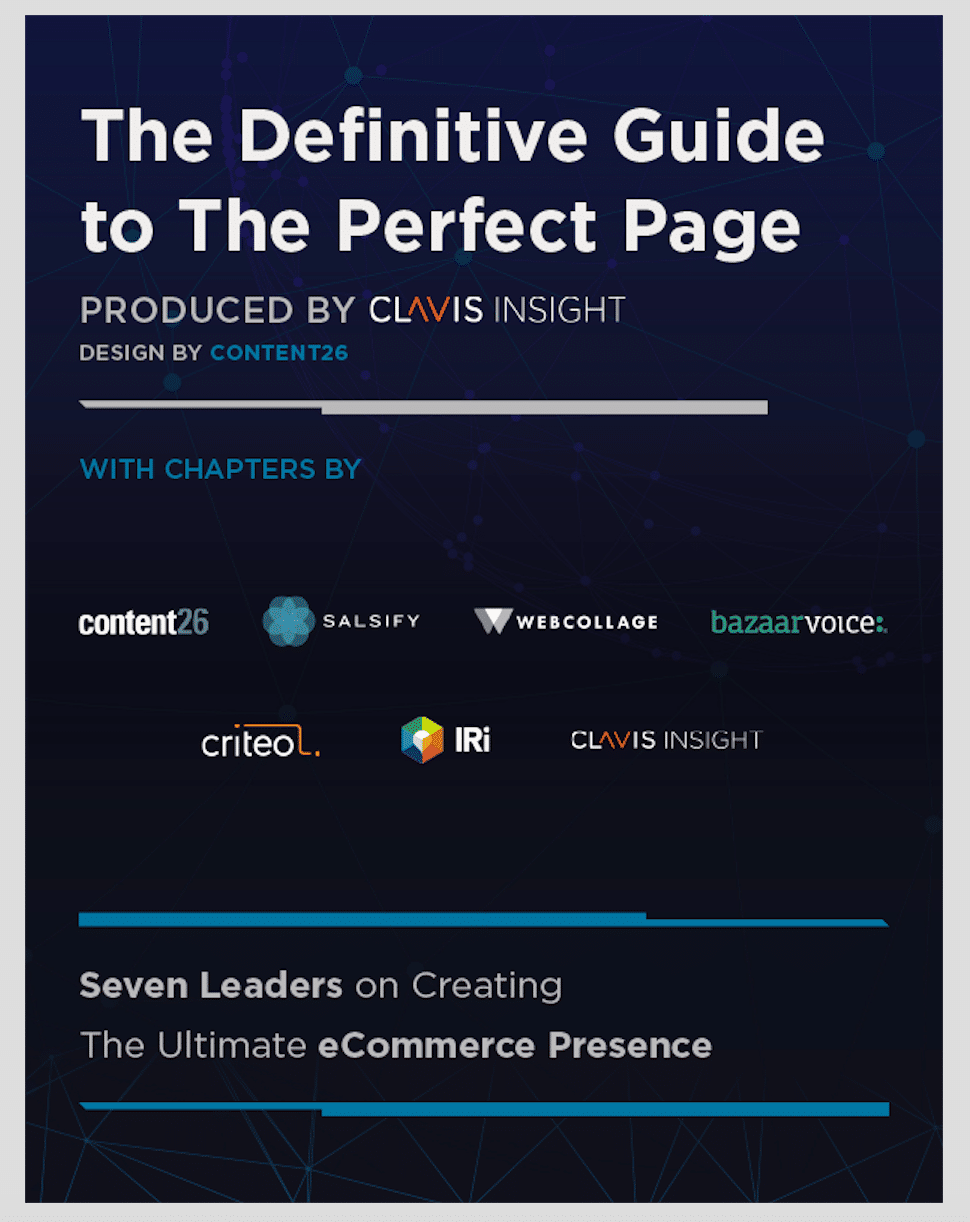 Natalia Kamecka of Applover shares, "I think it is good to engage leaders from different companies and niches in promoting your content, that is why for our report on the state of outsourcing services in the post-pandemic landscape, we invited great leaders from various industries to share their thoughts and insights. Thanks to this, we know that we can reach a wider audience with our content than if we did it only with our in-house leaders. Moreover, it adds a greater variety to our potential audience and can generate leads from sources we did not identify before."
Let your customers do the talking
Emily Gertenbach of EG Creative Content recommends, "Share the stories and profiles of loyal customers. And not just through user-generated content, either. If you have the budget for it, select a few customers each year and actually visit them with a camera and take photos / videos for a feature. Put it up on your website or social media. Even if you just start with one customer local to you, who can be featured for a relatively low cost on your part, it's a great start. This shows you have a true back and forth relationship with customers, value them to the point of helping them spread their own brand, and creates even deeper loyalty with the people you are featuring."
Offer a bonus to readers who share your content
Stacy Caprio of Her.CEO says, "A unique and effective content promotion strategy is to offer a bonus to the readers who promote your content for you. Give a bonus to any readers you have who share your article with their friends, or add a subscriber to your list. The bonus could be an extra piece of content, a chance to ask you an email question, or even an entry into a sweepstakes you're running."
Data-driven content promotion
McCall Robison of Best Company reports, "Combining unique data with keyword research and visuals improves your website's expertise, authority, and trustworthiness principles, and gives businesses and consumers information and data they can't get anywhere else. When we share this data-focused content, we will also attach a titled graph or figure with it so people can see immediately that it is a data-related article. I've tested it and this helps my content get shared a lot more often and I have more success with link building efforts."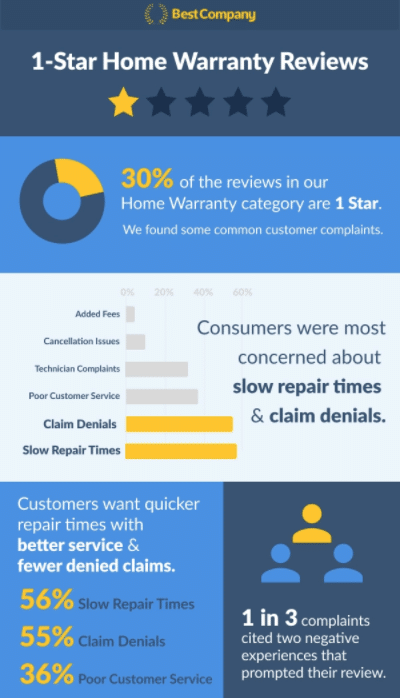 Matt Bentley of CanIRank attests, "To earn links, publish original research that backs up claims made by other bloggers. For example, there are many articles out there mentioning how credit unions and community banks have done a better job helping small businesses with the SBA's Paycheck Protection Program, but no one has hard data to back it up. If you can provide that hard data, journalists and bloggers will happily link to your substantiating evidence because it makes them look good. We used this approach to generate over 1,100 links and 700 new Page 1 rankings for a financial services client."

Emily Carroll of Drive Research explains, "A unique promotion strategy with research-driven content is creating a press release to share the findings with local and national media agencies. Businesses can share a few highlights from the study within the press release and link to the full e-book or downloadable report on their website.
"One example of this was a study our research firm completed with a marketing agency. We completed an online survey to understand future travel implications and trends due to COVID-19. The report was shared with their travel and tourism clients. In addition to sharing the report on social media and email, we also created a press release to share with local and national media outlets. Most notably, it was picked up by Yahoo Finance."
Syndicate and repurpose content for other sites
Djordje Milicevic of StableWP shares, "Our most effective content promotion strategy is content syndication. We focus on creating unique and comprehensive articles, which we then republish on other blogs, media outlets and networks. It does require a bit of extra work, however, there are numerous advantages to this approach. It provides more exposure, helps us reach a new audience, and finally helps build thought leadership."
Repurpose and remix the content that works across channels
Corey Trojanowski of Valve+Meter shares, "If it worked well as one medium, it will likely work even better in other formats. The best way to squeeze as much juice out of a successful piece of content is to re-purpose, reformat, and publish again! If your original piece of content was a blog post, there are multiple different ways to take what you've already produced and showcase it elsewhere. Record yourself on video whiteboarding the topic in detail and post it on YouTube and social media. Take the visuals and combine them into an infographic or deck and upload to Slideshare. Take what you're already written and try to guest publish a similar topic on another website. Find opportunities to make what's working spread across multiple channels, and you'll really see your content take flight."
Kasia Majewska of NapoleonCat says, "Repurposing your content is key. The key is to work smart, not hard. We've seen companies creating online courses based on the knowledge they've gathered on their blog and sometimes even selling it as a separate product. They wrap the content they already have in shiny, new packaging and promote it nicely (newsletters, ads, etc). Since Millenials are currently decision-makers, it's important to keep all the "wrappings" aesthetic and attractive – that's what MailChimp or Intercom does."
Jakub Kliszczak of Channels attests, "One of the most effective and, at the same time, the most efficient content promotion strategy is to:
repurpose your content and create dozens of pieces from, e.g. your pillar posts, and
create pieces that mention other brands and use social media for cross-promotion.
"These two methods combined are real killers. Not only you get more opportunities to attract leads but you also leverage the audience of other brands and spread the word where normally that wouldn't be possible."
Address audience needs
Brent Thurman of Keystone Insurance Services explains, "An example when content proved helpful to secure local interest and leads was after a notable earthquake was felt in Utah. Many people don't associate Utah with earthquakes, but we get them and while they might not be as destructive as other regions, the potential for them to be destructive is a reality. We noticed that there was a ton of search traffic being generated for earthquake information and insight in Utah directly after the incident. I scanned local competitor sites and realized that no one nearby was promoting or even really addressing earthquake coverage, so we immediately created a page on our site that addressed the most common questions, our available solutions, and established a 'Receive a Quote' form for inquiries.
"This decision to add this new section and content to the site achieved a great ROI on our efforts and it's been very popular for drumming up not only consumer policies but can be appealing to commercial clients too. What's even better is the longevity of it, as whenever a small earthquake or tremor is felt in Utah thereafter, we start getting traffic and calls for new quotes! That's one example where having proper SEO insight really paid off for us because we were able to provide that educational content and calls to action nearly simultaneously with the event."
Besides choosing the relevant topics and channels, consider the format and structure of your content. Experts from Ivory Research suggest that identifying relevant formats and structures will help you answer the audience's questions, nurture their opinions, and ultimately convert more leads into paying customers.
Solve a pain point and share your findings with other local businesses
William Schroeder, LPC, NCC of Just Mind shares, "We created a resource for the Austin community that focused on affordable counseling options in Austin. We marketed it to non-traditional sources like non-profits, universities, other businesses, and it wound up being picked up pretty broadly. It dealt with a pain point that we identified and was very well researched and put together. Many people shared it and linked to it as a result."
Other content promotion strategies
Liam Quinn of Reach Interactive tells us, "One effective way that B2Bs can promote content is by using podcasts. You can either do this on your own show or by finding guest spot opportunities on established shows in your field. If you aren't sure how to find shows, then MatchMaker.fm is a great place to start. The benefit of promoting your content via podcasts is that you will have already built up a level of trust with the audience by providing them with valuable insights. You can then sign off by telling listeners where they can find out more, such as an e-guide or a blog post that you have on your site."
Polly Kay of English Blinds advises, "Good content takes time to prove its worth, but when it does, it stands on its own merits and its readers and people who appreciated it do the heavy lifting for you. Ultimately then the best content strategy is to shape your content for your readers, with the goals of providing value and something meaningful that will enhance their lives. This is far more important than where or how you promote your content, or even what format your content is created in."
In conclusion
After you've created stellar B2B content, be sure to promote it on various channels. Carefully utilize paid, owned, and earned media to help your content reach the widest number of people within your target audience. Use social and email in unique ways to get content in front of new eyes, tap into proven SEO tactics, and don't underestimate the power of collaborations (beyond just guest posts).
We hope that this two-part round-up opened your eyes to content creation and promotion strategies your B2B may have previously overlooked. If you missed part one of this roundup, which focuses on content creation, or would like to take another look at it, check it out here.