If you have been following along with us, you may know that we are planning on rebooting our newsletter. Because of this, we have turned to a few friends to gain insight on creating a compelling and engaging email blast and newsletter.
Lucky for us, we had quite a few marketing experts provide us with how they have created community and engagement with their newsletter.
Marketers results of how to improve email newsletters
We survey 44 marketers for this survey. The survey consisted of 6 fill-in the blank, and 2 short answer response questions. Because we received so much good information from the short answer questions, we have split out findings into two articles. So don't forget to read our article on creating a compelling newsletter too.
The frequency of emails is highly correlated with the size of the email list
When asked the size of the newsletter being sent, the number of subscribers played a big role in the frequency of sending.
Those who are sending newsletters weekly had, on average, roughly twice the number of subscribers (54,000) than those that send less than weekly (27,000).
Weekly newsletters not only had more subscribers but were the most common response on send frequency from respondents. And quarterly emails were far below others in send frequency. Just 7% of respondents claimed they send newsletters on a quarterly basis.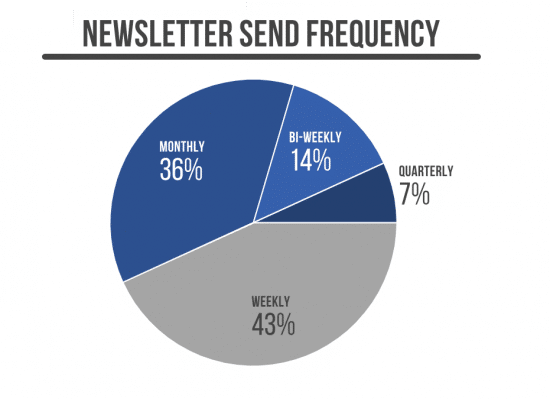 Takeaway: Subscribers expect weekly emails from large and established mailing lists. Upping your frequency is a great way to be taken more seriously as you grow your list.
Bigger lists use more content formats
Today's newsletter readers expect more than some text and a sign-off. From our respondents, we learned that there is a strong correlation between the variety of content formats used and mailing list size.
In fact, newsletters that use two or three content formats have, on average, 2.2x as many subscribers as those that use only one or two content formats.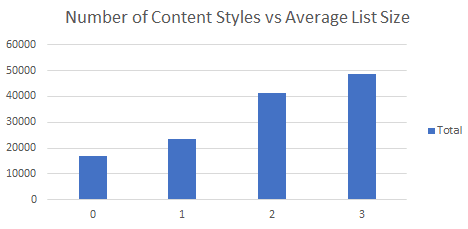 Takeaway: Images and Infographics, curated links, and links to blog content add interactivity and variety to your newsletter. Adding more variety to your newsletter is a great way to make your newsletter more professional and appealing to a larger audience.
Tips and tricks to create engagement in your emails
In the first article, we wrote on tips for creating a compelling newsletter. This article will cover tips and tricks for creating engagement and community with an email newsletter.
What we have learned is that to create a great newsletter, you have to create engagement and customer relationships to start with. Though many of us want to write about our brand and products, you have to make it worth-while to readers.
Therefore, you have to give the subscribers what they want and disguise your message to fit within that content.
Here's more on everything we've learned about creating a community focused and engaging email newsletter.
1. Have a process or checklist to rely on

Sometimes you just need to follow a simple checklist can help you recreate a masterful email. Here are a few quick processes used by marketers.
2. Use a textual layout to make email list happy

You might lose subscribers if your email is slow to load, or if your email looks incomplete. Sometimes images don't always load properly and can create an eyesore of a newsletter.

Sometimes you need to switch it up and add a variety of things to look at. Whether that be related (but different) content. Or simply writing about a new theme or topic each time.
Aubrey Harper from Kapost explains that you need to showcase related, but a combination of items in your newsletter.
4. Your email subject line is the first step to engagement
If you're not nailing it from the getgo, you'll likely find your emails go unread. But, if you create engagement from the start, you'll probably have success.
Rachel Sielaff from SJC Marketing explains that the biggest thing to be aware of is your subject line as that is what people see first. 
5. Provide a personalized experience

Personalization is key to a lot of things when it comes to marketing, it can make it attractive to the individual and build your customer relationship. So you better believe that it's just as important when creating a newsletter that resonates well with your community.
Find ways to pique someone's interest. If you can manage that, you can create value for your readers.
Your subject line is the introduction to the rest of your email. You have the whole message to get your point across and tie back to your subject line. If you can accomplish this, you likely have an intriguing email.

People read newsletters because they are interested in what you have to say. You can make this more enjoyable for them if your message lays out as a story or some sort of narrative rather than a series of tiny topics with no relatable connection.

Sometimes a good email needs a little something extra to get people to engage. A CTA or a simple question can do the trick.
10. Use your subscriber's feedback in future newsletters
If you use the feedback from your subscribers you can create a newsletter designed to fit exactly what they want. Making your newsletter something people want to read.
Build a community around your newsletter
Listen to what people are asking you and take notice of what they are interested in. As you can tell, most marketers can agree that those two little things can help you create a pretty engaging and read-worthy newsletter.
Thanks again to all those who have contributed! If you'd like to contribute to upcoming roundups please visit our content partnership page.