If you're a roofing contractor looking to grow your business, you should consider a referral program to generate more leads. And why wouldn't you? Referral marketing has proven to be one of the most effective ways to acquire new customers.
Referral statistics show that 75% of customers are more likely to purchase something if it is referred to them. Furthermore, the conversion rate for referred prospects is four times higher.
By incentivizing your happy customers to send business your way, you can quickly build a loyal customer base and expand your reach. But how do you create a successful roofing referral program?
In this guide, we'll share some tips and best practices for creating an effective roofing referral program to scale your business with new customers.
What is a roofing referral program?
A roofing referral program is a marketing strategy that rewards your previous customers for referring your roofing company to their friends, colleagues, and family members. When existing customers bring in new ones, you give them incentives, such as a gift card or a discount.
The best referral program automates the tracking of referrals. Automated tracking will give you better insight into how much roofing business is coming from referrals and how your program is performing. You shouldn't rely on a manual process where customers give you their friends' names and you keep track of who referred whom by yourself.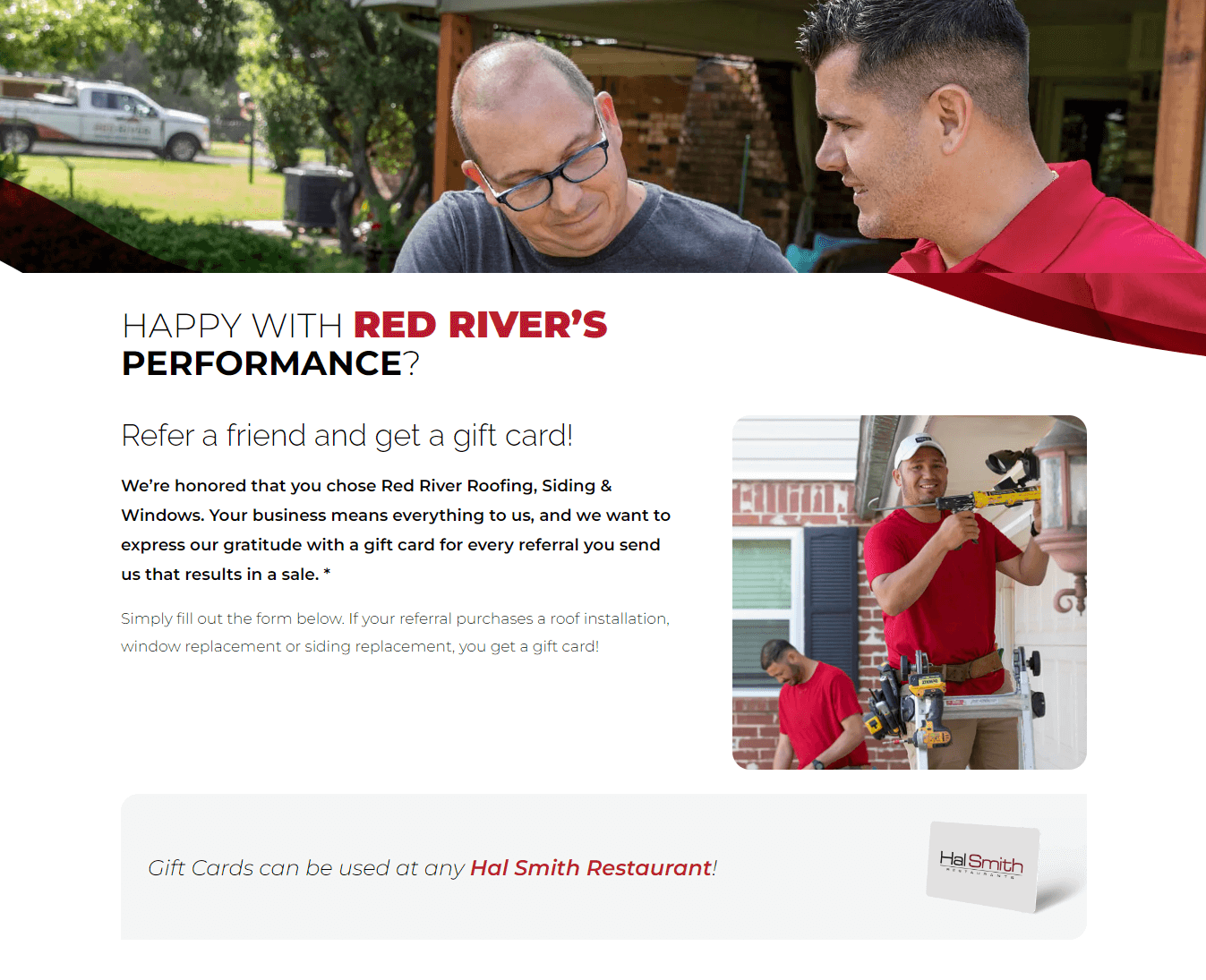 Why do you need a roofing referral program?
Whether you're a new or established roofer, you should have a referral program in your marketing arsenal. The word of mouth generated through a referral program can be the difference between success and failure in a competitive roofing industry. Here's why a roofing referral program is vital:
The nature of the roofing business
The nature of the roofing business especially makes it a prime candidate for referral marketing. Roofing is an expensive and infrequent purchase, since a roof has a lifespan of 15 years or more.
For this reason, you need a reliable acquisition channel that will bring in new customers frequently. A referral program is a great way to do this, as it allows you to get in front of potential new customers.
Roofing is a significant investment
A roof replacement in the U.S. costs a homeowner an average of $8,600. If a customer is going to spend that much, they want to do their due diligence to ensure that the company they hire is reliable. The research process includes asking friends and family for recommendations and checking online testimonials.
 A Nielsen report shows that 92% of consumers trust recommendations from their friends and family. If the prospect's friend recommends your roofing business, they will likely hire you for their roofing project.
Cost-effective acquisition
Referrals are a clear winner when it comes to which marketing strategy has the lowest customer acquisition cost (CAC). 54% of marketers acknowledge that referral programs bring in leads at a lower cost than other channels, such as ads.
The cost is low because you only give a fixed referral reward when you make a sale or when the referral results in a qualified lead. That means you're not spending money on unqualified leads or potential customers that may never convert.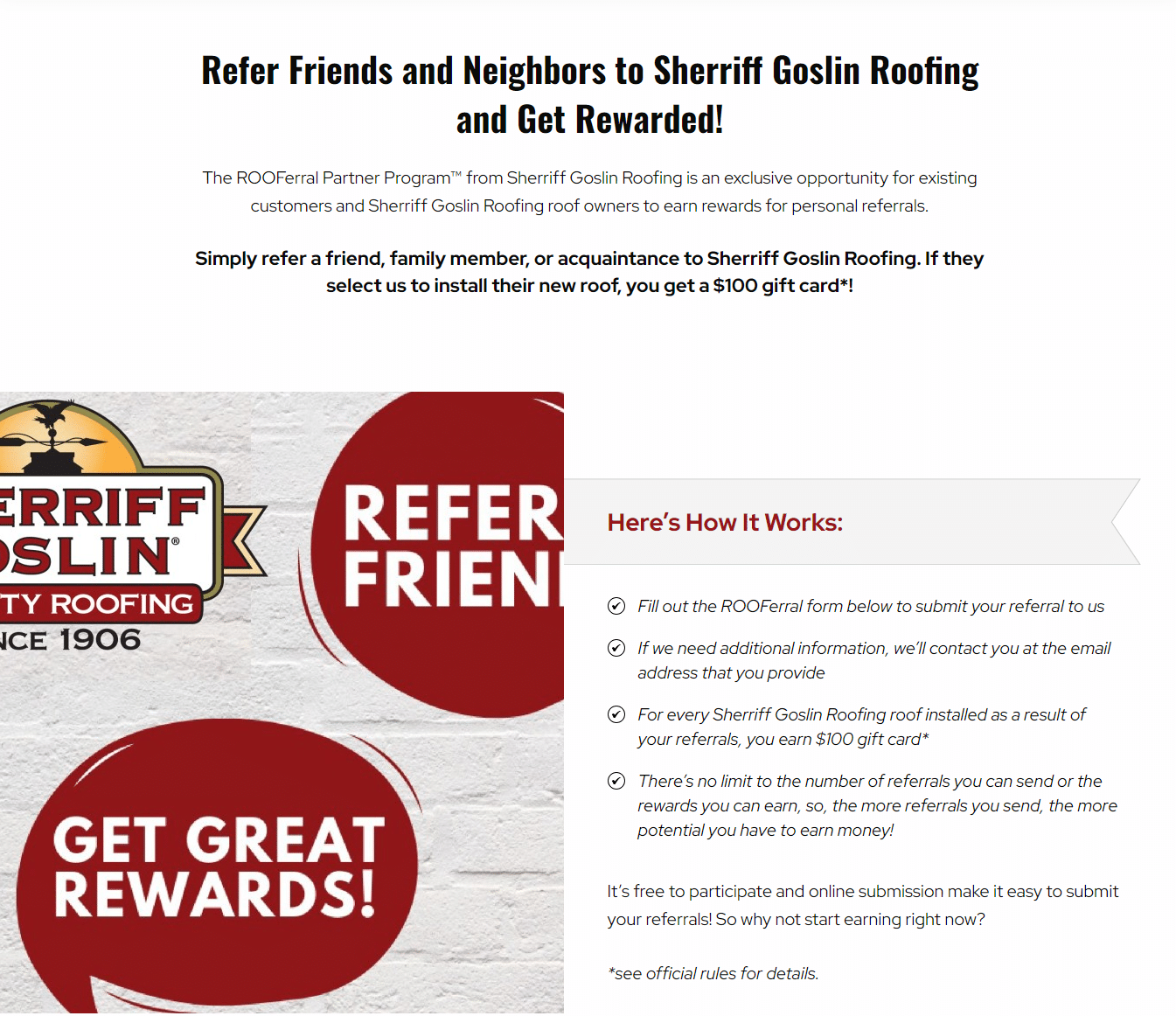 Are you ready for a roofing referral program?
Despite all these benefits, not all roofing businesses are ready for a referral program. Before you start one, make sure you have the following in place for success:
A healthy list of existing customers (ideally, with some customers who already referred you without prompting)
A high level of customer satisfaction (checking your reviews is a great way to confirm this)
An existing online presence to direct referred leads to (say, a website)
Roofing referral program best practices
The success of your roofing referral program will depend on how well it's implemented. Here are some best practices you should keep in mind:
Choose the right roofing referral rewards
Referral rewards are the driving force behind any successful referral program. But before you even think about the reward to use, you should determine who you will be rewarding. Is it the referrer, the referred friend, or both?
Double-sided rewards, where both the referrer and the referred friend get something, are more effective than single-sided rewards. You will motivate your existing customers to make frequent referrals to your roofing services. On the other hand, you will encourage new customers to make their first roofing purchase.
You shouldn't tie the reward to roofing services when rewarding the referring customer. Why? Because roofing purchases are infrequent and the customer may not need your services again for a long time.
However, the reward you give to the advocate should reflect the value of their contribution since roofing purchases will generate greater revenue for you. For example, you can give them discounts to other businesses, cashback, event tickets, travel credits, or gift baskets.
When rewarding the referred customer, you should tie the reward back to your roofing company. The goal is to encourage them to hire your company for their roofing needs. 
For example, you can give them discounts on new roof installation. You can also use a cashback on their purchase or offer them a free roof inspection or a discounted roof repair.
Consider creative reward structures to motivate repeat referrals
Think about using cumulative incentives, which increase the reward customers receive each time they successfully refer a lead.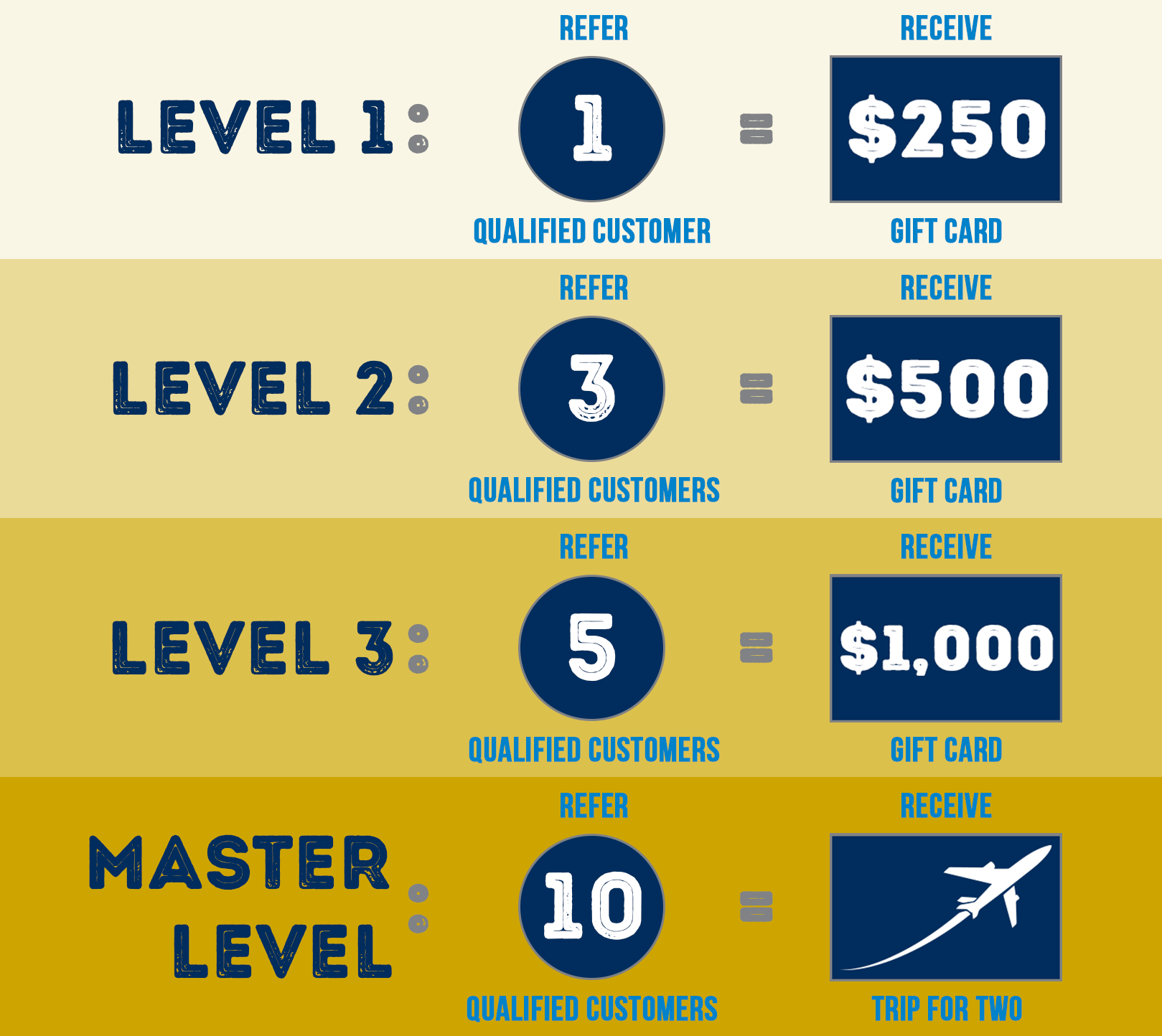 You might also enter all referrers into a drawing for a larger reward, like season passes or a tech item – one referral equals one drawing entry. 
If you use a stepped sales process with lead qualification, think about giving a small reward for every qualified lead, and a bigger reward if the referred friend ends up making a purchase.
Know when to ask for referrals
While referrals are powerful, you should never bombard your customers with referral requests. Instead, try to look out for natural opportunities when you can ask them to refer others, without feeling pushy.
Some of the best opportunities to ask customers for referrals include when:
You have completed a roof installation
You've received a positive review from your customers
You've received a positive social media comment from them
They give you great in-person feedback
You know they were satisfied, and you're sending the invoice for the completed job
You know they've already recommended you outside of your referral program
Promote your program on a variety of channels
Your roofing referral program won't generate new sales if people don't know about it. Promote your referral program on various channels, such as the following, to ensure it gets more visibility:
Your website: Choose the website page with the highest traffic (usually, your homepage), and place a hero image or banner promoting your referral program.
Mass emails: Send emails to your entire list of customers and prospects, introducing them to your referral program. 
Personal referral emails: If you have customers who are very satisfied with the roofing services they received from you, send them a personalized email asking them to refer others.
Social media: Create posts focusing on your referral program and share them on all your social media platforms for maximum reach.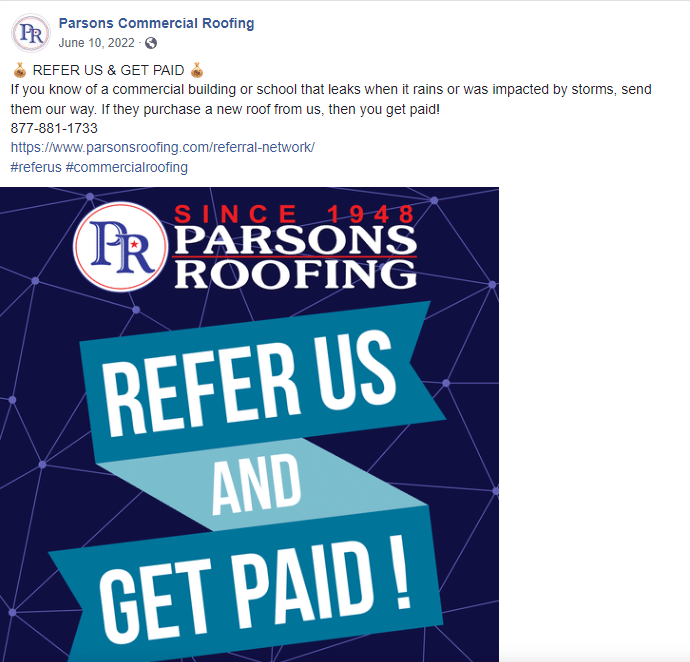 Other emails: In all other emails, such as news/updates, confirmations, and invoices, include a brief section encouraging customers to join your referral program if they haven't already.
Email signatures & social media bios: Create an email signature template with a line about your referral program and use it whenever you send an email. Also, add a line in your social media bio about referrals to increase the visibility of your program there.
Direct conversations: When talking with customers and prospects, mention your referral program and request referrals. Make sure to phrase it in a way that doesn't seem too intrusive or pushy.
Use referral software to track your program
Dedicated referral software will make planning and implementing your roofing referral program easy. It will streamline your program creation process and automate all aspects of program management.
Choose a tool that generates referral links, so you can track exactly where each referral came from and instantly issue rewards for successful referrals. The software should also collect data about the performance of your referral program. You will need this data to measure the program's success and determine which areas you need to refine for better results.
Referral Rock referral software is one of the best referral software solutions you can consider. It offers the best-in-class referral tracking, sharing, and engagement experiences. Plus, their concierge onboarding means you don't need to hire any developers to get your program up and running.
Make the sharing process seamless
What's the point of having a referral program if customers can't share it with their friends? Keep the sharing process simple to ensure you get more referrals. Ensure the customers can access and share the program in just a few clicks.
Make sure your customers understand what the program entails and what they need to do. For this reason, create a catchy headline that states exactly what customers should do (share) and what's in it for them (the reward). Underneath the headline, include a few steps to explain the roofing referral program clearly. Summing things up in three simple steps is best.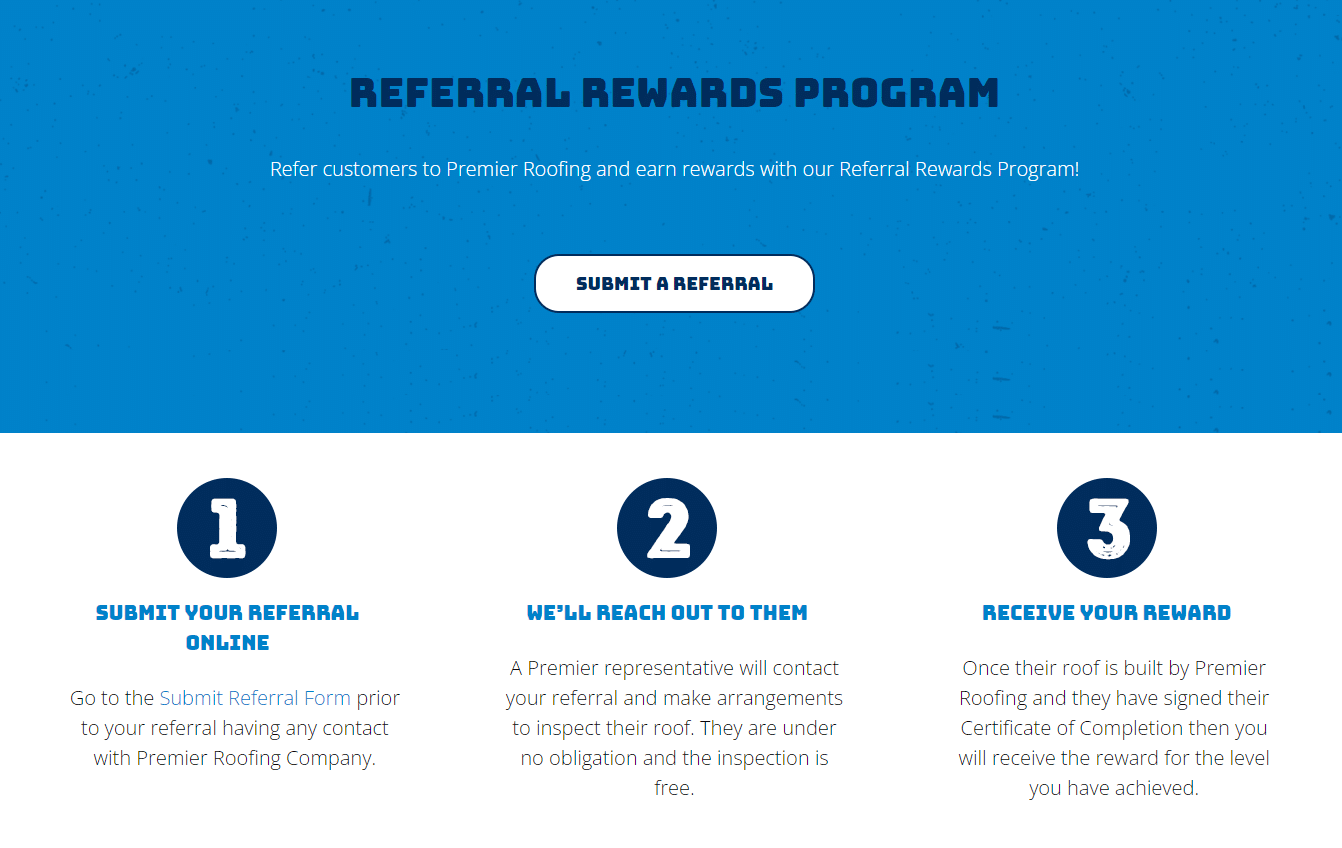 You should also add an FAQ page on your website for customers who have other questions about your referral program. Finally, offer multiple options for sharing based on how people naturally share things they love with friends and family. This could include social media, email, or a referral link that customers can copy and share anywhere.
Design a simple referral form
Roofing referral programs tend to ask for a lot of information, but too many questions can get overwhelming quickly. Only ask for the info you need to track who the referral came from and contact the new lead.
Consider one of these simple lead form combinations:
Referrer name, phone, and email; lead name, phone, and email
Referrer name and email; lead name, phone, and email
Referrer name and email; lead name and email
Optimize the message the referred friend receives
You want to ensure the message the referred individuals receive reflects positively on your roofing company. After all, this is often their first contact with your roofing company, and they need to feel like they can trust you.
The message should include the referrer's name, so the friend knows who is referring them and can build trust in you. Strike a balance between a generic corporate message and one that's too personal, as that could come off as intrusive. Ideally, at least part of the message should be in the referrer's own words to make it more personal.
Include detailed information about the referral rewards, such as how much they will receive and how to redeem them. Also, explain the main points of what makes your roofing business great. Finally, include an eye-catching call-to-action (CTA) above the fold to entice them to take action.
Thank customers for referrals
Thanking customers for referrals encourages them to make more referrals, because they feel appreciated. Send a personal thank you note (preferably written) whenever someone's referral results in a purchase. You might also post a public thank you for the referral on your social media page, or recognize top referrers on your website.
Here are more details on how to send a thank you note for referrals.
Wrap-up
An effective roofing referral program will help you win more customers and grow your business. Put some time and effort into creating a robust referral program and use the right software to track and measure results.
When you set your referral program right from the start, the rewards will follow. Lucky for you, we have outlined the best practices to make sure your referral program is successful. Now it's up to you to put these lessons into action with referral software, and reap the rewards.