Off-page SEO involves actions beyond your website and direct control, for the purpose of increasing your search ranking. Some examples include getting other websites to link to your page, guest posting for backlinks, encouraging social shares, and building domain authority.
While your team has less power to influence off-page SEO than to optimize your own pages directly, there are still plenty of steps you can take to boost off-page SEO.
What off-page SEO strategies do marketers see as most effective? Aside from the traditional backlink-building method, what overlooked strategies do marketers find most beneficial for off-page SEO and building domain authority?
We ran a survey to find out, and a staggering 131 marketers shared their insights, making this our most successful roundup yet.
We start off by sharing the 15 most effective off-page SEO tactics. Then, we reveal some overlooked off-page SEO strategies to consider for your own content strategy.
15 off-page SEO tactics: Which are most effective?
We asked marketers to rank the effectiveness of 15 top off-page SEO strategies from 1 to 5, with 1 meaning "least effective" and 5 meaning "most effective."
What strategies did marketers rank the highest?
Creating highly shareable content was ranked most effective of the fifteen, with an average rating of 4.59 out of 5. This makes sense, because you need shareable content to build all-important backlinks!
In fact, the most well-known and most-used off-page SEO strategy, intentionally building backlinks, was ranked second-most effective, with an average rating of 4.32 out of 5.
Contributing to expert roundups – like the one you're reading! – ranked third, with an average of 4.14 out of 5. This offers a solid opportunity to demonstrate authority through a quick submission (less effort than a guest post) and acquire backlinks.
Guest posting itself, although controversial, still ranked fourth as an off-page SEO strategy, with an average of 3.85 out of 5. This strategy may be time-consuming, but it gives you heavy control over backlinks and the keywords they're associated with.
Rounding out the top five strategies was PR efforts, with an average of 3.76 out of 5. PR is another approach where you can heavily control the long-form content and links on other sites.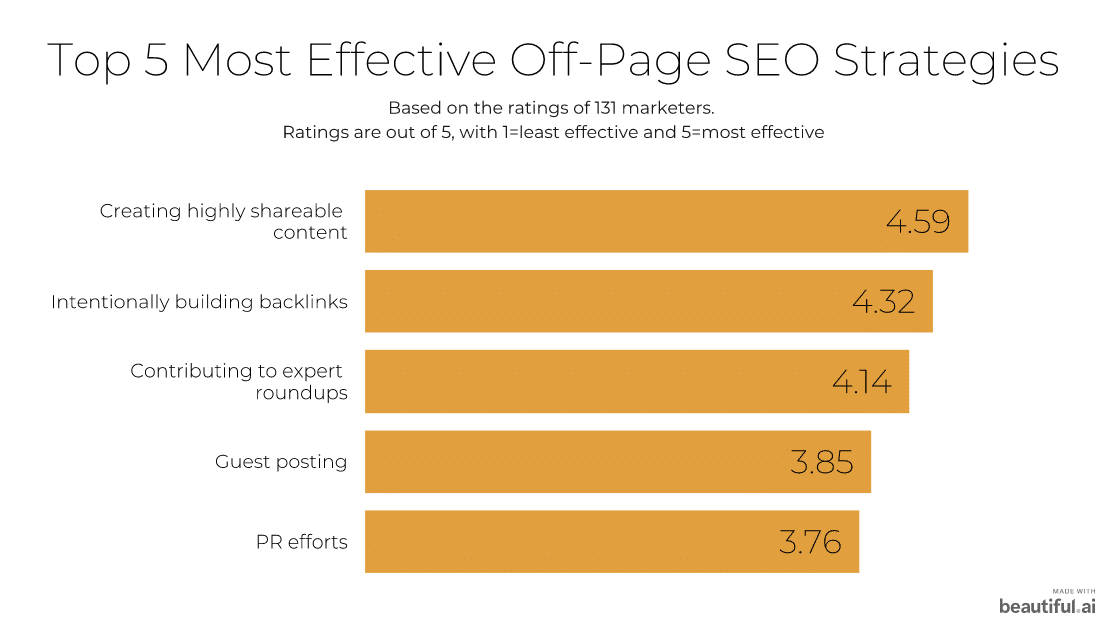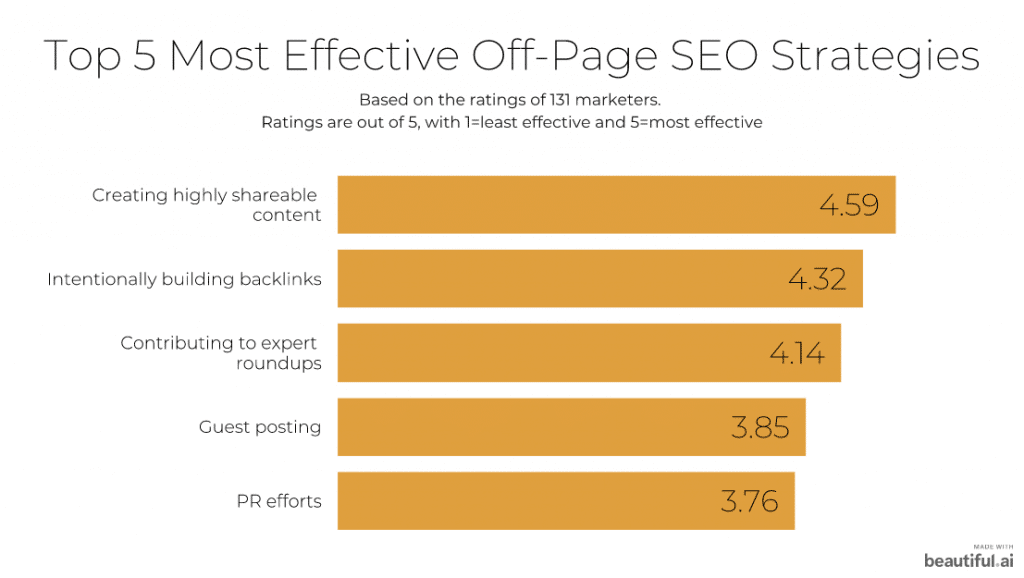 In order from highest to lowest, here's how the marketers rated the other ten strategies that didn't make the top 5:
Generating reviews: 3.67 out of 5
Video marketing: 3.53 out of 5
Podcasts: 3.32 out of 5
Your own social media posting: 3.29 out of 5
Influencer marketing: 3.2 out of 5
Webinars: 3.11 out of 5
Encouraging others to share your site on social media: 2.98 out of 5
Affiliate marketing: 2.86 out of 5
Q&A responses (on sites such as Quora): 2.86 out of 5
Forum responses: 2.5 out of 5
Often-overlooked off-page SEO techniques
Now that we've examined the 15 most effective and popular off-page SEO strategies, what off-page SEO strategies do marketers think are effective, but commonly overlooked?
Check out their insider secrets, and use them to enhance your own off-page SEO strategies.
1. Create highly shareable content
"People often act like the only way to get backlinks is by actively building them. But creating quality infographics, downloadable files, etc. also gives you some excellent off-page results. Interactive content is my number one link-building tool right now." –George Pitchkhadze, Thrive Cuisine
"I think people often overlook the value of having your content available in different media formats. For example, if you have a unique and in-depth article, you should also make it available in video format. Similarly, you can summarize it into an infographic. Having your content in different formats makes it more accessible to a larger group of people, and easily shareable." –Tonya Van Ry, Utah SEO Companies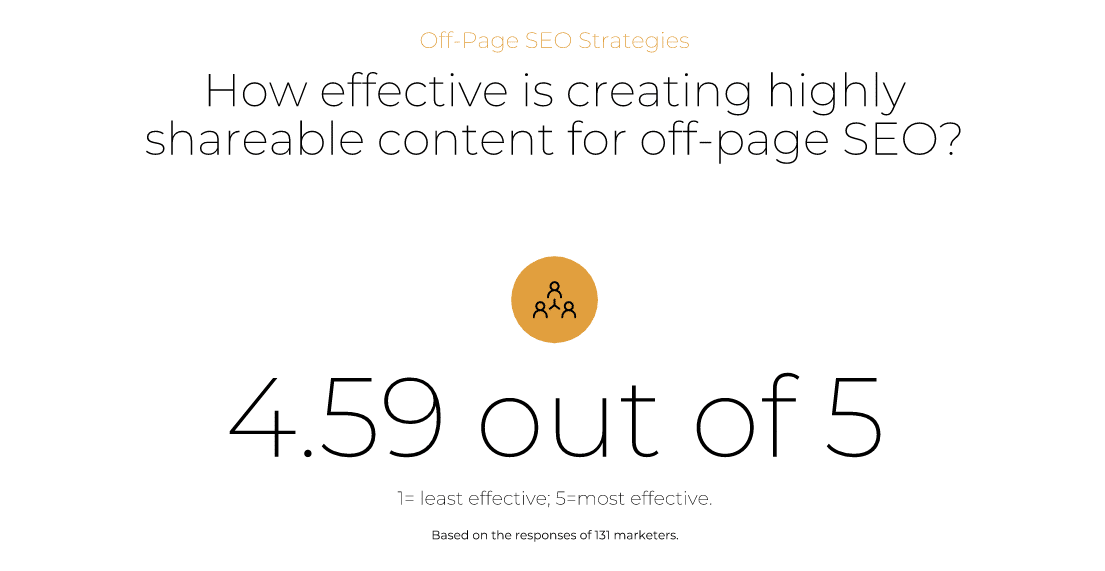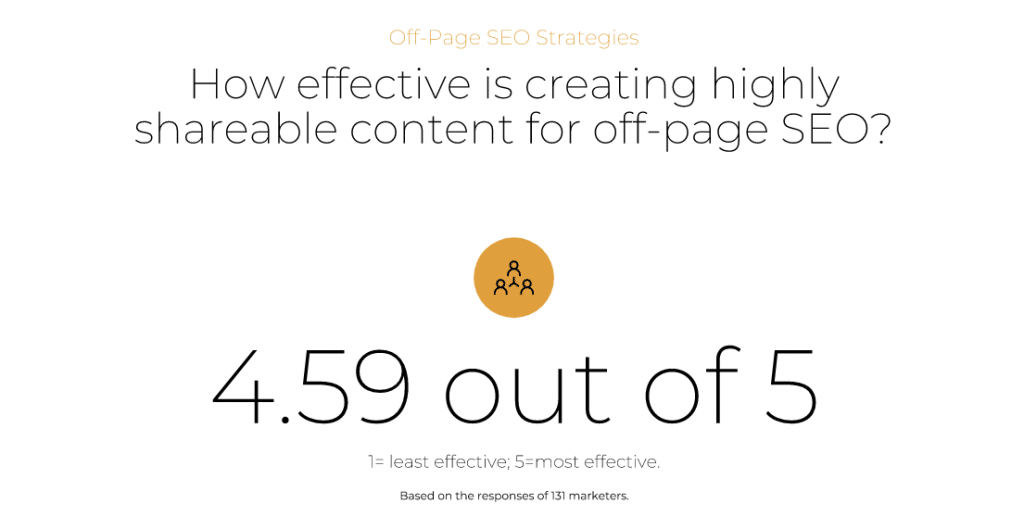 2. Build relationships to gain backlinks
"When reaching out to website editors/owners, you're more likely to get a link if you forget about the link and instead build a relationship. Over time, because they trust you and like the content you publish, they're more likely to link to you without you asking. With a good relationship, you'll also get multiple links over the months. It takes time to build that trust, but generally, you'll get those hard-to-get quality links." –Mark Reynolds, ProfitReach
"Building relationships with niche influencers. SEO marketers are obsessed with the latest techniques and forget that at the end of the day, people determine if those tactics will take off or fall flat. By focusing on relationships, you get everything else and more. When you have solid relationships with influencers, they'll gladly link to your content, share your posts, give you guest posting opportunities, host you on their podcasts, and more." –Qhubekani Nyathi, Wholesome Commerce
3. Focus on the relevance of backlinks
"Most of us will try to acquire any backlink, even if it isn't relevant to the market we are in. But I believe each backlink you create should be relevant to what you do. For example, if you are in the hospitality sector, don't create a backlink to blockchain technology. Focus on finding links that are relevant to your field and you will build a strong reputation that will ultimately improve your PR and off-page SEO." –Kevin Van Dijk, Tree Online
4. Work toward a well-rounded backlink profile
"I think that well-rounded link building tends to be the most effective off-page SEO technique that is also the most often forgotten. Link building should be a personalized process that includes a mix of local, regional, and national outreach in order to create a well-rounded backlink portfolio. Many times, other marketers or small businesses will focus on only one type of link building." –Madeline McMaster, Blushark Digital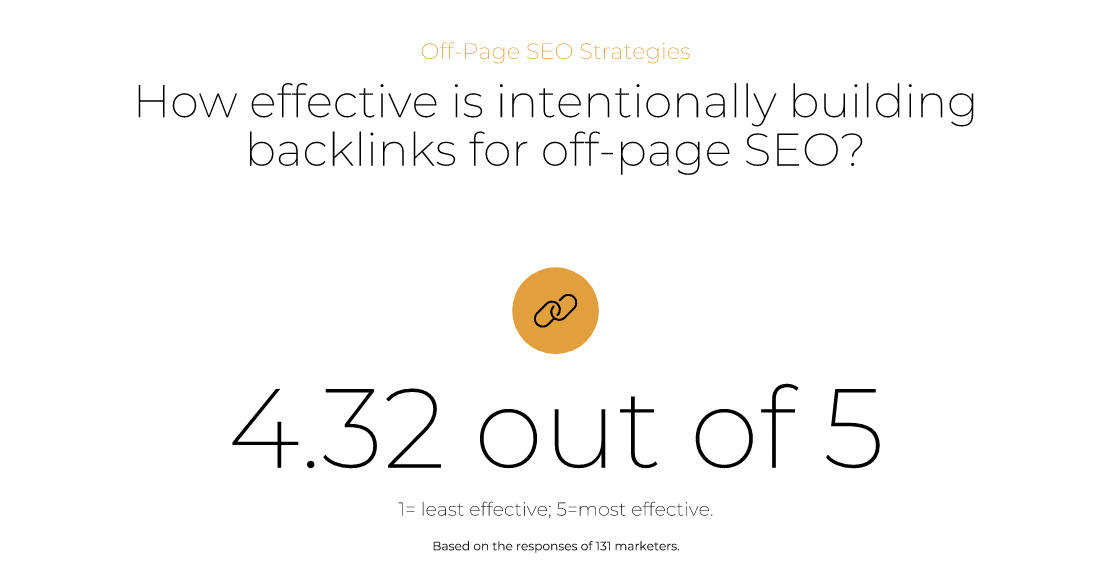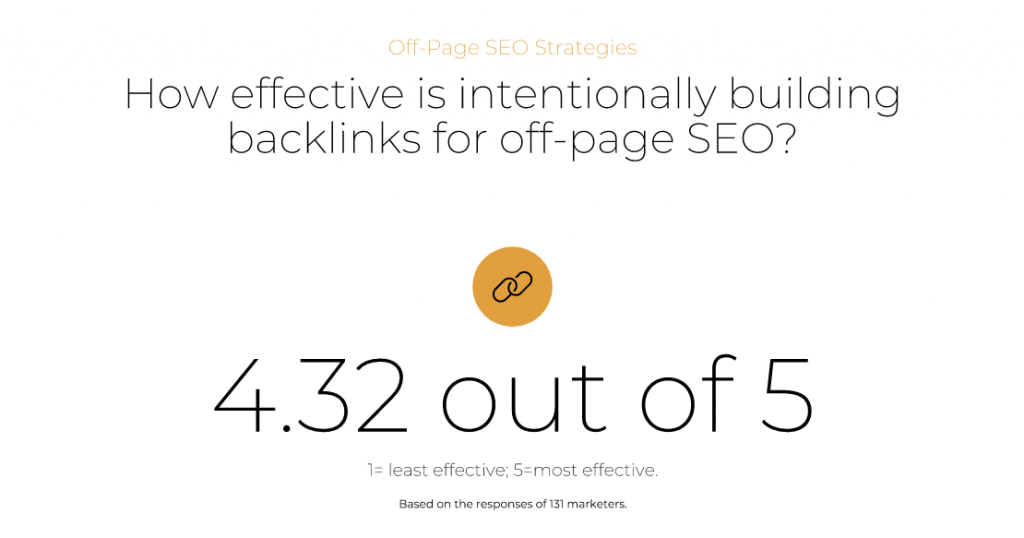 5. Contribute to expert roundups
"Get included in expert round-ups or quoted in an article. Of course, you should do it to share expertise and knowledge; that's your starting point. If you contribute and add value to the author, then you are in. You won't get a link every time, but the times you will, they will be natural, organic, white hat links." –Tihana Drumev, Best Response Media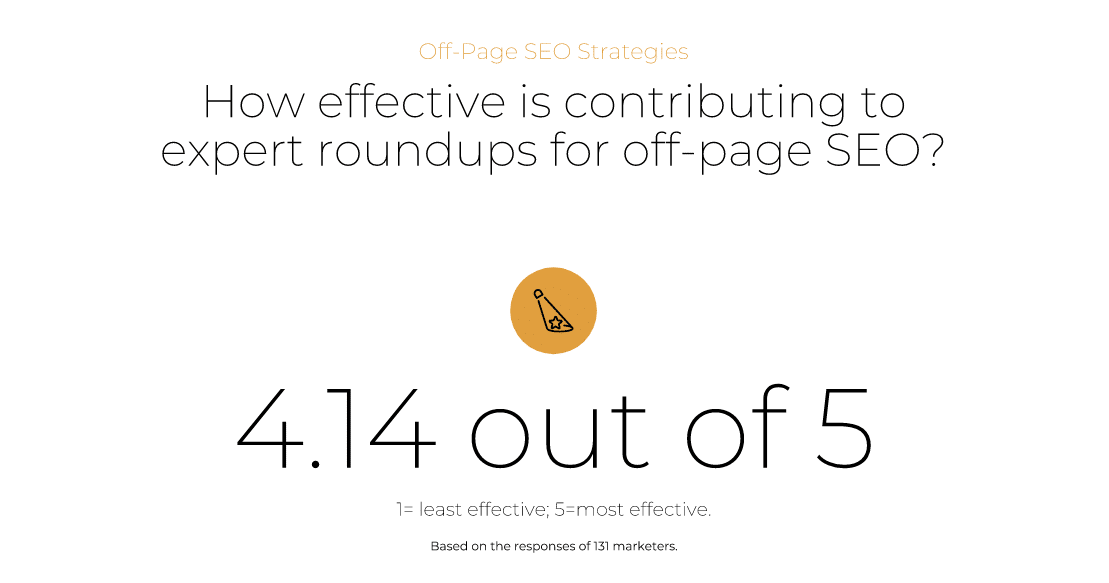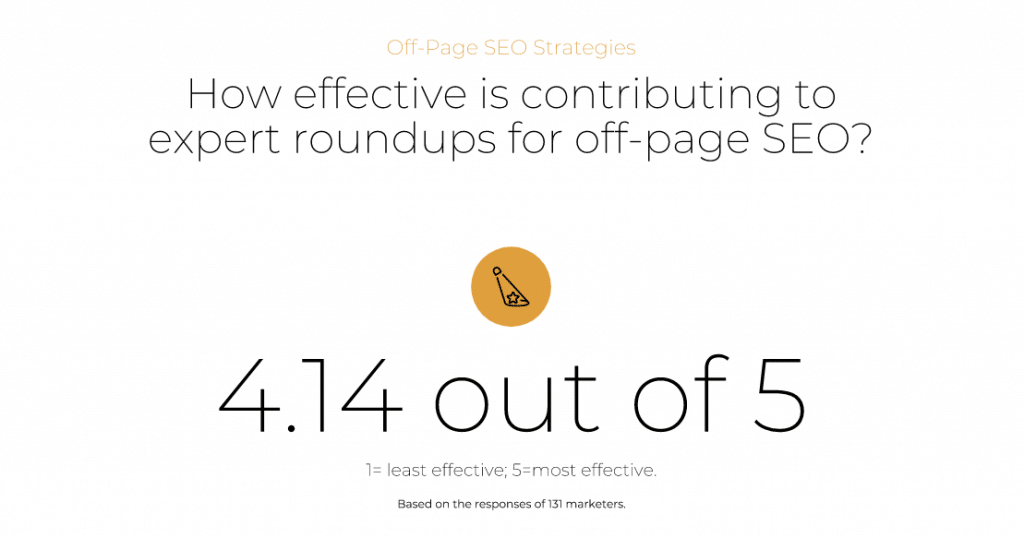 6. Pitch quotes to journalists
"Pitching journalists to gain backlinks. Your CEO should monitor the HARO newsletter and reply to queries. If a journalist thinks the quote you send is a good fit, they'll add your expertise to their article. This can be an excellent opportunity to get a backlink on high-authority sites, such as Business News Daily, Business Insider, or Business.com." –Grant Aldrich, Online Degree
"One powerful technique that has worked for us has been connecting with journalists who are writing content in our niches, and then offering them a quote or expert comment for their article. By providing the journalist with genuinely useful information, you're helping them out. Then, if they see value in your input and decide to use it, they will often link back to your site in their final article. There are lots of tools out there to connect journalists with sources, and searching Twitter can be a great starting point. Using this method has also helped us make some amazing contacts in our niches." –Martin Caparotta, The Sport Review
7. Don't sleep on guest posts
"A lot of content marketers underestimate the value of guest posting, given that it can take a great deal of time and effort to craft a quality guest post. While it may be labor-intensive, there's no arguing against the value of generating quality backlinks. Guest-authoring a post for a trusted site with high domain authority will provide tons of 'SEO juice' and is an effective way to direct traffic to your site." –Kimberly Smith, Clarify Capital
"I like to use guest posting as a seed for my next prospects. When I land a guest post, I'll deliberately include backlinks in it to future websites I'd like to acquire links from. When the article goes live, I then reach out to these next prospects and let them know I've included their links in my latest guest post. That way, they are much more open to having me guest post for them; almost as a way of saying thank you! It's the little-known way to score high authority backlinks again and again, as the chain continues!" –Clive Harris, Solopreneur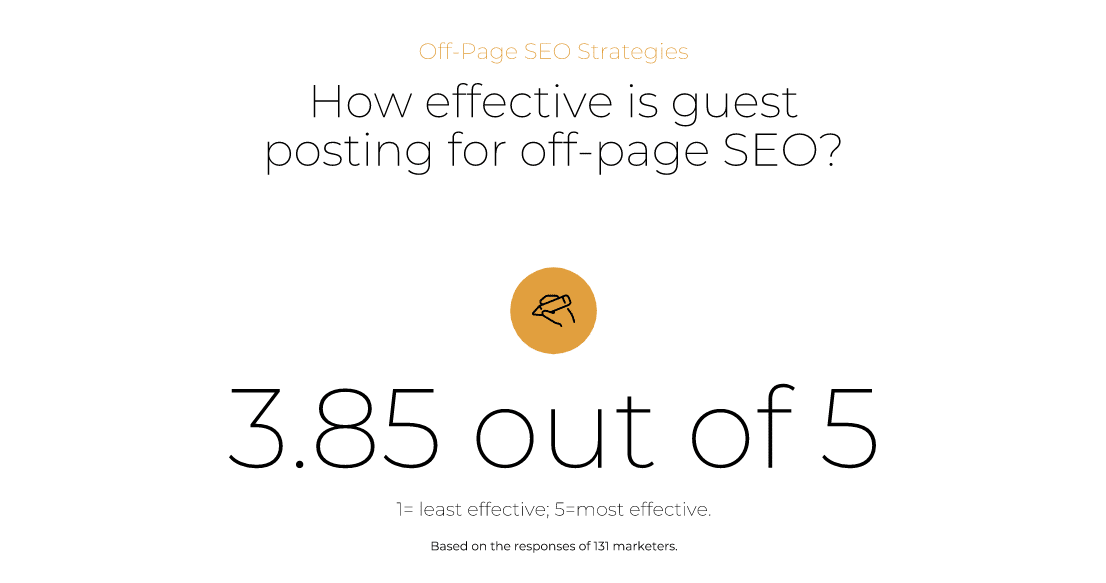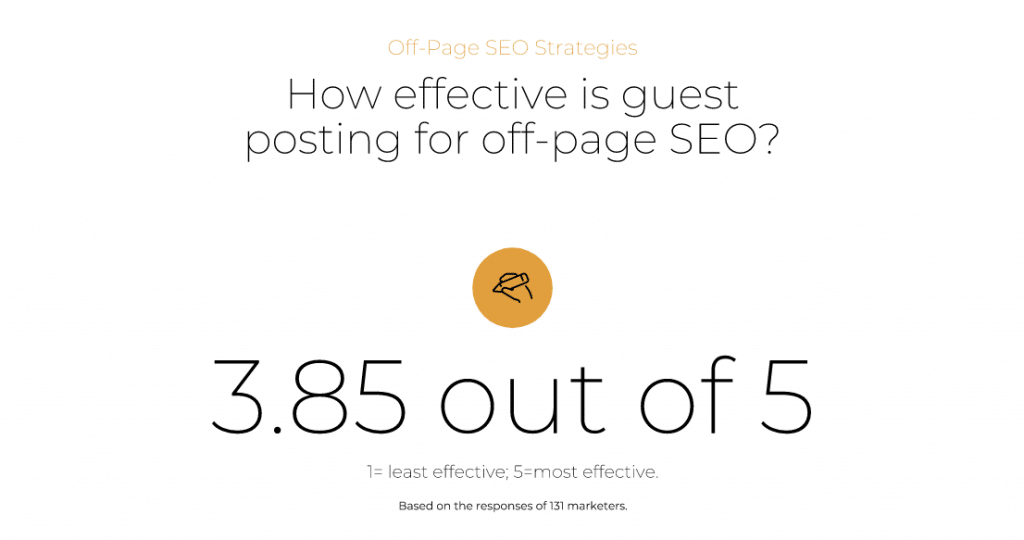 8. Help websites you guest post on build their internal links
"Internal link building for websites you guest post on. Often new guest posts aren't interlinked well. So it pays off to point the owner or content team to internal linking opportunities. The steps are fairly simple: Search for suitable web pages on Google using 'site:[the site you're guest posting on]' and the desired keyword, then write a friendly message/email with a list of internal URLs and maybe even text passages to link from." –Peter Thaleikis, RankLetter
9. Conduct PR surveys
"A creative off-site SEO technique for businesses is conducting a PR survey. The main objective of conducting a PR survey is to collect opinions from the general population or a niche audience of people regarding a certain topic related to a brand. The results are then shared through company outreach, press releases, news sources, and journalism outlets. With every media publication that shares the press release, your website receives a new backlink – especially from sites with high domain authority." –Emily Carroll, Drive Research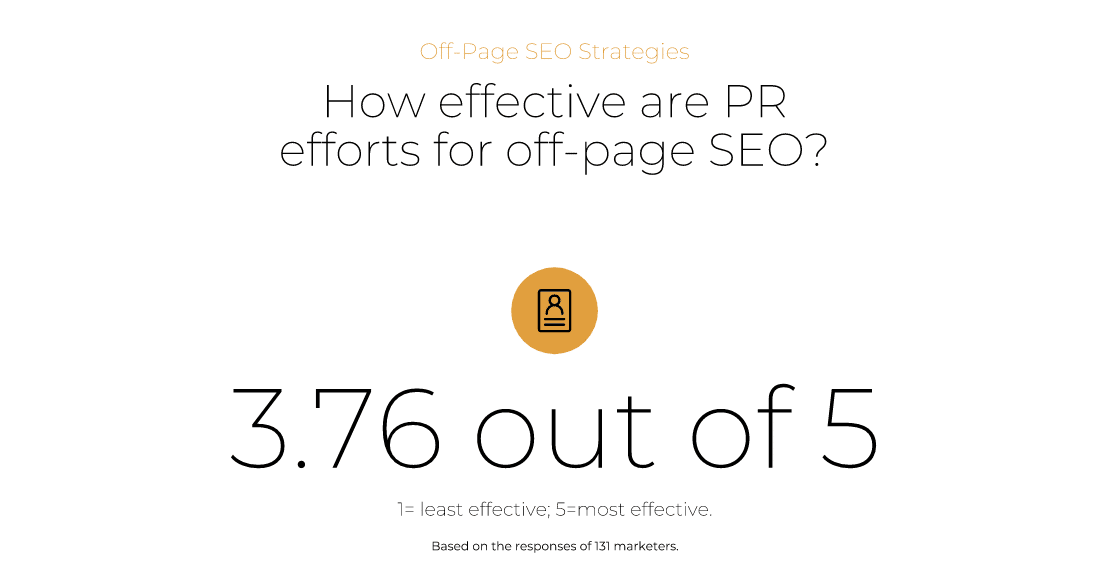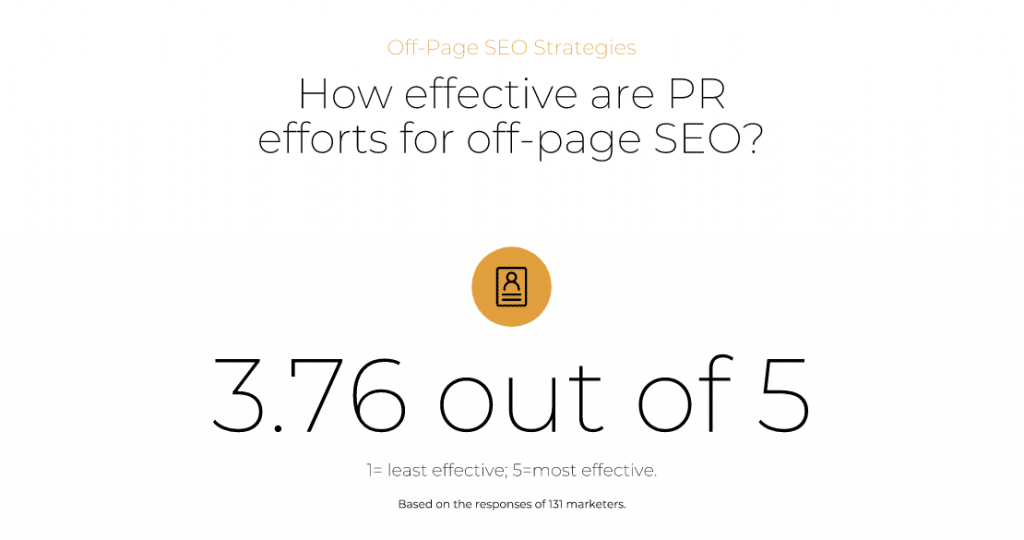 10. Use press releases
"While it can take some time to find the right press release service, the right one will add tremendous value to your off-page SEO campaign. All press release services tend to work differently. Some will gain you more exposure and traffic, while others will get you some all-important backlinks. It's worth having a mixture of both, but ultimately, a well-written release with the right anchor text in your content can work wonders for your SEO." –Andrew Witts, Studio 36 Digital
11. Get more reviews
"I often see other marketers overlook the power of client reviews on third-party websites. Many SEOs spend all of their off-page effort on building backlinks. However, Google also takes trust into account when determining which website to rank higher. Businesses that have reviews around the web are seen as more trustworthy to not only Google, but also potential clients.
"While asking for reviews on third party websites such as Yelp, TrustPilot, etc. is good for SEO, it also offers secondary benefits. Users will often use third party websites to evaluate a business prior to deciding if they will be a customer. So, not only do you get the SEO benefit, but reviews may directly increase your sales." –Dan Foland, Postali
"Building social proof using review platforms is an important, but often overlooked technique. This is especially helpful when targeting local traffic. Review sites often rank highly in search results, so utilizing these is a must. At the end of the day, people want to know that the business they're looking at is trustworthy." –James Parnwell, TheOnlineCo
"Optimizing your Google My Business listing and getting positive reviews on your listing. A complete, verified GMB listing with positive reviews is a signal to Google that you are a legitimate business that people like. Even if you're not a local business, your listing and reviews can help your overall rankings and search visibility because of the trust signal it sends to Google." –Allison Chaney, Boot Camp Digital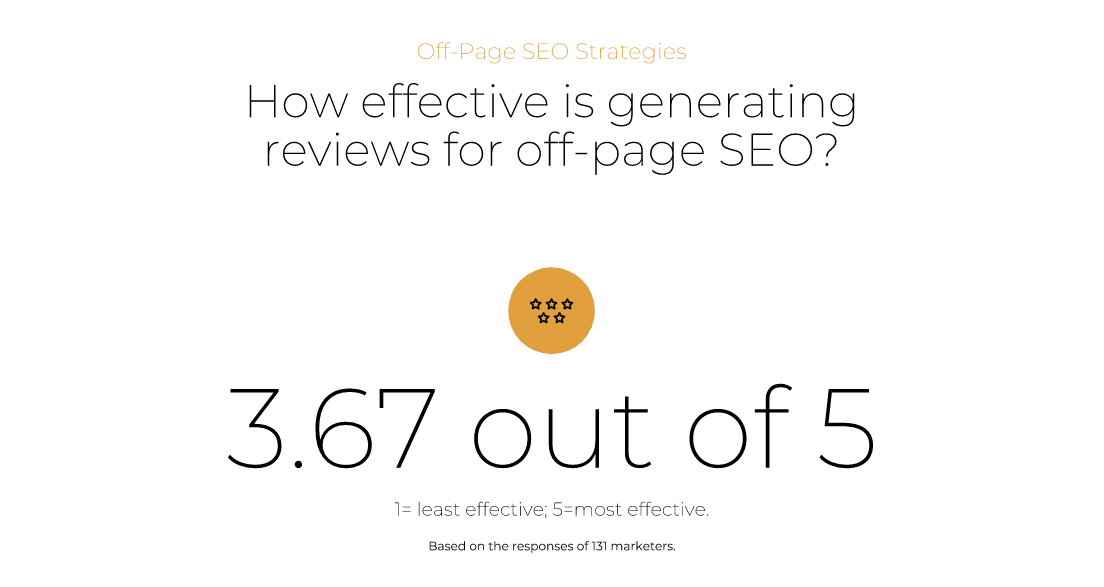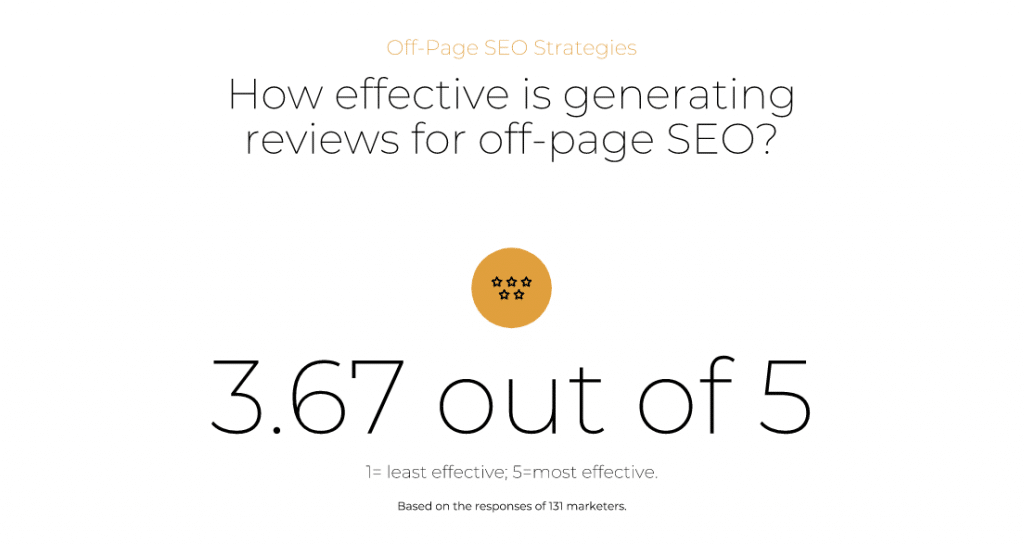 12. Build backlinks with audiovisual content
"Types of content that drive a ton of backlinks are podcasts and other types of rich media. For my clients that do podcasts, the amount of do-follow high domain authority backlinks they receive is astounding. For 90% of the time, you don't even need an actual podcast. You can use an MP3 from a video you've recorded. This also has the potential to work for audiovisual content, except the production value of a quality video can be quite expensive." –William Chin, PickFu.com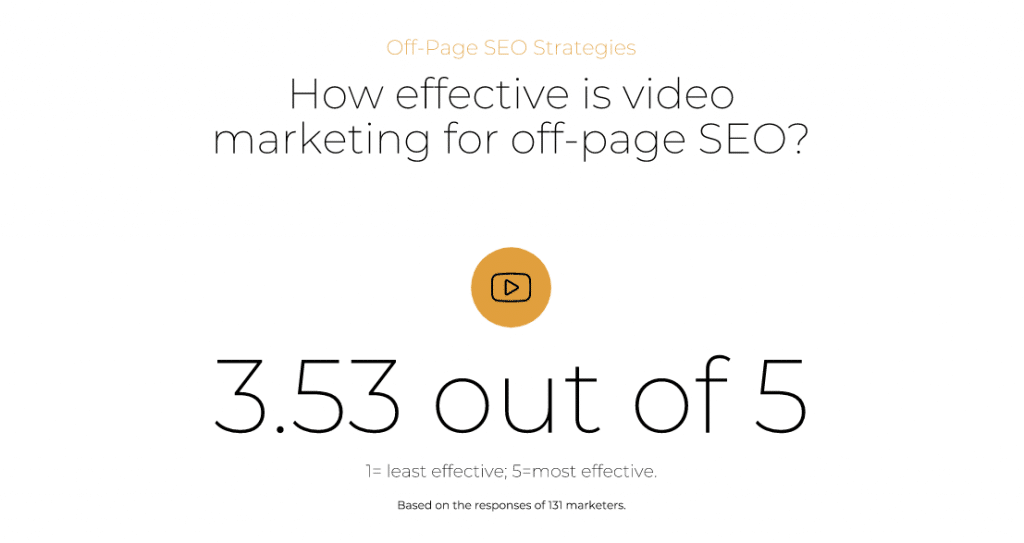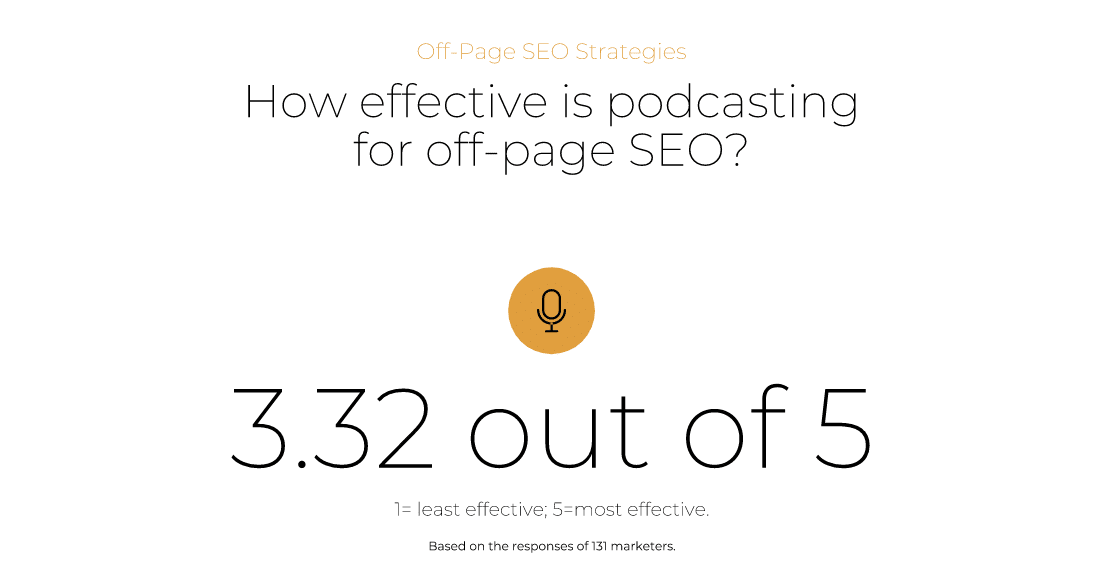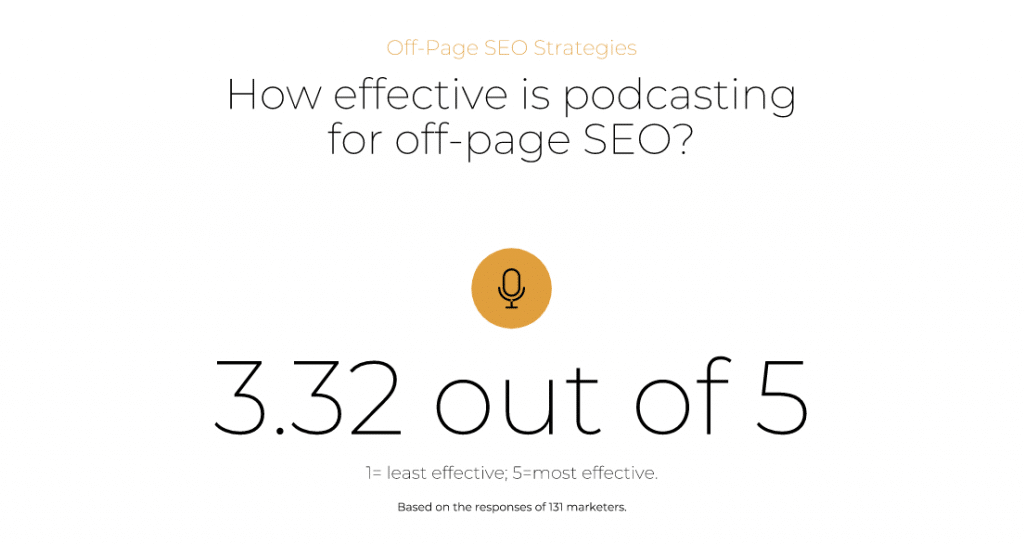 13. Create a comprehensive guide to attract links
"The content you want to rank in search engines and the content that gets you backlinks do not necessarily have to be the same. Put together a comprehensive overview of your niche that might be useful for the media interested in your market. They will naturally link to you as a source of information. Even though your potential customers might not be interested in this piece of content, it will improve your content's rankings. Just make sure you manage the internal linking to pass the link juice from your market overview to the sales-generating piece." –Illia Termeno, CMO Consultant
14. Figure out the content that niche authorities like to link to
"Far too many people come up with what they think is a brilliant idea for an article, write what may very well be an excellent piece, and then go out and try to find places that will link to it. More often than not, their efforts do not pay off.
"The smart way to create content that will be linked-to and shared is to do the opposite. First, find the highest authority sites within your niche that you know link to other sites' content. Figure out the kind of things they like to link to and then create that kind of content." –Dave Hermansen, Store Coach
15. Offer to fix other sites' broken links
"Broken link building will never become outdated because the internet will always be littered with broken links. Begin by conducting a backlink analysis on a relevant site, find a broken link, and then proceed by contacting the owner and informing them about the broken link on their website. Because you are going out of your way to help the site owner locate broken links, they may do you a favor by replacing the broken link with a link of your own." –Jeff Dundas, Talk Central
"Find web pages linking to pages that are broken on either your own website or a competitor's. Websites don't want to have broken links on their site, so if you can suggest a working link that will keep the user interface running smoothly for their readers, they are likely to add it. The higher the domain authority of the site, the better it is for your off-page SEO. It is also great for your company because broken links make it harder for potential customers to find your site from other sources." –Aaron McWilliams, 1Dental
16. Build word-of-mouth referrals
"The most commonly overlooked off-page SEO technique is referrals. Google's TrustRank algorithm looks at how trustworthy a site might be. When people search using your branded keywords, that indicates to Google that they trust your company by searching for it directly. This will overtime increase your SEO and is something that people commonly overlook. Having a presence in the local community is a great way to get referrals. If people talk about you, they will search for you on Google. A referral network is a great way to get people talking about you, recommending you, and searching you on the internet." –Andrew Kolodgie, The House Guys DC
17. Leverage local SEO
"Many people forget that local listing sites can provide you with valuable links (without all the work). Many industry-specific listing sites likely already list your business but might not have accurate contact information. Find them, contact them, and make sure your local listings are consistent across the board. Google My Business is the most powerful local listing tool of them all. So many businesses sleep on it when two to three hours of work and a few posts per month (that you can repurpose from existing content) would yield huge results." –Tracy Ring, 10x Digital
"Marketers overlook local link building. For local business websites, links from websites with lower domain authority and even no-follow links can hold more value than for national websites. Marketers tend to dismiss them as low-quality, but their impact can be significant if the domain comes from the same location or industry. Google's algorithm is smart enough to understand context beyond domain authority and domain rating." –John Matyasovsky, Roofing SEO Webmasters
"Leverage local citations. Using a company like Brightlocal will help you get your local citations quickly and easily. I have run audits on many websites and a lot of them have no local citations beyond Google My Business, which is a mistake if they rely on local clientele to survive." –Ben Walker, Transcription Outsourcing
18. Participate in Q&As
"Participate in Q&A-style forums related to your area of expertise. These sites tend to automatically set links to no-follow, so they aren't typically counted by search engines as backlinks. But they can drive human traffic to your site as you establish yourself as an expert. As long as real people who follow those links spend some time on your website, it will start to convince search engines that your content is relevant for the keyword phrases for which you rank." –Jon Kessler, We Buy Houses Cash Baltimore
19. Build your brand's authority
"Growing your website is about building authority around your brand, not just link building, which I think many marketers get caught up in. Create great content and then promote that content across the social media networks, connecting and engaging with your audience. The more your audience engages with and consumes your content, the more they're likely to share it.
"In turn, your brand profile will grow and you'll gain authority, making it easier for people to link back to you as a credible resource. Don't just think backlinks. Think authority as a whole. Google will reward brands who prioritize adding maximum value." –Jo Barnes, Your Lifestyle Business
"Creating an 'evergreen asset'. By creating an asset that targets usable statistics on a particular topic, it allows you to become the authority on a topic with no on-going outreach time. This has allowed us to generate links on The Guardian, The Next Web, The Conversation, etc. without outreaching to writers there. The key is utilizing keyword research to create an asset where you can competitively rank for queries journalists are using." –Darren Kingman, Root Digital
20. Conduct original research
"A method I have found to work quite well is original research – creating your own survey and questions and getting responses. This gives you a unique angle for outreach, and can provide webmasters/editors a stat they haven't seen before, which makes them more likely to link to it. Depending on your industry, you may also have statistics pages, for example, '100+ Content Marketing Statistics.' These types of pages are regularly updated and are prime link building targets." –Dan Reeves, Dandy Marketing
21. Create infographics for other sites
"I think creating infographics is a really great off-page SEO technique that is still underutilized. You can create infographics on any interesting topic in your niche, then reach out to other similar publications to see if they would like to feature it on their site – with a link included. Successful infographics often include new insights, research, or they focus on a currently trending topic. They may be able to enhance existing articles too, so you can even try to find relevant articles yourself and explain in an email why your infographic would be beneficial to include." –Adam Lumb, Cashcow Ltd
22. Find and act on unlinked brand mentions
"The technique I see overlooked far too often is finding unlinked brand mentions. However small your business is, if you are actively promoting it, you will be picking up mentions in multiple locations online. These mentions are super-easy to track using various tools such as Buzzsumo or Mention, so there is no excuse to spend an extra hour a week combing through these mentions and popping a quick email to request a link be added to the mention." –Freddie Chatt, FreddieChatt.com
"Brand monitoring helps hugely with off-page SEO. When your brand is mentioned on a site with a high domain authority, and no link has been added, reach out to the poster and ask for a backlink. If your brand is mentioned on social media, forums, blogs, etc., engage directly in the discussion. Google Alerts is a good tool to use for notifications of any brand mentions to start with. Further down the line, it may be worth investing in a paid brand monitoring app." –Jenny Abouobaia, SEO With Jenny
23. Promote your content thoroughly
"It's not enough to promote a piece of content once, on one platform, and call it a day. Instead, you need to distribute your content far and wide and roughly at the same time. This will maximize the number of clicks and shares, and it'll give Google an impression that your post is popular.
"The best way to achieve this is to create a blog promotion standard operating procedure (SOP). Off-page SOP gives you a list of steps to take when promoting your content, and the exact order in which they're to be done. It's an indispensable tool for an effective off-page content promotion." –Nikola Roza
24. Use email outreach
"One effective off-page SEO technique is email outreach. You should email others in your niche and provide them with a link to your article. Make sure your content is well-researched and highly detailed to provide the best user experience possible and convince the people you emailed to give you the backlink. Many people will not email others to ask if they can link to their article or share it on social media, but you need to network with other people in order to grow your business." –Becky Beach, Mom Beach
25. Generate trust signals through social media
"When your content is shared on social media and people talk about your brand, it tells search engines you're a legit brand, which ultimately helps with SEO. The key here is to publish engaging content on these platforms on a regular basis and leverage that to build trust and authority" –Baidhurya Mani, Sell Courses Online
"Social media work is a large component of off-page SEO. Sharing the content you write, engaging with other profiles and influencers to generate more brand awareness, and getting your social viewers to engage with your content to help Google see it as more valuable all help you increase your site's SEO potency." –Adam Jackson, Big Leap
"Social media shares are often overlooked by marketers for off-page SEO. I often say that you want to spend 20% of your time/money on content creation and 80% on distribution/promotion. You need to share your content on social media over and over again. Social media shares are not backlinks, but they will help you gain traffic to your website, and help your content be seen by the most people. As a result, you will probably gain links naturally." –Jonathan Aufray, Growth Hackers
"Channeling traffic to your website with well-developed social funnels not only gets you a lot of fans who engage with your content (this lets Google know there's interest in your website), but is also a great way to get the necessary exposure to gain organic links. If you get enough eyes on your content, you're bound to get some natural links. Invest your time and money and skill into building large social followings. And if you can build a great audience there, you can take an off-page SEO shortcut towards ranking your page." –Ryan Cook, Crowdstorage
26. Check on the backlinks you've lost
"Most techniques focus on gaining new backlinks, but also take the time and look at the backlinks you have lost. It happens all the time that a page is adjusted or a link was accidentally removed. There are many tools that offer overviews of lost backlinks. Set your filters to backlinks that were removed on a page that still exists. When you reach out to the website that removed your backlink, they are often glad you mentioned it to them because they probably did not see it. Reclaiming lost backlinks has a high return on your time" –Abel Pruim, Chordify
Wrapping up
Now that you've heard from marketers about what works, you're ready to enhance and diversify  your off-page SEO strategy. Pick any of the above-mentioned tactics that you think will work well for your business, and experiment to figure out what helps improve your rankig. It may take a bit of time, but once things click, you'll find that the investment in off-page SEO is well worth it.
Looking for more? In another roundup, marketers weigh in on whether on-page SEO or off-page SEO is more effective for increasing your page rankings.
And in this expert roundup, 15 marketers go in-depth on their off-page SEO secrets, to help you take even more control of your off-page SEO.