These days, loyalty programs have become a popular motivation for customers to stick with your company. And retaining customers, in turn, offers companies a wealth of benefits (read some of the top major benefits). But just starting a loyalty program isn't enough to increase customer loyalty on its own.
Consider this: Consumers belong to an average of 14.8 loyalty programs, but are only active in about 6.7 programs of them.
How can you make your loyalty program more attractive to your customers? Follow this list of customer loyalty program best practices and other customer loyalty program ideas, including some from expert marketers. Let's dive in.
1. Promote your program, and explain it well
Even if you've designed a stellar loyalty program, it won't promote customer loyalty if you don't promote it. Make your loyalty program is accessible and easy to find for your customers.
As James Pollard of The Advisor Coach says, "Make sure your customers know about your loyalty program. I can't tell you how many times I've seen companies who have loyalty programs but the customers don't have any idea it exists. If they don't know about it, they can't take advantage of it. Once your customers know it exists, they're more likely to make repeat purchases."
On your website, set up a dedicated loyalty program page that's easy to find from the navigation bar – or from your customers' account menu (see the example from The North Face below). Also, consider using a captivating hero image on your homepage to draw in your customers and link to the loyalty program page.

The loyalty program page should detail how your program works, including how customers can earn rewards, and the rewards available to customers who join. Check out how The North Face does this.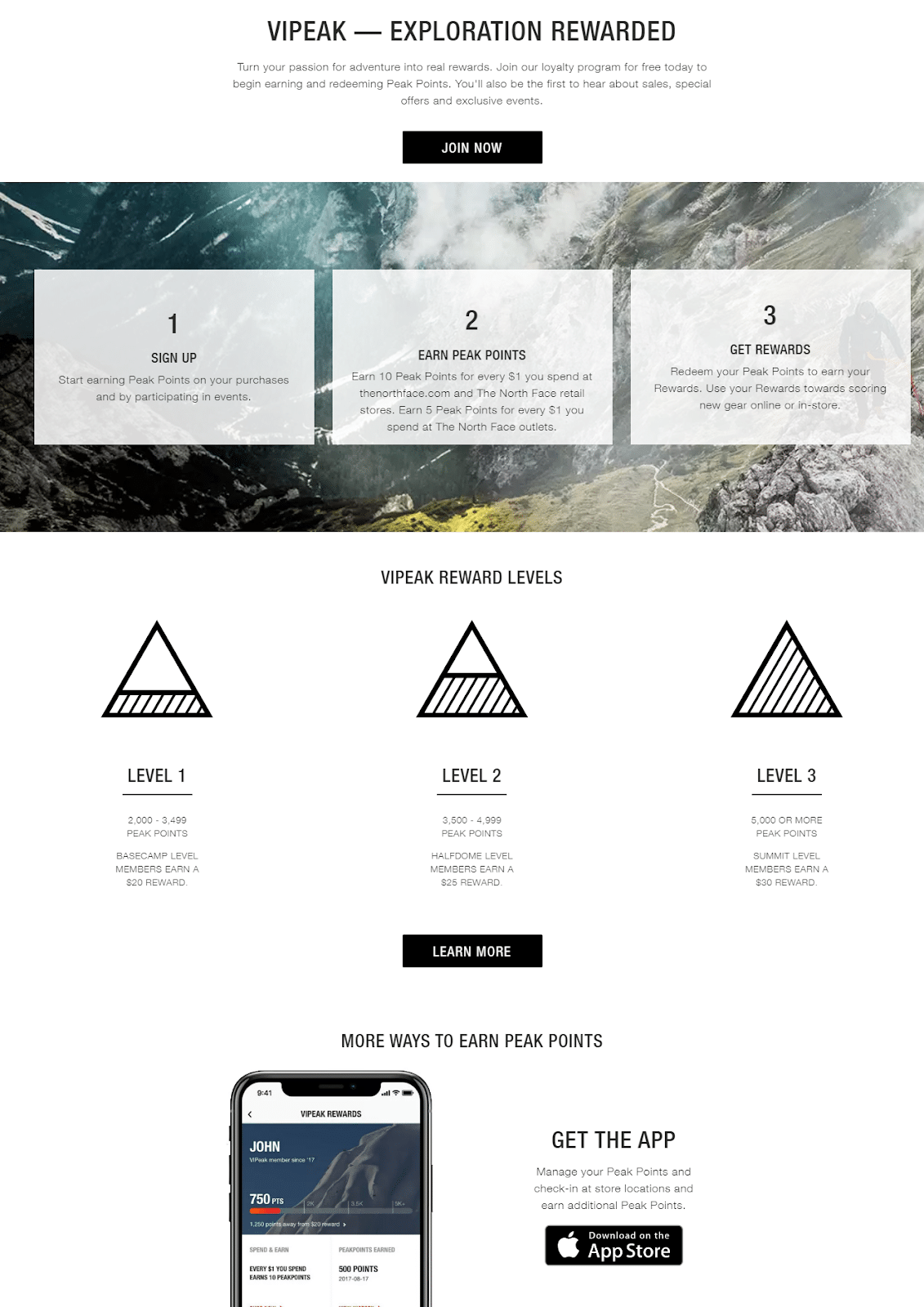 You'll want to promote your program off of your website as well.
Send emails to your customer base about your loyalty program – both dedicated emails and plugs for your program in other newsletters.
If your brand uses SMS marketing, send texts about your loyalty program.
And don't forget to post about your loyalty program on social media.
If you have a brick-and-mortar, make sure your employees talk to all of your customers about the program. Also, set up posters, signs, or displays related to your program.
If you have an app, promote and integrate your loyalty program seamlessly within that app (more on this in the "Go Mobile" section below).
And think about offering an incentive just for signing up for the loyalty program, whether it's a discount, loyalty points, or even a small free item that members will receive with their next purchase.
Here's what experts told us about promoting your loyalty program, particularly via email and text messaging:
Alex Membrillo of Cardinal Digital Marketing sats, "Email and text marketing are the most effective channels we've found for keeping the loyalty program top-of-mind. If people aren't thinking about your brand, they're unlikely to be on your website or in your location. So, it's important to find other ways to keep in touch with customers. Even traditional mail is a good option to consider."
Sean Clancy of Edge tells us, "Keep the program benefits on top of any receipts/invoices the customer receives, as well as periodical emails. We also send reminder emails to any and all customers that have not used us in more than 90 days."
Mike Golpa of G4 by Golpa says, "Send text message notifications of rewards points, sales in the store, and even special events. Make your customers feel special for being loyal and they will continue to be loyal, so take the time to craft loyalty members only events or sales so that those customers feel that this is a worthwhile program to be involved in."
Stephanie Baiocchi of IMPACT shares, "We use email reminders and app notifications. In addition to this, we make sure to remind our customers of the program whenever they rate us with a promoter-level NPS score or hit a landmark anniversary such as one year of being a customer."
2. Offer value through your program
Make sure your customers see your loyalty program as worth joining, by offering something of value.
Laura Gonzalez of Audi Hunt Valley tells us, "When designing a loyalty program it's important to reward something of value to the customer. You should try to differentiate yourself and brand from the sea of rewards/loyalty programs offered by your competitors. And make your rewards easily accessible so the customer does not have to jump through hoops to get the rewards."
The most value would be a reward your customer loves, based on their existing purchasing habits and your best-selling items.
For example, Starbucks Rewards incentivizes loyalty by rewarding customers with free drinks and food (flagship items), not with t-shirts and hats (which would be a nice gesture, but not what customers come to Starbucks for).

Balance what your customers would benefit from with what's cost-effective for your business. After all, you need to take care of your customers and yourself. And remember that perks don't have to be monetary to offer value.
Jake Lane of NuBrakes Mobile Brake Repair shares, "A loyalty program is only as viable as your reward. Find out what offer moves the dial for your customers, while also decreasing your acquisition cost. If you don't offer something that's worth their time, your loyalty program will struggle to get off the ground."
It's also best to get direct customer feedback about rewards so you know your incentives are ones your customers really care about.
Shaun Savage of GoShare advises, "When designing a loyalty program, engage your user base and get their feedback. Prior to launching our rewards program for service providers on the GoShare App, we surveyed our membership. They were able to contribute ideas, vote on prizes, and provide feedback. When the program launched, they were already engaged in the concept and ready to participate to earn rewards they had helped pick out."
3. Make customers feel like VIPs with creative perks
Roll out the red carpet for your loyal customers. After all, they're the ones responsible for your success. Incorporate perks and surprises into your loyalty program that surprise and delight customers.
Send coupons, credits, or additional points on the customer's birthday, holidays, or the anniversary of their membership with the program.
Surprise customers with free shipping upgrades or other rewards just because.
Give members exclusive access (or early access) to your best sales.
Create VIP events that only members can attend.
Recognize your most active members as "customers of the week" or "customers of the month." You could do this on social media, in your newsletters, on your website, or within a member community.
Give them a sneak peek at new product launches, exciting developments at your company, or major product updates.
Select a few premium members to try your new products or services before everyone else.
Send handwritten thank-you-notes or free gifts to members throughout the year. Members will appreciate the sweet gesture!
One place to surprise your customers with rewards is when they check in on their progress; this is another great way to keep your program top-of-mind. Chane Steiner of Crediful advises, "Send out friendly reminders of upcoming promotions or offer special surprises for those who check their email or text reminders. Offering a once-a-month surprise encourages people to check back, but doesn't bombard them to the point that they delete the message or unsubscribe."
Also, focus on exclusive experiences when possible. Justin Hawes of K&N Sales shares, "We think about customer loyalty as friendship and try to make it an excellent experience for our clients with special events that create a feeling of exclusivity. We regularly send email newsletters to invite enrolled customers to our private events in the showroom. In this way, we bring our clients together and provide them with valuable networking opportunities. In-person events also allow us to gather feedback from participants. We learn about their pain points that are emerging and use that feedback to improve our customer relationships further."
4. Offer both top-tier and attainable rewards
Treat your most loyal customers like the VIPs they are, with the best rewards that can only be earned after significant work. But make sure other rewards are easy for new customers to earn, so they feel motivated to keep participating in your program.
Shaun Savage of GoShare recommends, "While our top-tier rewards are challenging to achieve, we set the initial reward at a very low, obtainable level. Micro-rewards of lower values are spaced out along the way, allowing our users to constantly be working toward their next level. They can check their status right in the app to see how close they are to the next reward.
"If we were to switch to more larger rewards at higher levels, many would disengage and feel that the merits were unobtainable. By setting smaller awards at lower levels, we see more user engagement as people climb the ladder of the program. When your next reward is just around the corner, we make sure it stays top-of-mind. Our power users will continue to use our program without loyalty rewards. While we have a few big offers for them, we've structured most of the program around encouraging more engagement at the lower levels to turn more service providers into power users."
5. Think beyond the purchase
Most loyalty programs focus on rewarding customers for each purchase they make. That's a great backbone for your loyalty program, but you don't have to stop there – you can reward any number of different behavior that benefits your brand.
Here are a few instances of customer behavior that you may want to reward:
Liking or sharing branded social media posts
Viewing branded content on your website, like blog posts or videos
Creating social media posts about your brand, including photos of products
Referring friends to your business
Writing reviews of your business
6. Add a social good element
You don't always have to reward your customers directly. One of the best loyalty rewards is to make a charitable donation on your customer's behalf. This works especially well if your customers are committed to giving back and making meaningful change.
For example, you could:
Donate automatically once they reach a certain level or amount of points.
Encourage them to spend points to donate money to one of several charity partners.
Give them a say in how you'll split your charitable donations among several nonprofits after every purchase.
7. Consider gamification
Want to really attract your customer's attention and get them engaged with your loyalty program? Turn it into a game.
A gamified structure works particularly well with app-based programs. After all, your customers are already using their phones for gaming, social media and sharing cool things with friends.
But even if you don't have an app, you can integrate gamification into any digital loyalty program. Follow these best practices for gamified loyalty programs:
Gamified loyalty programs always use some sort of points system. Often, they have motivating tiers or "levels" that customers progress through as they earn points. As customers advance in levels, they usually become eligible for greater perks.
Even if no tiers are involved, they make it super easy to see when customers have enough points to earn a reward, such as through an engaging progress bar.
The best gamified loyalty programs have a variety of ways available to earn points, including creating and engaging with branded content on social media, and writing reviews. But where they really shine are the unique "challenges," where customers complete sets of branded tasks to earn points.
The image below shows Air Canada's loyalty program achievement badges for its program.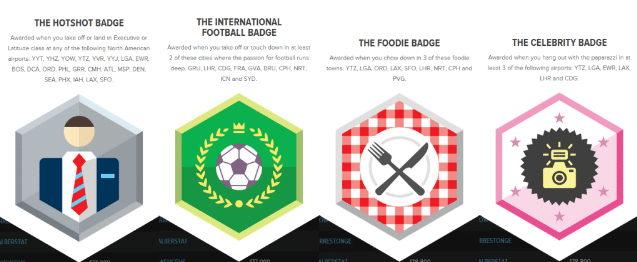 Examples of branded challenges could include:
Trying new products
Completing quizzes about which product is the best for them
Writing multiple reviews in a certain time frame
Reading blog posts to find answers in a scavenger hunt
Completing an educational course related to your brand
Helping out other customers by answering questions
The challenges you create will vary depending on what best fits your brand. As customers complete challenges or progress through levels, you could choose to award them achievement badges to further encourage them to keep engaging with your brand.
Make sure that it's easy for customers to track how many points they need to progress to the next level or earn a reward. An engaging progress bar is a great option for this. To really bring out their competitive streak, you could even create leaderboards for customers to see where they rank, as well as award prizes or extra points to the top achievers.
And to drive up sales on typically slower days (or ramp up sales on any day), you can always activate a bonus points day. On these days, customers have the opportunity to earn even more points for their purchases (for example, the "Double Star Days" offered by Starbucks).
8. Make tracking and redeeming rewards easy
Even if you don't gamify your loyalty program, customers usually want to know how close they are to earning rewards. This can be a big motivation factor for them to continue visiting your business. Display points or dollars earned in a large font, and consider using a progress bar that shows how many points customers need move to the next level of rewards.
The image below shows beauty brand elf's loyalty progress bar, which participants can view on their page.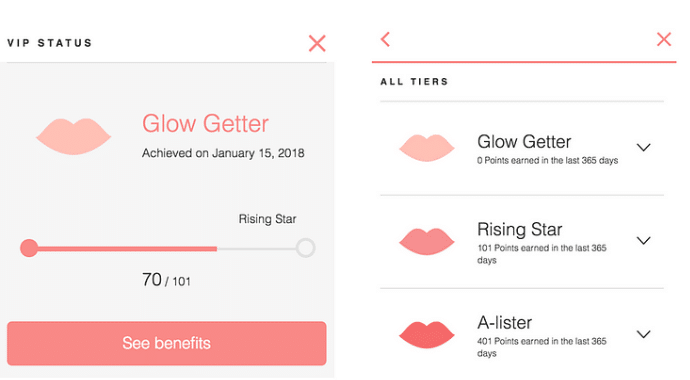 Many companies create a hub or homepage where customers can access all the loyalty rewards they've earned and perks they're eligible for.
Make sure these rewards are easy to redeem, and the program is easy to navigate in general. Mike Golpa of G4 by Golpa advises, "Make your program as easy to use as possible. People will do a lot for something like a discount, but ultimately if things are too difficult, they will likely pass on the opportunity and even go somewhere else. No one wants the frustration of a difficult to navigate program or app. The more user-friendly it is, the more likely people will use it."
Alex Azoury of Home Grounds shares more tips on emphasizing rewards earned, beyond the loyalty program pages: "You need to put a customer's rewards front and center.  Send out regular reminders to your customers of just how much money they have earned by being a part of your loyalty program. Email them with 'You earned X dollars!' Or, make it a large notification-style number over their shopping cart on your website. Any time they visit your site, a customer should see over their shopping cart how much store credit they possess. You need to keep your loyalty program's benefits top-of-mind for consumers, so that they want to regularly take part in it to reap the ROI."
9. Reward reviews
Potential customers trust the opinions of their peers. So, generating positive reviews where potential customers can find them is vital.
Why not tap into your best advocates – members of your loyalty program – to help you generate reviews? They've got loads of enthusiasm for your products!
If you run a points-based program, reward product reviews with a significant number of points.
You could award more points if the review includes an image, or if the review is in video form, as SweetLegs does.
If your program is tiered, offer more points for reviews that come from customers in higher tiers. After all, they're the most loyal and can be the best advocates for your business.
Not points-based? Want to keep the points part of your program focused on purchases? Reward reviewers with a coupon, upfront credits, or a free gift.
10. Go mobile
Every day, more than six out of 10 people check their phones first thing in the morning. And most consumers spend more than five hours on their smartphones and other mobile devices.
As mobile continues to define a customer's experiences with your brand, it's important to make sure your loyalty program is mobile-friendly.
If you have an app, integrate your loyalty program seamlessly into your app. Or, better yet, create an app dedicated to your loyalty program and make sure customers can easily track points in the app and redeem rewards right from their phones.
Some examples, like Chipotle, produce a barcode on your phone that you can use to redeem your rewards. Others, like Starbucks, let you preorder and pay right from the app to earn rewards, and then pick up your order right away in the store.
Plus, since most customers are familiar with playing games on their phones, apps are a popular way to gamify and level up your loyalty program.
Apps can even serve as the perfect modern loyalty card. With all their info on a mobile phone, customers don't have to remember to carry around a punch card or loyalty card in their wallets.
And if someone doesn't happen to have their app, many mobile loyalty programs let customers enter a code from their receipt afterwards.
11. Leverage social media
Going mobile also allows you to leverage social media, which is where a large chunk of time people spend their time. About 45% of the world's population is active on social media (that's 3.5 billion users and counting).
This means one social share reaches significant amounts of people in one fell swoop. So if many loyal customers are sharing about your brand, that's powerful – and free – marketing for you.
Rewarding loyalty program members for liking and sharing your brand's posts, or making their own branded posts, is an effective way to give your brand more social traction.
Just make sure you reward sharing on platforms that you, your customers, and your potential customers are generally the most active on.
12. Personalize your program
About 75% of customers are likely to be more loyal to a brand if they think that brand understands them at a personal level. But only 22% of customers think that loyalty programs bring the right amount of personalization.
This gap shows that personalization is a prime opportunity for your loyalty program to stand out.
Target's new loyalty program offers a good example. After customers make enough purchases within the program for Target to get a feel for their habits, Target will send them personalized coupons for the product types they buy most. Taking a cue from Target is a wise decision.
Using a gamified loyalty program? You could also personalize the "challenges" offered to each customer based on their previous purchasing habits. And letting customers choose the rewards they earn is another great way to personalize.
13. Build community
Customers don't like it if a loyalty program just seems like a ploy to encourage more purchases. They want to feel valued.
Building relationships with your customers is one of the best ways to show this value. Creating a branded community just for your members builds community and leverages exclusivity.
Take a cue from Sephora. They've created the following as a way to build community:
Forums for members to chat about different topics, ask questions, and answer other members' questions
Spaces where members can chat with representatives from Sephora and cosmetics brands they sell
Galleries where members can share looks and inspirations with each other
Within this community, they also release insider info to their members, and give them access to private events and meetups not available to the general public.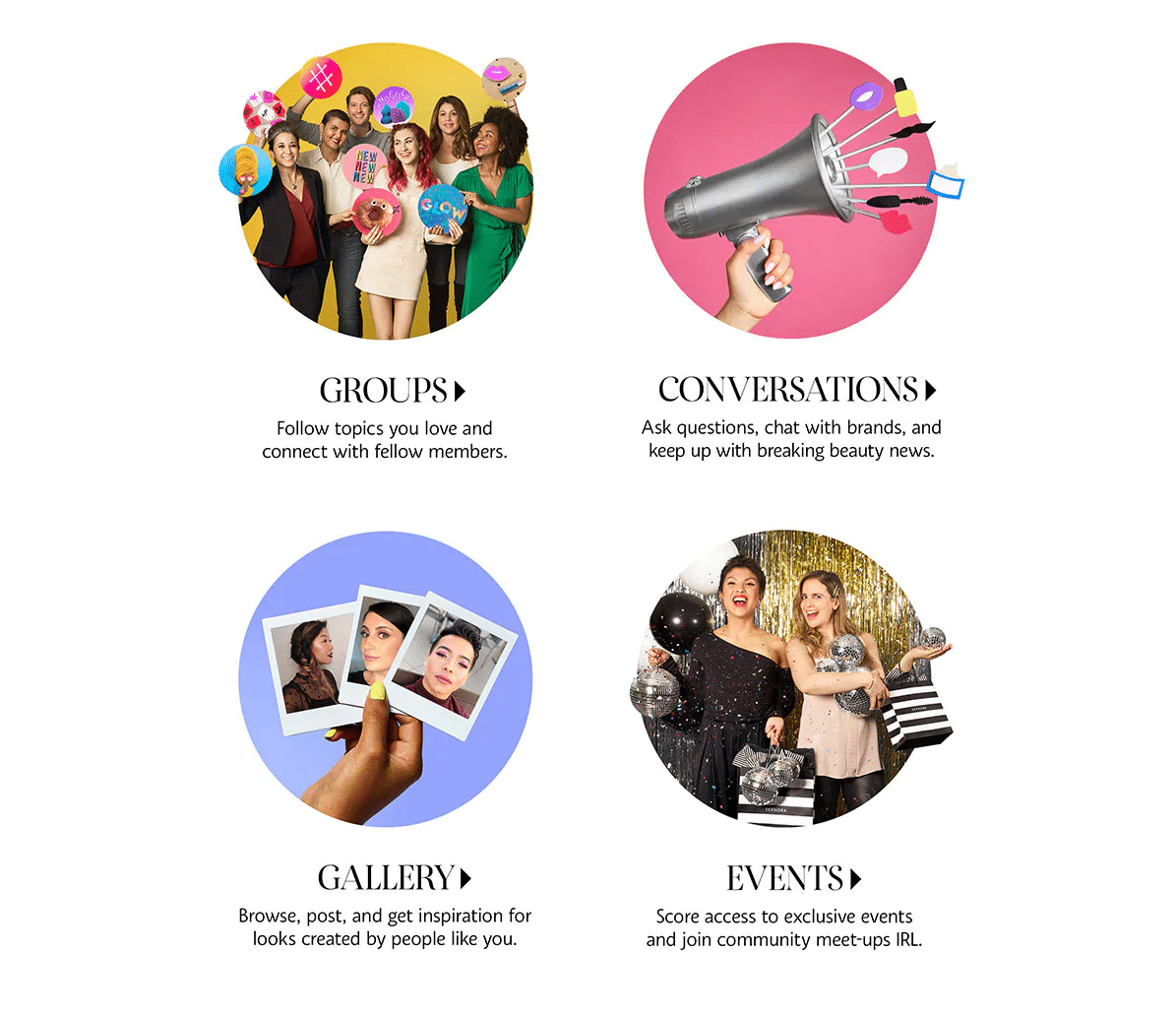 14. Track your loyalty program's success
Don't just start a loyalty program and hope for the best. Track your loyalty program's success by measuring ROI – this can reveal exactly how well your program is doing and help you make it better in the long run.
Your best bet is to use loyalty program software to track these metrics automatically. Track metrics include:
Percent of customers who have joined the program
Percent of customers who are actively engaged with the program
Number of customers who join or engage in a certain time frame
Number and frequency of purchases made by a member
Average amount of time each customers actively uses the program
Percent of active vs. inactive members
Customer satisfaction levels before vs. after the program launch
Customer retention rate before vs. after the program launch
Average customer lifetime value before vs. after the program launch
Wrapping things up
Now that you know these loyalty program best practices, you're prepared to create a loyalty program that will keep customers coming back to your business. Of course, some best practices only apply to specific loyalty program types –we cover those in our article on types of loyalty programs.
The key is to make sure you motivate customers by offering a customer loyalty program  with attractive rewards and great value.