No matter your business, attracting new customers is crucial to success. But, keeping a steady flow of leads rolling in isn't always easy. That's why so many brands not only like referrals but also encourage them.
To help jumpstart referral programs, many brands turn to email marketing. After all, emails are not only easy to send, but they get results. According to McKinsey, email is 40x more effective at acquiring new customers than Facebook or Twitter.
Marketers see email marketing as a low-cost way to gain new customers and introduce them to products and services– and they're the perfect vehicle for boosting referrals. Today, Campaign Monitor highlights four emails that you can send to generate more referrals for your business:
1. Refer-a-friend email
You can use your existing network of contacts to attract newcomers. A tried-and-true "Refer a Friend Campaign" is a simple way to add new leads to your list.
To make a referral program successful, you'll need to offer an incentive to both the subscriber and the newcomer. Here's a simple example from Square, which offers customers $1 for referring or joining.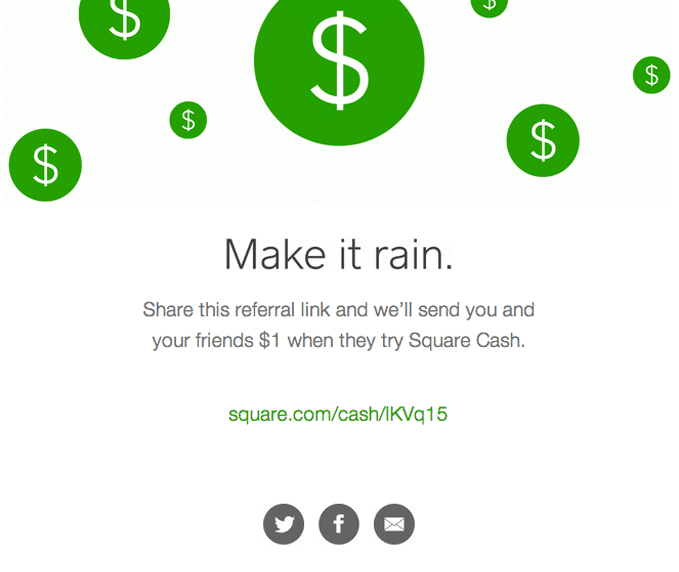 When you're sending a referral email, make sure the referral process is easy. In the example above, there's a link that current customers can share. If the process is complicated, participation will suffer.
In addition, you may want to a sweeter incentive. One dollar is nice, but is it enough to motivate customers to refer a friend?
The incentive for the existing customer should be impressive – something memorable to get him or her to act. Consider a dollar-off coupon, like $10 off your next purchase. According to MarketingCharts, 42% of customers prefer dollar-off coupons to percentage-off (40% off) coupons,
A referral program is a good way to bring in a large number of new customers, but you'll have to spend some time vetting them to see which ones are the more qualified leads.
2. Identify VIP subscribers and encourage them to make referrals
Your email list is full of customers. Some subscribers are more active than others, but every person on that list voluntarily asked to engage with your company so there's already a certain level of awareness and commitment here.
You can mine your current list of email contacts for and ask them to make referrals. This approach is more targeted than a blanket refer-a-friend program. Since you're asking your most engaged subscribers for help, they're more likely to respond with strong referrals.
3. Hold a contest and ask for referrals
To add a burst of new life to your email list, consider hosting a contest on one of your social platforms. As a barrier to entry, ask for referrals.
The contest can be as simple or as intricate as you'd like. You can give away a prize for an upcoming holiday where customers drop their name into a (virtual) hat to win. To enter, participants must fill out a form with their name and email address – and must refer a friend.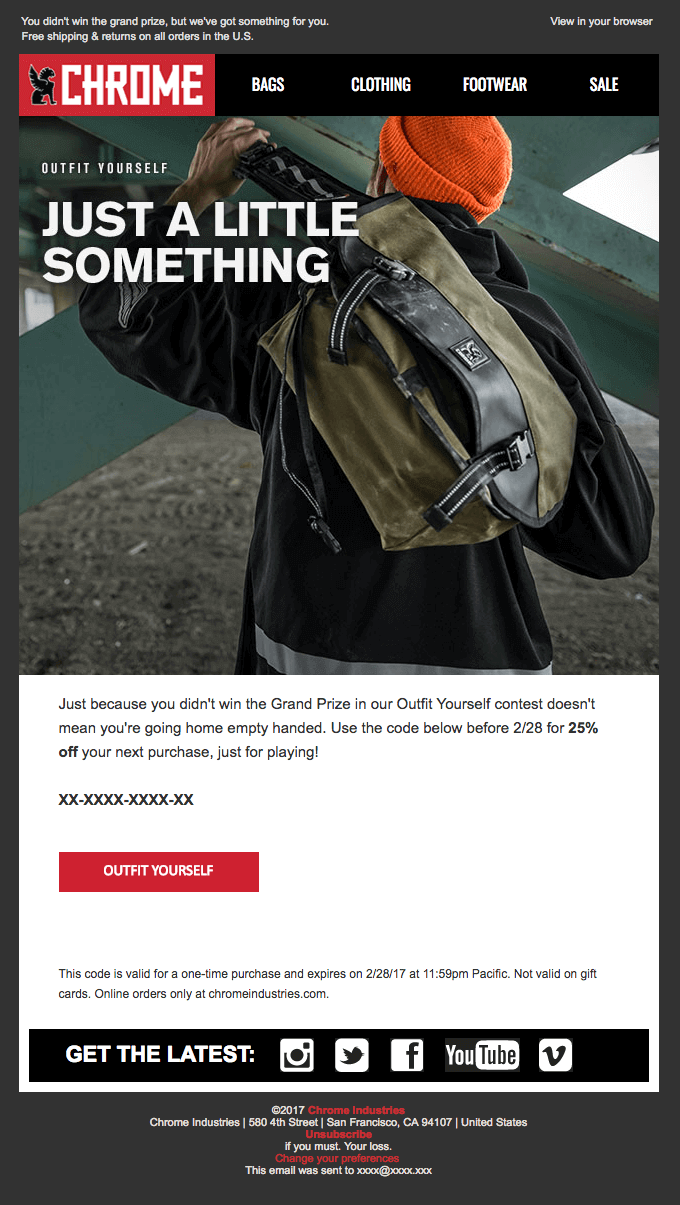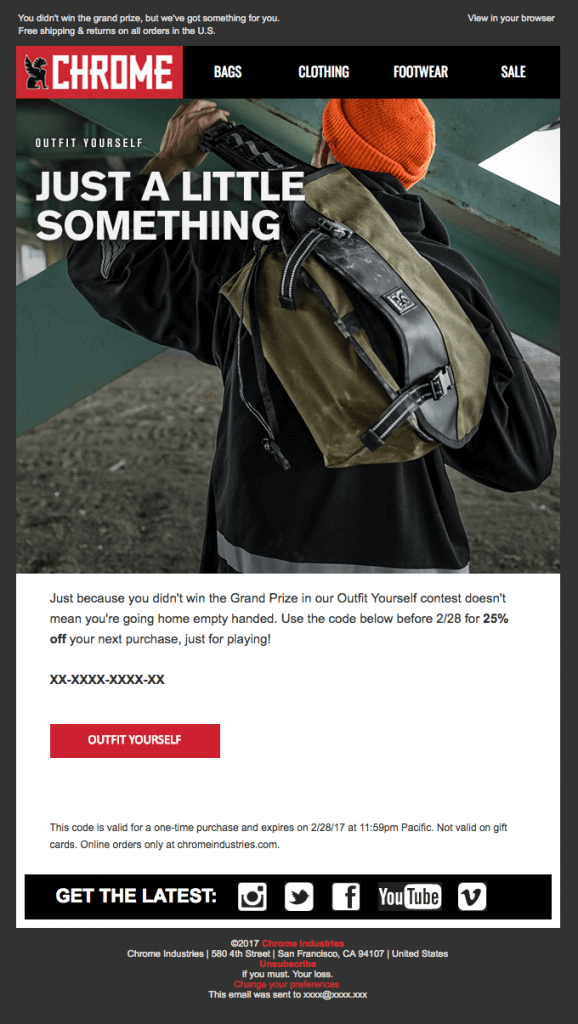 To make sure your contest is successful, here are a few tips:
Running a contest can be a bit time-consuming, so you might want to use a third-party tool like Woobox or Rafflecopter to ease the workload. (For a monthly fee, both of these tools can help you create and manage simple contests).
Make sure the prize is relevant to your business. For example, give away products or a gift card to use in-store.
Once the contest is over, reach out to all of the participants to let them know how the contest ended and consider giving them a little something too, such as a promo code. It's a nice way to nurture new leads.
Send an email to your new referrals to introduce your company or product. Remind them that you're reaching out because a friend of theirs thinks they'd love your product. Highlight the benefits and give subscribers a way to learn more.
4. Encourage referrals after a content download
To increase the number of referrals you receive, create a top-notch guide, eBook, or whitepaper for your website. Select a topic that makes sense for the audience and makes sure the content is in-depth and of value. Gate the content, so website visitors have to provide their name and email address before gaining access.
Once a subscriber has downloaded the content, send a follow-up email asking them to refer the content to a friend.
An online electronics store, for example, might create a guide, "10 Features Photographers Should Look for in Their Next Digital Camera." When a customer shows interest, they click the "Download" button and fill out a quick contact form before the eBook is released. A day later, send a follow-up email asking the subscriber to share the resource with a friend who could find it helpful.
In return for referring the content to a friend, give them a coupon, a free download, or extra loyalty points.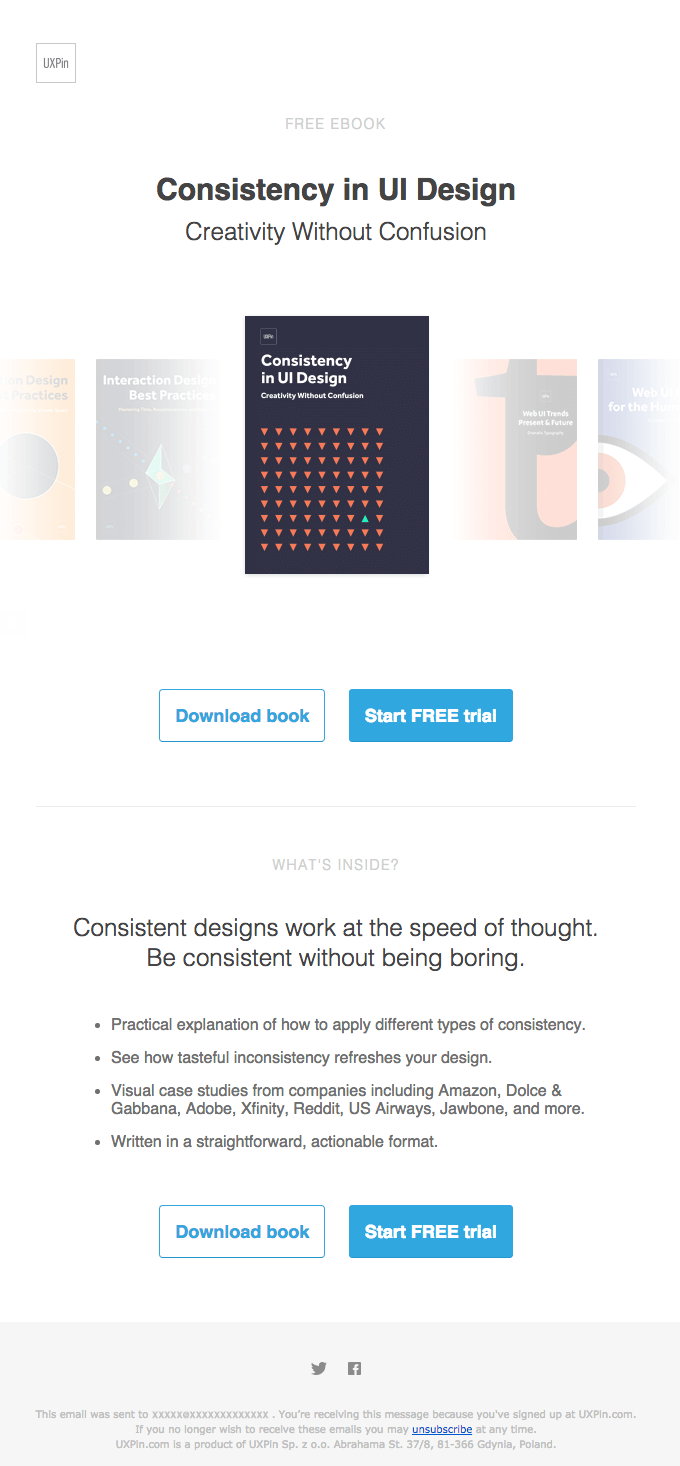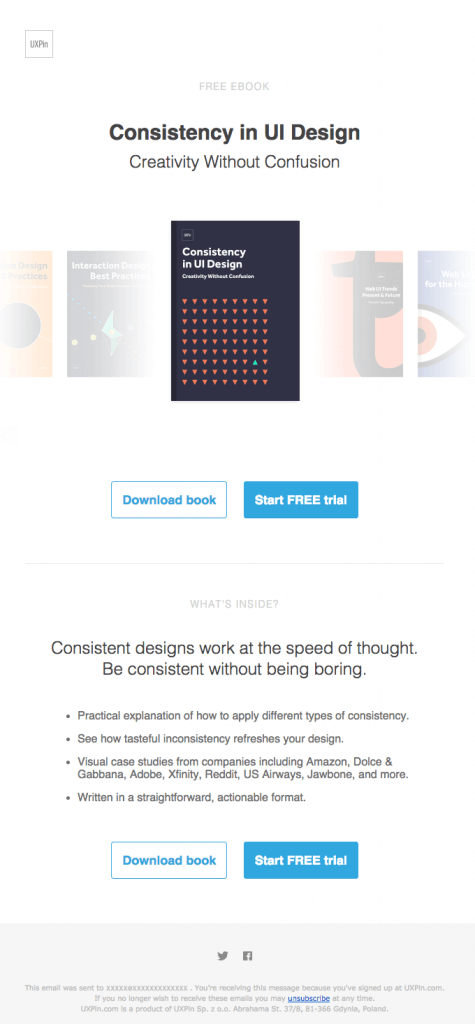 Wrap up
Email marketing can provide an affordable way to reach and engage new customers, but you'll need a plan. Before you send any emails, identify your goals and select metrics that will help you measure success. Also creating an amazing referral email design helps.
Remember, acquiring new leads is an ongoing process, so every time you send a campaign and collect referrals you can learn from it. In time, you'll create a referral marketing program that consistently grows your contact list.
About the Contributor
Contributed By The Campaign Monitor Team. To learn more about email marketing and how it can work for your brand, visit the
Campaign Monitor website
.