As far as marketing techniques go, email drip campaigns operate like a Swiss army knife – one tactic, many uses. These drip campaigns can help with lead generation, lead nurturing, customer retention, and more. And when they are designed correctly, the ROI tends to be much greater than that of conventional mass email.
But what exactly are email drip campaigns, and what makes them so successful? And how can you ensure that your email drip campaign enjoys this success? We'll cover all this and more below.
What is an email drip campaign?
An email drip campaign is a set of automated emails (two or more) sent in a specific order to a given user who takes a certain action, such as signing up for a course or starting a free trial.
Email drip campaigns are targeted to a very specific audience. Each email in the campaign is set to send from a professional email after a user performs another given behavioral trigger, or timed to be sent a certain number of days after that first key action was completed.
Why are email drip campaigns so powerful?
Drip campaign emails have an 80% higher open rate than single emails, and a 3x higher click rate on average. And successful email drip campaigns generate 80% more sales at 33% lower costs.
Why do email drip campaigns generate so much success? For one, your customers or potential customers sign up for the emails themselves. There's always a specific point where they opt into the drip campaign, by entering their email address.
For example, you've probably seen countless drip opt-in forms inviting you to sign up for a valuable educational email course or series, or e-commerce forms offering a discount when you sign up for emails. People want these incentives, so they're more than happy to start receiving emails in the drip campaign.
Therefore, they want to read the content within these emails, and are less likely to unsubscribe. And email drip campaigns are engineered to target a given set of leads or customers at just the right time, automatically. Write the campaign, decide on your triggers, set up these triggers within your marketing automation software, and you're good to go.
Goals of an email drip campaign
Email drip campaigns can be created to accomplish a variety of specific goals across the buyer's journey, from lead generation to retention. They're a versatile tool when used correctly. Let's examine some of the main goals of email drip campaigns:
Lead generation: Convince potential customers to become leads, then convince them to stay engaged by offering highly relevant content.
Lead nurturing: Nurture leads further towards making a purchase, automatically, by showing them how your product or service is a good fit for them
Onboarding: Build relationships with new customers and set them up for greater success with your product/service, with the information they need to succeed.
Retention and loyalty: Increase engagement and conversions  from existing customers
Re-engagement: Motivate customers who haven't interacted with you in a while to engage with your brand again.
The email drip path
Sometimes, email drip campaigns progress in a single, specific order. However, others have options and branching "paths" as consumers travel through the campaign.
In this case, the next email in the sequence varies based on what action is performed – or varies based on whether or not each previous email is opened. It all depends on the goals of the specific email drip campaign. See below for an example email drip "path" from Pardot, and view their original infographic at the link.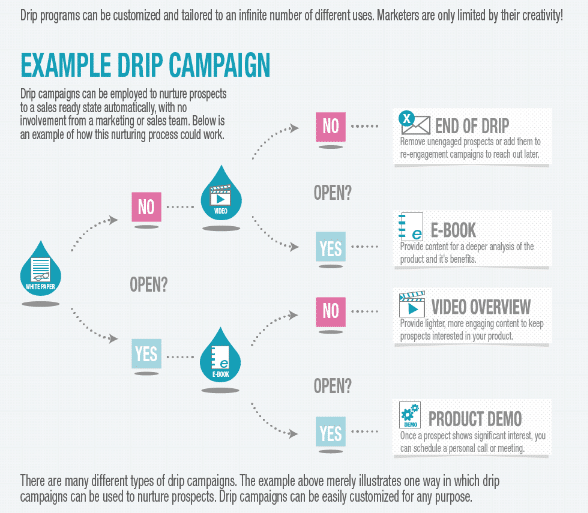 Creating a successful email drip campaign
How can you ensure that your email drip campaign is successful? Follow these tips and best practices.
Establish and stick to your campaign objective
What is the main goal of your email drip campaign? Start on a more general scale. Is your email template going to focus on lead generation? Lead nurturing? Onboarding? Existing customer engagement?
Then, get more specific.
For instance, are you trying to increase checkouts and decrease the number of people who browse your store without purchasing?
 Do you want your software's onboarding experience to run more smoothly?
Is your aim to show off the benefits of your company—or of the sales or marketing strategy your company specializes in?
Are you seeking to motivate free users to become paid users? Or paid users to upgrade?
Email drip campaigns can help you accomplish all these goals and more, as long as you stay focused. Define your goal and keep it front and center throughout your planning and design process.
Set measurable goals
Like any marketing campaign, with email marketing you'll need to rely on measurable indicators to tell you if your campaign is successful. What metrics will tell you if you've accomplished your objectives? For instance, will you track conversion rate, click-through rate, email open rate, or another metric?
Tailor campaigns to specific segments of your audience
Email drip campaigns are meant to be highly personalized – that's one of the reasons they enjoy so much success.
Knowing your audience's needs and pain points, and designing your campaigns to show how you can satisfy those needs, is vital.
But even more key to personalizing email drip campaigns is being able to tailor a campaign to a specific, refined segment of that audience.
A segment for an email drip campaign is sort of like a buyer persona, but is not always as detailed. It focuses on the funnel stage that a person is in, and the actions they've taken, but can sometimes include aspects that you'd include when developing a buyer persona.
Here are some examples of segments:
The new prospect who entered their email to download your ebook
Someone who visited your website once and entered their email, but who hasn't visited since
The person who just started using your product, and who might need tips to use it most successfully
Someone who bought items during a recent significant sale
Someone who used a certain coupon on a recent purchase, especially if they signed up to receive that coupon
A lead who falls under a refined buyer persona, such as an enterprise B2B marketing manager, or a small ecommerce business owner.
A prospect in a certain geographic region
Someone who purchased from you a while ago, but has lapsed (has not engaged with you since)
Once you've decided on the segment or segments to target, follow these tips when working to personalize your campaign:
Each campaign should be focused on one segment. However, don't limit yourself to one email drip campaign. Rather, run multiple campaigns for different audience segments and purposes. This is key to personalizing!
Use your goals and your knowledge of your target segment to decide on the behavioral triggers of the campaign—the actions that will trigger a certain email drip.
Also, think about segmenting individual drip campaigns for different specific needs. Map out a single email drip campaign to send different emails based on different behavioral triggers. The more personalized each drip is, the better.
Consider user intent, fit and engagement to refine campaigns for your specific audience segment and their stage in the customer journey.
Create compelling calls to action (CTAs)
Your email drip campaign should never exist in a vacuum. Rather, you should use your email drip campaigns to drive traffic to your other channels and promote your other content and marketing efforts (like referral programs and loyalty programs, or social media).
A dynamic call-to-action is the prime way to connect your campaigns. It encourages readers to take the next step and become more engaged with your brand.
Choose it carefully based on the goals of your campaign.
Also, be sure it offers value to the audience segment you're targeting, at that given moment.
You could include more than one call-to-action in an email, as long as each one you choose is relevant.
Calls-to-action could encourage readers to:
Make a purchase (especially with a discount)
Download a whitepaper or ebook
Start an informational web course
Upgrade to a paid or higher-level plan (common with SaaS and subscriptions)
Try out different features of a product (again, common with SaaS and subscriptions)
View your website or social media
Log into their account on your site
Participate in your referral program
Participate in your loyalty program
The possibilities are nearly endless!
Your CTA button (which takes readers to perform the action) should be eye-catching and easy to find.
 Its color should stand out against the background of the email.
The text on the CTA button should quickly summarize what you want your readers to do next.
Space out your emails optimally
Figure out how best to space out each email in your campaign.
Don't send emails too close to each other, or else readers might feel inundated and hyper-targeted. This will often cause your audience to delete your emails, or worse, unsubscribe. But spacing emails too far apart might cause your audience to forget about you (and forget the info in your previous emails, if you're using a sequential campaign). Also, remember to improve your email deliverability with dmarc report.
So, find that happy medium for staggering your emails —not too close, not too far. And if you're triggering sending based on behaviors, pick the most significant behaviors that don't tend to happen all at once.
Use general email marketing best practices
Like any marketing emails from your business, the emails in your drip campaign should also follow these best practices for the best chances of success:
Offer value to your audience, so it's worthwhile for them to continue engaging with your email campaign.
Keep your subject lines brief and compelling. Most of the people reading your emails will do so on mobile.

Limiting the subject line's character count to 30 characters or under will ensure that part of the subject line won't get cut off.
 The most used smartphones have a display limit of between 33-40 characters for email subjects.
To add an eye-catching touch without wasting many characters, consider putting an appropriate emoji at the beginning or end of your subject.

Your first few emails should be shorter and only include the most important info, especially if your campaign is geared towards leads.

 After all, your readers don't know you as well at first, so they might not be willing to spend much time with your emails.
 Keeping things short at first will help you build your readers' trust in you.

Make sure all your emails are uncluttered, with a simple layout.

 In all emails, keep paragraphs short and easy to digest.
Also, space them out with white space, and include a carefully selected hero image. That way, you won't overwhelm your readers.

Be personal, not stuffy or salesy. Avoid marketing or sales jargon.

 Having the human touch is crucial to connecting with your readers (and will increase the chances that the email won't get caught in a Clutter or Promotions box). So, make sure your campaign sounds conversational.
 Also, consider adding anecdotes, relatable stories, or humorous content if appropriate for your business.

Encourage readers to add your email to their sender list if they enjoy your content. Like using conversational language, this will help you stay out of a Clutter or Promotions box, and increase the chances that people will actually read your email.
Choose the right marketing automation software
One of the best perks of email drip campaigns is that they're automated to send to the right people at the right time, so they save you valuable energy. You won't have to keep track of each individual prospect and manually send emails when they progress to certain points along the buyer's journey.
But to automate your campaigns successfully, you'll need the right tool– the right marketing automation software.
Look for software that specializes in drip campaigns, "targeted emails," or "behavioral email campaigns" (drip campaigns are often called targeted or behavioral emails.)
Or, choose an all-in-one that includes drip campaigns among its many features, and that keeps all your valuable data in one place.
Pay attention to these features of each software and plan you consider:

Data collection
Tracking and testing features
Ease of use
Available integrations
Audience segmentation features
Automation rules
The number of campaigns and emails allowed, and
Branding and customization features

Marketing automation software choices in the email category include ConvertKit, Drip, Constant Contact, MailChimp, and more. Read more about them on our list of marketing automation tools.
Rely on data
Once you've set up your email drip campaign and let it run, you're far from finished. Be sure to collect data on how your email drip campaign performs (especially the data that shows if you've accomplished your measurable goals), and use it to constantly improve the campaign.
Also, A/B test two campaigns made for the same purpose to see what copy, sequencing, and other email features work best. This promotes the most success.
Types of email drip campaigns
Now that we've gone over the email drip campaign goals and best practices, let's examine nine of the most common types of email drip campaign, Some of them directly overlap with the email drip campaign goals, but others have a more specific aim.
Educational campaigns
These valuable multi-part courses engage and inform leads or customers about a particular topic related to your brand. The sequential campaign breaks up the information into smaller, focused "lessons" so it's easier to digest. Educational email drip campaigns help you build trust in your brand and position you as an industry expert. If your readers find your campaign helpful, your brand will be hard to forget—they'll be more likely to come to you if they have a need for a product in your niche.
If your email drip campaign is an educational series, here's one major best practice not to overlook: Let readers know exactly what to expect from each email in the campaign, within the introduction email. Then, they know exactly what to look forward to, and are reassured that the course won't go on and on.
Lead generation and nurturing
Lead generation and nurturing email drip campaigns begin when customers sign up to receive emails, in return for a valuable ebook, whitepaper, or another informational freebie, and first become your leads as a result. Around half of your newly acquired leads won't be ready to make a purchase from you immediately, as they need to evaluate whether your business will meet your needs. Email drip campaigns are a prime opportunity to show them how your business will meet their needs, in a gradual, easy-to-digest way.
How should you structure this type of lead nurturing email drip? Constant Contact recommends combining educational content with stellar customer reviews and discounts. In their example model, they start with educational email content related to their niche, then send an email with testimonials, and then follow that up with a valuable discount coupon.
Subscriber intro
This email campaign focuses on welcoming new subscribers and introducing them to your business, so it usually falls under the lead generation and nurturing category. (However, it stands on its own because this intro sometimes comes after a customer has made their first purchase.)
Subscriber intro emails welcome new subscribers into your brand community and thank them for joining, while giving them the most important background on your business in a series of emails. You might even throw in a coupon code to motivate them to convert, or a survey to learn more about them.
Onboarding sequence
Onboarding drip emails are usually used by software programs, cloud applications, and online subscriptions. They are designed to make users' first experiences with your product seamless, by helping them get familiar with your features, usually through links to knowledge base articles, courses, and webinars. They also showcase how your product will help solve the user's problems, and invite them to contact you with any questions.
Often, onboarding email drip sequences are used with people who sign up for a free trial, to nurture them into eventually becoming paying customers. If you're targeting free trial users with your onboarding email, you'll also want to show how your product eclipses the competition's, like in any lead nurturing email. However, they can be aimed at anyone who has just started using your product (free or paid).
Welcome drip
A welcome email drip campaign works similarly to an "onboarding" drip for other industries, such as ecommerce and service industries. Unlike the onboarding drip, though, the welcome drip only activates when someone makes a physical paid purchase.
As an alternative to a single "welcome" or "thank you for your purchase" email, this drip sends multiple spaced-out emails to make new customers feel welcome. The thank-you email starts things off, but it's followed up with other engagement emails. These follow-up emails could include tips on using the product or making the most of the service, links to related content on your website, or a valuable coupon for use on their next purchase. They might also ask for feedback or reviews of the purchased product.
Why use a welcome drip (or onboarding drip) in place of a single thank-you email? According to Constant Contact, a welcome email series results in a 13% revenue increase for brands that use it, compared with brands that only use the single email.
Existing customer engagement
Email drip campaigns aren't just for generating and nurturing new leads. They can also be used to engage your loyal existing customers and keep their purchases coming. Set up a behavioral drip that activates after a customer has purchased a certain number of times, has spent a certain amount, or has remained an active customer for a certain amount of time.
Then, use the drip emails to encourage these customers to leave positive reviews of your products, or to refer their friends to your business. You could also alert them to new product releases or sales before the public finds out, or to send them a VIP incentive.
Re-engagement drip
Re-engagement email drips trigger to convince inactive customers to come back to purchase from your business. They're triggered after a customer leaves a certain number of your emails unread, and when they haven't made a purchase from you in a certain amount of time.
Often, they'll include "We miss you" sales and discounts, reminders of the features that persuaded customers to purchase in the first place, and changes that you've made (such as new products or features they might enjoy).
Cart abandonment recovery
You've almost certainly received this type of email drip in your inbox, as it's one of the most common. Cart abandonment emails trigger right after a known customer adds items to their cart, but then leaves your site without purchasing them. According to Shopify, around 60-80% of potential customers who start to fill their shopping cart abandon it, but "nearly half of all abandoned cart emails are opened and over a third of clicks lead to purchases back on site."  Convincing on-the-fence customers to come back and purchase, through a recovery email, can lead to a significant increase in sales. This can be done through the WooCommerce abandoned cart option if you're using it as your eCommerce platform to help engage customers more.
How to persuade customers to return with recovery emails?
One way is by sharing that you "saved" the items for them (and showing a picture of the items to remind them why they wanted the item).
You could also create urgency by offering a limited discount on the items, or say that the items are selling out fast, so the customer should hurry and buy before they're gone.
Include multiple links or call-to-action buttons that direct back to the customer's cart.
Send more than one email (this is a drip campaign, after all), but don't overwhelm the customer. Two to three emails is best. The first email should come very shortly after the cart is abandoned, and the second should come the next day (24 hours after).
Cross-sell/upsell campaigns
Your existing customers are your best customers – it's much easier to convince them to purchase again than it is to acquire a new customer. Cross-sell emails encourage customers to purchase products that complement the one they own (or recommend products based on previous purchasing habits). And upsell emails tout the benefits of more robust plans, to convince users to upgrade.
Examples of engaging email drip campaigns
Looking for inspiration for your own email drip campaign? These companies provide awesome examples of email drip campaigns for you to learn from.
TOMS
This email drip introduces new subscribers to the TOMS brand. The first email focuses on the TOMS mission of giving back to those in need, with compelling text and imagery. It provides plenty of links for customers to browse the store again, and introduces the TOMS rewards program so customers can get more bang for their buck.
The second email goes into detail on the story of how TOMS was founded, and invites users to click through for more details on how TOMS gives back. Then, continuing the trend, it includes more links to browse the store and join the loyalty program.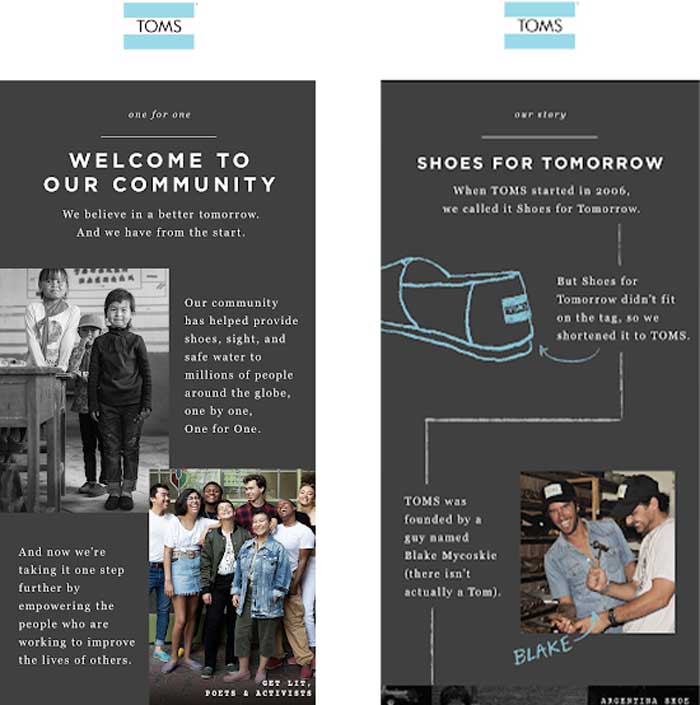 Asana
Asana uses this onboarding email to encourage success after a user has started their first project. The email encourages users to explore Asana Academy, a free self-service course on the product, so they can use Asana to the fullest, and gives them tips that they can easily apply, whether or not they choose to take the course. They've broken down the information in this email so it's easy to digest, not overwhelming. And the call-to-action button draws readers in with its easy-to-find purple hue.