Whether you are running a business out of your home or are leading a massive organization, your main goal will always be to get more customers. Getting more customers does not have to be tricky, but there are certain steps that you need to take for effective results.
If you really want to get more customers and are willing to put in the time and effort required to do so, then you have to indulge in lead generation.
What is lead generation
Lead generation is the process by which you generate customers for your business. It's usually a combination of insights into your customer base, developed strategies, and lead generation software. All these come together to introduce your business to new eyes.
Essentially, lead generation is about getting high quality and high intent customers for your business. But it is pointless without brand exposure and marketing.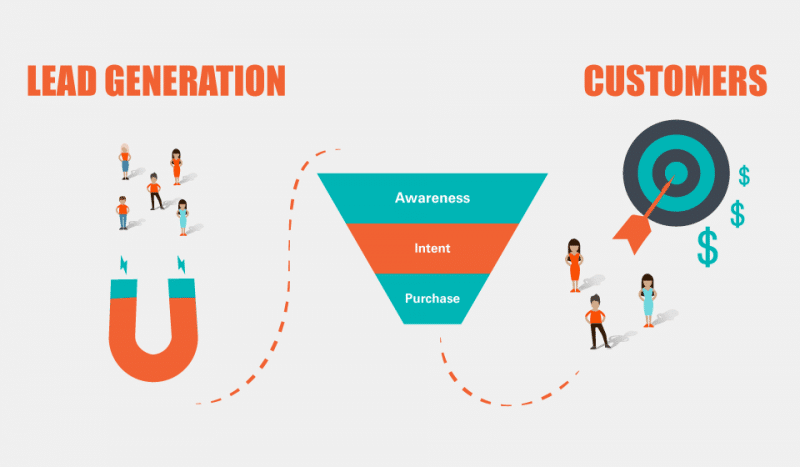 With that out of the way, let's take a look at some effective lead generation strategies that will do wonders to boost reach for your business.
Why lead generation is important
Salespeople are turning more towards inbound marketing strategies. Many businesses have found that inbound marketing, where people come in on their own will, seems to work better than cold-calling.
Working with interested leads tends to produce better results. This is why businesses rely on lead generation to help them generate traffic, which can eventually lead to a conversion.
Lead generation bridges the gap between businesses looking for people to buy, and people looking to buy a product. By using a lead generation process, your business has more chances of grabbing a potential buyers attention by showcasing something of value that you can offer to them.
How to do lead generation
There are a lot of different industries out there. So, what works well for you might not work well for others. You need to really think about your audience and what tactics you can use to drive them to your end goal.
But there are a few top level things any business can look at, but you may have to tweak a step to fit your business.
Step 1: Focus on the lead capture
For lead capture, you may want to consider using a special form or a dedicated landing page on your website. If you set yourself up a nice and concise form, you have a better chance of getting a conversion.
There are tricks when it comes to creating a form.
Form length: There can be a tradeoff here. The trick is to find a middle ground. Too short of a form might mean anyone and everyone signs up – even if that means they aren't a serious customer down the road. Too long of a form and you risk abandonment. People might not be willing to spend too much time on it. So ask what you need to ask, and maybe save the finer detailed questions for later on.
Lead qualifying fields: You may want to add a question or two that allows you to pick out and focus on your top leads. You might ask them something that will help you determine how likely they are to become a customer. Asking a specific question that can help you gauge whether or not they are in need of what you have to offer.
Form fields: Speaking of fields, you need to ask all the basics. If you want to be able to communicate with them in the future, you'll have to get a few key details. This will include the obvious like name and email. But you'll likely also want to know a few other key details like business industry, number of employees, role at the company, company website, etc.
Privacy policy or terms & conditions: People want to know you aren't going to share their information with others. No one wants their information to be added to a mass email list to receive spam and other junk. If you fail to add a link or a brief summary of your commitment to their privacy they may not fill out the form at all. Privacy is huge! Here's how privacy policy should be written.
Step 2: Lead magnets
You have a form, and maybe even a landing page. But none of this matters if you aren't offering something of value. Your lead magnet is the incentive you can offer in exchange for the lead's information.
But not just anything will do. A lead magnet usually works because it gives insightful information or solves a problem. These are usually super specific pieces of content, that are high value, and easy to absorb.
There are many things you can offer:
PDFs: This one is super simple to create and usually works really well. You can turn any of your blog posts into a PDF and offer it as an exclusive download or upgrade. It's actually quite impressive how many people want to own something they may have already read in a PDF format. If your information is helpful enough, people will value this download as a useful tool.
Discounts and promotions: This type of lead is fine with receiving emails from you because they want to see future sales, coupons, and promotions. A good deal is always an easy way to get lead traffic, and it also helps move them towards conversion!
Reports: This is a great resource for B2B businesses. This is an easy one to make work for industries who like data and research. This can also be an easy one to update over the years. You can compile data you find or do your very own research, and either way, give the people statistics they want to see. Here are some great report templates to give you a few ideas.
Newsletter: People like to subscribe to newsletters as a way of keeping up with their favorite brands. Or to learn about specific things in the industry. Most newsletters will lead them to other insightful content, or the brand's latest content, which is why they choose to subscribe! Even better is this type of lead is expecting you to email them!
Ebook: People always talk about ebooks as being lead magnets. Sure they can be useful, but they aren't as high of converters as some of the other items on the list. Plus, they can be time-consuming to create. But, if you offer a really good one, you may find a few really good leads come your way. You can use Desginrr to help create your ebook.
Checklists: People love checklists. These are easy to digest and points are clear to understand. Plus, the items listed are lined up in an order that helps the person achieve what they want in the easiest way possible. They are also relatively easy for you to create.
Infographics: Most people love visuals. You might already add them to your content and you may find that they are pretty great for driving traffic. These work because they help people visualize the content you're giving them, making it easier for them to digest the point of the content. It's a win for everyone. Check out this ultimate guide on how to make an infographic, you may find that they aren't as difficult to make as you originally thought.
Video: A step above infographics are videos. The visual and audio make this a far better tool to learn from and help drive your point better than articles and eBooks. Plus, you have to the opportunity to show off your personality and your brand! Video marketing statistics show that over 80% of all internet traffic will be video by 2021
Do keep in mind though, if you opt for deal sites, then your margins can be pretty thin. This is not exactly a permanent solution if that is what you are looking for in the first place. But then again, you will be able to generate leads quickly and acquire loyal customers in the long run.
You can also host a variety of different rewards or incentive programs. A referral incentive or a loyalty program incentive can be just what you need to reel leads in (without having to push deals out on deal sites).
Step 3: Landing page conversion techniques
There are many things you can do to make sure your landing page converts. Here are some general tips to making sure your landing page is the best for your business.
Let's take a look at why this landing page works.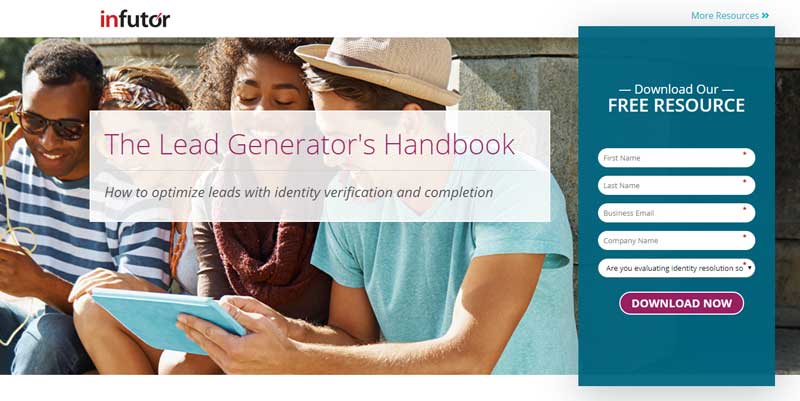 Easy to read: Cut out confusion, and cut to the chase. No one wants to land on a page that is lengths at the end to download a simple PDF. So give a brief explanation of the content and anything the user should expect.
No crazy fonts: Another way to make it easy to read is to use a good font. Some fonts out there may be fun, but minimize the curly cues for design elements, and make sure what you're saying is legible.
Visually appealing: Symmetry and a good image can go a long way. You'll want to avoid harsh colors, as well as colors that are hard to see. You know, don't use a yellow font on a white page.
Clear and easy to find CTA: What's worse than getting to a page and not knowing what to do. If people are confused about how to move forward with their download or access to your content, they won't move forward (literally).
Step 4: Lead scoring
Let's talk about lead scoring. This is essentially when you assign values or points to each lead you are able to generate.
The leads that you do get in might not all make the cut for what you're looking for. Sure they might be interested in what you have to share, but that doesn't mean they will convert to a paying customer. Lead scoring, therefore, helps you prioritize your leads and work on the relationships with those who look promising.
You can calculate a basic lead score a few different ways. But the most basic is to calculate the lead to customer conversion rate.
The best lead generation tactics
Now that you get the basics, let's review a few tactics that are sure to help you convert.
Rethink discounts and deals
This is one common strategy to attract customers, because who doesn't like discounts? But, several websites offer discounts and deals. This is where you need to rethink your strategy. You should consider looking to see if your product is fit for any local or national opportunities among common deal websites.
If you are not entirely sure, you can always partner up with other businesses. It's even better if you can find complementary businesses that actually know about affordable hosting deals. They will be able to show you the ropes and they will do most of the hard work for you. This can result in your product or service getting noticed, and you will not have to spend a lot to make it happen.
Give SEO equal importance
Interesting fact: only 10% of internet users go beyond the first page of search results when they look for information. What this means is that businesses have a lot more competition to deal with to get on the first page — which translates to greater leads. No matter how informative or well designed your website is, if it is not visible, you are not going to get any leads.
For this reason, it is important that you give SEO (Search Engine Optimization) equal importance. It is a great lead generation tactic that can put your website on the first page of search results. Also, don't forget about local SEO!
At first, SEO may seem difficult to comprehend, but at its very core, it boils down to the three following factors:
Provide useful information
Answer frequently asked questions
Ensure your writing is concise and clear
To learn more about SEO, you may find plenty of sources online. However, if you are a part of a highly competitive market, then you may want to hire an SEO expert. By doing so, you may get extra value for your lead generation tactics. But in most cases, investing in digital savvy writers and good content alone can do wonders for you.
Adopt content-based lead generation
Since we are talking about SEO, let's take a look at content too, or content-based lead generation strategy to be more precise. But for this strategy to work, your content has to be optimized. This way, your presence on search engines will be better than ever before.
The more high-quality content you produce, the greater the reward from search engines. The reason being, search engines give utmost priority to websites that answers questions simply and quickly. For example, if you create content about your company that provides the answers to where, what, why and who, then you will benefit from improved search rankings.
At the same time, as search is becoming local, you may further benefit from lead generation tactics that combine your content with your physical location. This way, at least, you will be able to dominate your local search.
A modern website is a must
Those days are long gone when only media companies, tech organization, and focused businesses were required to have beautiful websites. If you have a car selling business or are building apps, you need a fantastic website with impressive design, efficiency, and speed to keep your potential customers from going elsewhere.
By creating a website that is clear to its visitors about what, where, why and who is behind your company, it proves to be a great asset. Come to think of it, a good website is like your very own digital business card. A perfect example of this would be Offer Factor, which has all the makings of an attractive and user-friendly website.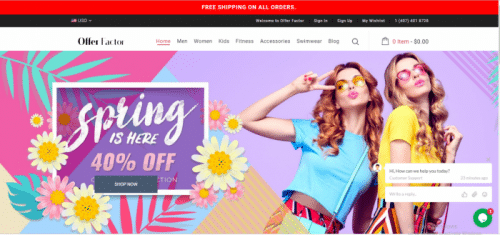 What is interesting is that you do not need to know how to code to make a brilliant website. You can build websites now by dragging and dropping elements and features, it is literally that simple! So really, anyone can have an updated website, and there really is no excuse to not have one.
Start a business newsletter
Email marketing lead generation is quite similar to content lead generation strategies. In this case, think of it as a mixture of content strategy and social lead capture techniques.
If it works out, you will get a lead generation tactic that notifies your target audience about updates from the industry or your company. Not only will they get updates delivered to their inbox, but you will not have to strive for attention.
To make the most of this strategy, you need to compel people to actually sign up. You can start by promising exclusive experiences, knowledge, and VIP sales. But do not stop there – keep sending newsletters, as long as they have something useful to offer. If you play your cards right, by targeting a captive audience you may acquire highly valuable leads, who may even become your own brand ambassador.
In conclusion
The strategies are just a few of the many that can be integrated into your business operations to boost your reach. Not all of them may work for you, which is why you need to do your homework regarding what strategies would be suitable for your business type (what are your competitors doing?). You may even find that working on backlinks can get you ahead. A backlink tool can help you monitor backlinks as well as give you control for scaling.
The bottom line is this: if at first, you don't succeed, try another strategy. Old strategies can work, but you might need to give them a unique twist. Also, don't be afraid to spend a little, as it may go a long way for you — especially if you are creative with strategies. You may also see that social media is a great lead generation tool.
Do you work for a B2B SaaS? Be sure to check out our roundup of SaaS lead generation tips from experts.