Email marketing is well known and loved by many marketers. In fact, email marketing continues to grow and has really become one of the front-runners in marketing.
This is because, on average, it costs much less than traditional advertising. Plus, a good email marketing campaign can give your business a leg up, and help you promote brand awareness and word of mouth.
Which is why an email blast works well. We have more information about this topic below, which includes email blast examples from some very well-known companies.
What is an email blast?
As you guessed it, an email blast is simply a mass email. There is a common misconception however that an email blast is spammy, and thus many marketers do not like using the term. But that's simply not the case. Instead, you may hear marketers use the friendlier way of saying it – email campaign.
Most marketers use e-blasts as a quick way to provide valuable information to the reader. Like to talk about local events, contests, special discounts, holidays, and milestones. Also unlike spam, which is sent randomly and to everyone, an email blast is targeted and sent to those who have subscribed to a specific list in one way or another.
Tools for doing an email blast
There is plenty of email marketing software on the market. Most of them allow you to manage email lists, create email campaigns, and of course distribute emails. A few of the top providers include:
1. MailChimp
One of the most popular options for email marketing. They offer a pretty extensive list of integrations and offer plenty of self-help resources. In all, they are a pretty affordable and robust email marketing tool.
2. Sender
Sender is one of the most affordable email & SMS marketing tools. They help you create beautiful, branded emails that you can choose from its library of professionally-designed templates. You can also custom-make your own designs in minutes without any coding knowledge. They empower you to grow your business and keep in touch with customers — while spending much less.
3. InfusionSoft
This is a pretty comprehensive marketing automation tool. They do, however, have a pretty in-depth email marketing platform, as well. Allowing users to create automated campaigns, that are especially perfect for small businesses.
4. Constant Contact
A very strong contender in the email marketing world and for good reason. Constant Contact was made to be simple and customizable. They offer a budget-friendly solution and a good selection of templates for an email blast campaign.
5. Kommo
Kommo is a solid tool to carry out email marketing campaigns thanks to the fact that it is able to easily collect email databases, segment and manage emails according to the objectives of the campaign, automate the whole process and measure the results. All in one platform.
When does an email blast make sense?
Let's briefly cover when an email blast makes sense.
Announcements
For email courses
When asking for reviews
Sending a newsletter
Contest alerts
Holidays and anniversaries
As you see, an email blast is simply a one-time email campaign.
Email blast template
All good email marketing campaigns will have these things in common.
A provoking subject: A reason to make the reader want to open the email. Could be something funny, sad, curious, or even something free. If you're struggling with coming up with an engaging subject line, you can always get some help from third-party writing services.
A solid preheader: Okay, the title may have gotten their attention, but can you make it stick? This is your chance to give just a little more detail so they open the email.
Insightful information: Shocker, right? No one wants to spend time on useless information. So make sure it's something they're going to like, or at least find informative or funny.
A CTA or maybe not: It just depends on the context of the email. Not all emails will have a CTA. Some are merely to be informative with no follow-through action.
Explore these email blast examples
Let's take a look at a variety of different one-time email blast examples. We'll view everything from local events, contests, special discounts, holidays, and milestones.
1. Intercom: A new product feature
Intercom is a software company that provides its customers with a customer messaging platform. They make it possible for businesses to chat with prospects and customers within their app, website, social media, and even email.
They send informative information to their customers and subscribers via email marketing. Typically, their email blasts consist of new features and product updates.
Take a look at this recent email from them.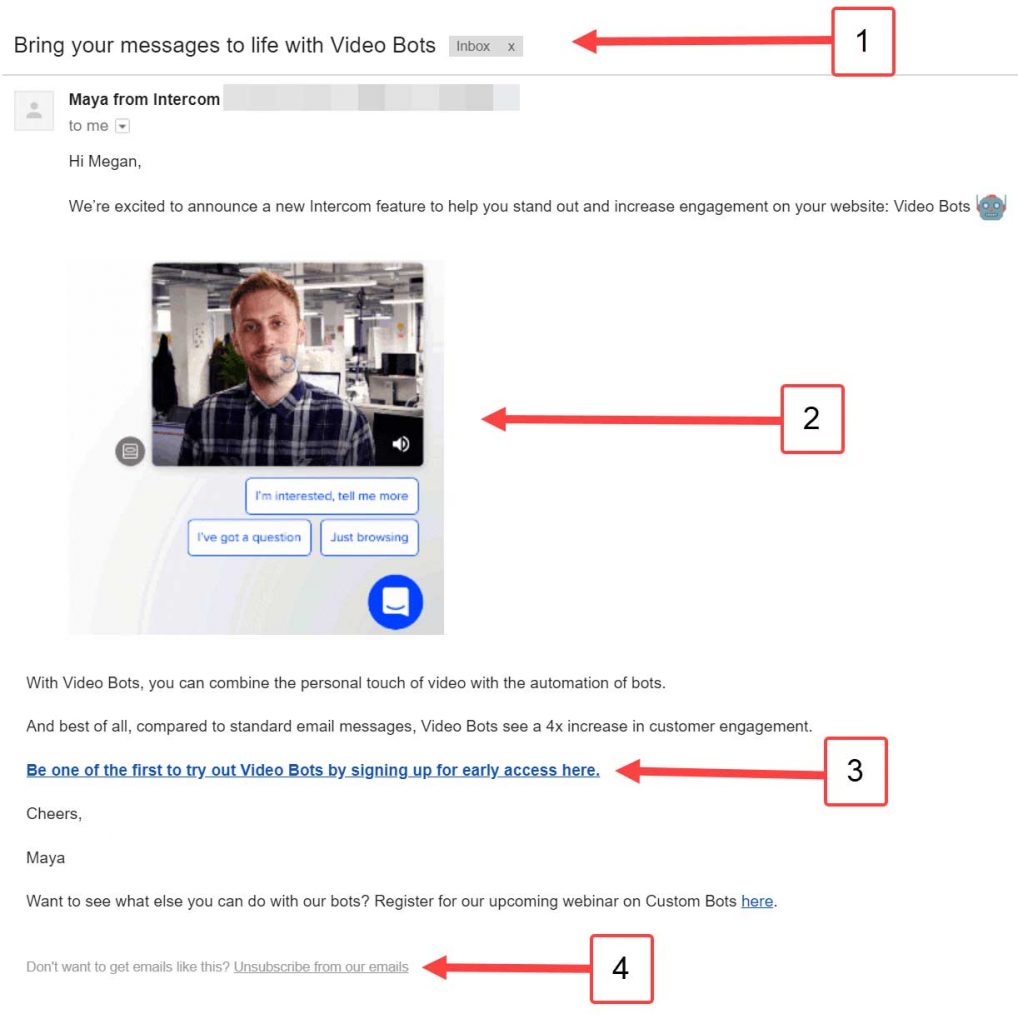 Why Intercom's email works
You'll see the email is relatively short and sweet, but their message is evident. It also uses video to better help readers visualize their new feature. To make things even easier for readers to follow along, they focus on just the one topic – and nail it.
The subject states exactly what the message is about. There is no hidden agenda, and the point of the message is made clear, right away.
Sure they could have filled us in on their new feature with just text, but what better way to talk about video bots than to use a quick video for reference? Their gif gets the point across and it helps break up the boring text.
They offer a CTA. Though not in the form of a button, it's still effective. They hyperlinked the entire action they want you to do, so you can't miss it.
They know not all readers want updates emailed to them, so they offer a quick way to opt-out of their email blasts.
2. Quuu: A Twitter chat invite
Quuu is a content curator and social media manager. It's become increasingly popular among marketers as they can manage, grow, and even promote content from one place.
Quuu sends out regular emails to customers. Most of which include product updates, weekly content updates, Twitter chats, and sales information.
Why Quuu's email works
Yes, the email is a bit text heavy. But, there are enough elements added in that it works. This particular email is meant to be informative and action based (come and join the chat).
Bullet points really drive home why they are talking about the subject. Not to mention they've provided links to further support their points. The bulleted list also breaks up what could have been a bulky paragraph, making it easy to read.
The poll adds a nice visual, while also helping them prove their point. Plus, those statistics are their own (public) findings!
The banner towards the end is big and bold and gives you the bread and butter of the whole email. The main reason for sending the email in the first place is noticeable and easy to pick out if the reader chooses to skip the rest of the email.
The finishing statement gives everyone the chance to learn, even if they can't make it to the chat in live time. It's just a nice way to tie up loose ends.
3. Bath & Body Works: An end-of-sale alert
One of the largest bath shop chains around. They're famous for their fragrances for both home and body and seem to be a leader in their industry.
Most customers have signed up for their email alerts, and for good reason. Aside from coupons and new product information, Bath & Body Works sends plenty of sales alerts too.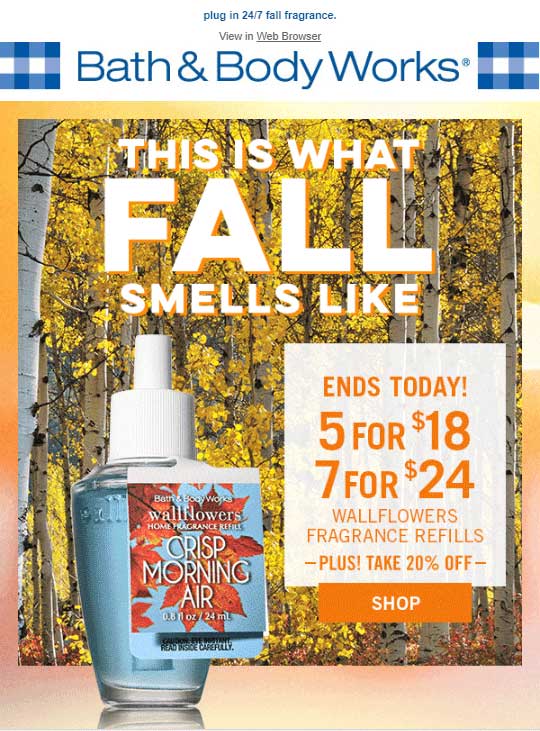 Why Bath & Body Works' email works
This email has all the imagery a customer could ask for. They play up their fall scents by using an inspiring background, and they showcase one of their popular seasonal scents.
The imagery makes people feel a certain way. In this case, it gets people ready for fall and for fall scents.
The text has alternating sizes, making the message stand out, even alongside the imagery. Plus they use provoking wording "Ends today" to make people want to act fast… because FOMO (fear of missing out) is real.
The CTA is evident and straightforward, which works because there is a time crunch and readers must act fast.
4. Fitbit: New product introduction
Some of the best fitness trackers come from Fitbit. Alongside their fitness trackers, Fitbit helps consumers measure their fitness, calories, and sleep habits with an app and website.
Many Fitbit customers are tech-savvy, so it's a no-brainer that they'd want to be in the know about updates and new tech. Furthermore, many Fitbit users are signed up to receive emails for updates and notifications about their fitness goals too.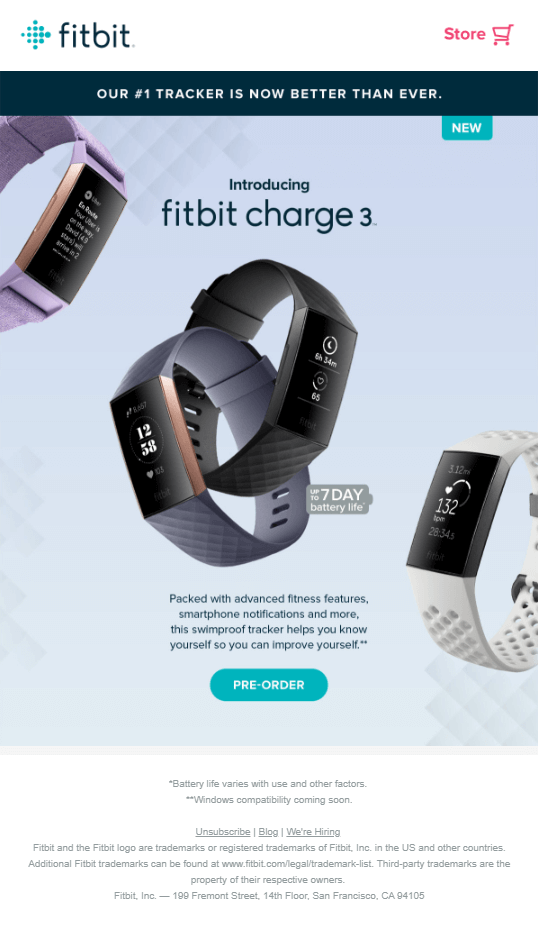 Why Fitbit's email works
The email does a great job of showcasing the new Fitbit in town. Along with letting the reader know a little bit about the new device, Fitbit shows off the color options as well as gives a few ideas of how it can be used.
The title of the email says "Our number 1 tracker is now better", which can provoke any diehard Fitbit user to want to learn more.
The email body does a simple introduction and then lets the image speak for itself. Making the email both visually appealing and also informative.
There are two options to shop. The CTA and the store link at the top. Proving that convenience is key.
The CTA drives people because it eludes exclusivity. Plus, most tech lovers, enjoy getting the latest and greatest products as soon as possible, and before anyone else, if they can. Therefore the 'pre-order' CTA seals the deal.
5. Google Express: A special discount alert
Online shopping is widely popular because of its convenience. Google Express was originally intended to be a same-day online shopping experience but has now expanded to include overnight deliveries too.
Google Express sends just a few types of emails, some include sales information while others are order confirmations.

Why Google Express' email works
The email is a long one, but because it's mostly images it makes it visually appealing and drives interest in the reader.
The main reason for this email is to inform the reader of a sale. Which is why '15% off' takes up most of the text space at the top. It captures the eye and provides a reason why the email was sent in the first place.
The flow of the images is perfect as it reads like a book. Meaning the layout makes sense and easy to glance over, despite being super long.
The main reason for the email is to use the discount and shop. To make it even easier on the reader, they have provided links to use the mobile app as well. Talk about the utmost convenience.
6. Infogram: What's new with us
A marketers dream tool, Infogram allows users to create and share digital charts, infographics, and maps. Best of all, users don't need coding skills or the skills of a designer to create something nice.
Since they are more of a SaaS business, they like to send informative emails that usually contain tips, tricks, and updates for users.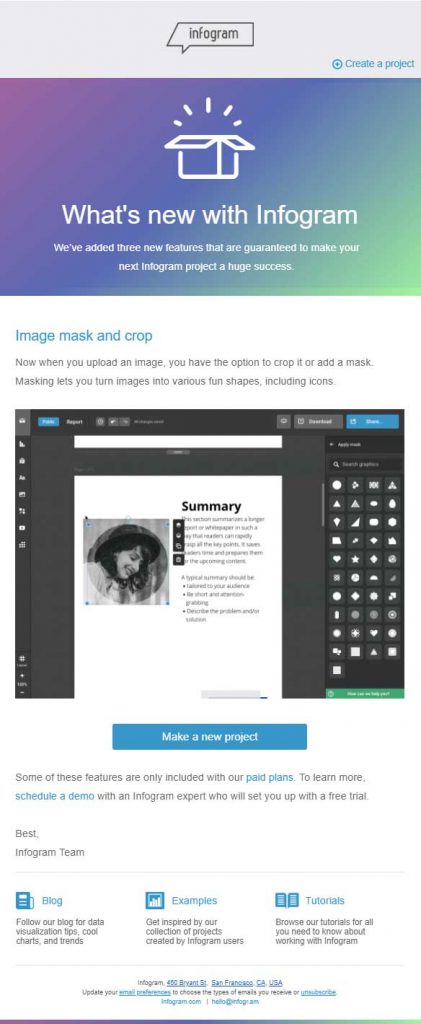 Why Infogram's email works
This is is an educational email. The email starts by talking about 3 new features, then dives into a pretty comprehensive mini-knowledge base of each (we cut out two for purposes of article length).
Each new feature is showcased with an introduction and an image. The images highlight the new feature and help break up the big chunks of text.
Headers are used appropriately to define each new feature. Making the flow of the email work really well. This also helps transform the email into a mini e-course or how-to guide.
After the features are listed, the CTA drives you to check out the new features by creating a new project. Which is also a great way to get people to log in and start creating.
They do mention at the bottom of the email the stipulations of the features (features may not be on all plans). So you can't say they didn't warn you.
7. Industrious: A big milestone
A coworking office space located in Bethesda has just opened. They are equipped with all the amenities a working team could ask for.
Since they are new, their email updates have been focused on touring the facility and checking out what the workspace has to offer. Really, they're working on promoting the space to get it rented out.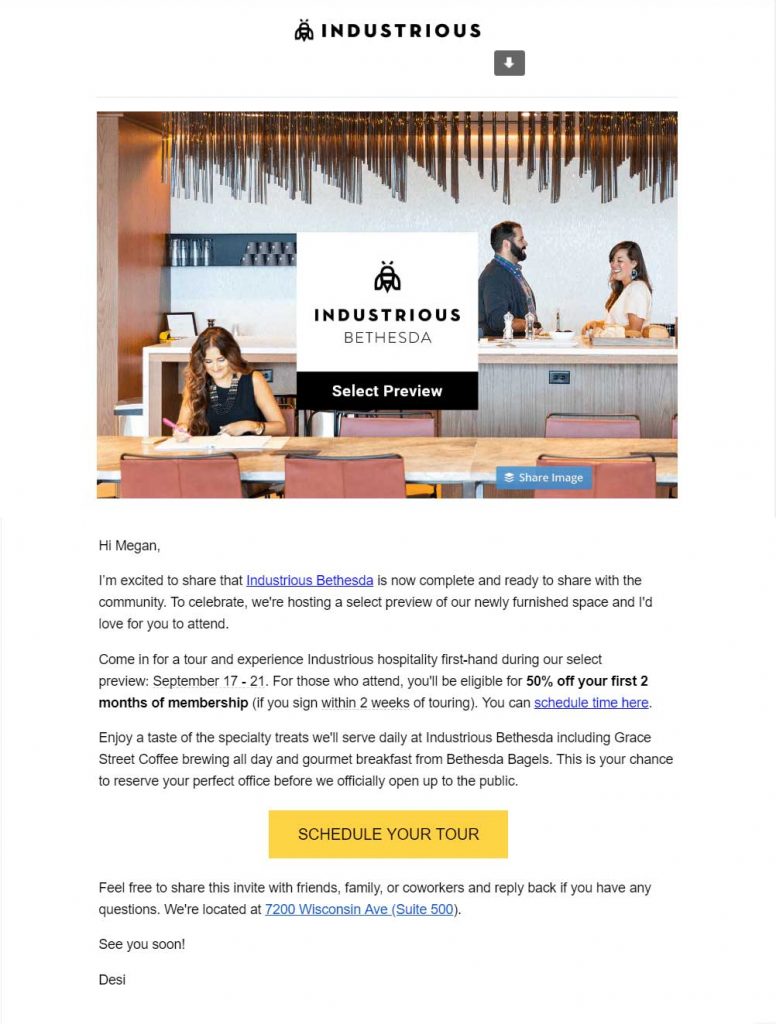 Why Industrious' email works
The email gives you a glimpse of the new space. A nice big and bright header image takes the show and then flows nicely into the main message.
 The header image makes the email look fresh and bright. Perhaps foreshadowing what it would be like to rent a space and work from there.
A few solid links within the text allow readers the option to skip the email and read directly from their site. Adding multiple opportunities for convenience to the readers.
The bolded discount statement draws the reader's eye. Though it's not the main purpose of the email, it acts as a driving factor to click the CTA.
The CTA isn't too pushy like a typical 'sign up now', instead it acts as a soft introduction. 'Schedule your tour' works as it doesn't make the reader feel like they have to sign up or commit right away.
8. Scooters: A one-day event alert and coupon
The Nebraska native coffee chain whips up fancy espresso drinks on the daily. Though they aren't the biggest coffee franchise in the nation, they are popular and have quite the fan club.
Typical Scooter's emails usually talk about new and seasonal flavors. But, they do a great job of creating traffic by sending out promotional emails and coupons as well.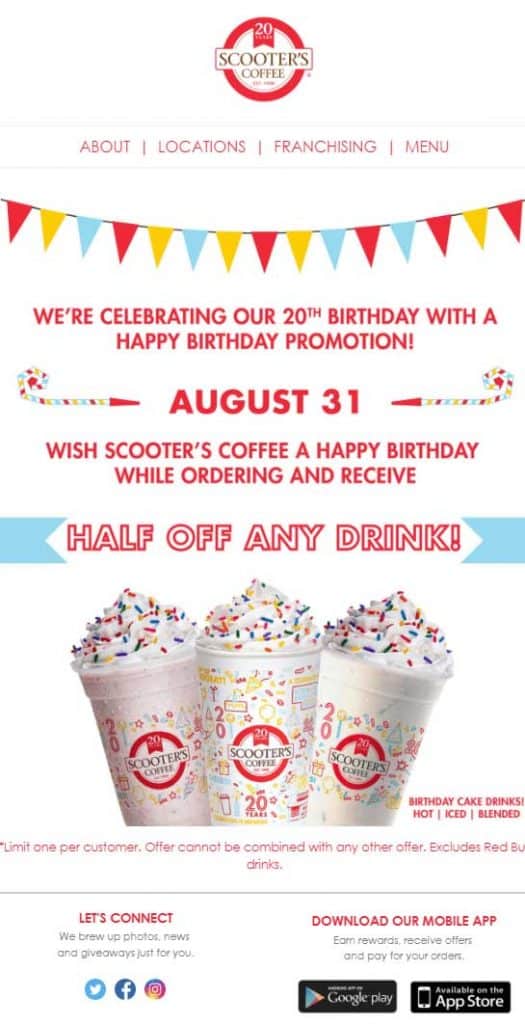 Why Scooter's email works
This promotional email screams fun. You can tell they are celebrating and they want you to join in on the fun. Though there is no coupon code attached, they inform the reader that a few 'magic words' will get them a pretty nice discount.
This may just be an email, but the banner screams fun. Without reading the email, you can assume something good is going to pursue.
The text, though not the typical black, it is bold and big. So even though it's red, it's still easy to read. Besides, you have to use your brand color to celebrate your birthday.
The main attraction 'half off any drink' is highlighted with a special font and encased in brackets. Making the purpose of this email evident at a quick glance.
A fun image showcases the special drink for the special day ties everything together nicely.
9. All Modern: A holiday special
Furniture for the modern lifestyle. All Modern is exactly as it sounds, modern home furnishings.
Most of their customers receive sales information along with retargeting type emails to get people to come back and shop.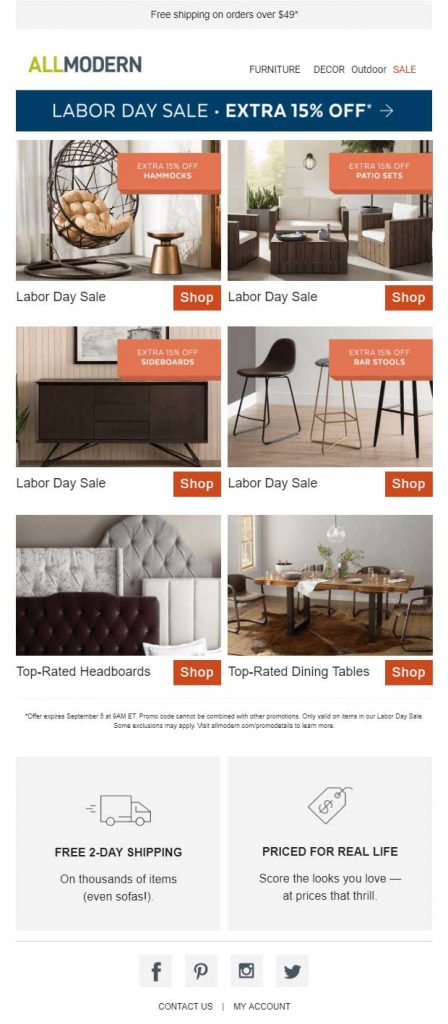 Why All Modern's email works
The email uses a ton of imagery. Even though there is a lot going on the flow of the email is really nice, and makes it easy for readers to quickly glance at what deals are going on. (We cut the email for length purposes)
The main purpose of the email is to inform the reader of the sale. Which is why that bit of text is right above all the other sections of the email.
If you look at the layout, the images flow well. They can read left to right, and they aren't cluttered. Making the layout look clean and simple – even though there are multiple images to look at.
Even though most email tips will say to use 1 CTA, the use of CTAs actually works. Because there are so many departments to shop from it's convenient for the viewer to be able to pick the one they want to look at, instead of going through the entire website.
There you have it
Honestly, there are a ton of great email blast examples and email blast templates out there. And you'll see that an email blast can cater to a variety of uses and information.
Whether it be a referral program invite with an amazing referral email design, a product update, or a simple sales flyer. Email blasts are quick ways to send out valuable information to all their email list subscribers, simple as that.