Are you tired of pouring your hard-earned money into traditional advertising methods with little to no return? It's time to explore a smarter and more cost-effective way to generate new business – contractor referral programs.
In the competitive world of construction, word-of-mouth referrals are the lifeblood of a successful business. Referrals not only bring in new clients but also establish trust and credibility for your business. By incentivizing your satisfied clients to spread the word about your services, you can create a reliable and consistent acquisition channel that is both low-cost and low-risk.
But creating a successful contractor referral program is not just about throwing together some incentives and hoping for the best. It takes strategic planning, creativity, and a deep understanding of your target market. That's why we're here to guide you through the process and provide you with best practices to design a program that not only attracts new clients but also elevates your brand.
Join us as we dive into what contractor referral programs are, why they're essential for your business, and how you can design a successful program that generates leads reliably. It's time to take your business to the next level with a contractor referral program that works for you.
What is a contractor referral program?
A contractor referral program motivates your former clients to promote your construction contracting services among their social networks. This strategy generates mutual benefit, with customers receiving incentives for their advocacy while you gain new clientele without having to incur substantial advertising expenses.

Referral software – an automated referral tracking system – eliminates the hassles associated with manually monitoring referrals. These state-of-the-art programs are streamlined, reliable, and highly cost-effective. The referral system monitors customer-generated recommendations so you can gauge the program's contribution toward overall revenue and make any modifications as needed.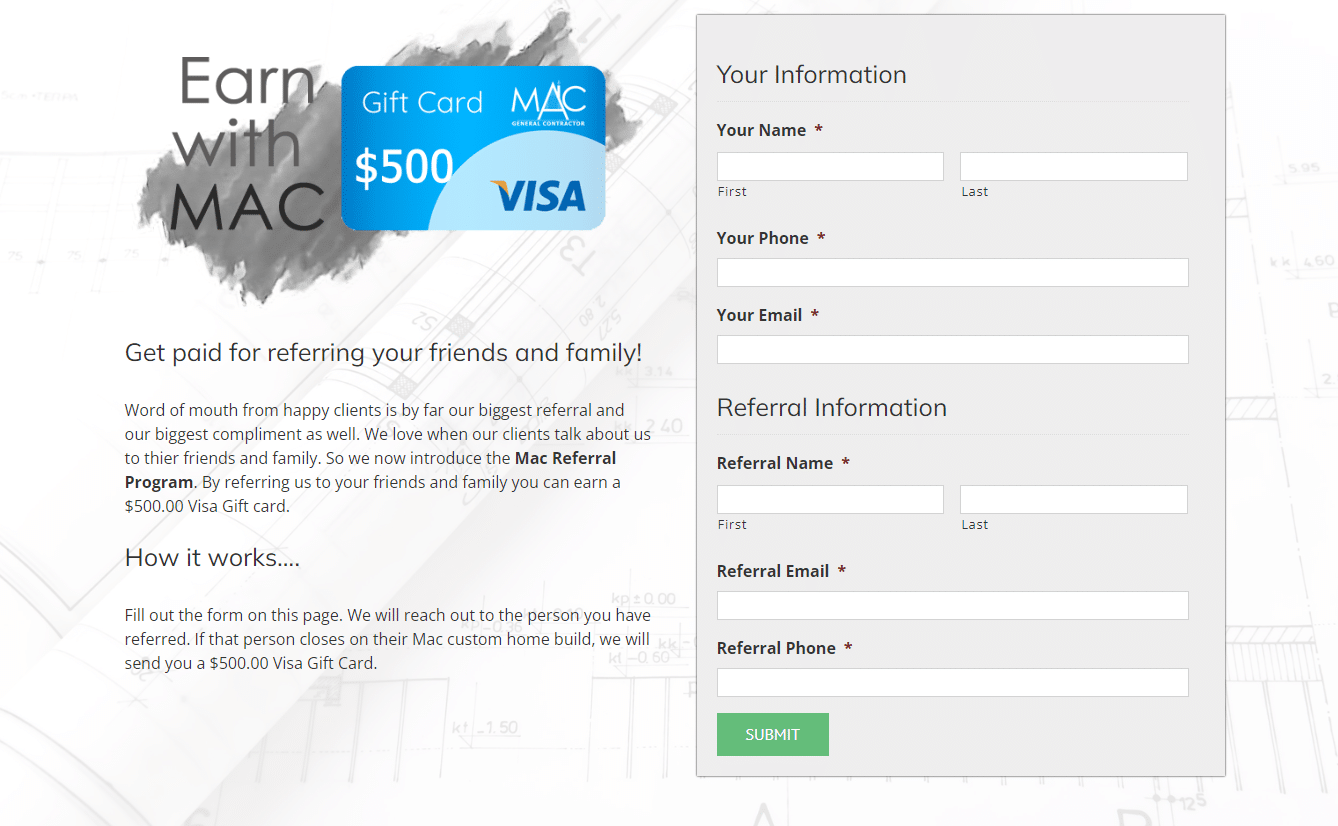 Why do you need a contractor referral program?
In the world of construction, a referral from a satisfied customer can be worth its weight in gold. Construction projects are a significant investment, and it's no secret that people spend time researching their options before they decide who to hire. However, when it comes to choosing a contractor, people highly trust what their friends recommend. People are four times more likely to make a purchase when referred by a friend. This is why a contractor referral program is an invaluable tool that you need to consider.

When you offer a referral program, you are leveraging the trust your happy existing clients have in your business to create an acquisition channel for new clients. Referral programs are a lot less expensive than traditional advertising methods, making them a cost-effective way to grow your business.

Not only are referral programs cost-effective, but they are also low-risk. With traditional ads, you are spending blindly, hoping that your investment will lead to sales. But with a referral program, you only pay for referrals when they result in sales. This means that you are only paying for results, which is a great way to keep your costs down.

One of the greatest benefits of a contractor referral program is that it lets you easily track every referral your customers make, so you always know how your program is performing. This information is invaluable, as it lets you fine-tune your program for maximum effectiveness. You can also use the information you gather to reward your top referrers and incentivize your other customers to refer even more business your way.

A contractor referral program is a powerful tool that you need to consider. By leveraging the trust your happy existing clients have in your business, you can create a low-cost, low-risk acquisition channel that is both effective and measurable. 
Are you ready for a contractor referral program?
Even with all the benefits of contractor referral programs, not every contractor is ready for one. You'll need the following essentials in place – before you launch the program –  for the program to be a success:
A pool of existing customers who love your work – ideally, some of them should already be recommending your services without prompting
A customer experience worth recommending, from first phone call to last finishing touches
A high level of customer satisfaction, including high ratings from customer reviews 
A website to send referred leads to
Contractor referral program best practices
By establishing a contractor referral program, your business has the opportunity to magnify its reach by tapping into its pool of satisfied customers. An impactful strategy can help create dependable acquisition channels with minimal risks or costs involved. This section outlines relevant best practices for creating an efficient contracting referral system aimed at generating referrals while bringing in fresh customers into your fold.
Select your rewards carefully
The rewards you offer can make or break your referral program. Double-sided referral rewards (rewards for both the referrer and friend) motivate frequent referrals and motivate the referred friends to employ you for construction services.
Rewards for the referring customer (advocate) should have nothing to do with your business since they probably won't need another contracting job done anytime soon. However, since contracting projects are larger investments, the reward should reflect the value of the purchase your advocate drove. Cash, gift cards to other businesses, gift baskets, and travel- or event-based rewards are great options for the advocate. Think about using cumulative incentives, which increase the reward customers receive each time they successfully refer a lead. 
Rewards for the referred friend should be directly tied back to your services to encourage the friend to seek construction services from you. Discounts, credits toward the project, cash back after the project is paid for, and free or discounted added services are great friend rewards.
Overall, choosing the right rewards for your referral program is essential for success. Be sure to consider your customers' needs and interests when selecting rewards, and don't hesitate to get creative. 
Decide when you'll give the rewards
In referral programs, you generally give the rewards when the purchase is successful – once the referred lead signs the contract for the job and/or pays you. But you might also give the referrer a smaller reward when a lead is qualified, because the sales process of selecting a contractor is longer.
Start a referral contest to motivate more sharing
A simple yet effective measure would involve rewarding referrers with entries into sweepstakes featuring big-ticket items such as season passes or tech gadgets – each referral equals one entry chance. 
Alternatively, you could offer extra bonuses or prizes to those who bring in the most successful referrals within a calendar year. Remember that it is vital not to compromise on fixed rewards per referral since construction projects' investment amounts are significant.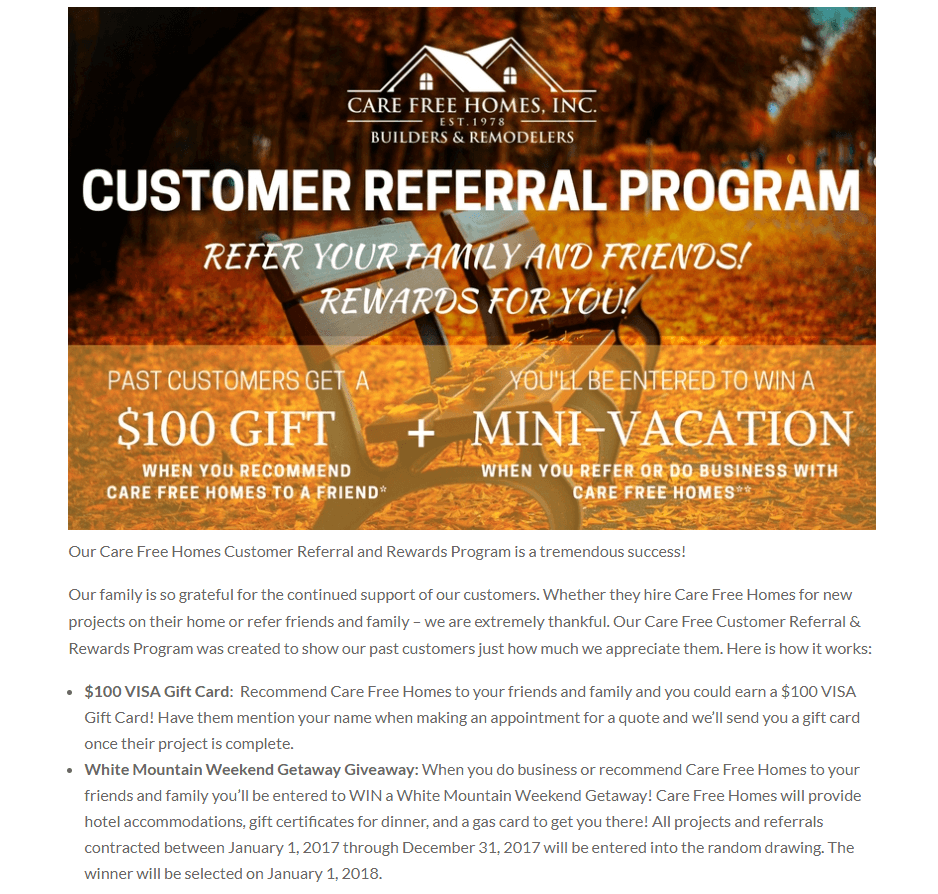 Don't be afraid to ask for referrals
Ask for referrals from satisfied clients when you have built a relationship, and they are happiest. This could be after completing a project, receiving positive feedback or reviews, or during post-project check-ins. Don't be afraid to ask for referrals, especially when you know they have already recommended your services.
Ask for referrals when:
You've completed a project
You've received a positive review from them
You've received a positive social media comment from them
They give you great in-person feedback
You know they were satisfied, and you're sending the invoice for the completed project
It's the one-year or two-year anniversary of a project completion you know went well
You're calling for a warranty check in (or other post-project check-in) and the customer says the project is holding up well
You know they've already recommended you outside of your referral program
Make the sharing process seamless
Creating a seamless sharing process involves providing clear instructions on how to participate in the referral program, designing an enticing headline and concise program explanation, including an easy-to-find call-to-action button, and offering multiple sharing options.
Customers should be able to access the program and share with friends in as few clicks or taps as possible.
Create an enticing headline that states exactly what customers should do (share) and what's in it for them (the reward).
Concisely explain the program (and what must be done for the rewards to be earned) in a few steps.
Include an easy-to-find call to action button to get customers sharing.
Direct customers to an FAQ page if they have other questions.
Give multiple options for sharing, based on the ways that customers naturally share things they love with friends (including email, social media, and a referral link that customers can copy and share anywhere).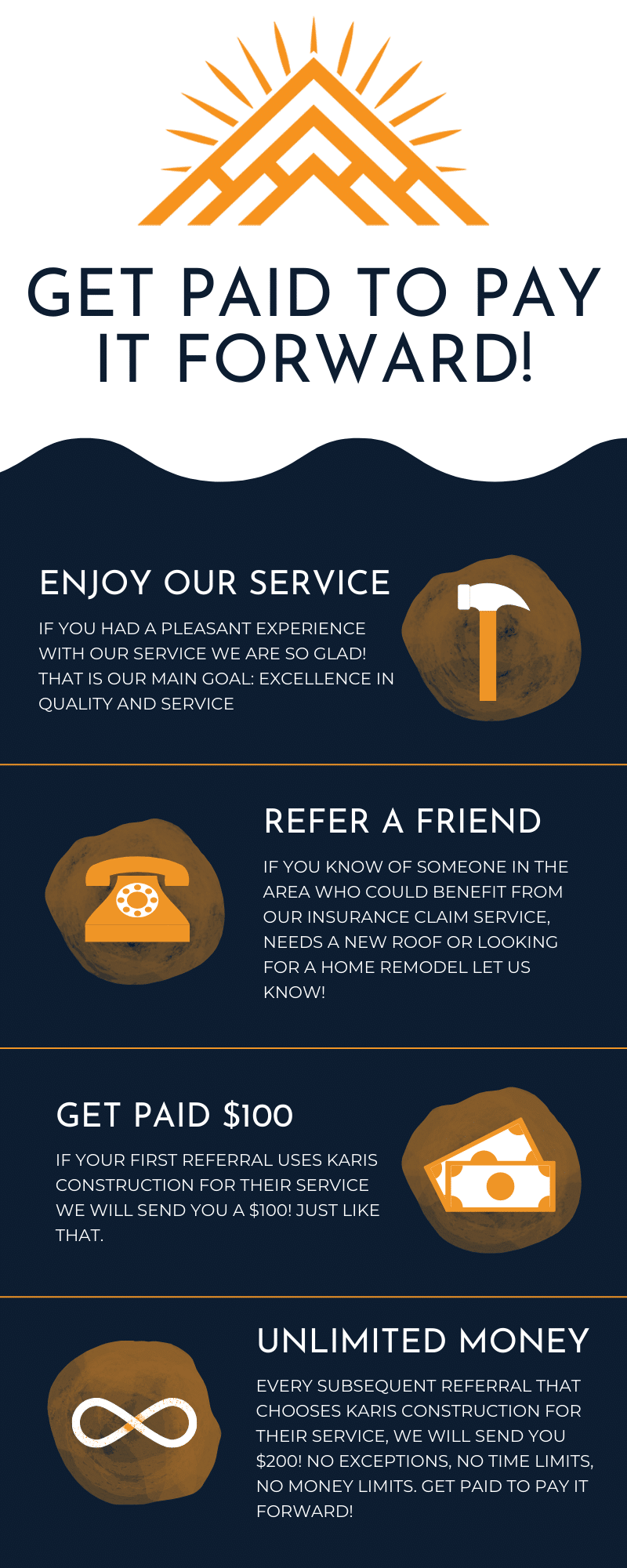 Design a simple referral form
Designing a simple referral form is crucial for making the referral process easy and encouraging participation. Rather than overwhelming customers with too many questions, it's best to only ask for the necessary information. Good practice is to ask for only the referrer name and email, along with the lead name, phone number, and email. By simplifying the form, customers are more likely to participate in the program and refer others.
Promote your program in lots of places
To gain a competitive advantage, make sure that you actively promote your referral program in multiple ways. Effective tactics include showcasing the opportunity on your website, email campaigns, social media posts, and even signatures. 
We recommend promoting your program:
On your website (place a hero image or banner where it's easy to find, and/or buttons in the top and bottom menus)
In conversations with clients, when you know a customer is satisfied
In personal referral emails sent to your most satisfied customers
In mass emails focused on your program, sent to all customers
In news/update emails, confirmation emails, invoices, and other emails unrelated to your referral program
Through social media posts
In email signatures and social media bios
Choose the right referral software to run your program
When it comes to running a referral program, choosing the right referral software can make all the difference. The right software can streamline the program creation process and automate all aspects of program management. With referral links generated by the software, you can track exactly where every referral came from and issue rewards instantly for successful referrals. Additionally, the software collects program data that you can use to measure success and refine your program for optimum results. 
Referral Rock software is a great option for those looking for best-in-class referral tracking, sharing, and engagement experiences, with concierge onboarding that doesn't require any developers. With Referral Rock, you can easily create a referral program that works for your business and generates new sales.
Send the lead a personal note from the referrer
Sending a personal note from the referrer to the referred friend can create a positive first impression of the business and increase the likelihood of a successful referral
Ideally, the message should be written by the referrer, and explain why the referrer is recommending you to their peer. But you can also prompt the referrer with ideas to include in the message, or even include an editable message as a starting point that they could send as is. Be sure to show the rewards that their peer has sent them, and include an eye-catching CTA above the fold to entice the friend to take action.
Thank customers for referrals
Demonstrating gratitude towards customers who refer new business is critical for establishing strong customer loyalty and generating more leads through word-of-mouth advertising. Personalized thank-you notes or public acknowledgments on social media are excellent ways to show appreciation for their recommendations, while also promoting your referral program for increased visibility and potential new customers. Through a thank you note for the referral, you can inspire continued support from enthusiastic clients eager to help promote your business organically.
Parting shot: Boost your contractor business with a referral program
Contractor referral programs can be an effective way to acquire new clients and grow your construction business. By leveraging the power of word-of-mouth marketing and incentivizing your current customers to refer their friends and colleagues, you can create a reliable acquisition channel that costs less than traditional advertising. 
To create a successful contractor referral program, you need to select the right rewards, determine when to give them, and make the sharing process as seamless as possible. Additionally, you need to promote your program in various ways and continually evaluate and adjust its performance.
By following these best practices, you can create a referral program that not only generates new business but also rewards your current customers and strengthens relationships with them. So why not start a contractor referral program today and see how it can benefit your construction business?