How to get cleaning clients? New York Times statistics show that 65% of new businesses originate from referrals. Generating leads and acquiring new customers in the cleaning business can be expensive, but an effective customer referral system can bring in those sought-after leads at a much lower cost. 
Most prospective cleaning clients prefer going through recommendations and reviews when selecting a cleaning company. Referral marketing has proven to be among the most effective marketing strategies for house cleaning business owners, commercial cleaning businesses, and maid services. With its high conversion rate, you have a higher probability of increasing your customer base and creating loyal customers. But how do you go about a cleaning service referral program?
In this article, we'll take you through what you need to know about a cleaning service referral program, best practices for starting one, and how it can be a competitive game-changer.
What is a cleaning service referral program?
A cleaning service referral program is a streamlined way to reward previous clients for referring your cleaning services to new clients, like their friends, family members, and colleagues. It offers incentives, like gifts or discount coupons, for every successful referral.
The best cleaning service referral program automates the tracking of referrals – it's not a manual setup where clients give you names or hand out your business cards. With referral software, you're able to automatically measure how much business comes from referrals, and instantly issue rewards when referrals result in new business.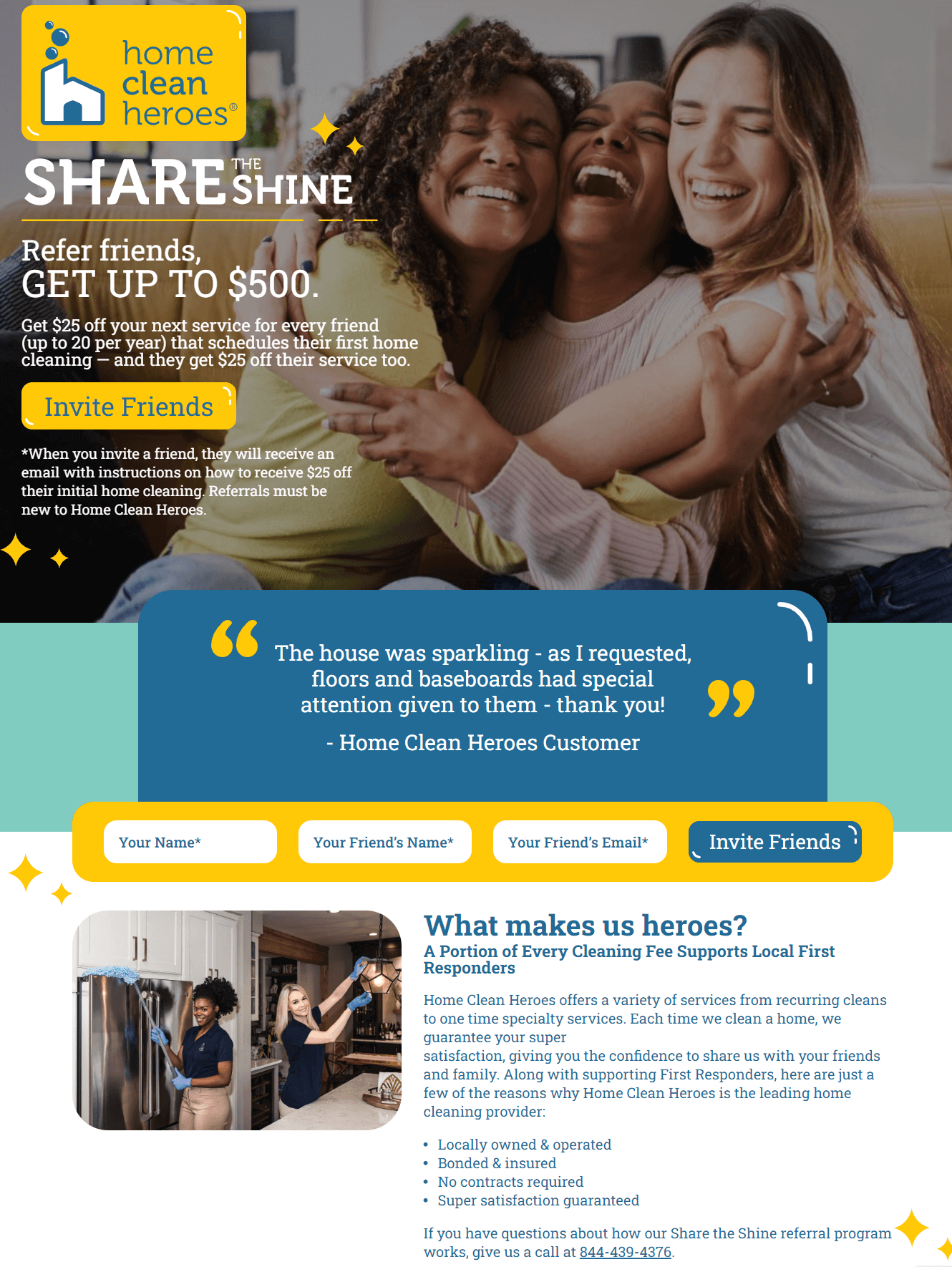 Why do you need a cleaning service referral program?
Many businesses, especially service businesses, rely on recommendations and word of mouth. If someone recommends your services to a peer, the person who received the recommendation is more likely to use your services. A referred new client is more likely to stay loyal to your cleaning service business – referred clients have a 16% higher customer lifetime value.
Most cleaning services struggle to lower customer acquisition costs, but referrals have a relatively low client acquisition cost vs. other marketing methods. They are also a low-risk form of marketing, as you only pay for referrals when they result in sales. With an automated cleaning referral program, you can track every customer referral, so you always know how your program is performing.
Are you ready for a cleaning service referral program?
Even though cleaning service referral programs offer lots of benefits, you'll need the following essentials in place before you launch the program for the program to be a success:
A healthy base of current customers who love the quality of your cleaning services  – ideally, some of them should already be recommending your services without prompting
A website to send referred leads to
A customer experience worth recommending –cleaning businesses are all about the service 
A high level of customer satisfaction, including high ratings from customer reviews 
Cleaning service referral program best practices
Ready to maximize a cleaning service referral program and bring in lots of new customers? Here are the cleaning service referral program best practices that can elevate a business to the next level.
Choose double-sided rewards
Current and potential customers enjoy being recognized through referral rewards and other forms of incentives. Double-sided rewards (rewards for both the referrer and friend) both motivate frequent referrals and encourage the referred friends to hire you for cleaning services. It boils down to a win-win situation for all the parties involved.
Rewards for the referring customer (advocate) should ideally tie back to your cleaning service, to encourage continued customer loyalty. You could offer credits towards an upcoming clean, a free next cleaning, or a free upgrade or add-on to the service. As a result, your customers will continue to rely on you for regular cleaning, leading to more referrals and recommendations.
However, advocate rewards could also be unrelated to your cleaning service, as long as the rewards motivate customers and reflect the value of the new customer they brought in. These may include cash, gift cards to other businesses, gift baskets, and event ticket rewards. These are great options for a client who used your services for a one-time cleaning.
Rewards for the referred friend should always be directly tied back to your services, to encourage the friend to seek cleaning services from you. Free cleaning, or a heavily discounted first clean, is the best reward for the referred friend.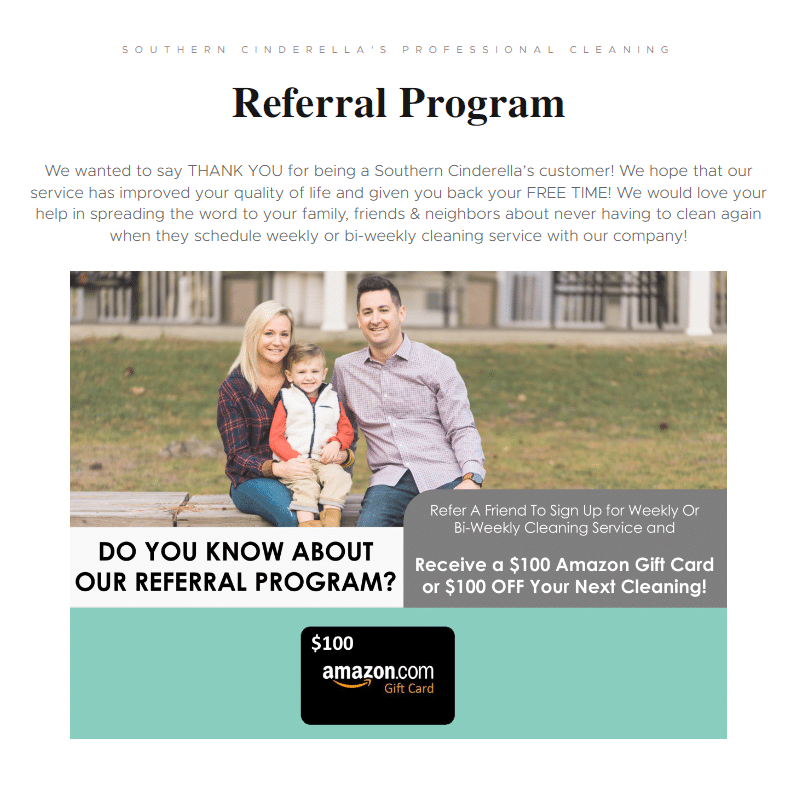 Think about using different reward structures
You need to understand your business's nature and target audience to develop the appropriate reward structure. Varying reward structures are more beneficial since they help tap into a broader market base.
Consider a tiered rewards program, where cleaning customers become eligible for higher levels of rewards as more referrals are made. You might also try a program where a customer could "cash in" on one referral for a 25% off cleaning discount, two for 50% off, three for 75% off, and four for a completely free house clean.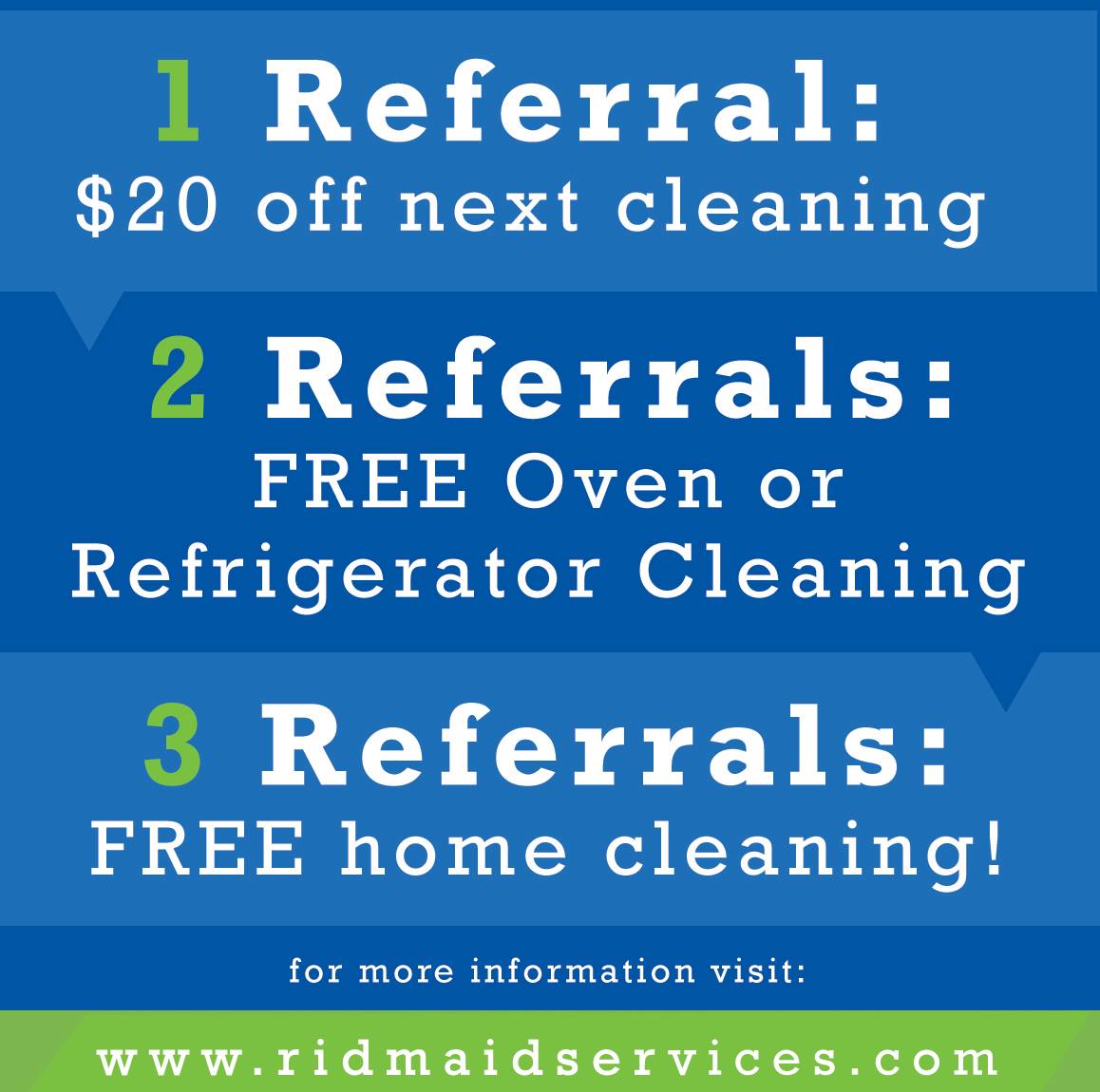 Think about giving higher rewards for referrals to more expensive cleaning services. You could also run a referral contest, where the top three, five, or ten referrers in a given period earn higher rewards. This type of program challenges the referring customers (advocates) to aim for bigger rewards by tapping into their competitive side.
Run your program with referral software
Using referral software can boost your referral marketing strategy and result in higher conversions. 
Thanks to the referral links it generates, referral software allows you to track exactly where every referral originated from and instantly issue rewards for successful referrals. It also collects program data that you can utilize to measure success and refine your program for optimum results.
The right referral software will streamline your cleaning business referral program creation process, and automate all aspects of program management.
Referral Rock software offers best-in-class referral tracking, sharing, and engagement experiences, with concierge onboarding – no developers required.
Optimize your program for easy sharing
The program's sharing process needs to be simple in order to best encourage existing customers to recommend your cleaning service to prospects. Customers should have easy access, and be able to share the program with friends in as few clicks or taps as possible. The following simple steps can assist you in further optimizing your cleaning referral program and making it easy to share:
Create an enticing headline stating what cleaning customers should do (share) and what's in it for them (the reward).
In a few steps, explain the program (and what customers must do for the rewards to be earned).
Include an easy-to-find call-to-action button to get customers to share.
Direct customers to an FAQ page if they have other questions.
Give several options to share, based on the ways that clients normally share stuff they like with friends (including email, social media, and a referral link that customers can copy and share anywhere).
Give out unique referral links
Referral links tie every referral back to the person who made it, so your cleaning business can easily track and reward referrals. Each referral link has a unique identifier, so it's always associated with a given customer, ensuring the right customer receives the reward.
You can use referral software to generate referral links for customers easily and automatically. Once the software generates the referral link, you'll present it when someone signs up for the program so they can copy and paste it anywhere.
Promote your program in lots of places
Once you've ironed out all the details of your cleaning service referral program, it's time to promote it. People need to know about your program for it to generate new sales!
Strategic places to promote your program include:
On your website (place a hero image or banner where it's easy to find, and or buttons in the top and bottom menus)
In conversations with clients, when you know a customer is satisfied
In personal referral emails sent to your most satisfied customers
In mass emails focused on your program, sent to all customers in 3-month or 6-month intervals
In news or update emails, confirmation emails, invoices, and additional emails not linked to your customer referral program
In social media posts
In email signatures and social media bios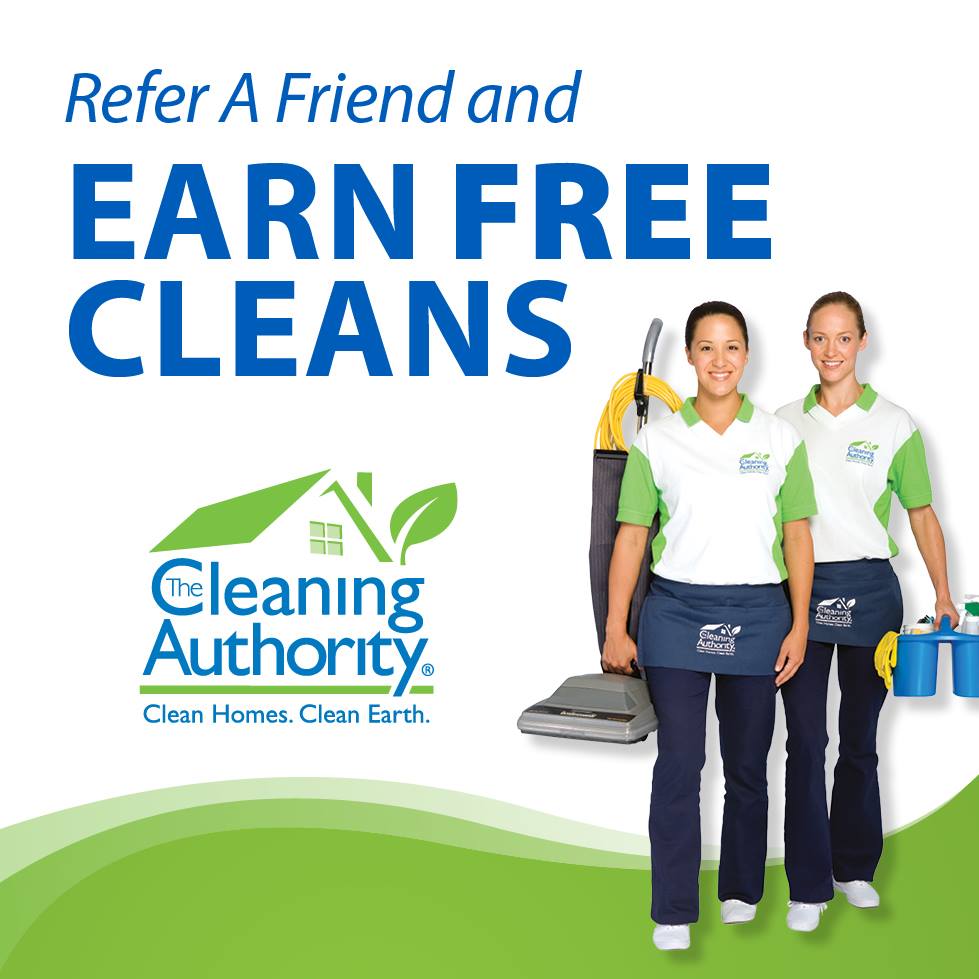 Ask for referrals at strategic times
Referrals are all about recommendations and spreading the word around. A simple way to get referrals is to ask, since you're in the customer's home (or business) regularly to clean it, and you have to build a strong relationship.
Ask customers for referrals when you know they're happiest and you are top of mind, like when:
You've completed a clean
You've received a positive review from them
You've received a stellar social media comment from them
They give you great in-person feedback
They gave you great feedback on a customer survey
You know they were satisfied, and you're sending the invoice for a clean
You know they have already recommended you outside of your referral program
Send the lead a personal note from the referrer
The message the referred friend receives through your program is often their first impression of your business. Therefore, their positive or negative reaction largely depends on how you convey this referral message.
Ideally, the referrer should write the message and explain why they're recommending you to their peer. But you can also prompt the referrer with ideas to include in the message, or even include an editable message as a starting point that they could send as is.
The message the friend receives should showcase the rewards their peer has sent them and place an attention-grabbing CTA above the fold to entice the acquaintance to take action.
Thank customers for referrals
Customers love to be valued. Thanking customers for bringing referrals encourages them to make more referrals. It also makes them feel appreciated. Therefore, send a personal thank you note (preferably written) whenever someone's referral results in a new client. It shows you recognize their efforts, making them want to bring in more referrals. You can also thank them publicly on your social media page by posting a thank you note.
Wrap-up
The cleaning industry is highly competitive, but you can find your way around the competition with the right strategy. It would help if you used less costly marketing strategies to have an edge in the industry. One of the best ways to go about this is through an effective cleaning service referral program, and harness the power of your existing customers' recommendations.