Who doesn't love learning about the best ways to capture leads? We've been writing and researching lead generation tips a lot recently, so much so that we decided to get some outside input. A lead is different from a prospect and is simply someone who has an interest in your product.
Because of this, we decided to survey others on what they have found to be the best way to capture leads. We know getting them is one battle, but capturing their information is another. We wanted to know what point or points others have found to be the best in capturing leads and converting them into sales.
We ran a survey to learn marketers' best tips for converting leads into sales, and 29 respondents shared their thoughts. We asked the marketers 7 short-answer questions and 1 open-ended long form prompt.
Let's examine the insightful statistics and compelling tips that we gathered in the survey.
[ez-toc]
Contact forms are one of the best ways to capture leads
Marketers named a wide variety of lead sources as their most successful and second-most successful ways of getting a lead's contact info. There were many sources that were named by only 1 or 2 marketers. Because of this, we decided to focus on the sources that marketers named most often.
Contact forms were the most popular successful lead source for gathering contact information (named as most successful or second-most successful by 41% of marketers), followed by scheduling a demo/consult (named by 24%).
Human chat (21%), whitepaper/ebook (21%), and email newsletter (17%) rounded out the top 5 most popular sources. Other sources named by marketers included referrals, webinars, email courses, service or product upgrades, SEO, and free samples.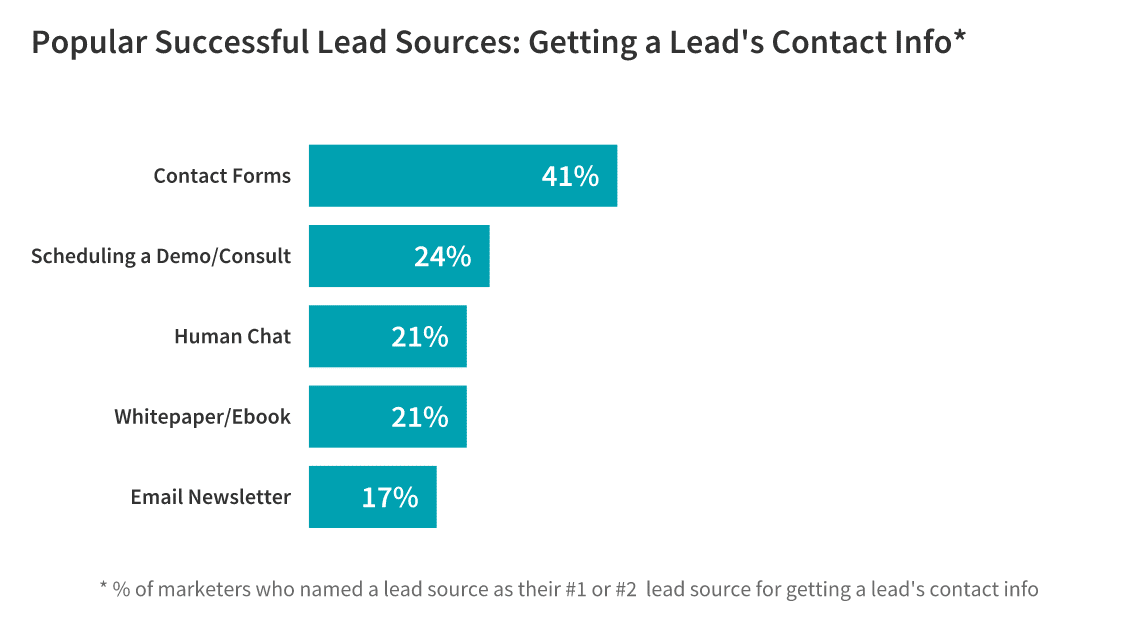 What insights can be gathered from this data?
The fact that contact forms were named most often as a successful way of getting contact info shows that when leads are interested in your business, they'll give their info explicitly.
Building a human connection is important in gaining and nurturing leads, as shown by the popularity of demos/consults and human chat.
Also, consider offering something free and tangible in exchange for contact info. Given the success of whitepapers, ebooks, and email newsletters, it's even better if the free item or items will impart valuable knowledge.
Contact forms also win for effectively converting leads
But what percentage of leads from these popular sources actually convert into sales? And for the conversion rate it ultimately generates, what lead-gathering source wins out?
Among the most successful methods for gathering leads' contact information, contact forms emerged victorious (again), this time for converting leads into sales. This further demonstrates that genuinely interested leads will simply volunteer their information when they have strong intentions of making a purchase.
On average, marketers said that they generated 52% of their leads from contact forms, and these forms had an average conversion rate of 23%.  (Note: Numbers are averages of what percentages marketers provided).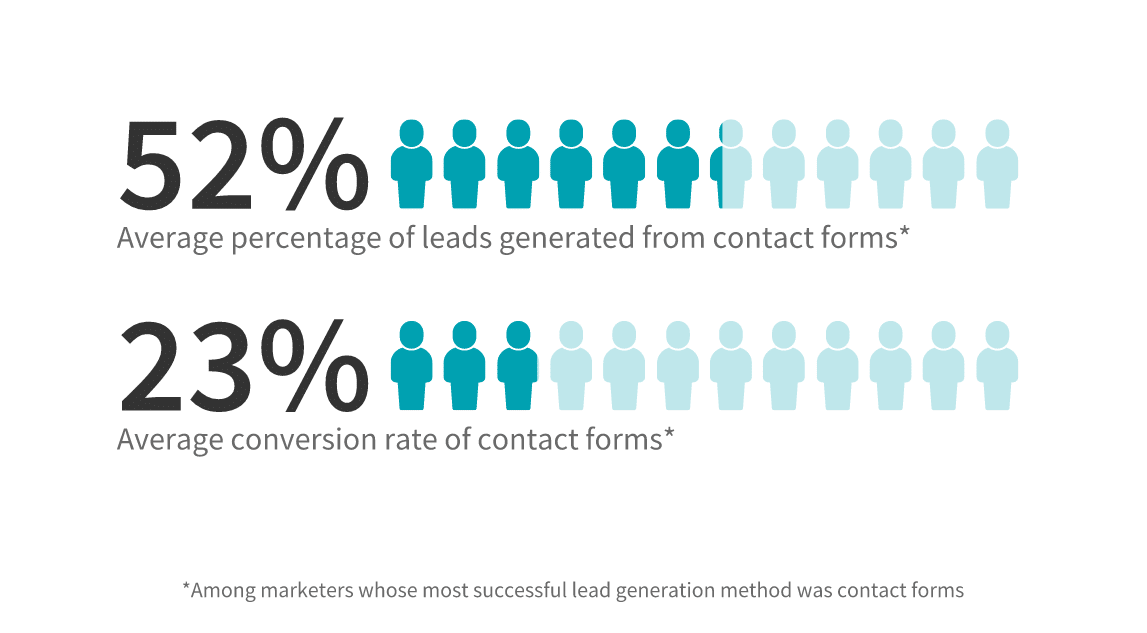 In comparison, whitepapers and ebooks brought in a higher percentage of leads (with an average of 72.75% of the leads generated from the source), but only 9.5% of those leads actually converted on average. This is probably because leads want the free resource and not necessarily the service.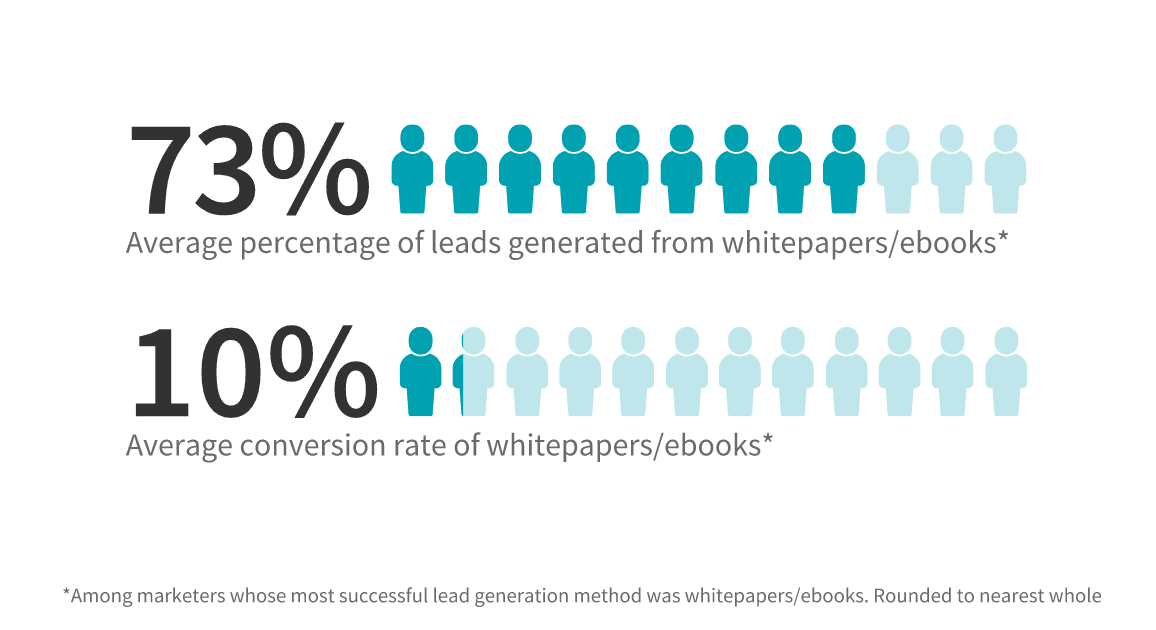 Similarly, scheduling a demo or consult brings in 67.5% of leads on average, but the average conversion rate is even worse, at only 4.5%. Despite the personal connection that a demo or consult scheduling brings, this session makes it clearer whether a brand meets a potential customer's needs. Possibly meaning more leads may realize through the demo that a product or service isn't best for them.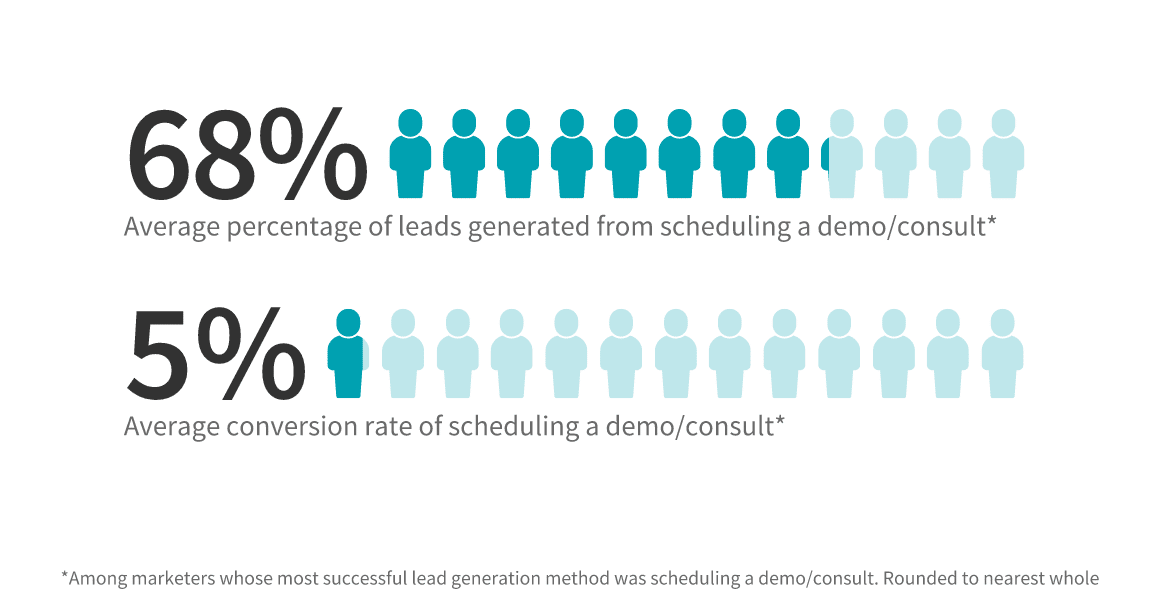 Email newsletters performed considerably better, though. On average, 45% of leads came in through an email newsletter, and 20% of those leads converted into sales.
So, a newsletter may not bring in as many leads, and may not have as much popularity, but the fact that potential customers want regular updates is a sign of high interest in purchasing.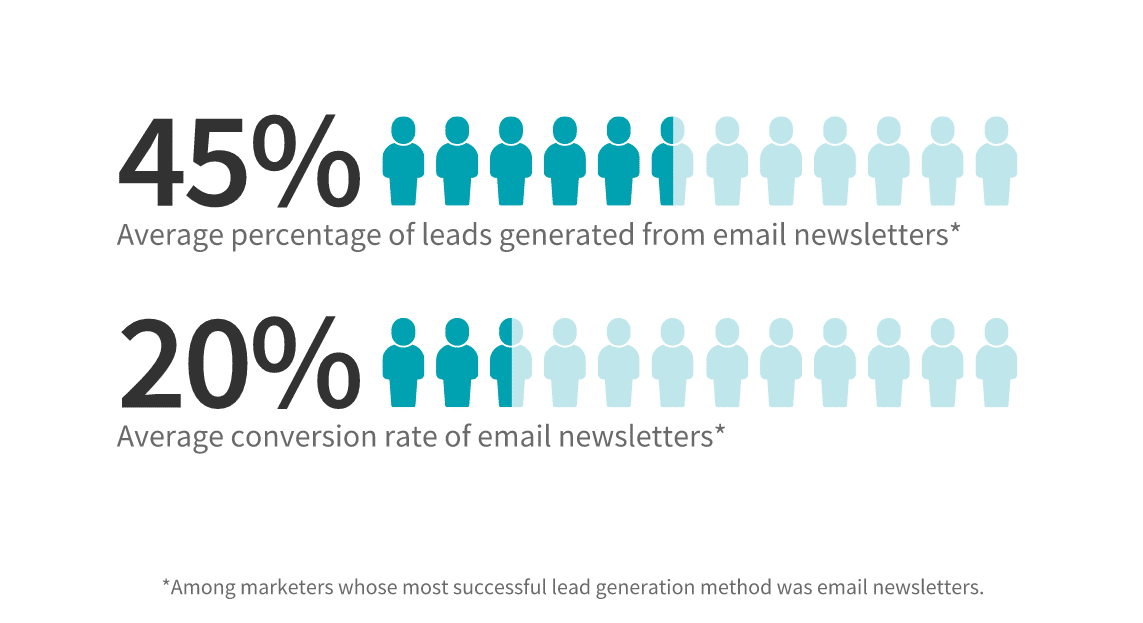 Inline prompts are excellent attention-grabbers
We then asked marketers what techniques they used to attract attention to lead magnets (marketers were allowed to list more than one technique). Inline prompts dominated at 52%.
This demonstrates that marketers trust the power of quality content for convincing potential customers to purchase their products or services. When your content offers value to your potential leads, positions your brand as a field expert, and/or shows them that your business will meet their needs, they're more inclined to enter their contact info.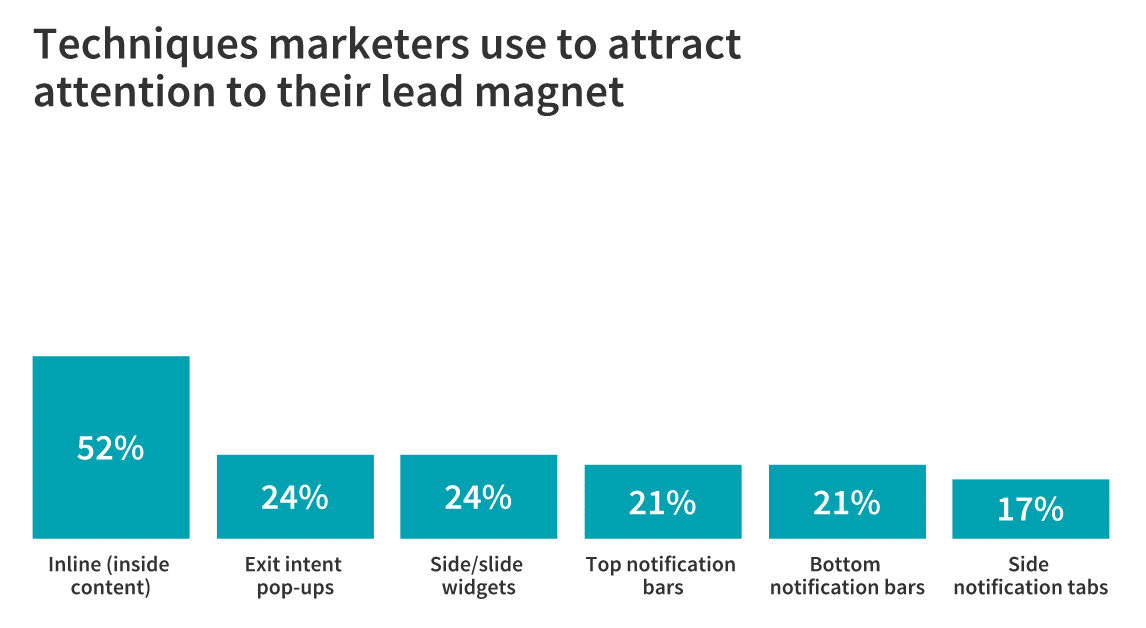 Exit intent pop-ups tied for the second-most used technique at 24%. These pop-ups commonly offer something valuable, such as a coupon, free article, or ebook (especially is it's usually an ebook for sale) when a potential lead attempts to leave the site, in exchange for contact info. This further demonstrates how effective offers of tangible items can be in capturing leads. Marketers shouldn't worry that pop-ups will be perceived as annoying, because they work well for grabbing attention and convincing leads to leave their contact info.
Other popular attention-grabbing techniques included side/slide widgets (tied for second at 24%); top notification bars (21%); bottom notification bars (21%); and side notification tabs (17%). The remaining 8 techniques named in the survey, including chatbots, live chat, CTAs, and email newsletters, were each used by less than 5% of marketers.
13 best tips for converting leads into sales
When we asked marketers for their best tips for converting leads into sales, they listed a wide variety of tips, but a few common threads ran throughout their comments. First of all, the tips they gave encouraged venturing beyond email marketing. (Many mentioned email marketing as a best practice, but it was never the prime focus of any marketer's tip.)
Similarly, most of the tips encouraged lead nurturing methods that are anything but cookie-cutter. Instead, the majority of the tips focused on building human connections with leads, including fostering relationships; building trust; offering value; personalizing the process; and demonstrating the value of each individual lead.
In addition, marketers advocated for the use of multiple different lead nurturing techniques at different stages of the buying funnel, to capture and retain leads who are at varying distances away from buying. Read on to learn the marketers' valuable insights.
1. Show your leads that you value them
No matter which method(s) you use to capture leads, be sure to show them how much they are valued as individuals. "The number one thing is to have a positive interaction with your prospect," says Moaaz Nagori from  Cloudlead. "The truth is, the first impression is extremely important, and we should never underestimate any lead. Go out of the way to show your prospect that you value them: they'll get an idea on what they can expect if they become a customer."
Kathleen Marrero from First Fig Marketing & Consulting offers similar advice. She reminds businesses not to get so caught up in the selling process that you forget the human aspects. "You must offer value. It is about building a connection, not about selling someone your services," says Marrero. "If you can provide value and are focused on delivering solutions that will address the needs of your audience, you will generate leads. It is not about profit but building a genuine connection."
2. Ensure leads are qualified
Also, it helps to pre-screen leads so you can immediately focus on the ones most likely to convert. Ed Akehurst of Best Marketing Results " make[s] sure the leads are pre-qualified…by requiring a survey completed prior to submitting their contact information." Akehurst continues, "This saves time for us, as well as the lead, by making sure they are qualified before even attempting to contact them. Then, once we know they are qualified, we institute a combination of automated multi-channel marketing with personal contact to be sure we reach them before they get "cold". All that together ensures a high conversion ratio."
3. Landing pages are some of the best ways to capture leads
Alex Membrillo of Cardinal SEO Company recommends "using landing pages to capture and convert leads." He defines a landing page as "a "lead capture" page," usually "tied to a specific marketing message or promotion, including content designed to capture or convert leads who "land" on the page" via a paid ad, email campaign, or content marketing campaign.
Membrillo continues, "Landing pages have much higher conversion rates than campaigns directing visitors to pages without a clear call to action. A/B Testing can also be used on a landing page to determine which content is most effective, as well as help maximize Cost per Conversion."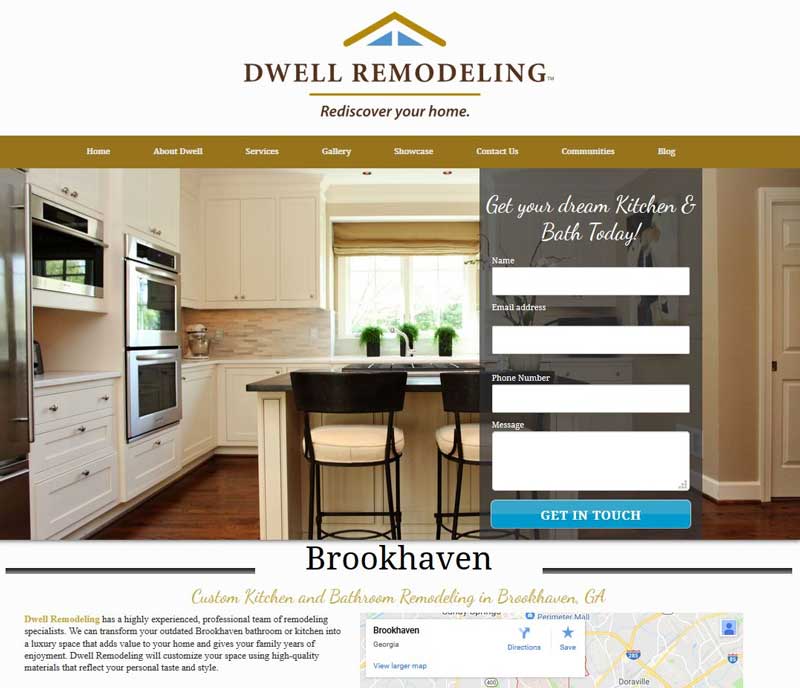 An example of a landing page contact form, provided by Membrillo.
4. Conduct phone conversations
However, according to Saloni Doshi of EcoEnclose, "Ad and product copy only tell part of the story. The people behind a product and the people who you're in business with are just as important as the products themselves. Getting on the phone with a lead almost always leads to a conversion if you have a solid support staff that understands your business and the products."
5. Harness direct mail
The creativity and personalization of direct mail can also give you a leg up over competitors when fighting to capture leads. Reggie Paquette of Chili Piper offers his insights:  "My favorite and most effective way to generate leads and convert those leads into sales is through direct mail. In our increasing digital world, physical products are a super effective way to have someone really engage with your brand and marketing materials. Since not that many companies do direct mail, it's an easy way to stand out among your competitors. For Chili Piper, we send our own branded hot sauce (referencing the 'chili' in our name) with the tagline "Light a Fire Under Your SaaS." Our customers always get a kick out of it – pun intended."
Reggie Paquette ignites leads' interest in Chili Piper with this creative direct mailing of hot sauce! Image provided by Paquette.
6. Use emotions to your advantage
Emotional appeals, in the form of testimonials, can be a valuable way to convince leads as well. "The majority of our businesses run off of data and logical thinking, but as customers, we are very emotional," says Danny Littlejohn of CanvasPeople. "In order to convert leads into sales, you have to tell them a story. Showing potential customers how your product or service has changed the lives of your current customers will tap into the emotional part of their brain."
7. Build relationships
Fostering relationships with your leads will pay dividends, as Omar Fonseca of Medicare Plan Finder attests. "Always be up-front with the lead," Fonseca says. "This allows you to build a positive relationship with the lead and allows them to provide you with honest and relevant feedback. This improves your knowledge of each individual lead and lets them speak to their needs so you can provide support throughout any and all processes. All of this creates trust with your leads, which is the most important factor to convert your leads into sales!"
According to Stefania Sigurdson Forbes of GravityHub, this relationship-building process can often span years.  "The best way to convert leads into sales is to play a personalized "long game" with content and relationships," says Sigurdson Forbes. "In SAAS, it is important that customers know that you are not "here today, gone tomorrow." So – a combination of online and offline activities, that spans years is the way to go. At a tradeshow, it is not enough to stand at the booth. You want to speak or host a roundtable or evening event. Online, it is not enough to have a descriptive website. You need value-added content and a personalized newsletter. I have had people that discovered us online find us at the booth, and people who we built relationships for years at shows put a "book a demo" form online. It is that long-game that makes a huge difference!"
Relationship-building can help you win the trust that is so integral to capturing leads – but be sure to follow up, too. "In order to develop leads into sales…you need to garnish the trust of your users,"  attests Sean Pour from SellMax. "Individuals want to make sure that you are a legitimate company who can give them exactly what they are looking for. Secondly, you need to follow up with your leads. It's important to have a system in place to contact the individuals who did not convert. Actually, more around 55% of the users who end up converting, convert through a follow-up. So, that's a lot of business being left on the table if you fail to follow up."
8. Tap into the power of trusted referrals
Referral marketing can also be a powerful way to capture leads who trust you because referred leads strongly to believe in the opinions of their friends and colleagues. "Establish trust before anything else and the lead will be much more likely to convert into a sale," says