Are you ready to be the next rockstar of your company's sales meeting? Whether you work for a new business or an established one, keep reading to learn everything about how to create a sales plan that brings you more clients. And after that, you can download our free sales plan template and get started making one of your own.
What is a B2B sales plan?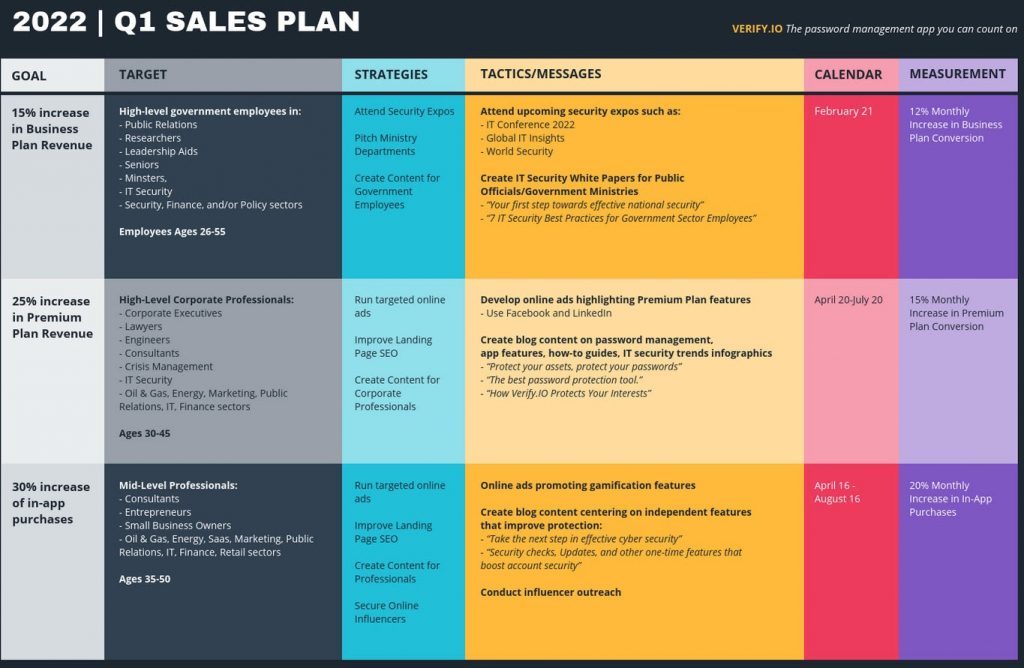 Before diving too deep, it's helpful to go over a quick sales plan definition. These plans are ways for companies to strategize and set goals for their sales departments.
There are several beneficial reasons to create this type of action plan. One reason is because these plans give your team clear objectives to carry out. Also, the research you perform while creating this type of business plan often uncovers new opportunities for your team. Lastly, these types of plans also allow for performance and goal tracking. This is a great way to find out if your team is growing stronger in their sales skills or if problems need addressing.
Now, let's go over what you need to include in your company's sales plan.
What should you include in your strategic sales plan?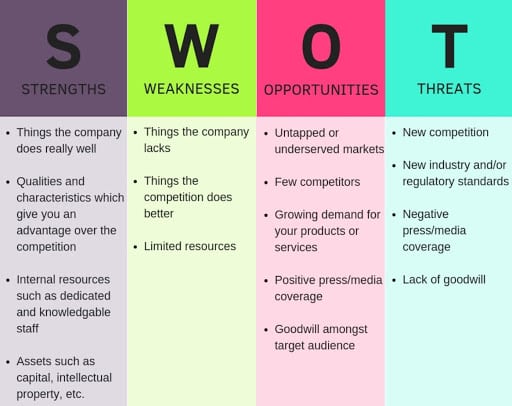 There are many sections you'll want to include in this type of action plan for your team. Considering that, it's helpful to learn more about these important sections. Here is a quick overview of each section of a standard sales plan.
1. Introduction
Typically, the beginning of this plan is where you give a brief introduction of what this plan is going to cover. While it's usually at the beginning, most people find it easier to create this 2–3 sentence introduction after formulating all other sections of this plan.
2. Sales team structure
This next section provides key information about the structure of your team. This includes roles and responsibilities, as well as how general reporting flows through the entire department. Sales team structures also often include information about new hires, recent promotions, location changes, sales process changes, and other updates to the structure of your team.
3. Market position/industry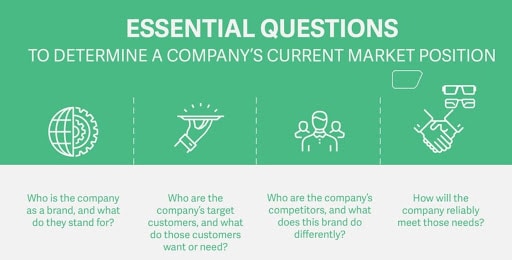 Another important part of this kind of plan involves listing information about your position within your industry. To do this, you're going to need to find and report information about your competition. You might think that this sounds impossible, how can I find information about how well a competitor is doing? Fortunately, digital marketing tools make it easy to research your competition and find out more about traffic totals, brand reach, and other important metrics.
4. Target audience
It's also a good idea to research your company's ideal customers while creating this type of business plan. One reason to do this is because the audience a sales team is targeting can change due to lots of factors. By keeping this information updated, you'll be able to let everyone reading your plan clearly know who your target customers are and why.
5. Challenges
Think of your company's sales plan as a story. And no good story is complete without challenges for the characters to overcome. With that in mind, this section is where you'll list the challenges your team faces and how you'll overcome them. Think hard about this – you don't want any unexpected surprises catching your team off guard.
6. Sales goals (short/long-term)
It's also important to include a goals section in this plan. Challenges your team faces, listed in the section above, focus on things that are out of your team's control. Goals, while still challenging, deal with things that your sales team can control.
Short-term plans measure goals that span from weeks to quarters, while longer-term plans can range from six months to years.
Also, use this section as a quick way to set any goals or key performance indicators for your sales team to achieve. This can include celebrating a certain number of new clients, a growth in total sales over the last period, expansion into new territories, and similar types of information.
7. Plan of action (sales strategy)
No sales plan is complete without a plan of action. Here, you'll want to list the specific steps your team will use to achieve their individual and group goals. To make sure everyone is on the same page and has a clear direction of the end goal, include lots of data and actionable steps in this section of your sales plan.
8. Finances
Whether it's a small business or large corporation, every company operates on some type of budget. Considering that, it's essential to include financial information in your company's sales plan. You'll want to present accurate sales budget information including what's available and how you plan on allocating this budget across your department. This is also a great opportunity to list sales totals and revenue targets compared to previous weeks/months/quarters/years. Also, make sure you use this section to list other types of financial goals your team is going after.
9. Summary
You don't need to overthink your plan's summary. Much like the introduction, use the summary as a way to frame a nice 2–3 sentence wrap-up that focuses on the future of your sales team.
5 steps to create a winning B2B sales action plan
Now, it's time to learn a few tips on how to best write one of these plans. By using these tips, you'll have plenty of information to include in your company's sales plan.
1. Have realistic goals
It would be nice to impress your boss with a lofty goal that would make any sales manager raise their eyebrows. But struggling to meet nearly impossible goals isn't going to end up pleasing anyone. Instead, make sure your goals are realistic, based on previous sales information and accurate forecasting.
For help with creating goals, use the SMART system, which stands for:
Specific
Measurable
Attainable
Relevant
Time-based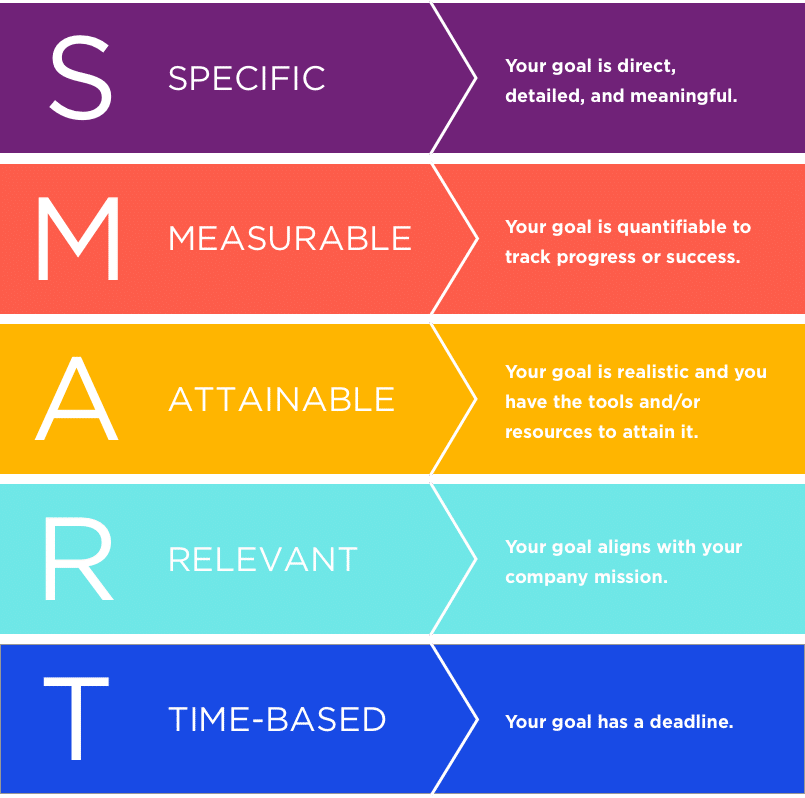 Using this system can help ensure your sales team are creating goals that are challenging yet achievable. Also, by digging deeper into proposed goals with the SMART system, you can easily remove those that aren't worth pursuing.
2. Back up what you're saying with data
While creating this type of plan, it's easy to make general statements about upcoming goals. However, without data, it's hard to back up anything you're saying. Essentially, this creates a plan that might look great and read well but has nothing concrete to back up the statements it makes.
3. Research your company's target audience
Every company has its own type of target audience. You might even have multiple target audiences. To make it easier to reach this audience, take the time to find out more about their specific needs. Performing this type of research can also help you uncover lots of prospecting opportunities with possible new customers.
4. Involve all sales employees during the sales plan creation process
What group of people know the most about the challenges and opportunities your sales department faces? Your sales team. As you prepare this type of plan, make sure to get your sales team's opinion and thoughts. Chances are, you'll gain valuable insights and have a much stronger presentation with your whole sales team behind you.
5. Take a closer look at your competitors
If you're like most people, you don't want to dwell on your company's competition. However, this is necessary if you want to create a strong plan that succeeds in the market. You can gain lots of valuable insight by looking at competitor data. Of course, no competitor is going to give you the keys to their kingdom. Instead, find the information you need by using digital marketing tools and programs to get the upper hand.
You'll want to look for publicly available information about your competitors including:
Social media: Utilize social listening to take a close look at your competitors' followers, shares, likes, and similar engagement metrics.
SEO results: With the help of a few marketing automation tools, you can learn more about the online presence of your company's competition.
Competitor news: While looking over this type of information, look for anything else your brand's sales team can capitalize on.
Download our exclusive, free sales plan template
If you don't want to create a plan from scratch, we completely understand. Most salespeople find themselves dealing with lots of things to take care of and simply don't have time to sit down to create a lengthy sales plan.
No need to worry, we've got you covered with our downloadable sales plan template, just click the image below to download it. This template includes everything we've covered above in a clean layout. Feel free to make it your own, and share this page with other colleagues you feel would benefit from this template.
Conclusion
To wrap things up, sales plans are great ways to take a closer look inside of your sales department. With these clear steps and the right relevant data, you'll be able to create an effective sales plan that gives everyone on your team a clear picture of the road that lies ahead.