Getting ongoing engagement from your program members is a critical aspect of running an effective referral program. The single most important thing you can do is try to stay relevant to your members. You don't need to annoy them, but sending a gentle nudge or reminder may be exactly what they need to get back into gear. Today, we'll cover eight simple referral program engagement hacks that will keep your members motivated to refer their friends.
Referral program engagement is crucial
You've learned how to ask for referrals and invited people to your program. And when you launched the program, member engagement was high. But now, things seem to have slowed down.
You thought once a member referred a friend, they would automatically continue to refer more and more people. But even the most active members get distracted and caught up in other things. Chances are, a member may have forgotten about your program. Or they're simply unaware they can continually share the program with their friends. It's your job to keep them engaged.
How can you remind members about your referral program and keep them engaged?  Luckily, there are quite a few easy strategies to promote your program to existing members. With regular promotion, you can remind members about the referral program and increase the odds of having continual engagement.
1. Send reminder emails to boost engagement
Sending reminder emails is a simple way to boost engagement. People tend to forget, and sending them an email about the program and its benefits can help re-engage members.
Don't worry, you don't have to be too forward or pushy with your message. A simple email stating, "Don't forget to give your friend a great discount and earn a reward!" can be persuasive enough. Be sure to add a link to the referral program and an image to draw interest.
If you don't want to send direct referral program reminders, you can dedicate a small section on your regular emails. For example, if you send email newsletters, mention the referral program at the end of the email. Or, if you want to make sure your program is seen often, add a quick link to your email signature. This way, anyone who receives an email will also get a reminder and link to the referral program.
Providing your customers with a quick link to the referral program can help boost engagement. Plus, they'll know exactly where to find it when they're ready to refer someone.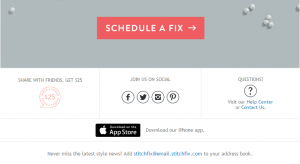 2. Show customer success
Don't be afraid to brag about your customers who earned rewards for referring friends. People are motivated by other people's success, especially if they can see actual results. By highlighting how successful customers have been with your referral program, you can persuade others to be more proactive.
Consider adding a referral program spotlight in your monthly email newsletter, social media channels, or on your website. You don't have to mention the specific person's name. But you can highlight their success, like how many total referrals were sent, how many referrals turned into customers, and how many rewards were earned.
Some ways to highlight success
Highlight which members were rewarded: "Jack earned $50 this week from referring his friends!"
Announce successful referrals: "10 of our new referrals made their 1st purchase!"
Mention the referral count: "We had an impressive 12 new referrals this week!"
Praise the top member: "Amy referred a whopping 10 referrals this month!"
Tally member sign-ups: "We are beyond excited to mention that 16 customers signed up for our referral program this week/this month/today!"
3. Offer tips for how members can share
Some member may want to share, but just haven't figured out how. It doesn't matter how simple your program is – providing clear instructions, FAQs, or a list of best practices can help boost engagement. Everyone needs a little encouragement, right? Here are a few guidelines:
How do you send tips to members: It's simple – use what you already have. Think about the ways you already communicate with your customers.
Do you regularly talk to customers through email or social media? If so, send them a simple bullet point message or fun infographic.
Create a referral program FAQ on your website, including some sharing best practices. If you have a blog, write a dedicated article on tips for using your referral program. Share a link to the page through email or social media.
When to send tips to members: There are a few prime times to send a helpful message to your members.
Start them off on the right foot: When someone signs up, send them a message with some sharing tips.
A week or two after sign up: Chances are, members will probably share as soon as they sign up. But they may forget after a while – a email with best practices is a great reminder for them to start sharing again.
Throughout the program: Consider different ways to reach out to members on a regular basis, providing tips and other program updates.
Referral program sharing tips to send customers
Customers usually share their referral link through email, social media, or a direct link. Here are some sharing tips to help them with every channel:
Sharing through email:
Point them to the easy sharing buttons in their referral program member page.
Provide them with a pre-drafted email message to make the sharing process easier. All they have to do is insert an email address and click send.
Sharing on social media:
Explain the benefits of sharing on social media – they can reach multiple friends with one message, at the click of a button.
Let them know they can also add the referral link to their social media bios. This is an easy way for their friends to see the link without them having to constantly share posts.
Sharing a direct referral code or link:
Show members where they can find their personal referral link or referral code.
Let them know this link can be shared however they want – through text, in person, messaging platforms, etc.
Suggest this as a way to share with friends and family members who aren't as tech-savvy.
4. Update your messaging
Regular updates to your email and social media messaging is a great way to keep people sharing. Providing new content prevents them from feeling like they're spamming their friends and network, and keeps your referral program fresh and relevant.
It's best to update your referral messaging every time there's a change to the program. For example, if you had a November program with a title specific to Thanksgiving, you don't want your customers sharing that in the middle of February. Also make sure any rewards and rules are updated, so your customers are always sharing the most recent information.
Let your members know whenever your referral program has been updated, so they can send the new message to their network. If customers don't think something sounds right or is relevant, they probably won't post it.
Updates also give you another opportunity to reach out to customers. The more you keep your customers in the loop, the higher their engagement will be.
5. Give members an early win
A main motivation for referrals is the reward. By giving a larger reward for the first referral, then making the following referrals smaller, you provide that extra incentive to engage and get started with your referral program. Plus, once a member has tasted a victory and knows your referral program is legitimate, they will be more eager to continue referring their friends and network.
Alternatively, you can start with a smaller reward, and then have members work their way up to larger ones. For example, maybe a member will earn $25 for their first five referrals. Then, they earn $50 for every referral after that. Giving members something to work toward adds an element of gamification, and creating dimensions in your reward structure can increase engagement.
6. Change up your reward structure
Keep your members on their toes by changing your referral program rewards.
For example, if your reward is a coupon, why not change it to a gift card? You can switch between different rewards each month or quarter to see what drives more referrals. Updating the program can also give your members that extra boost to refer friends.
Another way to refresh your program is to change its rewards structure. You can set up a tiered reward system with bigger and better rewards for more referrals. Some people are competitive by nature, so introducing a challenge in your program can help keep them motivated. Don't make the tiers too far a stretch, however. Make sure the rewards are achievable – you don't want members to get discouraged from sharing.

7. Run special promotions
It's easy to start ignoring the things we see constantly. Sometimes, simply changing the title of your referral program is enough to catch your customer's eye. You can change the program according to seasons, events, holidays, or even company anniversaries. For example, your February promotion can be a "Spread the Love Campaign," while one in December can change to "Share Some Cheer." Title changes are a simple way to boost engagement from your members, and can be even more effective when combined with a new, relevant reward to match the promotion.
8. Ask members for suggestions
A simple way to engage members is to ask them for suggestions. By reaching out to members for their input, you make them feel like they're part of the team. They'll also be more excited to share your program, since they've been a part of putting it together.
Reaching out to members can be done in a few ways: You can run a poll on your social media channels, send out an email with survey questions, or invite them with a link to a quick questionnaire. Some general questions are to ask what they like, what they dislike, and what they would change about the program. You may get some great responses that cause your program engagement to skyrocket. Plus, knowing more about what your members want enables you to further craft your referral program to fit perfectly with their needs.
Create ongoing referral program engagement
As you can see, there are a number of referral program engagement hacks to keep your members motivated to share. Try one of the many tips above, in addition to promoting your program, and increase your member's participation.