Looking for a better way to convince prospective customers to fill out your lead form? Look no further than fun and informative quizzes. You've seen how addicting they are on sites like BuzzFeed, so why not leverage them for your business?
Thanks to their interactive element, quizzes turn the passive browser into an active participant. And since browsers are usually eager to learn more and engage in your content, they'll be glad to drop in their email in exchange for results.
With the right questions, you'll also be able to score or segment these leads, increasing the accuracy of your targeting down the sales funnel. A whopping 83% of marketers do just that, and use lead generation quizzes to segment their audience.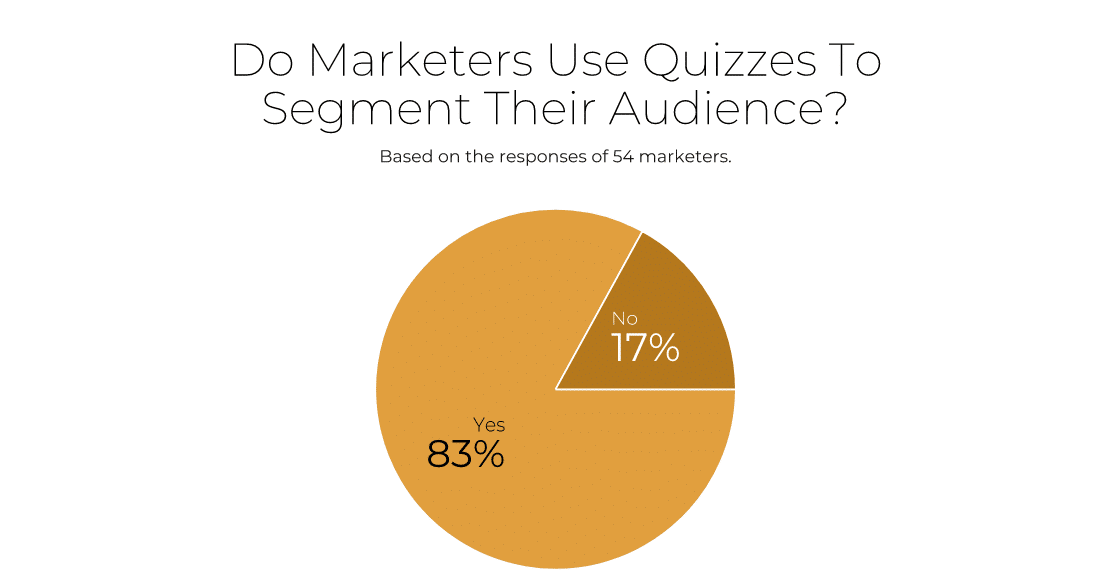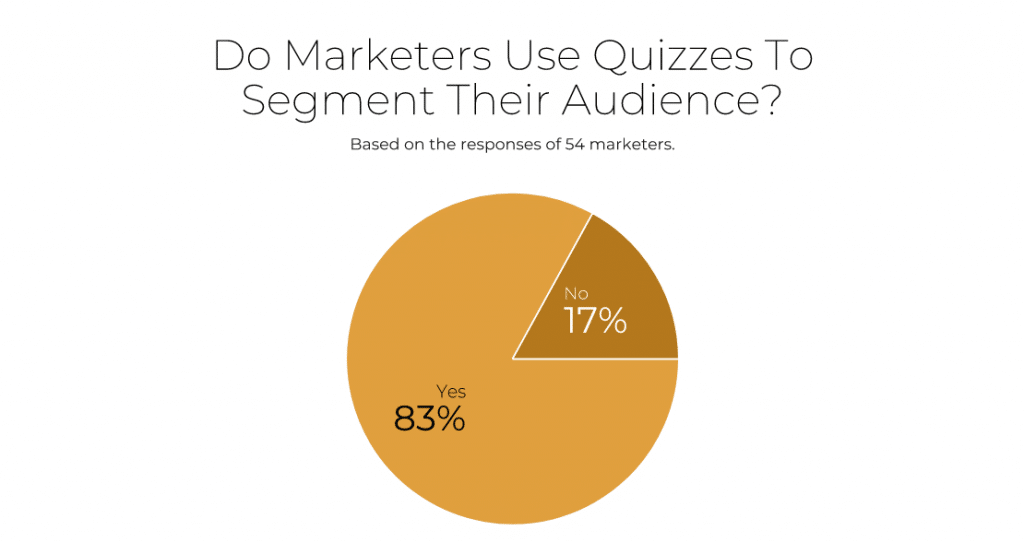 Quizzes can work well for both B2Bs and B2Cs, and can be tailored to work for any business (as long as the questions you choose tie into your niche).
But how do you start designing a lead generation quiz? What questions should you ask to help you make more sales? We surveyed 54 experts, who shared their insights and top tips for designing lead generation quizzes.
But first, let's dive into some interesting statistics on how marketers use lead generation quizzes  
Types of lead generation quizzes marketers use
Most lead generation quizzes fall into one of three main categories:
The personality or lifestyle quiz

"Which X best fits you?" or "Which Y are you most like?"
The knowledge assessment quiz

See how much someone knows about a subject related to your business or industry
The lead scoring quiz

Find out how ready a customer is for a product
Find out how good a fit a customer is for a product
Quizzes that directly match customers with their best-fit product can also count as lead scoring quizzes.
When we asked marketers which types of quizzes they've used, the results were very close. Personality and lifestyle quizzes were used by 59% of marketers, while another 59% use lead scoring quizzes. Not far behind, 52% of marketers use knowledge assessment quizzes.
We were also curious whether marketers concentrate on one type of quiz, or use several different types. The majority 54% only use one type of lead generation quiz, while 46% prefer to use several types.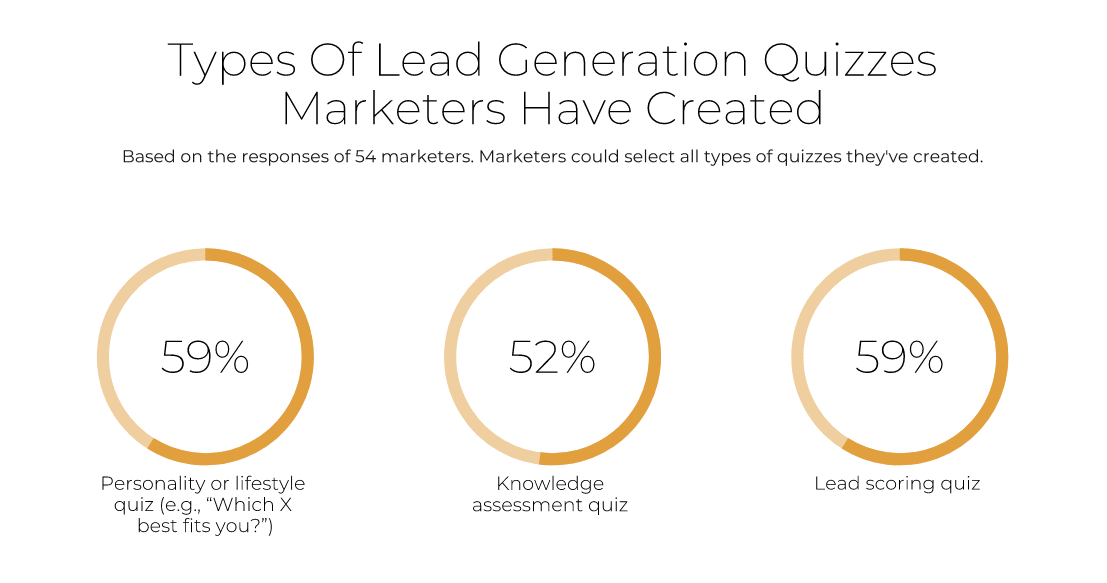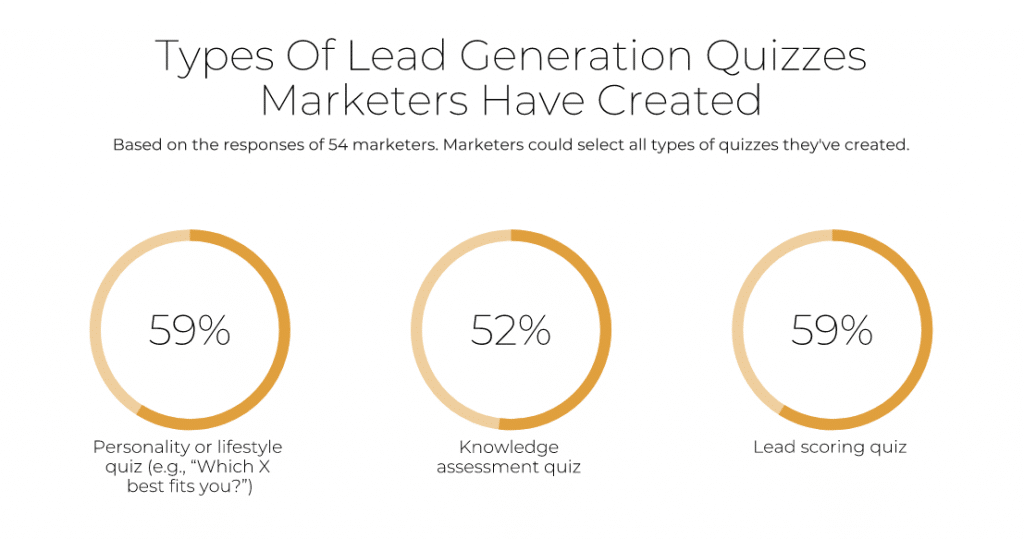 Platforms used to create quizzes: SurveyMonkey is most popular
To quickly make a lead generation quiz that runs smoothly and instantly generates answers, you'll need some sort of quiz tool or platform. (Coding your own quiz is time-consuming and difficult for your team to change on their own.)
 But which quiz-making platforms are most popular?
Based on our survey responses, SurveyMonkey was the clear winner, used by 70% of marketers. There are however, many SurveyMonkey alternatives that are quite popular as you can see.
Typeform (37%), LeadQuizzes (26%), Interact (13%) and Survey Anyplace (11%) rounded out the top five quiz platforms.
Platforms used by 5%-10% of marketers included ProProfs Quiz Maker,ConvertFlow, Riddle, and Involve.me.
And platforms used by less than 5% of marketers included Google Forms, Quizitri, Opinion Stage, Bucket.io, and in-house platforms.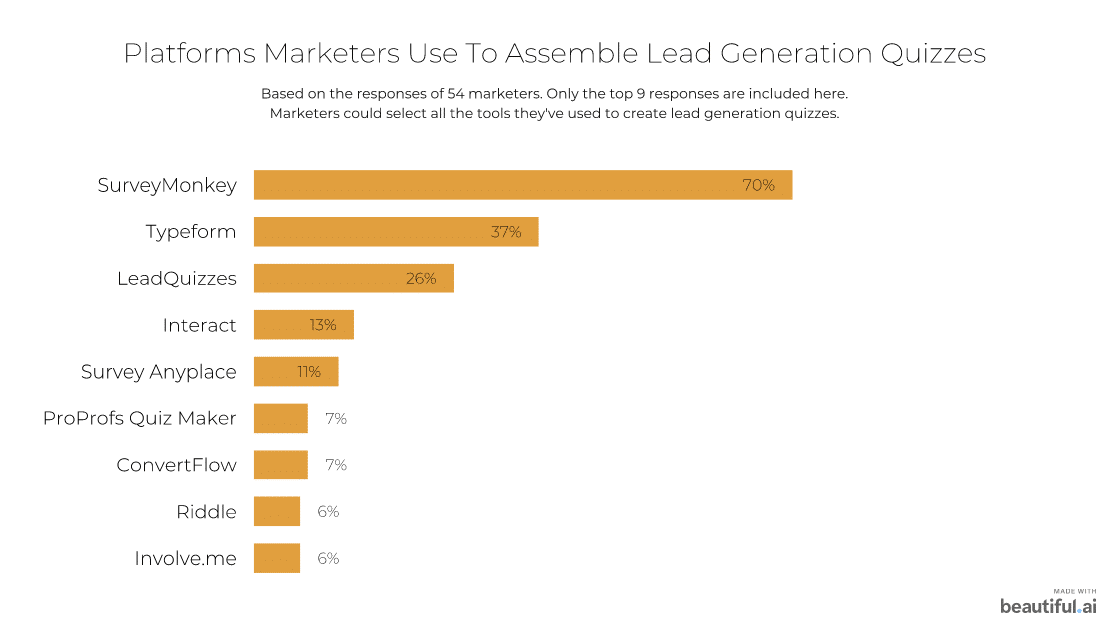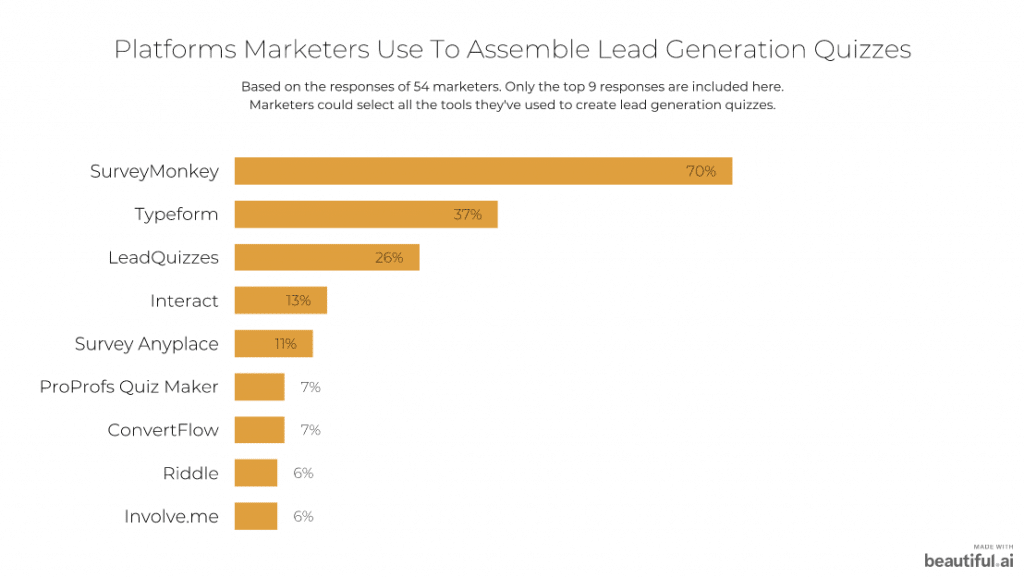 Quick-launch quizzes: 80% of quizzes are created in 5 hours or less
In terms of time investment, marketers are usually able to write, assemble, and launch a quiz relatively quickly. About 50% assemble quizzes in three to five hours, and another 30% take less than three hours to assemble a quiz. This means 8 out of 10 experts can create a quiz in three hours or less.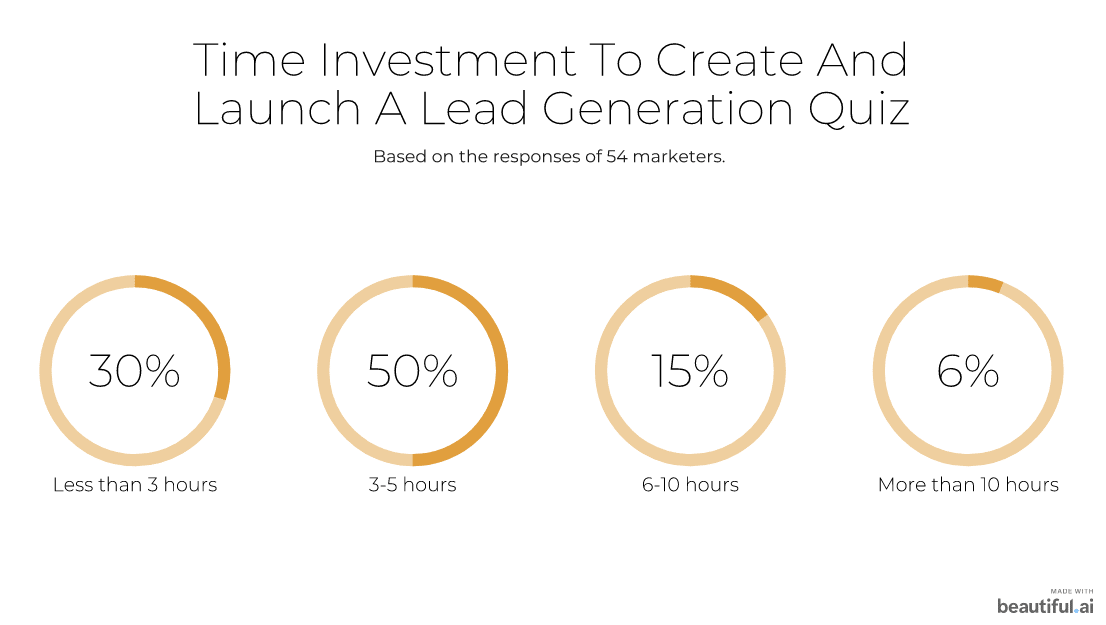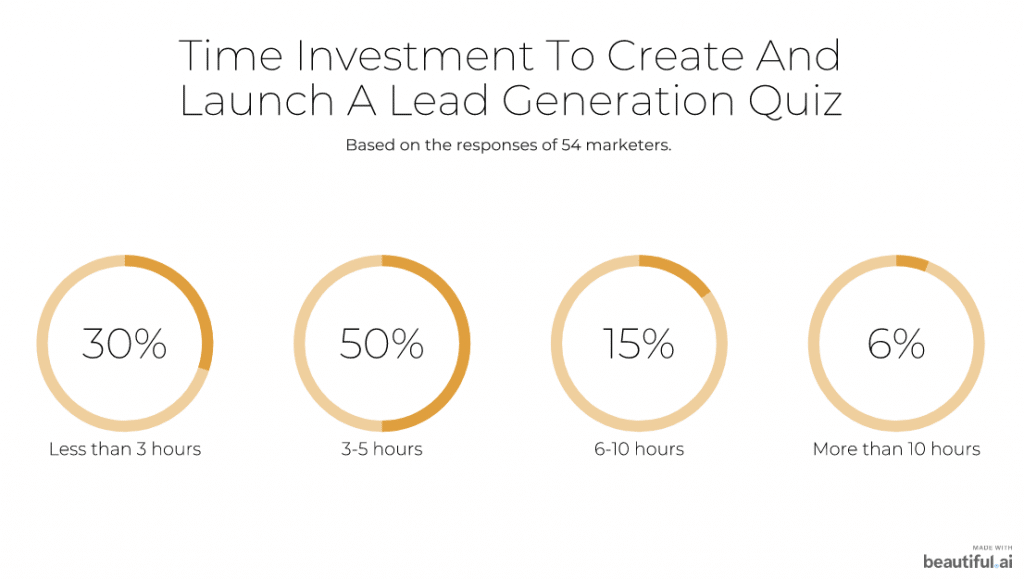 The marketing team usually creates lead generation quizzes
Now who usually creates lead generation quizzes? The responsibility usually falls on the marketing team, which makes sense because they're largely responsible for lead generation overall.
Seventy percent (70%) of companies rely on the marketing team to create lead quizzes, while for another 15%, quizzes are a collaborative effort across the  company. Another 13% of companies look to the product marketing team to create quizzes, and only 2% leave lead generation quizzes to the sales team.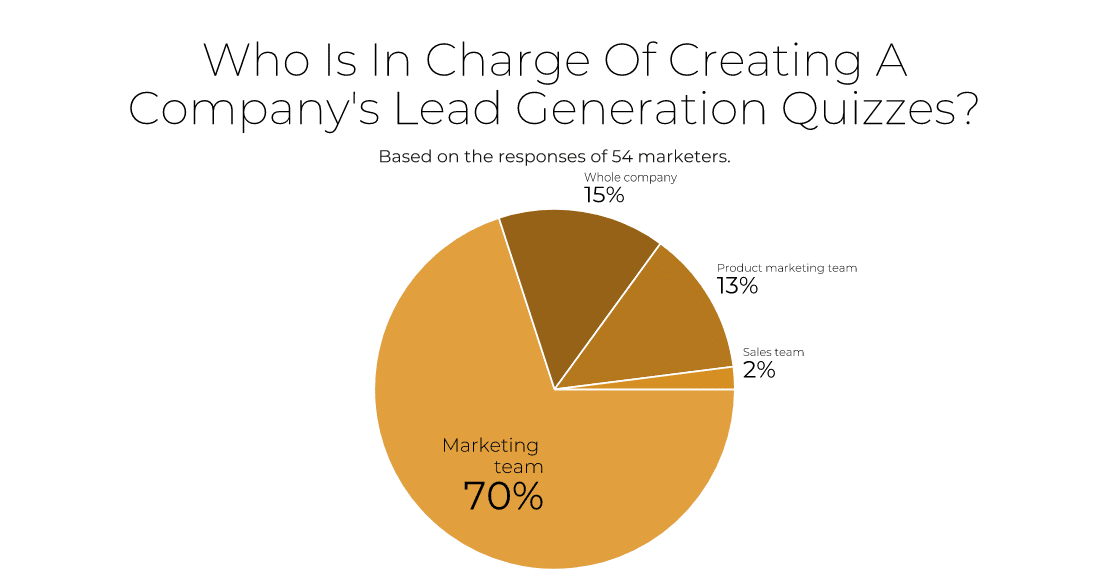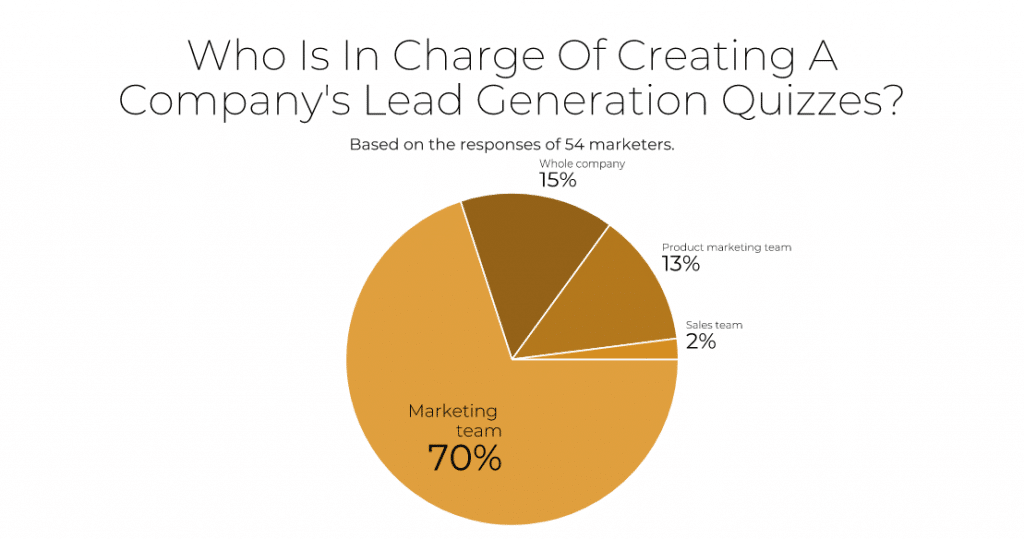 Marketers commonly incentivize quiz completion
Sometimes, your audience needs a little extra nudge to leave their contact information, even after they've completed an engaging quiz. Consider offering an incentive to the people who share their email with you, as a way to increase your conversion rate and grow your list of leads.
The majority of marketers, at 63%, have offered an incentive to leads who completed the quiz and shared their contact info.
This incentive could be a coupon or store credit (to make them more likely to purchase), another store gift card, or exclusive gated content, such as an ebook or webinar series.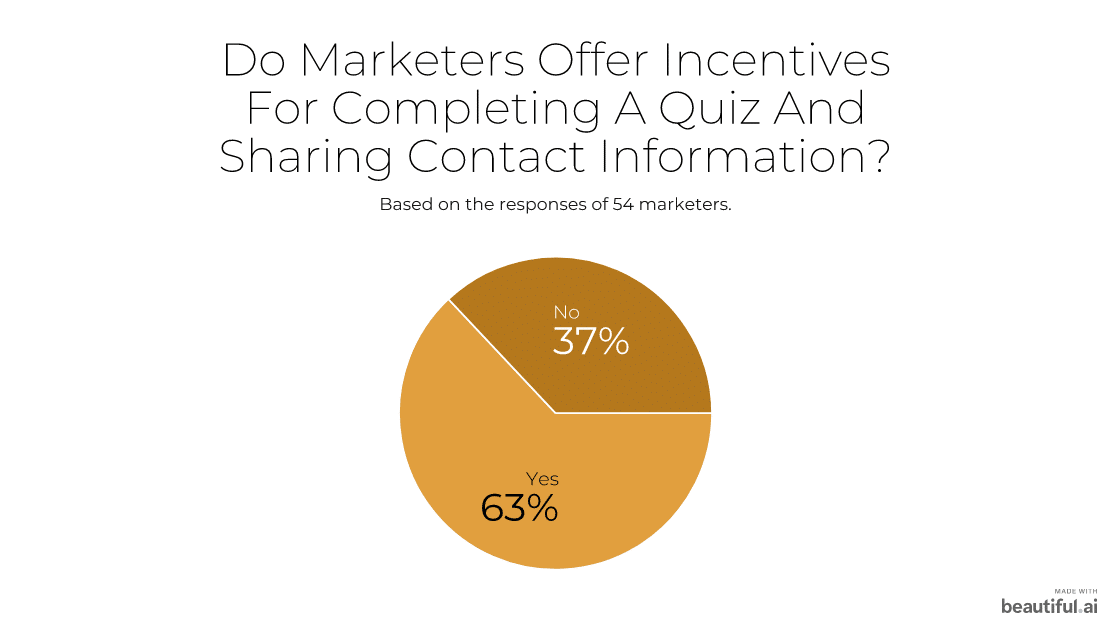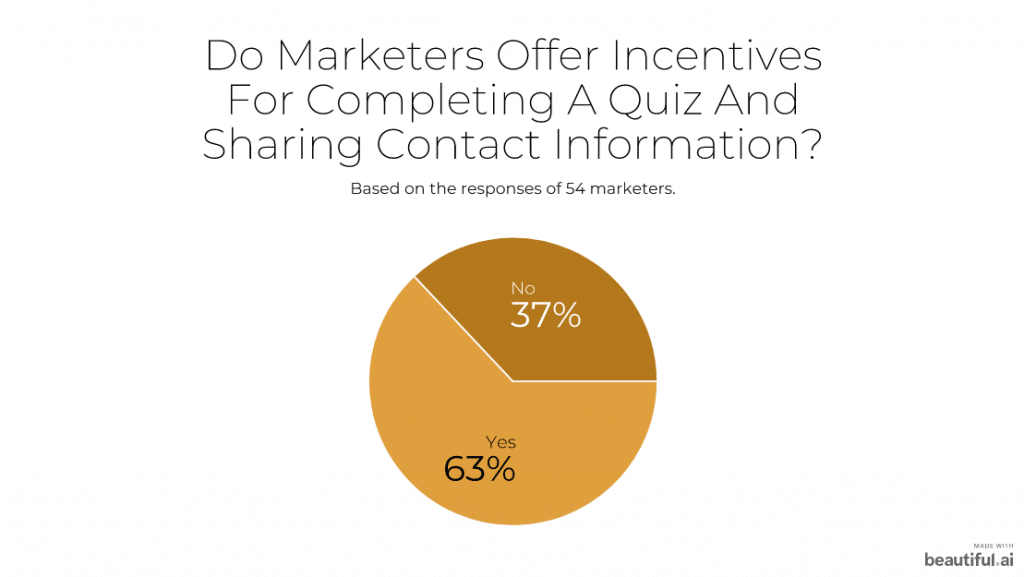 Quizzes are effective at generating high-quality leads
Once a lead generation quiz is created and launched, does it actually generate high-quality leads? The marketers in our survey think so. On average, they rate lead generation quizzes a 7.59 out of 10 for generating high-quality leads (where 1=least effective and 10=most effective).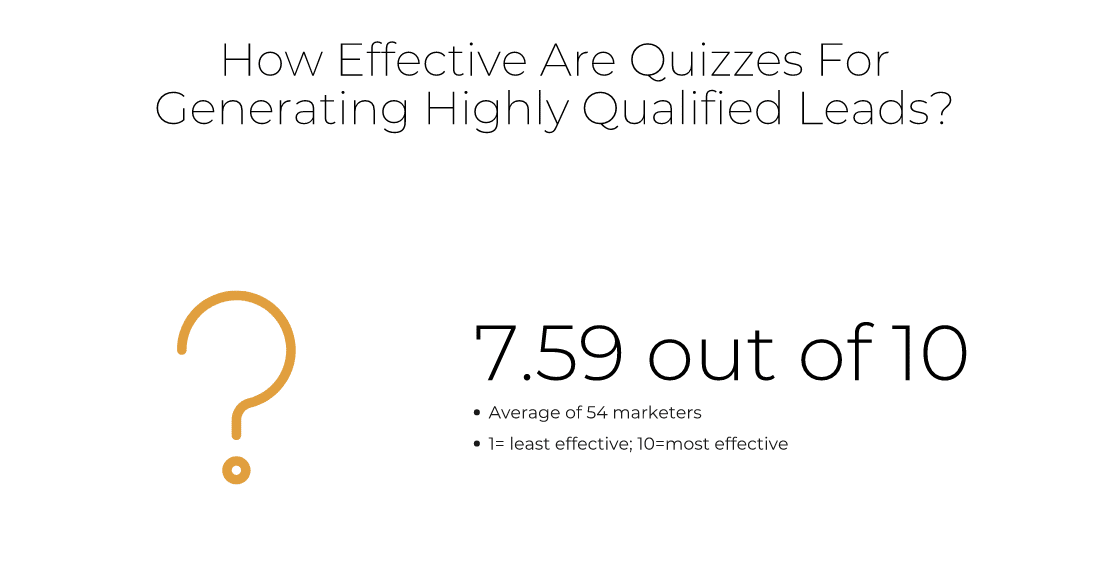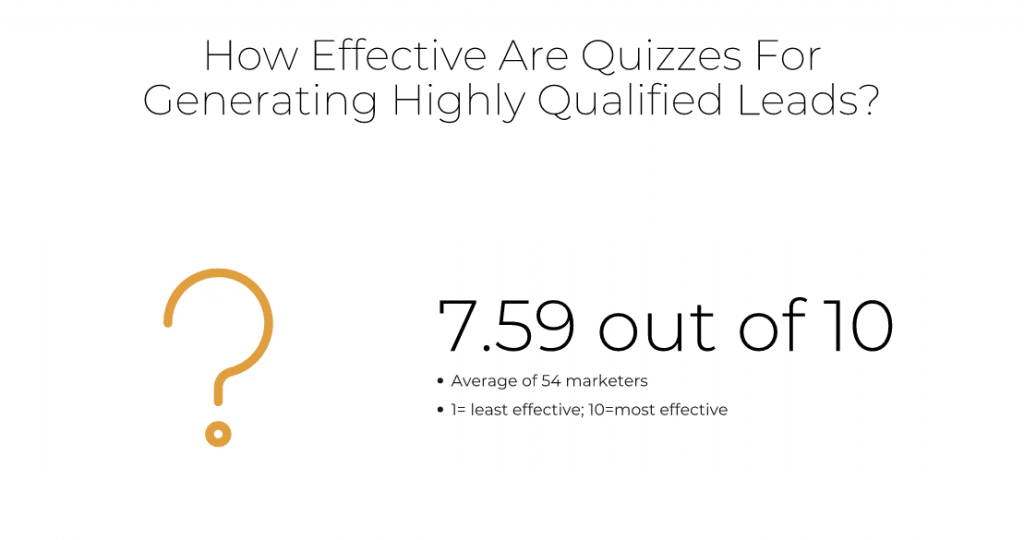 14 tips for creating effective lead generation quizzes
Now that we've looked at a few key statistics, it's time to start creating your own lead generation quiz. Here are 14 tips shared by marketing experts to see the most success:
1. Start with your goal first
"Focus on the outcome before focusing on the questions. Every question you create should be tied to a specific outcome, which will make your questions more specific and of better quality." –Petra Odak, Better Proposals
2. Understand your customer so you can ask the right questions
"Understand your customer to their core. Before determining the right questions to ask, you must first ask yourself who your target customer is, what they need, how you're going to help them now, and how you're going to help them later.
"Creating an effective lead generation quiz is a combination of providing value (and in turn, proving your value) and reassuring leads that a solution is possible. Once you understand your customer, you'll have a better understanding of how to perfectly craft a quiz that's both full of value and reassures them their problems can be solved." –Brandon Lee, Reptile Maniac
3. Choose questions that unearth a lead's likes and dislikes
"A lead generation quiz can be a telltale way to discover your consumers' likes and dislikes. This is imperative when it comes to retail, so it's important to dig deep for the right questions. Look at your latest marketing data, and pinpoint where additional questions could help you implement better strategies. Then, derive your quiz questions from these topics." –Jordan Dwayne, 6 Ice
4. Provide plenty of value within the quiz
"Provide value within the quiz itself, not just after. I have seen brands try to do this by putting snippets of info as a note under the questions. While that works in some cases, I would rather suggest the value is added within the question itself.
"Ask relevant questions that make the potential lead think and realize new things and perspectives. Giving value via well-designed questions gets you a better conversion rate since people are more engaged and inclined to continue the quiz, rather than falling off somewhere in the middle." –Dmitris Tsapis, PlanM8
5. Design a very specific quiz for the best segmenting
"Since the purpose of a lead generation quiz is to qualify potential clients, it's important to include questions that will identify their demographic, and if they fit into your target audience. Decide the information that will be most beneficial when implementing campaigns and strategies, and be sure that the quiz gets straight to the point." –Greg Gillman, MuteSix
"Make sure your quiz is engaging and personalized. Remember, a lead generation quiz is effective because it makes prospects feel as if a product or service option is designed for them specifically. It takes away the doubt of buying something that won't work for them, because they shared information about their unique wants and needs.
"To do this, include specific, personalized questions that help set a user apart from others. Also try to stress engagement and education. Even if potential leads don't end up buying anything, they should still be able to learn something new about themselves from taking your quiz. This helps them interact and connect with your brand much more." –Kevin Miller, GR0
"Be as specific as possible. The purpose of a lead generation quiz is to identify each lead's characteristics and categorize them accordingly. General questions don't help create a comprehensive character profile for each lead, making it difficult to organize them accurately. Be specific with your questions so respondents wouldn't misinterpret the issue. Otherwise, you risk receiving an answer that doesn't reflect their real thoughts." –Stephen Light, Nolah Mattress
6. Choose an engaging title using targeted language
"Use a compelling quiz title. Having an attractive title not only drives instant attention, but also gets more clicks. I also suggest using words like 'you' and 'yours' to add a personal touch to your quiz title and questions. Focus on keeping your quiz crisp, engaging, and entertaining." –Dave Nilsson, ConvertedClick
7. Optimize your quiz to drive clicks
"Quizzes as stand-alone content can't compete and rank in Google and other search engines, so the bulk of traffic to those quizzes will come from social. And because social media is so crowded nowadays, you must make it stand out with great quiz design.
"The first page of your quiz (the preview that's viewable as you share on social platforms) should consist of three distinct parts:
First, there's the headline that, true to the nature of quizzes, asks them questions like 'Which X are you?' 'Do you have what it takes to do Y?' This sparks their curiosity, and in the case of the second title, pulls on their competitive strings.
Second, follow the title with an enticing image (not a stock photo) that shows a real person.
Third, below the image, there should be a short description that sells them on the benefits of taking the quiz, and the awful mistake it'd be if they skip it. Awaken their curiosity, arouse their FOMO and get those clicks." –Nikola Roza, SEO For The Poor And Determined
8. Design a product-focused quiz that solves a problem
"Design the quiz to help your target audience solve a problem or make a decision, and to connect them to your product or service. In our case, we use a lifestyle quiz to help prospective customers find the best espresso machine that best fits their needs among the many we offer." –Colin Palfrey, Majesty Coffee
9. Design an educational quiz in your brand's niche
"You need to make sure the quiz is relevant to your customer and – if possible – educational. Having a potential customer learn about your service or product by quizzing them on their knowledge is a great way to position your company as a thought leader in your space." –Matthew Rava, Brakes To You
"We all know a well-educated customer is the best customer. By supplying helpful guides with actionable tips, you can better educate your audience. Then, to see how successful your educational tactics are, a quiz will provide you with that beneficial information." –Carrie McKeegan, Greenback Expat Tax Services
10. Set expectations for participants
"Setting proper expectations is key. Tell potential participants how many questions they'll be asked to answer. If you require an email for a participant to receive their results, tell them that upfront. This will drastically cut down the number of people who bounce. If you set proper expectations, you'll attract people who are genuinely interested and repel those who are not." –Nick Valle, Restoration Rocket
11. Keep your quiz short
"Make the quiz easy. The difficulty with generating leads through quizzes is people don't actually take a quiz unless they're truly interested in a topic. And even then, if the quiz is too long, they won't take it at all. If you know who to target, and encourage them with an easy quiz, they'll be more likely to be converted into high quality leads." –Peter Horne, Geoff McDonald and Associates
"Keep it short and simple to grab audience attention even quicker. Attention spans are shorter than ever, so anything you can do to hook your audience in is a competitive advantage to break through the distractions, noise, and clutter online." –Paige Arnof-Fenn, Mavens & Moguls
"Only ask essential questions. A good rule of thumb to follow is the shorter the quiz, the higher the completion rates. My most successful quiz is only five questions long." –James Pollard, The Advisor Coach
"Always keep a quiz short and engaging. This could mean embedding various types of media throughout the quiz or developing personable questions and results. Overall, quizzes should stay under three minutes so you don't lose your audience's attention." –Tom Mumford, Undergrads
"Keep to the three-minute rule. No more than eight questions achieves the best results in my experience, with any more seeing a sharp decline in completion and any less not providing the results anyone is looking for." –Andrew Taylor, Net Lawman
"Make sure your quiz is concise, straight to the point, and has the right questions. A lot of marketers want all their questions answered and create long quizzes with a bunch of questions. But trim it down and focus only on the most important points. You want your quiz to be answered in less than three to five minutes. If it takes more to fill it out, you will lose a lot of potential responders and leads along the way." –Jonathan Aufray, Growth Hackers
"Make it short and sweet. If you are trying to grab every single detail from a potential customer in this initial interaction, you will lose many of them halfway through. Secondary to this is making the quiz entertaining. Get creative with the questions in order to keep your audience engaged." –John Ward, Mold Busters
12. Make quizzes fun and exciting for the best engagement
"The trick to curating effective lead-gen quizzes is maintaining their fun and excitement. Incorporating digital visuals, like memes and GIFs, in more than one part of the quiz will help the content portray relevance and strike a chord on its audience. This method will also guarantee that your leads will get to the end of your content to provide you the information you need about them. Most of all, creativity in your quiz will showcase your brand's values, which makes the content more irresistible to the target audience." –David Bitton, DoorLoop
"To lead to conversion, incorporate high quality images throughout the quiz, but be sure to do this in moderation. An image after every two questions or so is moderate enough, and you can also choose to use GIF questions to make the quiz more engaging." –Carol Tompkins, AccountsPortal
"People are not going to take time out of their day to answer your questions unless they find them fun and entertaining. The secret is to find questions that people like to ponder, like 'What flavor of ice cream best reflects your personality?' " –Matt Bertram, EWR Digital
13. Offer incentives for finishing the quiz
"An effective lead generating quiz must be finished before it gets you a lead, so adding incentives is critical. Items such as Amazon gift cards have been effective for us." –Brian D. Agnew, Ph.D., Sphinx Minerva Group
"While we live in a world where people love sharing their opinions, some small incentive can be just the nudge your audience needs to provide you with complete, beneficial answers. It doesn't need to be monetary. If you have a special report that provides actionable tips, that could be the key. Think along the lines of gated content." –Greg Kozera, ELM Learning
14. Use several strategies and quizzes to attract more targeted leads
"Creating a lead generation quiz is a perfect way to gain information to segment your audience for more targeted marketing campaigns. Many companies fall into the bad habit of only implementing one strategy across the board. However, if you have the right information, generating multiple strategies can be the best way to include and attract a larger demographic." –Alexandra Zamolo, Beekeeper
Wrapping things up
Ready to create a lead generation quiz of your own? Remember to follow these expert tips: understand your audience's needs, make the quiz fun, engaging and useful, optimize your quiz for clicks, and reward new leads for sharing their contact info.
Now you're ready to ramp up your conversion rate in an engaging way!
After your quiz is ready, be sure to promote your quiz on a variety of channels–we've covered expert tips for lead quiz promotion in another roundup.