If a piece of content is gated, access to that piece is restricted for the general public. When a business or individual gates content, they require some information before the reader can access the piece.
Essentially, the reader "pays" to access the content with a few pieces of their personal information, such as their email address, name, business name, position, or industry.
Choosing whether to gate your content can be a tough decision, especially because the merits of gated content are heavily debated in the marketing world. Gating content can have significant advantages when done right, but it can have significant drawbacks, as well.
To help decide whether or not to gate your content, we turned to the experts. We surveyed marketers to find out what they felt were the biggest advantages and disadvantages of gating content. Let's check out what they had to say.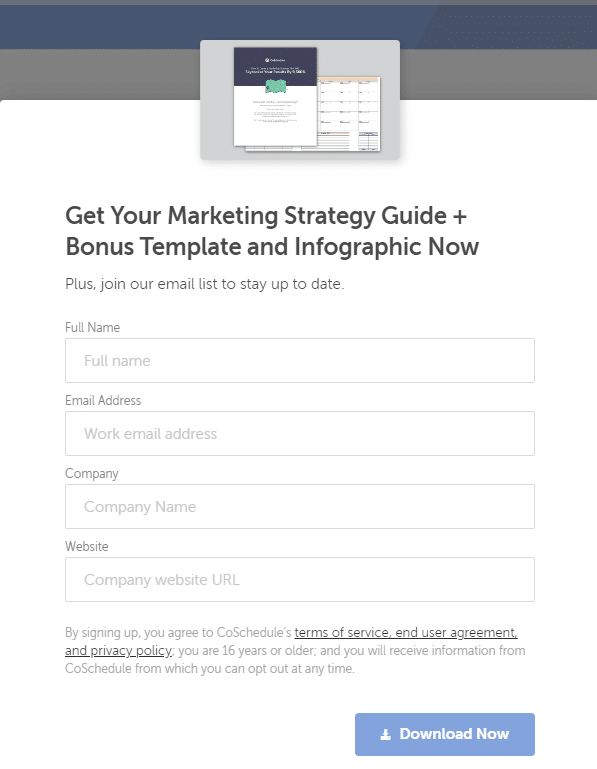 CoSchedule's gated content form for access to a marketing strategy guide.
Biggest advantages of gated content
Why place some of your content behind a gate? If someone leaves their name, email address, or other personal information, this is a sign they are interested in what you have to offer.
Gating content is a valuable way to generate, qualify, and nurture leads. You can also gain information that will help you personalize your content for these valuable leads, and encourage them to become lasting customers.
What are the advantages of gating content? Let's find out from the experts:
Generates leads
"Gating content is an excellent lead generation method. By keeping the forms short enough, people are willing to leave their email addresses [and other information]. Furthermore, by creating great gated content, you can get noticed by industry-leading websites. You may become an additional resource in their posts, thus scoring you a backlink." –Francois-Louis Mommens, Linkody
"The biggest advantage is that it's a lead generation tool. It does require some more work compared to other methods, but if you have enough good content to spare, gate some of it. It can be a great source of emails for your marketing database." –Milosz Krasinski, Chillifruit
Qualifies leads
"The biggest advantage, by far, is setting it to get qualified leads. If someone just leaves their email address to get the content, it wouldn't be as powerful. Because we have them leave their personal information, such as their position, business name, and industry, we are able to send great personalized email messages to our leads." –Dima Suponau, Number For Live Person
"Gated content serves as a filter for readers. If they agreed to give their personal information to pass through the gate, they must be genuinely interested. This type of reader is more likely to become your client, even if you don't engage a nurturing sequence with them." –Illia Termeno, Fractional CMO
"Gated content helps you gain access to the email addresses of potential customers actually interested in your information. This opens a new window for your business to move that potential customer from the awareness to the consideration stage in the buyer's journey." –Nishant Sharma, Your Team In India
"Gathering more qualified leads is the biggest advantage of using gated content. At this stage, the lead is already engaged in what you offer, and is willing to fill out the form and leave personal information." –David Cusick, House Method
"Gated content can help you see exactly who is reading a specific piece of content, so you can better qualify them as a lead. Plus, you can also learn more about your site users, and create more content within that niche." –Alexandra Zamolo, Beekeeper
"Gated content is a step toward conversion. When potential customers access gated content, they're more likely to continue down the conversion funnel. After all, accessing gated content necessitates commitment. And since you gain their contact information, it's also easier to convert them."–Melanie Musson, AutoInsuranceEZ
"When executed properly, gated content allows a company to provide value while generating qualified leads. This allows companies to build connections with and nurture people through the sales funnel, serving them additional content and providing additional value post-conversion." –Meisha Bochicchio, Wistia
Adds perceived value to content
"The increased value perception of gated content is a big advantage. If you leave all content ungated, people will see it as just another blog post – bookmarked and forgotten about. By putting a 'price tag' in the form of an email address, you drive the perceived value up." –Peter Thaleikis, PageExplorer
"Psychologically, between one's curiosity to see behind the curtain, the prestige of being an insider, and other special privilege perks, gated content can be an absolute conversion machine. When executed strategically and at the right time, it can be one of the best decisions for a web property." –Peter Bryla, ResumeLab
Assists with audience segmentation
"One of the biggest advantages is gated content automatically segments your audience. It reveals which prospects are more interested in your product. Then, you can focus your email marketing efforts on this segment." –Grant Aldrich, Online Degree
"Gated content helps you segment where the prospect is on their journey toward solving their problem. In any market, 3% are ready to buy right now and 7% are open to buy. The other 90% are researching the problem and understanding the solutions available to them.
"Thanks to the ungated content that warmed them up first, opt-in rates are higher because the prospect already knows you, likes you, and trusts you. That makes it easier for them to give you their email in return for more value. Gated content allows us to nurture them through that process with email." –Skye Khilji, Free The Wage Slave
Helps with targeting and personalization
"With gatekeeping, you can request specific information, like job title, professional industry, and age range. The information can then be used to create buyer personas to target subsets of consumers. This tends to be highly effective because there's less guesswork involved. Readers are directly supplying you with their personal information.
"You might be surprised to find a subset of consumers you hadn't considered targeting before. These revelations are valuable because they help you customize content and products to warm leads who are more likely to convert." –Kim Smith, Clarify Capital
"The biggest benefit of gating my content was that I got to know my audience very well. I know precisely who I am writing for, and that makes content creating and marketing much easier and straightforward." –Dmitry Suponau, Number For Live Person
"The foremost advantage of gating content is the ability to grow an email list, allowing you to contact visitors and keep them coming back to your site. However, it's also an opportunity to collect more than just an email address. You can start to segment your audience and offer more relevant content to meet their needs and nudge them down your conversion funnel." –Michael Glover, ConvertFlow
"The biggest advantage is capturing key information to nurture potential leads through your sales funnel. You know they are more qualified leads because they're interested in your content/services, and willing to give you information to learn more. You can enter these leads into a drip campaign based on what type of content they were interested in." –Tonya Davis, ThoughtLab
Opens up a line of communication
"When you have access to a consumer's contact information thanks to gated content, you're opening up a direct line of communication. Rather than being reliant on the consumer to initiate interactions with the brand, you can use email campaigns to rekindle interest in a product and redirect traffic to your site. Essentially, you're affording yourself more opportunity to communicate and encourage consumers to act."–Kim Smith, Clarify Capital
Improves customer loyalty
"You have a clear picture of the person accessing your gated content – their persona and intent. This allows you to speak directly to a smaller group, and address very specific pain points that demonstrate how well you understand them and how relevant your product/service is to them.
"As a result, you improve your chances of converting this cohort of people into customers, and keeping them as longer-term customers – higher-value customers with a deeper commitment and investment in your product." –Jeilan Devanesan, Venngage
Biggest disadvantages of gated content
Even with all of the above advantages, gating content still presents some drawbacks. People might be reluctant to leave their personal information with you, especially if they think they can access similar content elsewhere without giving this information up. This may cause strong potential leads to leave your website for a competitor's site.
Gating content also means you won't enjoy SEO benefits from that content, even though you likely spent more time on it than on ungated content.
Here are the disadvantages of gated content our experts shared:
Creates barriers that may drive leads away
"One of the biggest disadvantages of gated content is it can have the opposite effect and deter some potentially qualified leads because they do not want to sign up. It can also drive people to your competition who may not have gated content." –David Adler, The Travel Secret
"Using gates in content marketing equals creating barriers for your leads. Not all leads will overcome the barrier, and you will inevitably lose some deals. If your gated content is useful, and you run smart nurturing campaigns, you will get more than you lose. That's why you need to closely monitor the performance of your drip campaigns triggered by the gated content." –Illia Termeno, Fractional CMO
"I dislike gated content myself. Actually, most people do. They aren't willing to leave their email address or details in exchange for some piece of content. I myself would rather search elsewhere and just leave the site with gated content. Most of the people I know in the internet marketing business do the same." –Lukasz Zelezny
"It can create a barrier that some people won't be willing to cross. It can lead to people just leaving your site because they don't want to, for some reason, leave their email address. That's why you need a strong incentive for people to leave their information." –Milosz Krasinski, Chillifruit
"I think many people want to remain anonymous as they research products or services. Gating content at the top or middle of the funnel restricts their movement on your website, their ability to consume your content, and your ability to influence them." –Joe McMullen, Blackbird Digital Marketing
"Naturally, gated content will always leave some people out. Some people aren't happy to share their email addresses or any other personal information. This is to be expected. Every additional input field you require reduces conversion rate, and with it, reduces the amount of people who end up seeing the content." –Peter Thaleikis, Page Explorer
"Some users are deterred by gated content and choose to abandon the site or disengage with content. In these situations, you're losing some of your audience, which can hurt bottom-line objectives. The biggest caveat, overall, is gated content hurts organic traffic." –Kim Smith, Clarify Capital
"Asking for information tends to deter a lot of users. Even if they are qualified traffic, they may not want to be put through a lot of hoops just to access information when they could more easily go back to the search results and find the same content elsewhere." –Tonya Davis, ThoughtLab
Hides material that could potentially drive conversions
"The biggest disadvantage is perhaps a piece of gated content is what would otherwise sell someone on taking action, yet they never see it because they never sign up. That's why we try to provide a wealth of information beforehand, and just add greater detail and specifics in our gated content." –Brad Matthews, AdChina
Results in people leaving fake personal details
"If you're looking to grow your brand profile, gating your content is a bad idea. Many readers are reluctant to enter their personal information, and will probably enter fake details just to access your document. That said, with so much information readily available online, they will probably just go to someone else's site that has not gated similar information. So think carefully about any content you'd like to gate." –Joann Zambas, Career Addict
"Many people use throwaway email addresses for gated content. That means if you use that address to send emails, it hurts your email open rates because they rarely check that account.
"A good alternative is to get them to subscribe using a chatbot in return for the gated content.  That way you can still connect with them, and open rates on messages are way higher than emails (which often don't even reach the inbox)." –Skye Khilji, Free The Wage Slave
Requires extra time and work
"Gating content requires a lot of work on your part. You'll need to create exceptional, unique content for your audience to choose to leave their email address. A gated piece is not your regular blog post. You really need to spend quite some time and resources on it." –Francois-Louis Mommens, Linkody
"Gated pieces of content, like ebooks and white papers, tend to require more work to be put into them. An ebook, for example, will usually mean research, writing, editing, and then also all the design work to get it looking professional. If you produce something like this without properly knowing what your audience actually wants, you run the risk of putting a lot of work into something that fails miserably in terms of downloads and conversions – this, to me, is the biggest downside." –Michael Glover, ConvertFlow
"Gated content requires more commitment and attention to detail. With an ungated blog post or video content, you might receive thousands of views each week and people might naturally convert from there. But with gated content, you're filtering out other people (who may also convert into customers, but in a different context), so you need to make every message, every email, every touchpoint/engagement really count." –Jeilan Devanesan, Venngage
Misses out on SEO and thought leadership benefits
"With gated content, you're missing out on SEO benefits. SEO is a powerful tool to generate organic traffic, but you can't do that when search engines don't index gated content. Essentially, you could be missing potential leads too." –David Cusick, House Method
"Customers do research when they're looking for solutions to their problems. You want to be seen as a thought leader and helpful, rather than just capturing data for a follow-up call. Ungated content can help your SEO and ranking.
"Depending on how your content and website are set up, it improves searchability, as opposed to gated content or download. You want to build trust with your potential customers. Showcasing your expertise and ungated content is one way to do that." –Ashleigh Kate Baker, HotelFurniture.com
Fails to bring in enough leads for small businesses
"For websites with not enough traffic – and most small businesses probably fall into that category – the number of leads generated through gating content will probably be zero. It makes more sense to ungate all content and generate leads with help from social media, direct outreach, word of mouth, and other methods." –Visnja Zeljeznjak, Logit
Turns people off
"It's a tired formula. People are bombarded with gated content and are either annoyed by it and bail altogether, or begrudgingly provide their info only to unsubscribe or ignore follow-up campaigns. Gated content should really only be applied in the right scenario for high-value content, and should be highly targeted for a high-value, high-intent audience." –Meisha Bochicchio, Wistia
Wrapping up
Now that you know the major advantages and disadvantages of gating, you're more equipped to make an educated decision about using gated content.
Of course, this may still be a difficult decision. But don't worry – we've compiled another roundup on gated vs. ungated content to help you make your choice. In that post, marketers share whether they think it's best to gate some content, or leave all of their content ungated.