There are a lot of different ways to grow your small business online. From social media to Pay-Per-Click (PPC) to content marketing, you've got a lot of options. But have you considered using giveaways to grow your business?
You might be worried about the cost of giving away free products or services, but giveaways are actually a great way to get on people's radar and inspire confidence in your brand. Believe it or not, they take a low amount of capital and have a high return on investment (ROI).
Beard Brand was able to generate over 700 Likes, followers, and subscribers through a giveaway. Similarly, a grocery giveaway of $5,000 resulted in a 22% increase in sales, as well as 600 additional Facebook Likes. The Man Cave giveaway routinely brings in $100,000 per year. These giveaways are working– and they're worth a try for your small business.
Convinced yet?
Giveaways are awesome for growing your small business online. Do enough of them and we'll be calling you a big business. Now let's get started with what you need to throw one.
Step 1. Define your goals
What is your main goal for the giveaway? Do you want an increase in social media followers or email subscribers? Are you simply looking to get the word out about your brand?
You need to figure out what you're going to measure, so you can look back afterward to figure out if your giveaway was successful. Remember that the point of the giveaway is not to make a direct sale. Most giveaways increase brand awareness and help build your online following.
Here are some giveaway goals small businesses often have to measure success:
How many entrants – Increasing brand awareness.
Number of social shares – Increasing brand awareness and generating sales in the process.
Amount of emails collected – One of the most value out of the three. Emails allow you to build a relationship with your customers through a medium they check every day.
Number of new Likes and Followers – Brand building over time.
Step 2. Provide an incentive for the giveaway
What are you giving away? This is the single most important question, as people will not participate in the giveaway if they're not excited about what you're offering.
Many successful giveaways all have one incentive in common– they give away their own product. This works well because it gives followers something they already want, but also can draw new people to your brand. If they like what they receive in the giveaway, they'll be willing to buy from you in the future.
For example, authors Kathy Kinney and Cindy Ratblaff gave away their own book, Queen of Your Own Life, and generated over 3,000 entries:
The Girlfriend Collective, a new brand that makes luxury leggings, gave away pairs of leggings to anyone who entered their email address. Instead of spending their marketing budget on expensive online ads, they decided to give away the product, and let it speak for itself. If recipients are happy with the leggings, they'll buy more and tell their friends.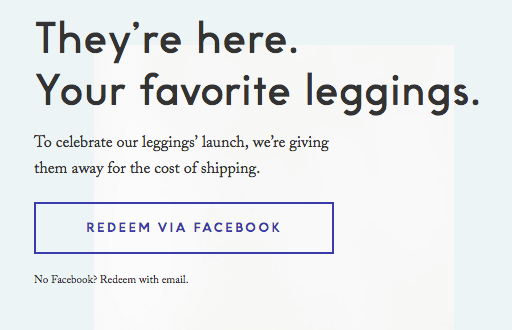 Step 3. See if there's a software tool that suits your needs
It's very challenging to build your own giveaway from the ground up. That's why there are many giveaway tools out there that can help you host a giveaway. Some of our favorites are:
All three will get the job done as good as one another. Visit each one and choose the one that you feel will meet your needs.
Step 4. Promote your giveaway
Promoting your giveaway is the only thing that is going to make it successful. In fact, a giveaway will be a complete flop without promotion. People may care about your prize, but it's not going to go viral unless you're offering a date with Justin Bieber.
You need to dedicate substantial time, energy, and budget to make sure people know about your giveaway. Here are the most common ways small businesses successfully promote giveaways:
Paid Facebook Ads
Paid Facebook ads are most likely going to be the best-paid way to promote your product. Paying to promote your giveaway on Facebook will help you:
Target the right demographic
Focus on specific areas, such as a zip code.
Seek people with similar interests as your product.
And much more.
Facebook has the lead advertising platform in the world. You can also target other social sites with paid advertising but generally speaking, Facebook is the best. If you want to learn more about Facebook advertising, check out Jon Loomers blog.
Newsletter Distribution
Start with a bang and send out your giveaway to your email list of subscribers. If you don't have an email list to send it to, send it to all the contacts you have in whatever email platform you use.
The promotion email should be exciting and it should give specific details about the giveaway. You want the email to spark attention to get people to join (because they don't want to miss out).
On top of that reach out to people who do have email lists and see if you can work out a deal for them to send to their lists. You might be able to do a joint giveaway with another company that has a larger and more engaged list.
Influencer Outreach
Outreaching to influencers for your giveaway should be a promotional strategy considered by everyone. Even a single mention from an influencer can help drive more entrants to your campaign.
The key components to outreach are simple:
Make a big list of influencers that can help you out
Create a goal for each influencer (Do you want them to share it via Twitter, Facebook, Newsletter, etc)
Email them, but first, nail your outreach email. Make sure you're sending emails that an influence would want to open and read.
Pro tip: There are at least 100 people that you can contact to help you spread your giveaway. Build this list as much as possible and spend a lot of time executing on it.
Get your friends and family involved
You most likely have 10 close friends or family who would be happy to share this on Facebook for you. Each one exposing your giveaway to ~500 people. That's an extra 500 people total that get to see your giveaway. Friends and family can be the most supportive, so they are a super beneficial group to utilize.
Social communities
Use social communities to find groups of people who are likely to have an interest in the product that you're giving away.
Be careful when posting to these communities. Read the rules first and see if it's allowed. If it's not allowed then contact the moderator of the group and see if you can work out a deal. They just want to keep spammers out and will be open to hearing what you have to say.
Forums
This is another great way to find people who have an interest related to your product.
Giving away car parts? There are only about 100 other car forums on the internet loaded with people who would love to get what you have for free.
You can get in front of them for free using a forum!
Most forums also have sponsorships which will also allow you to advertise your giveaway on the forum for cheap!
Reddit
Reddit makes things viral. That's a fact. Reddit also has your target market, somewhere hidden in its subreddits. That's a fact too.
Reddit also has paid promotion so you can promote your giveaway for free in the subreddits and then sponsor them for money too. That's a double win. Reddit is also pretty cheap for advertising.
Giveaways that work for small businesses
The giveaway platforms are going to do a lot of the work for you.
The main choices you have to make are "What is the best incentive I can give?" and how much effort you're going to put into promoting your giveaway. Both are equally important and will decide the outcome of your campaign.