There are a ton of ways to make your life easy, one of them includes using a good scheduling software.
If you're a business that relies on a schedule for your day to day life, then you probably already keep a calendar. What if we told you there were software options out there that can help you automate and organize your schedule for you?
As it turns out there are quite a few great options out there, that are perfect for filling up your calendar and preventing double booking, no-shows, and the need for back and forth email and messaging.
Why use scheduling software?
Keeping track and scheduling meetings can be time-consuming. Not to mention, if you're trying to figure out the perfect time for both parties via email, there can be a lot of back and forth and missed communication. Client scheduling software allows you to book meetings with clients, easily. In fact, client scheduling software allows the customer to choose a time on your calendar. So all you have to do is send a link, they pick a time, and boom the meeting is set.
Here is a look at what scheduling software we are going to talk about. Note that these are not listed in any particular ranking order.
Client scheduling software
Drift
Client scheduling and customer scheduling


Drift is the new way that businesses buy from businesses. They are the first conversational sales and marketing platform, with 50,000+ businesses using Drift around the world.
Drift is all about eliminating the barriers between you having 1-on-1 conversations with your best customers. Their chatbots, messaging and email tools are all built around this core commitment. And as you can imagine, going back and forth over email about scheduling is an experience that gets in the way of conversations.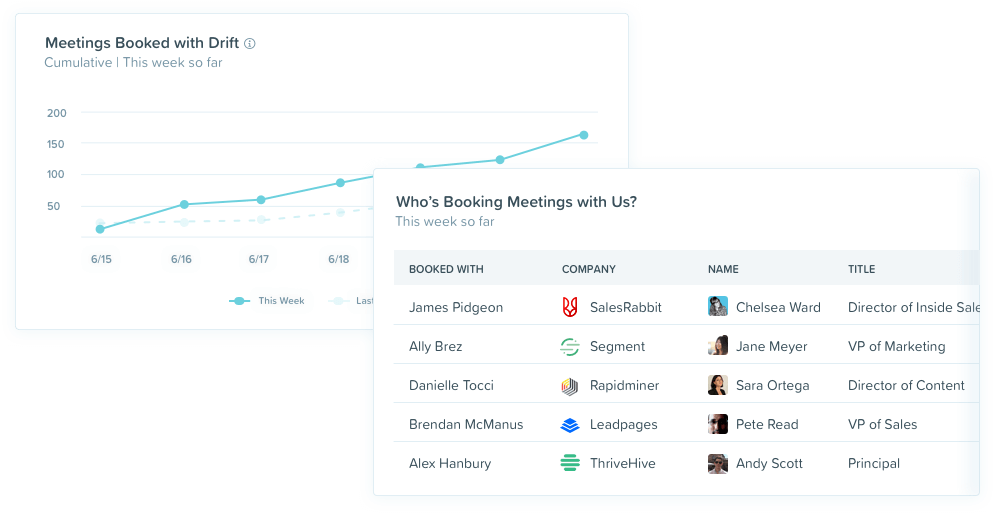 Features
Profile:Share a link to your Drift profile to give people a direct line to your calendar
Chat: Talk to your clients and customers the same way that you would text with a friend using the chat function on your profile page
Chrome extension: Used to track email opens and clicks
Email sequences: Enable a series of pre-defined outreach emails
BCC to CRM: Using the bcc feature automatically sends a copy of your emails into your CRM
Calendar injection: Directly into composed emails or sequences
Automated meeting facilitation: Reminder emails, rescheduling and cancelation options
Advanced meeting reporting: Includes not only how many people you schedule with, but their LinkedIn profiles
More details on the free vs. add-on features at the bottom of their Drift for Sales page
Target audience
Drift is ideal for sales and marketing professionals, from very small businesses all the way up to enterprise teams.
Pricing
Drift offers a free account option that gives you access to many meeting, chat, and email features. Their full Drift Meetings functionality is only $15 a year. Their other pricing options include additional features and functionality.
Clients
Some clients include Zenefits, Toast, MongoDB, AdRoll, Jebbit, Zuora, Vidyard, Rapid7, Onshape, Cybereason, Price Intelligently, Bandwidth and many more found on their homepage.
---
Calendly
Client scheduling

Calendly helps millions of people schedule meetings without having to deal with back and forth emails. Calendly is a powerful yet simple scheduling tool that helps business professionals save time, control their schedule and delight invitees.
Setup is easy and pain-free, simply provide your availability and preferences and then the software will do the rest for you. Then all you have to do is share your personal link and clients can pick what time from your calendar that works best for them.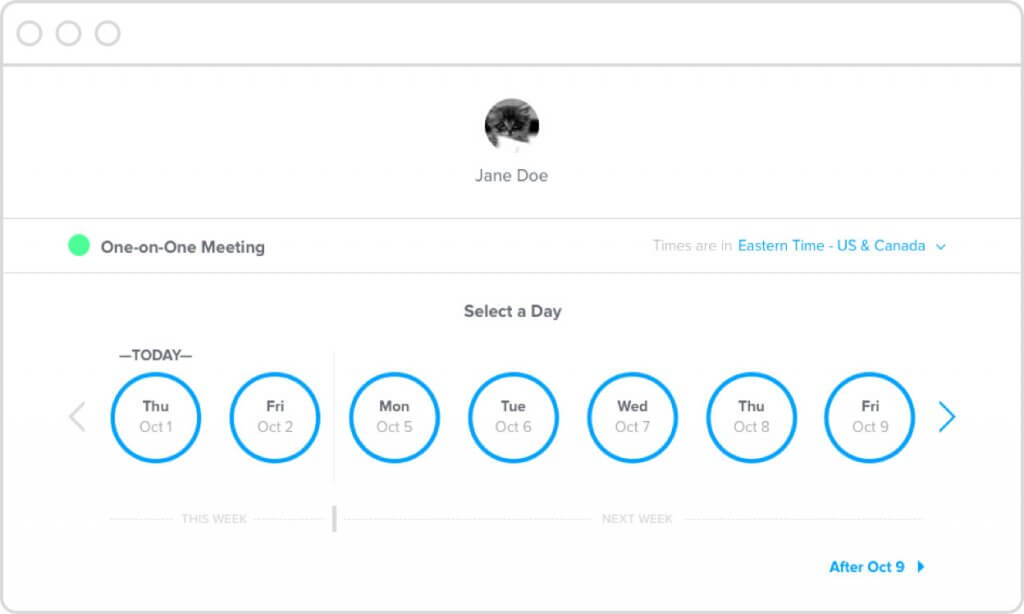 Features
Calendar integrations: Integrate directly with your current calendar for real-time sync of scheduled events
Customize your schedule: Spend more time on top priorities by preventing last-minute meetings and scheduling conflicts through buffer times, daily limits, secret event types and more.
Flexible meeting options: Supports one-on-one, round robin, and collective availability meetings
Time zone intelligent: Timezone detection so everyone's on the same page
Target audience
Anyone can use Calendly. It is for those people who don't like sending multiple emails to find a meeting time. Some of the segments we commonly see are sales, customer success, recruiting, financial advisement, education and consulting.
Pricing
Calendly offers a free 14-day trial. Then there are three plan options to choose from after that.
Basic: $0, totally free
Premium: $8/per user/month annual plan or $10/per user/month monthly plan
Pro: $12/per user/month annual plan or $15/per user/month monthly plan
For more information on their prices, visit here.
Clients
Users range from individuals to small and mid-sized businesses to large enterprises like Zillow, Marketo, Shopify, Uber, and Zendesk.

---
Appointy
Client scheduling

Google partners with Appointy to help you get new customers. It's an all-in-one online scheduling software that is trusted by 110,000+ customers worldwide. Customers can self-schedule 24/7, from anywhere. Manage multiple staff and locations to improve productivity. Social promotion via Twitter, Facebook, and email. Run loyalty programs.
Appointy prides itself on helping a variety of businesses and services. Everything from salons, education, all the way to government offices. They allow flexible business hour settings so businesses can stay in control of their schedule. Businesses can set staff working hours, customize scheduling time-slots, provide back to back booking for multiple services at one time, and allow customers to schedule multiple future appointments (recurring booking).
Appointy provides a comprehensive overview of analytics. Covering everything from customer satisfaction, staff performance, appointments made, and sales totals. Appointy helps reduce no-shows, by sending automated messages to clients at preset times before appointments. They offer pre-payment options so customers can pay full, part, or a fixed amount when scheduling an appointment. There is also an option to promote last minute deals to fill empty time slots.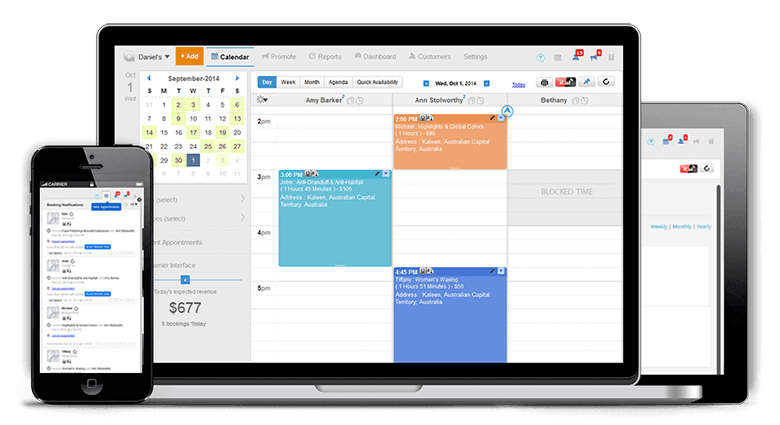 Features
Customization: Appointy allows everything to be customized. Emails. Logos, Forms, Receipts, Social Promotion, etc.
Schedule online: Customers can self-schedule easily online, at any time.
Social promotion: Use Facebook, Twitter, and email marketing to attract customers.
Own your data: Easily export all data, no matter what plan you're on.
Pay as you go: No contracts or cancellation fees.
Flexible time slots: Open intervals from 5 minutes to a whole day, or choose irregular intervals.
Target audience
Appointy has the ability to serve almost any business segment. Some common audiences include salons, health and wellness, education, medicine, government, and more.
Pricing
Clients can sign up for a 14-day free trial. After that pricing, there are a few different price options to choose from ($0–$59.99 per month).
Clients
Some clients include Texas State Writing Center, Cryofit, Revive, Beauty Room, Butler University.

---
vCita
Client scheduling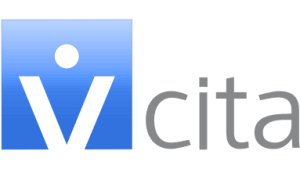 vCita is an all-in-one online scheduling and client management tool. They help small business service providers gain a competitive edge and draw more clients by offering instant online appointment scheduling.
vCita connects to your website, social media, local listings and email marketing, inviting clients to schedule a free consultation, book a service or register for an event.
Clients see your team's real-time availability as well as a list of the services your business offers and choose a time that works for them. Letting clients book your services online 24/7 means that you never miss a new lead, and you're always open for business with returning clients.
vCita is actually much more than an online scheduling solution – it's an all-one business management tool that helps small businesses manage their leads and clients, appointments, payments, invoices and even email marketing – all in one centralized hub.
Whether in the office or on the go, vCita keeps your business competitive and your calendar full.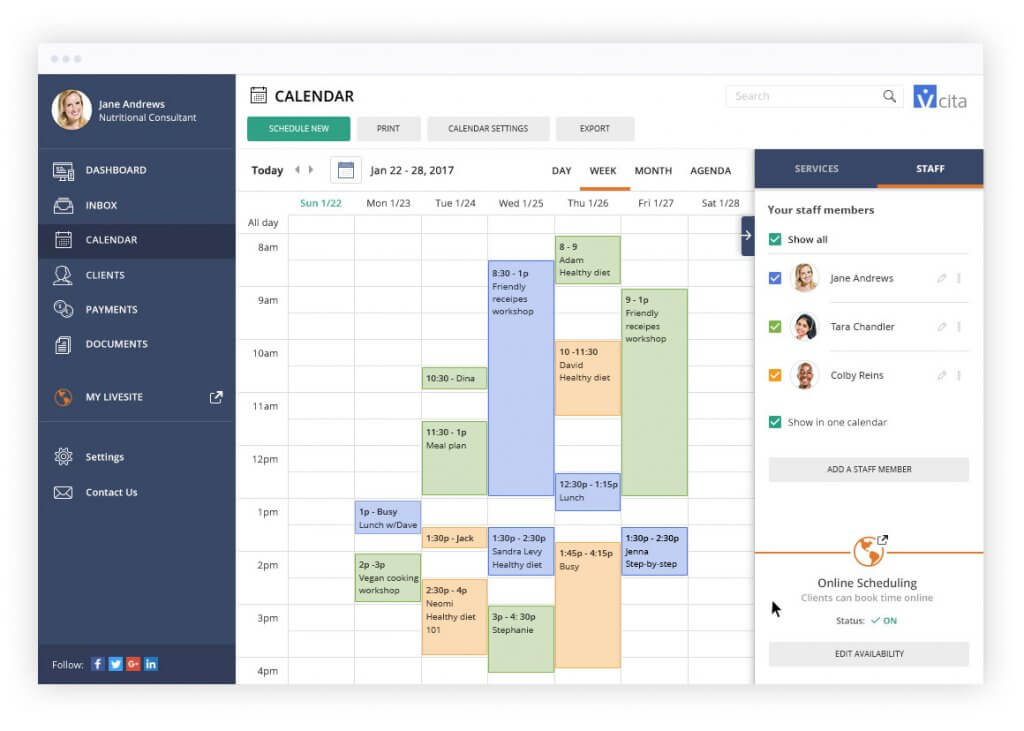 Features
A customizable, mobile-friendly scheduling page: For the business to list the offered services (along with the staff's up-to-date availability) and allow clients to book appointments, schedule services and register for events and classes.
A personal client portal: Clients can view their complete activity history online – previous appointments, pending payments, shared documents etc.
Reminders to reduce no-shows: Automated confirmations, reminders and follow-ups are sent to clients via email and SMS, helping reduce no-shows and minimize last-minute cancellations.
Payments collection: Let clients pay for appointments and services online via credit card or PayPal, create and email invoices, and track your income with a centralized dashboard.
Client management: A built-in CRM allows you to store client information and share it across your team. You can add private notes, add clients tags to group clients together, and view the client's history (appointments, payment, documents, interactions) in one place.
Marketing tools: Get booked by sending announcements and promotions via email campaign and SMS marketing, capture leads on your website with a pop-up widget, fill up your calendar by offering clients discount coupons.
Target audience
vCita's target audience is small businesses who provide services: business and marketing consultants, accountants, lawyers, coaches, fitness trainers, educators, etc.
Pricing
In addition to the free-forever version, vCita has several subscription tiers (starting at $12/month). You can see all the information here.
Clients
vCita is tailored for small businesses who provide services – accountants, lawyers, marketing consultants, coaches, contractors, fitness trainers, educators, and more. Some of the more well-known clients: Pearson College, MassMutual, Texas A&M, Northwestern, Cornell University.

---
ScheduleOnce
Client scheduling

ScheduleOnce is a great solution for powering online scheduling with your customers and prospects. It helps you make more connections with it's easily integrated scheduling platform.
ScheduleOnce is an end-to-end solution for scheduling with prospects and customers through all phases of the customer lifecycle. The software is robust, yet functional and intuitive. And within in three steps your customers can start adding meetings to your calendar.
It connects with all major calendar platforms and provides feature-rich integrations with your CRM, web conferencing, and other online channels.
Features
Multiple event types: ScheduleOnce allows you to accurately model your scheduling scenarios by adding event types to your booking pages.
Pooled availability: Pooled availability is a powerful feature that combines the availability of multiple team members and displays it to customers as a single booking calendar.
Custom themes: You can fully customize the look and feel of your customer scheduling experience.
Website integration: All website integration options are brandless, fully integrating with your website without any mention of ScheduleOnce.
Target audience
ScheduleOnce is great for everyone, regardless of your business type or industry.
Pricing
You can start with a free 14-day trial, and then choose between a variety of plan options ranging from $5 a user per month, $49 a user per month. Check out their pricing page for more information.
Clients
Some of their current clients include Targetprocess, TopHat, Nexonia, and Webgility.

---
MyTime
Client scheduling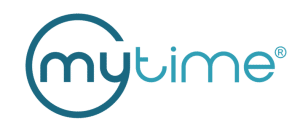 MyTime is an online appointment booking software and scheduler that is built for your business. It's a little bit of everything, an appointment calendar, client manager, and communication center.
Scheduling appointments are made easy.  Access and manage your schedule from anywhere at any time. Easily view and manage clients, from 1 place. View their history and notes, and set custom prices for each if you choose. You can even accept payments online or in person.
Communication is easy and effortless. The MyTime Communicator allows you to message clients and answer their questions. The software also helps you reduce no-shows, by sending clients automatic appointment reminders, where they are asked to confirm their appointment.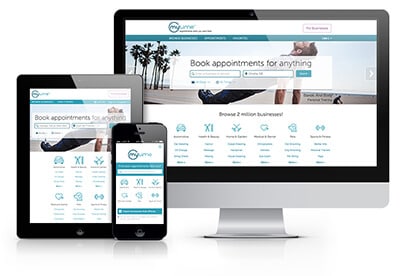 Features
Add online booking to your website: Easy to add, and simple for clients. Customize colors and style to fit your brand and sites.
Track performance: View analytics and see which services are your most popular. Plus connect with Quickbooks, and calculate payroll.
Selling made simple: Sell your products and services easily. Upload and track your inventory.
Easy communication: The MyTime Communicator makes it easy to chat and message clients. Easily send confirmations and reminders as well as prompts to rebook.
Target audience
The software seems to fit just about everyone, but many small business owners seem to attract to it. From automotive service to health services, all the way to pet services.
Pricing
Prices are pretty competitive, starting at $74 per month with plan options going up to $149 per month. See prices and plan options here.
Clients
There are a ton of small business and local businesses that utilize the services like dog walkers, chiropractors, waxing salons, and car detailers.

---
Acuity Scheduling
Client scheduling

Acuity is a personal assistant for your schedule – only better. With Acuity Scheduling, booking appointments with your clients doesn't have to be a never-ending time suck anymore. Hallelujah! Let your clients view your real-time availability, select the date and time that works best for them, pay in advance via Stripe, Square, Paypal or Authorize.net, and even cancel or reschedule all on their own – without you having to drive yourself crazy.
As a business, you can organize your schedule to a T. Adjust meetings to fit your time zones, send reminders to clients, and control your availability. Even if you have multiple locations and employees, you can show clients the exact calendar you want them to see, and cancel out all the noise.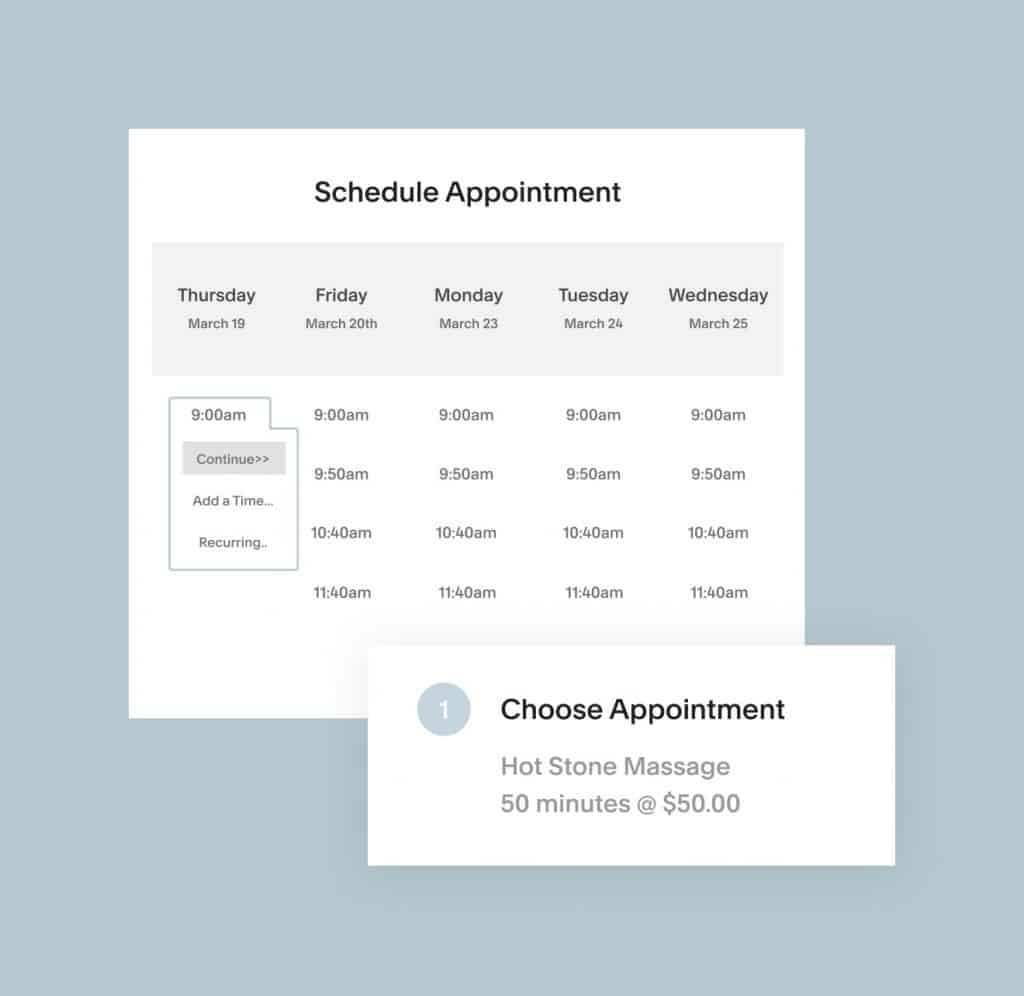 Features
Easy customization: Customize everything to match the look and feel of your business
Embed your calendar: Make your website look seamless, and embed your calendar directly onto your website
Gift certificates and subscriptions: Sell appointment packages, gift certificates, and subscriptions
HIPPA compliant: Keep client information 100% secure and private
Easy sharing: Share your calendar via social media or email with ease
Integration options: Quickbooks, FreshBooks, Xero, Stripe, Zapier, PayPal, and more
Client confirmation: Reminders, follow-up emails and text reminders worldwide
Sync with personal calendars: Make sure that you are never double booked
Intake forms: Gather additional information from clients while they book
Target audience
Acuity is great for small businesses whose day to day work revolves around appointments. Acuity now supports over 50,000 businesses and major corporations.
Pricing
Not only is there a 14-day free trial, but the lowest plan option starts at $0 per month. Plans can go up to $50 per month. Check out more information on Acuity pricing.
Clients
Acuity supports over 50,000 businesses ranging from solo acts to Fortune 500 companies and everyone in between.

---
mHelpDesk
Client scheduling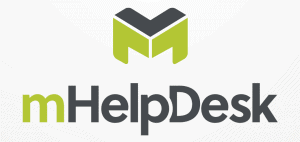 mHelpDesk is a leading field service automation program that helps small to mid-sized businesses address and solve their biggest pain points, from manual, cumbersome businesses processes and paper-based systems to double data, in order to streamline, improve and scale their efforts.
mHelpDesk is an all-in-one solution that enables field service companies to manage everything from lead and customer management, jobs and work orders, scheduling and dispatching, estimates and invoicing, field techs, staff and customer communication, even customer payments – all while out on the field on our mobile app. Used by over 20,000 service professional customers from around the world, it is the #1 rated field service app in several third-party review sites.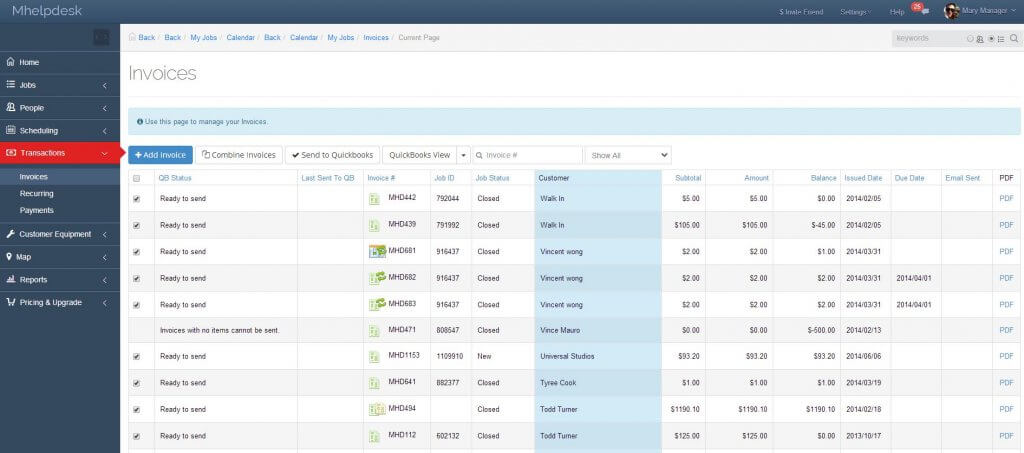 Features
Lead management (CRM): Increase your win-rates by up to 70%
Estimates and quotes: Create re-usable estimate templates or choose from items in your preset price list.
Workflow management: See the progress of every job out in the field in real-time.
Mobile estimates: Fully customizable and reusable templates.
Scheduling and dispatching: View all of your team's schedules in a single, easy-to-use color-coded view.
GPS tracking: Log into mHelpDesk and see the location of each field tech on a map.
Mobile app: The mHelpDesk mobile app lets your team take all of the best parts of mHelpDesk on the go.
Job management: Jobs that fall under the rules you've set will be assigned to the right team member.
Payment processing: One of the most affordable and easy-to-use payment processing solutions for the service industry
Mobile scheduling: Schedule from your mobile device, and access your schedules on or offline.
Invoices: Create invoices and bill from your truck, office or anywhere via a computer or with our mobile app.
More features here
mHelpDesk stands out from other programs for their user experience, ease of use, and integration with programs field service pros are already using. This includes Quickbooks, Google Maps, Google Calendar. This helps to eliminate double data entry (huge benefit for service pros!). This also provides a quick, seamless experience for customers (no need to jump around to different apps or sites!).
Unlike other programs, mHelpDesk also helps service pros manage everything from first customer contact all the way to getting paid. Not all field service programs come equipped with payment processors. mHelpDesk is able to offer a processing rate that's even lower than popular providers Square and Paypal, saving pros money for every transaction.
Target audience
mHelpDesk is great for small to mid-sized field service companies. Some of the industries include HVAC, plumbing, electrical, lawn care, landscaping, security installation, cleaning services.
Pricing
Pricing is done per user. So, pricing is based on the size of the organization and what premium services they're interested in. It can vary from $125/month to a few thousand per month. To get more information on pricing, visit here.
Clients
The software helps a variety of clients, some include H.O. Electric, Walls by Design, Front Range HVAC, Awesome Homes, and Encompass Inspections.
---
Booker
Client scheduling

Booker does a little bit of everything, it takes care of the booking, payment, customer management, and marketing. The software delivers an end-to-end solution for business owners to help them stay relevant in the growing market for local services. Booker is the all-in-one solution for online booking, CRM, staff management, and POS. This further enables business owners to run and grow their businesses.
Booker has offices in New York City and Scottsdale, Arizona. It's used by more than 128,000 professionals across 11,100 locations.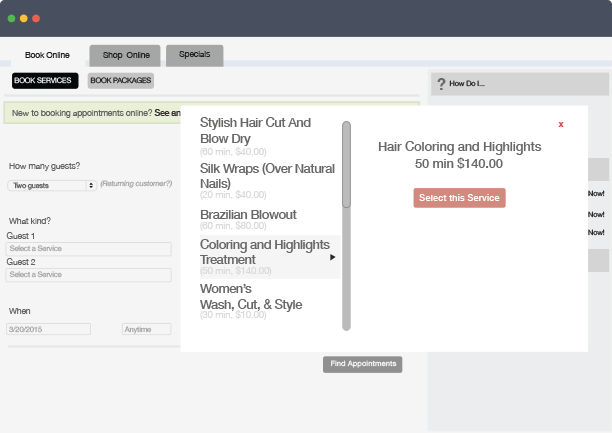 Features
Advertise and attract: Advertise unfilled time slots across the Booker network of partner sites to fill your calendar.
Social promotion: Have the ability to create and publish specials and offers on Facebook, Twitter, and other networks
Booking page: Create a custom booking page to integrate with your website
Online booking: Visitors can book at any time online
Target audience
Booker's target users are service type businesses. Particularly focusing on health, wellness, and beauty businesses.
Pricing
Plans start at $85 per month. Check out their pricing options here.
Clients
Booker is the leading technology management platform for salons and spas. Some clients include Milk & Honey, Yelo Spa, and Spa St. Tropez.

---
Setmore Appointments
Client scheduling

Setmore is free online customer appointment scheduling for businesses of all sizes. You can easily book appointments, automatically send reminders, coordinate your staff calendars, and do so much more.
Reaching customers online with appointment software can help you fill your calendar faster. Setmore Appointments connects to your other apps, so you can create a completely streamlined process for scheduling. The best part is you can utilize the software no matter where you are located in the world.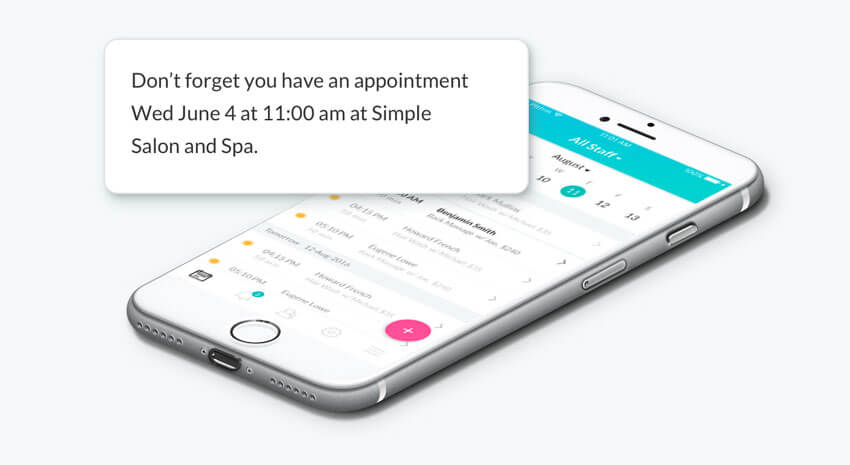 Features
Digital appointment calendar: An intuitive appointment scheduling through your browser, desktop/laptop, or smartphone.
Drag-and-drop rescheduling: Easily rearrange your schedule with a convenient drag and drop mobility.
Customer booking page: Every Setmore account comes with a free online booking page that lets customers book with you 24/7.
Email alerts and reminders: Send automated email alerts and reminders to staff and customers whenever appointments are booked, rescheduled, or canceled.
Text reminders (with premium): Automated text reminders ensure your customers keep their commitments.
Google or office calendar sync: Sync between Google and Setmore
Target audience
Best for small businesses of 1–20 staff, service-oriented, who need to book appointments online. Salons, spas, barbershops, massage therapists, consultants, clinicians, handymen and women, photographers, and more.
Pricing
Free for life, or you can upgrade to Premium for $25/month or $199/year. See more about their Premium option.
Clients
Setmore Appointments fits a variety of businesses, including Throne Barbershop, Sogna di Vita Salon, Steven G Photography, Life Enhancing Chiropractic, and Auto Tint Way + Vinyl.

---
Square
Client scheduling

Square is not just a payment platform. Square is also another way for you to manage and book your appointments. You can now book appointments and accept payments with one integrated solution.
Square Appointments is an easy setup and it's completely secure. Plus, it's available on any device and works with multiple locations and employees. It also conveniently syncs with your Google Calendar, so that keeping track of your schedule is pain-free.
Businesses will also be able to block time and view upcoming, paid, and pending appointments. The app is a 24/7 booking system that allows clients to book at any time they choose. Therefore, your online booking site stays open, even if you're not so that clients can book at any time from anywhere, that fits them.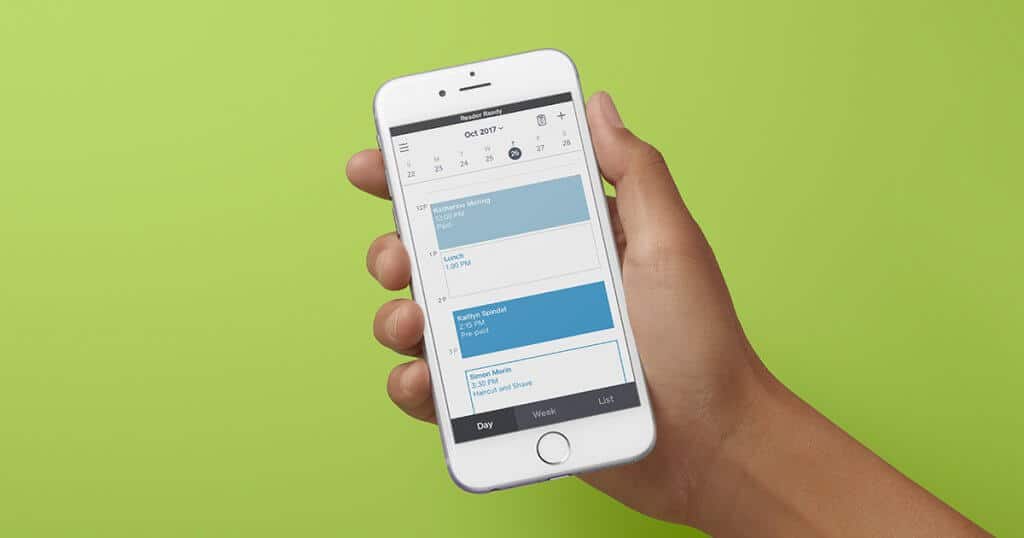 Features
All the tools you need: Take payments, send receipts, manage inventory, and book appointments
Fast funds: Receive deposits as early as the next day
Great client experience: Easily communicate with clients and view appointment history and notes
Send reminders: Help eliminate no-shows by sending automatic notifications to clients
Multiple schedules: View all of your team's schedules at a glance and customize permissions
Staff management: Built-in timecards and separate logins
Target audience
Square is a pretty universal product. They seem to have a wide variety of users, from private businesses like salons to big retailers, and even enterprises.
Pricing
Plans start at just $30 per month and go up to $90 for unlimited staff. There is also a pretty expansive 30-day free trial. View Square Appointments pricing here.
Clients
Because of the wide range of product available, Square has a wide range of customers. From large chains to food trucks to boutiques. Some include Whole Foods and Birch Coffee.

---
TimeTap
Client scheduling

TimeTap is a simple and effective tool for the multifaceted and over-stressed life of service providers and appointment-based businesses. The simple booking software provides a client-focused approach to getting appointments on your schedule. The beautiful, fluid calendars and lists also help to navigate and manage your time.
The mobile-friendly design lets you get appointments booked by anyone, at any time, from anywhere. Businesses can even start scheduling from their website. TimeTap lets you climb out from under the piles of missed calls and voicemails and put you back on the front-lines of your business.
Features
27/7 online booking: Clients can book their appointments around the clock.
Client management: Add notes to your clients' profiles for general information about them and take notes on your individual appointments to track progress over time.
Email and text notifications: Send out emails or texts during every step of the appointment lifecycle.
Unlimited custom fields: Add as many custom fields to your booking form as you need.
Multiple locations: Easy and adjustable time zones.
Tough security: You won't have to worry about logging in to see that your data has gone missing or worse, shared across the web.
Target audience
TimeTap provides a wide array of features that several different industries can utilize to best fit their business. Since TimeTap is able to customize their platform to best support the client's business model and solve their scheduling problems it allows them to cast a wide net in terms of users.
Pricing
TimeTap offers a variety of plans to accommodate to client's needs. The starter plan comes free, and prices go up to $59.95 per month. All users are able to start with a 30-day free trial to test out the product and see how it best suits their scheduling needs.
Clients
Popular industries are healthcare, fitness, beauty and wellness and Home services. Some clients included Nation Wide Insurance, Voya Financial, Liberty Tax Service, Valencia College, and the City of New York.

---
Bookeo
Client scheduling and customer scheduling

Bookeo is an online scheduling and booking system for service providers, schools, and tour companies, complete with:
Easy 24/7 bookings and payments from web, mobile or Facebook
Powerful features – with a simple, flexible interface
Seamless integration with Group On, WordPress, Xero, MailChimp, and more
Anywhere, anytime access
Unparalleled service and support
Now businesses have a way to automate and accept their bookings as well as send follow up communications. Bookeo is fully scalable to fit your business and grow as you grow.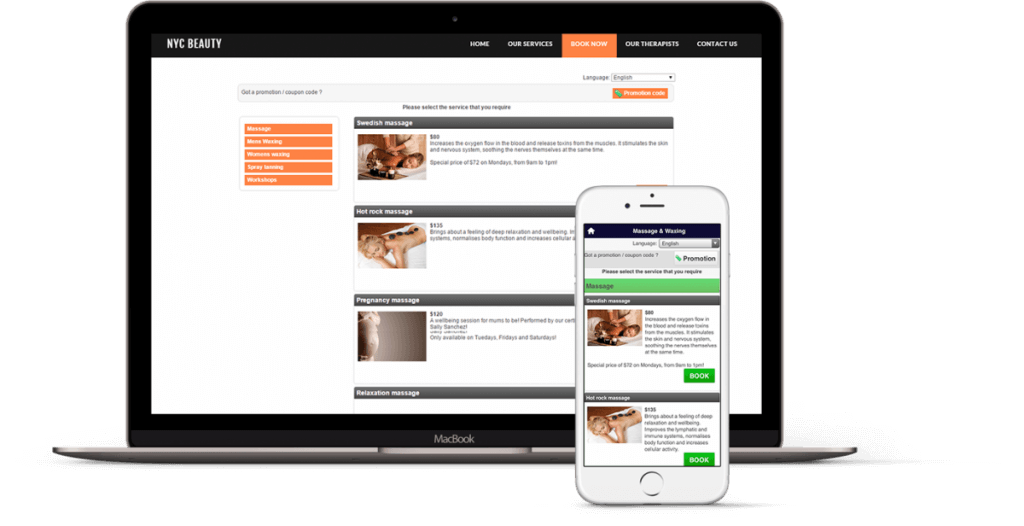 Features
Website integration: Use your own website to accept reservations at no extra cost.
Calendar sync: Sync your schedule automatically with Google Cal, iCal, Outlook and Office 365.
Online payments: Accept secure, payments all online.
Easily roster your staff: Easily assign staff to specific services or locations.
Reduce no-shows: Send email and text reminders to customers
Offer promotions: Upsell services with extras and options, and even sell gift vouchers
Reward sharing on social media: Give a little something to those that share
Integrated booking cart: Sell multiple services with the integrated booking car
Automated waiting lists: Allow clients to join a waiting list when workshops are full.
Lost lead remarketing: Entice customers who don't finish the checkout process to return and make a booking
Target audience
This software offers three products targeted at different target audiences:
1. Bookeo Appointments: Designed for professional services offering appointment bookings, such as beauty salon, massage therapists, kids parties and gaming trucks/parties.
2. Bookeo Classes and Courses: Perfect for schools, studios, and teachers who want to manage classes registrations and payments. For example, yoga and Pilates studios, language schools, and cooking classes.
3. Bookeo Tours and Activities: Designed for outdoor and indoor tour and activity providers. For example, guided city tours, escape rooms, boat tours, food and wine tours.
Pricing
Bookeo gives you the most advanced online scheduling and booking system, for a low, flat monthly fee. You can try Bookeo free for 30 days. After that, plans start at $14.95 per month. Visit here for more information on their pricing. Check out pricing for Bookeo Classes and Courses and Bookeo Tours and Activities, too.
Clients
Bookeo supports thousands of customers, ranging from small businesses to multi-branch companies and franchise businesses, in over 120 countries. Bookeo has logged over 26 million reservations for over $2.1 billion in client revenues.

---
Vonigo
Client scheduling

Vonigo is a business management platform that helps streamline operations and increase sales of mobile service companies and franchises. Vonigo offers a unified suite of configurable cloud-based modules including; CRM, scheduling, online booking, work order management, estimating, dispatch, routing, GPS, invoicing, payments, reporting, and more all accessible over the internet from any desktop or mobile device. Millions of jobs have been successfully booked and managed with Vonigo.
Services can easily manage their business from anywhere, be it on the road, in the office, or at the customer's doorstep. The mobile capability makes it easy to run from anywhere you need to be.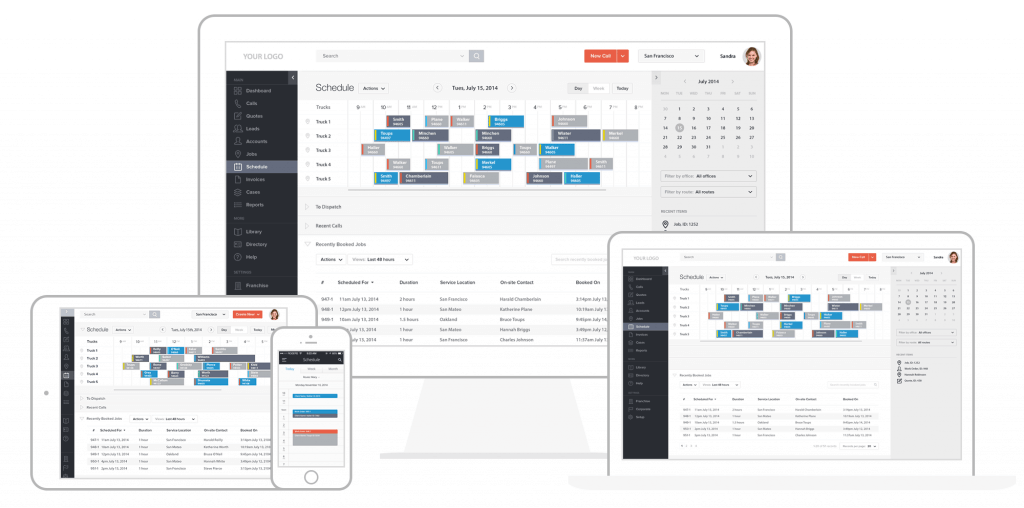 Features
Business management: Manage every inch of your business from the cloud-based platform.
Online booking: Clients can book your services and receive estimates through your website.
Anywhere access: No matter where you are, or where clients are, it's easy to access your calendar.
Job scheduling: Schedule your team efficiently with location-based optimization and simple drag and drop functionality.
Customizable work orders: Maintain a 360-degree view of each work order and its delivery status.
Invoicing and online payments: Create branded invoices directly from work orders and online payments go directly into your bank account.
Reporting: Gain valuable insight into your financial, service, sales and customer health with pre-built and easily configurable business reports.
Multi-location: Support for multi-location enterprises and franchises.
Clock-in/clock-out route optimization: Optimize vehicle routing to save time, reduce fuel costs, and improve service.
Target audience
Vonigo is a great fit for service type businesses, particularly mobile service businesses with a fleet of five or more vehicles up to multi-location companies and franchises.
Pricing
Vonigo has no fixed contracts and you can cancel at any time. Plans start at $75 a month and go up to $95 a month, per user. View their plan information here.
Clients
Vonigo helps many service businesses, some franchises, some multi-location, and some local examples include You Move Me, Habitat For Humanity, Service Master, 505 Junk, and Sir Grout.

---
10to8
Client scheduling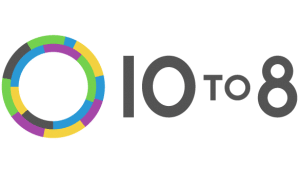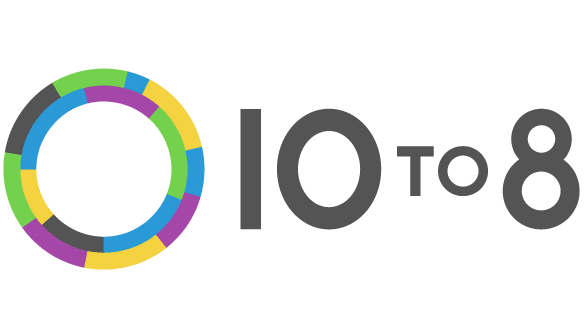 10to8 Appointment Scheduling Software is trusted by thousands of businesses worldwide, regardless of size or industry. 10to8 Appointment Scheduling Software is an all-in-one online booking and scheduling system that helps business owners rid their calendars of wasted time, reduce admin time and costly appointment no-shows.
Setting up the software is a breeze. You can easily customize the booking page with your own branding, providing customers with a convenient online booking platform. With automated SMS and email reminders, your clients will always be aware of their upcoming appointments, and thanks to the intelligent reporting features, you can spot appointment no-shows before they happen.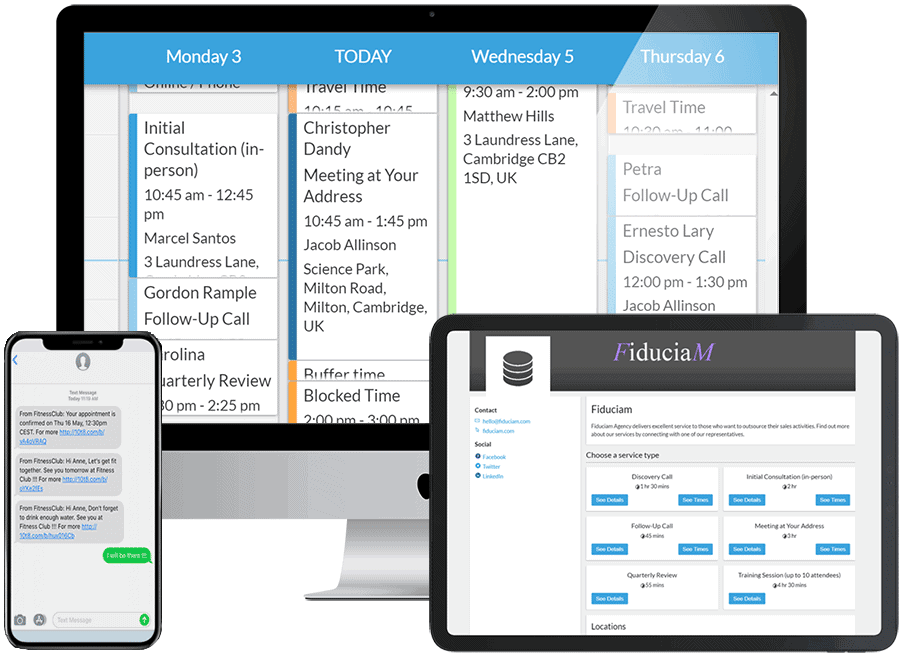 Features
Automated SMS and email reminders: Reduce costly appointment no-shows by up to 90%.
Flexible availability: Coordinate with multiple staff members in multiple locations and time zones, manage irregular and recurring working hours with ease.
1-on-1 and group services: Set up an unlimited number of services, be it one to one or group sessions.
2-way calendar sync: Integrate your 10to8 calendar with Google, iCal, Outlook.com, Exchange and Office 365
500+ app integrations: Integrate all your favorite apps including email marketing, accounting, social media and CRM
Target audience
Thanks to the flexibility of 10to8, it can be a perfect solution for solo beauty professionals, consultants, medium-sized clinics and even large enterprises.
Pricing
10to8 Appointment Scheduling Software offers a Free Forever Plan for small businesses with less than 100 appointments per month, and all paid plans have a 30-day trial. Paid plans with annual subscription:
Basic Plan: $9.6/month
Grow Plan: $20/month
Bigger Business Plan: $40/month
10to8 offers bespoke plans for enterprises. For more information on pricing, visit 10to8.com.
Clients
Here are a few of the many clients: Expedia, US Bank, Mercedes-Benz, and Yale.

---
EngageBay
Client scheduling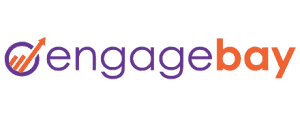 EngageBay is a simple, affordable, integrated, all-in-one marketing, sales and service automation platform with a free CRM, built to grow small businesses and startups. EngageBay is one of the best CRM for small businesses that helps you grow your business. The marketing automation suite helps you save time, nurture your audience and automate routine, manual tasks.
With the free CRM and sales automation, you can organize all your email contacts, track deals, and the sales pipeline to grow your sales. Further, you can build meaningful customer relationships that stay for life. And finally, with the free live chat and helpdesk features, provide real-time assistance to convert visitors to happy customers. Track, prioritize, and solve customer support tickets in minutes.
Features
EngageBay allows up to 10 users to gain access to the unified platform absolutely free.
The software offers a marketing automation platform with features such as lead capture forms, landing pages, email marketing, rich email templates, email broadcasts, and more.
There is also a sales automation platform that gives you features such as targeted marketing to companies, visual deals pipeline, task management, appointments scheduler, unlimited mailboxes (2-way sync), and more.
A service automation software is also available with features such as ticket views, help desk, SLAs, macros, unlimited groups, canned responses, and more.
The CRM also has features such as simple contact management, telephony, automated tasks and appointment scheduling, lead nurturing, CRM analytics, sales gamification, custom reports, and more.
The entire platform is cloud-based and the learning curve for users is very low, with absolutely no technical help required.
Bulk email and instant message sharing options to help you save time.
Target audience
EngageBay is great for B2B, startups, small businesses, solopreneurs, and medium-sized businesses.
Pricing
Prices start at $8.99/month/person for the all-in-one Basic Plan. View more on their pricing here.
Clients
Clients range from anywhere from small and mid-sized businesses to agencies.
---
FieldVibe
Client scheduling


FieldVibe is a scheduling app for field service professionals. It helps small HVAC, Plumbing, Electrical, Cleaning, Lawn Care, Handyman, Appliance Repair, and other field services businesses schedule, dispatch, and manage their entire field operation from a single app.
Features
FieldVibe allows you to schedule, dispatch and track your jobs and field staff, offering real-time GPS tracking, time tracking, job creation, job calendar, notes and photo attachments, task lists, and time and revenue reporting.
Key marketing features include automated SMS reminders and typing-free late-to-job texts. They also provide different educational materials on their blog
Target audience
FieldVibe is great for field service type businesses, including HVAC, electrical, lawn, plumbing, cleaning, handyman, and pest control.
Pricing
With FieldVibe you can create your account for free and start using it right away. The first user is free with all the available features enabled. You only start paying from the second user, a monthly fee of $19 per user. The best part is that from the fifth user, the price will stay the same no matter how many users you add.
Clients
Clients range from anywhere from small and mid-sized businesses, and solopreneurs.
That's a wrap
Let us know if you know of any others, we want to keep this list growing and up-to-date.
As you can see there are quite a few options out there for your customer scheduling needs. If you're looking for more software to get your business started, you may also be interested in checking out invoicing software.