Industry insights show that in 2019, the moving services industry in the United States will generate a revenue of $18bn. If you are in this niche, there is clearly great potential for increased sales and growth for your business. Your marketing strategies will, however, play a significant role in the number of customers and sales that your business will generate.
In this article, we explore different marketing ideas that you can use for lead generation and sales. Let's get started.
How to increase your moving company's brand awareness
There are several ways that a moving company can create brand awareness:
Branding your trucks
It is almost a rule of thumb that moving companies need to brand their trucks and the vehicles used for business. The advantage of doing this is that potential customers will see you headed to work for a client, and maybe even when doing the actual moving. Ensure that your logo, contact details, and business name are visible from a distance.
Subscribe to review sites
We will cover this more later on, and we will see how important they are. For your business to get reviews, you need to have subscribed to review sites. When other people share their experiences, other people read too, and if they are looking to move, your company will be top-of-mind (among those that they will contact).
Review sites you can subscribe on include:
Build relationships in related industries
You need to develop relationships in related industries like home-owner associations. This is because such associations tend to know who is moving in and out. Their clients are in essence, your clients too.
Generate qualified leads
How do you ensure that you have customers working with you every time they need to move? Better still, new customers who choose you when looking for moving companies?
Have a strong online presence
97% of people today will search for local businesses online. If people are looking to move, they will definitely search online. You need to have a great website (there are a ton of SEO tips movers can benefit from), which is well optimized and that contains highly valuable content.
Lead magnets
You can work with people in related niches give something to their clients in exchange for customer information. You can have businesses in related niches give moving guides to their customers, in exchange for their contact information on referral cards. That way, you can follow up with them directly. Be careful about personal information, though. In the wake of discussions around data privacy, you need to have clients sign that they have given consent for their personal information to be collected and used.
On your site, you can also give away something in exchange for information. It could be a newsletter or a moving guide.
Keyword research
Do keyword research in order to know what people within your business' locality may be looking for. Begin with listing keywords that come to mind. You can then use Google's autocomplete to see what people have been keying in. Google autocomplete is what you see when you begin to type something on Google. Other tools you can use include keywordtool.io and LSI Graph. AnswerThePublic gives you the questions that people are looking for online. All these ideas will be great for content creation.
There are two categories of keywords:
Buying intent – these are used when the user is actually looking to move. Feature these on your landing pages.
Research intent  – these are used when the user is 'shopping around'. These are great for creating informational content that will see users keeping your brand top of mind when they are eventually ready to move.
Have a reward or referral program
You need to have a referral program where happy customers can refer others. It does not need to be complicated. Even a form on your site is enough to serve as a referral program. You can have printed referral cards that your employees can give out too.
Establish yourself as an authority
There are several ways to accomplish this:
Joining related trade organizations
Giving talks at industry related events
Creating content for authority sites
Creating authoritative and informative blog content
Looking for PR opportunities that could land you an interview on mainstream media, for example, using Help a Reporter Online
Publishing a book
Following people with authority in the moving niche and engaging with them on social media. You can ask them questions and comment on their content with your own insights.
Take advantage of your expertise
Now that you have taken the time to establish yourself as an authority, you need to make maximum use of it. You can showcase your expertise on your site, for example via a section called milestones – highlight speeches given at events, guest posts, trust seals, reviews from review sites, mainstream media coverage, and specialty experience.
Get ideas from your audience
An interesting way to make your brand content even more relatable, authentic and engaging is to actually ask your customers for ideas. You could directly ask them the kind of content that they would like to see on the site/blog/social media, or better still, ask them about their pain points, for example, which is the most frustrating thing about moving? You can then address their pain points in your content.
Engage and interact with your past customers
In order to engage with your past customers, you need to track their journey since they first interacted with your brand. You can use a database like CRM software to track the customer's first purchase and other interactions in the customer journey. This way, you can track customers who have not used your moving services for a while, and re-engage them. You could, for example, find out about their last experience with your brand and whether they liked it. Are they hoping to move in or out soon? How about a referral? Would they like to join your referral program? Either way, find a way to keep in touch with them, and keep your relationship with them 'warm'.
Create content for your brand
This far, we have looked at how to make brand generated content work for your brand. How about via content creation? In this section, we look at various content creation strategies that you need to incorporate into your brand content.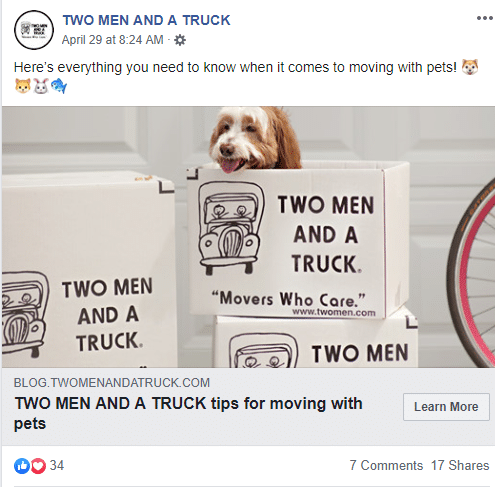 The content that your customers interact with is the first touch point for your business. You want to ensure that this content is representative of your business. Content can be generally divided into brand generated content and user-generated content. Let's look at each.
Brand generated content
This simply refers to the content that your brand puts out for the customers to engage with. It could be promotional, entertaining or even informational, and could include ebooks, articles, videos, infographics, photos, blog posts, videos, and social media content. While this content is important for your customer to actually know that they are dealing with a legit brand, customers generally trust brand generated content less.
How to make brand generated content actually work for you
Despite the fact that user-generated content (UGC) is becoming more and more important, it does not mean that brands need to neglect brand generated content. Let us look at ways that moving companies can effectively utilize brand generated content:
User-generated content (UGC)
This content is created by customers. The brand has no contract with these users. They are just happy customers who are willing to share their experience with others. When other people see such content, they find it authentic and can trust the recommended brand or product as a result. On social media platforms like YouTube, UGC content gets 10 times more viewership.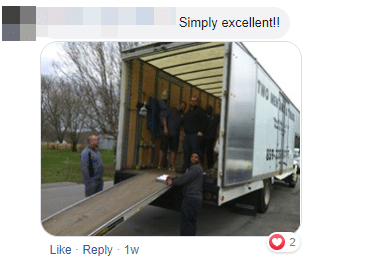 A simple Facebook post is great UGC.
How can you leverage UGC?
Here are a few ways you can leverage user-generated content for your moving company to help generate word of mouth:
Competitions – You could ask your users to submit content in a social media competition and the best photo wins a prize. For the movers' industry, a good idea would be 'before' and 'after' photos, for example, a stressed out mover with so much to pack, and how the movers neatly packed the items or how an empty house was neatly arranged after the movers unloaded and arranged the items in the new location.
Integrate UGC in advertising campaigns – You can incorporate UGC in your advertising campaigns. You could for example, with the user's permission, record videos that show the moving process from start to finish. This content can also be included in blogs, newsletters, and communication sent out to users. It helps to have the user's sign documentation in order not to run into user information privacy problems.
UGC gets people talking about your brand and keeps the conversation going, this way, more and more people will get to know about your brand and its credibility.
Have review buttons – If your brand has a page on Facebook, you need to ensure that the review button is active. It is also good to incorporate a testimonials page on your site or even a review button. User reviews are part of UGC and highly influence customer purchasing decisions. In fact, here are the stats from BrightLocal's Local Consumer Review Survey 2018:
Consumers will read at least 10 online reviews before they can trust a local business.
57% of consumers will only use a business' services or products if it has 4 or more stars
89% of consumers will read a business' responses to reviews.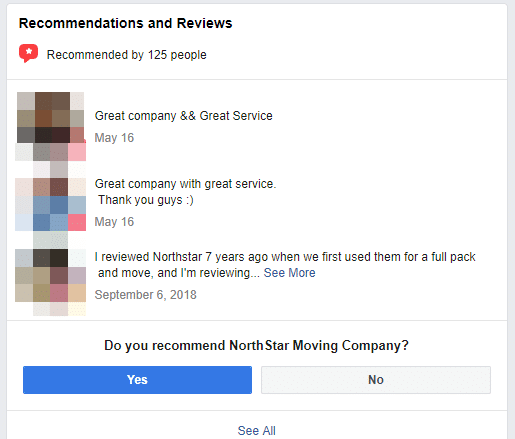 These stats not only show how important reviews are but that brands need to engage with UGC. If a user talks about your brand, you need to respond, whether the conversation is positive or otherwise.
In addition to having testimonials and review buttons, you need to have Google Reviews enabled.
Other UGC ideas

Rewarding reviewers – freebies and discounts which can provoke sharing.
Request for UGC – for example, "if we did a good job moving, please share a shout out video on our Facebook page".
Send out surveys – share satisfied customer reviews.
Content Marketing promotion and distribution
It goes without saying that the next step after content marketing should be content distribution and promotion. Let's explore a few aspects here:
A well-crafted advertising plan – your plan needs to include your advertising budget, marketing platforms (pay per click – PPC, mobile, or social), target audience, and advertising goals or KPIs – Key Performance Indicators.
KYC – Know Your Customer – you need to understand your customer in order to come up with relatable advertising content that will prompt action – signing up for a newsletter, calling your company for the next move, signing up for your referral program,  or sharing your content on social media.
Here are ways you can share your content (both brand created and user-generated) for maximum effectiveness.
Blogging
Blogs are one way to give insightful information to your readers. When people are looking to move, tips, guides, and even Do-It-Yourself(DIY) tips come in handy. If your moving company creates valuable content, it is more likely to rank higher in search engines. They also help to answer customers' questions. They, therefore, act as part of customer support.
Blogs are essentially the parts of websites that are 'alive'. It is where the new content can be regularly published, keeping your whole site fresh with great content, which Google will use to rank your site high in search results.
Wondering what it takes to create blog content? Here are content ideas:
Moving tips
Relocation guides
Expert advice
What to look for when hiring moving companies
How to navigate an international move
This Feedspot blog and this Movehq one summarize the best blogs in the moving industry. See what ideas you can get in order to give a boost to your own blog.
Link building
Additionally, blogs from customers that you may have been mentioned in (UGC) can be a great way to be promoted as well.
You can work with authority sites to build quality backlinks to your business. These could be review sites or a credibility site like BBB (Better Business Bureau). You can also have experts in your niche create blog posts that link back to your site. This way, users see you as an expert in your niche and will choose your brand for its credibility and trustworthiness.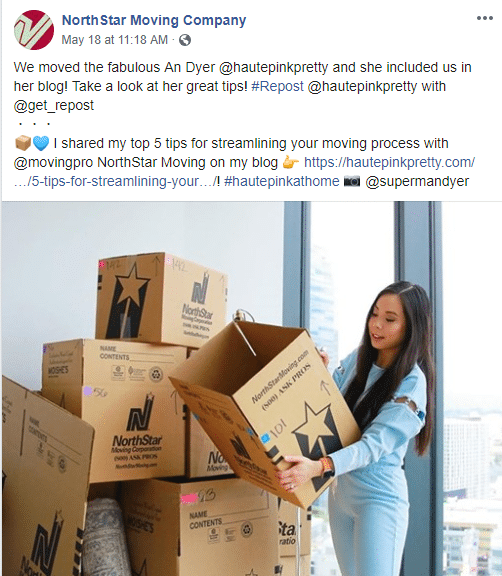 Social Media
Social media works both ways – for content creation and distribution. You can craft fun and engaging content specifically for social media, and also share your brand's other content, for instance, blog posts. Social is also a platform where you can extend customer support even in the content that you publish.
Happy customers will share their great experiences on social. They are also highly likely to share your brand's content with their friends. If you have customers who are your great fans, you could request them to share your brand's content. They will be happy to do so.
Ensure that you understand the social media platforms where your customers spend most of their time and build a community there.
Email marketing
Email marketing is not going away any time soon. According to Hubspot, 5.6 billion email accounts are active in 2019. This is such a huge opportunity, and moving companies need to move in and play their part in the game. Better still, email marketing has an ROI of 4400%.
What are the email marketing strategies you should look into as a moving company?
Build a large customer base. This is because the email open rate is between 15 and 20%. If you have a customer base of 1000, then about 200 people will open your emails.
Build the email list before you begin to distribute your brand content.
Build an email list of industry related experts like realtors, and moving owner associations.
Always send introduction emails, even if a customer has just signed up or used your services.
Provide value in your email content.
Optimize your email for mobile. Most people will use their smartphones to open their emails anyway.
Remove undelivered emails from your list. This prevents email platforms like Gmail and Yahoo from seeing you as spamming people.
If you have a large database, don't send out emails at once. This will avoid triggering spam filters. You can send the emails out in batches or phases.
Video content
Real content and visuals like video are great. This can be especially true for preparing and putting people at ease while moving. So you can create content of what a typical move might look like. Record the moving process from scratch. Videos are one of the best content types if you are looking to reach more people and convert them to customers. Here are a few video marketing stats:
People share videos 92% of the time after viewing them.
Video increases click-through rates by 200 to 300%.
Video increases conversion (by 80%) if videos are embedded in landing pages.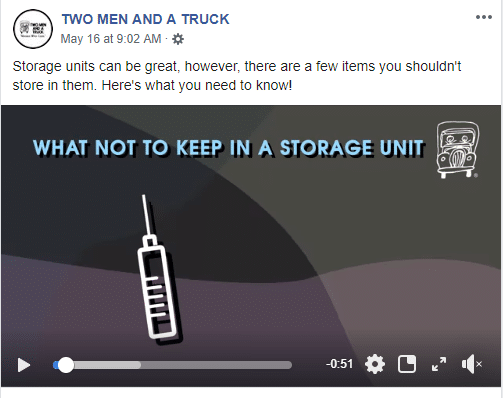 These videos could be educational, entertaining, or informational. Potential customers may be looking for information like 'how long it takes for the movers to pack a house'. Videos could be a great way to become the brand that responds to such concerns by potential customers – and you would also be achieving user intent (great for SEO).
In conclusion
If you have the right content marketing strategy in place, your moving company can soar ahead. Your content is a great way to build up your name on the web (SEO) and get people interested in what you have to say since it's your tips and advice they are looking for to have a smooth move.