Need inspiration for starting a loyalty program? We've hunted down 10 of the most successful loyalty program examples of all types. We cover the basics of each program, the program types, the rewards customers can earn and actions that count towards rewards. And of course, we break down exactly why each of these stellar loyalty program examples has made our list.  Plus, we've included an exciting new loyalty program as a bonus example!  Let's check out the loyalty program examples.
Example 1: Zumiez Stash
About the loyalty program: The Zumiez Stash knows just how to reward millennial and Gen Z members for a variety of brand-building actions, beyond just making a purchase. Available rewards include one-of-a-kind skate products, as well as sweepstake entries for exclusive experiences.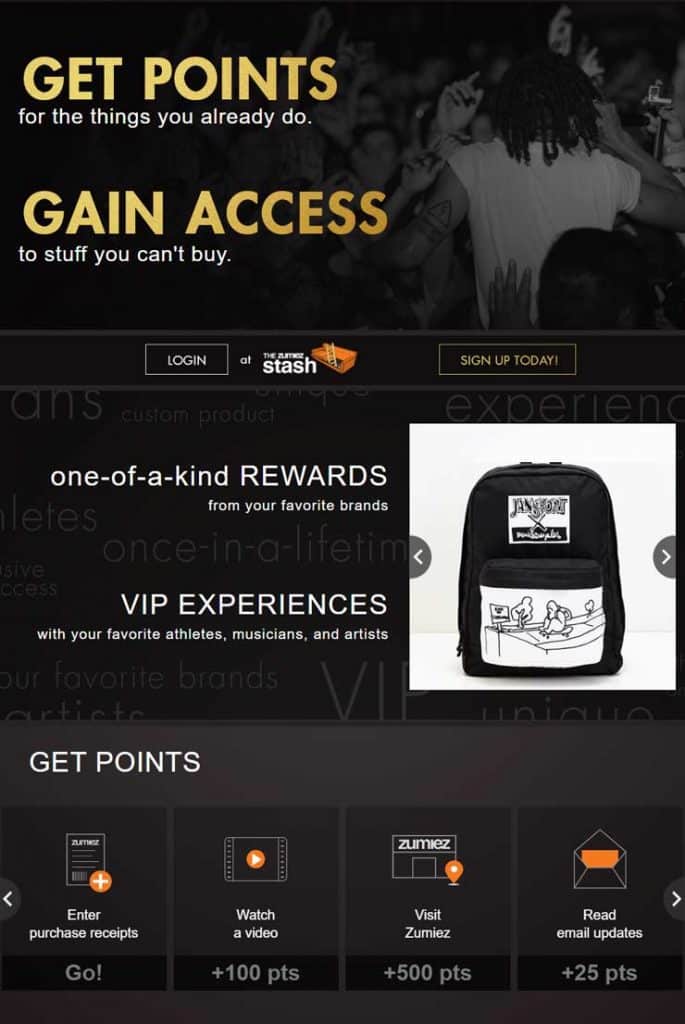 Type: Points-based, app-integrated
Rewards and actions rewarded: Members earn points for making purchases; visiting physical Zumiez locations; reading emails; engaging on social media; watching branded videos, and more.
These points can be redeemed for a rotating slate of rewards, including merchandise from brands like Champion, Converse, and Vans—some of these rewards are limited-edition products they can't get anywhere else. The real heavy-hitting prizes, though, are the VIP experiences with athletes, musicians, artists, and popular brands. A relatively small number of points grants a member an entry in a drawing to win one of these experiences. For example, Zumiez is currently giving away an NYC experience and shopping spree from the brand HUF; previously, they've given away trips to Hawaii and Miami; access to exclusive parties; extreme experiences with celebrities; and chances to be in music videos.
Why we love it: We love the exclusivity of the rewards and the fact that just one purchase (or other branded action) can potentially earn you a VIP experience! Yes, some of the merchandise rewards take a while to earn, but the exclusivity element more than balances this out.
Example 2: REI Co-Op
About the loyalty program: REI started out as a member owned co-op, and the company has retained its roots. A $20 investment to join their loyalty program earns a lifetime membership that grants loyal customers access to all sorts of perks…yes, we said lifetime!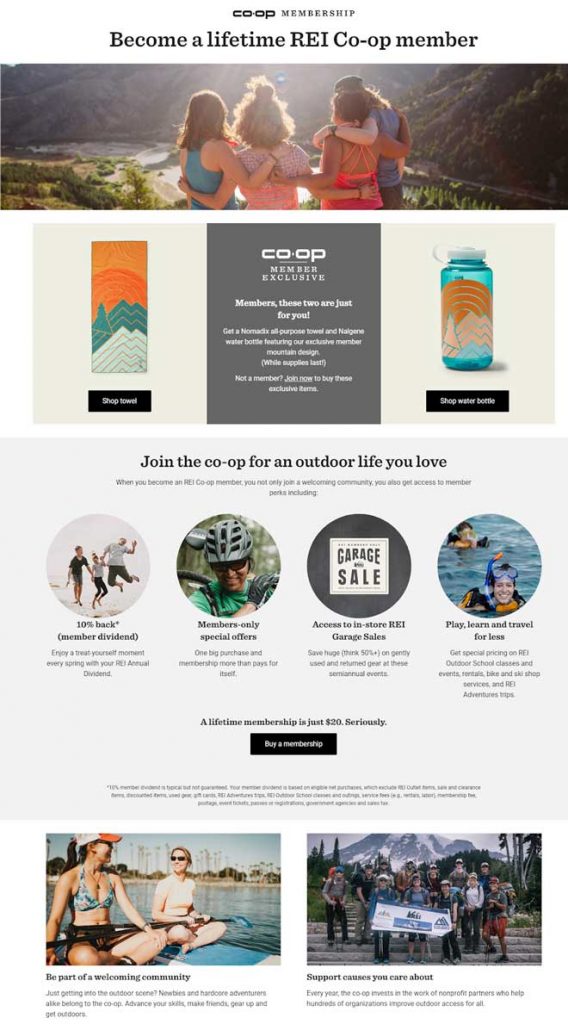 Type: Paid membership
Rewards and actions rewarded: Becoming a member earns you all sorts of perks:
10% back on your purchases made each year, reimbursed all at once in the spring
Access to the "garage sale" twice a year, where gently-used and returned gear sells for 50% off
The right to purchase member-exclusive gear, such as towels and water bottles
Discounts on classes, events, and trips
Valuable discount and credit offers, like a $20 bonus card after making a purchase of $100 or more
A satisfied feeling knowing that membership fees are donated to worthy outdoor-related nonprofits.
Why we love it: Everything the company offers in return for the lifetime membership payment really drives home the value that REI places in its customers. We can't believe that the $20 gives customers all this – they must really feel like they have a share in the company, especially since they earn more than their initial investment back after a large purchase!
Example 3: Starbucks Rewards
About the loyalty program: Starbucks is responsible for one of the most popular loyalty rewards programs out there. When members make purchases at Starbucks, they earn "stars," which can be redeemed for free drinks, food, or drink upgrades. Purchasing on specific days, or completing in-app tasks, earns additional "stars."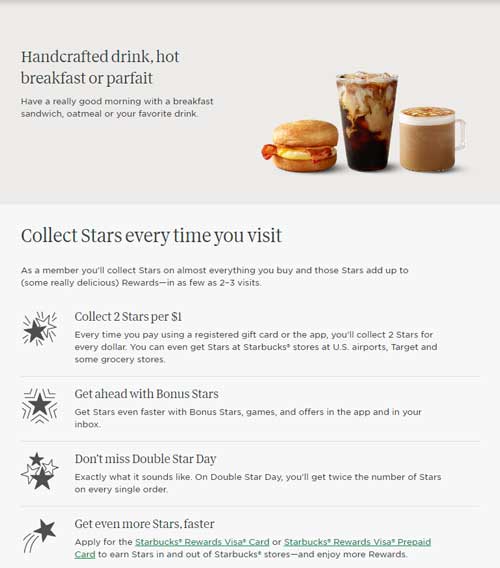 Type: Points-based, app-integrated
Rewards and actions rewarded: Members earn two stars for every dollar spent. Select rewards range from additional flavors for 25 stars, brewed coffee or tea for 50, specialty drinks for 150, lunch options for 250, and merchandise for 400 stars.
So, members have a choice to spend points as soon as they can, or save them up for bigger rewards. Because it's so seamlessly integrated into the Starbucks app, the program also rewards app use.
Why we love it: Starbucks really knows how to encourage its customers to use their app. Also, members can order and prepay for drinks using the app, then pick up their drinks instantly in store. And interestingly, you must pay using a Starbucks card or the app, so the program encourages you to put aside money for Starbucks in advance. How's that for encouraging loyalty?
Example 4: Sephora Beauty Insider
About the loyalty program: Sephora has become a household name in beauty, so chances are you know at least one of the approximately 20 million members of their Beauty Insider program! This rewards program has three levels based on how much members spend within a year (the basic program is free to join, while the VIB level requires $350 spent per calendar year and the Rouge level requires you to spend $1000 per calendar year). Progressing to higher tiers spells more points earned per dollar, and better rewards.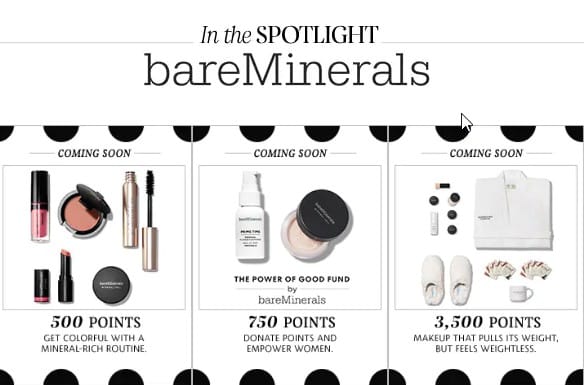 Type: Points-based, threshold
Rewards and actions aewarded: Purchases earn you a certain number of points per level, and these points can be redeemed for rewards—usually trial-size and full-size beauty products of your choice, including exclusive products the general public can't access. Some limited rewards trigger donations to worthy causes, and a highest-level reward even gives you a free hotel stay and meal from bareMinerals!
Members also receive a choice of birthday gifts, and depending on their threshold, they can even gain access to exclusive events and experiences. Rouge level members can try new products before anyone else! (See the full breakdown of rewards below).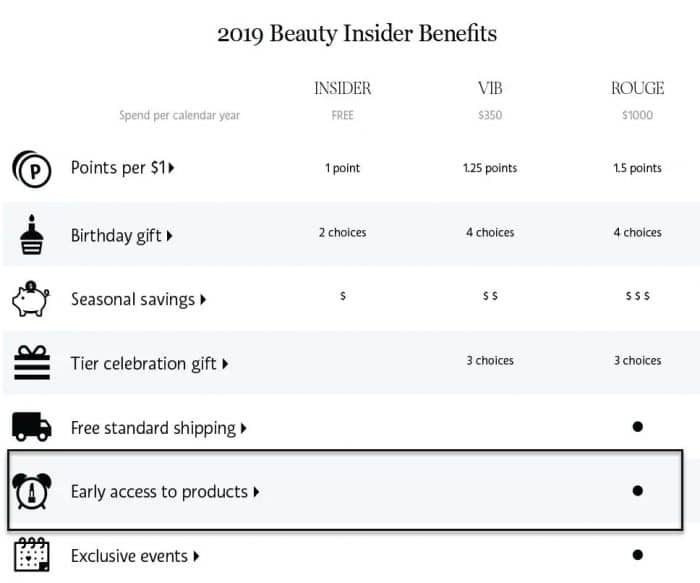 Why we love it: Sephora gives members the flexibility to choose the rewards they want with their points. And the loyalty program isn't just about points and rewards — members gain access to an exclusive Sephora community where they can connect with and gain inspiration from other Beauty Insiders, ask questions, and chat with reps from the brands Sephora sells. Sephora knows that community-building is a vital part of fostering customer loyalty!
<h2″>Example 5: Chipotle Rewards
About the loyalty program: Burrito buffs rejoice – Chipotle's rewards program is here to stay. The easy-to-understand system keeps track of your points in an app—you can either order right from the app, or scan your order in if you order it in person. And when you're ready to redeem your reward points for a free entree, you can do it right from the app.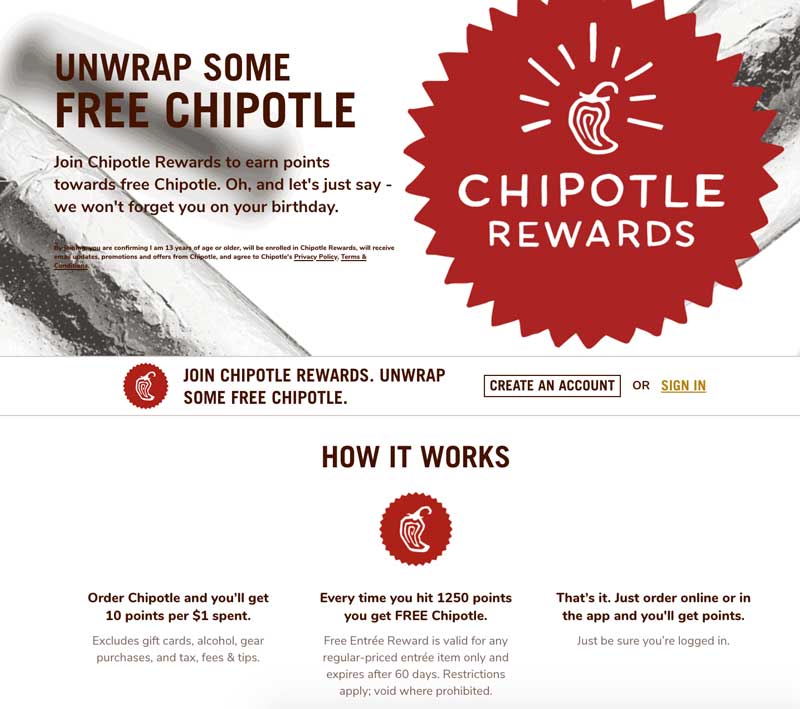 Type: Points-based, app-integrated, gamified
Rewards and actions rewarded: Usually, you earn 10 points for every dollar spent, and 1250 points earns you a free burrito or another entree. (Some special days let you earn points faster) But the real action comes from "challenges" that let you earn bonus points. For example, one "challenge" rewards you 100 extra points for trying new menu items! And like many other loyalty programs, Chipotle sends members free birthday gifts.
Why we love it: When you go to Chipotle, it's easy to determine whether you have enough points for a free burrito. But the unique nuances to the program really spice things up and keep members engaged—they sure know how to gamify a loyalty program! Oh, and there's also a feature of the app that quickly lets you order your favorite meals with one tap. Always a plus!
Example 6: Carnival Cruises VIFP
About the loyalty program: The Carnival VIFP (Very Important Fun Person) program stands out as a travel loyalty program because it is extremely simple to understand—more cruising earns more rewards— and helps inject even more fun into Carnival cruising.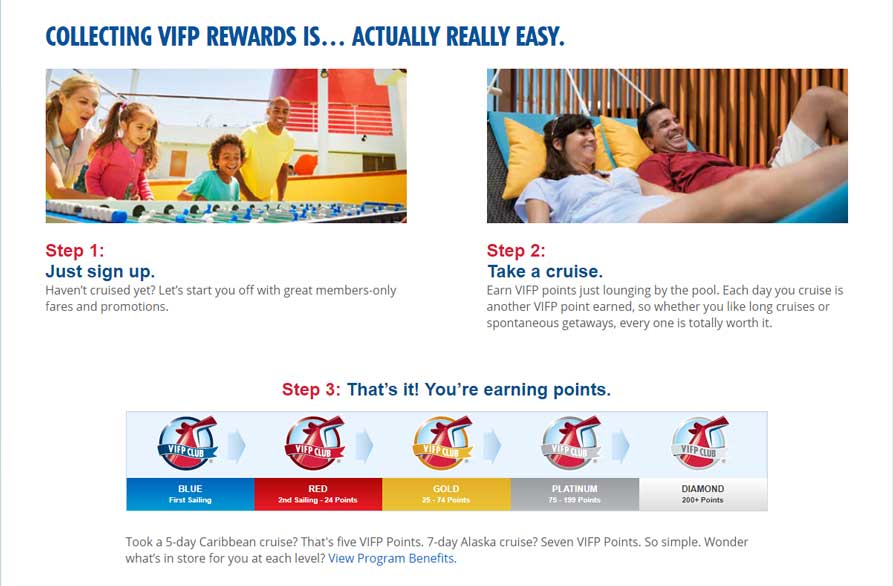 Type: Tiered
Rewards and actions rewarded: Everyone who cruises for the first time is automatically signed up for the VIFP program, or you can sign up for free before your first cruise. Each day of cruising earns one point – for example, if you take a 7-day Carnival cruise, you earn 7 points. Perks take effect right away, and new rewards activate automatically as you reach a new tier. This is important because, with large amounts of space between cruises, it would be easy to forget to redeem points if you would have to redeem them manually.
Rewards include special offer pricing on cruise bookings, free drinks and food, priority boarding and reservations for higher tiers, free gifts, and VIP customer service. Guests at the highest Diamond tier even receive a special event invitation from the Captain on each sailing! See the full breakdown of Carnival's rewards by tier here.
Why we love it: Carnival's VIFP program is a prime example of how well tiered loyalty programs work in the travel space. All-time points that are easy to calculate and earn are right in line with travel loyalty program best practices.
Example 7: The Body Shop's Love Your Body Club
About the loyalty program: The Body Shop's Love Your Body Club isn't just a typical loyalty points program. A social good element takes center stage, in the form of voluntary charitable donations to organizations that resonate with the brand's mission.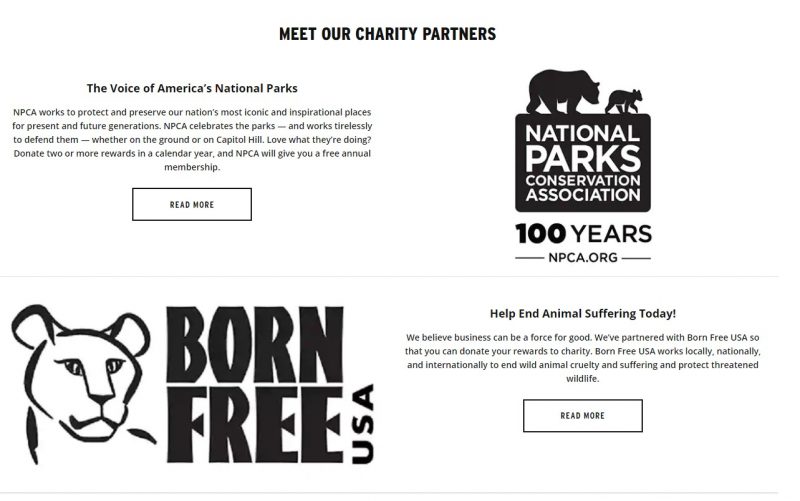 Type: Points-based, cash back
Rewards and actions rewarded: For every $1 members spend, they earn 1 point. Once members accumulate 100 points, The Body Shop rewards them with $10. Members can choose to use the $10 for themselves as store credit, or they can choose to donate their loyalty reward to one of two conservation and animal welfare organizations: Born Free USA and the National Parks Conservation Association. This ties in perfectly with a core tenet of The Body Shop's values: sustainability, in all its forms.

The Body Shop also grants members first access to new products, and exclusive invites to in-store events.
Why we love it: Genuine moves for social good are awesome ways to build loyal customers while making positive change in the world. The Body Shop's loyalty program ties right in with their core value of conservation, a value their customers share. And since customers choose when they donate to the charities, they truly feel like they're a part of something bigger. Great job on The Body Shop's part!
Example 8: Spikeball SpikePoints
About the loyalty program: We've already covered how awesome Spikeball is at driving word-of-mouth… well, they also have an amazing loyalty points program that ties perfectly into their product and further rewards sharing. The Recreational, Intermediate and Premier tiers make brand-building actions progressively more rewarding as you earn more points.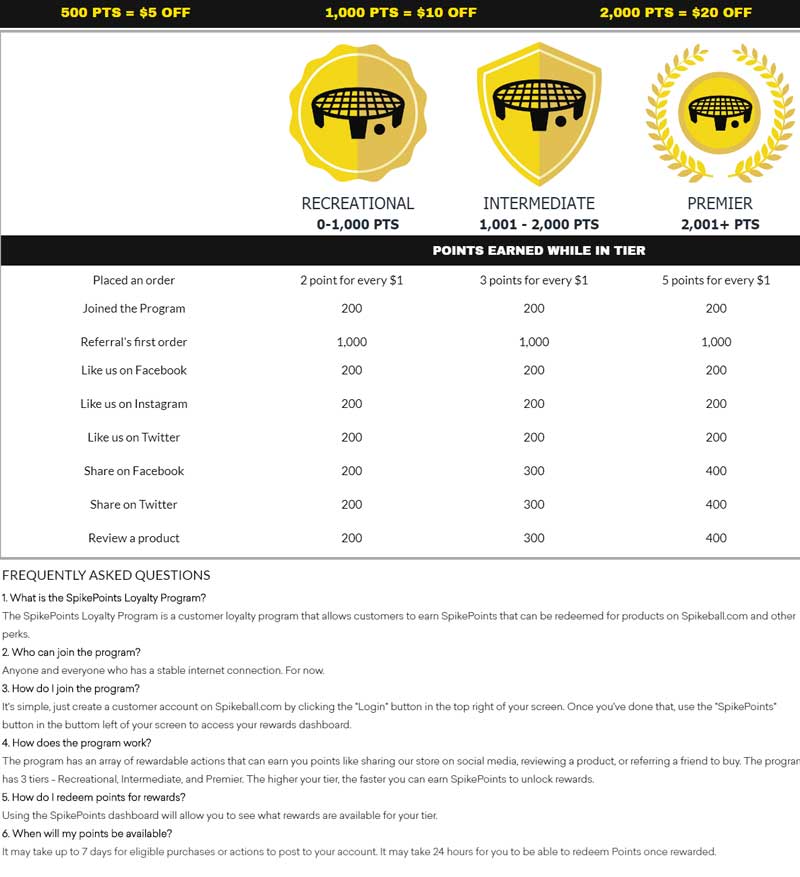 Type: Tiered, points-based
Rewards and actions rewarded: Spikeball rewards members with points for purchases (2, 3, or 5 points per dollar depending on tier), liking and sharing Spikeball on social media, referring friends who make a purchase, and writing product reviews.
Notably, the points for reviewing Spikeball products, sharing Spikeball on Facebook and sharing also rise, from 200 to 300 to 400, as you move through the tiers. So the more engaged you are with Spikeball, the faster points rack up for sharing.
Why we love it: Fast-tracked points for sharing given to the most engaged, committed customers means Spikeball is mobilizing its best customers as advocates, to increase the likelihood that new customers will come rolling in!
Example 9: SweetLegs Loyalty Program
About the loyalty program: Legging brand SweetLegs is one of the lesser-known brands on this list, but they've structured a loyalty program that's awesome enough to make our list. They're a great example of how you can reward all types of customers, including distributors.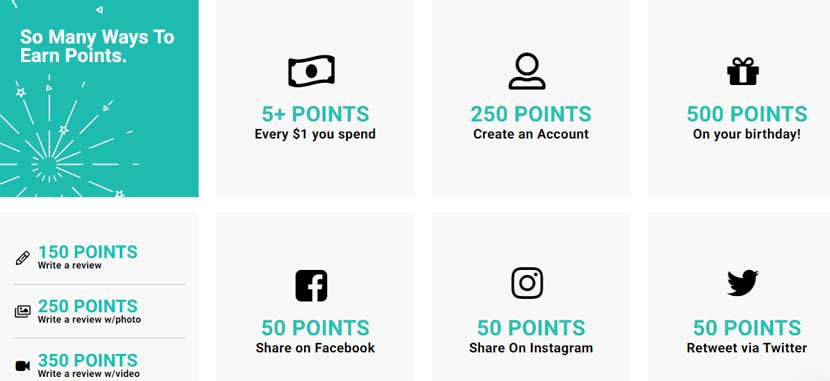 Type: Points-based, distributor rewards
Rewards and actions rewarded: Earn points for every dollar spent (amount earned depends on the tier). Members can also earn points for sharing on social media, referring friends, creating written and video reviews, and as a birthday treat.
As you can see in the table below, rewards rack up extremely quickly if you're a distributor, and there are four exclusive tiers that only distributors can unlock, including the highly exclusive SweetElite tier.

Why we love it: The program packs both individual customer and distributor rewards in a single package without being confusing—and makes sure that distributors get the top-tier incentives they deserve. We also love the variety of points-earning options available to everyone! And another nifty feature is the points system reviews—a review with a photo is worth more than a traditional review, and a video review is worth even more.
Example 10: Amazon Prime
About the loyalty program: A list of quality loyalty programs just isn't complete without Amazon Prime! Prime's "pay-to-play" structure might not be what some people think of when they think "loyalty programs." But the annual fee model that Prime uses still counts as a loyalty program type—and Prime has really brought this model into the forefront. Countless avid Amazon shoppers are willing to pay an extra fee a year for free shipping and exclusive access to all the perks Prime has to offer. And this often makes the difference in swaying their future purchases – it leads customers to pick Amazon over top physical retailers.
Type: Paid Membership
amazon prime After customers pay the annual fee, they gain fast and free Prime shipping on a wealth of items across Amazon's near-infinite catalog. They also gain exclusive access to deals during the famous Prime Day, Amazon's two-day event of the year's best deals. But there's much more.  Prime-only food, fashion and tech products, Amazon Music and Amazon Video, Twitch Prime streaming, and insider discounts are just some of the exclusive perks of Prime. 
Why we love it: Prime shows that a paid membership model can work for loyalty programs, and drive more sales, among customers who already shop at your business regularly.  And Amazon's convincing the world of loyalty that "pay-to-play" programs will make up a big part of loyalty programs' future. An annual fee might not be sustainable for most businesses, but a flat lifetime fee (see REI) is worth considering in the near future.
Bonus example: Target Circle
About the Program: Target trusts the power of loyalty programs, so they decided to spring into action and offer their own, starting in October of 2019. It combines several of the best loyalty program elements that others use, but still keeps things simple enough. And of course, it's also done with that signature Target flair! Here's a brief breakdown of the free-to-join program, known as Target Circle.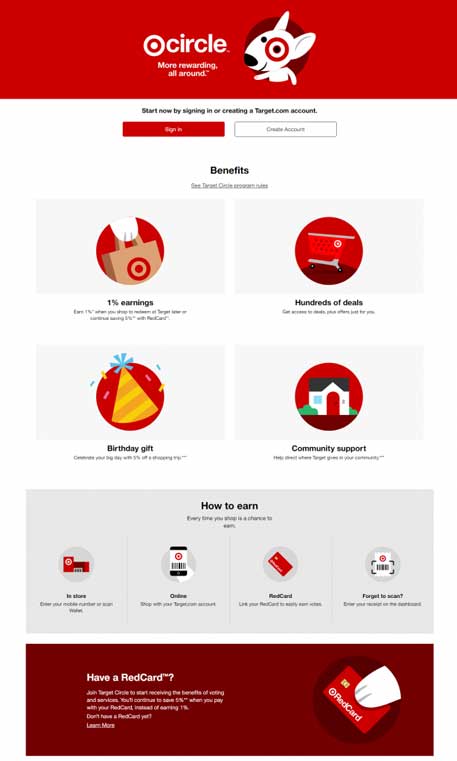 Type: Cash back, app-integrated (but app not required), hybrid
amazon prime
Members receive 1% back on every purchase, or 5% back if they have a Target REDCard.
Purchases also earn "votes" that members can use to determine where Target directs its charitable donations to.
Each member gets personalized coupons for their favorite product categories.
Members get 5% off for their birthday, and other savings surprises come into play throughout the year.
Members gain early access to sales.
Why we love it: Target has already mastered making itself a routine staple. This program will reward its loyal fans and get even more people hooked on Target runs.
Wrapping things up
The loyalty program examples above should give you plenty of inspiration for your own loyalty program! With these examples as your guide, pick the structures and rewards that you think will work best for your business, and make sure your loyalty program is easy to understand. Good luck!