Whether you are a small, medium, or large HVAC business, continuous growth and greater profitability are common goals to aim for. One cost-effective way of achieving these goals and more is by incorporating a referral marketing program into your business model. 
Referral statistics indicate that 77% of consumers are more likely to make a purchase if they learn about a business from friends or family. The rewards or incentives you offer your happy clients to refer new customers can go a long way when it comes to creating more brand awareness, acting as a PR medium, building a loyal customer base, and enabling higher sales conversions.
By the end of this post, you'll have a clearer picture of the intricacies involved in creating a successful HVAC referral program.
What is an HVAC referral program?
An HVAC referral program is a marketing strategy that offers a streamlined way to reward your previous clients for referring your heating and air conditioning services to their family members, friends, neighbors, and colleagues, among others. When existing customers bring in new ones, you give them incentives, such as a gift card or a discount.
The best HVAC referral programs automate the tracking of referrals. Automation helps provide insight into how much HVAC business comes from referrals as well as how your program is performing. This is a lot easier to manage than a manual program, where people give you their friends' names, and you keep track of who referred whom by yourself.
Why do you need an HVAC referral program?
No matter how long you've been in the HVAC industry, you could use a referral program. HVAC businesses that commit to referrals eventually achieve success through high-quality leads that come with a greater likelihood of closing sales.
Referrals not only boost your company's sales profile: they are also a testament to the growing reputation of your business, since they show that customers are satisfied enough with your brand to recommend them to family members, friends, neighbors, and colleagues.
Here are some other reasons referrals are necessary:
HVAC referrals are a reliable client acquisition channel
The nature of HVAC services, in particular, makes them ideal for referral marketing. People usually don't need HVAC services very often, so you need a reliable way of finding new clients. Referrals create an acquisition channel by leveraging happy existing clients.
People trust referrals
A high-end HVAC service, involving the installation of a new or replacement HVAC system, can cost as much as $5,000. This explains why people spend lots of time researching options before they decide who to hire for HVAC services. The research process includes asking friends and family for recommendations as well as checking online testimonials.
People usually have a high level of trust in what those close to them recommend. For example, 92% of consumers in a Nielsen survey prefer friend and family recommendations over any kind of advertising. If someone recommends your services to a friend, the person who received the recommendation is more likely to use your services.
Referral programs cost a lot less than ads
Referral programs are low risk, as you aren't spending blindly like you would with traditional ads. You only pay for referrals when they result in sales. 54% of a Forbes survey's respondents say that referral programs have a lower cost-per-lead than other channels.
Unlike traditional marketing channels, referral marketing lowers customer acquisition costs (CAC) because it only utilizes current customers who help recommend your brand to others, hence helping to improve your bottom line.
A study at the Wharton Business School found that, on average, referred customers were $0.45 more profitable per day than all other customers. Also, the CAC for these customers was $23.12 lower than those of non-referred customers.
Are you ready for an HVAC referral program?
You'll need the following essentials in place before you launch the program, in order for your HVAC referral program to be a success:
A healthy base of existing customers who love your work – ideally, some of them should already be recommending your services without prompting
A customer experience worth recommending, from first phone call to last check on the new or repaired HVAC system
A high level of customer satisfaction, including high ratings from customer reviews 
A website to send referred leads to
HVAC referral program best practices
If you intend to achieve success with your HVAC referral program, then how well you implement it will be key. Following these best practices will help you obtain the right results:
Select your rewards carefully
Referral rewards are the drivers of successful referral programs. However, before thinking of what reward to use, it is necessary to first figure out who exactly you'll be rewarding. Is it the referrer (or advocate), the referred friend, or both?
Double-sided rewards (a rewards program for both the referrer and the referred friend) not only inspire frequent referrals but also motivate the referred friends to hire you for their HVAC services. They are, therefore, more impactful than single-sided rewards.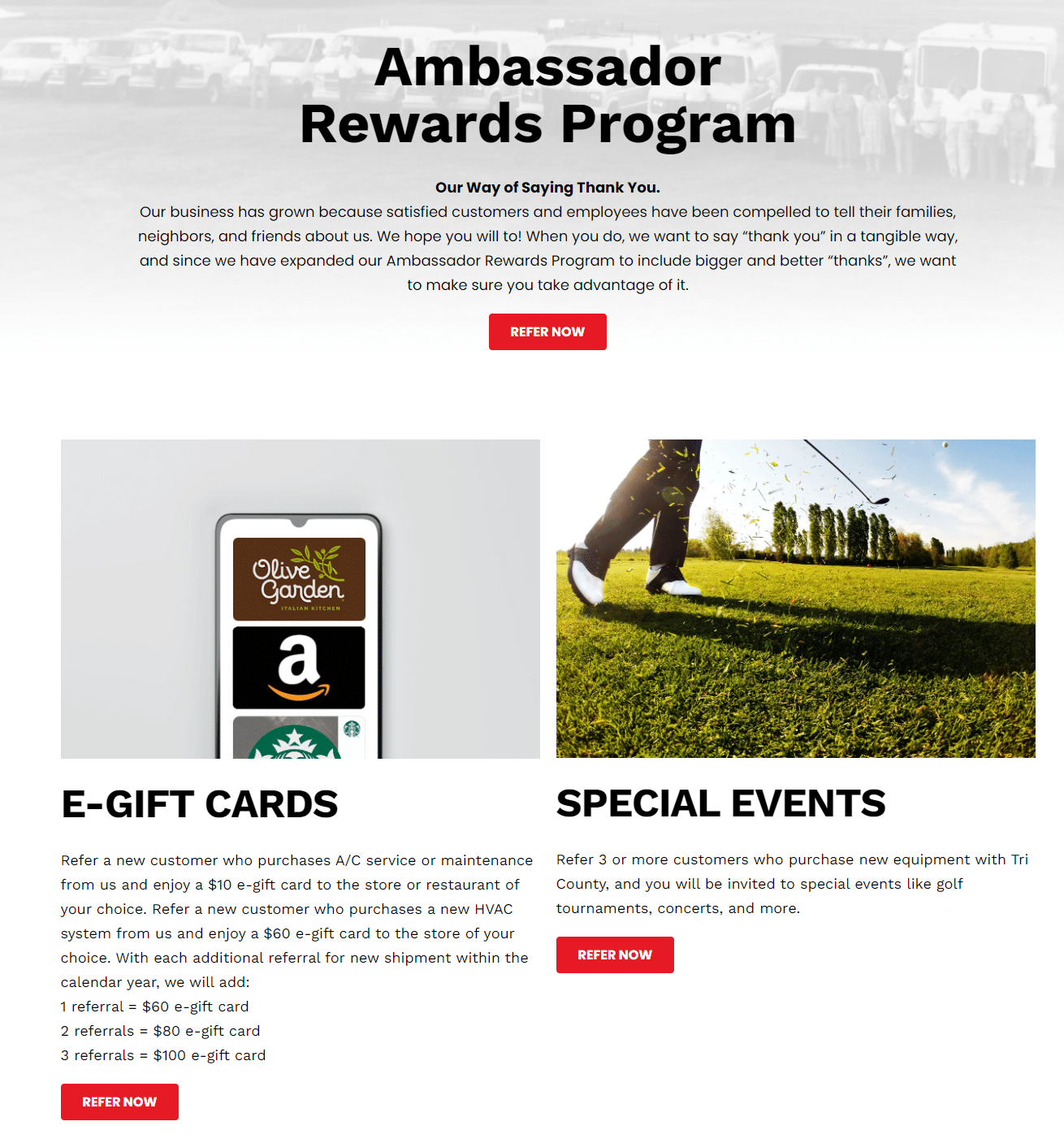 Since HVAC projects are often relatively large purchases, the reward for your advocate should reflect the value of the purchase he or she induced. Cash, gift cards to other businesses, gift baskets, and travel or event-based rewards are great advocate reward options. (Rewards for the advocate should have nothing to do with your business, since they probably won't need another HVAC job done anytime soon.)
It's a good idea to offer higher rewards for successful referrals to higher-priced services – say, more cash back on an installation referral vs. a maintenance referral. You might also offer higher rewards for business HVAC service referrals (if you service both homes and businesses) since business services tend to be more expensive.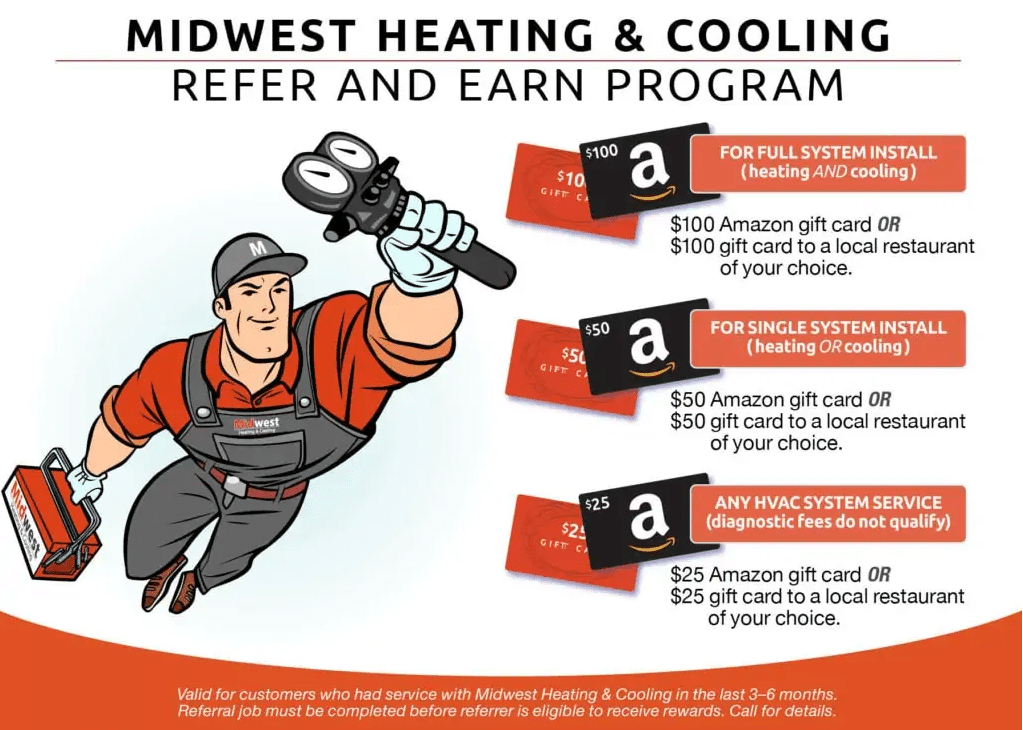 Rewards for the referred friend should be directly tied back to your services in order to encourage the person to seek those services. Discounts, credits toward the project, cash back after the project is paid for, and free or discounted added services are great rewards for the referred friend.
Decide when you'll give the rewards
In referral programs, you generally give the rewards when the purchase is successful – once the referred lead signs the contract for the job and/or pays you. But you might also give the referrer a smaller reward when a lead is qualified, because the sales process of an HVAC service is longer.
Ask for referrals
One of the best ways to get referrals is to ask. This shouldn't be difficult, especially if you've been conversing with the client regularly during their project and have therefore established a cordial relationship with them. 
Ask customers for referrals when you know they're happiest and you are top of mind, like when:
You've completed an HVAC project
You've received a positive review from them
You've received a positive social media comment from them
They give you great in-person feedback
You know they were satisfied, and you're sending the invoice for the completed project
It's the first or second anniversary of a project completion you know went well
You're calling for a warranty check-in (or other post-project check-in) and the customer says the HVAC system is holding up well
You know they've already recommended you outside of your referral program
Make the sharing process seamless
Customers should be able to access the program and share it with friends with as few clicks or taps as possible. Create an enticing headline that states exactly what customers should do (share) and what's in it for them (the reward).
Concisely explain the program – and what must be done for the rewards to be earned –  in a few steps. Include an easy-to-find call-to-action (CTA) button to get customers to share. Direct customers to an FAQ page if they have other questions.
Give multiple options for sharing based on the ways that customers naturally share things they love with friends. This should include email and social media options, as well as a referral link that customers can copy and share anywhere.
Use social media to your advantage
Social media is where your customers naturally share things they love with many friends at once. So it makes sense to include social media sharing options in your HVAC referral program – one social share will potentially get your business in front of thousands of relevant eyes. 71% of consumers are more likely to make a purchase or engage with a business based on social media referrals.
Design a simple referral form
HVAC referral programs tend to ask for a lot of information. But too many questions can quickly become overwhelming. Only ask for the information you need to track where the referral came from and then contact the new lead.
Consider one of these simple lead form combinations:
Referrer name, phone, and email; lead name, phone, and email
Referrer name and email; lead name, phone, and email
Referrer name and email, lead name and email
Promote your program
People need to know about your program for it to generate new sales!
On your website (place a hero image or banner where it's easy to find, and/or buttons in the top and bottom menus)
In conversations with clients, when you know a customer is satisfied!
In personal referral emails sent to your most satisfied customers
In mass emails focused on your program, sent to all customers
In news/update emails, confirmation emails, invoices, and other emails unrelated to your referral program
Through social media posts
In email signatures and social media bios

Choose the right referral software
The right referral software will streamline your program creation process and automate all aspects of program management. Thanks to the referral links it generates, referral software lets you track exactly where every referral came from and instantly issue rewards for successful referrals.
It also collects program data that you can use to measure success and refine your program for optimum results, and send reminders to keep customers engaged with your referral program. Referral Rock software offers best-in-class referral tracking, sharing, and engagement experiences, with concierge onboarding – no developers required.
Send the lead a personal note from the referrer
The message the referred friend receives through your program is often their first impression of your business. Ideally, the message should be written by the referrer and explain why he or she is recommending you.
But you can also prompt the referrer with ideas to include in the message or even include an editable message as a starting point. Be sure to include an eye-catching CTA above the fold to entice the referred friend to take action.
Thank customers for referrals
Thanking customers for referrals encourages them to make more referrals because they feel appreciated. Send a personal thank you note (preferably written) whenever someone's referral results in a purchase. You might also post a public thank you for the referral on your social media page.
More details on how to send a thank you note for referrals can be found here.
Tell other businesses about your program
Often, HVAC services get lots of referrals from similar but non-competing businesses like construction contractors and pluming services. So, it's a good idea to tell businesses like these about your program so that referrals that come from their employees can be tracked. You might consider setting up a more formal referral partner program for businesses like these in addition to a "standard" customer referral program.
Wrap-up
Referral marketing programs have emerged as one of the most optimal ways of attracting new clients. If optimally conducted, a referral program can help a business create more brand awareness, enhance its image, establish a loyal customer base, and yield higher sales conversions through high-quality leads.
If you implement the best practices we've listed above, and choose the right software to serve as your backbone, there's no reason why you shouldn't reap bountifully from your referral program.