A brand ambassador is a valuable partner in the digital marketing world. They bring trustworthiness, authority, and their own audience to the table, while promising to become a long-term advocate for your brand and products. The best brand ambassadors are those who are truly enthusiastic about the product and the company behind it. When they tell their audience how much they appreciate the features and everyday use, it has that genuine ring to it.
Of course, that also means it is important to keep your brand ambassadors happy and engaged. Many brands use an immersive collection of perks that can simultaneously delight and inspire brand ambassadors to further advocate for your brand. Today, we're taking a closer look at the best brand ambassador perks to promote long-term partnership and engagement.
 What is a brand ambassador?
A brand ambassador is someone who loves your brand, uses it regularly, and is always ready to tell a friend or an audience why your brand is their top choice. A brand ambassador could be an employee, an influencer, or a well-known professional in your industry with good reasons to promote your product or tool for their own work.  They are often already loyal customers. Typically, you invite someone to become a brand ambassador who is already excited about your product.
Brand ambassadors give weight and legitimacy to market copy. They are walking testimonials and one of the most public faces for the brand. They are constantly building relationships with potential customers and sharing their personal experiences of how they use your products or services in their own life.
Why do you need brand ambassador perks?
If brand ambassadors would represent your company with or without compensation, why bother with all the perks? The simple fact is that brand ambassador perks build a stronger partnership and honor how truly valuable these individuals can be. Even though most ambassadors are intrinsically motivated, they deserve rewards for their hard work. 
Brand ambassadors often put in many extra hours to promote you, and their genuine affection for your company is no reason to skip compensation – especially since many brand ambassadors are not direct employees. Brand ambassador perks show your appreciation for ambassadors' efforts. 
The right ambassador perks can also keep them informed about your products and enthusiastic for the latest releases, as well as increase ambassador engagement with the program. This can, in turn, drive greater lead generation, sales, and growth of the brand through brand ambassadors, especially if the rewards are given based on ambassadors' performance.
Plus, they encourage your previously informal promoters to sign on formally (when you reach out and invite them to become ambassadors, they're more likely to say yes).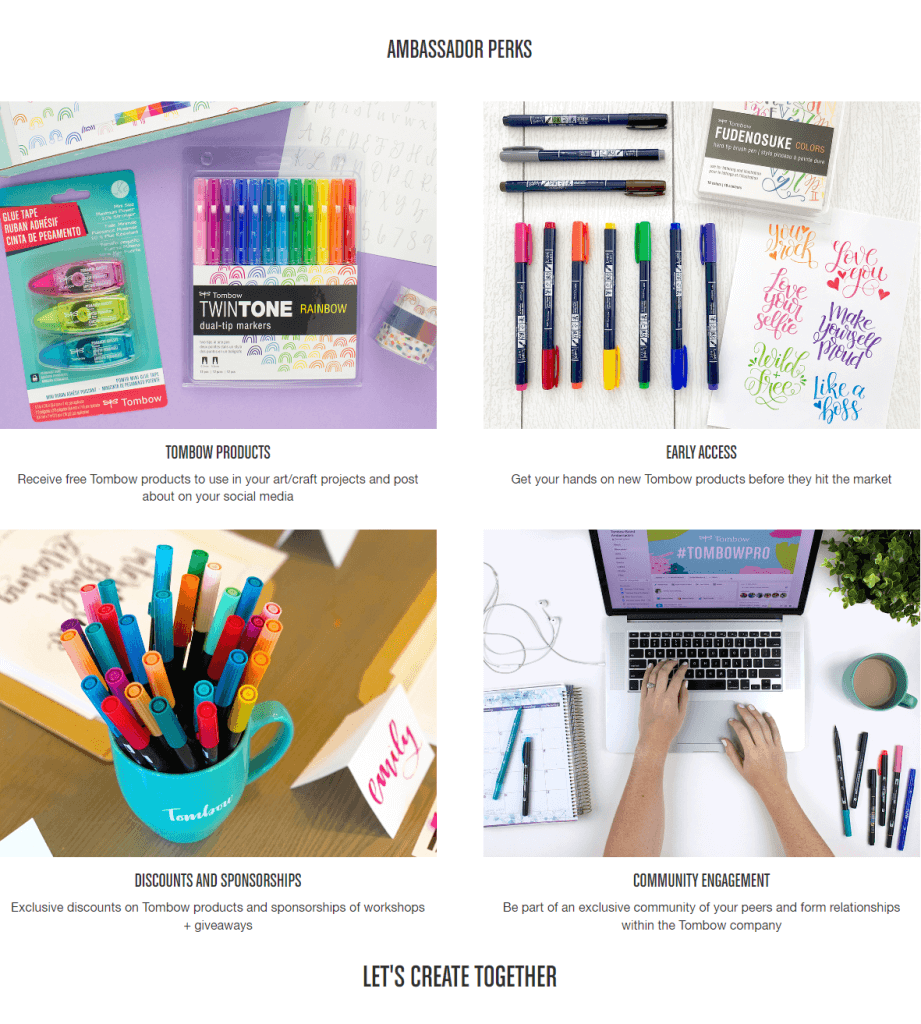 Choosing your brand ambassador reward structure
The type of reward isn't the only decision you'll need to make about brand ambassador perks; you need to pick the payment structure as well. Your brand ambassador program should start with a rock-solid incentives structure and a method for how you will provide compensation. Here are some of the most common brand ambassador rewards structures:
Perks upfront
You can choose to provide your perks and compensation upfront to increase motivation and energy from your brand ambassadors. This is often a good idea when sharing new products that you'd like your brand ambassadors to get excited about.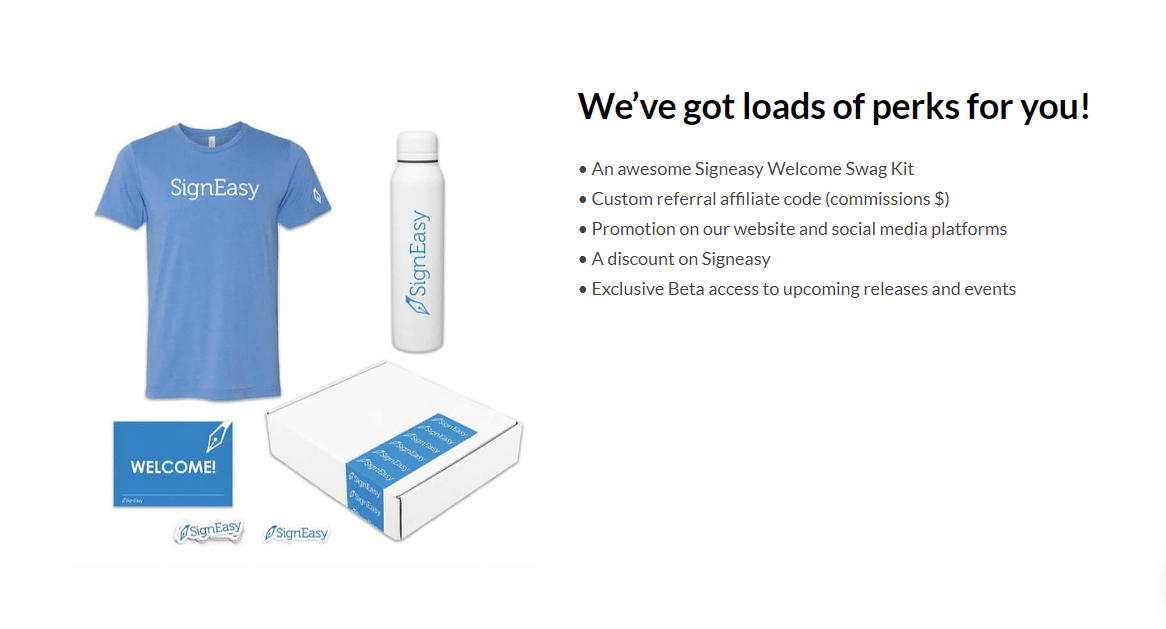 Perks on completion
You may provide your brand ambassador perks after they have completed specific tasks, campaigns, or missions established earlier in the process. This ensures that perks are always paired with good results.
Perks on a routine schedule
You may provide your brand ambassador perks based on the amount of time they've been with you, always compensating at a predictable interval so that your brand becomes an anticipated high-point in your ambassador's routines.
Perks based on performance
Many brands enjoy providing incentives and bonus compensation based on a brand ambassador's personal performance. Higher traffic, more leads, and increased sales should naturally lead to more compensation to express your recognition of your brand ambassador's value.
Perks or bonuses with sales milestones
Have brand ambassadors hit certain major sales milestones while representing you through the program? Sharing extra perks is a good way to recognize their success.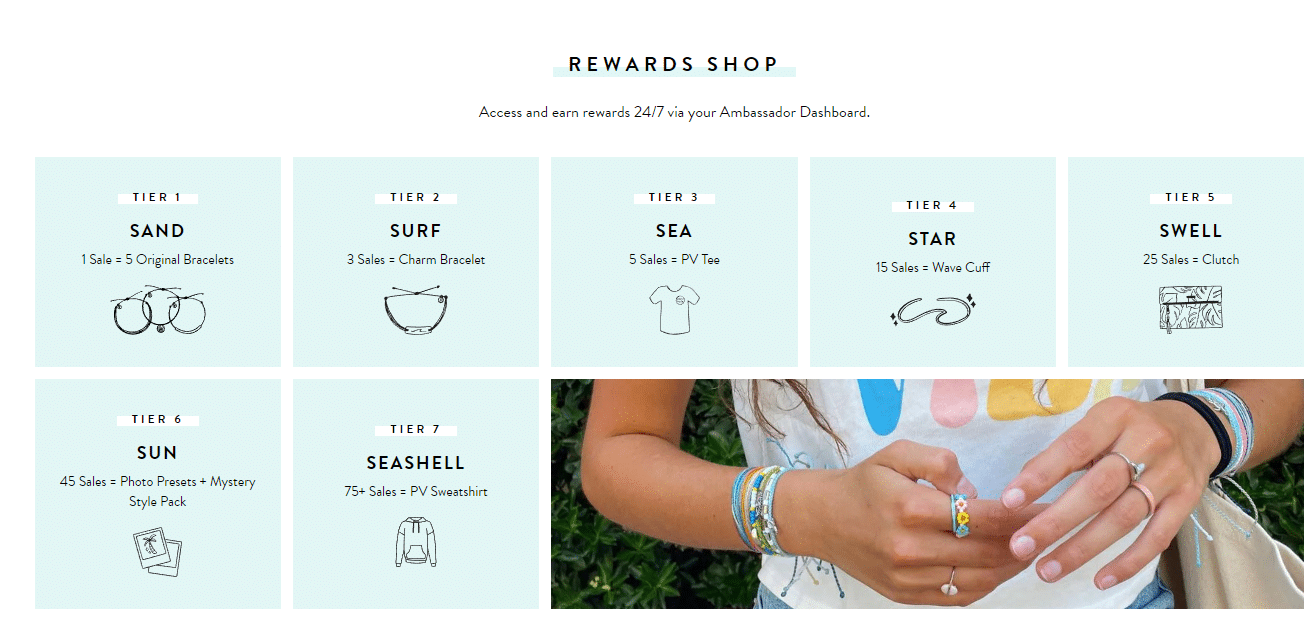 Perks or bonuses with time milestones
You may also thank your brand ambassadors for long and loyal service at certain time-based intervals. This also incentivizes brand ambassadors to stay with you as an official ambassador for some time.
Perks via leaderboard
You might consider introducing a leaderboard, where the most active or highest-performing ambassadors earn extra bonuses. Your most successful ambassadors may gain  public recognition, and inspire others to become more engaged with the program.
Perks from reward points
You can also make your brand ambassador program include reward points that can be spent on self-selected perks. Selected perks have the benefit of being personalized, so each brand ambassador can turn their success into their favorite combination of brand ambassador perks. 
Choosing your brand ambassador perks
Brand ambassador perks come in a wide range of options. In fact, many brand ambassador programs are built on a unique blend of perks instead of or in addition to direct compensation. Brand ambassadors are your MVPs and your VIPs at the same time, and deserve to be shown that appreciation. 
Make sure the rewards you choose are motivating for your ambassadors, and also a fair representation of the time and effort they put in on your behalf. You could even ask the ambassadors what they want to earn. But rewards need to be affordable for your brand as well – don't break the bank.
Below are some of the most common types of brand ambassador perks. 
Your brand doesn't have to use all the reward ideas below – they're meant as inspiration.
Performance-based commission
Performance-based commissions directly correlate rewards with success. With this perk, for every sale the brand ambassador helps to make, they earn a percentage back in commission from that sale. This percentage may be represented in cash or reward points, but sales equal perks in performance-based ambassador programs. This is similar to an affiliate program commission structure, as the reward is based on purchases made through an ambassador's unique, trackable link.
To track and reward the performance of your crew, you will need brand ambassador software like Referral Rock. Our software creates the unique tracking links you need to associate each sale with the brand ambassador who played a role.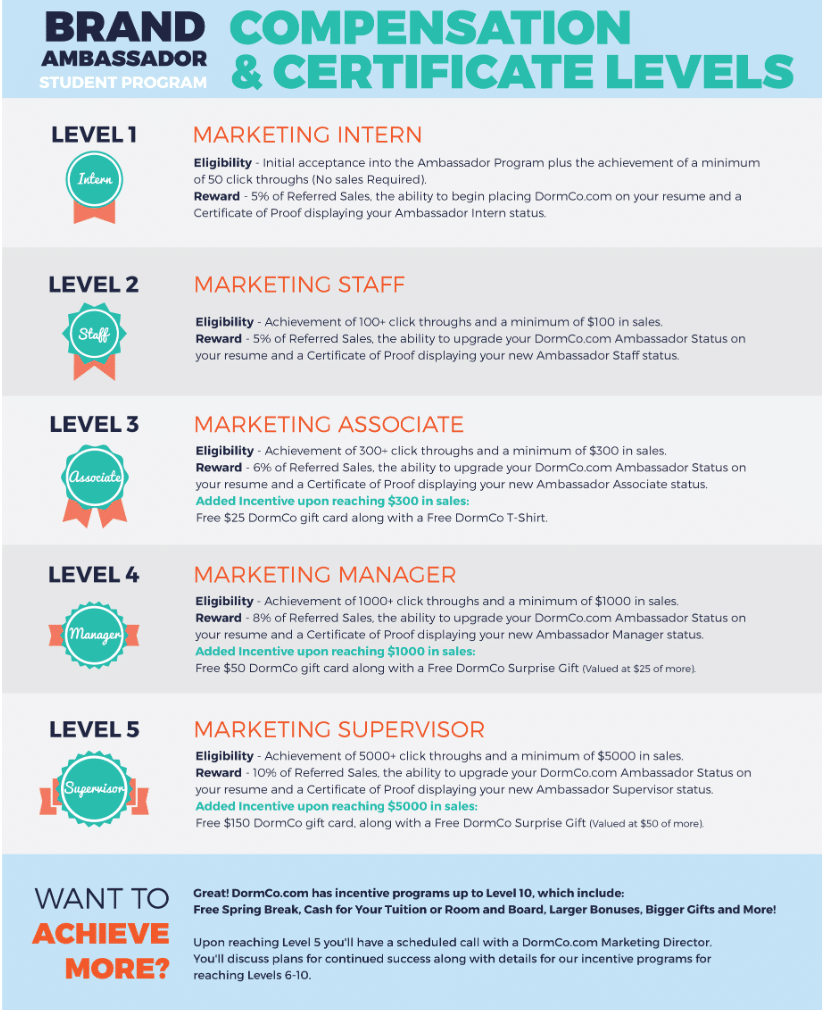 Branded swag
Branded swag is a fun gift that makes a great part of your welcome-wagon for new brand ambassadors – or as an introduction to a new ambassador project. You could also award branded swag for tasks completed, as long as you choose high-quality items that make the work worthwhile (like Yeti tumblers, fleece jackets, or backpacks). Good quality swag lasts forever, and useful items become highly visible parts of your ambassadors' everyday lives.
Many brand ambassadors enjoy a certain amount of cool swag because they enjoy representing the brand. This also means that swag creates more opportunities for your brand ambassadors to share your logo and style "in the wild" as they use your tumblers, t-shirts, and flash drives out in the world.
Free products
One of the best strategies for a brand ambassador perk is free products, because they make it easier for brand ambassadors to create more content featuring your brand.
By gifting brand ambassadors with new products prior to their release, you allow them to try out, learn about, and enthusiastically share your products before anyone else. This is both a great perk for your representatives and an awesome way to generate buzz about new offerings. Plus, you get an early chance to collect feedback from a "super user" on the good, bad, and design opportunities they discover.
Just be certain that your brand ambassadors are aware of FTC disclosure rules. Under these regulations, they'll need to mention that you gave them the products when sharing about them online, like with the hashtag #AD or #sponsored.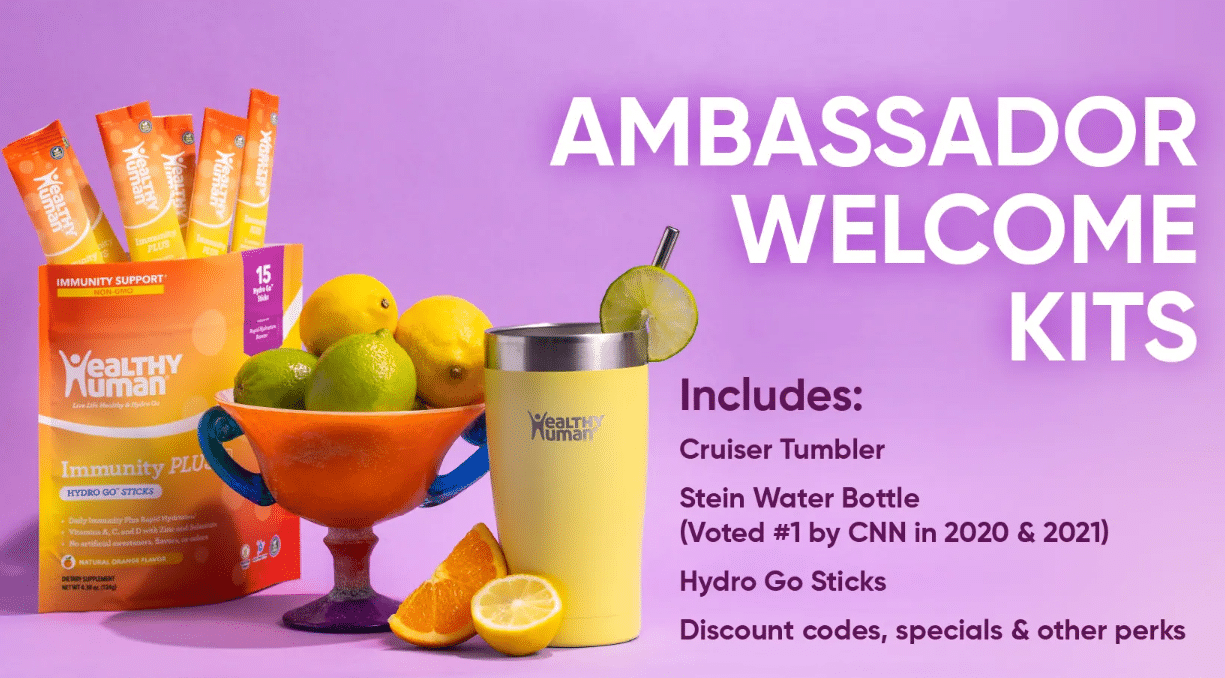 Flat cash-based rewards
Of course, many brand ambassadors prefer cash rewards because cash can be used toward anything. Those seeking to meet certain financial goals like homeownership or independent success may ask for all or most of their perks in cash, if given the option. 
If you don't want to give cash directly, you can instead translate cash into rewards points that can be spent on goods, services, valuable products, or swag.
You might choose to pay the cash upfront, or wait until after completion of each task.
But either way, it's best to vary each cash payment based on the hours spent on the task or the complexity of the task
Ambassador discounts
The right product discounts can lead your brand ambassadors to always have reviews for the latest features, apps, widgets, or releases. Ambassador-exclusive perks could include perpetual discounts on their own purchases, which in turn encourages your ambassadors to try even more of your products (that they can then report back on to their audience). 
You can also give brand ambassadors discount codes to share with their network. This can build a stronger bond between ambassadors and target audiences, and motivate sales. Audience members will be excited to take advantage of an exclusive discount that's known only to certain blog readers, social followers, or video viewers. 
Tie the discount to the ambassador via a trackable link, so you know the value of the sales each ambassador makes.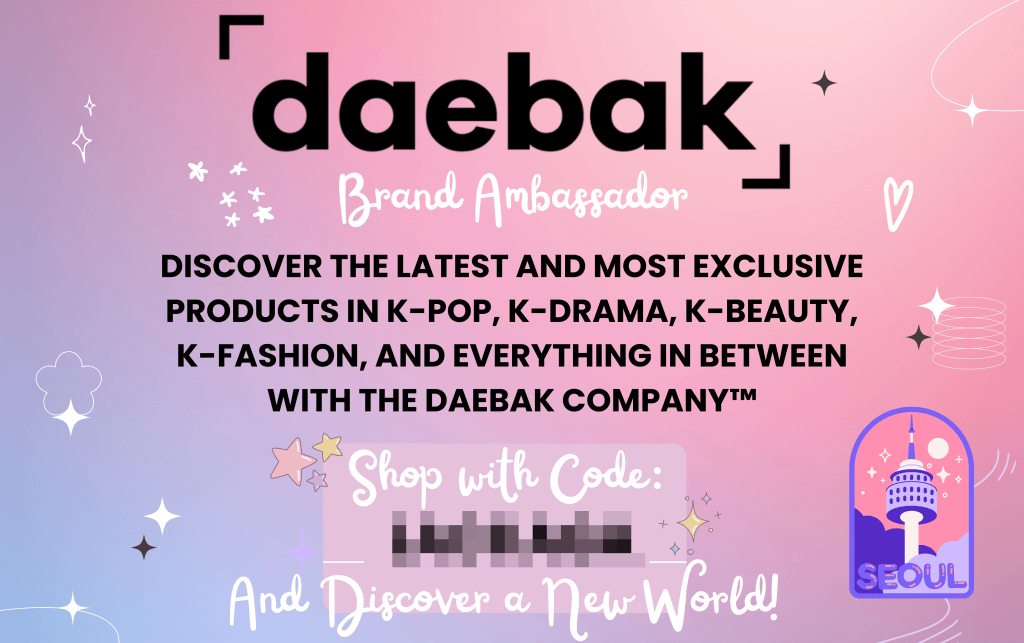 Event tickets
Ambassadors are VIPs who deserve special experiences that will permanently be associated with your brand. Your ambassadors might appreciate event-based rewards more than something tangible.
You might consider sending your brand ambassadors to special events like sports events, concerts, theater performances, or admission to any other event they might enjoy.
Ambassadors will both remember the experience and be grateful that your brand gave them those memories.
Other experiential rewards
You might also pay for experiences and entertainment that brand ambassadors can enjoy in their own time. Redeemable experiences are a great currency in the modern world where schedules are hectic and unique. These rewards are not only useful to your ambassadors, but are also great currency socially to bring a plus-one or the whole family.
Some examples of flexible experiential rewards include:
A trip to an amusement park
Cooking classes, or other classes to learn a skill desired by the ambassador
Yoga, fitness, dance, or other physical activity classes
Exclusive experiences with your brand
Brand events are a great opportunity to treat your brand ambassadors like the VIPs they are. Consider inviting your brand ambassadors to a private tour of the company headquarters or to share dinner with the design team to talk about features and cool ideas for the future. 
You could also host parties or events where ambassadors can meet each other and enjoy free food. This can be a great chance to share some cross-inspiration if your brand ambassadors use your products in different ways.
Depending on the types of ambassadors you have, you might host:
Wine tastings
Bowling night
Mini-golf days
Yoga/fitness nights 
Nights out on the town, 
Dinners out
You might also have "ambassador days" involving any of the ticketed events or experiences listed above
Or, if you host public events, give ambassadors free access, free meals, lodging, or other perks to treat them like true VIPs.
Skill-building and mentorship
Mentorship and learning experiences are valuable because they help your brand ambassadors expand their skills and build their resumes. You might offer one-on-one coaching and consultation opportunities with your brand ambassadors, or connect your ambassadors with experts in your company to answer questions and offer guidance. Consider everything from online courses and webinars to skill-building retreats and summits.
Gift boxes or gift baskets
Never forget the value of a good gift basket, or gift box. Gift bundles are a great way to truly personalize your appreciation for each brand ambassador and give them a reward they will enjoy. Each basket or box comes with the joy of not just one, but multiple gifts to unpack and discover.  
Choose the right gift based on what you know about a brand ambassador – or let your brand ambassadors pick their favorite basket option from a fun and diverse list.
Gift baskets could include free products and branded swag to get an ambassador hyped about representing you.
But they could also be filled with thank you gifts unrelated to your brand (from other non-competing brands), such as:

A box of snacks
A gardening basket
A beach basket
A pet box
A box of self-care products
A fitness box
A basket of items for a home office
Public recognition
Brand ambassadors put a lot of time and effort into promoting the brand and generating a shared audience. Feature your top-performing ambassadors in social media posts and blog shout-outs. Spotlight those who have recently gone above-and-beyond, and share public thank-yous.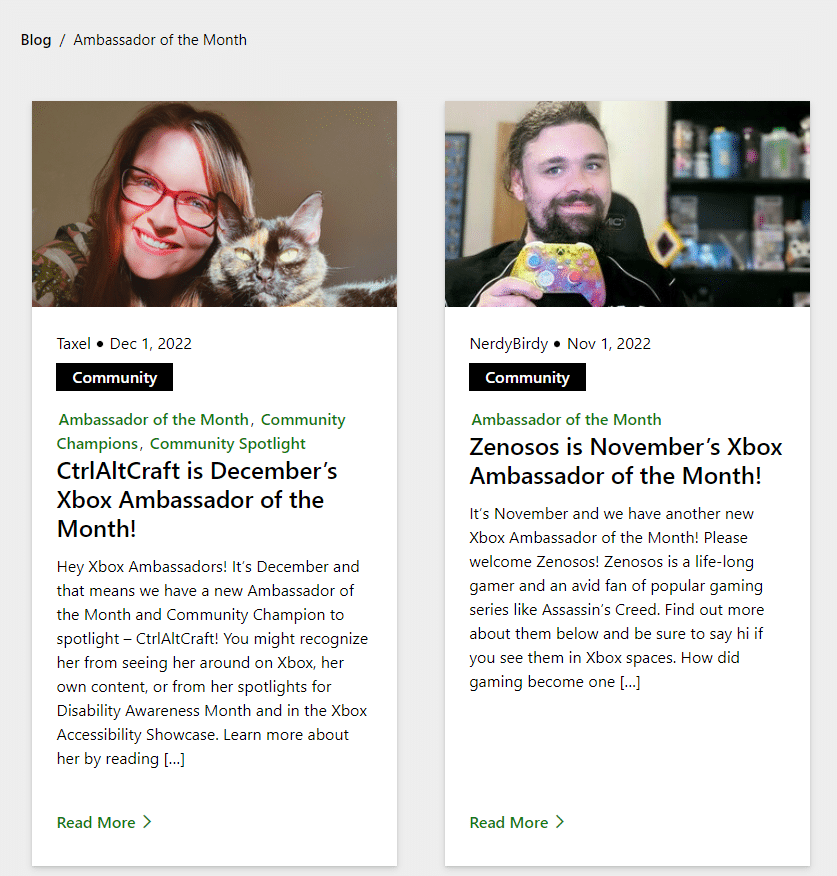 Wrapping up
Brand ambassador perks are an essential part of building an uplifting and mutually beneficial relationship and keeping your brand ambassadors motivated to keep doing their best. Whether you are planning to reach out to your first brand ambassador or you already have an evolving brand ambassador program in the works, Referral Rock is here to ensure that recognition is easy and backed by the performance you want to see from your brand ambassadors: qualified leads. To learn how you can set up brand ambassadorship programs for your company, contact us today.