To succeed with affiliate marketing, you need to develop a system and a plan that ensures the proper implementation of your marketing efforts. 
 An affiliate marketing business plan is a vital document for creating a successful affiliate program. You'll need to create this plan before starting your program. Whether you make the plan yourself or get help from a third party, having this plan will help you create a program that will result in higher profitability. 
This post will go in-depth on affiliate marketing business plans, including all the essential sections you'll need. Plus, we've included a downloadable template for you to use as a starting point. 
What is an affiliate marketing business plan?
 An affiliate marketing business plan is the template that helps you plan your affiliate program before you begin looking for any affiliates. A strong business plan sets the stage for your affiliate program, section by section, and makes sure you're clear on what you need to accomplish for a successful program. You'll reference the plan throughout your affiliate program preparation and launch, so you don't miss any vital steps. 
Why do you need an affiliate marketing business plan?
An affiliate marketing business plan primes you to optimize your program to generate a strong ROI, and saves you time in the long run since you have a concrete plan for how to proceed.
This plan provides a space to define your program goals and how you'll meet them, and creates a clear path to help you succeed and manage time.
Also, affiliate marketing is a highly competitive space. With a marketing plan, you are all set to compete against other affiliate programs and make your own program stand out. Thanks to all these benefits and more, an affiliate marketing plan will immensely help your business in the long and short term. 
Affiliate marketing business plan template
Creating an effective affiliate marketing business plan can be challenging, because of all the bases you need to cover. But it is undoubtedly worthwhile – and we have your back to make sure you don't miss any steps. 
Download our affiliate marketing business plan template below, and fill in each section to set your program up for success.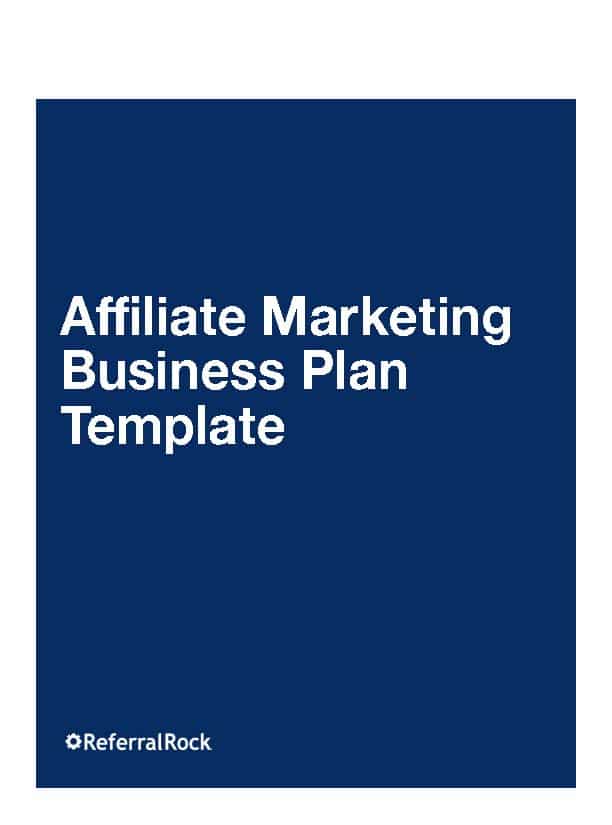 Here's a look at the parts of an affiliate business plan that we've included in the template.
1. Program goals
Knowing how to achieve your goals is half the battle; you also have to know how you will get there. You'll need clear goals and objectives to be successful, in the form of quantitative metrics to track your ROI. So, set SMART goals: goals that are specific, measurable, attainable, relevant, and time-bound. 
Essential items you'll need to set goals for are:
Conversion rates over a given time period
Average order value over a given time period
Revenue from affiliates over a given time period
New customer sales generated through the affiliates over a given time period
But other measurable goals will differ from program to program, so include any other goals you have as desired. 
2. Projected benefits
You also need to determine how your affiliate program will benefit your online business, in a qualitative way. Defining benefits is helpful in case others in your business want to know about the program's value.
Some projected benefits could be expanding your customer reach, increasing brand trust, and marketing to new segments. These benefits don't need numbers attached to them since you've already set up quantitative goals for tracking. 
3. Target audience
You must have your target audience in mind. By defining your audiences, you can find affiliates who match your brand. Doing market research is the best way to understand your target audience. 
You also need to create buyer personas to help target the people interested in your affiliate product. You'll get more sales and conversions from your affiliate marketing campaign when you target specific demographics. 
Even though you likely already have your audience and buyer personas written out elsewhere, it's vital to define your audience within your business plan so you can find affiliates with an audience that matches yours.
4. Costs and budgeting
Finances are a vital element to consider when creating your affiliate marketing program. Make sure you have a realistic projection of your costs and budgeting. Begin by looking at your current profit margins. The higher profit margin, the better, as you'll have more money to spend on affiliate commissions. 
Next, determine how much commission you can afford to pay out consistently. Affiliate marketers are in business and will not promote your products for free. You'll have to incentivize them to showcase your products to their audience – with cash. Offer enough commission to attract affiliates while ensuring you still make a good profit. You'll need to create a balance between the two. 
If you plan to give your affiliates a discount code, you must factor that into your costs as well. The discounts may reduce your average order value, but will motivate more sales and increase conversion rates. 
It is also worth considering how much you expect to spend on an affiliate marketing tool (software or a network).
Using affiliate software is an ideal option, since you only pay one fee to use the tool. 
Affiliate networks will cost you more because they charge additional fees on top of the payment made by using the network. The extra amount can be up to 30% of your total sales.
5. Competitive analysis
Analyzing your competitors before your program's launch is always a good idea, as signing an affiliate when a direct competitor offers more attractive terms can be difficult. 
Conduct research to determine what your competitors are up to and decide what similar elements you'd like to incorporate into your affiliate marketing program. Research two competing affiliate programs in your niche and determine how you can provide more value to your affiliates than they do. Look at their commission structure, program terms and conditions, and how they train their affiliates. 
You can also evaluate their strengths and weaknesses, as well as the opportunities you could take advantage of and the threats they pose to your own upcoming program. Identify the elements you can incorporate into your affiliate program and how you can make your program stand out. 
6. Affiliate software
The affiliate software you use ties everything together, so you'll need to select this tool carefully. In addition to helping you manage the affiliate relationship, the affiliate software you choose will create trackable affiliate links for measuring affiliate sales, and pay out commissions automatically to keep affiliates happy.
When choosing an affiliate software, go for one that gives you full control of your affiliate relationships and affiliate data. You can never get that type of full control with affiliate networks, so avoid existing networks altogether.
The affiliate software you choose should easily integrate with your existing marketing tools. It should also allow you to customize your commission structure, affiliate portal, branding, and how you communicate with your affiliates.
You should ask the following questions when choosing affiliate marketing software.
What metrics does it track?
What tasks does it automate?
Will it help you keep affiliates engaged? How?
How does it help prevent affiliate fraud?
7. Affiliate commissions
Now it's time to determine your affiliate commission payout. You should set a competitive commission, compared to programs that attract the same types of affiliates. But ensure the commission you choose is one you can afford to pay consistently. The commission could either be a percentage of each sale or a flat fee.
Determine the length of affiliate tracking cookies – how long affiliates are eligible to earn a commission once someone clicks on the link. You should also establish what the affiliate has to do to earn the commission. If you are an eCommerce or B2C business, only give commission on sales. B2Bs, on the other hand, can give commissions for both qualified leads and sales. 
Determine which affiliate will get a commission if someone clicks on multiple affiliate links (whether the first click or last click awards the commission). You can also offer bonuses for your highest-performing affiliates, or to all affiliates when they meet lifetime sales goals.
8. Products affiliates can promote
Next, record the products you want your affiliates to promote. Indicate if they can promote any product, or only the ones you designate, such as top sellers or products that tend to produce a high average order value. Have a list of the products you want to focus on in your digital marketing campaigns, and outline why you've chosen those products for affiliates to share.
9. Affiliate manager or point person
Will you choose someone from your team to handle your affiliate marketing program, or hire a new employee as an affiliate manager? If you don't have someone in a dedicated affiliate manager's role, you'll still need to ensure there is someone the affiliate can reach out to when they have questions. Indicate the roles and responsibilities of the affiliate manager or point person. 
10. The affiliate agreement (program terms)
It is also necessary to write up an affiliate agreement, which your affiliates will be required to sign before they promote your products. The following terms should be included in your affiliate agreement:
Your commission terms
Rules about products affiliates can promote
Expectations for affiliates
Responsibilities of your brand
Guidelines for posts (what affiliates can and can't say about you)
Guidelines for promotion (where and how affiliates can and can't promote your links)
What you consider unethical affiliate activity, to protect your brand in the event that this does occur
Termination clauses – on what grounds the affiliate relationship can be terminated
This list isn't exhaustive – you may decide to add other terms to the agreement as well.
11. Qualities of ideal affiliates
All the affiliates you plan to choose should have an audience that matches yours and a proven track record of creating quality content. But other ideal qualities of affiliates differ from one company to another, so you'll need to be clear on those essentials in your business plan. 
Here are some questions to ask to help you search for the right affiliates:
How large (or small) should their audience be? Smaller-audience affiliates tend to produce higher engagement, despite having less reach.
What platforms should they be active on?
How will you know if their style and tone match your brand's?
Do you want affiliates with previous affiliate experience?
Do you want affiliates who already know and love your products/services?
12. How you'll find affiliates
Now that you know the qualities to look for in an affiliate, the next thing you have to determine is how you'll find affiliates. You can look for affiliates on social media, on relevant blogs, or even from your existing customer base if you have customers who regularly create content. Or, you can use brand mention software to streamline your search, and recruit content creators who have already talked about you in a positive light. 
Also, indicate whether you'll open an affiliate application on your site and let prospective affiliates come to you. If you go this route, decide what information you will collect to vet the applicants.
13. How you'll screen affiliates
Next, create a plan on how you'll screen affiliates.This way, you can make sure that affiliates have all the ideal qualities you desire, before reaching out.
Will you ask affiliates for a concrete plan of how they would promote you?
Will you ask them added questions via email or Zoom for screening?
How will you make sure affiliates are ethical? (Make sure they haven't engaged in questionable behavior, such as using spammy links.)
14. How you'll reach out to affiliates
Your plan should also include ways you'll reach out to the affiliates you'd like in your program, who have made it through the rounds of screening. It could be through direct messaging, email lists, social media platforms, or Zoom. Make sure you know how you'll convince them to join your program. 
15. How you'll train affiliates
Training an affiliate is necessary if you want them to follow your affiliate marketing program plan. You can train them through Zoom, your portal, or any other way of your choosing. The training can be live, or set up beforehand for affiliates to complete at their pace. 
Include in the training how affiliates can and can't promote your brand:
For instance, what language should they use, and what language must they avoid?
Are there specific rules for the images they create?
Also, do you plan to give affiliates free products as part of the training, and educate them on the standout features of these products and how to best use them?
16. How you'll communicate with affiliates
Affiliates need assets like banner ads, videos, templates, and images to enhance their content. Determine which of these types of content you'll create for affiliates, and how you'll provide these assets so affiliates can easily access them.
You must also keep checking on individual affiliates, so decide whether you'll do this through email, Zoom, or any other method. Remember that affiliate communication is always a two-way street: you'll also need to decide on a way for your affiliates to contact you if they have questions or concerns.
And how will you give all affiliates updates on the program and your brand, when new developments happen?
 Via email? 
Through your affiliate portal? 
Within a Slack group or community?
17. Tracking and evaluating program success
Once you have your affiliate marketing program up and running, you'll need to track your ROI based on the goals you set. So, establish how you'll track your metrics, and how often you'll check in on them. (The right affiliate software will track the essential metrics for you. )
If the program isn't performing how you expect, what do you plan to tweak? And if you notice that an individual affiliate is not performing as well as you expect, what is your plan of action? Will you give them added guidance, or even dismiss them from the program, so you can focus on higher performers?
Wrapping up
An affiliate marketing business plan has several parts. You'll need affiliate marketing software to put all the parts together. Our affiliate software makes it easy to create affiliate programs, manage and reward affiliates, and keep your affiliates engaged.